Often overlooked as design elements, staircase risers give you the perfect eye-level medium to demonstrate your creativity. These ideas for stenciled stair risers are sure to inspire you to make your staircase a focal point in your home.
Ways to Decorate Your Stairs with Stencils
Create a runner
Skip the carpeting and paint the perfect stair runner with stencils. Whether you choose a floral, stripe, or geometric design, include a primary color for the center and a complementary color for the border. For a runner effect, don't forget that you want to paint both the risers and the treads.
Make your stairs count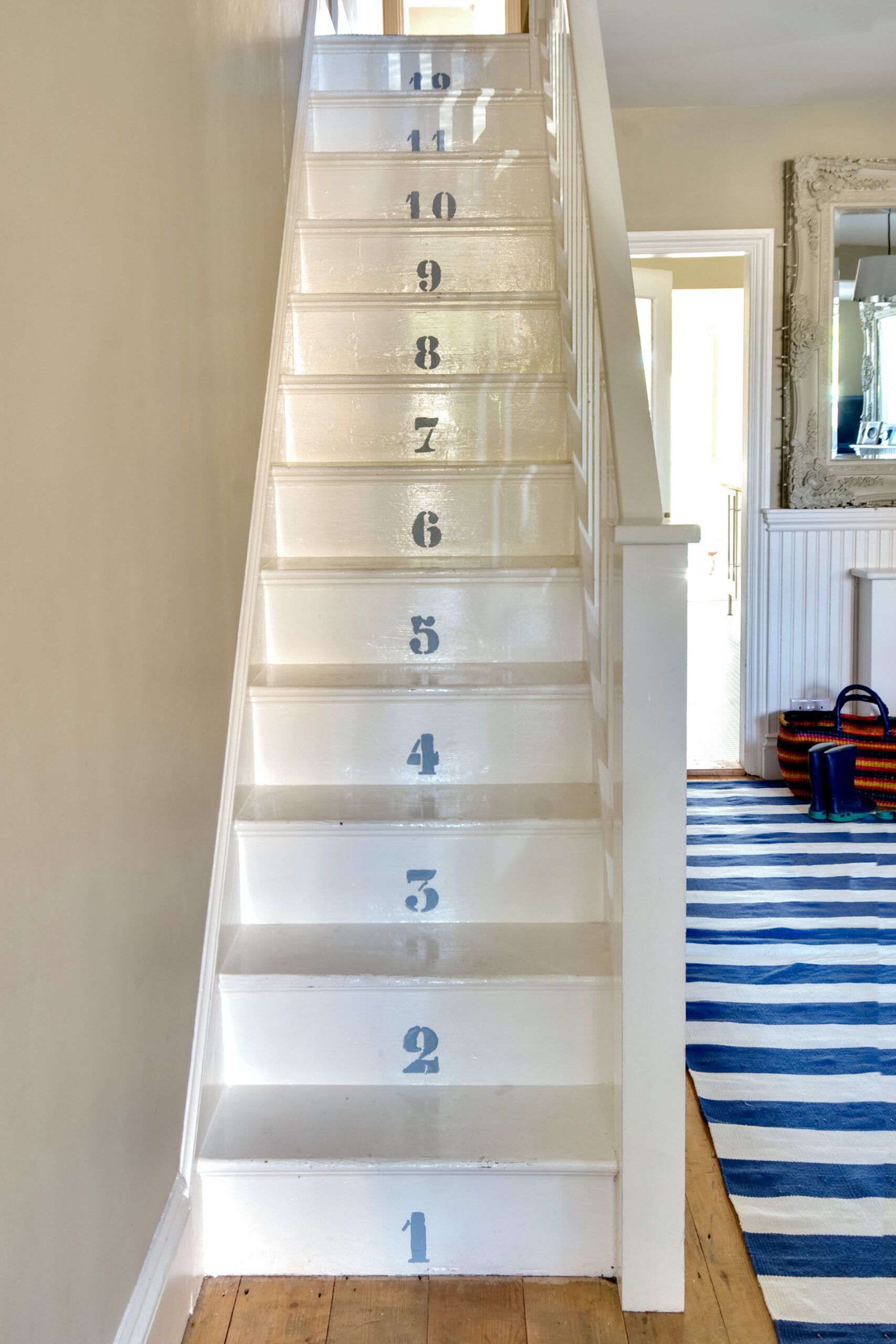 And add in safety with carpeted treads. This staircase does both. The carpeted treads soften your step and increase traction for adults, littles, and even pets. Plus, the numbers stenciled on the risers add a playful touch.
Turn plywood to elegance
If your new plywood staircase needs some beautifying, try stenciling it. For stepped-up treads that resemble marble follow these instructions.
A larger picture
Consider using a design large enough to span several risers. Simply divide an oversized stencil into horizontal sections that fit within the height of the riser. The results are stunning.
Go whimsical
When decorating a vacation home, you can give your permission to do more fun designs. Painting the stairs a vibrant color, using several different styles, is sure to give a fun vibe for you and your guests.
Inspirational sayings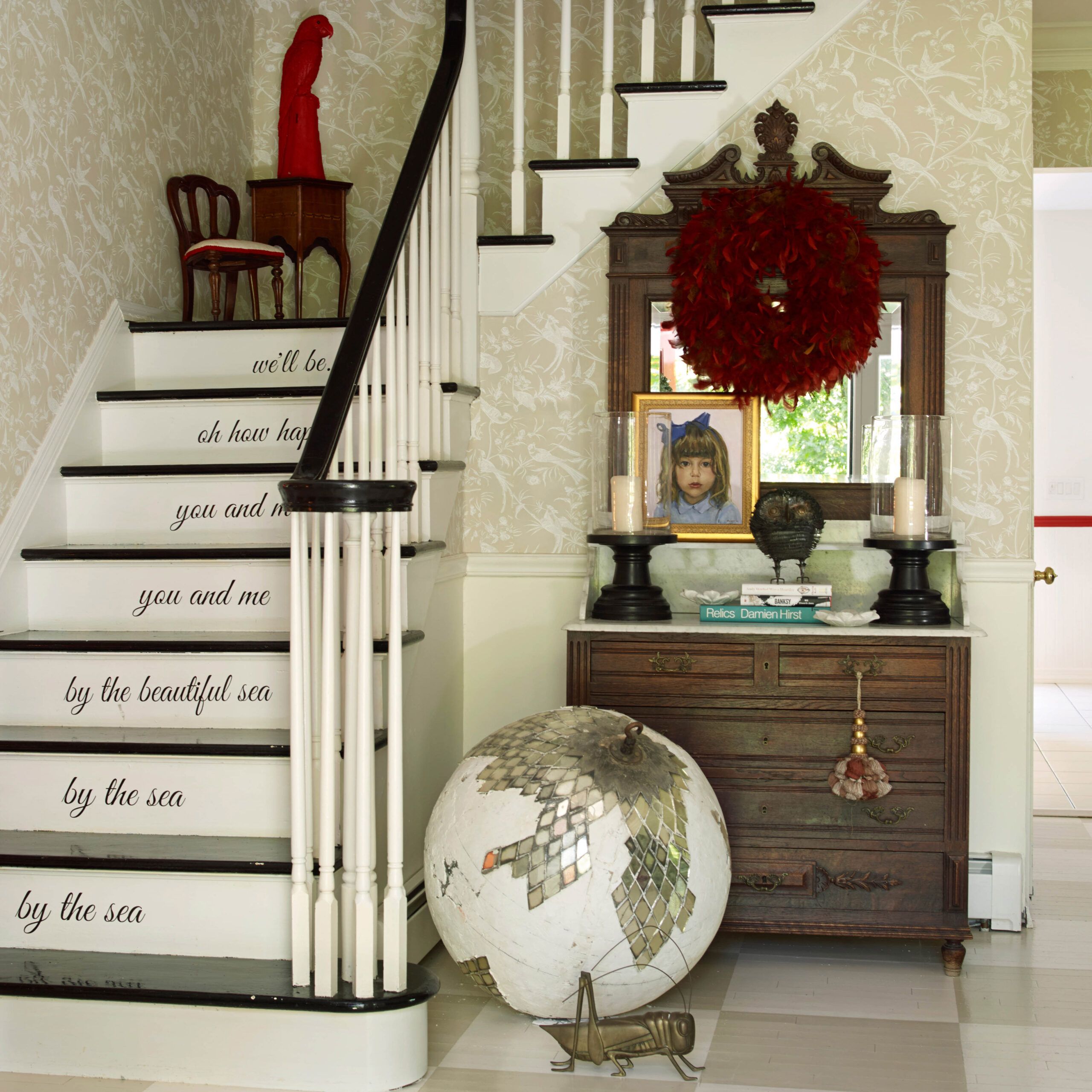 Stair risers are an ideal place for motivational phrases. Imagine reading, "You can do it!," "You're beautiful," or "Today will be great!!" every time you climb the stairs. Simply choose letter stencils in a decorative font and add words that resonate with you and your family.
A pile of books
If you're a book lover, create a staircase that resembles a stack of books. Turn each riser into a book's "spine" using letter stencils for the titles and geometric shapes, squiggles, or fleur-de-lis as the design elements you'd typically see on a book's spine. Before stenciling, paint the risers in varying deep shades that bring to mind book covers.
Stencil on natural wood
You don't have to begin with painted stairs. Instead, leave the risers natural and use a subtle beige or gold paint for the stencil. The result gives your staircase a rich, warm feel. Leaves, wreaths, or branches lend themselves perfectly to this style.
Go with less
Don't feel the need to stencil every stair. Go with less. You don't even need to stencil every other riser. Play around with the designs, colors, and placement until you have what makes you happy before you start painting.
Faux tile risers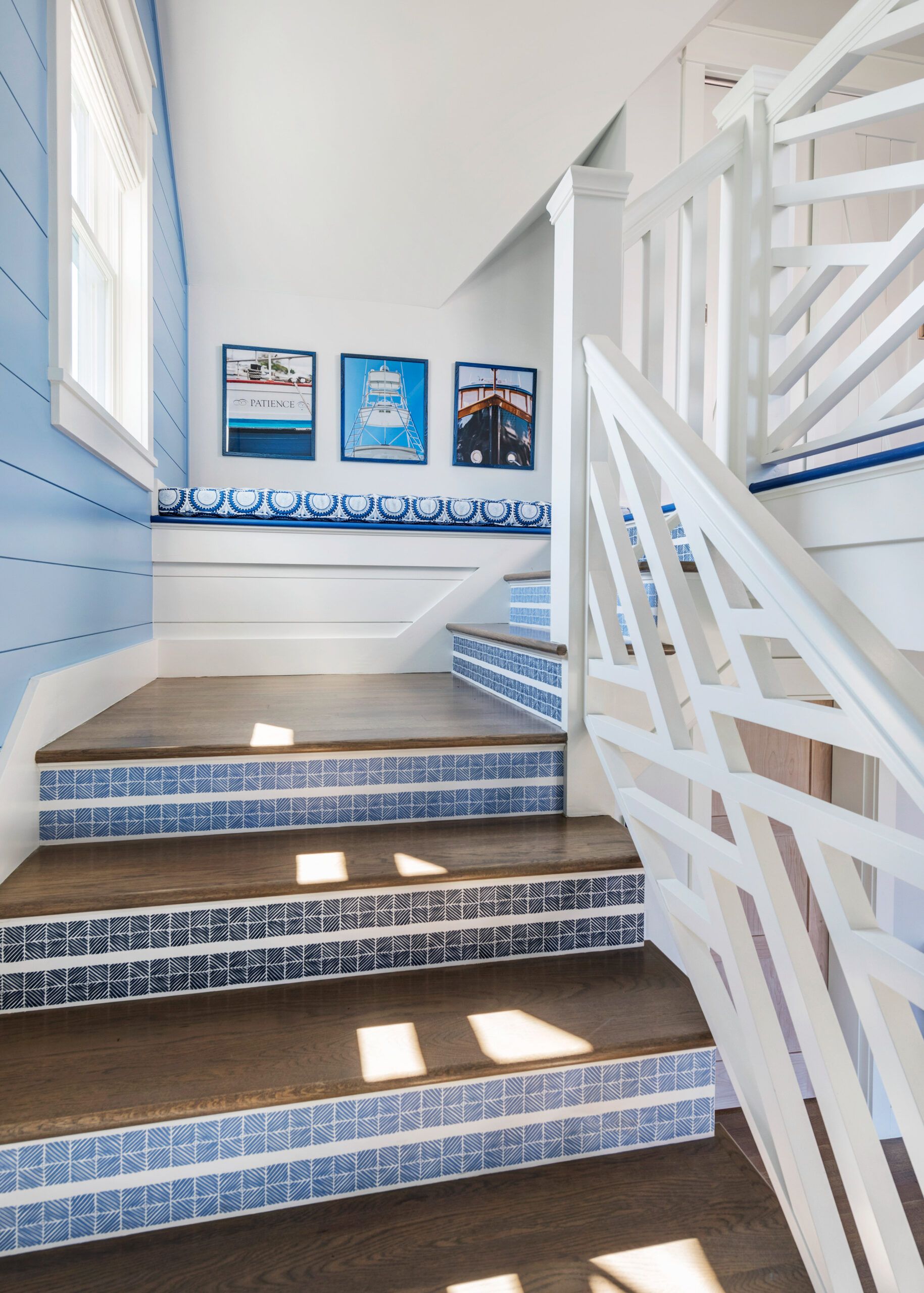 To give your home a Caribbean or Mediterranean vibe, use stencils that resemble tiles you might find there. And get creative! Whether you paint every riser the same or use different stencils and colors on each one, this technique will add a unique, beautiful feel to your staircase.
Keep things subtle
Stenciled designs don't need to be saturated in color. Instead, try a subtle look with white on white. Paint the risers with flat, off-white and stencil with a satin or semi-gloss bright white to give your handiwork a bit of sheen that stands out in the light.
Tips for Stenciling Stenciling Stair Risers
Don't let inexperience keep you from this rewarding painting technique. If you've never stenciled anything before, practice on a scrap of wood a few times until you have the process down. Here are a few stenciling tips to help get you started:
Use the proper tools. A flat-end stencil brush allows you to build the paint up in layers and eliminate drips.
Before stenciling, sand the surface and remove any dust with a clean tack cloth. Follow with two coats of paint or a clear coat for a natural look.
To visualize what your pattern will look like, paint a few on paper and tape them in place to firm up the design in your mind.
Spray mount will secure the stencil in place better than tape.
Start at the top riser and work your way down the stairs to eliminate the chances of rubbing up against wet paint.
Protect your artwork with a couple of coats of a clear, matte finish.
Stair risers are an excellent place for stenciled designs. But once you get the stenciling bug, it's hard to stop there. Other areas that look great with stenciled designs include furniture, wood floors, solid-colored rugs, cabinet doors, and the wall above a doorway.