Want to step up the style on your stairs? Whether you have a grand entry staircase or narrow back steps off the kitchen, these ideas for painted stair risers add just the touch your home deserves.
Painted Stair Ideas
Ombre Stair Risers
Ombre is an effect produced by shades of color that graduate from light to dark. To create this look on your stairs, choose a saturated shade from the room's color palette and use it to paint the bottom two to three risers. Next, lighten the paint about 20 percent with white and paint the next two to three risers with that color. Then, lighten another 20 percent and paint the next few risers. Continue until you get to the top.
Classic Never Goes Out of Style
Warm, natural wood stairs are as classic as black and white ones. Leave the wooden treads and handrail unpainted and protect them with a high-gloss coating that will add some shine.
Faux Stair Runner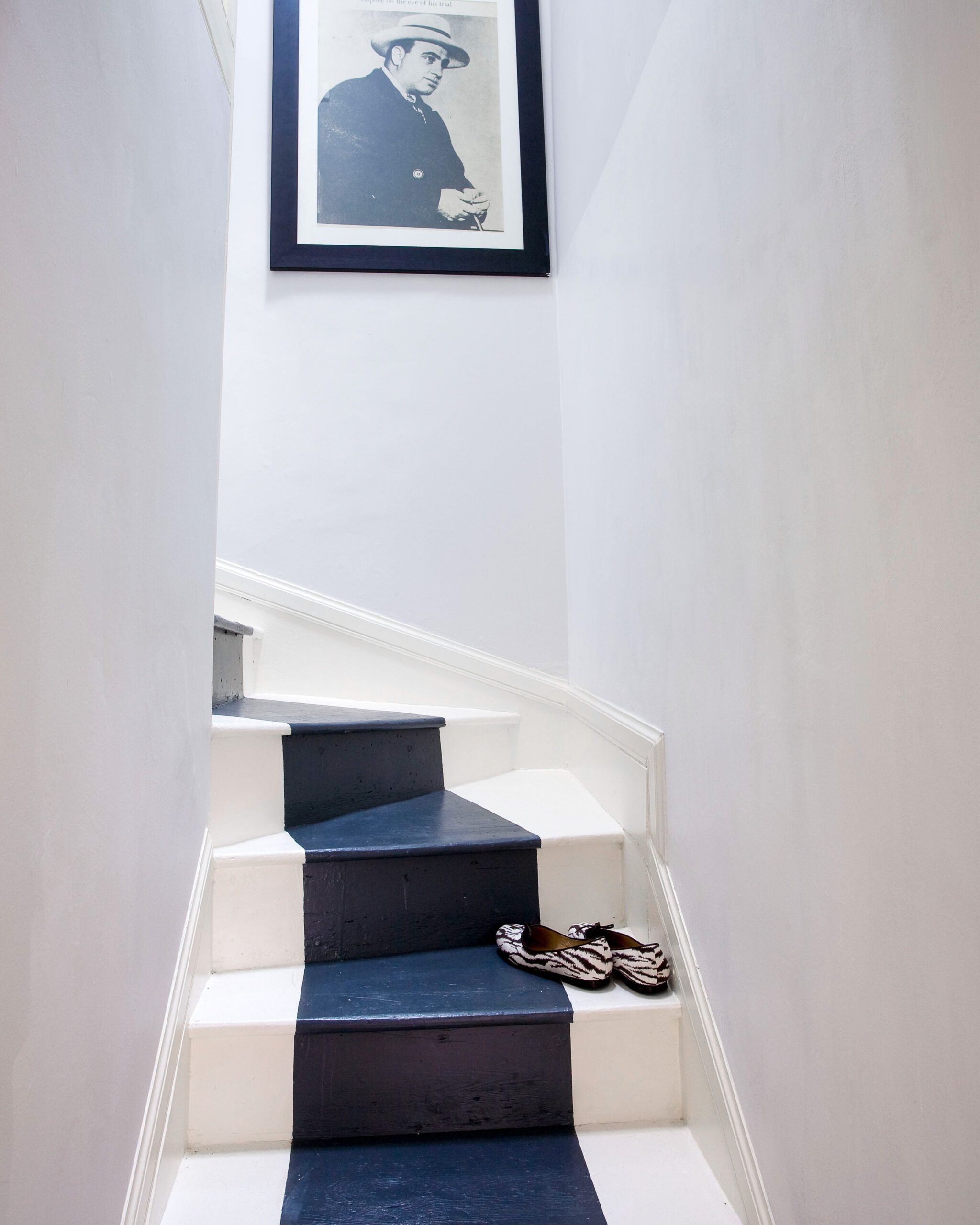 Carpet on stairs traps dirt and quickly shows signs of wear. If you like the look of a stair runner but don't enjoy wrestling the vacuum cleaner up and down the flight, consider painting a faux one. Use painter's tape to mask off the width (standard widths for stair runners are 27 and 32 inches). Choose a color that matches or coordinates with your trim and paint the both risers and treads one solid color or stripes. If your stairs are slick, consider using acrylic anti-slip coating to provide a skid-resistant finish.
A Traditional Look
For a traditional look paint your staircase's stringer, balusters, and risers white and the treads black. But for a more durable finish, sand the treads down to bare wood and apply an ebony stain. Use the same stain on the handrail for a cohesive look.
Faux Marble
A painted faux-marble riser lends a look of elegance to any staircase. These instructions to paint a faux marble countertop work on stair risers, too. Remember, marble comes in many colors; choose one that blends well with your décor and style.
A Distressed Look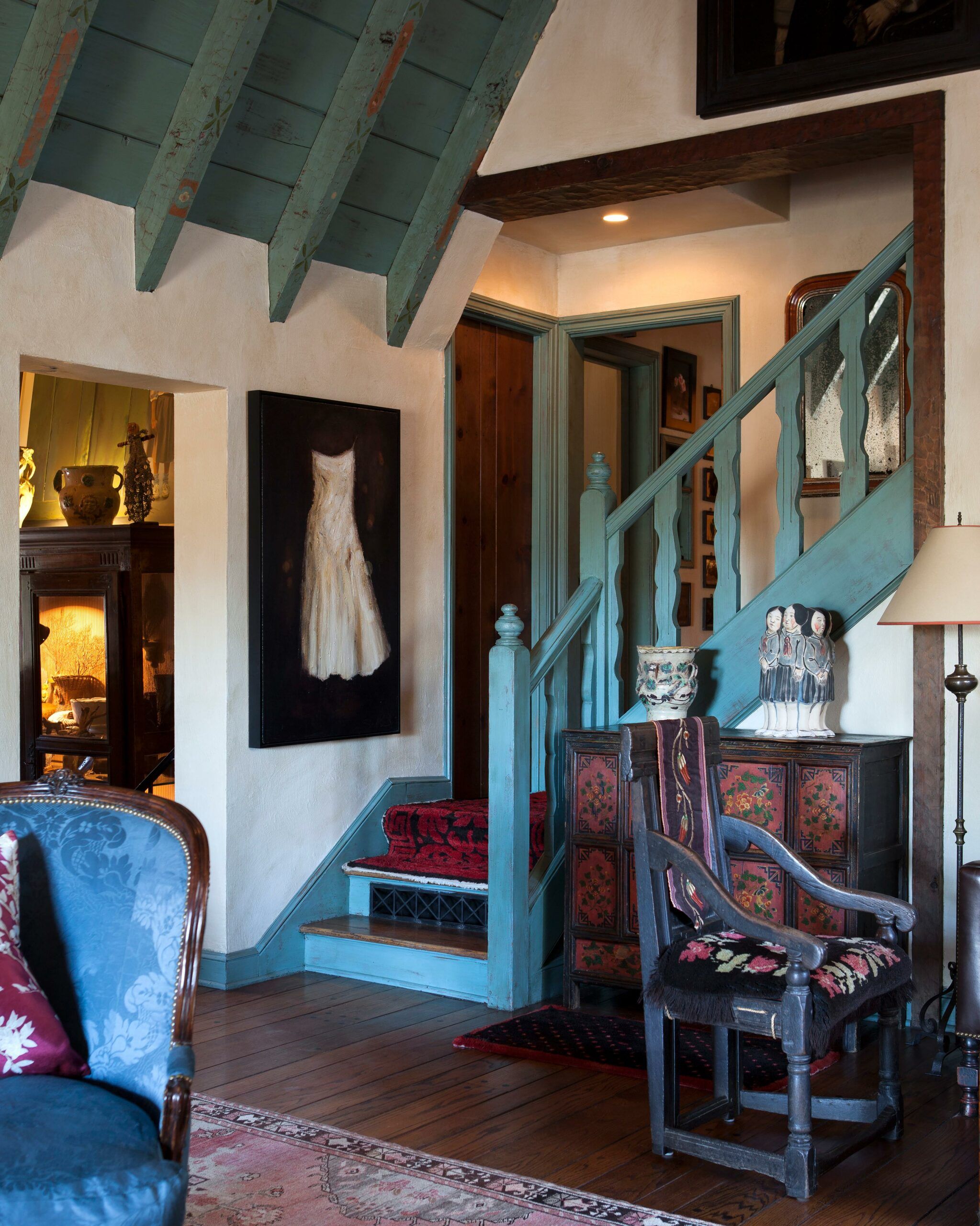 Perfect for an old farmhouse or the back stairs off the kitchen is a distressed, "shabby chic" look. Keep the treads natural wood or distress them as well as the balusters. To give your staircase an aged look without waiting years, follow these instructions for faux-aging painted wood furniture.
Add Some Patina
You can achieve a patinated metal look on your stair risers with paint. Resembling aged copper or brass, this finish pairs well with natural or painted treads. You don't need experience mixing colors, either. Try a metal effects kit to transform your stairs.
Easy Painted Shiplap
Frequently seen in country or seaside homes on walls, ceilings, or and even kitchen backsplashes, shiplap imparts a casual, easy-going feel. Why not use a little bit of paint to create a shiplap look on your stair risers? Simply paint the risers a soft white, then when dry, paint black lines to resemble the joints between boards.
Add Homey Sayings
The casual home fosters family, community, and hospitality. To create a welcoming atmosphere, paint sayings or quotations on your stair risers, just as you might on your walls. Noticed every time someone walks upstairs, the risers are the perfect place for short words of encouragement.
Use Chalkboard Paint
For something less permanent, apply chalkboard paint to your stair risers, particularly those leading to the playroom. Chalkboard risers give kids a welcome place to showcase their creative graffiti, where it's actually encouraged.
Use Wallpaper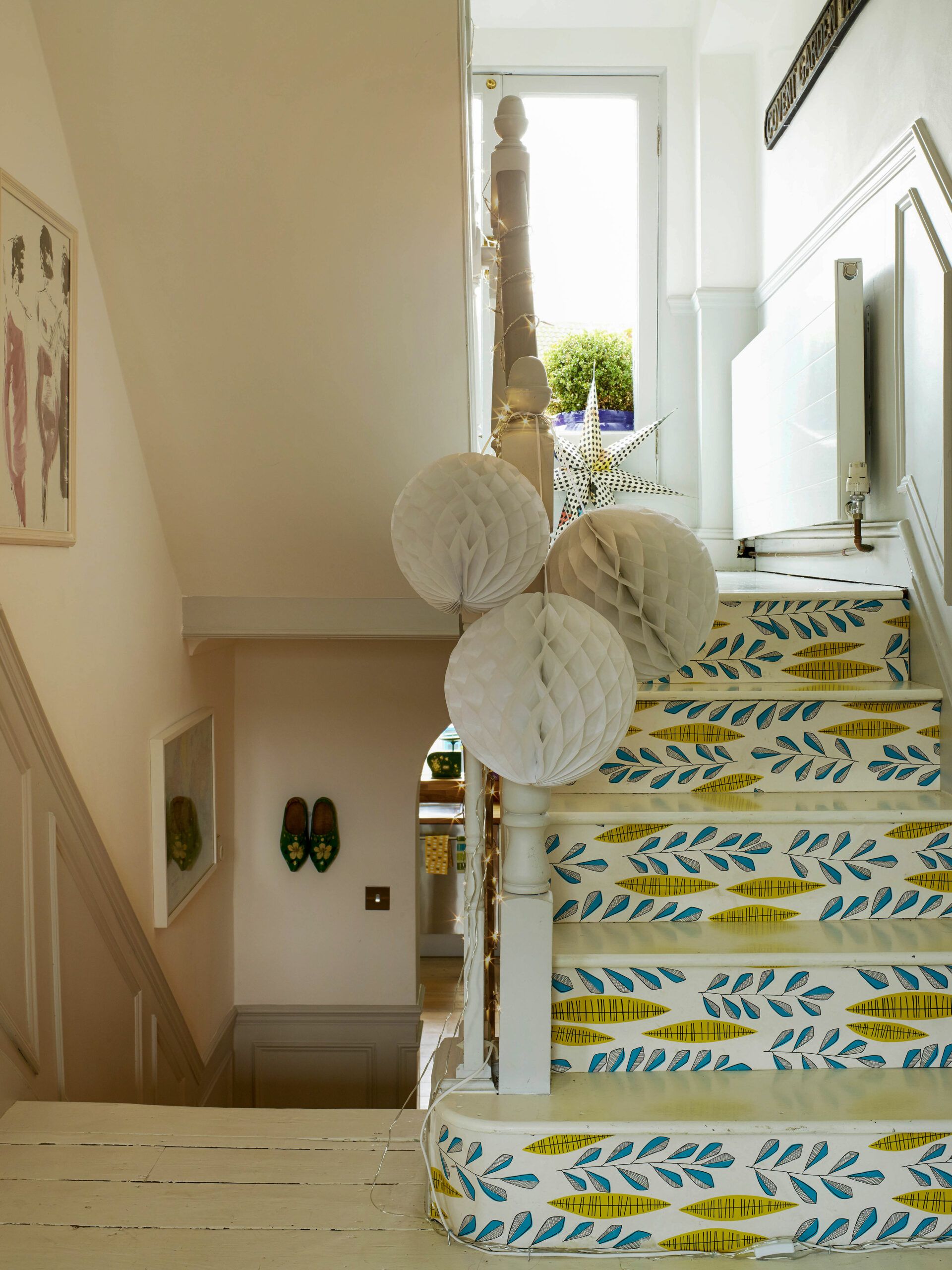 Try wallpaper on your stair risers for a more intricate design or a little flair. The sky's the limit with this medium. You can achieve everything from stripes to florals to subtle swirls with wallpaper, and it can incorporate more colors to complement your home's interior. It's also a great way to use a leftover roll from another papering job.
Create Geometric Designs
With paint and a little tape, you can create just about any geometric design on your stair risers. Particularly striking is a diagonal swath of color that extends from one top corner to the opposite bottom corner of the staircase. Use two complementary colors, and it creates a widening effect on an otherwise narrow staircase.
Don't Forget the Skirtboard
The area joining the staircase to the wall, much like baseboard in the room, is called the skirtboard. Unfortunately, homeowners often overlook this prime real estate for adding color or contrast to their staircase. If you're keeping your stairs natural with a clear coating, consider painting the skirtboard a color in keeping with the rest of the home.
Painting stair risers is an often-overlooked way to add a finishing touch to your décor. Try one of these suggestions to personalize your home the next time you redecorate.