Good Looks and Great Performance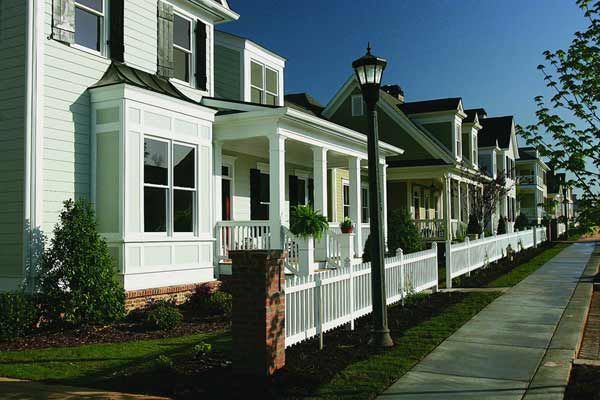 "Fiber cement" is exactly what it sounds like: a mix of wood pulp fibers and portland cement. Together, these materials make quite a pair for exterior siding and trim, offering the strength and resilience of masonry with the beauty of natural materials like stone, brick or wood—at a fraction of the cost. Updating your home with fiber cement siding will instantly increase your curb appeal and offer a high return on your investment.
And with today's myriad of styles, textures, and colors to choose from, you can achieve an authentic, period-perfect look, with higher performance and lower maintenance than traditional materials.
Consider Your Climate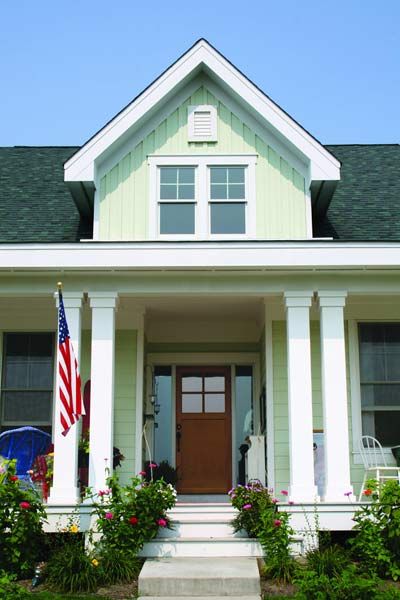 If the weather conditions in your area are frequently harsh, or your home takes a lot of direct sunlight, natural wood and painted exteriors can crack and fade quite substantially over time. However, color that is "baked-on" and infused with color at the point of manufacture, like James Hardie's ColorPlus® Technology finish, is specifically engineered to withstand damaging UV rays and harsh conditions, and resists peeling, cracking and chipping for a longer-lasting finish.
Shown: Board and batten with plank in Soft Green
Authentic Style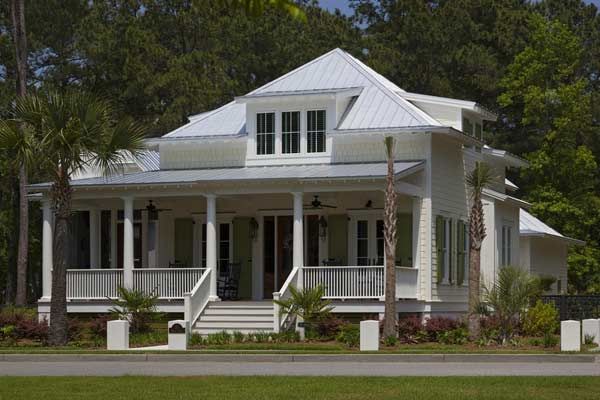 Unlike wood, fiber-cement shingles resist rotting, curling, warping and splitting. So whether you're restoring the look of a grand Cape Cod or adding distinction to a handsome bungalow, you can get the warm, enchanting look you want without the constant upkeep.
Shown: HardieShingle® Siding in Arctic White
Create Character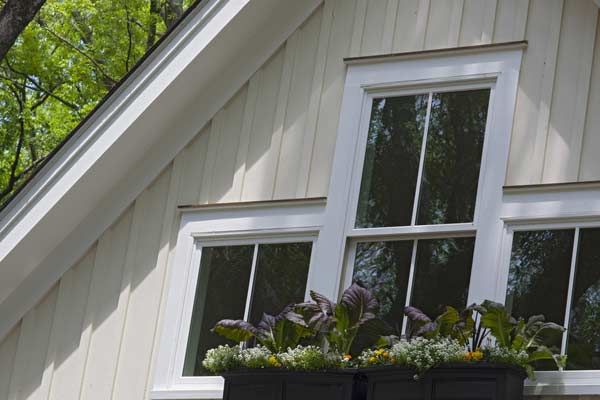 A creative combination of vertical siding and trim boards achieves the rustic, board-and-batten look that defines cottage charm.
Shown: HardiePanel®Vertical Siding; HardieTrim® batten boards in Arctic White
Find Your Color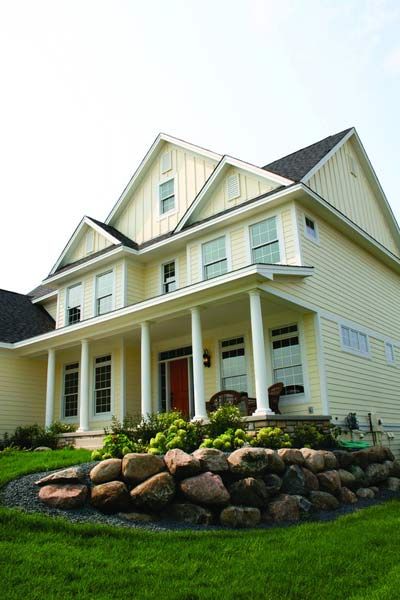 Deeper body hues give a warm, welcoming feeling, while soft contrasts between siding and trim can make homes appear larger. If you're afraid of making a color mistake, use a variation of your original shade. Or, view the palette of James Hardie ColorPlus® Technology colors curated specifically for your region to envision how a new palette will look on your home.
Shown: Woodland Cream
Mix and Match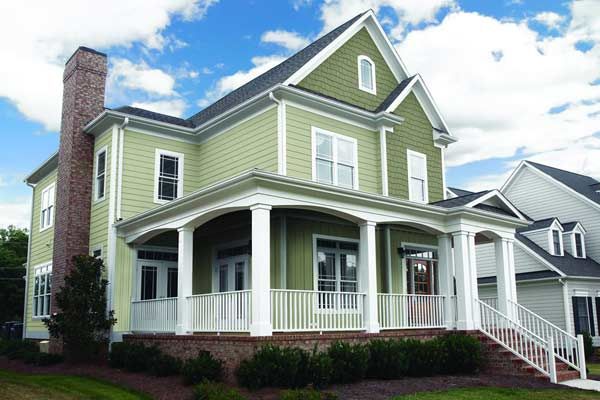 A distinctive palette using a range of tones within one color family creates depth. And combining vertical, lap, and shingle-style siding generates textural interest.
Shown: HardiePlank® lap siding, HardieShingle® siding, HardiePanel® vertical siding and HardieTrim® boards, all with ColorPlus® Technology finishes in Heathered Moss and Mountain Sage
Finish with a Flourish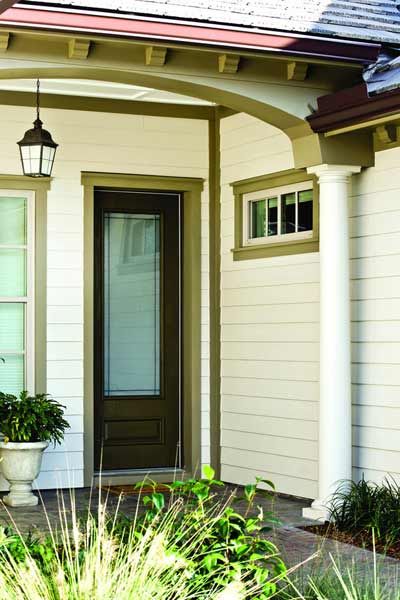 Fiber cement trim boards allow you to create a variety of non-structural architectural elements, such as column wraps, friezes, fascia, gables, and other accent areas. Using a contrasting color on trim and embellishments adds drama and dimension.
Shown: Sail Cloth
Top it Off with the Right Roof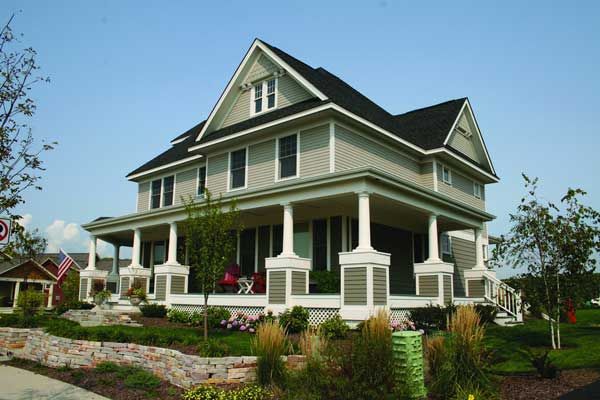 Compare samples of the siding colors you plan to work with alongside your roofing options. If you have your heart set on a particular roof shade, tie everything to that color and work backwards. Or, to mix and match siding and roof colors, use a program like the James Hardie Design Center to see how each combination would look on an actual home.
Shown: Khaki Brown
Your Dream Home Come True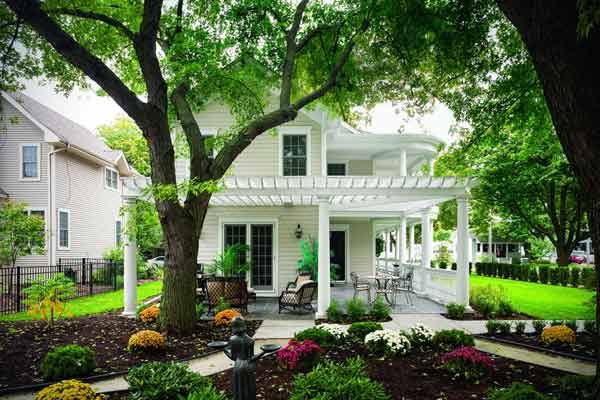 A simple design addition, such as this fresh, white pergola, can turn a boring backyard into a peaceful oasis.
Shown: HardiePlank® Lap Siding in Arctic White