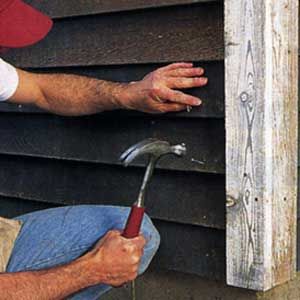 Most homes – regardless of age, size or style – have some sort of exterior trim. The frieze is the horizontal trim board along the top of an exterior wall just below the soffit. The fascia forms the face of an eave and provides a surface for attaching rain gutters. Rake boards angle up from the eaves to the ridge to trim a gable wall. Flat exterior casings frame windows and doors, while vertical corner boards often frame siding or shingles at inside and outside corners. Exterior trim is nearly always low-grade No. 2 pine or fir that's been painted. Pine and fir are prone to insect and weather damage, and the resinous knots on both tend to bleed through several coats of primer and paint. They also expand and contract as they absorb and shed moisture, causing split wood and cracked paint. In the end, you have to patch, scrape and repaint the trim every couple of years. Knot-free grades of cedar, redwood or sugar pine hold paint much better and are more dimensionally stable. But they still expand and contract. And that's bad news for paint.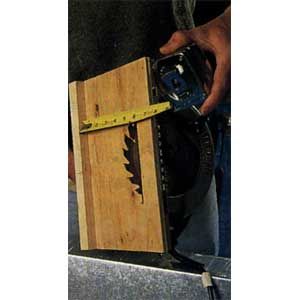 A Better Board
If you need to refurbish the exterior trim on your home, you have two choices. Either scrape, sand and repaint the existing boards – and be prepared to repeat the job relatively soon. Or replace the old trim with a better-quality product. The second option takes longer and costs more up front but saves time and trouble down the road. That's the route we chose in replacing the pine corner boards on this house with Georgia-Pacific's PrimeTrim engineered lumber. It's made of wood fibers mixed with resins and pressed into 16-ft. planks. It comes preprimed, and is backed for 10 years against rot, delamination and swelling (see resources, left). PrimeTrim comes in 4/4-in. (actual: 5/8-in.) and 5/4-in. (1-in.) thicknesses and six widths (3 1/2 to 11 1/4 in.). For this job, we replaced 3 1/2-in.-wide pine boards with 5/4-in.-thick x 5-in.-wide PrimeTrim. The wider boards make the trim more prominent and help emphasize the facade. The material is also affordable: A 16-ft.-long 5/4×5 plank costs about 82 cents per linear foot, compared with $1.50 to $2 per linear foot for 5/4×4 cedar, redwood or sugar pine and 70 cents per linear foot for No. 2 white pine.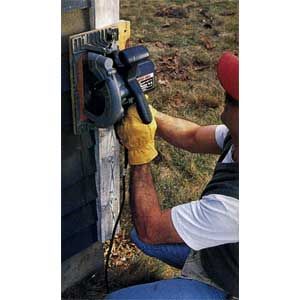 Installing The New Trim
You'll have to cut back the siding at each corner if you install wider boards. Because the two new boards overlap in a butt joint at the corner, you only have to cut along one wall to create the 4 1/2-in.-wide recess needed. Pull away nails on the cut line and renail the siding 1 in. in before trimming. You'll also have to make a cutting jig for your circular saw to execute a straight cut up the wall. To do that, screw a 1/2-in. plywood base to the saw shoe, then attach a 3/4×1-in. edge guide to the plywood base using the combined width and thickness of the new trim. Set the blade just deep enough to cut through the siding, hold the saw in position with the guide hooked over the old trim boards and carefully make the cut. Yank off the old boards and remove the cut-off pieces of siding. Before nailing up the new trim, apply two coats of a high-quality exterior paint. Let the paint dry overnight, then attach the trim with 3 1/2-in.-long (16d) hot-dipped galvanized or stainless-steel nails. Drill pilot holes first or you'll bend lots of nails driving them through this dense material. Finally, apply one final paint coat, making sure to cover each nailhead.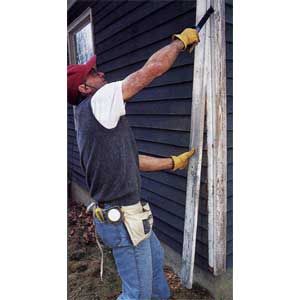 Where To Find It:
Cabot Stains
100 Hale St., Dept. TH798
Newburyport, MA 01950
800-877-8246
Georgia-Pacific Corp.
133 Peachtree St., Dept. TH798
Atlanta, GA 30303
800-284-5347