Fiberglass-Based Asphalt Shingles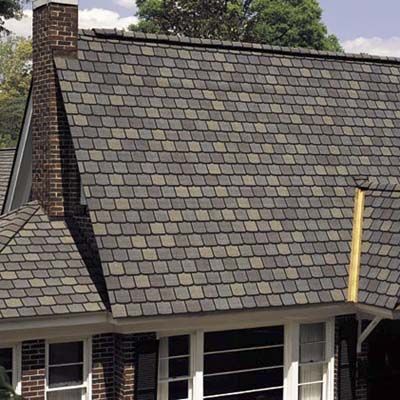 As the most economical of all residential roofing materials, asphalt shingles make up 80 percent of the U.S. market. The fiberglass-based variety also offers excellent fire resistance when installed with fire-code-compliant underlayments. The Class A–rated Centennial Slate shingle from CertainTeed boasts the affordability of an asphalt shingle and the luxe look of natural slate. $50 to $100 per square (enough shingles to cover 100 square feet), installed. CertainTeed, Valley Forge, PA; 610-341-7000.
Recycled-Rubber Tile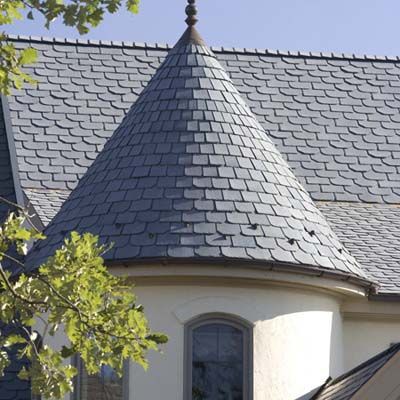 Want a roofing material that's light on both your roof and your pocketbook, is friendly for the environment, and meets the toughest fire-resistance requirements? Have a look at EcoStar's recycled-rubber Majestic Slate Traditional tiles. Manufactured using a highly effective fire retardant and underlaid with a fire-resistant barrier, this assembly is one of only a few synthetic roofing materials to get UL's Class A fire rating. Expect to pay between $6.50 and $8.50 per square foot installed. Price variation depends on myriad factors, including region of the country, availability, and color schemes. EcoStar, Carlisle, PA; 800-211-7170.
Metal Tile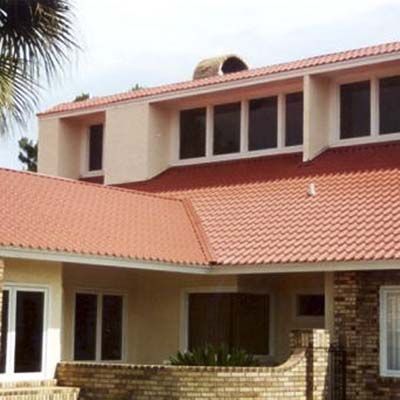 Metal tile won't ignite, and in combination with a fire-resistant barrier material underneath, it provides Class A protection. It's also light and requires little maintenance. This Nordman tile, for example, is made of steel coated with a durable UV-resistant fluoropolymer resin that reflects the sun's heat and protects against abrasion. It comes with a 30-year warranty. $700 to $800 per square (enough tile to cover 100 square feet), including underlayment and installation. Scandinavian Profiling Systems Inc., Boynton Beach, FL; 561-863-1333.
Clay Tile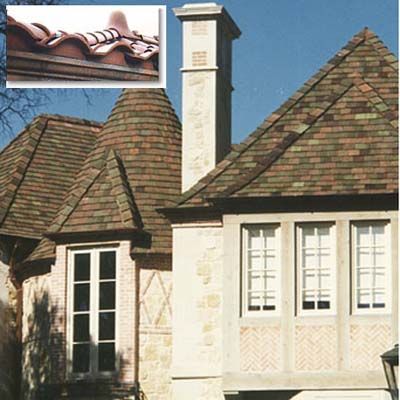 Traditional clay tile is both durable and noncombustible. If you use the barrel-shaped variety, make sure openings (especially those over the eaves) are sealed so flying embers can't penetrate your roof. The Roof Tile and Slate Company sells both new and salvaged Ludowici clay tile. About $500 per square (enough tile to cover 100 square feet), not including installation. The Roof Tile and Slate Company, Carrollton, TX; 800-446-0220.
Slate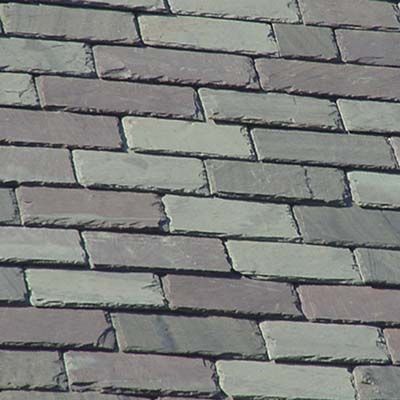 The Duesenberg of roof coverings, slate is elegant, timeless, and nearly indestructible. As a noncombustible, it receives a Class A fire rating. Suppliers, such as Evergreen, sell slate designated S1, the American Society for Testing and Materials's highest grade, rated to last 75 years. Since slate weighs 700 to 3,000 pounds per square (the number of tiles it takes to cover 100 square feet), depending on thickness, make sure your home's roof structure can support it before you buy. $700 and up per square, installed. Evergreen Slate Company, Granville, NY; 518-642-2530.
Stone Veneer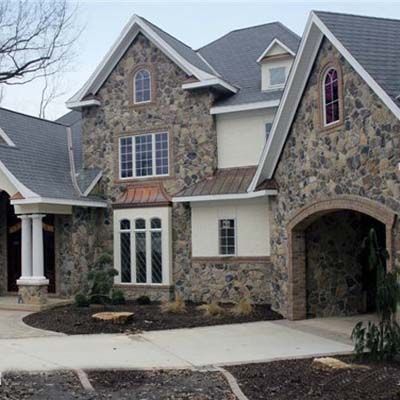 If you prefer to face your home with a natural material, sliced rock is a good, noncombustible option. Use a fire-rated mortar, like MetaCaulk, and periodically repair cracks to lessen the likelihood that the heat of a fire will cause the stones to pop off. The fire resistance of Natural Stone Veneer International's fieldstone veneer is amplified if it sheathes masonry-block or ICF framing instead of wood framing that hasn't been treated with fire-retardant chemicals. Natural Stone Veneer International; $8 to 14 per square foot.
Fiber Cement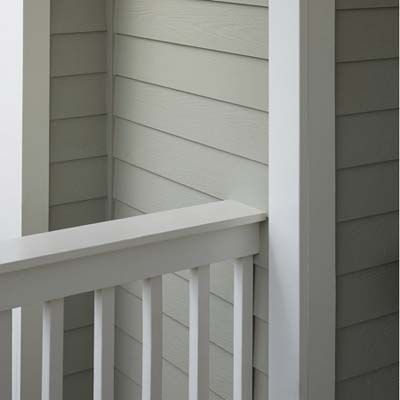 Fiber-cement shingles and clapboards, made from a mix of portland cement, sand, and wood, usually carry a Class A fire rating, which means they can withstand 2 to 4 hours of high heat before your home's structure starts to fail. Note that most fiber-cement sidings require a gypsum-board underlayment to reach their maximum efficacy. Also, keep in mind that cladding your home in fire-resistant siding won't matter if embers find their way in through cracks or other flammable surfaces, so be sure to enclose eaves, soffits, and fascias with complementary fire-retardant trim. Some fiber-cement products, like Certainteed's Weatherboards, are now molded to look like real wood. About $7 to $8.50 per square foot.
Exterior Insulation Finish Systems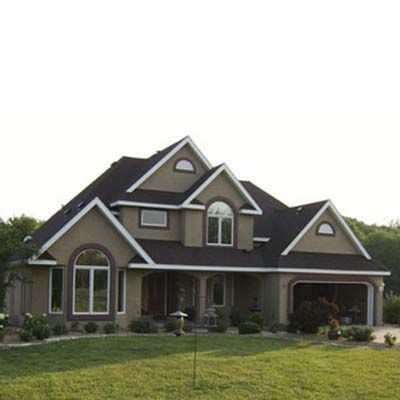 An EIFS finish looks like traditional stucco but is formed by applying an acrylic-impregnated cement finish over fiberglass lath. A foam insulation layer on the back of the cement prevents cracking—a problem with cement- and gypsum-based stuccos. EIFS products like Dryvit (pictured) don't have a fire rating because the noncombustible material simply falls off when confronted with moderate- to high-heat flames. EIFS will not compromise the fire resistance of the wall system underneath. Dryvit $8 to $10 per square foot installed.
Treated Wood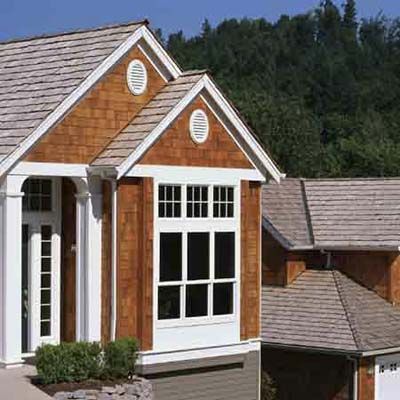 While natural wood makes for easy tinder, some companies offer clapboards and shingles impregnated with UL-approved fire-retardant chemicals. Be sure to retreat the wood regularly so it will stay fire resistant because the chemicals leech out over time. Watkin Sawmills; about $1.50 per square foot.
Masonry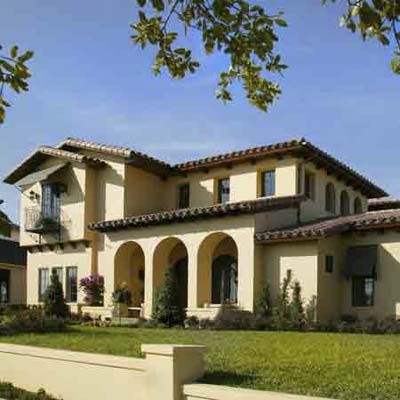 Naturally fire-retardant brick or stucco walls meet or exceed one-hour fire ratings, depending on their thickness. While both noncombustible materials tend to be on the pricey side, they can offer decades' worth of protection if installed and maintained properly. A layer of gypsum, which is 22 percent chemically combined water, underneath will slow the transference of heat from the siding to your framing. About $6 to 8 per square foot for stucco, $8 to $12 for brick. Portland Cement Association and The Brick Industry