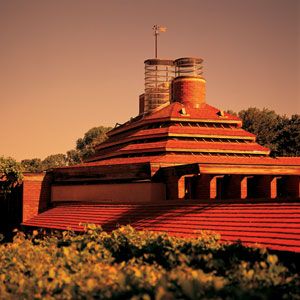 In 1939 in Racine, Wisconsin, Herbert "Hib" Johnson threw a housewarming party at Wingspread, his new 14,000-square-foot residence designed by Frank Lloyd Wright. As dinner was being served in the great hall — a quintessential Wnght creation with sweeping curves and a soaring skylight-ringed ceiling suspended from the central chimney like a circus tent — a thunderstorm erupted, and water began dripping steadily into the room. Johnson, CEO of the S.C. Johnson Wax Company, phoned Wnght in a rage. "I'm sitting here with some friends and distinguished guests," he fumed, "and the roof is leaking right on top of my head!"
"Well Hib " Wright replied, "why don't you move your chair?" Armed with plent of putty, Wingspread's maintenance crew worked for more than half a century, plugging and replugging leaks at the mansion. Then in February 1994 after a severe ice storm nearly collapsed the heavy clay-tiled roof, the Johnson Foundation, which now uses Wingspread as a conference center, launched a $2.85 million repair effort. Members imposed one major restriction on the preservation team: Do nothing to alter the room's appearance. All repairs had to be made from above — through the top of the roof — to avoid damaging historic plaster and millwork.
By summer, a forest of scaffolding erected in the hall held up the slumping ceiling and, outside, plywood and tar paper covered Wright's airy pagoda design like a prairie-style Darth Vader helmet.
At first, no one knew exactly what held the roof up — Wright's plans were short on detail. To their amazement, members of the restoration team found the sagging Z-shaped rafters in the upper part of the roof were nothing more than butt-nailed, plywood-gusseted 2×4's; eight had been rotted by the chronic leaks.
Rot-proof replacements for the rafters were fashioned from 1 1/2-inch thick slabs of aircraft aluminum. Robotic water jets did the cutting. Extracting the old rafters and fitting new ones in their place demanded surgical precision, so the workers first rehearsed the entire procedure on a full-size mock roof.
To strengthen the structure without altering its shape, thin sheets of carbon fiber, used in racing boat hulls and Stealth bombers, were epoxied to the sheathing in a corsetlike band around the lower roof. No roofer knew how to install the material, so the foundation hired a crew of boatbuilders. They started work late December 1996, just as nighttime temperatures in Racine plunged below zero. Because the epoxy cures properly only when warmed to 140 degrees Fahrenheit for 24 hours, the contractor bought in a million-Btu propane heater and sealed off the area around the roof with plastic tarps. "We basically built a big oven that enabled us to cook the roof," says Kevin Higgs, project superintendent.
The roof cap and interior scaffolding came down in June 1997, and Wingspread reopened a few weeks later. The ceiling and roof now look just as they did when Hib Johnson lived there. And the next time it rains, there will be no need to rearrange the furniture.
Where to Find It
Wingspread Restoration Team:
Principal architects:
The Hillier Group
Princeton, NJ 08543
609-452-8888
Contractor:
Bentley & Son
Milwaukee, WI 53223
Structural Engineer:
Robert Silman
New York, NY
212-620-7970
Preservation consultant:
Annabelle Radcliffe-Trenner
Preservation consultant:
Kirsten Kingsley
Vinci/ Hamp Architects
Chicago
Roofers:
Palmer Johnson Inc.
Sturgeon Bay, WI
Our thanks to:
The Johnson Foundation
P.O. Box 547
Racine, WI 53401-0457
414-639-3211
For more information:
The Frank Lloyd Wright Building Conservancy
212-663-1786