Whimsical Paint Makeover: After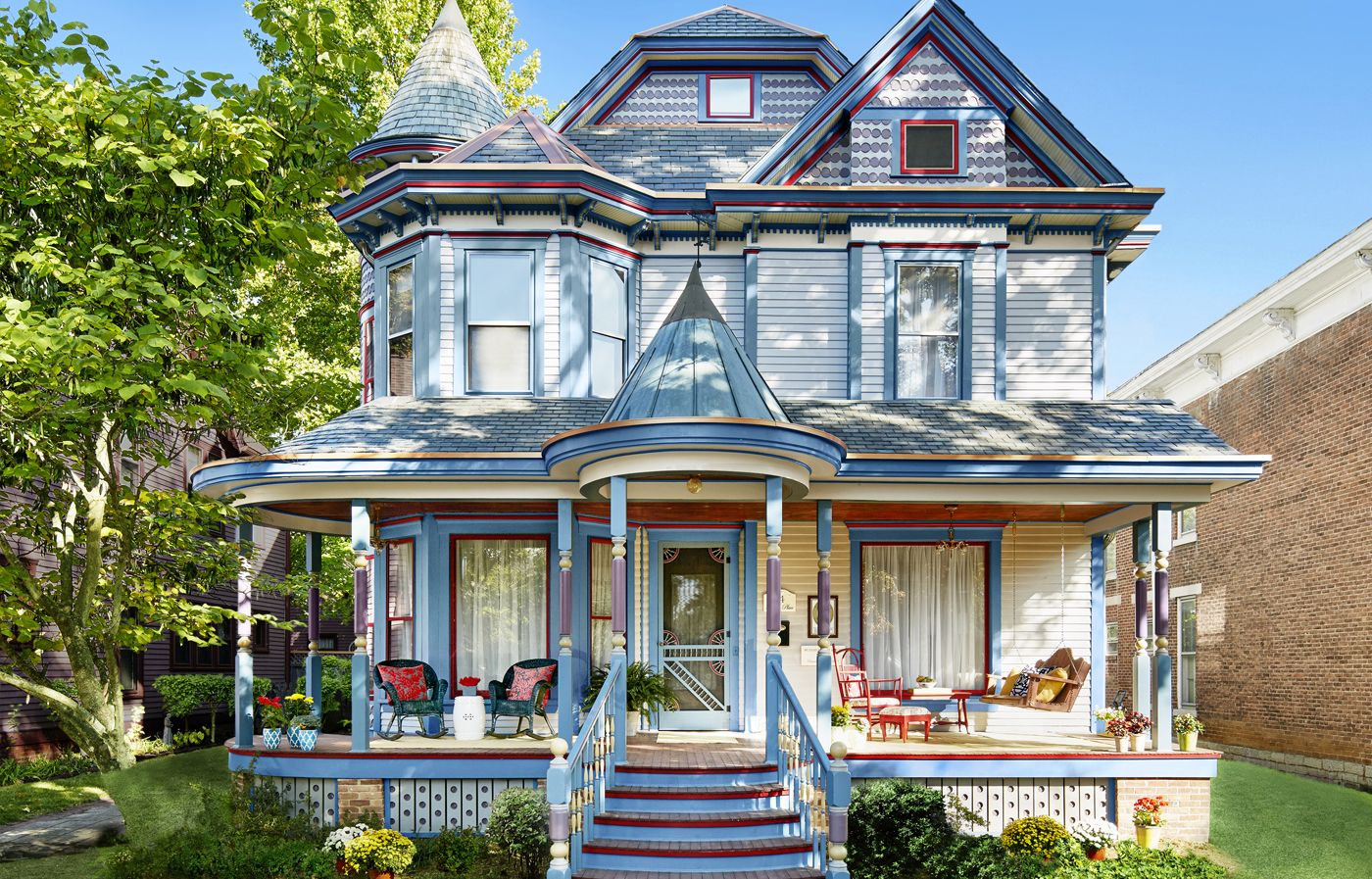 Create your own color scheme for this Victorian-era house. Download a free PDF you can color here.
Elaborate posts, expansive floors, whimsical skirts, and intricate paint-color schemes make the porches on Queen Anne–style houses among America's most decorative. Of course, those prized features multiply the challenges when it comes to restoring them, as Amy and Doug Heavilin found after buying a 1902 diamond in the rough in Franklin, Indiana.
Shown: The homeowners swapped in period-appropriate turned posts, then added matching stair railings for comfort and safety. New tongue-and-groove flooring, circle-pattern skirting, and paint colors breathe fresh life into the Victorian-era house. The conical copper roof cap was, luckily, intact.
General contractor: Mike Campono, Carpentry by Campono; 317-361-6018
Paint contractor: Cody Sutton, Sutton Fine Painting; 317-525-7652
Roofing contractor: Kammerling Construction; 317-738-3622
White garden stool: Jayson Home
Signs of Water Damage: Before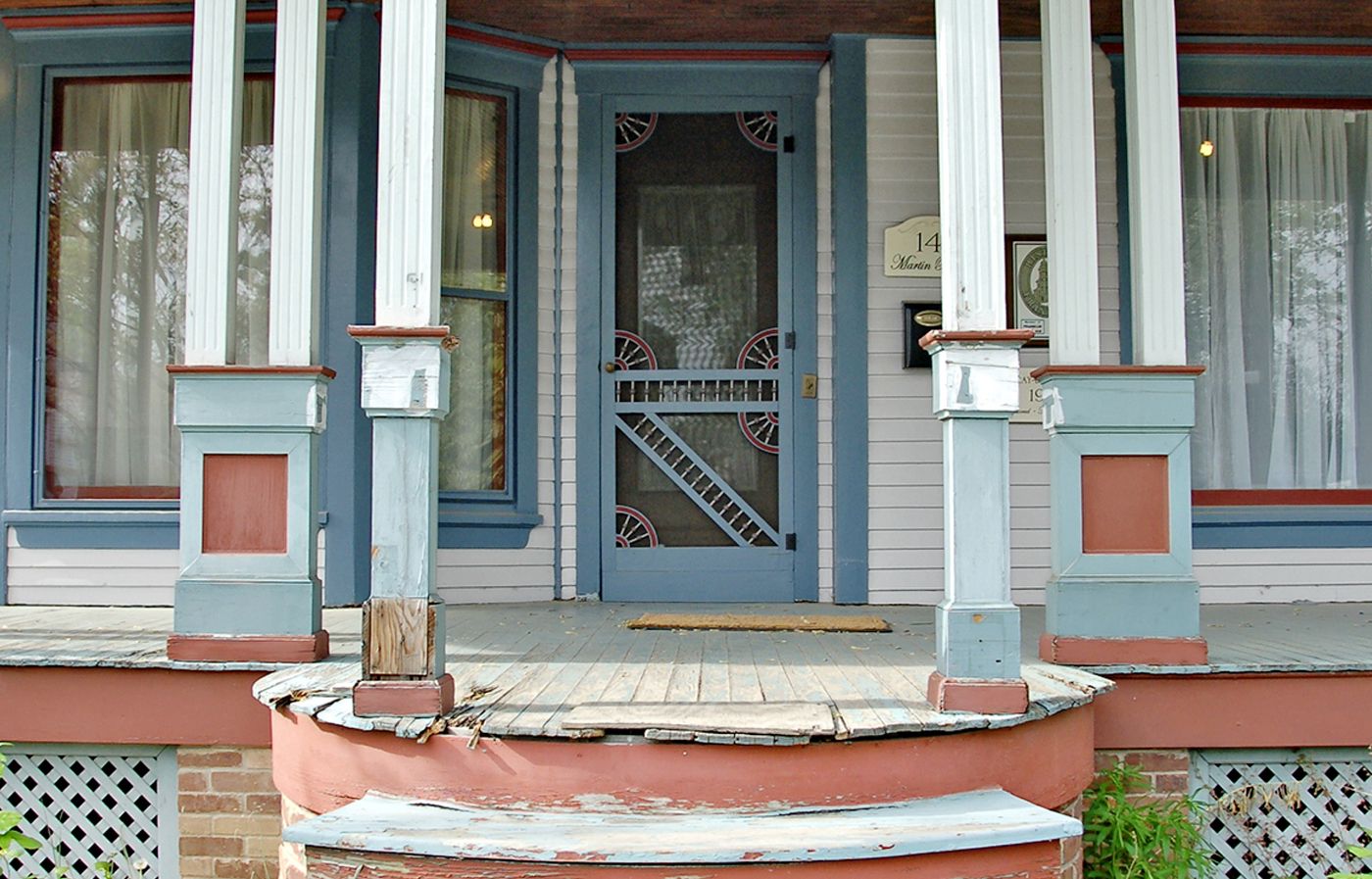 Because the house had been vacant for some time, they had to spend the first year repairing the failing slate roof and rotted exterior before they could turn their attention—and funds—to the front porch, whose deteriorating steps and peeling paint would require another year to sort out.
Online sleuthing led them to historically accurate posts, spindles, and skirting. New tongue-and-groove pine flooring replaced the rotted original, with new brick piers shoring up the perimeter as well as the sagging middle. A fresh paint scheme of six different colors puts a friendly, gracious face to the neighborhood. Says Amy of the once spooky space: "Now it's a fun, welcoming place to be."
Shown: Rotted steps and peeling paint hinted at extensive water damage.
Paint Scheme for a Detail-Popping Look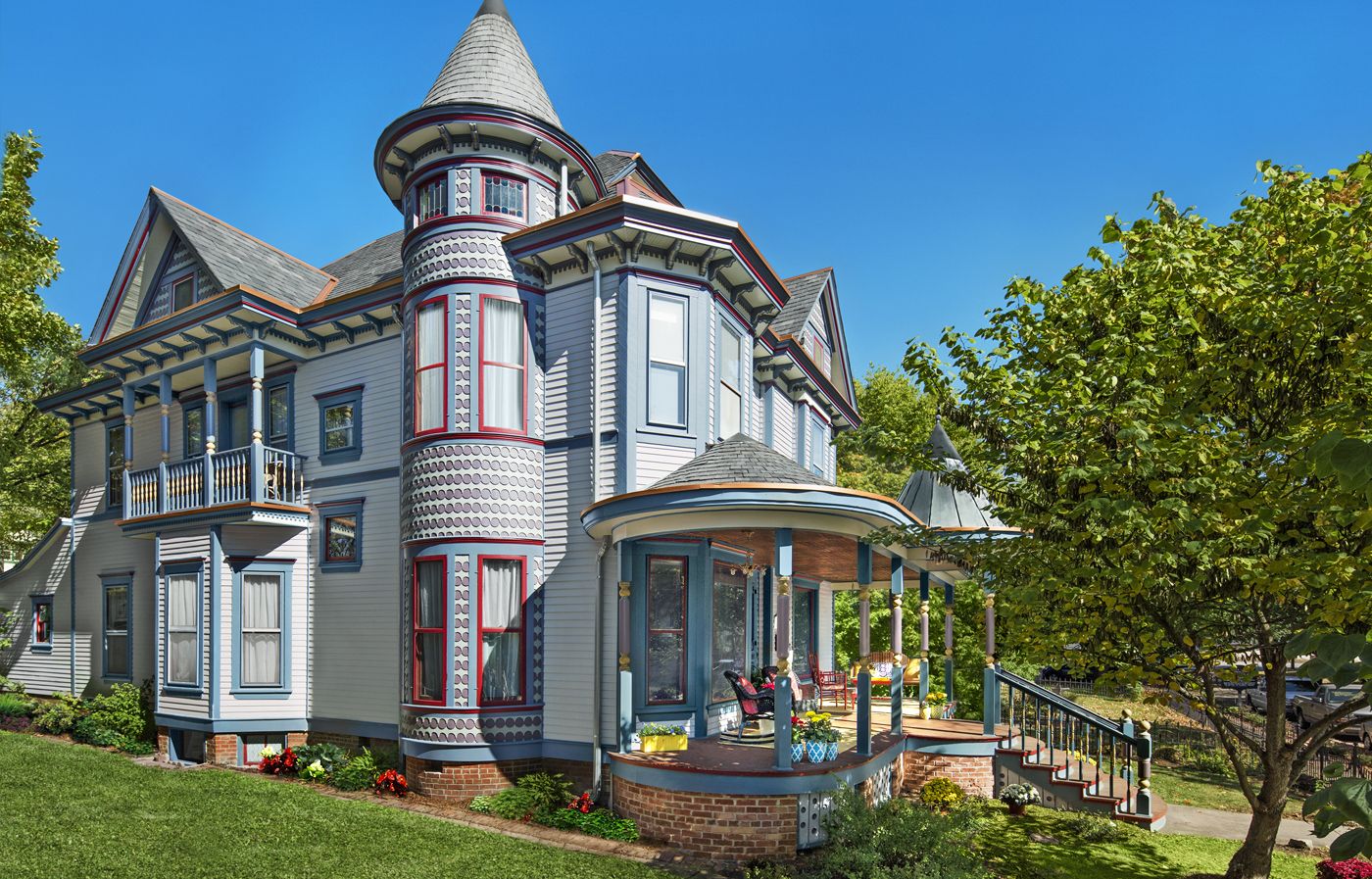 Amy researched historical palettes, then went with a color scheme of blue, gray, purple, red, cream, and gold, inspired by a fabric sample she found and liked. The painting contractor helped her figure out which color to use where to make all the house details really pop.
Paint: Porter Paints' Brick Dust (red) and Smoky Blue (blue); Sherwin-Williams's Dovetail (gray), Burlap (gold), Expressive Plum (purple), Wool Skein (cream)
Lookalike Turned Posts from a Historical Photo
The turned posts the homeowners chose for the porch—and for a balcony on the side of the house—are a close match to the ones that adorn it in a 1910 photograph that Amy found at the local historical society.
Posts: Century Porch Post
Red coffee table: The Marshmallow Monkey; 317-494-6020
Red coral sculpture: Martin Wood
Flower pots and plants: Gethsemane Garden Center
Weather-Resistant Porch Floor Stain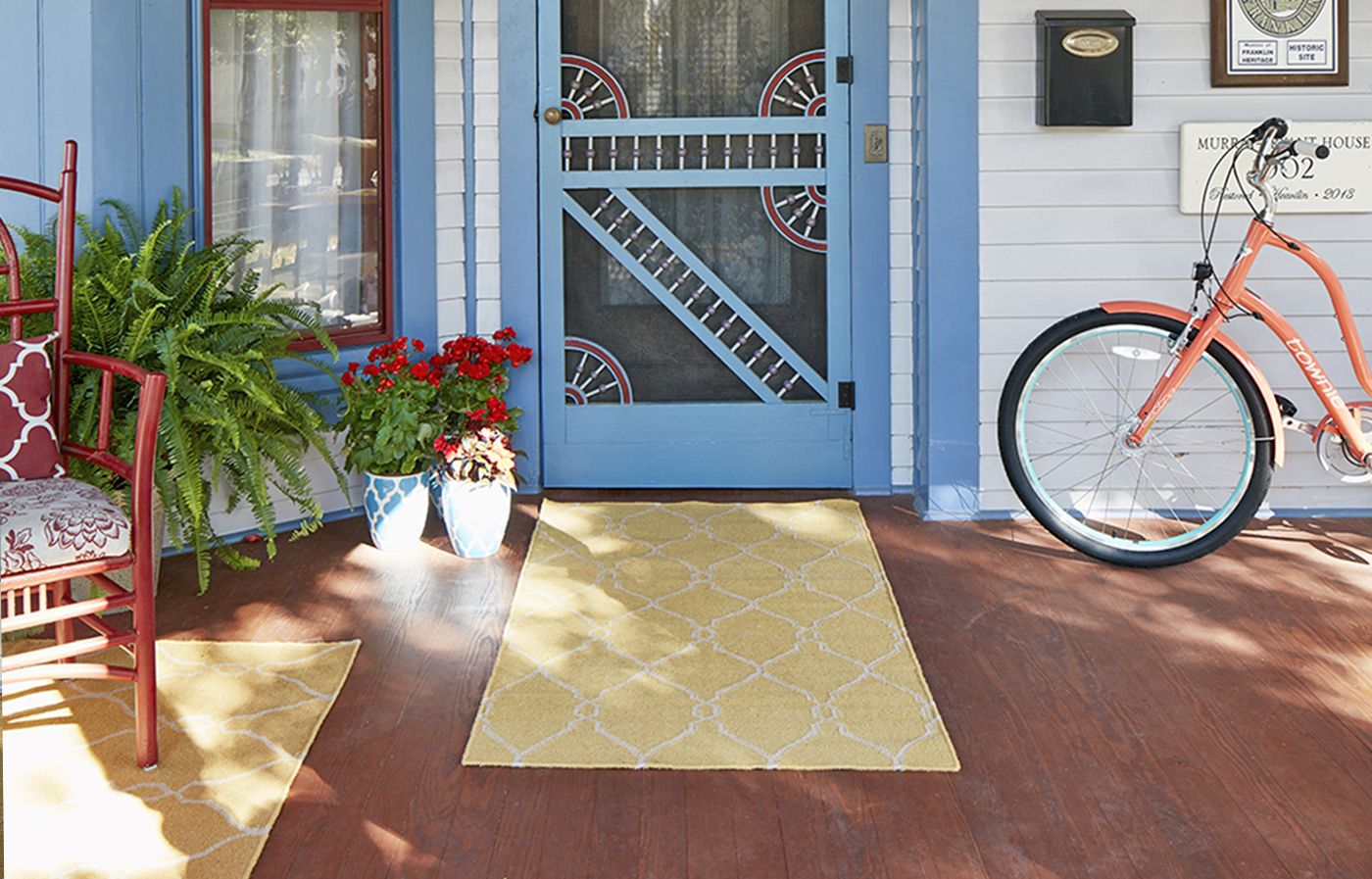 Homeowners Amy and Doug Heavilin opted for solid stain on the new tongue-and-groove pine floor to help it resist weathering. It echoes the original clear-coated beadboard ceiling, which was in great shape. The existing screen door needed minimal restoration and received a blue and red paint job that ties in with the windows.
Porch floor: Carter Lumber
Porch floor stain: Sherwin-Williams's Deckscapes in custom color
Windows: Franklin Window and Door
Rebuilt Front Steps and Colorful Railings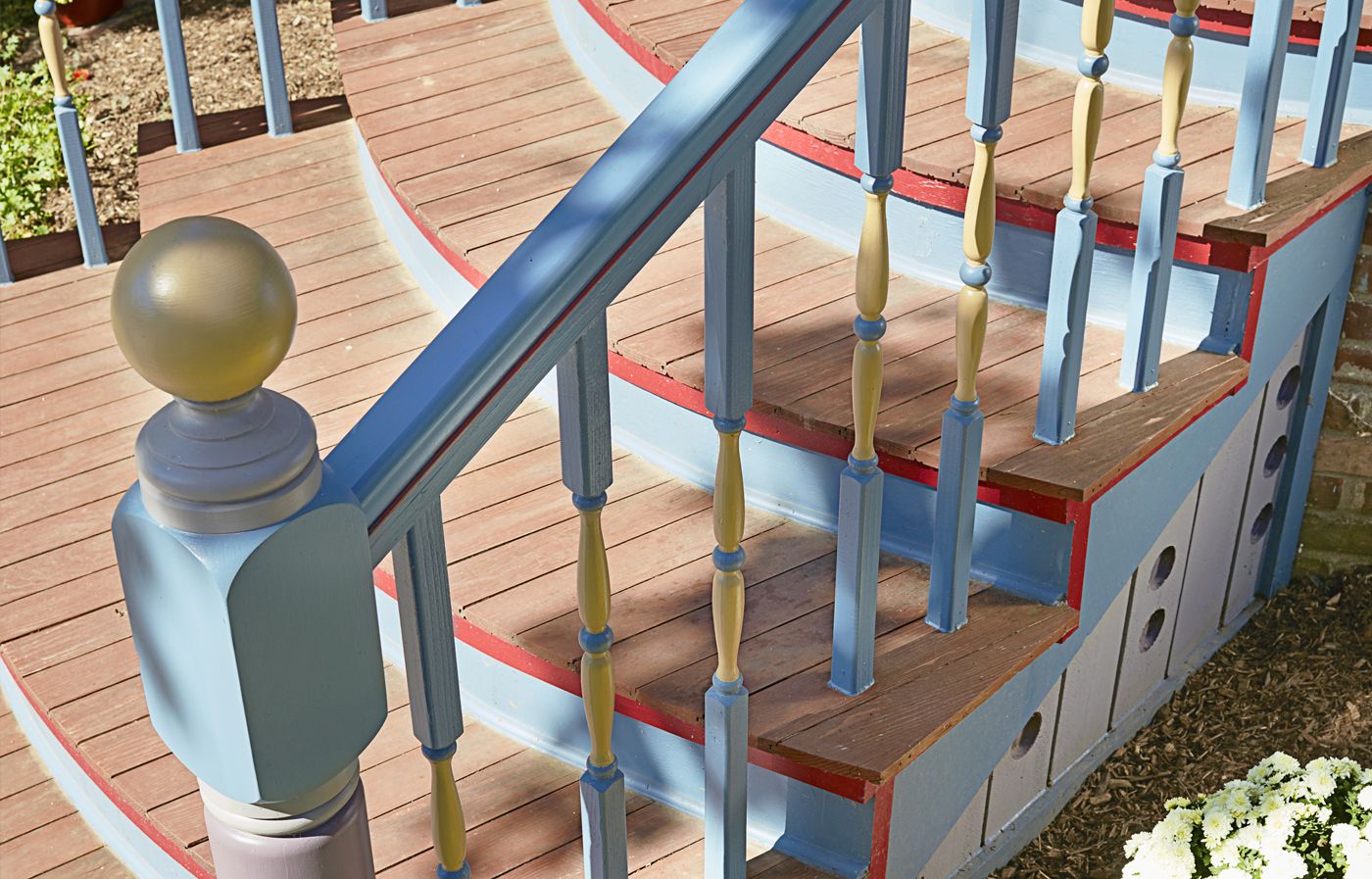 The steps were rebuilt, with treads made from offcuts of the 3-inch tongue-and-groove pine used for the floor. The boards for the treads were laid first, with a wedge-shaped piece at each end, then all were trimmed to follow the curve. The risers were installed afterward. The railings artfully incorporate five of the colors applied to the house exterior. The same spindles selected for restoring a small second-floor balcony on the side of the house grace the front stairway.
Carriage-Ready Side Stairs: After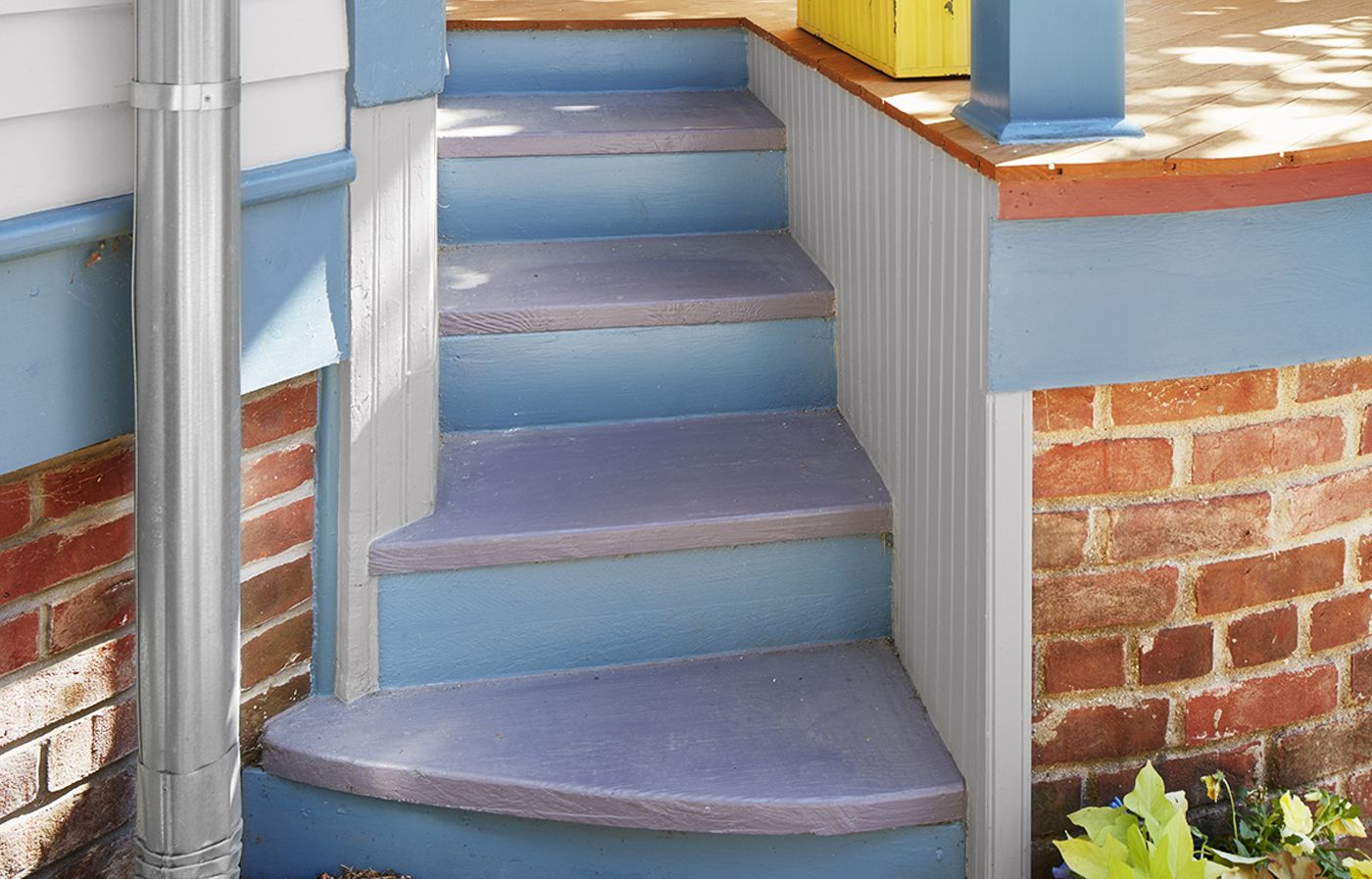 A makeshift railing was removed and the stairway hand scraped, then spruced up with paint to go with the rest of the house.
Dated Stairs in Need of an Overhaul: Before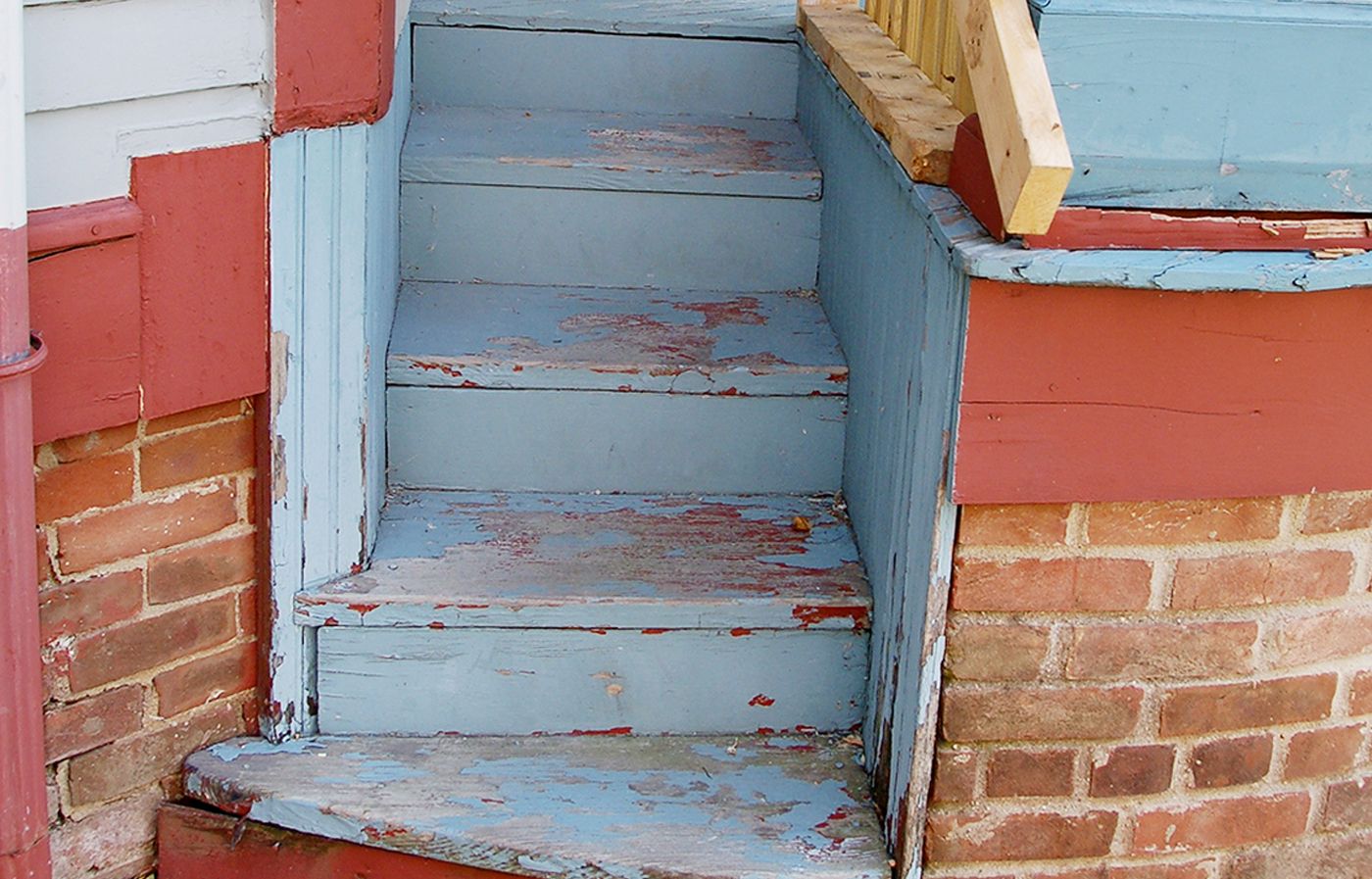 A narrow side stairway is believed to date back to horse-and-buggy days, when visitors would enter from the side after descending from their carriage.
Period-Appropriate Circle Lattice: After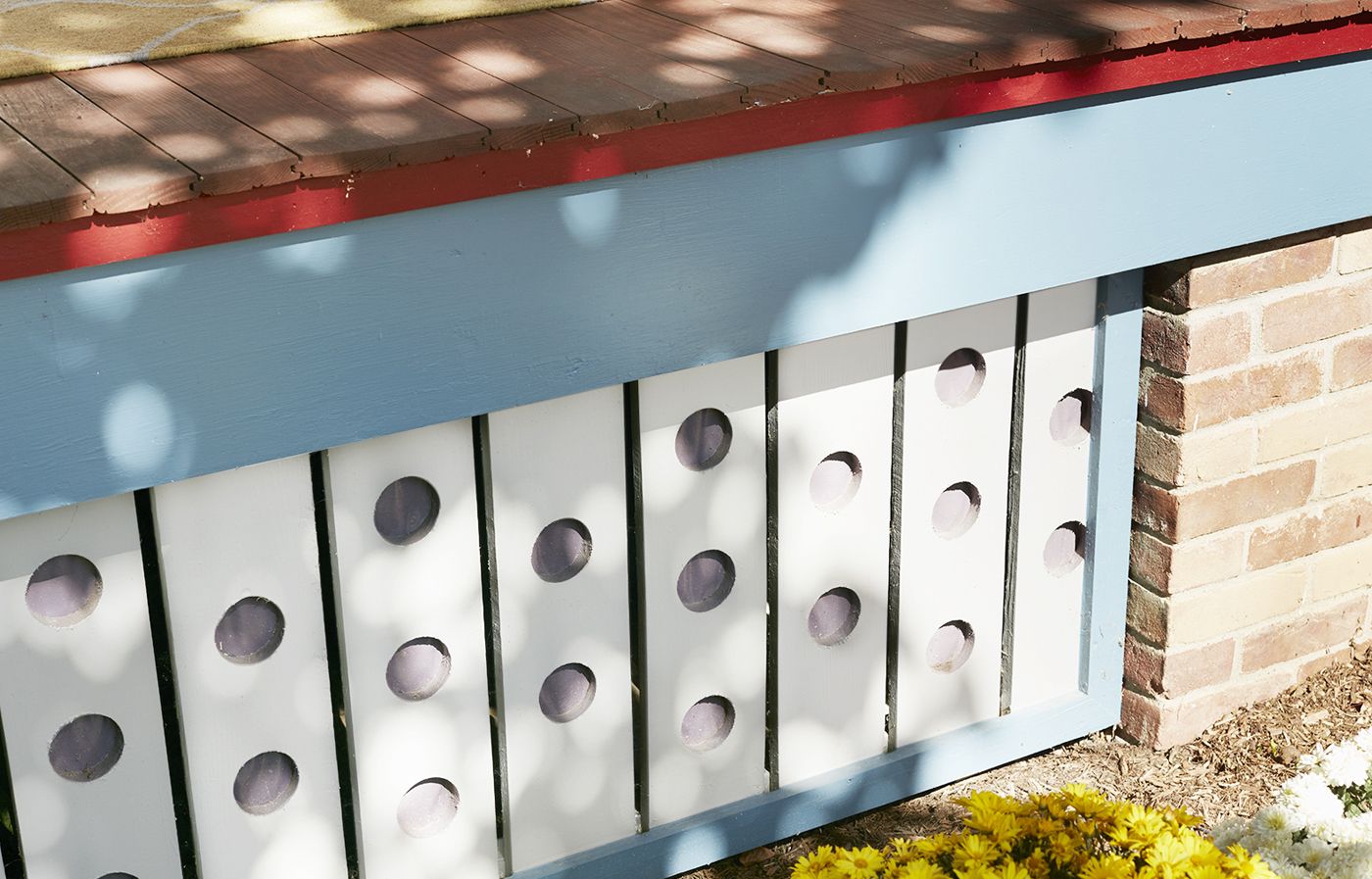 The Heavilins wanted a look appropriate to the era of the house. Amy researched online and found a circular pattern in a 1905 Sears, Roebuck and Co. catalog. Doug copied it, offsetting the rows rather than lining them up, and cut out all 119 circles on his drill press, using a jig. Tightly woven metal screening behind each board captures contrasting purple paint to show the pattern of the rounds.
Homeowner tip: "Using a jig to cut out a lot of a single shape—like the circles in the porch skirt—makes the work go faster. And that way, they all turn out uniform." —Doug Heavilin, Franklin, IN
80s-Style Lattice: Before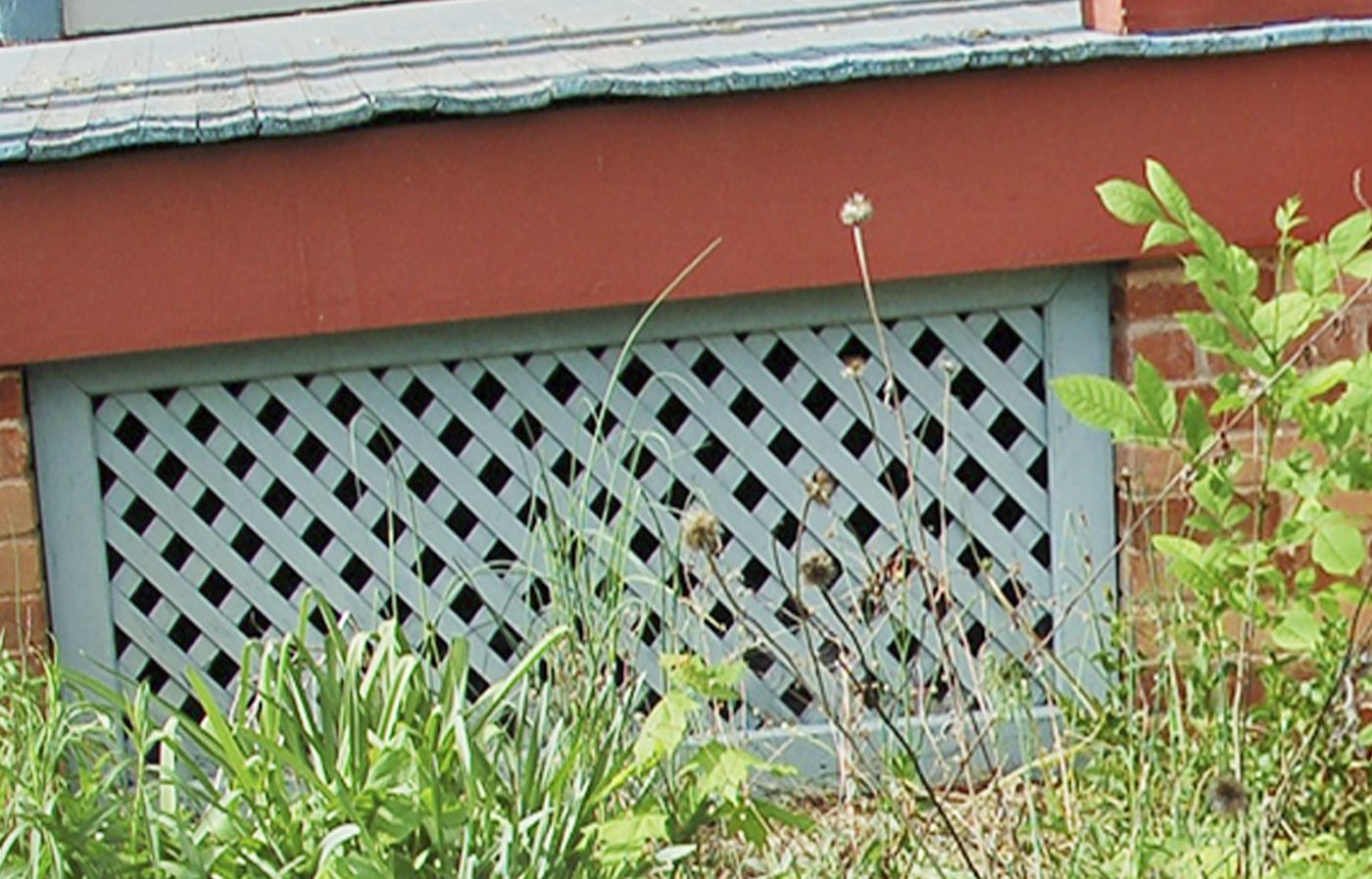 Lattice porch skirting, left over from a 1980s redo, needed replacing.
Color Your Own Queen Anne Porch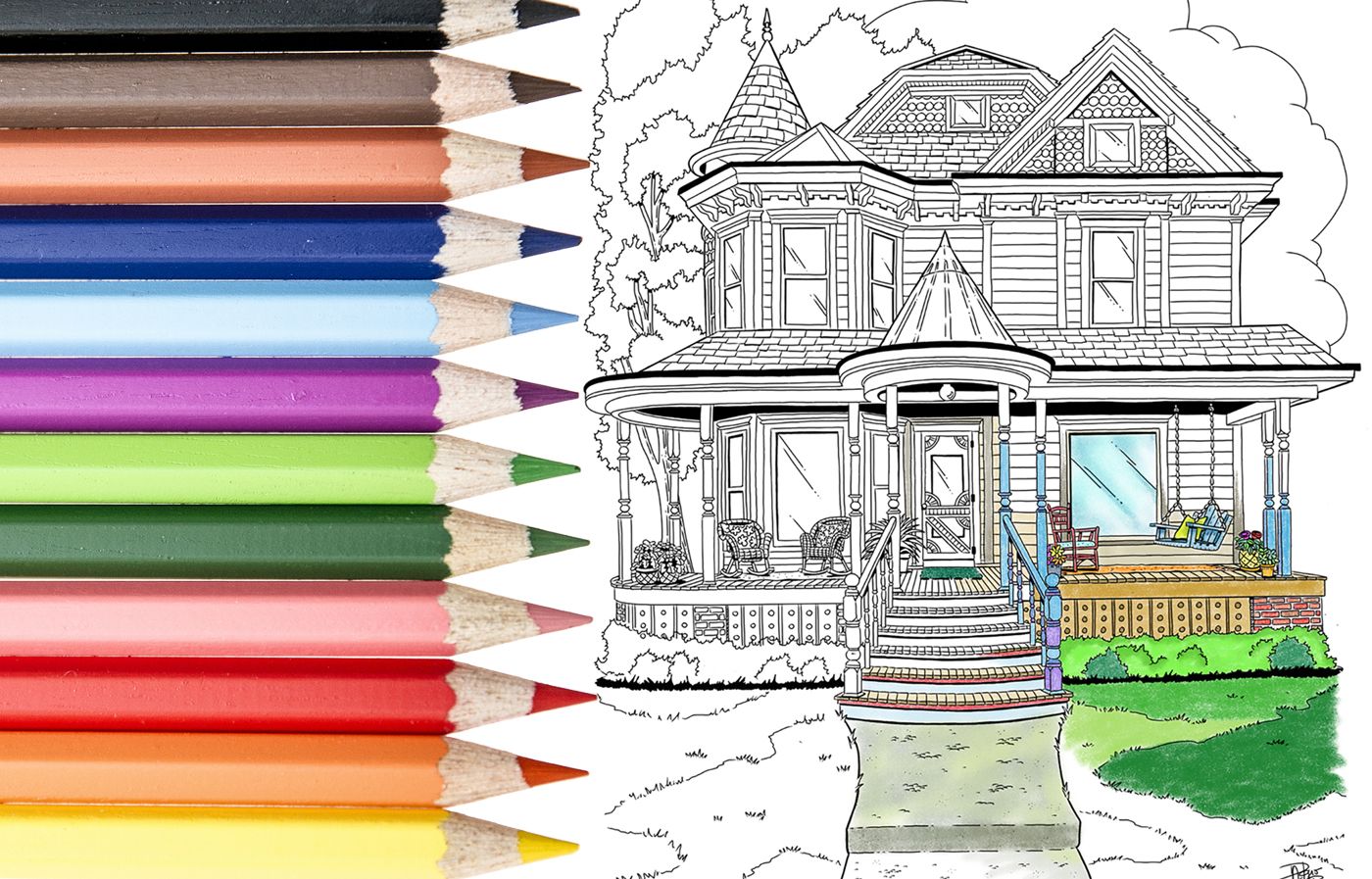 Create your own color scheme for this Victorian-era house. Download a free PDF you can color here.