The Era of Iron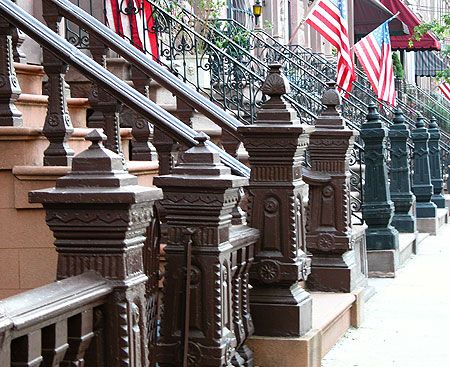 Cast-iron newel posts, the anchors of iron stair railings, first appeared in front of rowhouses in the 1800s. By the second half of the century, when cast iron reigned supreme over urban America's exterior architecture, they punctuated countless city stoops.
Affordable Elegance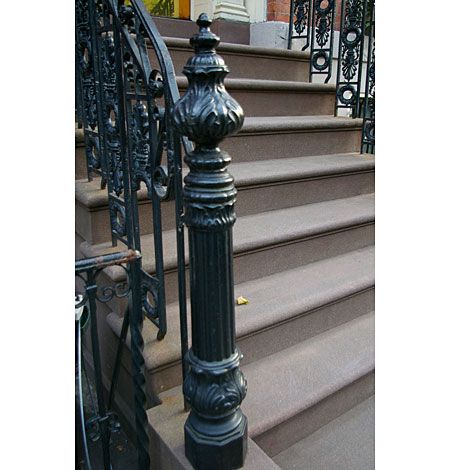 Decorative, durable, and fire-resistant, ornamental cast iron found favor, above all, because of its wide affordability. Unlike wrought iron—which required the hand of a skilled artisan—cast-iron could be mass-produced in the same foundries that gave birth to iron locomotives, structural beams, garden urns, and outdoor statuary.
The Ease of Casting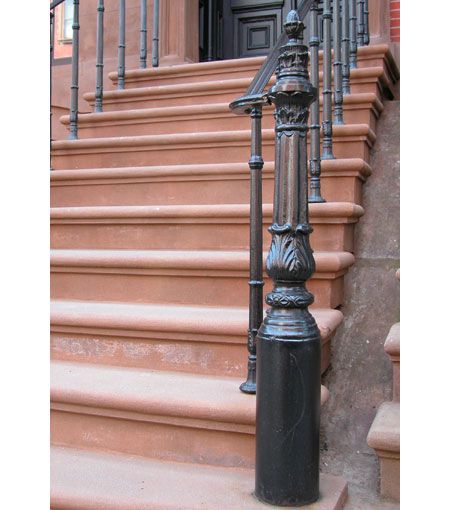 The invention of the blast furnace made it possible for Victorian manufacturers to melt large quantities of iron alloy into a liquid state, so it could be poured into molds and shaped into any imaginable form. As a result, ornate iron staircases were made accessible to middle-class townhouse owners as well as speculative builders and landlords who wanted to give their urban rowhouses an air of distinction at an affordable price.
Modular Assembly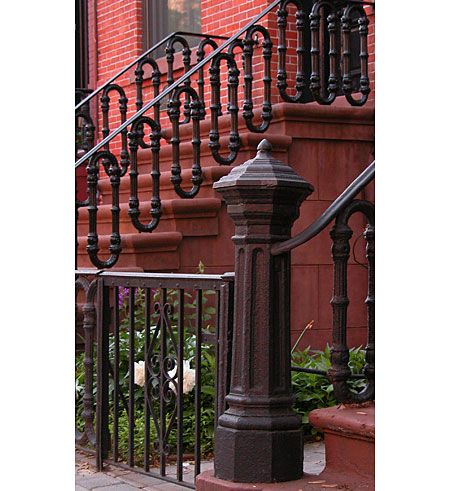 Box-style newels (and the railings to which they were attached) were molded in segments—the finial or cap, side panels, and collar. The "ready to assemble" unit would be shipped in parts and joined on site with the use of bolts, screws, and bars. Any seams, screws, and bolt heads were then painted over, sealing out water and giving the newels the appearance of a single, solid unit.
Architectural Accessories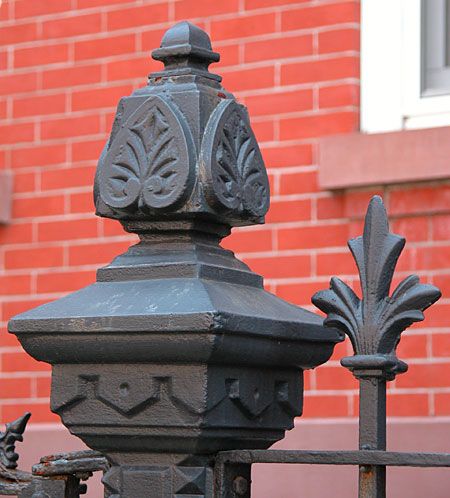 The wide variety of decorative motifs moldable in cast iron made it possible for every staircase on the block to have a personality of its own. Often, the newel post set the mood for the interior architectural decoration—whether a model of simplicity or irrepressible flamboyance.
A New Twist on Tradition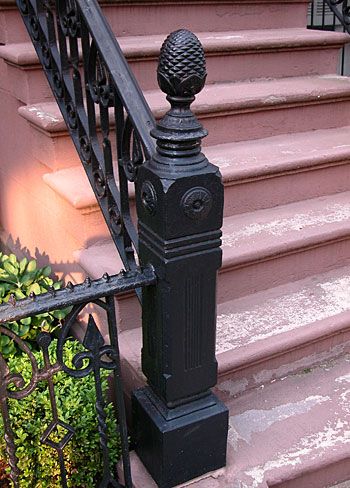 Design motifs long familiar in carved wood or stone could now be cast in iron. This pinecone finial punctuates a reeded post, in a nod to Federal style.
Victorian Classicism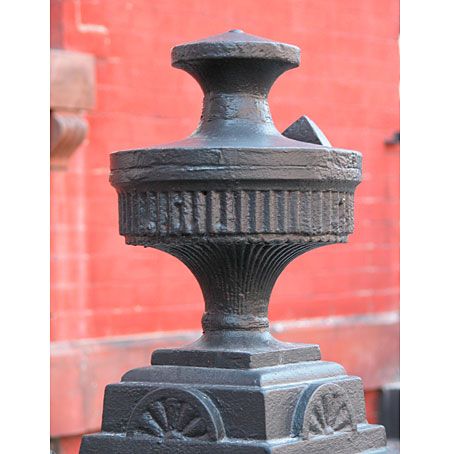 Here, an Eastlake-style post takes a classical turn with an intricately fluted cap in the form of a covered urn.
Asian Inspiration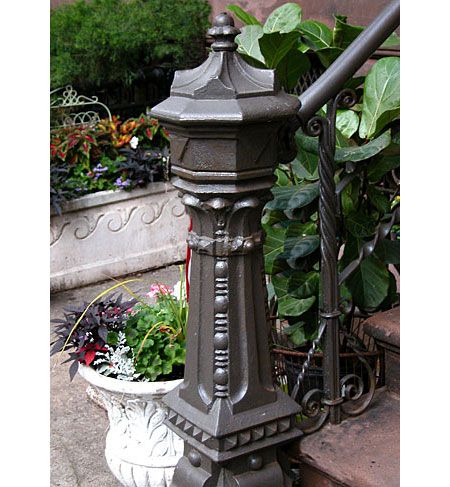 As the Victorian interest in global travel grew, so, too, did the appearance of "exotic" motifs, such as this newel post's pagoda-like cap.
Alternate Designs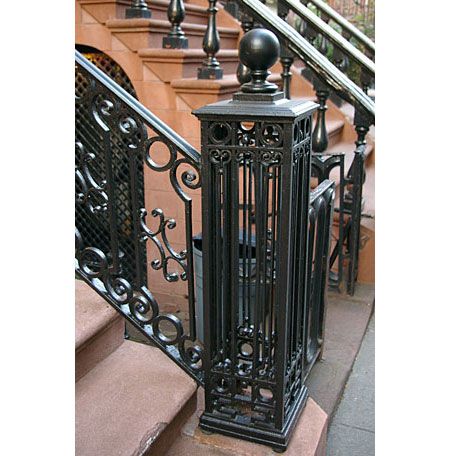 Not all cast-iron newels were solid; open, fence-like segments could be boxed or curved to create large, airy pieces.
Tall and Thin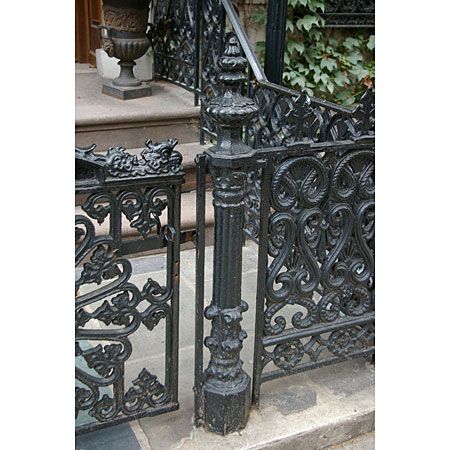 More delicate posts anchor gates and elaborate fences.
Proper Proportion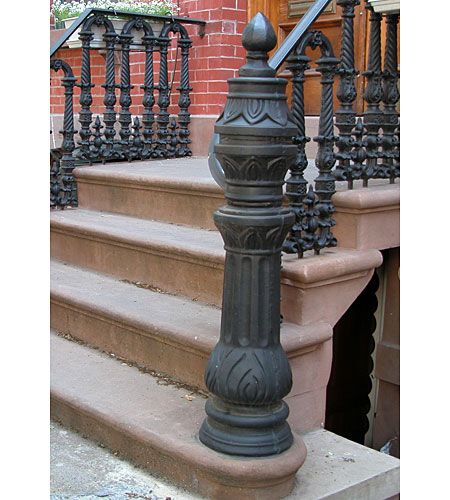 A stoop with fewer steps requires a shorter newel, so as not to overwhelm the truncated stair.
Rust Prevention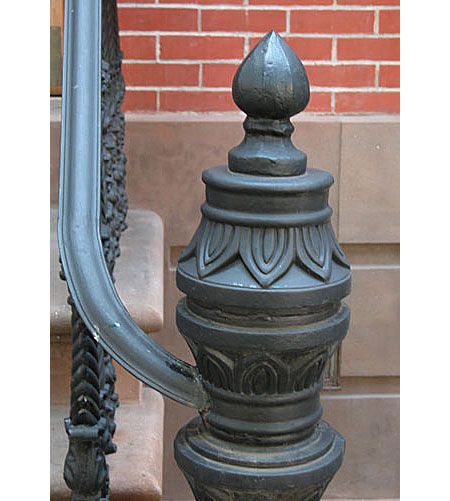 What Victorians bolted together, time will eventually put asunder. Periodically tighten any loose bolts and screws, seal seams with polyurethane caulk, scrape and repaint. These precautions will prevent water from seeping into the newel's hollow interior, rotting it from the inside out. New stainless steel nuts and bolts can fill in for stripped originals.
Cast-Iron Care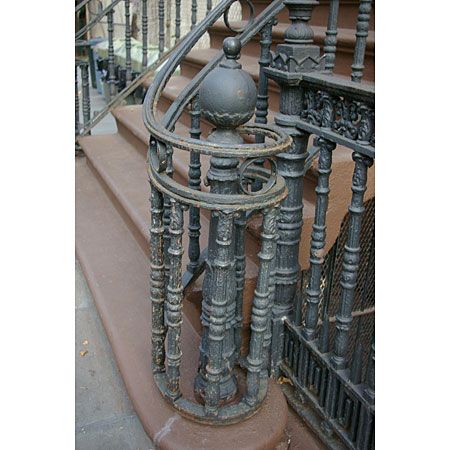 Take a wire brush to cast iron at the first sign of rust and scrape away all signs of corrosion. Immediately prime exposed areas, using a paint especially formulated for priming metal. Leave iron exposed to oxygen and moist air for even a few hours, and you'll have more rust to deal with by the end of the day.
Patching Tips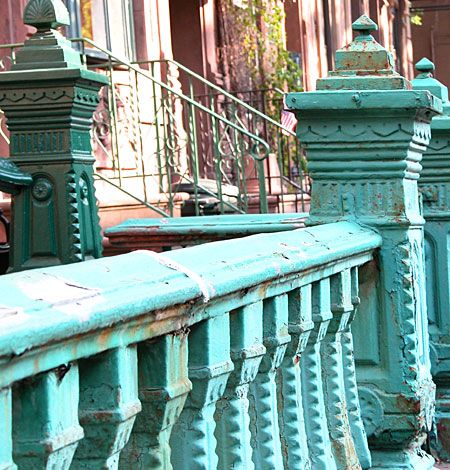 It may be possible to patch minor cracks in the cast iron with auto-body filler. Never fill the posts—or cracks of any size—with Portland cement, concrete, or any other porous material that will put iron in constant, direct contact with moisture.
Protect the Post with Paint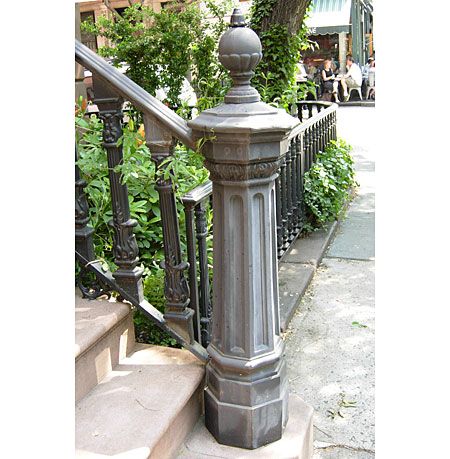 Basic black remains the most familiar paint finish for ornamental cast iron, and matte paint is better at showing off intricate designs than reflective glossy finishes. But authentic period colors also include bright white, brick red, dark green, and light green, in imitation of copper verdigris. Even polychrome variations had a place on the Victorian-era front stoop.
Replacement Candidate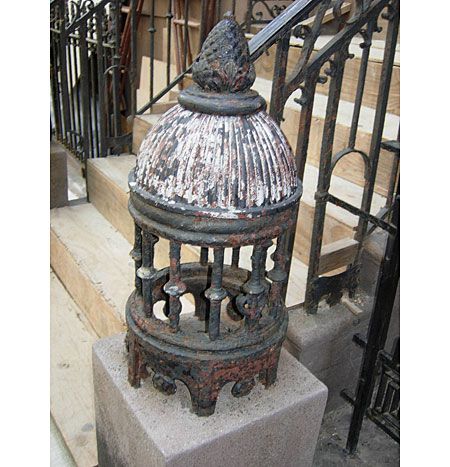 Many Victorian newel posts were removed in the mid-20th century—victims of shifting fashion in some cases, irreversible corrosion in others. Severely deteriorated posts will require professional preservation or replacement. The Stewart Iron Works Company, based in Covington, Kentucky, and Architectural Iron Company, in Milford, Pennsylvania, are two companies making convincing reproductions based on period models.
Stoop Maintenance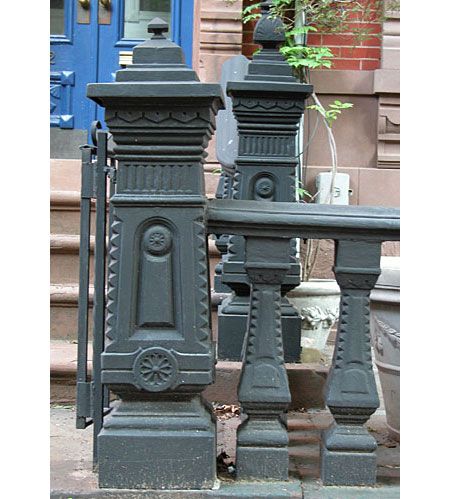 Don't neglect the staircase on which the newel post rests: Any shifting in the foundation beneath the post can lead to cracks in the metal. Cast iron is hard, but extremely brittle and prone to breakage, especially in cold weather.
More Cast Iron Information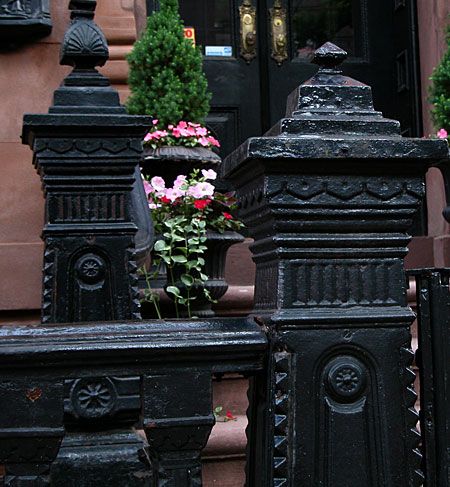 With regular maintenance, Victorian cast-iron newels can endure indefinitely. For details on the history and preservation of architectural cast iron, read the "Maintenance and Repair of Architectural Cast Iron," the National Park Service's Preservation Brief 27, by John G. Waite, AIA, and Margot Gayle.