A porch swing isn't just a piece of furniture, it's a state of mind. Hop on, sway for a bit, and you're transported to a stress-free zone. Just ask Suzanne Henninger, who owns a weekend cottage in Seaside, Florida, where the front porch features a swing painted a cool blue. "I get my cup of coffee and head there first thing in the morning," says this health-care company vice president. "I listen to the birds, smell the ocean air, and slowly rock. It's heaven."
Even the simplest porch swing offers a taste of gracious living, perhaps because it's a reminder of more genteel times. Such swings became popular in the mid-1800s, an era known for houses with wraparound porches, when Americans began enjoying more leisure time. They were particularly favored in the sultry South, where they provided a much-appreciated artificial breeze.
How Much Does a Porch Swing Cost?
While metal and wicker versions are available, most porch swings today are wooden, made from teak, cedar, pine, maple, or oak. Seeing a beautiful antique swing in Newport, Rhode Island, led This Old House master carpenter Norm Abram to craft his own, out of plantation teak. "Teak is very strong as well as rot resistant, so it can hold up to the outdoor environment. And it weathers beautifully," says Norm, whose design was inspired by a classic English garden bench. Indeed, swings made of teak ($500 to $1,000) or cedar ($250 to $400) are meant to weather in the elements, turning silvery or dark gray. Some homeowners may prefer a painted swing, either crisp white or a color that complements their porch or exterior trim. In that case, a less expensive pine, oak, or maple swing ($150 to $400) can be coated with exterior trim paint or high-gloss porch enamel to suit.
How Big Should a Porch Swing Be?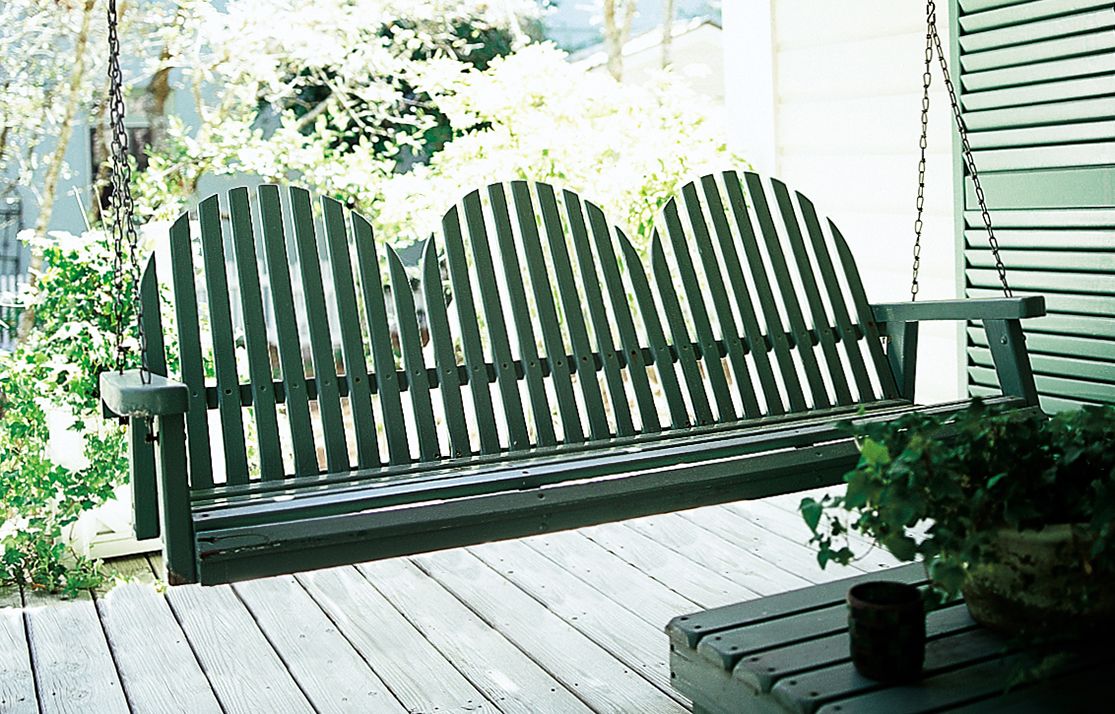 For the most part, swing seats come 4 or 5 feet long; they may be contoured or flat. Seat depth varies widely, from 18 to 36 inches. The porch swing Norm built measures 4 feet long and has a seat that is 18 inches deep, dimensions he finds just right. Since comfort comes down to personal preference, it's a good idea to test-drive a swing before you buy.
Style differences emerge mainly in the swing's back: It may be squared off or curved, and constructed with horizontal or vertical slats, which may be set close together or spaced wide apart. While the peaked back of an Adirondack-style might seem more appropriate for the porch of a clapboard cottage than a brick Georgian, most swings can adapt to their architectural surroundings with the addition or omission of fabric-covered cushions.
Whatever way a porch swing is personalized, its appeal remains universal. When Suzanne Henninger bought her cottage four years ago, "the swing was the very first thing I added," she says. "When friends come to visit me, they rock on that swing, then go home and buy one. It's contagious."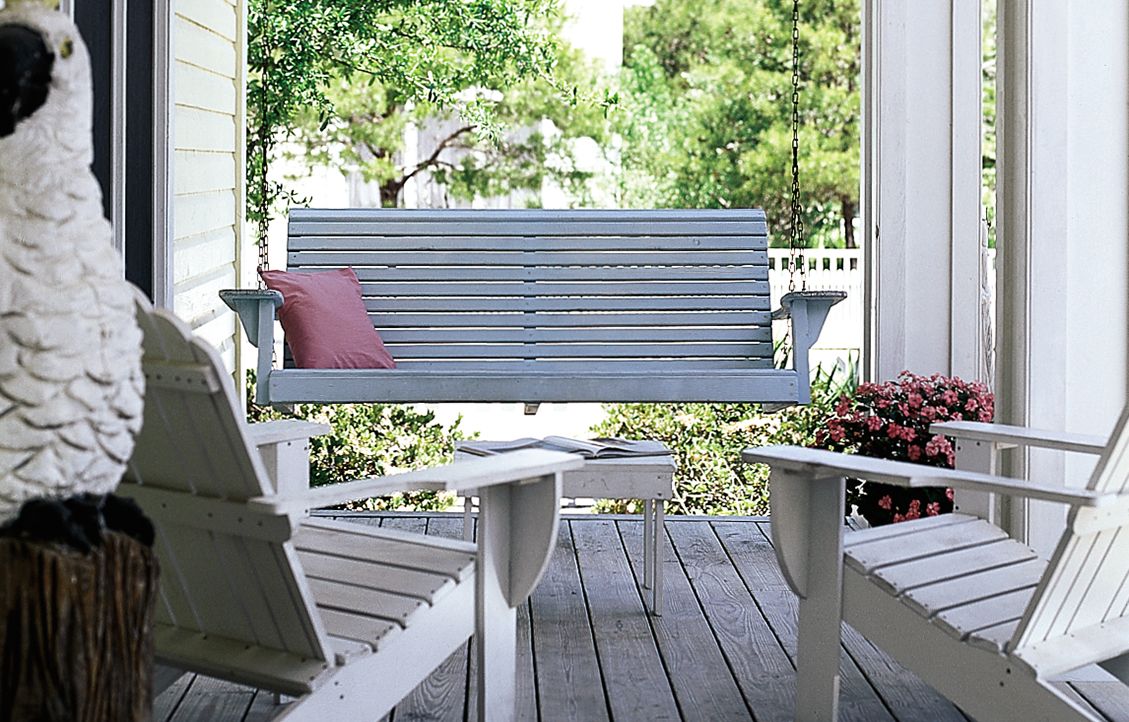 How to Hang a Porch Swing
When hanging porch swings, allow for at least a 4-foot arc for the swing to move through. As for height off the floor, use 17 inches as a starting point, and adjust from there. Hanging chains can be stainless or galvanized steel; if you prefer the look of rope, make sure it is marine-grade braided nylon or polyester, and check it regularly for signs of wear.
"The biggest thing in installing a porch swing is to make sure it goes into something structural," says TOH general contractor Tom Silva. In Seaside, Florida, where many of the porches feature exposed beams and joists, and most of the cottages were built in the past 15 years, town carpenter Jim Eichberger uses stainless steel screw-eyes with a 4-inch shaft as hanging hardware. He first drills a pilot hole slightly smaller than the shaft, then twists the screw-eye into place as far as it will go, using a screwdriver wedged through the eye for the final tightening.
Tom Silva is more accustomed to working on the porches of older homes, where the condition of joists is often hidden by a finished wood ceiling. Rather than remove a section of the ceiling and have to replace the whole thing later, he prefers to cut a 3-by-3-foot hole in the porch roof and patch it when he's done. From the roof, he predrills holes through the joists, then inserts 6-inch machine-threaded eyebolts through the ceiling and joists, securing them with nuts. (A threaded connector and nut can be used to lengthen a 6-inch eyebolt, if needed.) If the joists aren't located exactly in line with where you want to put your swing, Tom advises hanging a timber between two joists, then putting the eyebolt through the timber and securing the nut. Where a swing is to be installed parallel to a single joist and older, full-dimension lumber isn't in place, the joist should be sistered.
"It's definitely more of a pain to do it this way," says Tom — and likely to take the project out of the hands of most do-it-yourselfers. "But it's the safest, strongest approach. I wouldn't feel comfortable any other way."
No Porch Required
A deck, backyard, or garden is also a perfect place to site a swing. A rope-hung bench looks right at home beneath a sturdy tree limb; one suspended from a chain is a welcome addition under a well-built pergola or arbor. (Norm, who doesn't have a porch, hung his under an arbor at the New Yankee Workshop.) A number of companies have swings that come suspended in their own frames, or with an arched or flat-topped arbor from which to hang them. Walpole Woodworkers offers both a rustic Lakewood Swing ($650) with facing loveseats that move in unison and the lattice-covered Plantation Arbor arch with cedar Kimball Swing ($1,985), left. A glider — a bench that gently moves forward and back on a mechanized base — is even more versatile, since it requires less space and can be relocated with ease. Wood Classics offers a kit that turns any of its 4-, 5-, or 6-foot-long teak garden benches into a glider.
Where to Find It
Cedar swings:
Walpole Woodworkers
Walpole, MA
800-343-6948
www.walpolewoodworkers.com
Cypress Swings:
Cypress Moon Porch Swings
Alexandria, Louisiana
(903) 571-3612
Cypress Swings:
Mahogany swings:
Weatherend Estate Furniture
Rockland, ME
800-456-6483
www.weatherend.com
Oak swings:
Creative Woodworking
Spruce Pine, AL
888-225-2029
www.oakswings.com
Teak swings:
Wood Classics
Gardiner, NY
800-385-0030
www.woodclassics.com
Wood, wicker, and vinyl/aluminum swings:
Porches and Yards
800-872-6525