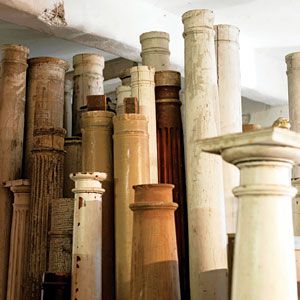 Columns follow a classical order—edicts of design and proportion set out millennia ago by the Greeks and Romans. But when it comes to installing salvaged wood ones at your house, go ahead and mix it up.
So what if the ancients wouldn't approve? They've long since bitten the dust. And besides, one of the best places to use old columns is inside the house, where rules governing the facades of temples and monuments simply don't apply.
Rescued from the porticos of razed or remodeled Greek Revival?style buildings from about 1830 to 1860, and ­later Colonial Revival and Neoclassical ones from the first half of the 20th century, salvaged columns are often too weathered to reuse as exterior load-bearing supports. "Anything that's been outside like that will need significant restoration because people tend not to maintain them," says Reynold Lowe, owner of Materials Unlimited, an architectural antiques store in Ypsilanti, Michigan.
Instead, use porch columns—which cost $200 to $1,500 apiece depending on condition, age, size, and design—in open-plan interiors, where they can define activity zones without cordoning off floor space, suggests Lowe. That's how some loft-dwelling customers used 10-foot- tall tapered columns with Corinthian capitals (tops) that Lowe salvaged from a demolished building on the ­University of Vermont campus.
"There's a big move to recapture old industrial space in urban areas for residential use, but these lofts tend to have a stripped-down look that can be fairly sterile," says Lowe. A single column in a corner or a few lined up in a row forming a partition between a sleeping and living area, he says, "can add a terrific amount of visual interest." Flanking either side of a kitchen breakfast bar, floor-to-ceiling columns can also separate food prep from the dining area without blocking the cook's view, or the flow of conversation and foot traffic.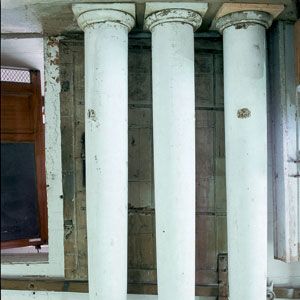 Other creative reuse projects include bisecting a small porch column to make legs for a fireplace mantel, and using chunks of columns and capitals as table bases and display pedestals. In new houses where a steel stanchion might otherwise be hidden in an awkward-looking drywall box, Lowe suggests slicing a large column in two and wrapping the halves around the framing member instead. Since most old wooden columns are hollow inside, their halves are easily glued back together, he explains.
If you do decide to prop up your portico with salvaged columns, then in addition to getting the name of a good restorer, you might also bone up on your ­architectural history. That's because on house exteriors classical orders on proportion and style do matter. Columns used in both American residential and public architecture were, in fact, patterned after those on monuments such as the Parthenon in Athens. So to recreate a historically accurate look on your new classically inspired house, it's important to know a Greek Doric or Ionic column from a Corinthian.
The three most commonly used columns are easily distinguished by their capitals: Doric are simplest with smooth, stacked molding rings befitting the stripped-down look of a Greek Revival; more decorative Ionic capitals have scrolls called volutes; and Corinthian ones are crowned with layers of curling acanthus leaves that form an inverted bell shape. The latter two were most commonly used on more ornate Neoclassical-style houses.
When buying salvaged exterior columns, keep in mind that they are almost always coated with layers of paint—some of which likely contain toxic lead. Paint protected columns from the elements, and in many cases, wedded ­wooden shafts with plaster or composite capitals. Lowe typically sells columns with their old crusty finish intact, but he'll also strip them for you: A pair of circa-1900 ­fluted- pine models, for instance, are $350 as is, or $650 bare. Such turnkey service doesn't come cheap, but as with most salvage dealers, Lowe's expert advice about what to do with the columns once you get them home is always free.
The Cadillacs of Columns
Unlike paint-grade pine and poplar porch columns, salvaged interior columns were often carved from mahogany, oak, or chestnut and then stained to show off their distinctive grain patterns, says Evan Blum, owner of Demolition Depot in New York City. This fluted Ionic column salvaged from a demolished mansion on Long Island now supports a balcony in a SoHo loft. Such interior columns were initially used as both load-bearing members and decorative accents inside large, cased passages between parlors in late- Victorian-era houses. Paired with other millwork, such as bookshelves, benches, and curio cabinets, they also formed colonnades between dining and living rooms in Arts and Crafts bungalows. Treated for years like fine furniture with oil and polish, interior columns often need little or no restoration. Their stellar condition and the relative ease in retrofitting them for reuse, however, make them a hot commodity at salvage yards today.