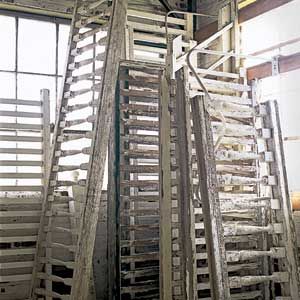 The Italians have their loggias; the French, their galleries; and the Spanish, they sip their sangria in corredors. But here in the United States we have ­porches, plain and simple. And aside from the requisite roof and floor, the quintessential American porch is defined by its railing—a wood one, to be exact.
Originally carved by hand, early railings were built more for safety than decoration. Installed on the raised porch of an 1830s Greek Revival, for example, the vertical planklike balusters practically receded from view be­tween far grander columned supports.
By the 1880s, the American Industrial Revolution brought mass production of machine-cut porch parts in more complex designs. Steam-powered scroll saws made it easy for woodworkers to pierce flat wood panels with curved qua­trefoil and sharp-angled diamond patterns. Among the most ornamental were the railings on Queen Annes. Com­mon were Chinese Chippendale lattice patterns reflecting an American attrac­tion to all things from the exotic Far East, as well as delicate spindlework inspired by the designs of Charles Eastlake, an in­fluential English furniture maker.
In this late Victorian period, even simple saltboxes and vernacular farmhouses were updated with entire porch packages sold through mail-order catalogs. The 1902 Universal Design Book shows 25 stock baluster patterns priced between 14 and 32 cents a piece, de­pend­ing on size, detail, and whether it was sawn or turned on a lathe.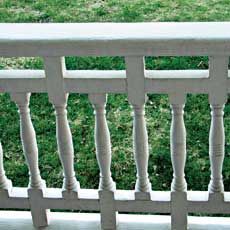 Mill catalogs remained the main source for wooden porch parts through the 1920s, but the brick or stone entry enclosures of then-popular Prairie and Craftsman-style houses meant fewer railings to choose from. Those that were available tended to be boxy and heavy-looking in order to measure up to the large tapered wood or masonry posts they were anchored between.
It wasn't until suburban sprawl, shrunken front lawns on traffic-clogged roads, and a preponderance of cheap, post?World War II houses that wood railings and the porches they graced be­came obsolete. "Who wanted to sit on a porch and watch cars whiz past?" asked Michael Dolan in his book The American Porch. A deck off the back of a ranch-style house was the answer then, as oftentimes it is now.
That said, there are still old leafy streets where neighbors chat as they walk their dogs or watch each other's kids playing in the yard. There, the porch is very much alive, though maybe a bit the worse for wear. For owners of such homes, architectural salvage yards are full of period replace­ments for missing or rotted railings. Finding a match for a single deteriorated baluster is next to impossible (for that you'll have to take an intact exam­ple to a mill shop and have it replicated). But you will find long railing sections with which to rebuild a porch or con­struct a new one. Scott Rogers, co-owner of Guilded Salvage in Minneapolis, Minnesota, sells 7-foot sections starting at $140. Just beware that modern building codes may require more tightly spaced balusters or higher handrails for safety.
When considering looks, keep in mind that an Italianate-style railing, for example, with fancy vase-shaped balusters will appear out of place at the entry of a plain-Jane split level or a simple Colonial Revival. For owners of such houses, Mike Whiteside, co-owner of Black Dog Salvage in Roanoke, Virginia, suggests integrating the old wood­work inside, rather than outside, the house.
Whiteside has used flat Victorian-era balusters, which he sells for less than $10, as the body of a pedestal (learn how to make one, at right), and repur­posed chunky turned balusters as coffee-table legs. You might even cut a railing to fit within an interior door opening and add hinges and a latch to make a dog gate, suggests Scott Rogers. The salvage dealer has also turned a sloped stair rail into a Gothic-style gabled head­board. He did it by by slicing the railing vertically through the middle and flipping over one of its halves from right to left so the two legs formed a V shape. He then joined the legs at their diagonal tips with a metal angle bracket.
Even as more Americans sip their morning coffee on the back deck rather than the front porch, one thing's for sure. The design versatility of old wood railings means that porches, or at least the parts that enclose them, will never entirely be things of the past.