This article appeared in the Summer 2023 issue of This Old House Magazine. Click here to learn how to subscribe.
For many, a plunge is the Goldilocks pool: bigger than a hot tub, though it also can easily be warmed to soothe achy muscles, yet shallower than a traditional in-ground pool, while still offering enough volume to submerge yourself on a sweltering summer day. Its just-right dimensions: roughly 4 to 5 1/2 feet deep, in sizes as small as 7 by 7 feet and as large as 20 by 12 feet.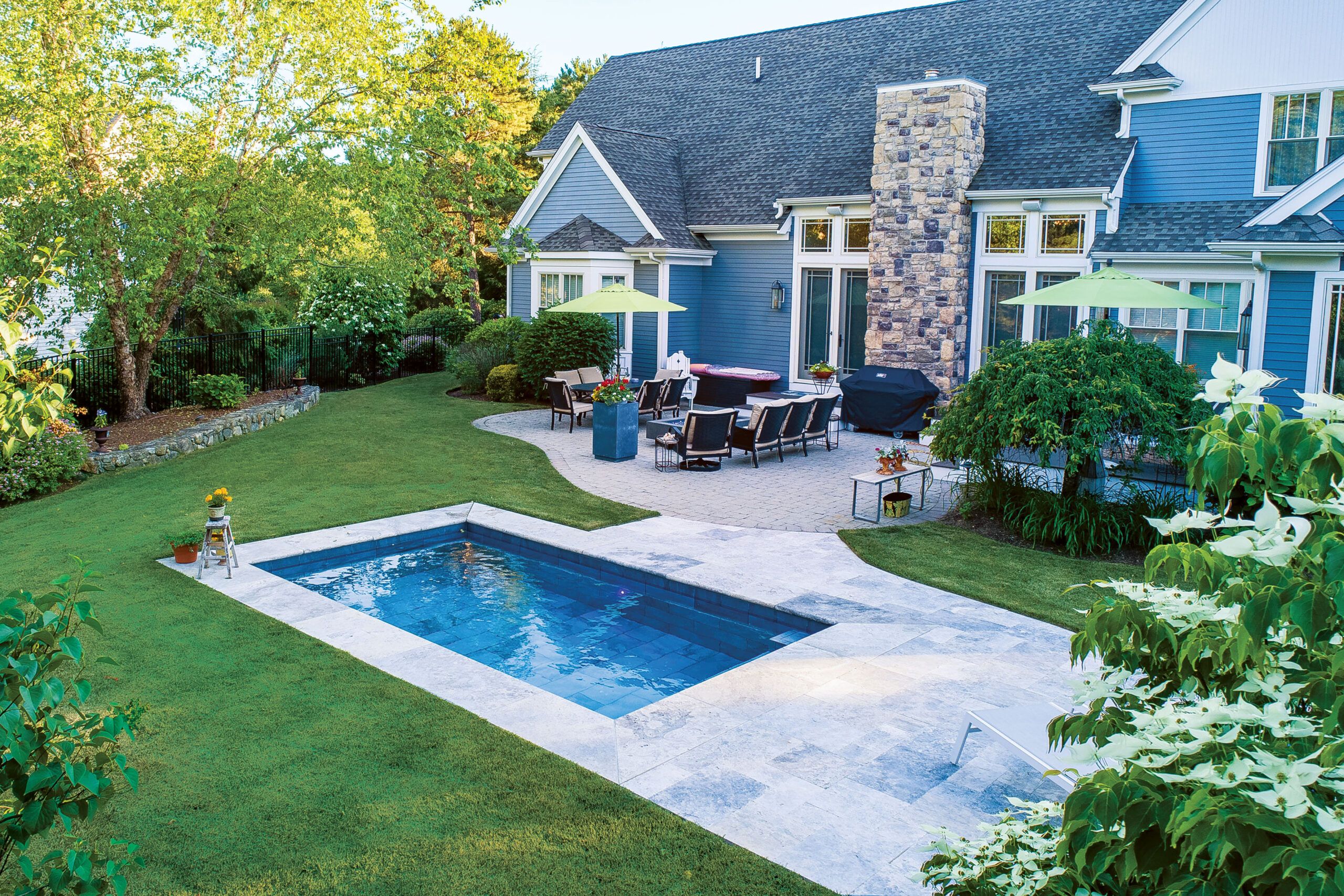 A plunge pool is a place to cool off and relax, rather than swim laps. It's a trend that gained traction early in the pandemic; people were looking to get more use out of their backyards—and they still are. "Homeowners are using plunge pools because they don't want the maintenance of a bigger pool, and they like that the pools can be hot or cold while still allowing for other spaces around them, like a patio, an outdoor kitchen, or a fire pit," says TOH landscape contractor Jenn Nawada, who has incorporated several in her landscape designs over the past few years. "Set off the ground a bit, they also act as a sitting wall, and when you light them, they make a great focal point at night."
Year-round use is one of the reasons Jenn's clients Doreen and John McLaughlin installed a heated 13-by-7-foot plunge pool (shown on the cover) in their suburban yard outside Boston. "We didn't want our whole backyard to be a pool," Doreen says. Since summer for her family means vacation travel, "the real value in the pool for us is for the months it's not hot out, so we can use it on a cool fall night or in winter."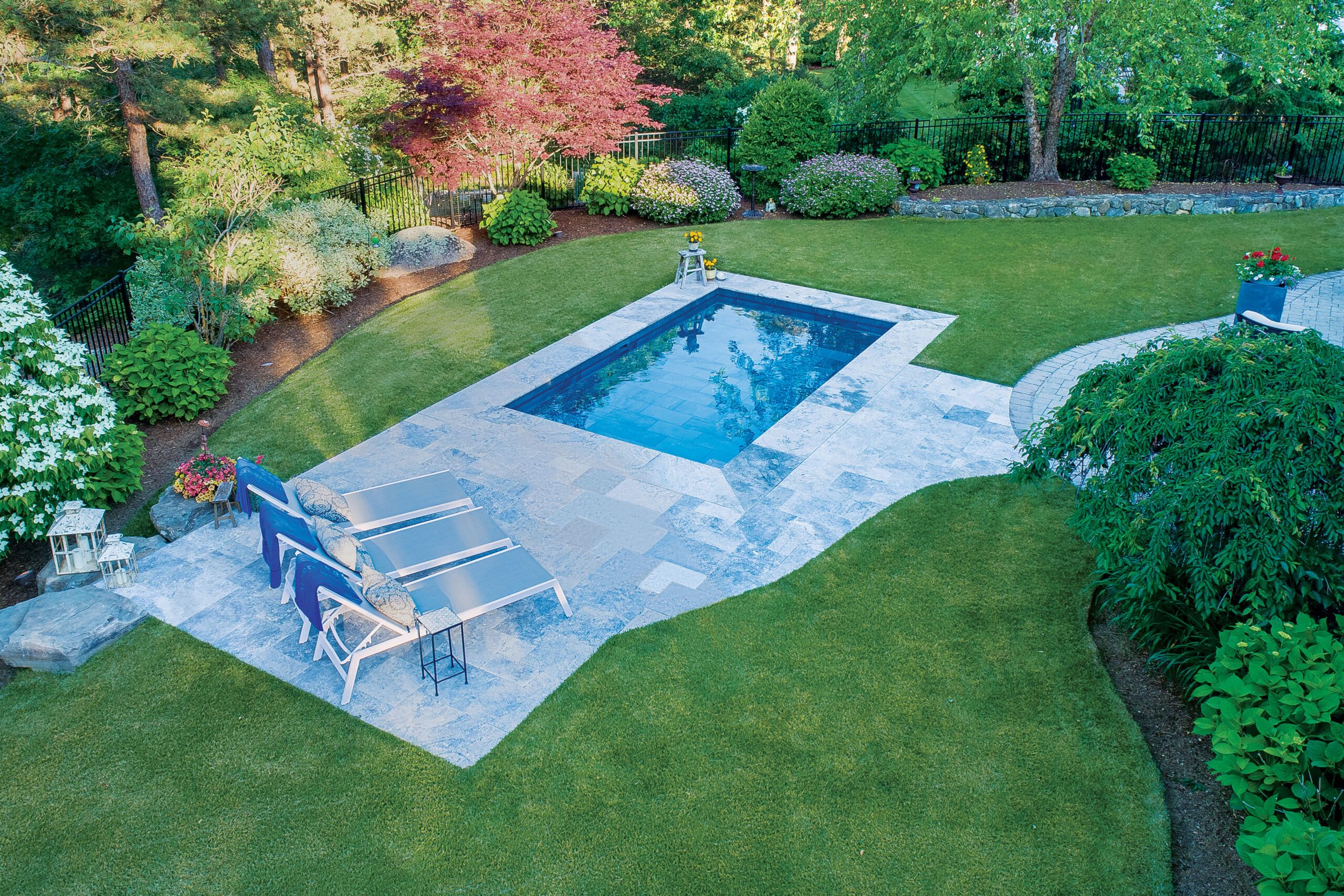 While a plunge pool's smaller size is part of its appeal, so is the prefabrication, which means you can prep a yard for the pool while it's being made off-site. Some plunge pools can be ready to use a day or two after the delivery trailer shows up. Self-supporting steel and concrete versions can be installed above grade, in-ground, or tucked into a slope where a traditional pool might not work.
Ready to plunge ahead? Read on for the pros and cons of these scaled-down pools, and what you get
back when you give up some square footage.
Pros and Cons of Prefab Plunge Pools
While its smaller size might make it the only way to splash around in some yards, a plunge pool isn't for everyone.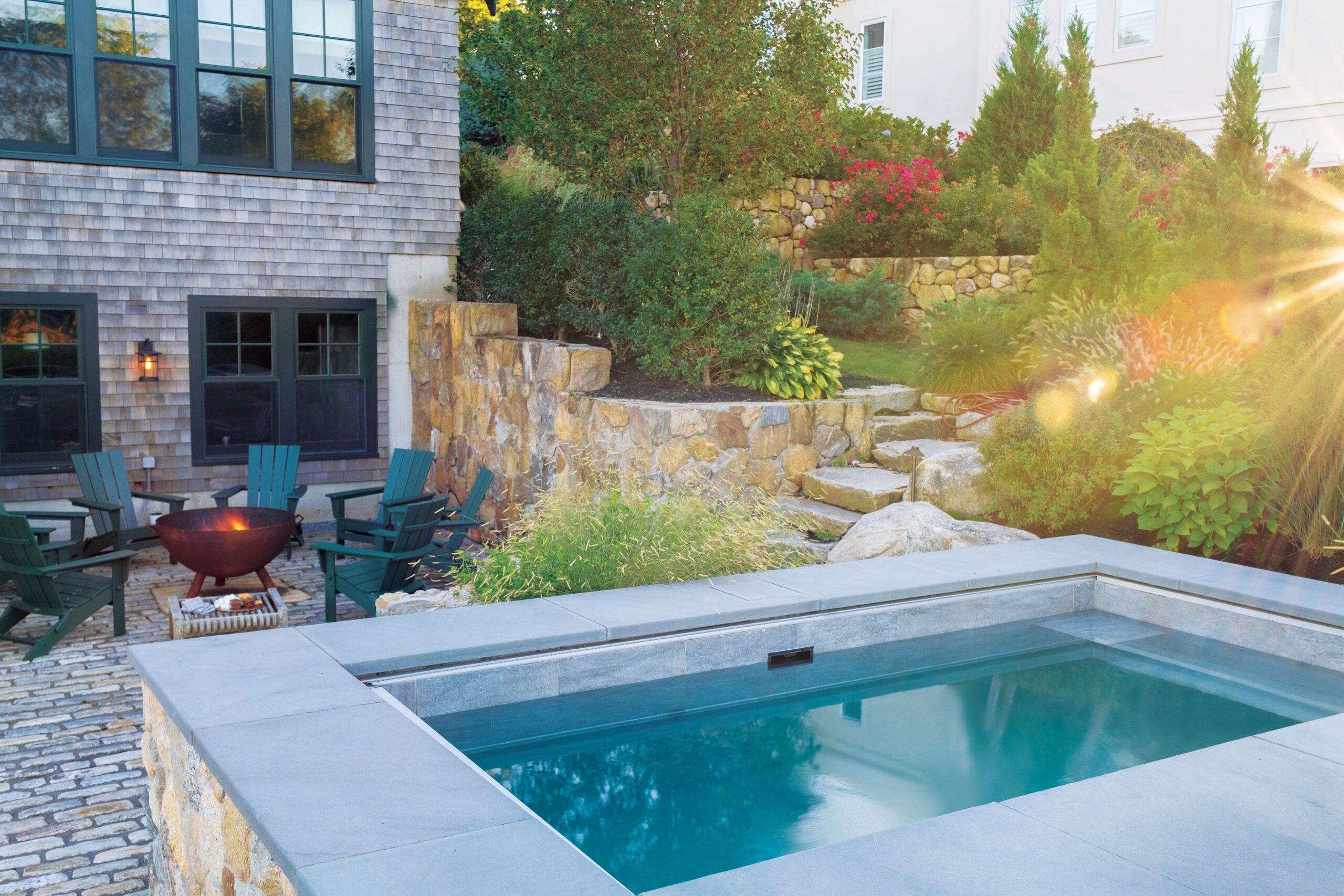 Pros
Perfect for small spaces: Not everyone has the room, or need, for a traditional pool, which usually measures about 30'×15′, or an above-ground pool, which can be 24′ across. A popular size for a plunge pool is 13'×7′, about half that of a swimming pool.
Easier to maintain: Keeping a plunge pool's smaller volume of water balanced is easier—and gentler on the wallet since it requires fewer chemicals.
Less costly year-round: In cold climates, heating a traditional pool can be cost-prohibitive. With a plunge pool, keeping water warm all year—or adding a chiller for cold plunges during a Texas summer—likely won't break the bank.
Right height: A traditional pool is usually pitched to allow for children to cannonball into the deep end, while adults linger in about chest-high water. Plunge pools generally have a flat bottom that ensures a comfortable standing height.
Can do double duty: Most pools can be outfitted with jets that turn the entire pool, or a walled-off portion, into a spa. A resistance current offers a space-saving option for swimming or exercise.
Slope-friendly: Self-supporting steel containers and concrete pools can be installed on slopes where traditional pools require expensive retaining walls.
Cons
It's not always less expensive: Prefab plunge pools cost less to buy, but shipping and installation can quickly ratchet up the final expense, depending on the size of the pool and where you live. Shipping can start at around $3,000, and a crane to fly a pool over the house can be $10,000 or more. Factor those costs in, and a plunge might not be much less than a traditional 28'×12′ swimming pool's average installed price of $55,000.
It might not be the right fit: The American Red Cross suggests a depth of at least 9′ for diving. In a house full of diving board– or waterslide-loving children, a plunge pool's shallow depth of 48″ to 66″ can be dangerous. If you like to host and have a dozen people in the water playing volleyball, a plunge-size pool won't work for you.
Limited design choices: While in-ground swimming pools can be customized to take on a variety of organic shapes, prefab plunge pools are generally square or rectangular in a set size range.
Not meant for doing laps: Without investing in special jets to provide a resistance current, plunge pools offer limited space for swimming.
Still needs to meet code: Just because the pool is smaller doesn't mean you can skimp on permits and adhering to safety codes.
Prefab Plunge Pool Vitals
What do they cost?
Precast concrete pools start at $28,500 for one 7'×7′ and 52″ deep; larger container pools start at $42,000 for one 20'×8′ and 48″ deep. These prices include basic pool equipment (no heater) but not shipping or installation, which can add up. Molded fiberglass pools begin at $53,200 for one 9'6″×6'11" and 54″ deep, including pool equipment and installation.
Where to buy one?
While you can travel to a steel- or concrete-plunge-pool manufacturer to see sizes in person, it's easiest to research options and buy one online. Companies may be able to put you in touch with local pros who have installed their pools. Showrooms are rare, and most will likely have only fiberglass models.
What's the warranty?
Structural warranties are typically 1 year for steel pools; 2–5 years for precast concrete; and 25 years to lifetime for fiberglass.
How much maintenance?
Less water inherently means less upkeep. On a weekly basis, the pH balance needs to be maintained with chemicals—and frequent testing on a dropper chart—and the pool skimmed to remove debris. Chlorine and filter-media levels must be kept full. An unheated system in a cold climate has to be winterized to keep water lines from freezing and bursting.
TOH Pro Tip: Leave 18 to 22 inches of a plunge pool above grade, and finish the top edge with natural stone coping 18 to 24 inches wide. Then you can use the edge to soak up the sun or as a seat when you're not in the water." —Jenn Nawada, Landscape Contractor
Types of Prefab Plunge Pools
Plunge pools come in a range of materials, each with its own unique attributes.
Concrete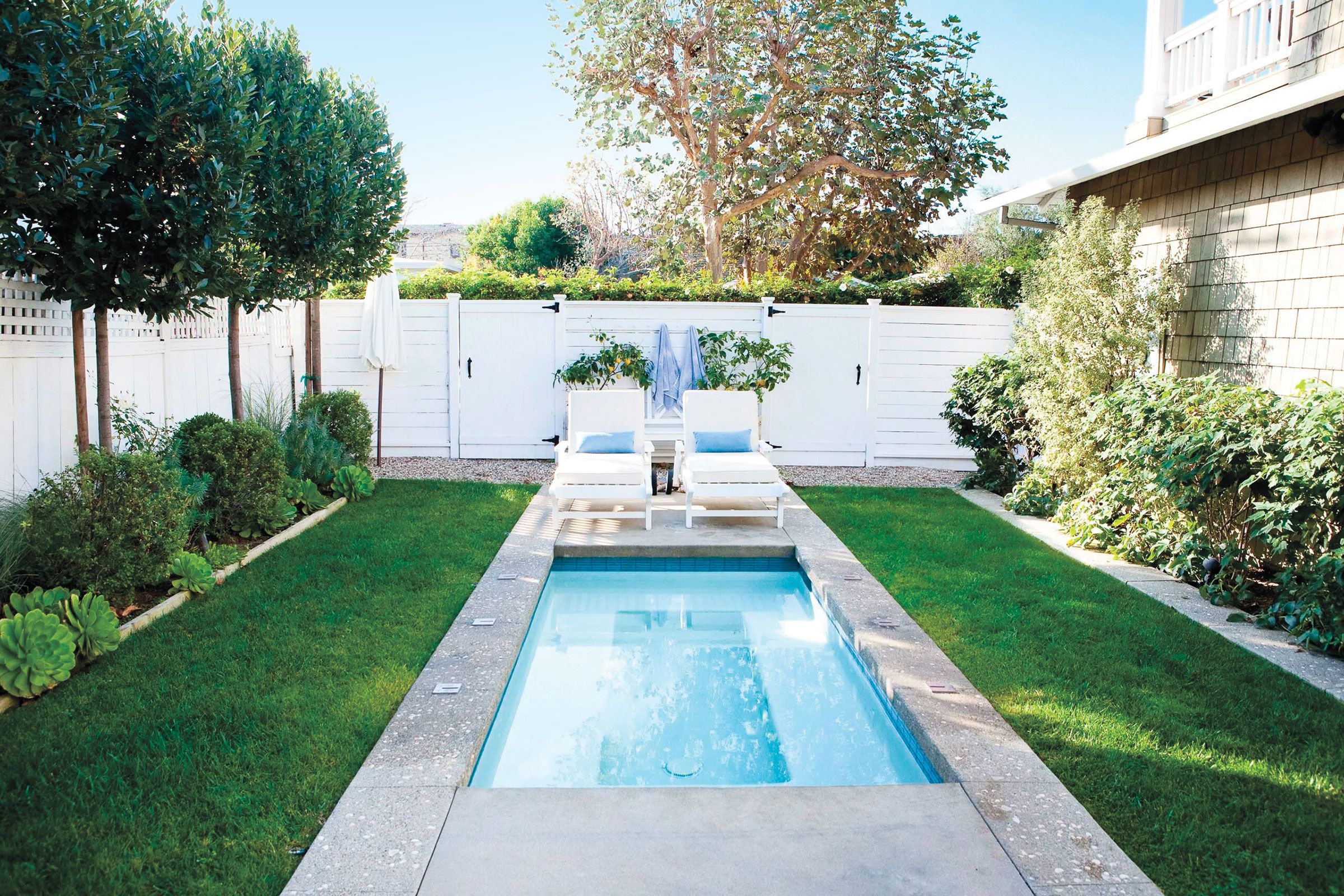 Around for about 10 years now, precast concrete plunge pools are made a bit like a poured foundation: Steel forms are used to mold a 4"-thick layer of masonry reinforced with steel rebar. Waterproofing is applied to the entire interior, then porcelain tile—designed to be submerged—covers the floor and walls. A concrete pool can rest above grade, or be installed semi-in-ground—including in a sloping yard—or fully in-ground, though any exposed exterior sections need to be finished. Preformed steps and benches are used for entering, exiting, and hanging out.
Site prep: Once the hole is excavated, a compacted gravel base is laid, and then trenches are dug to run lines for pool equipment, which usually sits close to the house. You'll need to run wiring for a pump and lights and potentially a gas line for the heater. If the delivery truck has easy site access, its boom might be able to drop the pool into place; otherwise a crane might be required.
Sizes: 7'×7′, 8'9″×5′, 10'×6′, and 13'×7′, at 52″–60″ deep (soakepools.com); 12'×7′, 15'×8′, and 20'×10′ at 66″ deep (us.plungie.com)
Prices: From $28,500 for 7'×7′ to about $32,000 for 20'×10′ (with basic pool equipment).
Fiberglass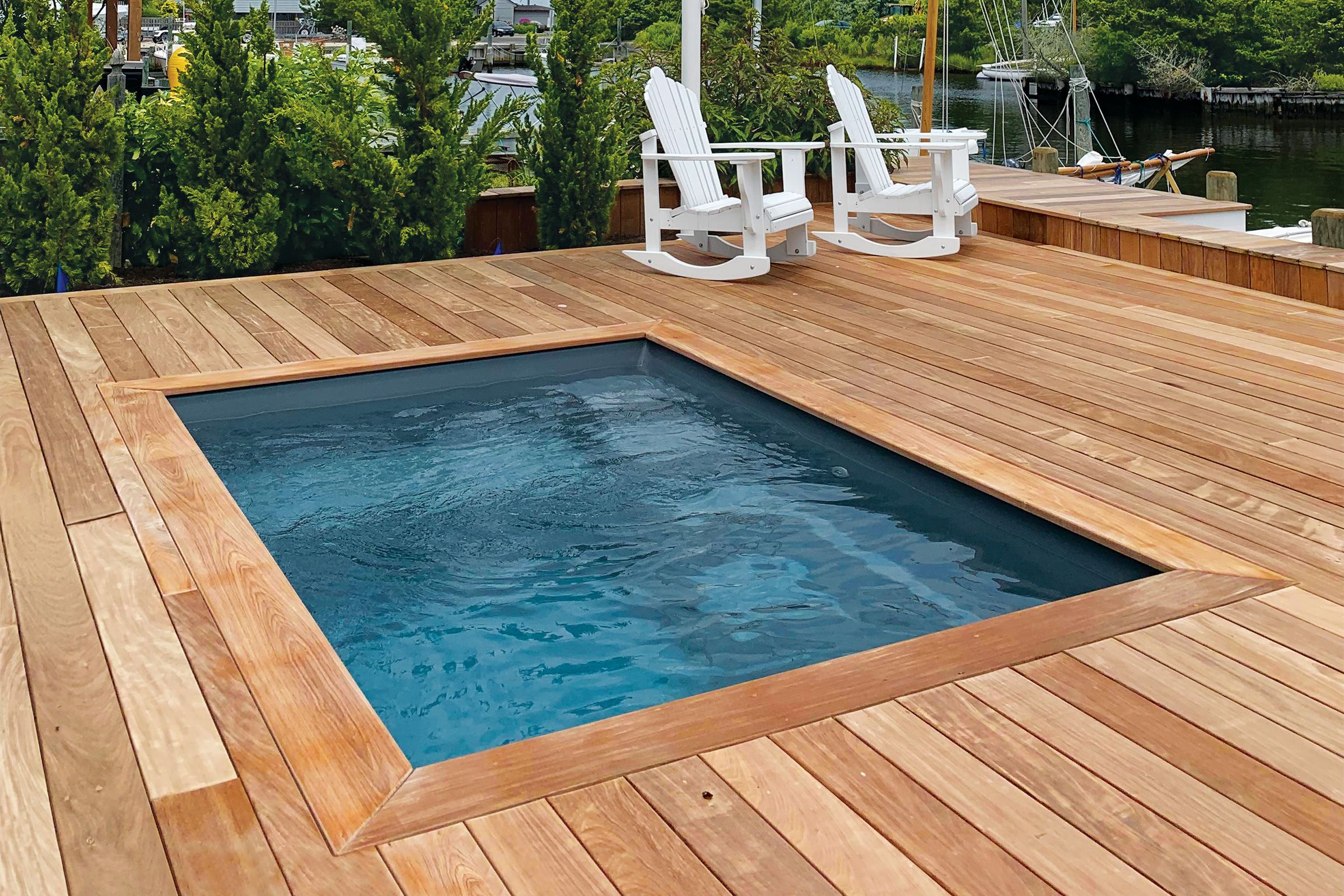 Used for decades to make full-size swimming pools, preformed fiberglass is now being offered by manufacturers to meet the demand for smaller plunge sizes. A benefit of a fiberglass pool is a wider range of organic shapes. Unlike self-supporting options, fiberglass pools are typically installed in-ground or semi-in-ground, with no more than about 18″ exposed to create a wall. Manufacturers offer various details molded into the pool, including steps, benches, and sun shelves. Unlike the other plunge options here, these are generally sold through a traditional pool company as part of a package that includes installation.
Site prep: As with a concrete pool, installation requires digging a pit and adding a compacted gravel bed. Electricians have to run wiring for the pump and potentially a gas line for the heater. And like with a traditional pool, the equipment is usually kept off to the side.
Sizes: 9'6″×6'11", 18'8″×7'5″, 16'×8′, and 20'×8′, at 54"–60″ deep (leisurepoolsusa.com)
Prices: From $53,200 for 9'6″×6'11" to $59,200 for 20'×8′ (installed, with pool equipment; coolpoolsnc.com
Steel container
Steel shipping containers are cut in two horizontally, and a pool is built out of the base. A closet usually houses the pool equipment (except for a heater) below welded-in-place steps at one end, behind the doors. Tough paint wraps the exterior; a multilayer coating covers the interior. The latest version is lined with a fiberglass tub that has molded-in steps and seating. Container pools can be installed above grade, semi-in-ground, or fully in-ground, including on slopes.
Site prep: These require footings as well as a crushed-gravel base or a concrete pad for support, and possibly helical screws at the corners to stabilize the subsoil. You'll need to run wiring for the pump and potentially a gas line for a heater. A telescoping forklift can move some container pools; more often, a crane is needed to drop it into place.
Sizes: 20'×8′ and 20'×12′, at 48″ deep, with a coated interior (trekpools.com); 20'×8′, at 57″ deep with a fiberglass liner (containurpools.com)
Prices: From $42,000 for 20'×8′ to $56,000 for 20'×12′, with a coated interior (with basic pool equipment); $44,900 for 20'×8′ with a fiberglass liner (with pool equipment and heater)
Planning for a Prefab Plunge Pool
A plunge-pool project requires pros who will coordinate with the manufacturer to get the specs right.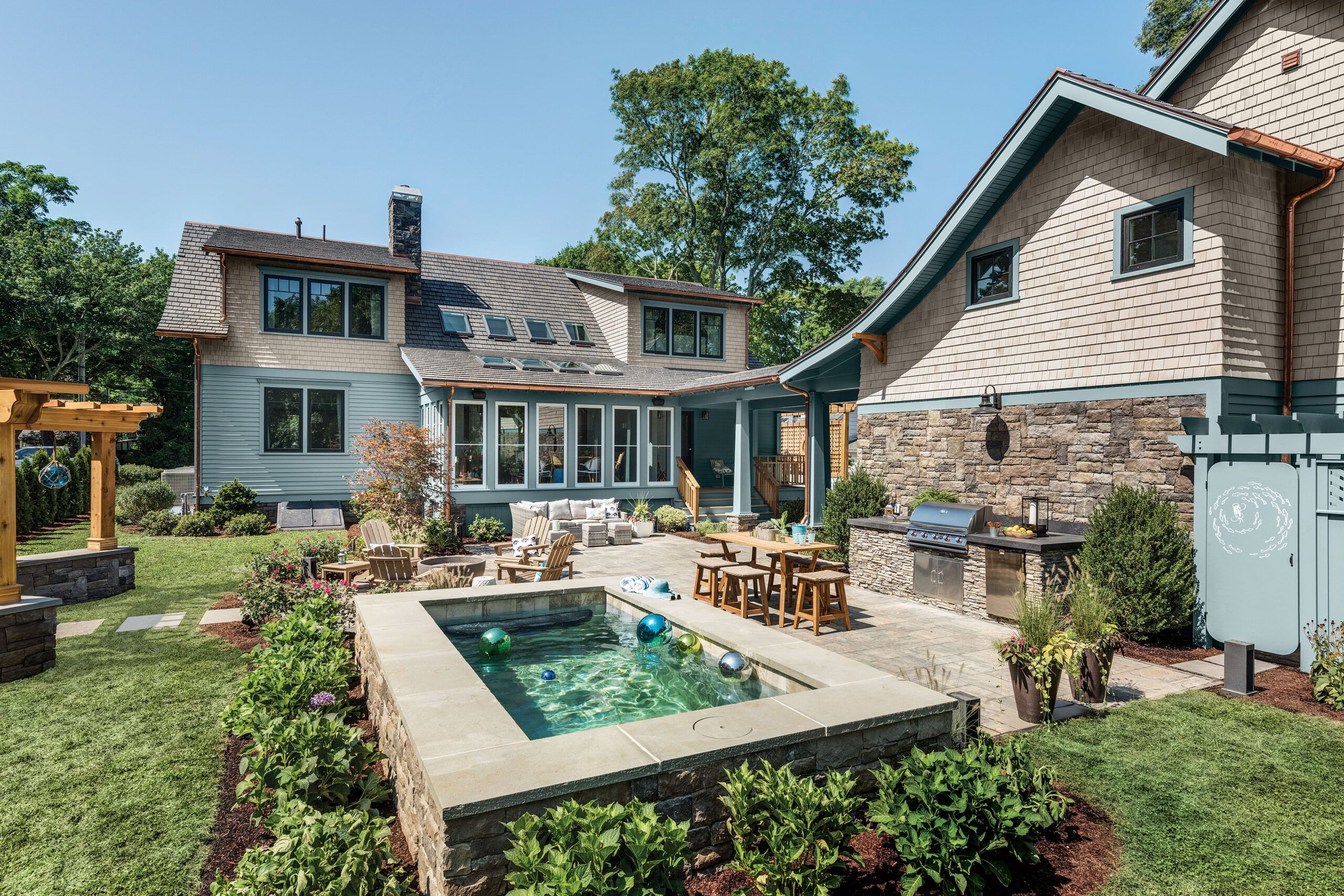 Get your team together
Typically a plunge-pool installation means working with a landscape designer, a landscape contractor, or a design-build firm. Once you've agreed on the location of the pool, the contractor will evaluate the site access for delivery and handle permitting, excavation, and hiring a crane (if needed), as well as subcontractors like a mason, an electrician, and a plumber. Once the pool is in place, the landscape pros put it all back together, with patios or decking, stonework, and plantings. Keep in mind: Prefab pools are made to order with a wait time of six to eight months for delivery.
During that time, the site can be excavated, prepped with concrete or a compacted gravel base, and set up with utilities so that when the pool arrives it can be dropped into place. Making the plumbing connections and filling the pool can add a day.
Factor in the crane
Buying a plunge pool entails several costs: the pool itself, shipping it, and getting it installed in your yard—a complex process made easier by hiring a contractor. The first two figures are straightforward. But who gets the pool from the back of the transport trailer onto the site depends on the size of the pool and how close the equipment can get to its final resting spot. If access to the yard allows and the trailer delivering the pool has a crane on board, the shipper might be able to hoist the pool up and drop it into place. Another option, for a small- to medium-size pool, is to ask if your contractor has heavy equipment big enough to move it, like a telehandler forklift. But with large pools, or on tight lots where a trailer can't fit, you'll need a separate crane operator who will, in some cases, have to lift the pool over the house.
Follow local codes
Find out if your municipality will require your plunge pool to be fenced in; while most treat it like a swimming pool, some consider it a hot tub or spa. You'll have to respect property-line setbacks and secure permits in advance for digging and adding electrical and gas lines. A good set of plans, provided by the pool manufacturer, can help the site work move ahead while the pool is being made.
How big is a plunge pool?
A good rule of thumb when sizing is to plan on about 15 square feet of surface area per person. A 13-by-7-foot pool can comfortably fit six people.
While there are some variations in-depth—48, 54, 60, and 65 inches are common, depending on the size and material you choose—the goal is generally the same: deep enough for an adult to stand in chest or shoulder-high water.
Try a kit
Steel panels packaged with a vinyl liner allow you to build it yourself
Just because plunge pools are prefabricated doesn't mean you need a pro to install one. Endless Pools offers a DIY option with steel panels that bolt together and a waterproof vinyl liner held in place with a track. You have to cut holes for things like jets, secure the stairs, and make basic plumbing connections. A capable DIYer can install one above grade with minimal digging; decorative panels dress up the outside.
You'll need an electrician to run a 240-volt circuit for the pump and heater.
Sizes: 6'×6′ to 16'×16′, and 42″ to 54″ deep.
Cost: $12,999 for 7'×7′ (with pool equipment, heater, and a cover); endlesspools.com
Installation Considerations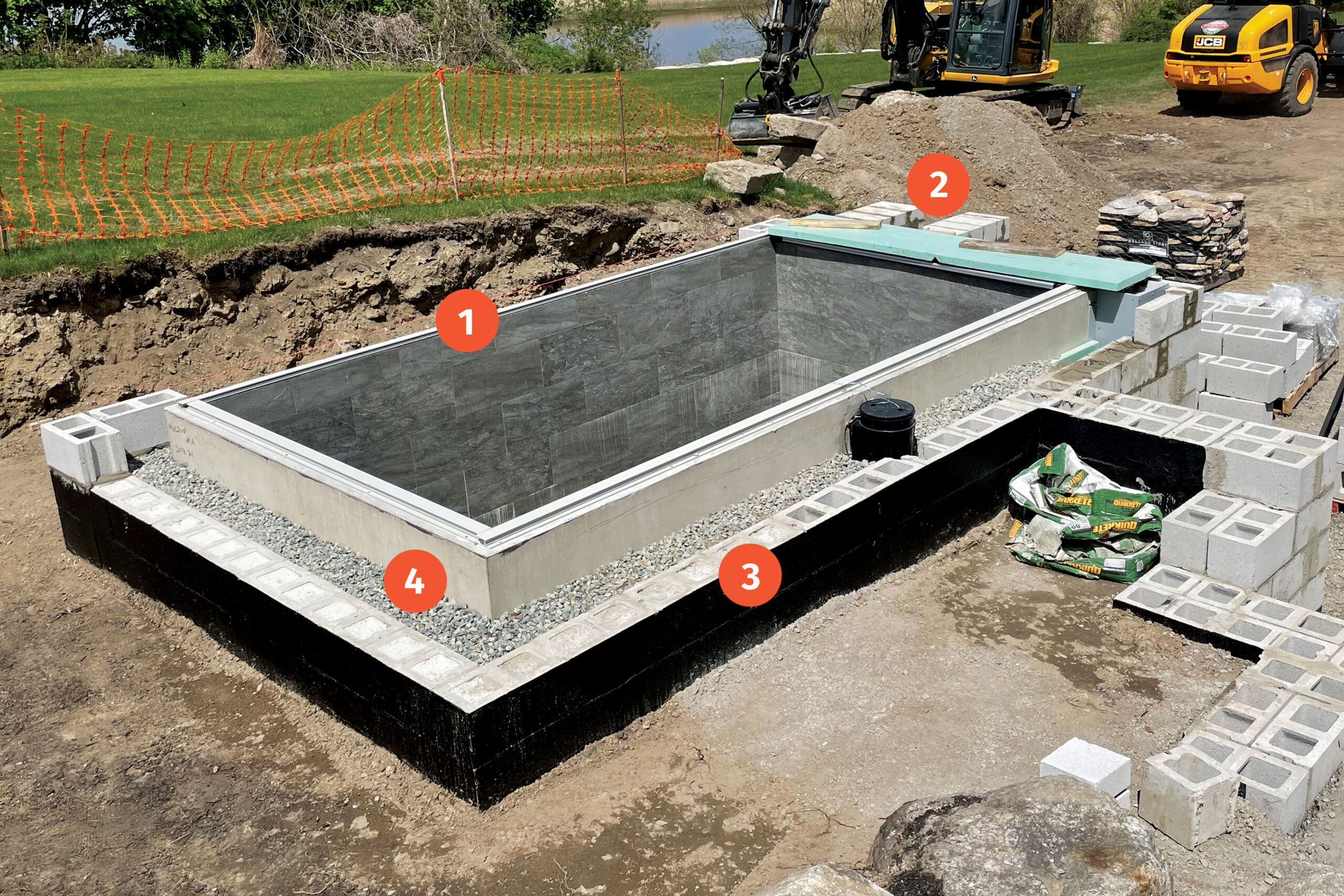 While a plunge pool can be put in a small chunk of yard, there are a few moving parts to manage. Here's what to know to avoid headaches on install day.
Permits in place
Speak to your contractor about what permits your municipality requires to install the pool, which might include things like a dumpster in the street while digging. Make sure to communicate clearly with the landscape contractor or excavation team who is contacting the utility-locating service prior to sticking a shovel into the ground, and that the area where they'll be digging is clearly marked.
Yard access
As with a traditional-swimming-pool install, contractors will need a path from the street or driveway to the yard to prep the site. For larger pools, that prep likely requires big machinery that's too wide to pass through a standard garden gate, which means you might have to temporarily remove a section of fence.
For smaller pools, some micro excavators can squeeze through openings around 28 inches wide. A good contractor will protect the path with sheets of plywood to avoid damaging sections of the turf or patio. Typically, pros want to park the truck or container that hauls the soil away as close to the dig site as possible. This access is required from excavation to prepping the hole with stone or concrete, and again when the pool arrives. The pool manufacturer can provide guidance during the ordering process about what kind and size of equipment is needed.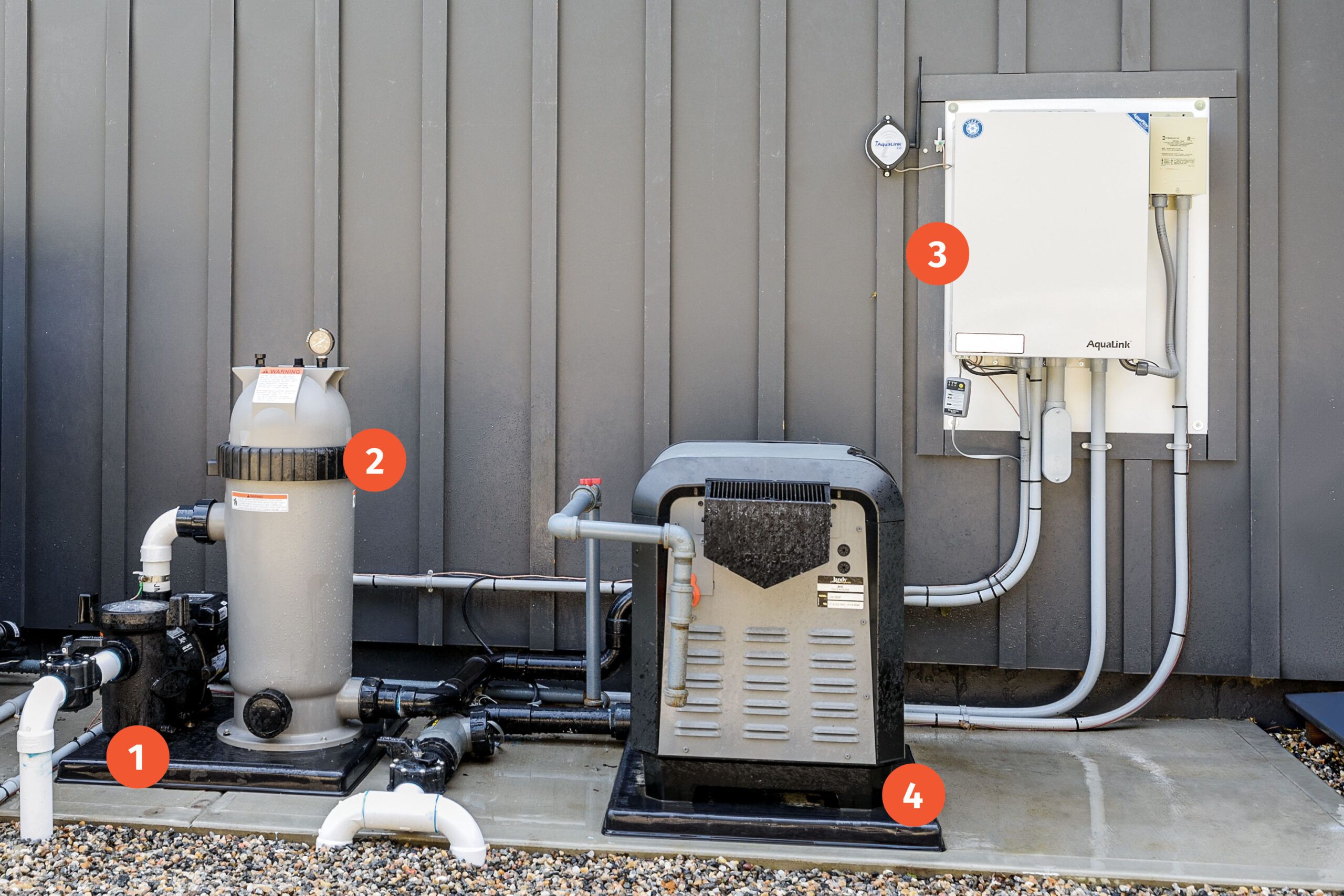 Placing mechanicals
Steel container pools store the basic pool equipment—pump, filter, plumbing, diverters, and the smart brains—in a mechanicals closet at the end of the pool. You'll need about 4 feet of space behind one of the narrow ends of the pool to allow for access. A heater is usually installed on the side of the house where it's easiest for the plumber to pull natural gas. It also keeps the noise, heat exhaust, and combustion at a distance from the pool. The heater sends water through buried lines, so you'll need a trench between it and the pool.
Fiberglass and concrete pools stash mechanicals away from the pool, usually up near the house, as with a traditional pool. Typically, the location is one that is easy to run electrical and gas to, and close enough to make maintenance easy, but can go unnoticed. You'll need a trench to bring water from the equipment to the pool. Plan for a 4-by-4-foot area to host the basic pool equipment—more, if you have a heater.
Plunge Pool Design Features and Upgrades
A heater can turn any plunge pool into a four-season escape, but that's just the start of the upgrades on offer.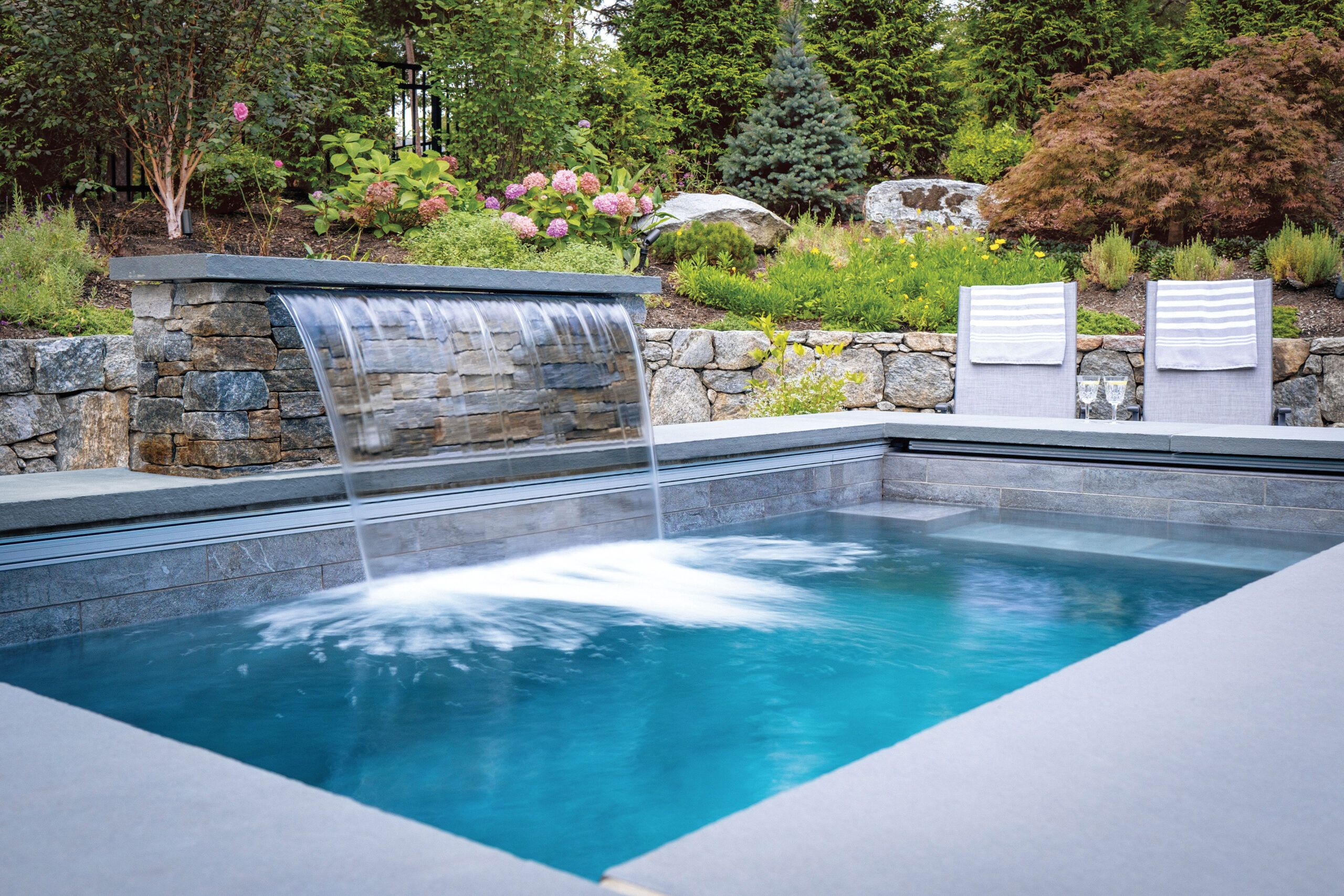 Finishes: Fiberglass pools typically come in basic colors (blue, black, gray, tan, white) without many options for customization; some can be detailed with a tile look at the waterline. With a concrete pool, you can pick from a sprayed-on liner or from a handful of large-format porcelain tile choices, or go custom with a mosaic. With a steel container pool, custom colors can often be made to match paint chips. Choosing a dark floor can help a pool retain the sun's heat.
Sun shelves: A platform about 1 foot below the surface of the water, a sun shelf offers a great spot to sit in a lounge chair without being fully submerged, or for pets to cool off in. A sun shelf also acts as a step to get in and out of the pool. But adding one bigger than what the pool manufacturer offers can get costly fast. Typically, fiberglass pools offer the most options.
Water features: A waterfall can turn a still plunge pool into a backyard focal point. Some manufacturers can integrate such a feature into the pool, but if they can't, a pool company or landscape contractor who installs ponds should be able to add one on-site.
Spa jets: Blur the line between a pool and a therapeutic spa with an upgraded package that introduces jets into the pool. Typically, in a smaller concrete pool, the spa option is built in with the appropriate number of jets that send in water and air. With a larger steel container pool, the manufacturer welds a wall inside the pool, separating the spa from the calmer waters, and outfits this smaller area with therapeutic jets. There are fewer spa options with a fiberglass pool mold.
Resistance currents: Special powerful jets blast a current of water that you can swim or walk against even in a small space. These currents can move about 5,000 gallons per minute starting at the wall where the jets are installed, and some come with a flexible hose designed to soothe sore muscles. Starting at about $2,500, the jets are often installed in the side of the pool by the manufacturer, so it's a good idea to discuss the option early on. In some cases, having them added later could void the structural warranty.
Viewing window: Steel container pools offer the option of a window cut into the side of the pool and fitted with thick plexiglass, so those outside can watch the water action. This upgrade starts at $6,500 for a 24-by-80-inch window.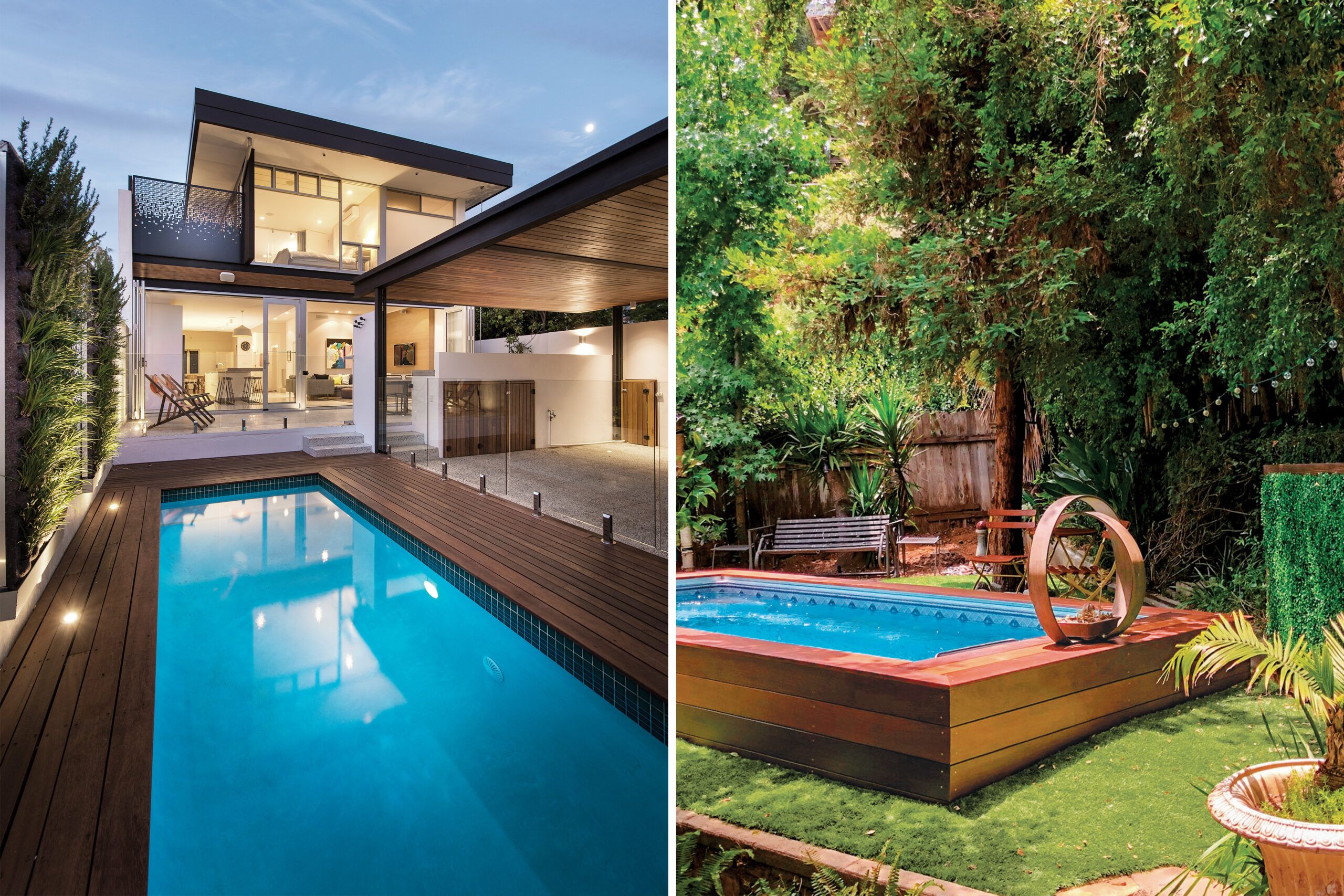 Additional features for comforts
Light the way: Some plunge pool makers include LEDs that sit on one wall of the pool as part of the base package; for others, it's an upgrade. Lighting can turn a dark hole into a nighttime focal feature. A pool installer or landscape contractor familiar with lighting can add additional lights once the pool is in place. Since most plunge pool equipment comes with a smartphone app from the pump manufacturer, consider that brand's lighting offerings if wireless lighting control is important.
Bring the heat (or cool off): Most plunge-pool companies offer the option of a natural gas or propane-powered heater. An electric heater, sometimes packaged with the pool, can be slow to respond. The heater, like the pump and filter, should be sized according to the water volume. The 260,000-Btu heater appropriate for a pool up to 13 by 7 feet and 48 inches deep adds roughly $3,500 to the cost. And in the South, where ambient heat is abundant, a pool chiller that can drop the pool temperature by 10 to 15 degrees F starts at around $2,500. If you're interested in a therapeutic cold plunge that dips down to about 45 degrees F, you'll need to upgrade to a pool heat pump, which starts at $3,500.
Safety features
A child can drown in as little as 2 inches of water. Falls can be a serious concern wherever surfaces get wet and slippery. Here's how to lessen the risk.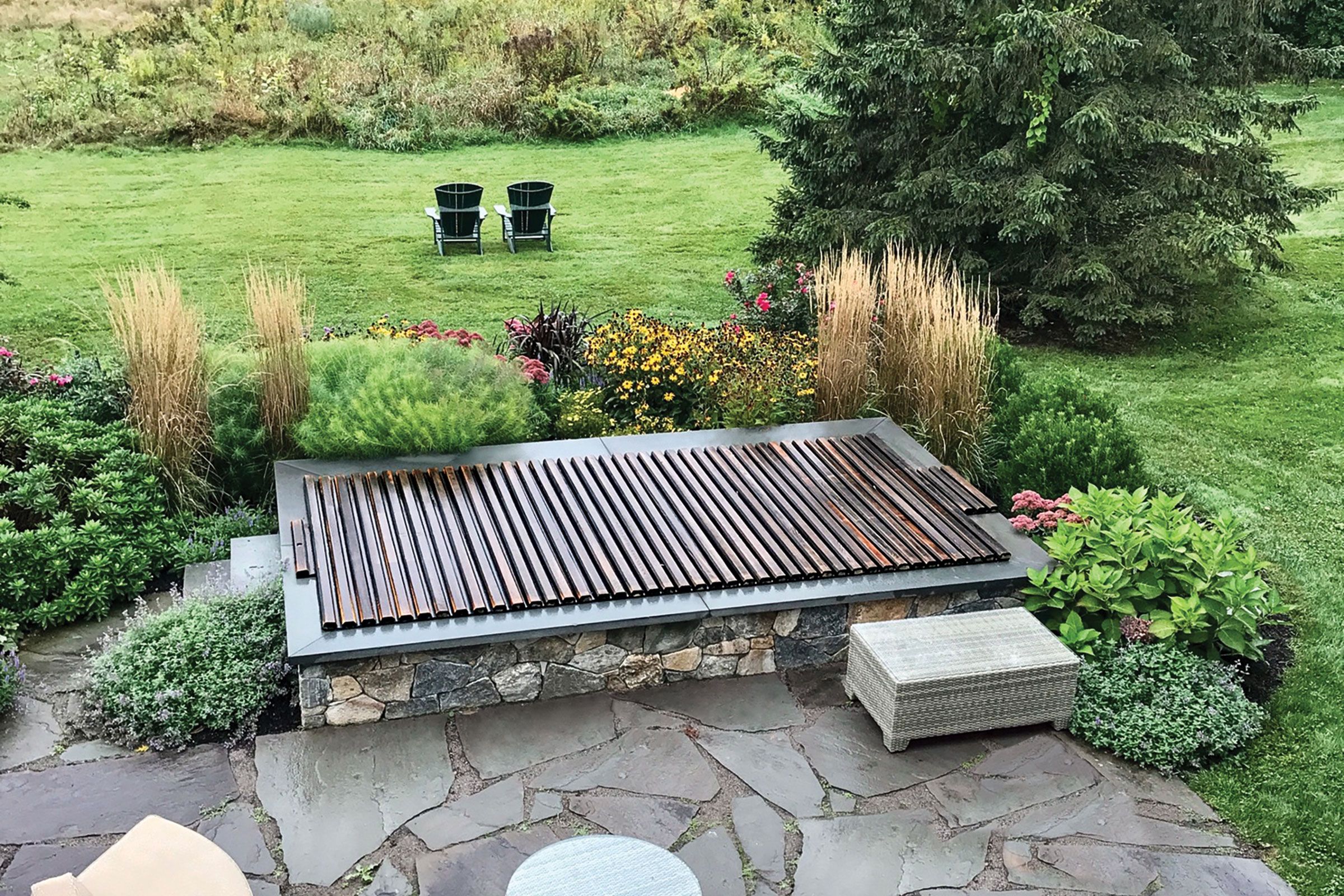 Prevent slipping: Just about any paver, brick, or stone recommended for a patio can be a good choice around a plunge pool to safeguard against slipping. Tile decking should withstand freezing in cold climates and be rated DCOF 0.42 or higher to ensure good slip resistance. While cannon ballers won't be splashing gallons of water onto a deck surface, wood can require regular maintenance, especially with saltwater pools, which can eat away at deck fasteners, making composite boards a solid choice. The code may mandate a handrail for support while stepping in and out of a pool. Some elevated plunge pools have an exterior step or two to make access easier, though if the sides are sitting-wall height, it may be more secure to sit on the wall and swing your legs around to access the interior steps.
Fence it in: In municipalities that consider a plunge pool a hot tub, a fence might not be required. But if your plunge pool is deemed a pool—above- or in-ground—code will likely mandate that you add a gated fence at least 4 feet high around it. In small yards, it's not unusual to see the entire yard gated and fenced in for safety, rather than just the pool itself.
Cover with care: From a rigid foam topper to a wood mat to tightly knit mesh fabric strong enough to walk on, covers keep out debris, limit evaporation, and, if insulated, can help a heated pool stay warm. An automatic cover installed with the pool uses an electric motor to push and pull fabric taut, usually just below the coping, at the touch of a button. These work fast and start at about $10,000 for a 13-by-7-foot pool.