In the classic Hollywood comedy "The Philadelphia Story," Katherine Hepburn makes waves with Cary Grant and James Stewart, often around a glamorous backyard pool.
Those were the scenes that Genine Tillotson had in mind when she decided to build a pool of her own. "My visions of swimming pools were influenced by Hollywood's romantic image of them," she says.
Fast-forward four months and $80,000 later, and Tillotson had her dream: a 22-by-40 foot heated pool for herself and her husband, a former competitive swimmer, and their two teenage kids. She also had enough experience to write her own script, not all of it comic, about what can happen when you hire a crew to dig a giant hole in your yard and pump it full of concrete.
Lesson number one: It helps if you have a movie star's bank account. "There are all kinds of way for your costs to go up," say Tillotson, who acted as the project's chief decision maker and workcrew host. In addition, to the construction itself, there are expenses for survey work, electrical and plumbing permits, lighting, fencing, and landscaping. And that's if everything goes smoothly and you don't run into excavation snafus or drainage problems. "For us, it started when the excavator hit ledge and had to hammer out rock," say Tillotson. "That cost $1,000 extra and set us back a few days."
Pool construction can hold other surprise twists. Much like building contractors, pool businesses often hire outside individuals to do different parts of the job. You need a company with a successful record of managing all the players — and even then, they may not offer soup-to-nuts service. "You might find yourself hiring the surveyor, the tree-removal company, the fence company, the landscapers, and a carpenter for the cabana, to name a few," Tillotson says.
Despite the challenges, this story, like the one that inspired it, has a happy ending. The pool's marble-dusted plaster interior produces just the right shade of underwater blue, a hue that's nicely echoed by the border of tile along the perimeter. The cabana, which came as a kit (see "Prefabulous Cabana"), has simple lines that match the Arts and Crafts style of the Tillotsons' house. Even the bluish and reddish river-worn pebbles of the pool deck add just the right touch. "We're very happy with the result, even if it did cost more than we anticipated," Tillotson says. "When you've got a pool, it becomes a social gather place, and we like that. I'd do it again in a heartbeat."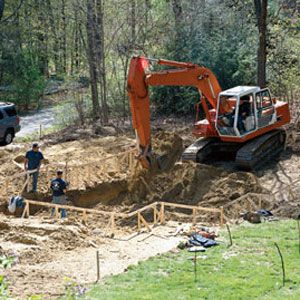 Where to Find It:
Pool Contractors
Andy Everly and Bob Elman
Environmental Pools, Inc.
Chelmsford, MA
800-696-6976
Cabana Company
Summerworld Outdoors
Summerwood Products
Toronto, ON
866-519-4634
Electronic chlorinating systems:
Goldline Controls
Hayward Pool Products, Inc.
North Kingstown, RI
800-343-0826