Project details
Skill
3

out of

5
Moderate
Beginner (no lead present) / Professional (lead present)
In this video, painter Mauro Henrique assists a homeowner that needs help painting her radiator cover that is suspected to have lead paint.
How to Know If Your House Has Lead Paint
The house was built in the 1950s and lead paint was being used in houses until it was banned in 1978, that's the indicator Mauro and other contractors use to determine whether or not to test for lead.
Testing for Lead Paint
When lead paint is discovered, a lead-certified contractor, like Mauro, should be called in to ensure that the lead is handled safely and properly. Before doing any work on a house built before 1978, Mauro recommends testing for lead paint. The test kit he used was a LeadCheck Swap, which is manufactured by 3M. The test comes with easy-to-follow instructions.
If Your Paint Tests Positive for Lead
Because this radiator cover tested positive for lead paint, Mauro had to switch to a full lead protocol, which any certified contractor will know how to execute. Since it's easier to work outside, Mauro moved the work area outside and protected it with plastic drop cloths.
Lead is dangerous when it's disturbed, so Mauro and the homeowner must follow all lead safety protocols and wear full lead protocol PPE. After all the lead is ready for proper disposal, they can get to painting. Radiator paint is used as it is specifically designed to adhere to radiators and be able to withstand high temperatures. Mauro demonstrates techniques to properly paint a radiator cover.
Then, he and the homeowner wore goggles, gloves, coverall suits, booties, and an N100 respirator. This PPE can be found at most home centers as individual pieces, and they sometimes come in a full kit.
Steps for Painting a Radiator Cover:
Step 1: Test for Lead
Test for lead if your house was built before 1978. Lead paint was being used in homes until it was banned in 1978.
Mauro uses a lead test kit. Instructions will vary based on the type of kit. Follow the instructions to ensure proper use of the lead test kit.
Wear gloves to perform the test.
Scrape off a small section of paint. Scrape down to bare metal to ensure that all the paint is being tested, even if there are multiple coats of paint on the surface.
For the specific test kit Mauro used, he had to activate the swab by crushing each side of the tube to activate the reagent liquid. Then, he had to shake the tube to make sure the chemicals were mixed.
Once the tube was activated, he squeezed the tube until some of the reagent liquid appeared at the end of the swab tip.
Mauro then wiped the tip of the swab across the point where he scraped through the layers of paint. For his kit, the area should be wiped for no longer than 30 seconds. The swab turned red, meaning lead is present.
Step 2: If Lead is Present, Hire a Lead-Certified Contractor
Lead is very dangerous when disturbed. When lead paint is discovered, Mauro recommends hiring a lead-certified contractor to come and do the work to ensure that the lead is handled safely and properly.
Step 3: Do Work Outside
If lead is present, do all work outside.
Lay out a tarp to catch all paint chips and debris that might fall during work.
Wear full lead protocol PPE; including N or P100 respirators, safety glasses, coveralls, gloves, and shoe covers. The PPE ensures that the lead substance won't be ingested or absorbed at all.
Step 5: Clean Off the Radiator
It is important to clean off the radiator and get as smooth a base as possible before applying any new paint.
To do this, Mauro sanded the radiator cover with 220 grit sandpaper. Mauro connected his sander to a HEPA vacuum to contain the dust.
For in between the grates a 5-in-1 painter's tool can be used.
Vacuum surface with HEPA vacuum.
Use a damp cloth to clean off any leftover metal particulates.
Step 6: Dispose of Everything from the Lead Paint Protocol
Carefully wrap up all tarps and throw them into a contractor trash bag.
Take off PPE and also toss it into the trash bag. Make sure gloves are the last to be taken off.
Tape off the trash bag.
Check with your local guidelines to see how you can dispose of your hazardous waste.
Step 6: Pick the Paint
Mauro chose radiator paint to paint the cover. It is designed specifically to adhere to radiators. It is heat resistant, so you can use it directly on a radiator.
Mauro thinks it's a good choice for radiator covers as well since they'll regularly be exposed to higher temperatures than a regular surface. It is also zero VOC paint, meaning it's rated to not have any toxic chemicals in it. In terms of safety, it's pretty much the opposite of lead paint.
Step 7: Paint the Radiator Cover
Use a small, foam roller to add as little texture as possible to the radiator.
For in between the grates, a small square trim brush can be used after the roller. The key is to minimize the paint drips in between the grates.
Only one coat should be necessary but if more coverage is needed, add another.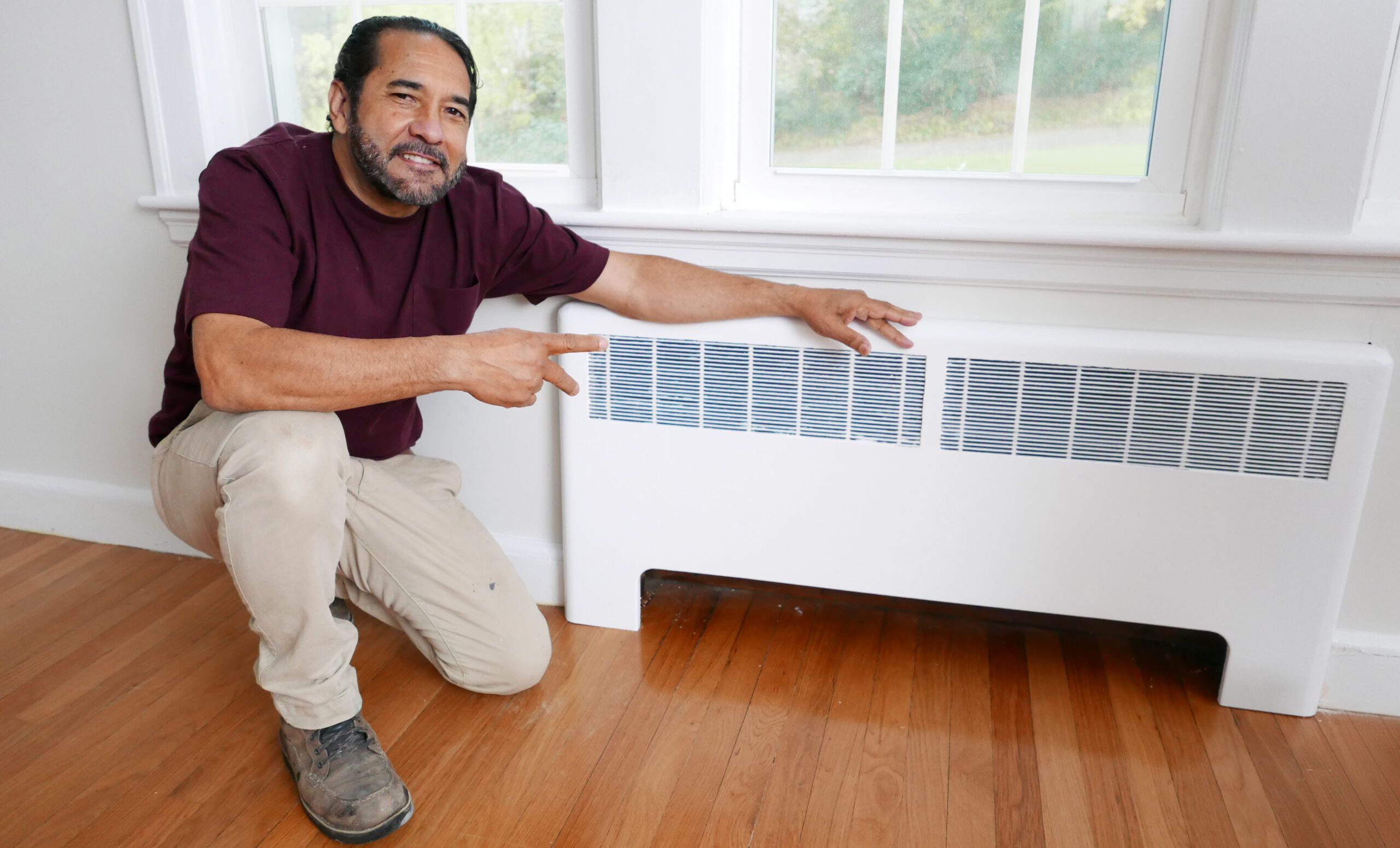 Step 8: Test for Lead Before Doing Other Projects
If lead was found in one area of your house, that means it could be in other parts as well. If your house was built before 1978, be sure to test for lead before future work.
Get the Right Lead Paint Protection
For this project, Mauro and the homeowner used Supertuff Lead-Based Paint Protection Kits, which are manufactured by Trimaco.
For paint, Mauro used Ecos Radiator Paint in White (0000). He applied it using a foam roller and a brush, which can both be found at any home center or paint store.
---
Materials:
---
Tools: