Clay Pink
This earthy pink is a surprisingly versatile neutral. Here it provides a playful base on kitchen walls, setting off the room's architectural details and tempering their formality. A contrasting dark gray on the island grounds the room and helps make everything around it feel bigger and lighter.
1. Dead Salmon (walls)
2. Dimity (trim)
3. Pointing (floor)
4. Railings (accent)
Or Instead of Clay Pink, Try This: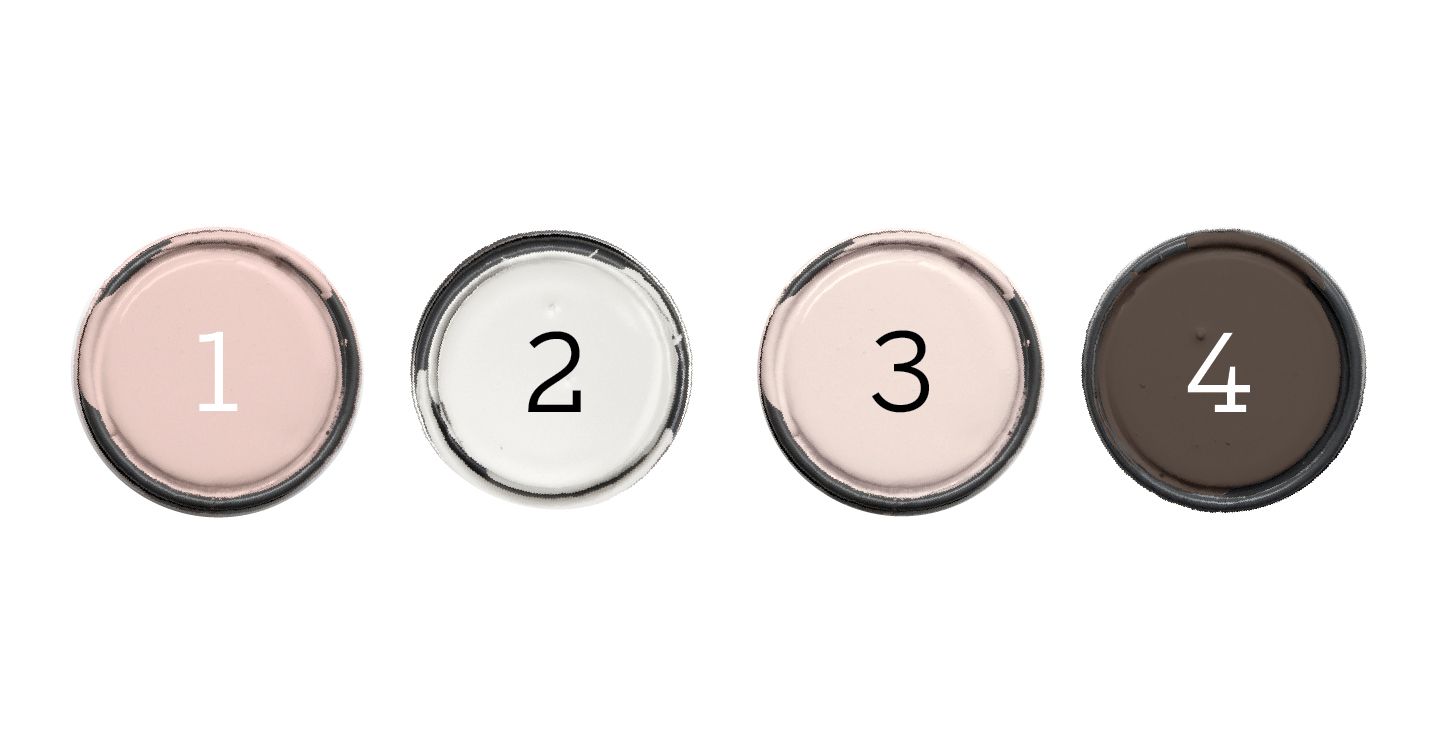 Pale pink also works well with dark brown and other warm neutrals to create a cozy, inviting color scheme.
1. Harmony (walls)
2. Swiss Coffee (trim)
3. Santa Fe Spirit (ceiling)
4. Labrador (accent)
Leaf Green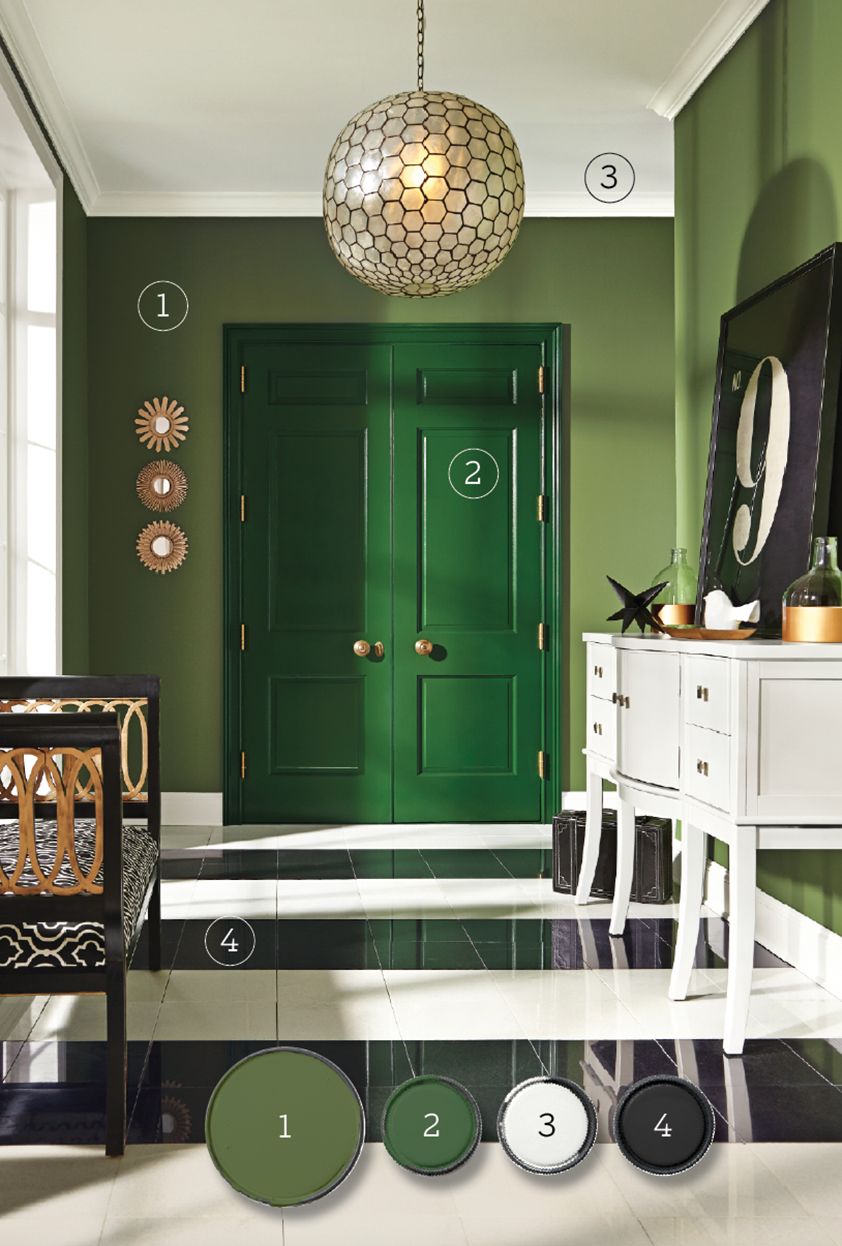 Using a bold, midtone green in a hallway or entry—a "peekaboo" room you see only at a glance—is a great way to incorporate a high-impact hue in your home. Here, a richer, more saturated green makes a statement on the door and its trim. Contrasting white and black round out this lush, energizing palette.
1. Garden Spot (walls)
2. Arugula (accent)
3. Extra White (ceiling, trim)
4. Caviar (accent)
Or Instead of Leaf Green, Try This: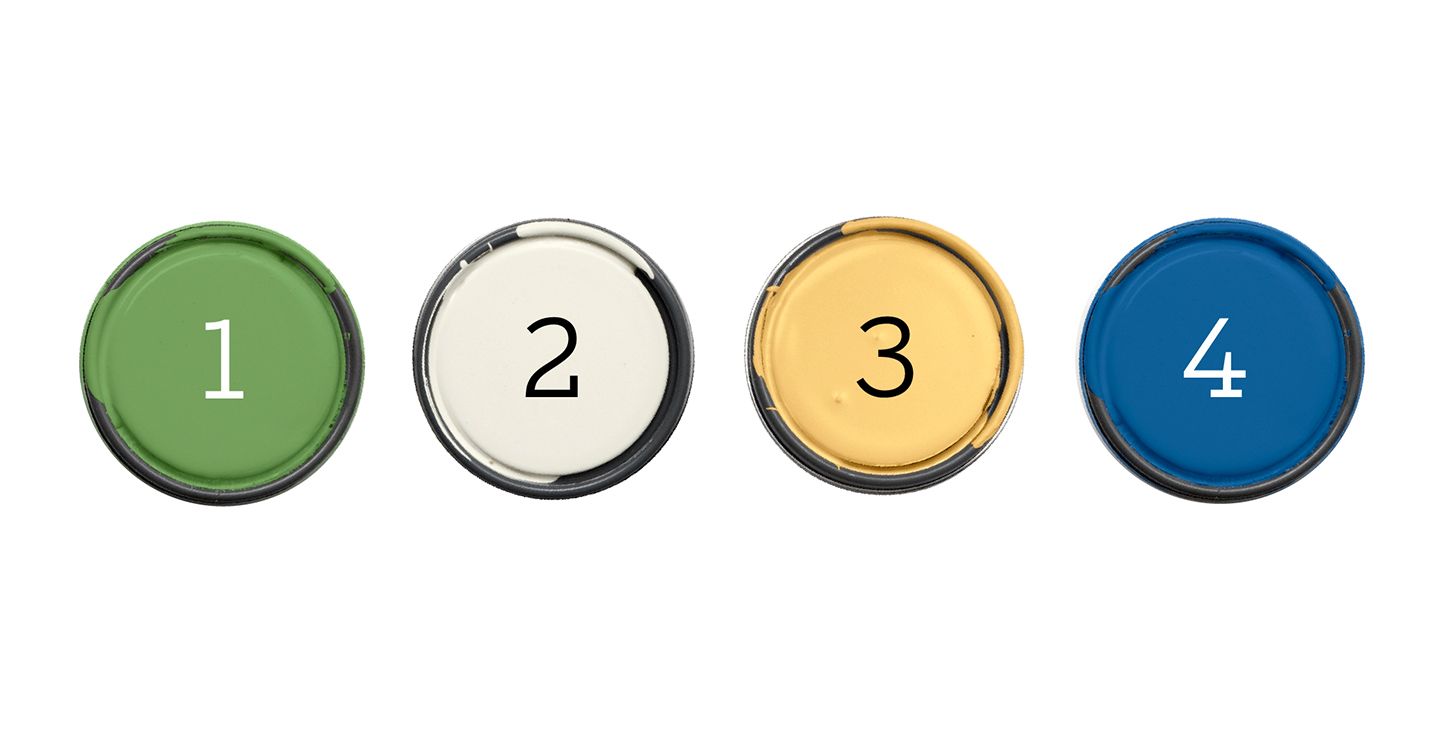 Pair this vegetal green with similarly intense yellow and blue hues for a vibrant yet harmonious palette of related shades.
1. Grassy Meadow (walls)
2. Queen Anne's Lace (trim)
3. Spiced Butternut (accent)
4. Rave Regatta (accent)
Warm Gray
Grays are versatile, but can look sober and serious. Not so here. A wide band of pale taupe gray creates an expansive feeling, while a darker hue at wainscot height grounds the room. A high-energy accent like coral injects a note of fun and draws the eye upward when used as a border around the room. Warm citron on the curtains provides a punchy accent.
1. Penthouse View (upper walls)
2. Fifth Olive-Nue (lower walls, baseboard)
3. Coralette (accent)
4. Citronne (accent)
Or Instead of Warm Gray, Try This: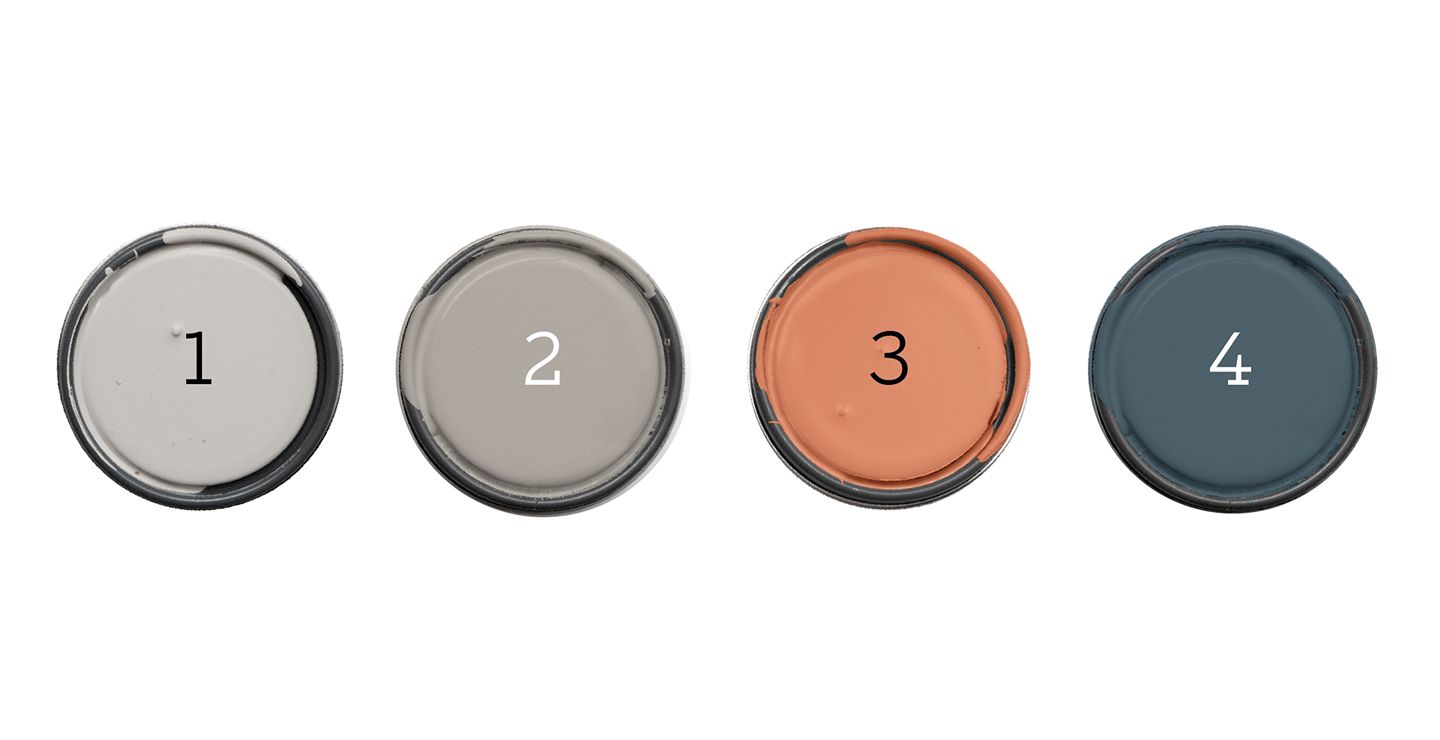 This gray's brown undertone pairs well with a darker taupe gray and a steely navy, accented with a pop of terra-cotta.
1. Sutton Place Grey (walls)
2. Song Sparrow (ceiling)
3. Canyon Stone (accent)
4. Approaching Storm (trim, accent)
Aqua Blue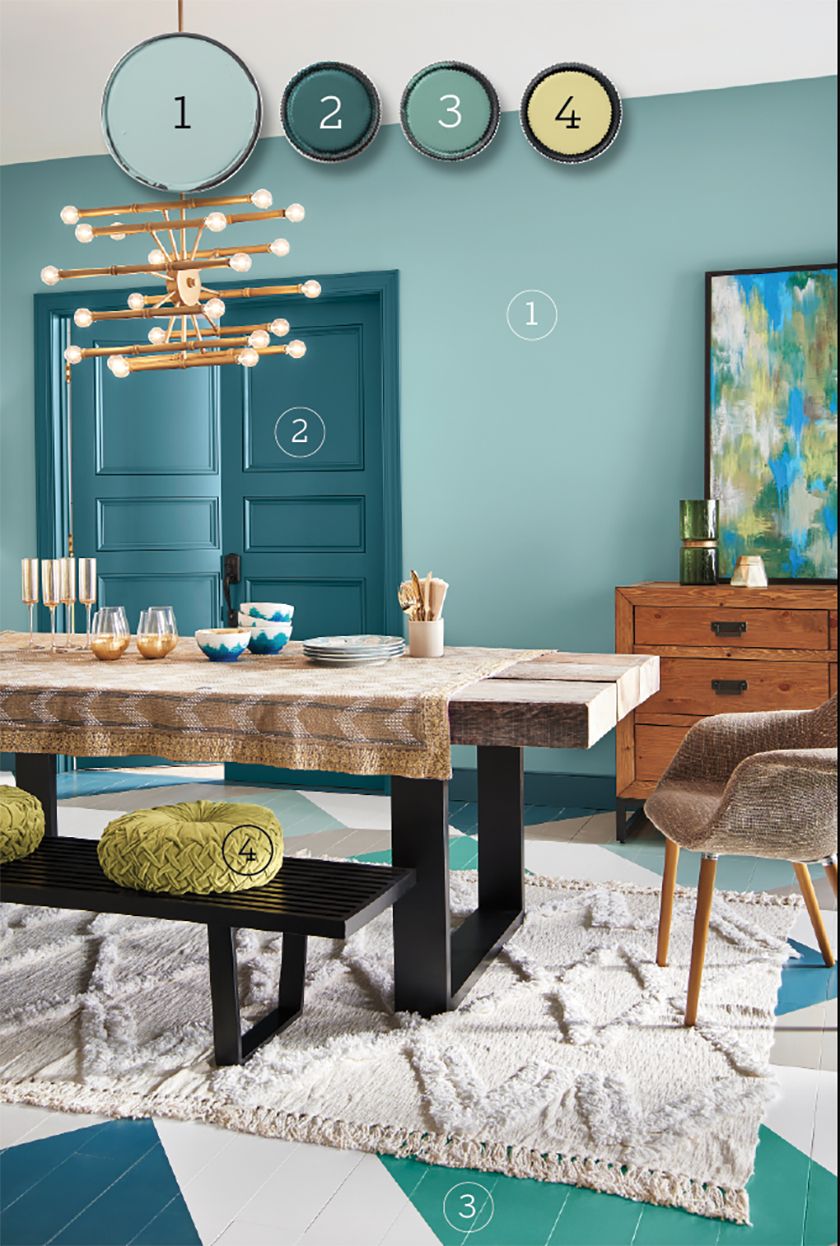 Blues and greens are a foolproof combo because they neighbor each other on the color wheel. Using pale aqua as the dominant color in this dining space makes it easy to layer in bolder colors, such as the deep teal on the door and trim, plus the bright green incorporated in the floor. Lime accents pick up the gold tones in the room.
1. Polished Aqua (walls)
2. Wanderlust (doors and trim)
3. Jade Dragon (accent)
4. That's My Lime (accent)
Or Instead of Aqua Blue, Try This: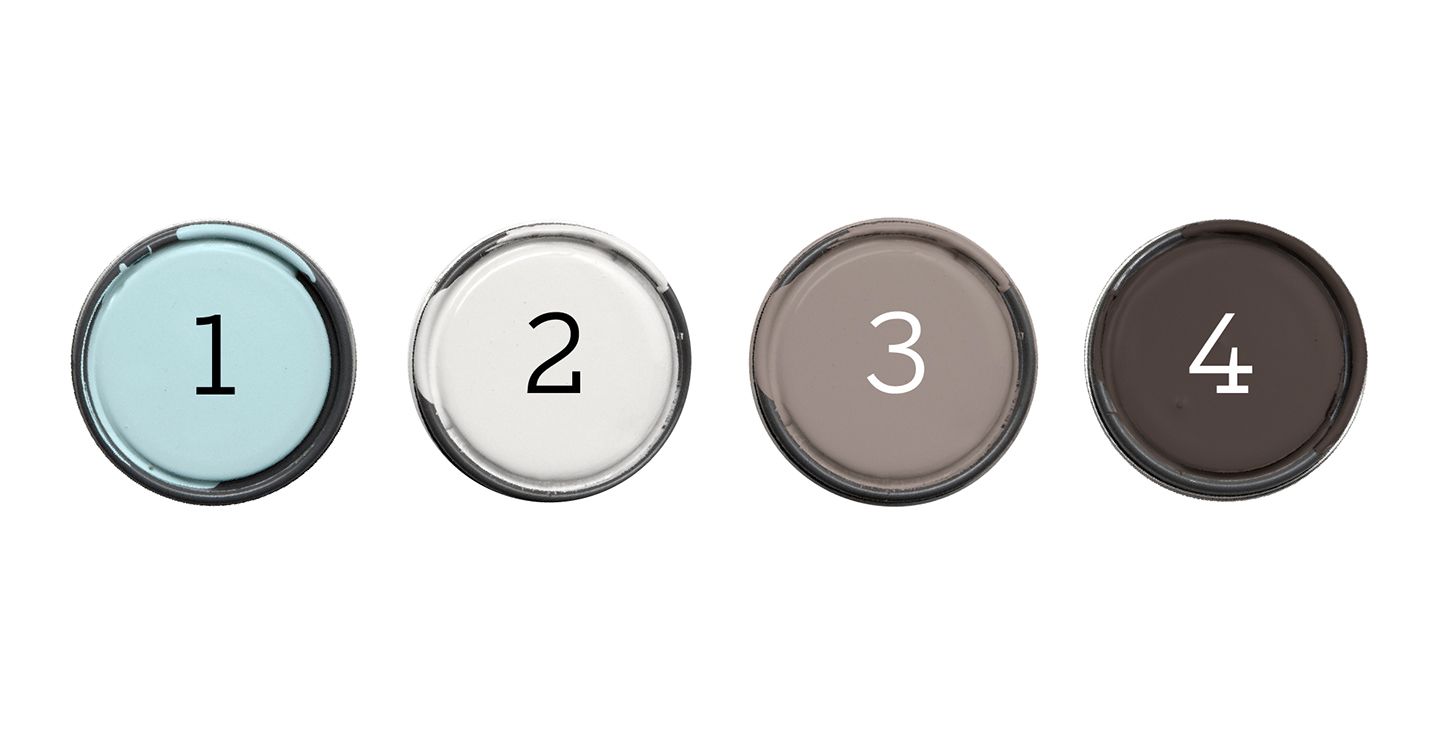 Aqua can look either blue or green, much like water itself. Another can't-miss approach: Pair it with rich neutrals in cool gray-brown tones.
1. Misty Aqua (walls)
2. Silver Feather (trim)
3. Talavera (floor)
4. Phantom Mist (accent)
Yellow Gold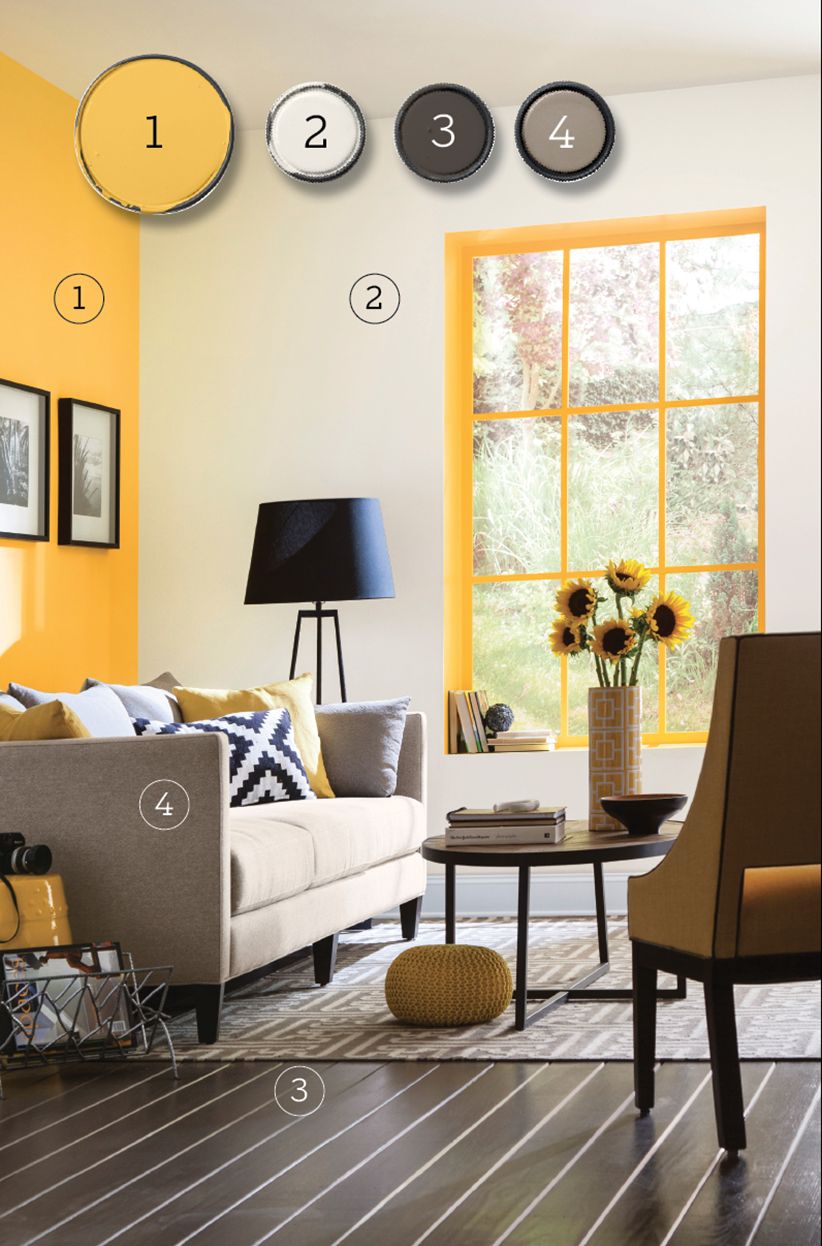 Cheery and bright, this is also a challenge to get right, since the color can intensify on the wall. Limiting the sunshine-inspired shade to just an accent wall and windows, as shown here, keeps it from overwhelming, as does grounding it with sophisticated neutrals like warm white, ebony brown, and taupe gray.
1. Rayo de Sol (wall, window)
2. Alabaster (walls, ceiling)
3. Black Fox (floor)
4. Keystone Gray (accent)
Or Instead of Yellow Gold, Try This: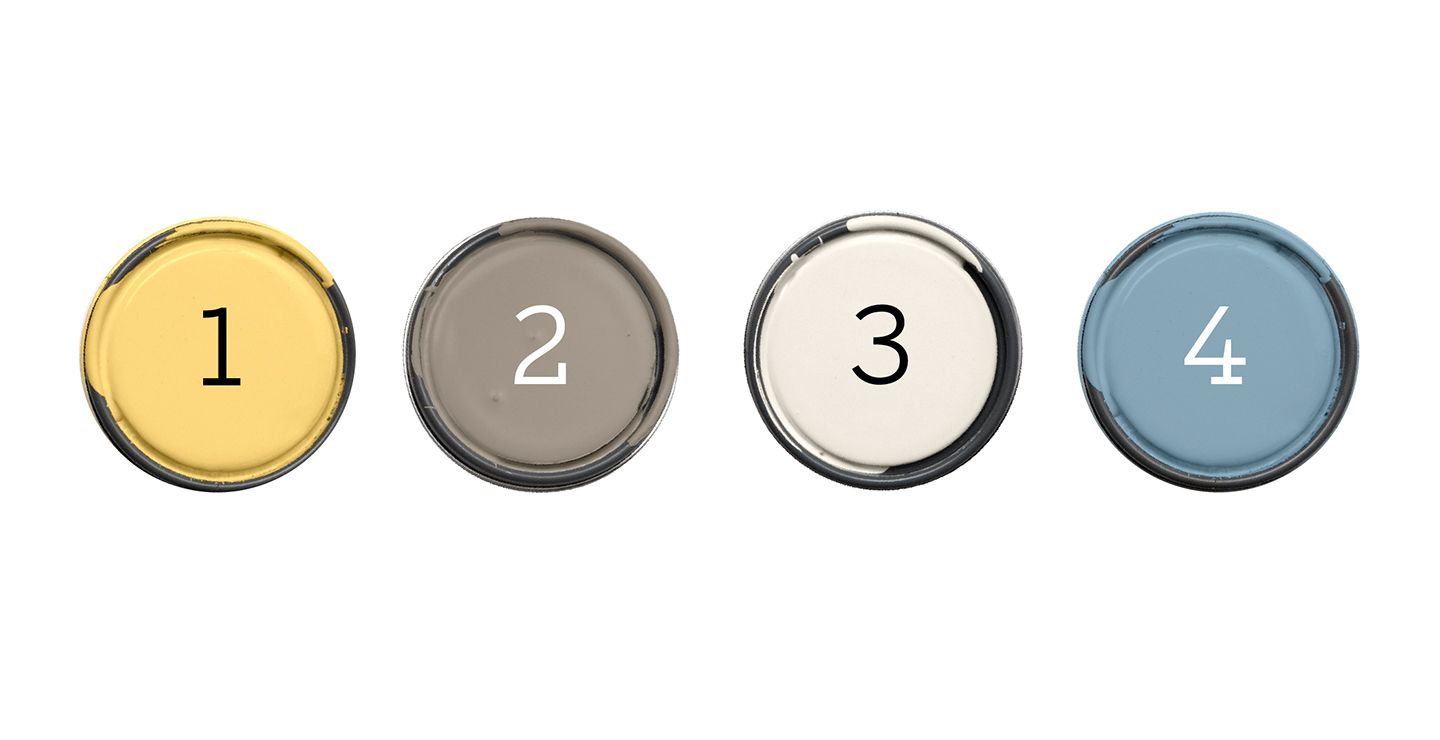 For a modern-farmhouse feel, balance bright-yellow walls with weathered neutrals and muted-blue accents.
1. Summer Wheat (walls)
2. Frappé (ceiling)
3. Dove White (trim)
4. Summerhouse Blue (accent)