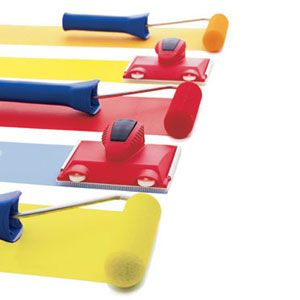 Nothing is faster than a roller or a pad for getting paint out of the tray and onto the wall. Made from absorbent fabric or foam, rollers and pads hold more liquid than brushes and distribute it more evenly, and sometimes more neatly, than their bristled counterparts.
Painting contractor Jim Clark, who has worked on many This Old House projects, uses rollers on almost every job. "They transfer and spread a lot of paint in a hurry," he says. He keeps an array of them in different sizes with covers of various materials, including polyester, lamb's wool, and spongy foam (see "Choosing Roller Covers.").
Pads can't transport as much paint, so only the largest are good for an entire wall. But unlike rollers, they don't spatter. And while Clark prefers a brush when cutting in or painting window muntins, for the unsteady hand, small pads can be a neater option.
Most rollers and pads are either completely disposable or come with disposable covers. When buying a roller frame — the handle and spinning cage on which the cover fits — Clark looks for a strong wire cage that seals to keep paint out of the cover's core. For pad handles, a tight connection with the pad is key so it won't slide off. A decent roller frame or pad handle runs around $7, and covers cost from $2 to $5. Clark makes the most of his investment by sealing used covers in plastic wrap or zipping them into a freezer bag, then storing them in the fridge for up to a week until he's done using that color.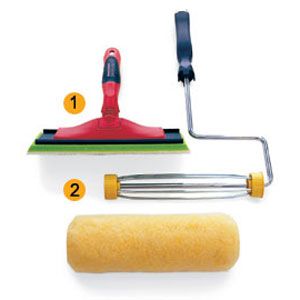 Everyday Painting
The painter's workhorses, standard-size rollers and pads (7 to 9 inches) are efficient tools for painting walls, ceilings, floors, and other large, flat surfaces. Both have handles that accept an extension rod for reaching high and low.
1. A 9-inch interior pad goes where a roller does but without the spatter.
2. A 9-inch roller is the most common and convenient size.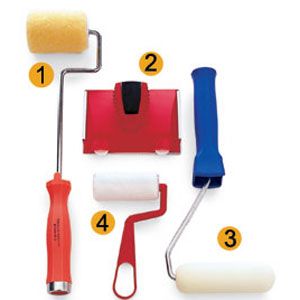 Small Jobs and Cutting In
Rollers and pads from 3 to 5 inches wide can put paint on a paneled door or a window casing or cut in around a room more quickly and neatly than a brush.
1. A narrow traditional roller has the speed of its longer cousins but fits into narrow slivers of wall, as between a window casing and the ceiling.
2. A 3 ½-by-4 ¾-inch pad with guide wheels and flexible extension socket cuts in around doors and windows without touching the molding.
3. A 4-inch foam roller with a rounded end is a good choice for paneling or siding because the roller will cover the field, and any adjacent edges, all in one swipe.
4. Entirely disposable rollers are best for small jobs or spreading glue.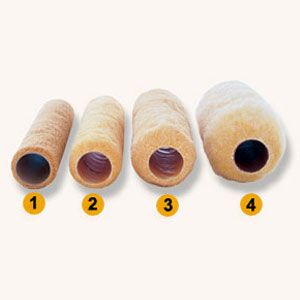 Choosing Roller Covers
Roller covers come in a variety of materials, pile lengths, and sizes. As a rule, avoid the cheapest (cardboard cores break down and lose fibers) and the most expensive (you'll waste time cleaning up to save your investment).
1. Covers with short nap (3/16- or ¼-inch) are best for smooth drywall and new plaster.
2. Covers with medium nap (3/8- to ½-inch) are for sand-textured plaster and rough wood.
3. Longer nap (¾- to 1-inch) is for heavily textured plaster, stucco, and masonry.
4. Nap longer than 1 inch' is for brick, concrete block, and rough masonry.
Most roller covers are advertised as being good for all paints. However, it's best to match the fibers to the paint type. Natural-fiber covers, made of mohair or lamb's wool, are best for solvent-based paints, stains, and varnishes. Synthetic covers made of polyester or nylon are ideal for water-based paints. Covers made from a combination of natural and synthetic fibers can be used with all paints.
Foam covers also work with all paints, but they're best on mini rollers. They're great for getting a lot of paint onto porous surfaces (such as wood paneling or cabinets), and for creating super-smooth finishes with glossier paints. Look for firm, high-density foam; squishy, inexpensive foam won't stand up to rolling pressure and may cause drips.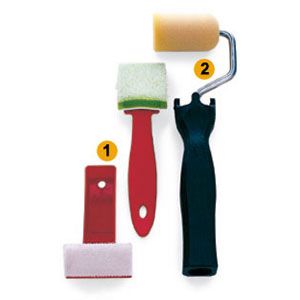 Painting Trim
Small rollers and pads fit the narrow profiles of window casings and muntins.
1. Trim pads are sized to perfectly fit standard windows or the slats of louvered shutters and blinds.
2. A foam roller can carry more paint than a pad to long expanses of baseboard or crown molding.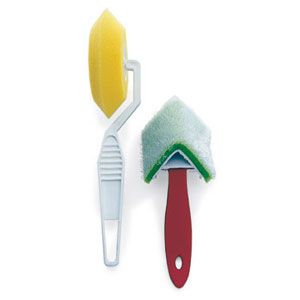 Painting Corners
Cutting in to corners is much easier with a specially shaped roller or pad, coating adjacent walls with a single application.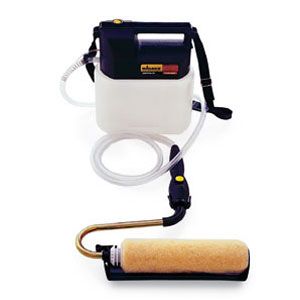 Power-Feed Roller
Compared with a brush, paint rollers save time, but power rollers can speed the process even more. A built-in motor continuously pumps paint from a bucket to the roller head, so you don't have to stop to load up every few strokes. Power rollers make sense for big jobs. The downside is that the machine has to be disassembled and cleaned before you can switch colors or put it away. That may cost you more time than you save in painting.
Big Jobs
An adjustable yoke that can expand to take up to an 18-inch roller is handy for large jobs, such as painting a great room with a cathedral ceiling.
Where to Find It
Paint pads:
Shur-Line
Newell Rubbermaid
St. Francis, WI
877-748-7546
9-in. roller frame:
Ring Kage
Bestt Liebco
Philadelphia, PA
Narrow roller frame:
Arrow Rollers/ Worthy Brush Inc.
Brooklyn, NY
888-444-4949
4-in. roller cover:
Pro-Line Lamdel with 1/4-inch nap
Arrow Rollers/Worthy Brush Inc.
4-in. foam roller:
Whizz Roller System
Worktools International
Largo, FL
3-in. disposable roller:
Model 03000
Shur-Line
9 -in. roller covers:
Gold Pro Professional Gold Series
Allpro Corporation
Brandon, FL
2-in. foam roller:
Foam Pro
Irvine, CA
Power roller:
Model 929
Wagner Spray Tech Corporation
Minneapolis, MN
800-328-8251
Adjustable roller frame:
Sherlock Wide Boy
The Wooster Brush Company
Wooster, OH
800-392-7246
18-in roller cover:
Pro-Line Long-Span
Arrow Rollers/ Worth Brush Inc.