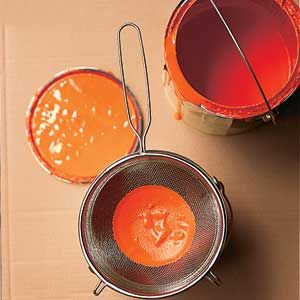 Who says you should get rid of that quart of sky blue that's no longer on the bathroom walls? Or the full gallon of lime green that you loved in the hardware store but hated in the hallway? Mixing old paints to get a new color is an inexact science, but with a little trial and error you can achieve a hue you like and save a few bucks in the process. Dean Brawn, co-owner and vice president of Canada-based paint recycler Calibre Environmental LTD, gave us a few tips for blending paint at home.
Know what you're blending
Never mix alkyds with latex or stains with paints. "You'll get something that looks like cottage cheese," Brawn says. Though not impossible, oil-based paints can also be tricky to blend. Feel free, however, to throw together latex-based interiors with exteriors and glossies with flats.
Sort out the bad cans
If the paint is lumpy and doesn't improve in texture after a minute or so of stirring, it's no good. Also steer clear of paint showing signs of bacterial growth, indicated by brown or white spots on the surface.
Use a filter
When you're ready to mix, strain the paint through cheese­cloth or a stainless-steel mesh filter into a clean can. "This gets rid of debris and dry chunks," says Brawn. (Image 1)
Experiment first
In general, ­­ran­domly mixing leftover paint will result in a grayish, brownish, or other neutral color, particularly if you are mixing darks with darks or lights with lights. Instead, mix spoonfuls of paint in equal parts first to see what color you get, then test different proportions until you like the result. (Image 2)
Plan ahead
Mix enough paint for your project before you start applying it—replicating the color will be tough. If you have any left over, dab a splotch onto the can's lid so you know what color's inside, then seal the can and save for touch-ups.
Stay flexible
If the color you get isn't exactly what you had in mind, you can use it as a primer instead and buy a new can for the top coat. And if blended paint appeals to your thrifty side, buy remixed colors from a local paint-recycling center—for a fraction of the cost of the new stuff.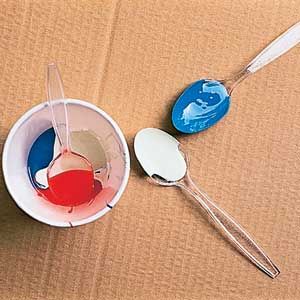 Cheat Sheet: Mixing Colors
As you're experimenting, keep these basic guidelines in mind. For more color combos, check out the digital color wheel at the Paint Quality Institute.
Mixing Primaries
red + blue = purple
red + yellow = orange
blue + yellow = green
Make a Color Lighter
moss + off-white = sage
brown + off-white = tan
Tone Down a Bright Hue
electric blue + black = slate blue
kelly green + black = gray green
Still Not Getting the Right Color?
Buy blended, recycled paints from one of these dealers. (Take note: They stock mostly neutrals.)
•Amazon Environmental Inc., Riverside, CA; about $40 per 5-gallon can
•Calibre Environmental Ltd., Calgary, Canada; about $35 to $60 per 5-gallon can
•Chittenden Solid Waste District, Williston, VT; about $35 to $42 per 5-gallon can