Paving the Way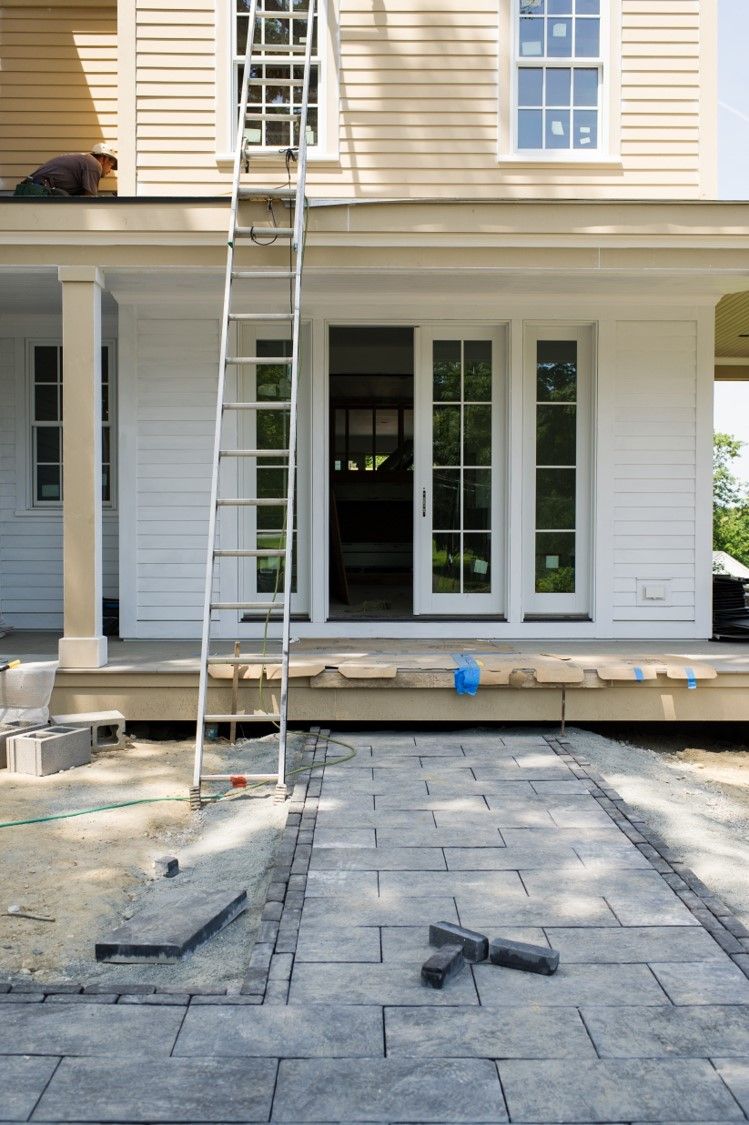 Flagstone-style pavers lead up to the sitting porch, where French doors with sidelights make for a welcoming entry to the home office.
Doors: Sierra Pacific
Pavers: Unilock Richcliff in Smoke Shale
Preserving the Past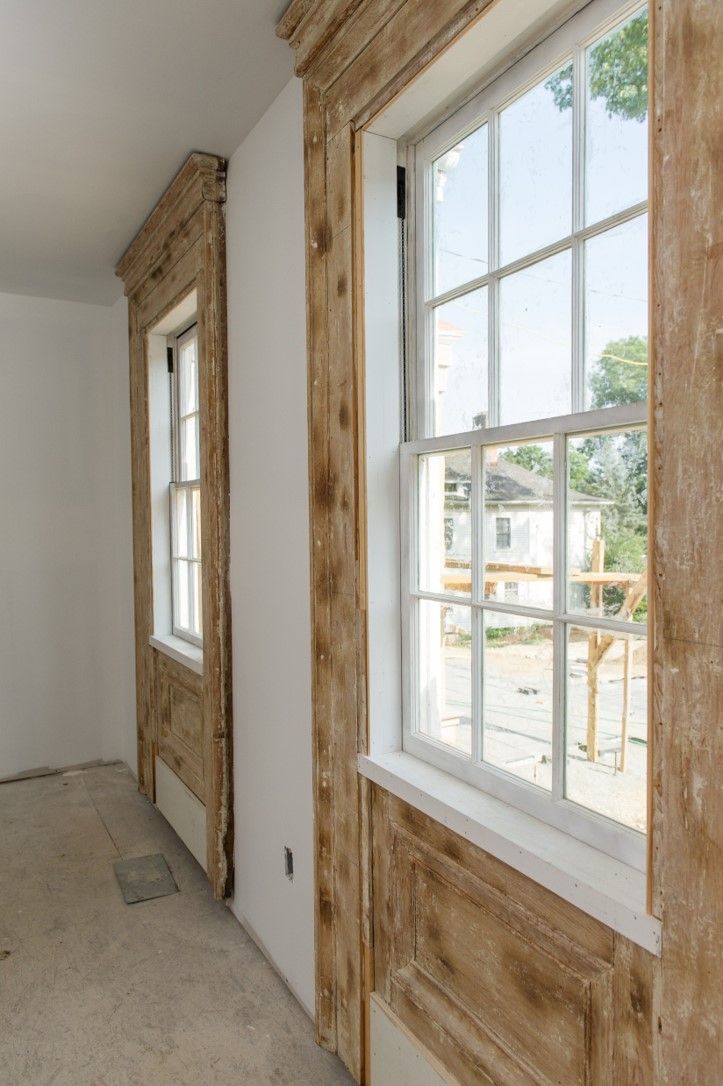 At the front of the house, original windows (eight double-hung, two fanlight, and two frieze-band) have been painstakingly refinished by Karp master carpenters, who also took care to save the original interior oak trim. New, period-authentic pulleys, chains, and weights completed the restoration.
Window Hardware: Sash Pulleys, Chains, and Weights in Oil-Rubbed Bronze by House of Antique Hardware
Getting Connected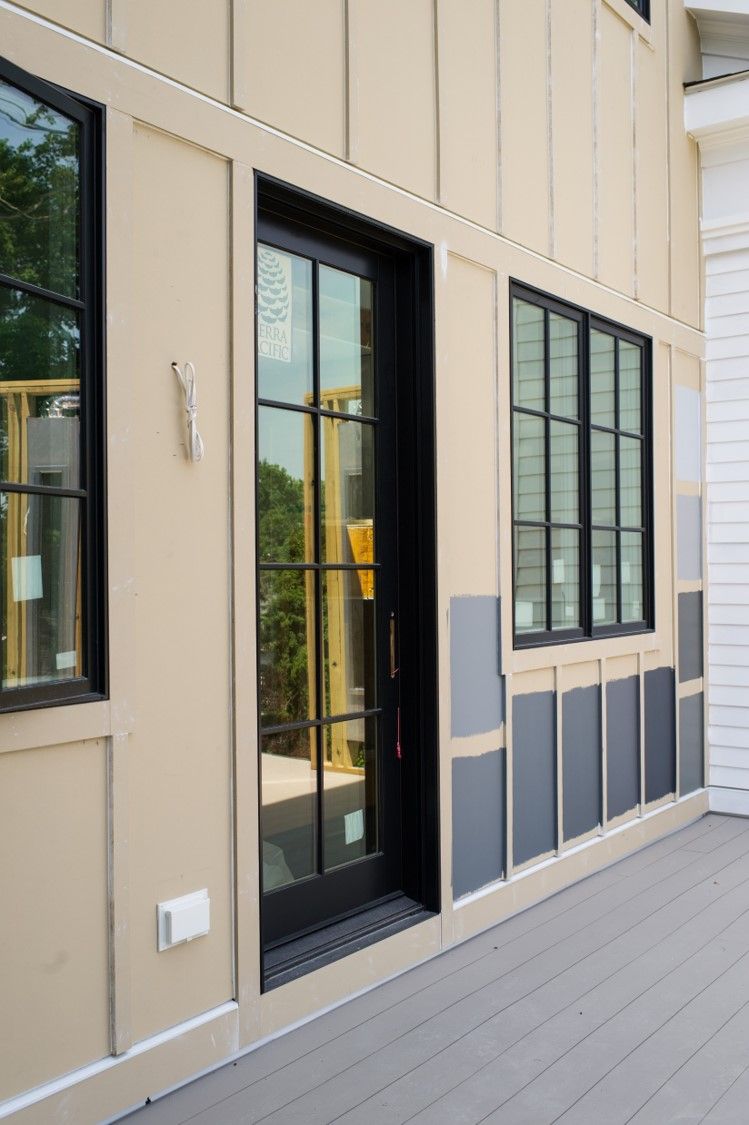 Just off the family room, on the outdoor dining porch, paint matching is under way to help narrow down the perfect shade for the connector, which houses the mudroom, dog wash, and powder room on the ground floor, and the laundry room and study zone on level two.
Board and Batten Siding: LP SmartSide
Windows, Porch Door: Sierra Pacific
Flooring: Heritage T&G Porch Floor and Universal Porch Planks in Battleship Gray by Aeratis Porch Products
Comfort Zone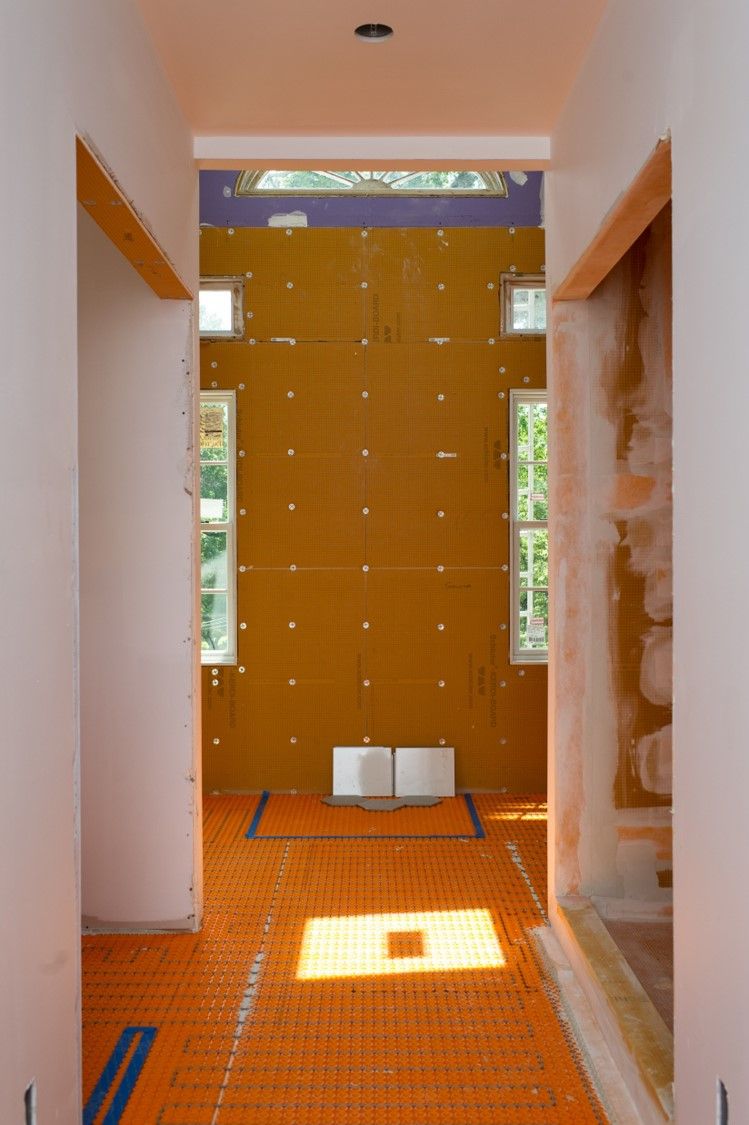 The entire master dressing area and master bathroom space, including the shower and bench (at right), will stay nice and toasty thanks to electric floor warming throughout.
Waterproofing Membrane: Schluter®-DITRA
Super Subways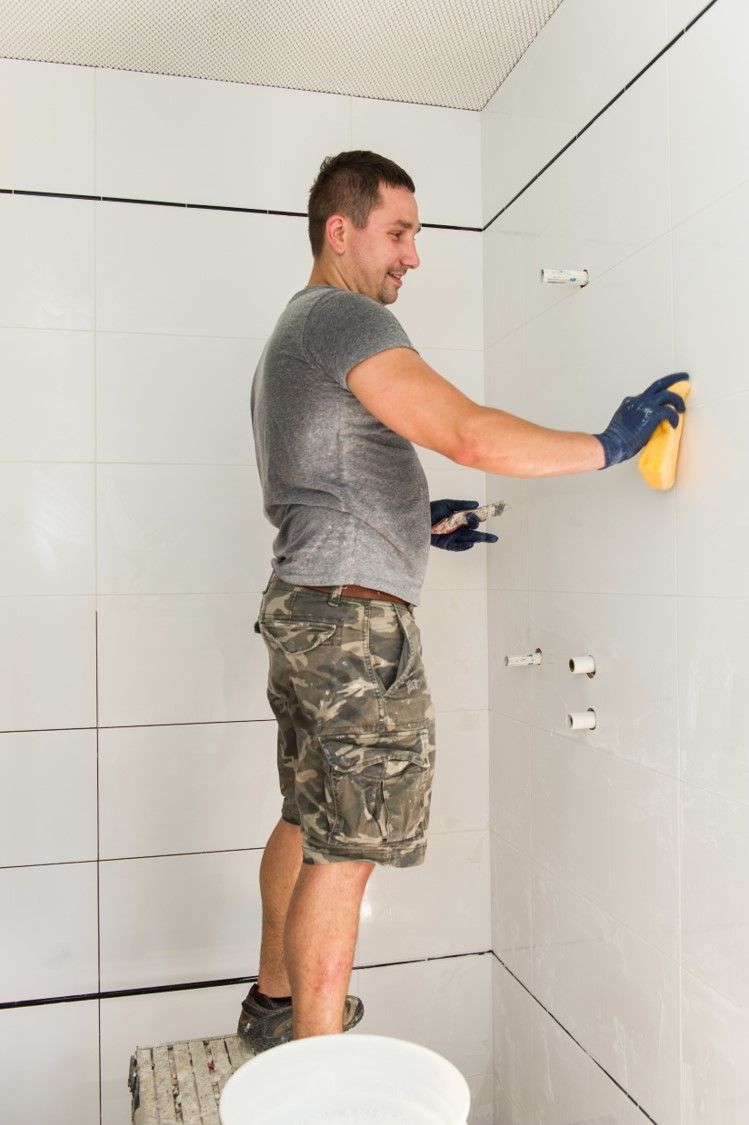 Bright white 12-by-24-inch oversize ceramic tiles in a straight-stacked pattern are a modern alternative to subway-pattern tile. Tiny glass mosaic button tiles on the ceiling, and black linear accent tiles, add texture to the otherwise sleek space.
Tile: Walls, Accent, Ceiling by Merola Tile, available at The Home Depot
Sneak Peek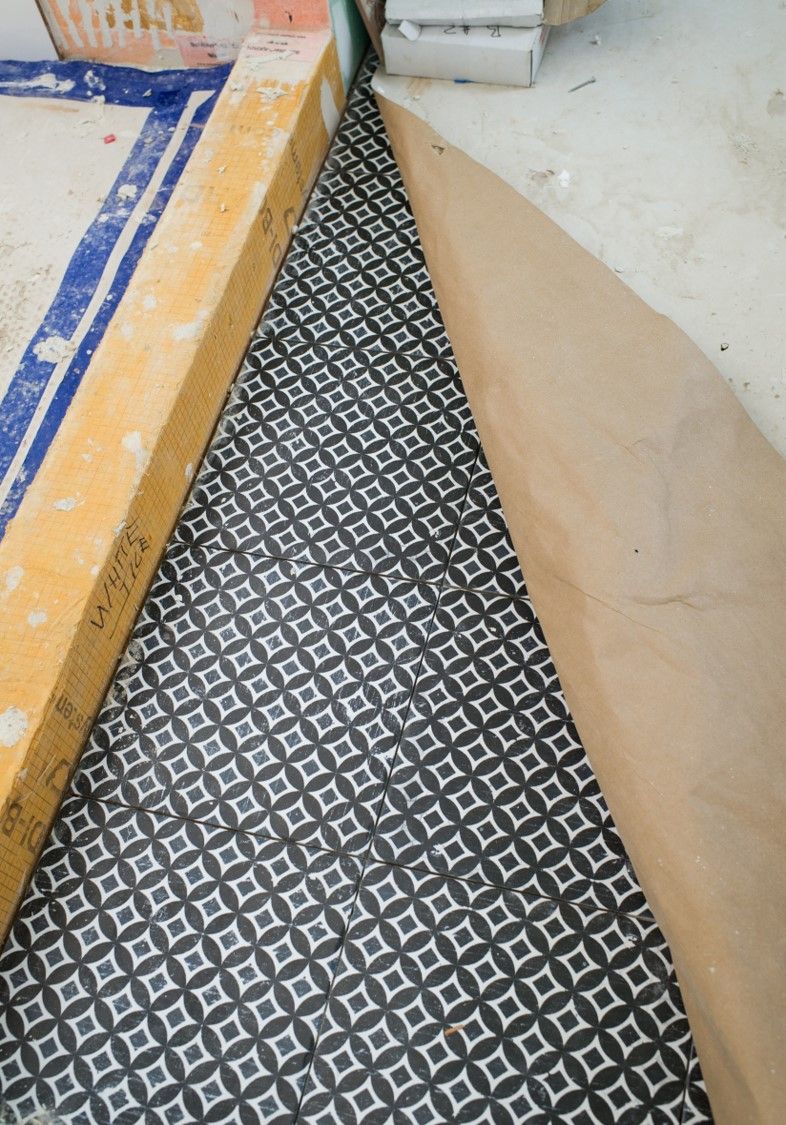 We couldn't resist taking a sneak peek at these geometric bathroom floor tiles!
Tile: Merola Tile, available at The Home Depot
Shower Curb: Schluter®-KERDI-BOARD-SC
Carving a Niche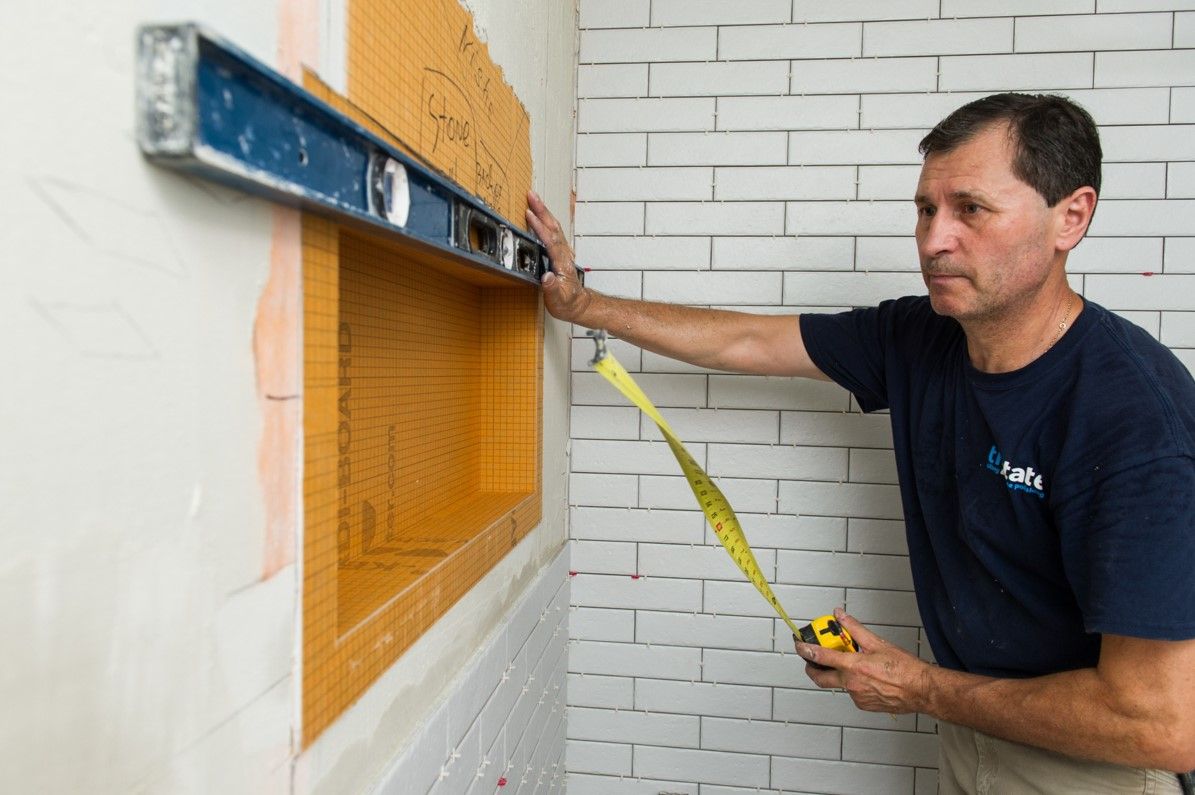 Installation of a premade niche in the shower wall provides a handy spot for soaps or accessories.
Niche: Schluter®-KERDI-BOARD-SN
Tile: Merola Tile, available at The Home Depot
A Clear View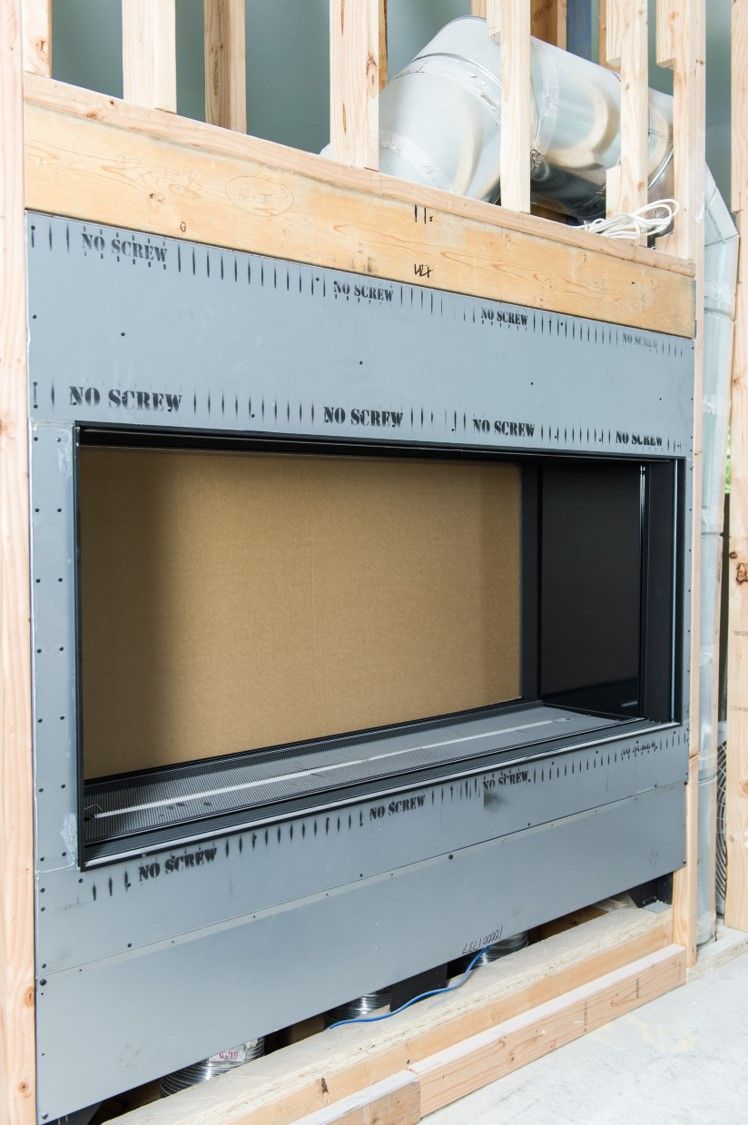 An innovative see-through gas fireplace is installed, providing an unobstructed view between the game room and family room.
Fireplace: Town & Country Luxury Fireplaces
Proper Placement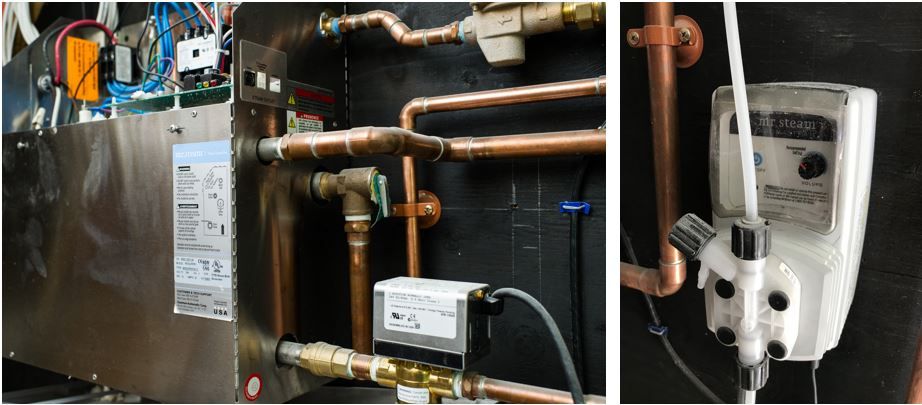 The steam shower and aromatherapy units are installed in the mechanical room of the third floor. They can be housed above, below, or on the same level as the room they are meant to service (in this case, the master shower is below them on the second floor).
Steam & Aromatherapy: Mr. Steam
Behind the Scenes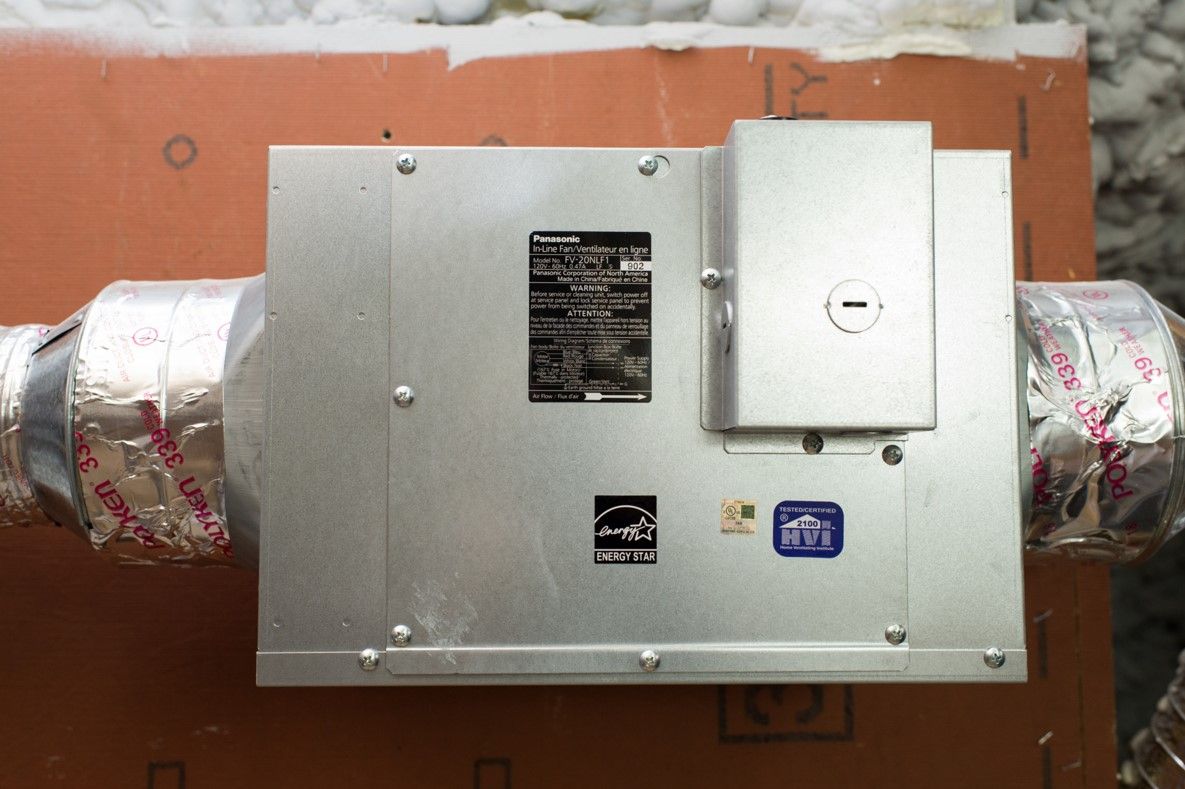 This in-line fan motor will operate the master bathroom suite's ventilation.
Ventilation: Panasonic
Getting Acclimated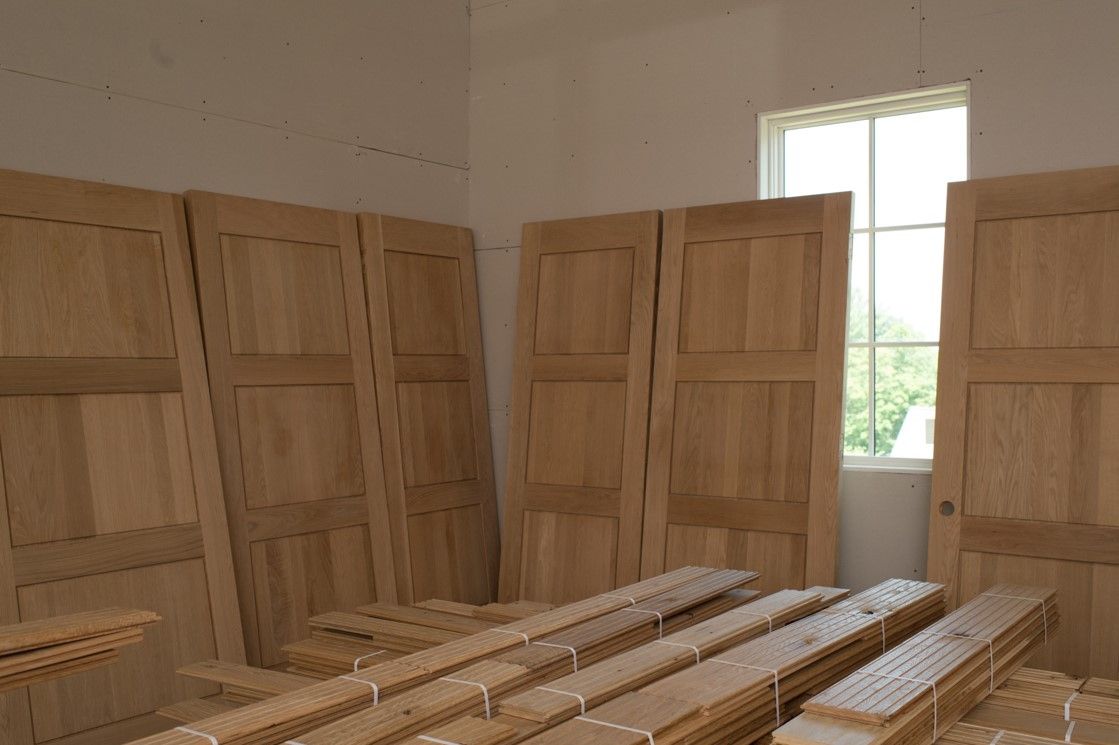 Custom three-panel, 1¾-inch solid white oak doors and oak floorboards are temporarily housed in the climate-controlled garage. Having been treated to three coats of water-based finish, they will be conditioned and acclimated here to avoid warping.
Doors, Floorboards: White Oak, Custom, by Baird Brothers Fine Hardwoods
Sealer: R540 Moisture Barrier Sealer by Bona
Ganging Up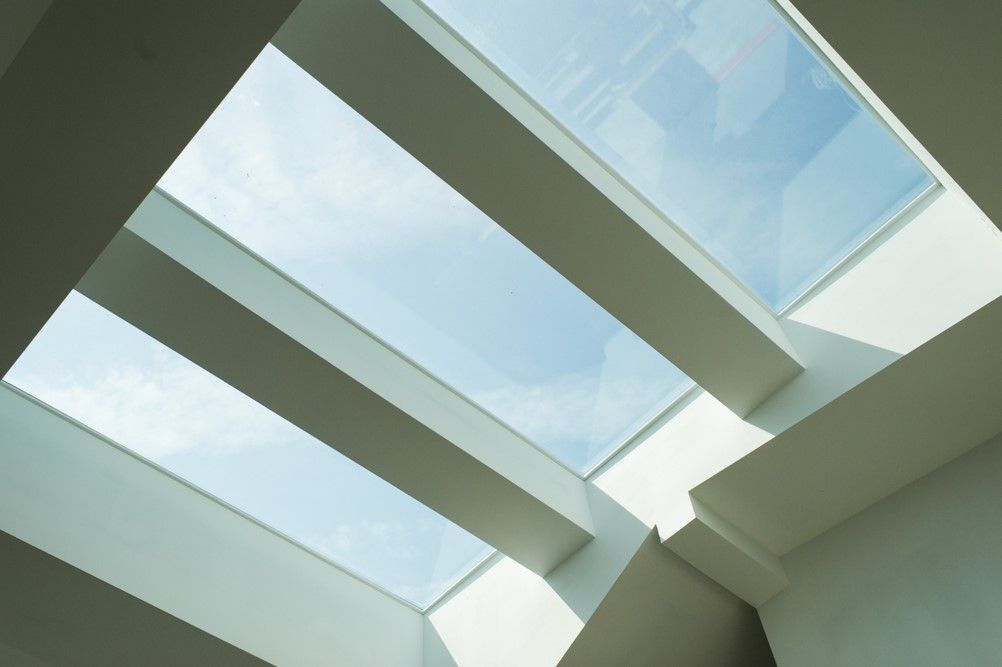 The four-story main stair tower reaches dramatically from basement to attic; the 4-by-12-foot ganged skylights will drench the entire entryway and all hallways in natural light.
Skylights: VELUX SkyMax
Let the Sun Shine In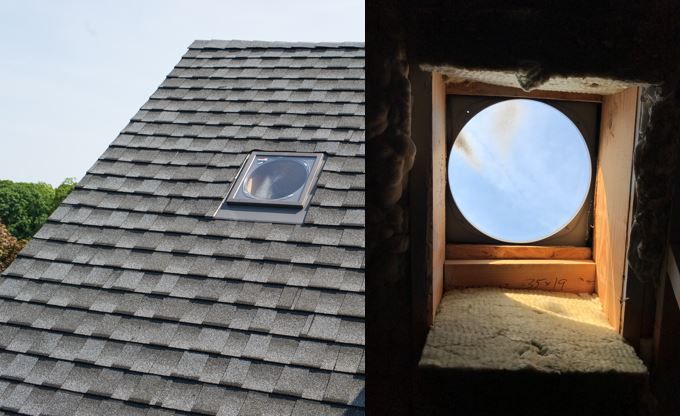 Shown here are the roof penetrations that will soon house reflective sun tunnels, designed to bring light into the master his-and-hers closets. Sun tunnels are a great way to introduce natural light into inner areas of the home that cannot support standard windows or skylights.
Skylights: VELUX Sun Tunnel Skylights
Roofing: GAF Timberline Shingles in Pewter
A Smarter Load Center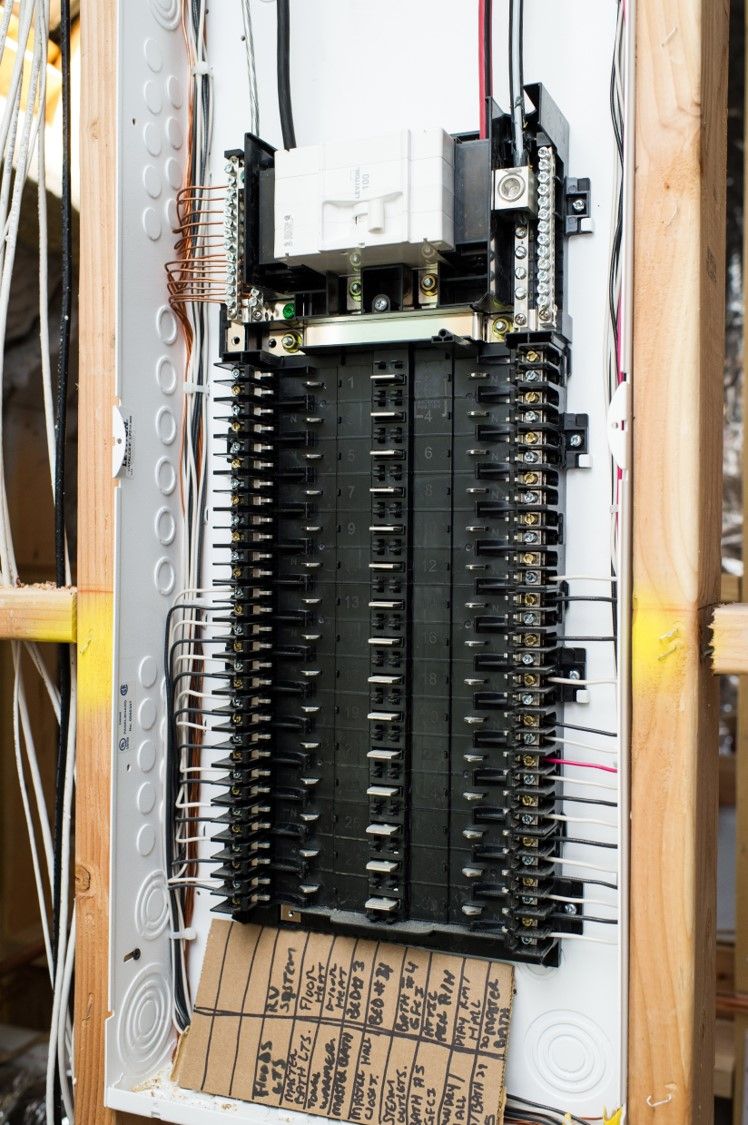 At nearly 6,000 square feet, the home required a secondary electrical panel to control the second and third floors. With optional Internet connectivity, the homeowners will be able to seamlessly control load center activities from anywhere in the world using their smartphone or tablet. Here, the panel awaits its attractive glass-front face.
Shown: Leviton Load Center
Times Are Changing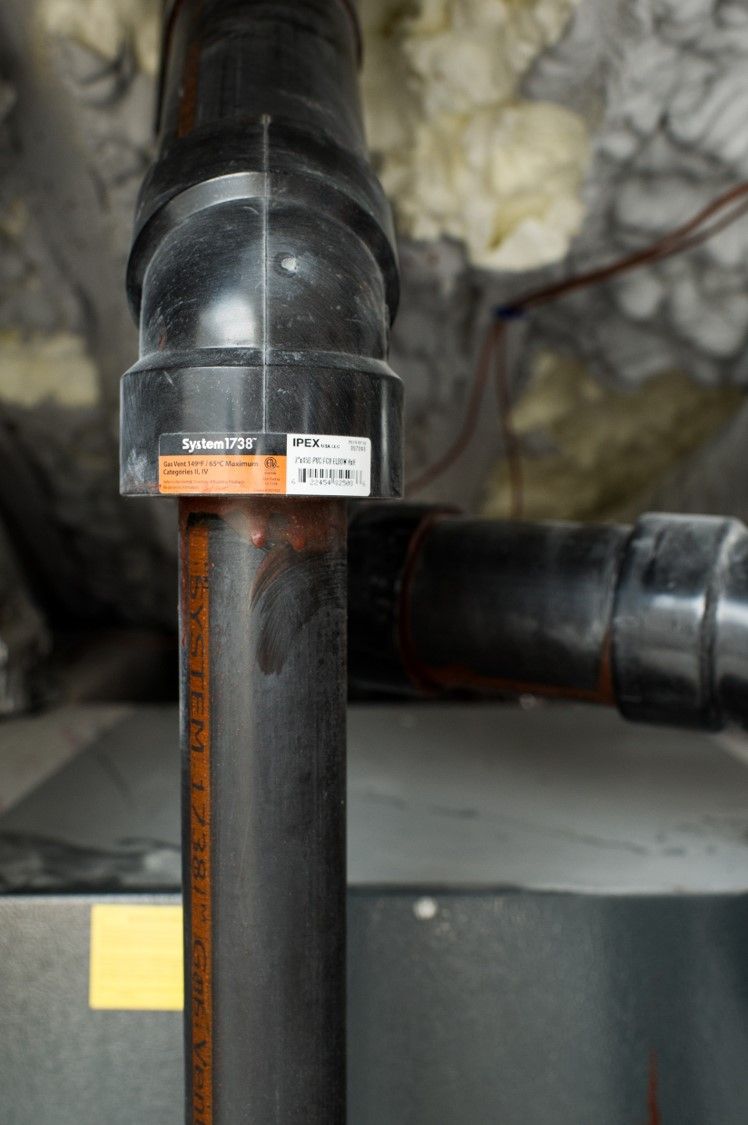 The use of plastic venting systems on gas-fired water heaters, furnaces, and boilers has undergone a significant change; here at the Idea House, we've installed the first engineered PVC flue gas venting system certified for Categories II and IV gas-burning appliances.
Flue Gas Venting: IPEX System 1738 PVC
Easy-to-Install Insulation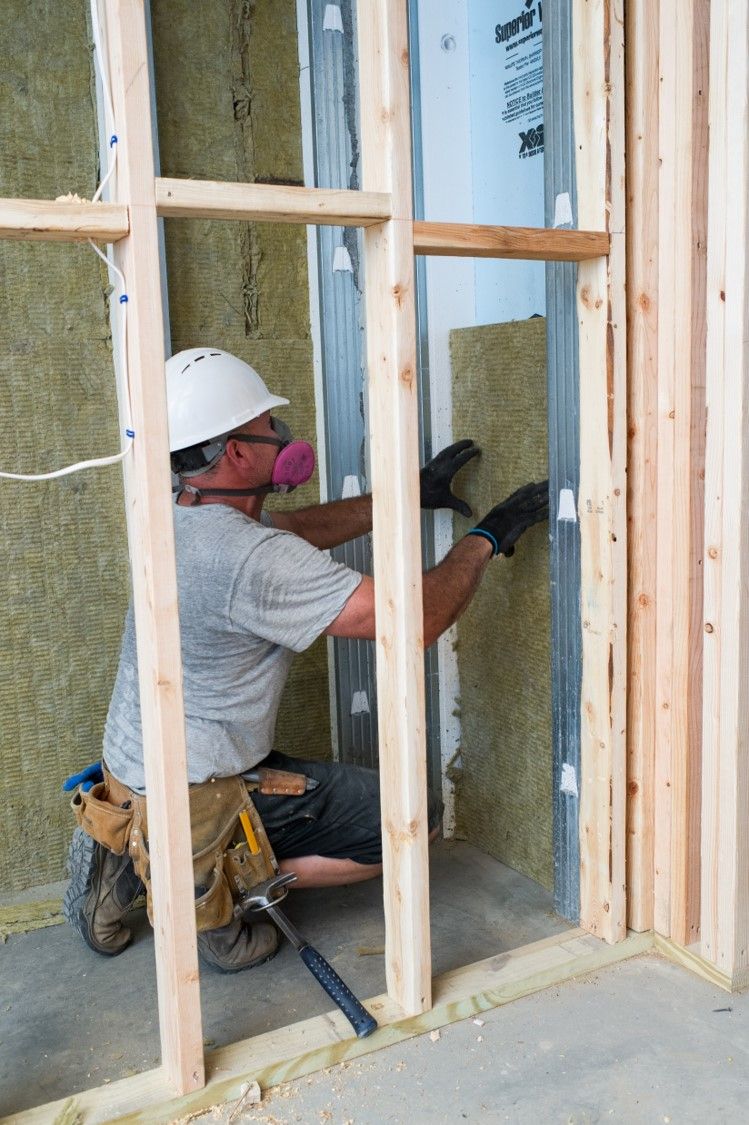 On the ground floor, thick batts of fire- and water-resistant, sound-deafening stone wool insulation are easily installed between studs using friction alone—no nailing necessary.
STONE WOOL INSULATION: Rockwool
Beehive Oven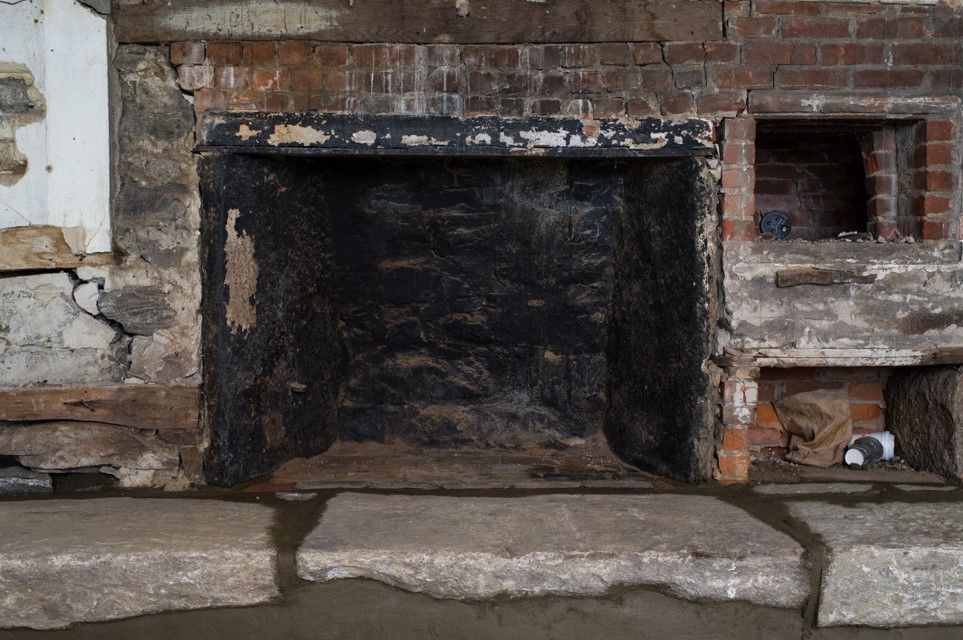 Restoration work continues on the beehive oven, a charming original detail that is sure to be a fan favorite when completed.
Craving more Idea House? Follow our progress in real time on our 24/7 access webcam. Or join us for the Grand Opening Celebration in New Canaan, CT, this September to see it for yourself!