Serene Master Suite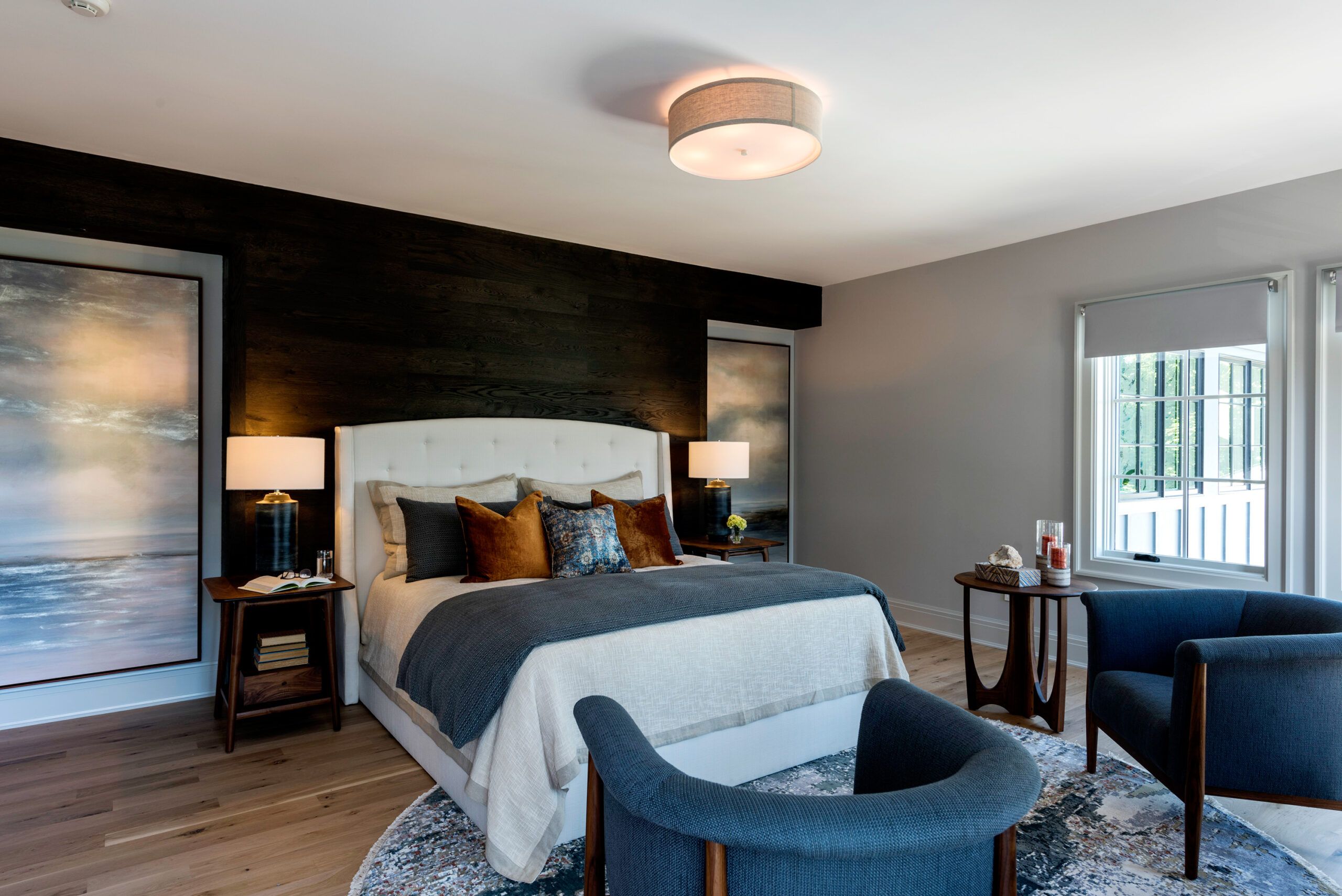 A palette of rich grays and warm wood tones create a serene and sophisticated ambience in the master bedroom. A large circular flush-mount ceiling light and a round area rug offset the room's angles.
STYLING, FURNISHINGS & ACCESSORIES: Stickley Audi & Co.
CEILING LIGHT FIXTURE: Circa Lighting
WINDOW SHADES: J Geiger Shading
Layered Elegance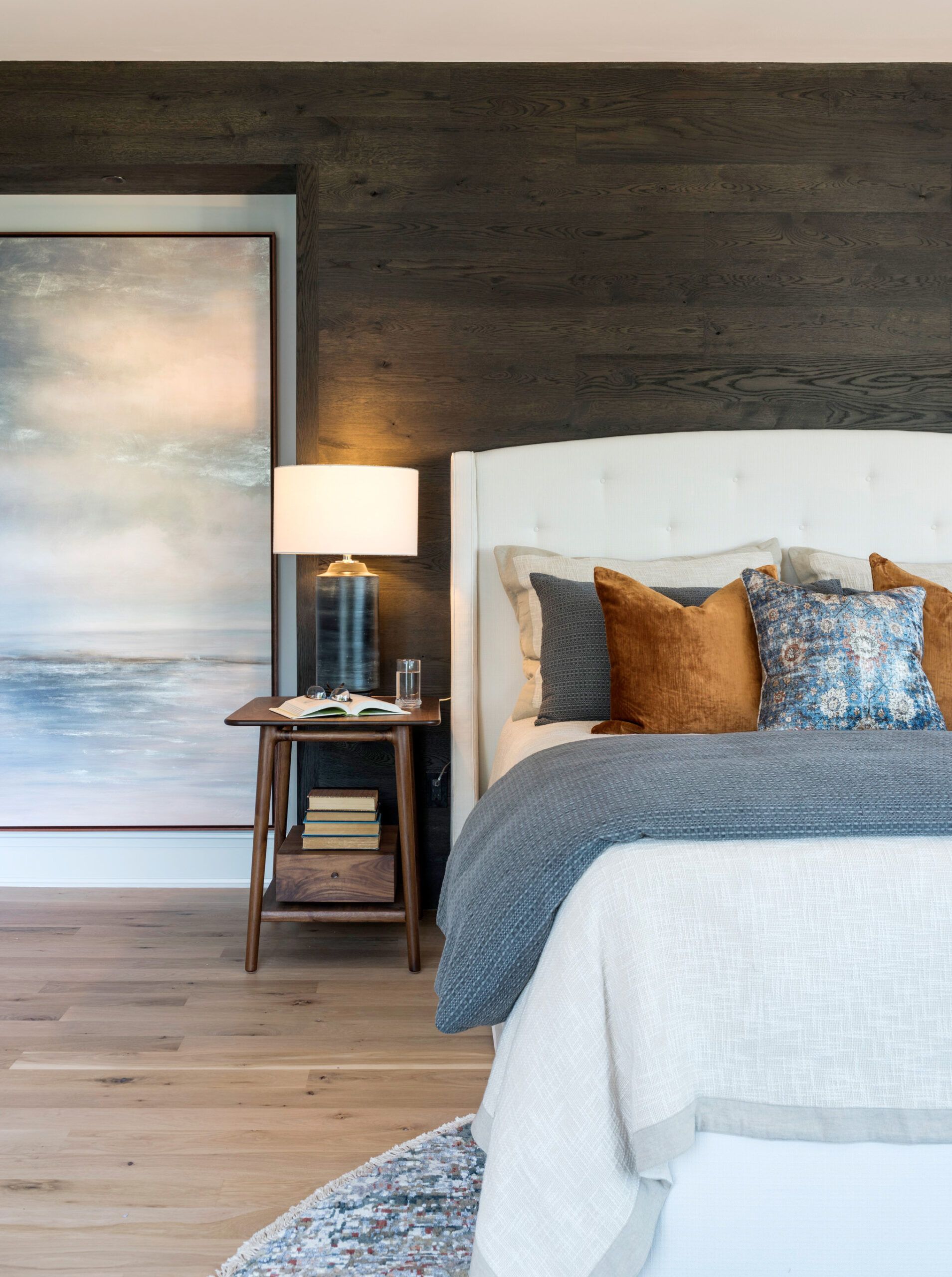 An ivory upholstered headboard stands out against the ebony-stained character-oak feature wall. Large art niches on either side of the bed are fitted with recessed LED lights to highlight the paintings hung there.
STYLING, FURNISHINGS & ACCESSORIES: Stickley Audi & Co.
FLOORING: Baird Brothers Fine Hardwoods
Clean Air for a Healthier Sleep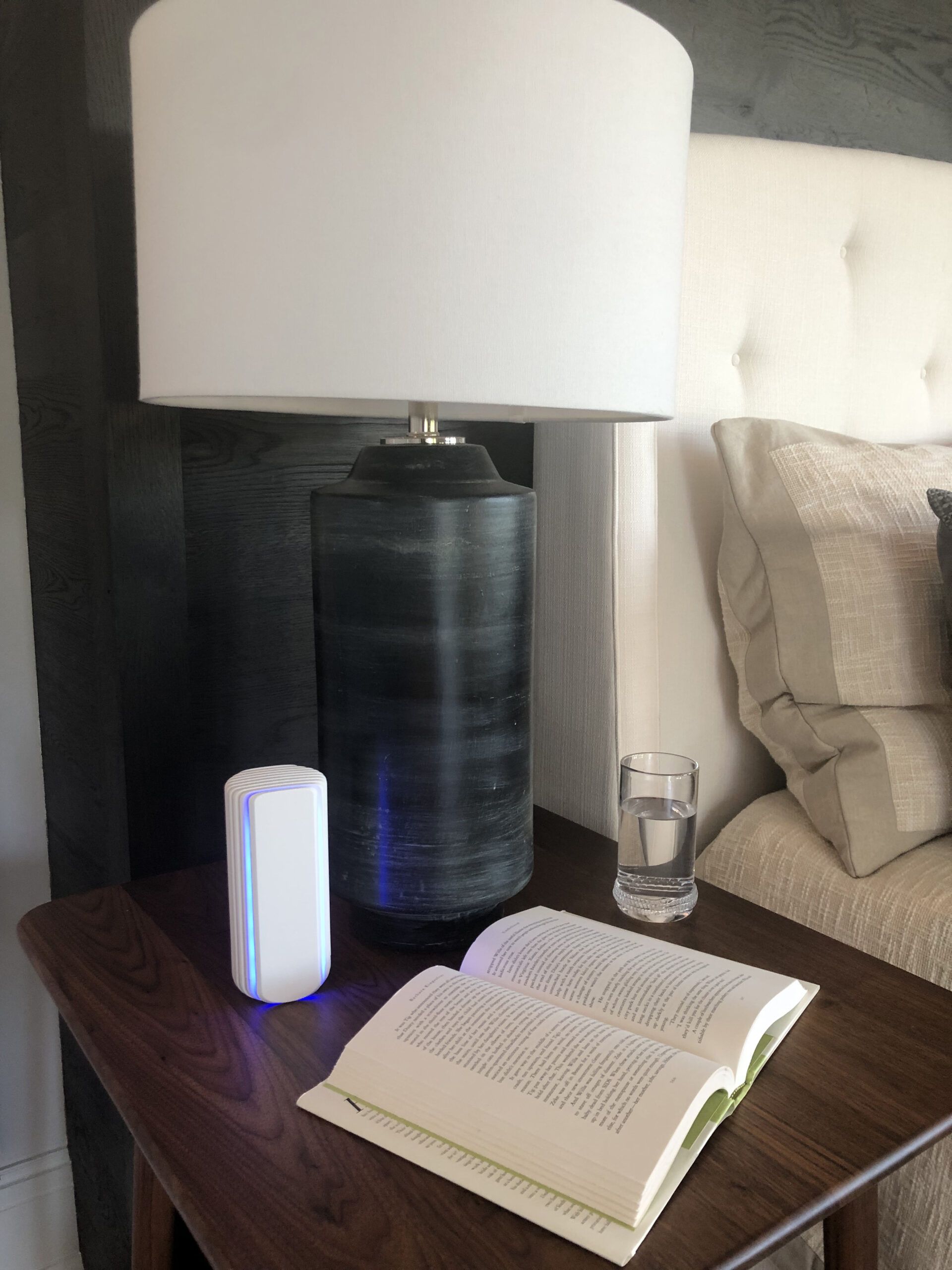 Today's newly-constructed homes and remodels are designed to be airtight. The simple act of breathing overnight in these confined spaces can lead to rising C02 levels—and restless sleep. To combat the issue, this inconspicuous smart sensor on the nightstand continuously monitors indoor air quality, activating the ventilation system and purifying the air when needed.
HEALTHY HOME SYSTEM: Cosmos by Panasonic
See-Through Fireplace with a View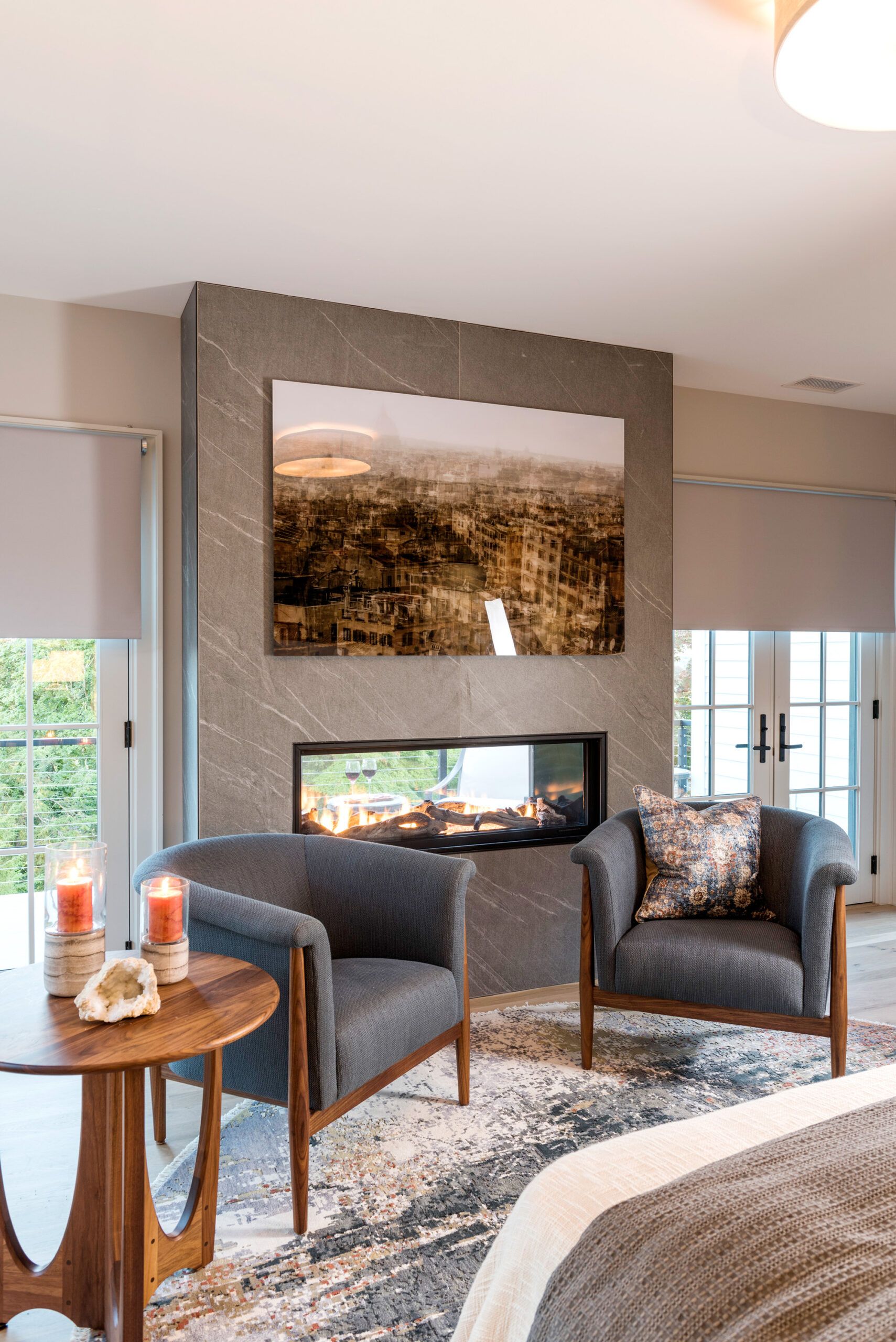 Opposite the bed, an indoor-outdoor fireplace with views through to the treetops is surrounded by sleek, durable 4-by-8-foot porcelain slabs. With wiring already run inside the fireplace wall, and a venting system that diverts heat outdoors, the artwork seen here could be replaced with a flat-panel TV. Blackout shades on the French doors leading to the balcony encourage sleep-in mornings.
FIREPLACE: Town & Country Luxury Fireplaces
STYLING, FURNISHINGS & ACCESSORIES: Stickley Audi & Co.
WINDOW SHADES: J Geiger Shading
FRENCH DOORS: Sierra Pacific Windows
Private Master Bedroom Balcony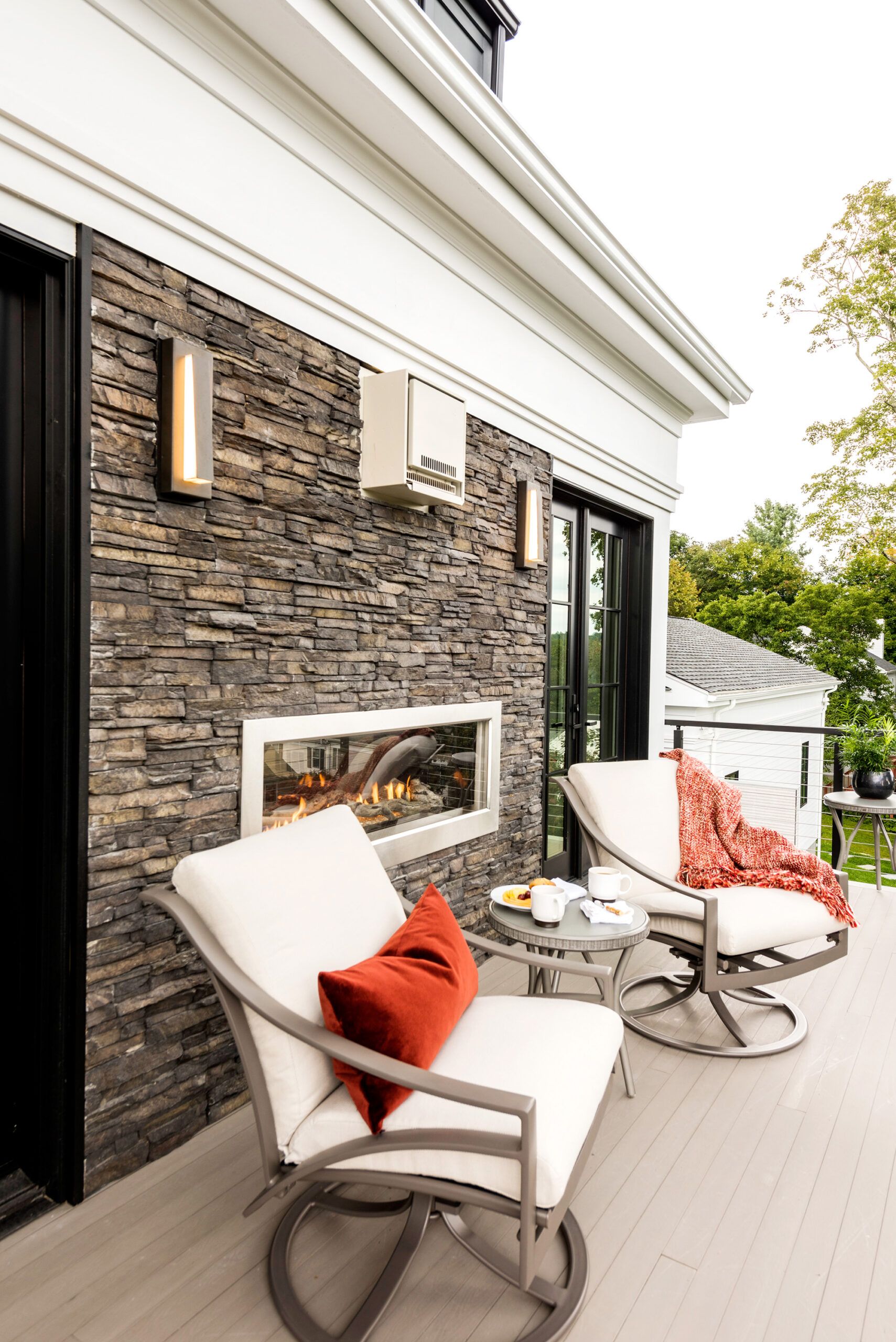 Two sets of French doors open onto the private outdoor seating area, where the two-sided, sealed gas fireplace (the vent box can be seen above the opening) is set off by a manufactured stone veneer accent wall. It's a sweet space for sipping morning coffee or watching the sunset with a glass of wine.
STYLING & FURNITURE: Stickley Audi & Co.
PORCH FLOOR: Aeratis
FIREPLACE: Town & Country Luxury Fireplaces
FIREPLACE VENEER: Eldorado Stone
SCONCES: Circa Lighting
Lighting the Way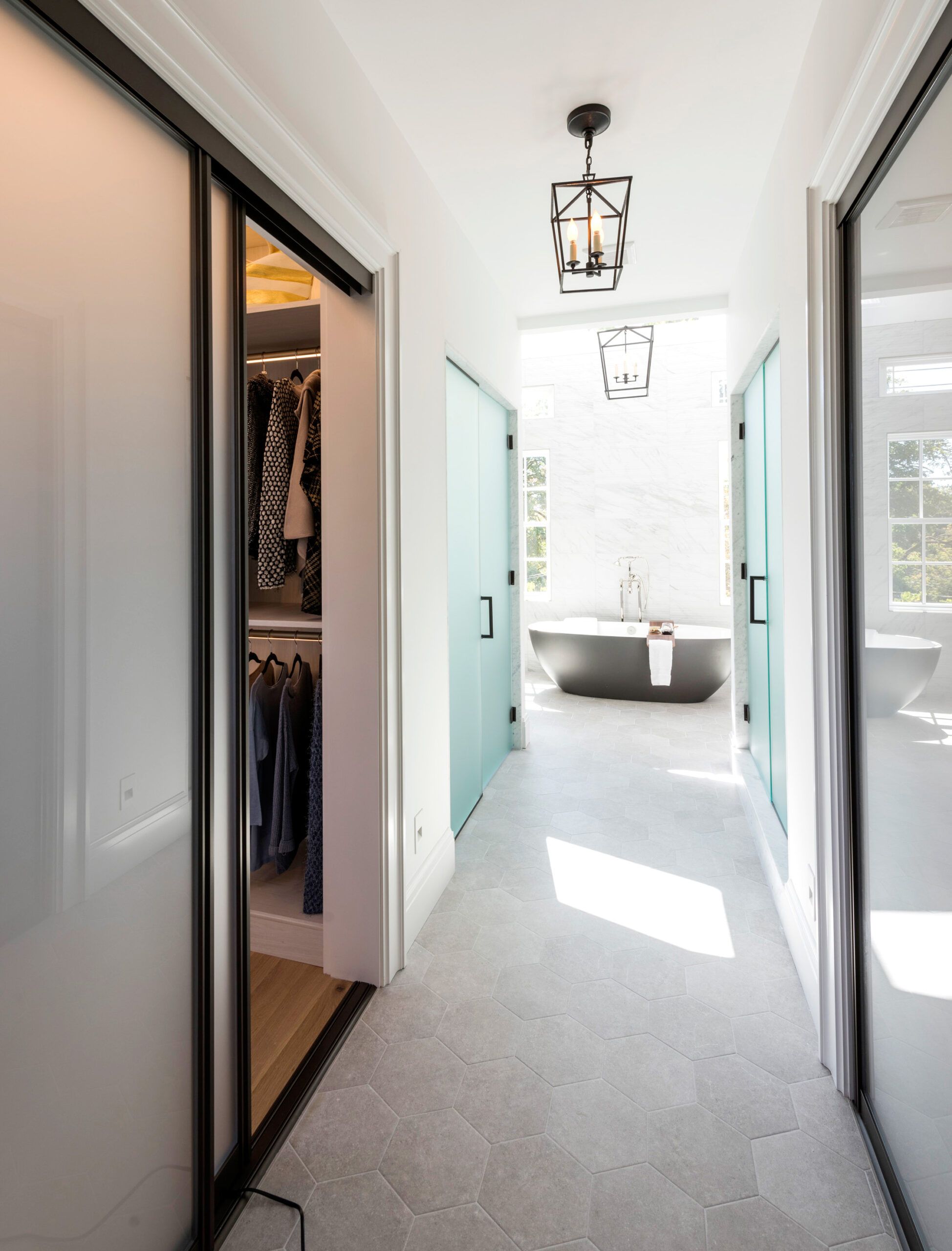 Sensors in the heated-floor passageway between the master bedroom and the master bath trigger knee-high LED lights for late-night trips to the loo. Frosted, sliding glass doors on either side open onto generous his-and-hers walk-in closets.
TILE: Floor, Walls by Merola Tile
CLOSET DOORS: Häfele
PENDANT LIGHTING: Circa Lighting
BATHTUB: Victoria + Albert
FIXTURES: ROHL
Dueling Sun Tunnels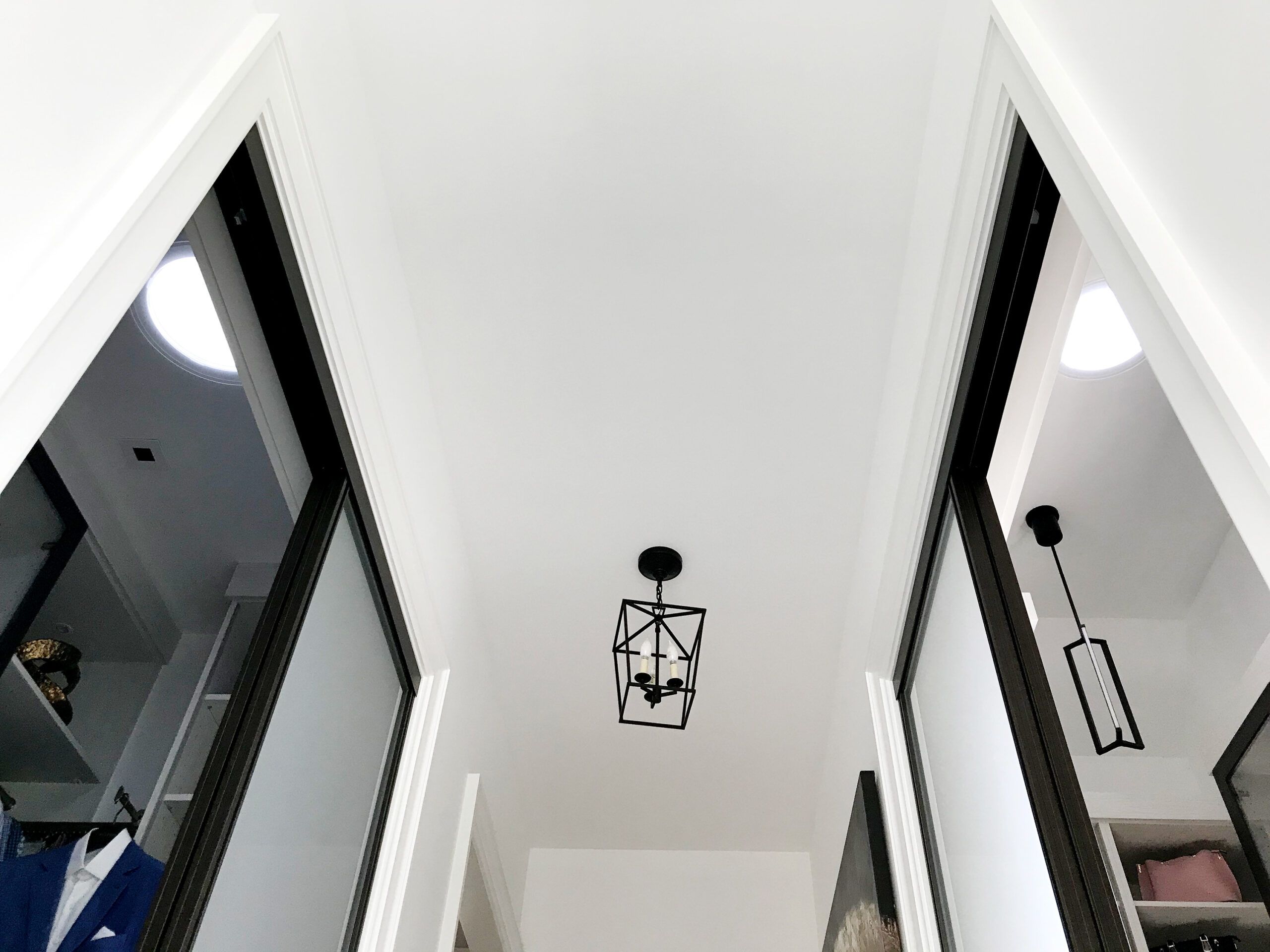 Set into the ceiling of both closets, sun tunnels usher in natural daylight—an especially handy feature in the smaller, windowless closet for discerning a fabric's true color.
SUN TUNNELS: VELUX
CEILING LIGHT FIXTURE: Circa Lighting
CLOSET DOORS: Häfele
His Closet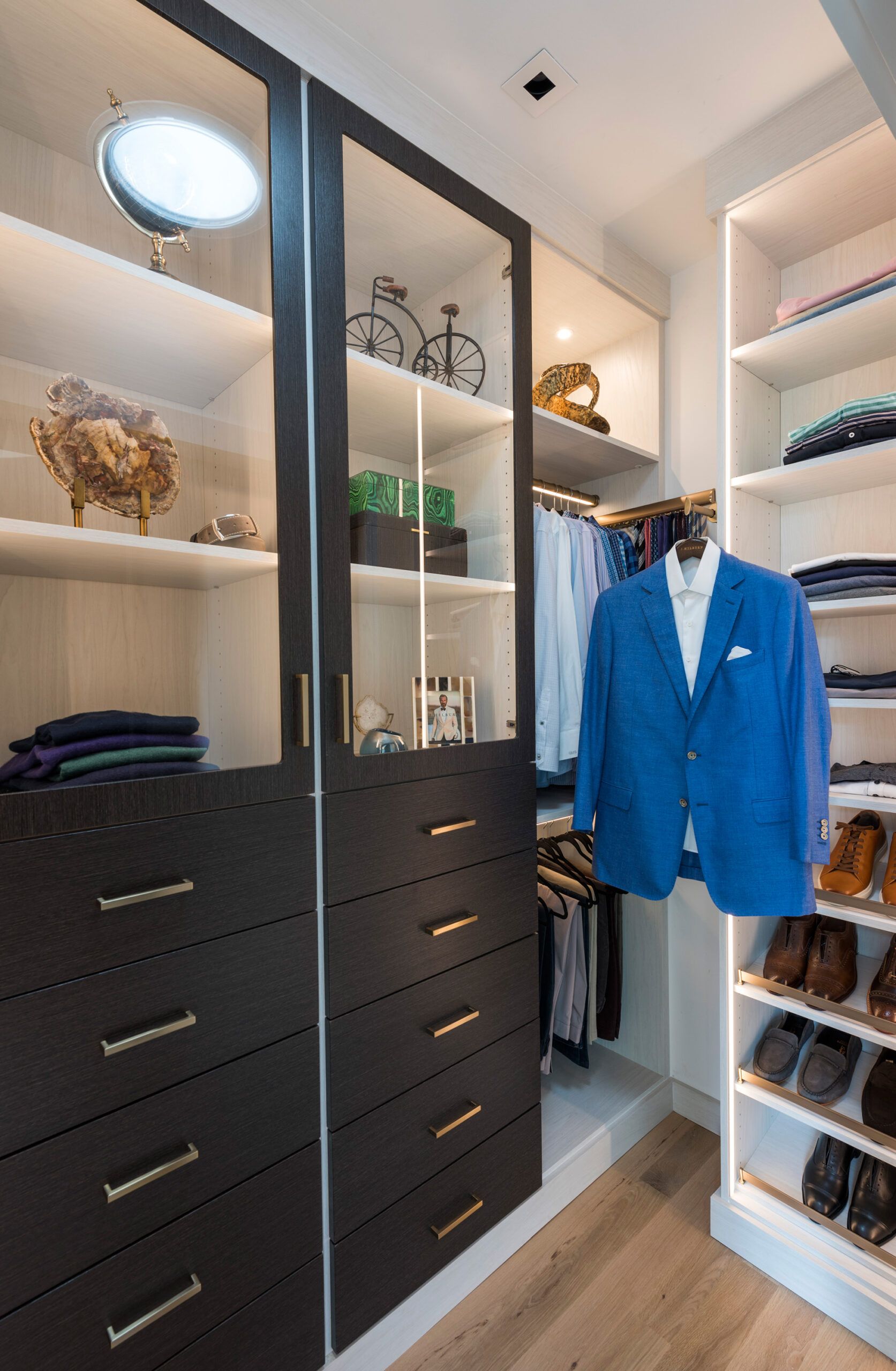 A thoughtful mix of drawers, shelves, and hanging space provides room for every wardrobe item. LED-lit shelves and rods make it easy to find that elusive shirt, and a retractable valet rod puts it front and center.
CLOSET ORGANIZATION SYSTEM: Closet & Storage Concepts
CLOSET STYLING & MENSWEAR: Elizabeth Blanchard of J. Hilburn
CLOSET LIGHTING & HARDWARE: Häfele
Her Closet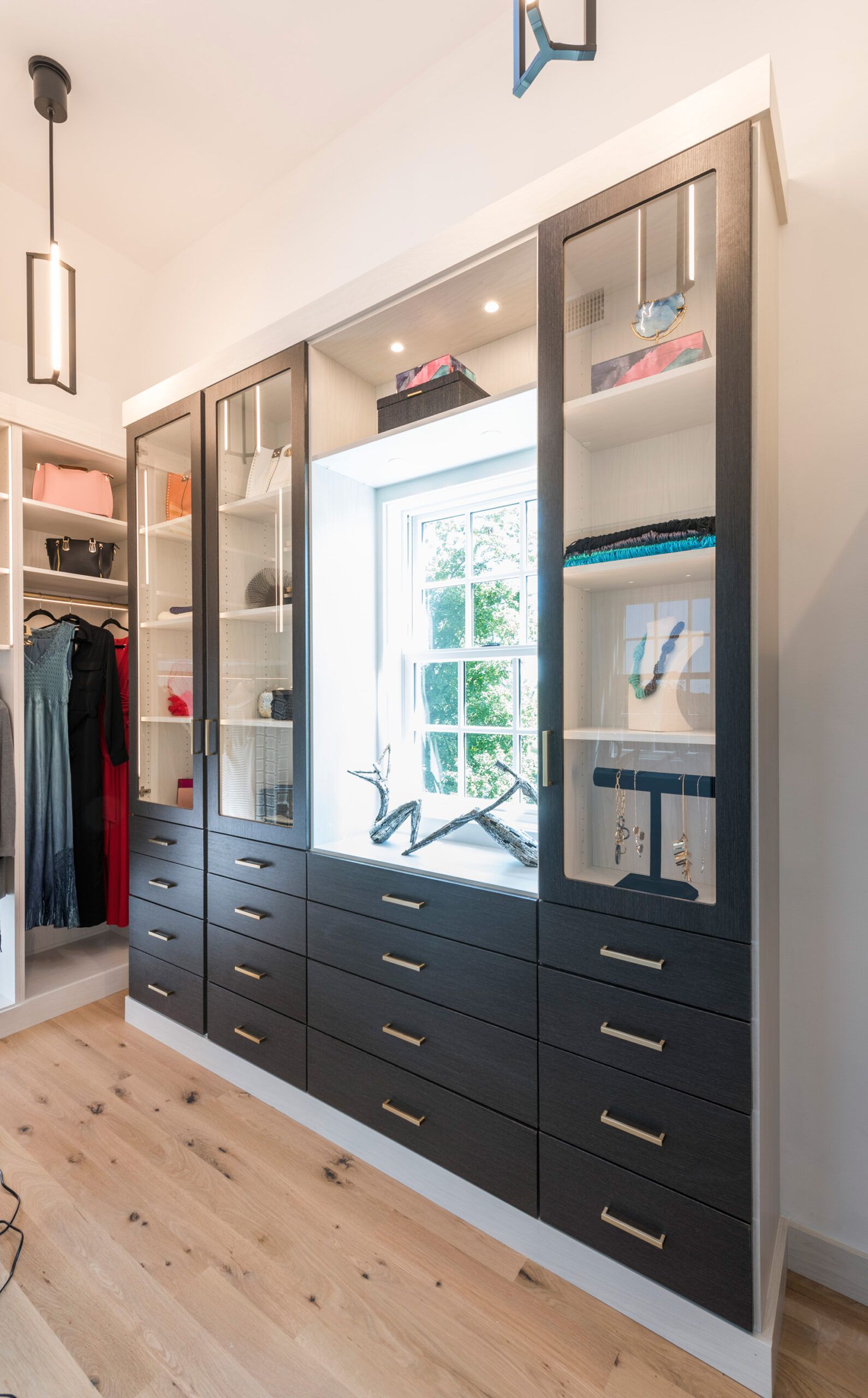 The larger of the two master closets benefits from a window, with additional lighting from a pair of pendants and LEDs mounted inside the cabinetry.
CLOSET ORGANIZATION SYSTEM: Closet & Storage Concepts
CLOSET STYLING & WOMENSWEAR: Helen Ainson
CLOSET LED LIGHTING & HARDWARE: Häfele
CEILING LIGHT FIXTURE: Circa Lighting
Privacy, Please!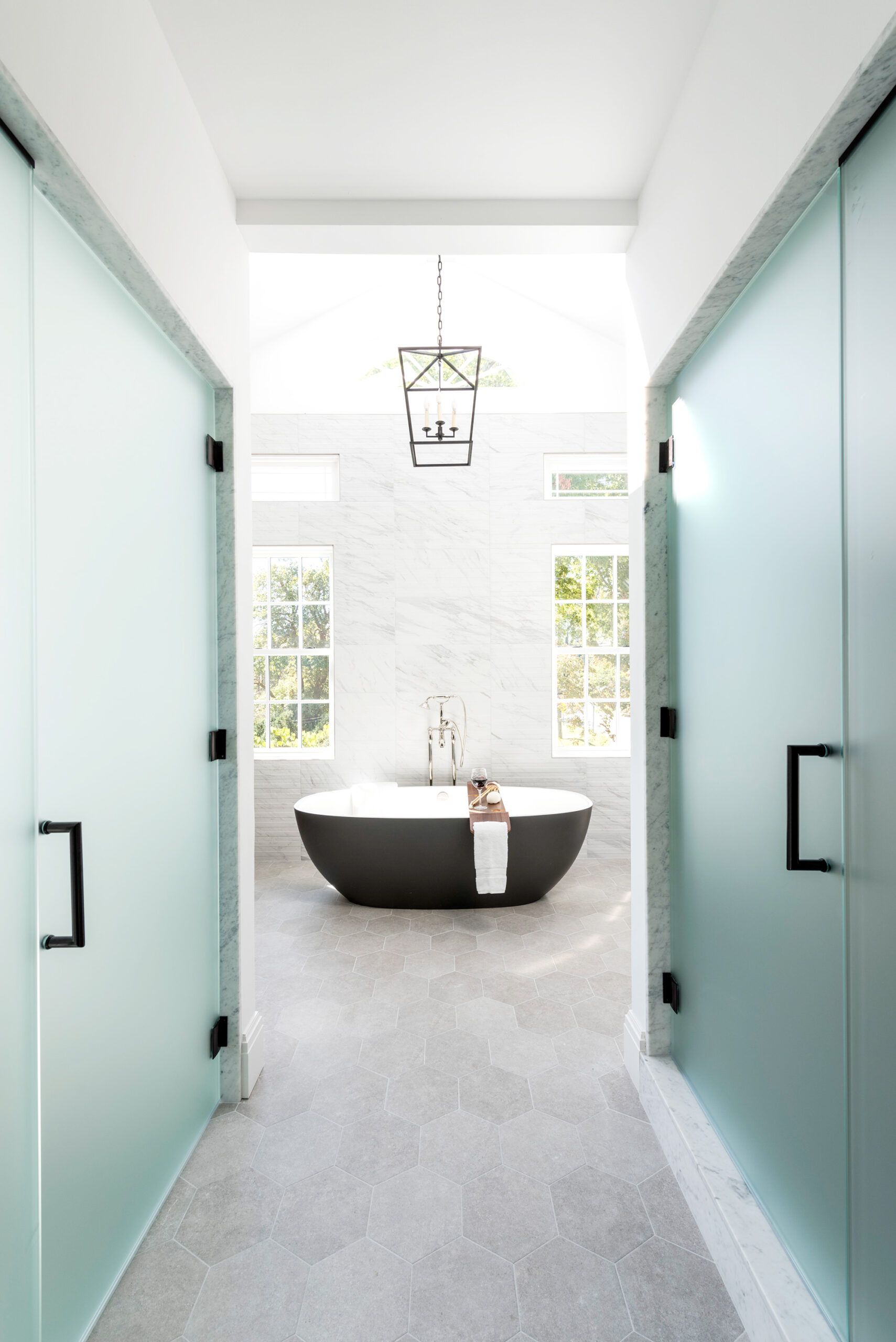 Frosted glass doors on the toilet room and shower frame the approach to the focal-point, freestanding soaker, which is made of a limestone-resin mix that retains heat better than acrylic and avoids the weight of cast iron. Large-format porcelain wall tile that has the look of marble is finished with aluminum edge banding around the windows for a sleek finish in keeping with the interior's contemporary style.
FROSTED GLASS DOORS: DreamLine
TILE: Floor, Walls by Merola Tile
BATHTUB: Victoria + Albert
LIGHT FIXTURE: Circa Lighting
FLOOR WARMING, WINDOW PROFILES: Schluter-Systems
Therapeutic Steam Shower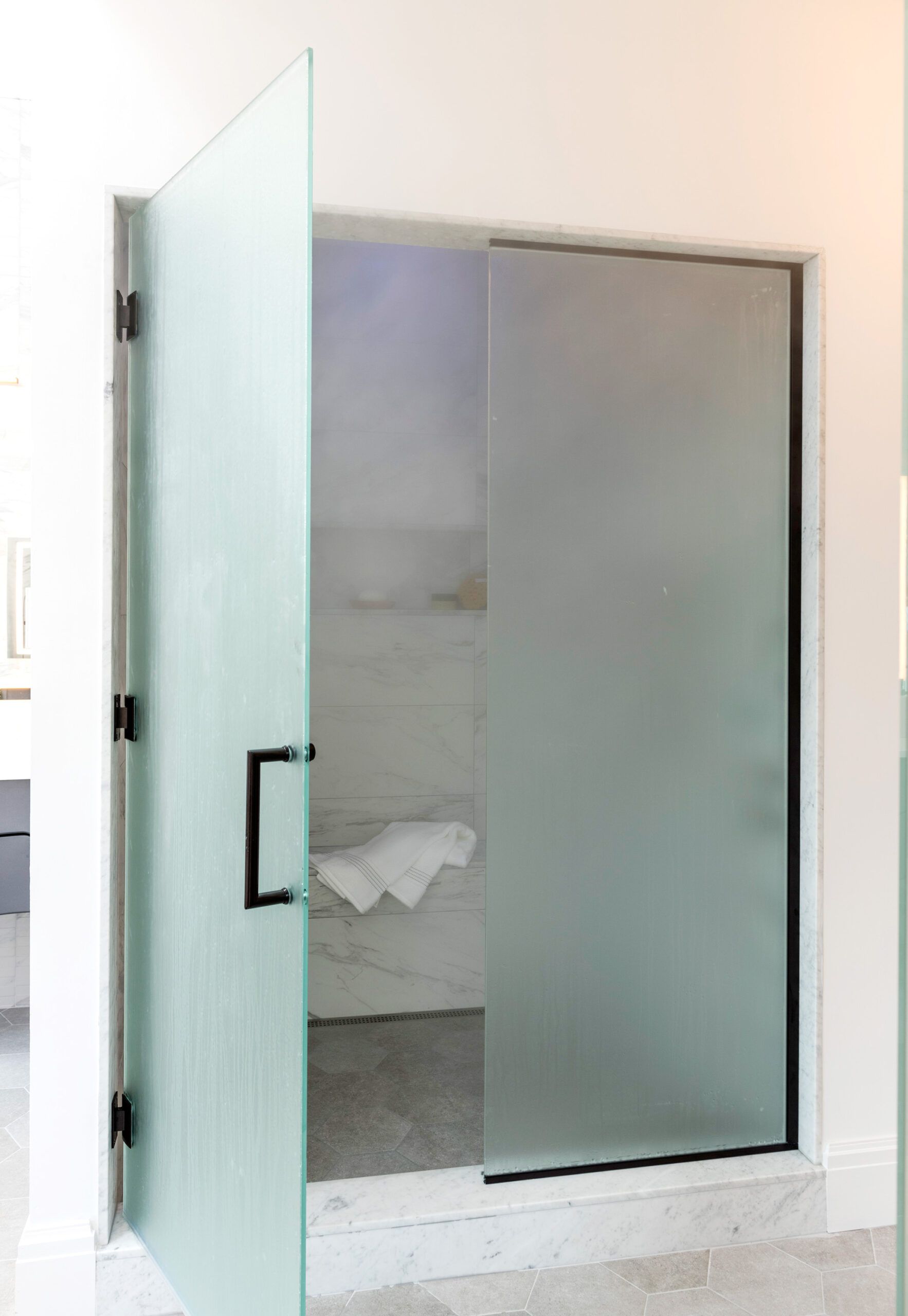 Whatever relaxes you, you'll find it in this master shower, which offers steam, chromotherapy, and aromatherapy—not to mention a rain shower, handheld wand, and traditional showerhead.
STEAM SHOWER: MrSteam
SHOWER DOORS: DreamLine
TILE: Walls, Bench, Floor and Ceiling by Merola Tile
Comfy Heated Shower Floors and Bench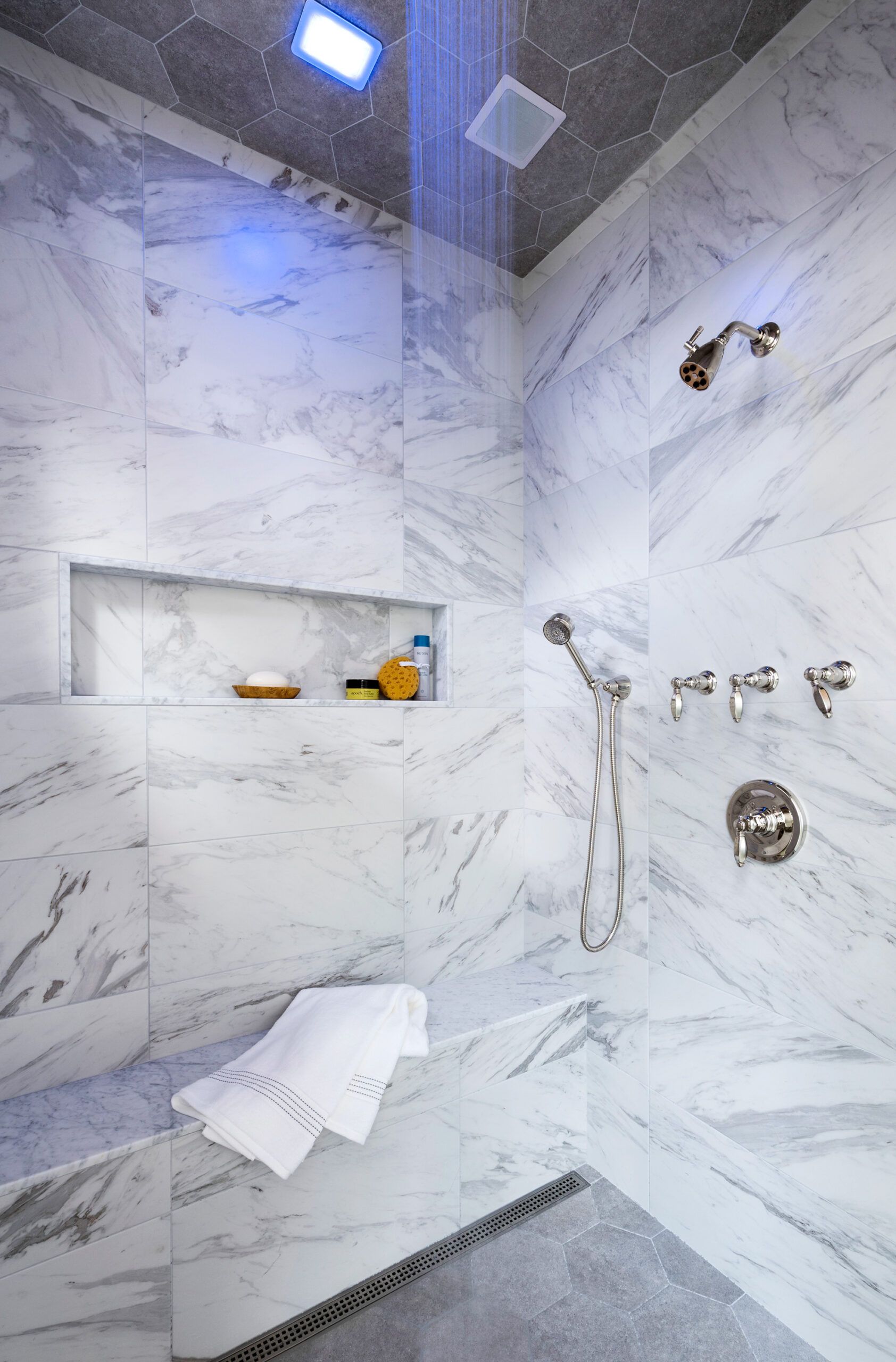 The spacious shower is lined with the same marble-look porcelain wall tile used throughout the master bath. And, like the rest of the bathroom, its floor (and bench) are heated via electric radiant heat mats. A prefab niche keeps soap and shampoo within reach.
FLOOR WARMING, NICHE: Schluter-Systems
TILE: Walls, Bench, Floor and Ceiling by Merola Tile
STEAM SHOWER: MrSteam
FIXTURES: ROHL
Room for Two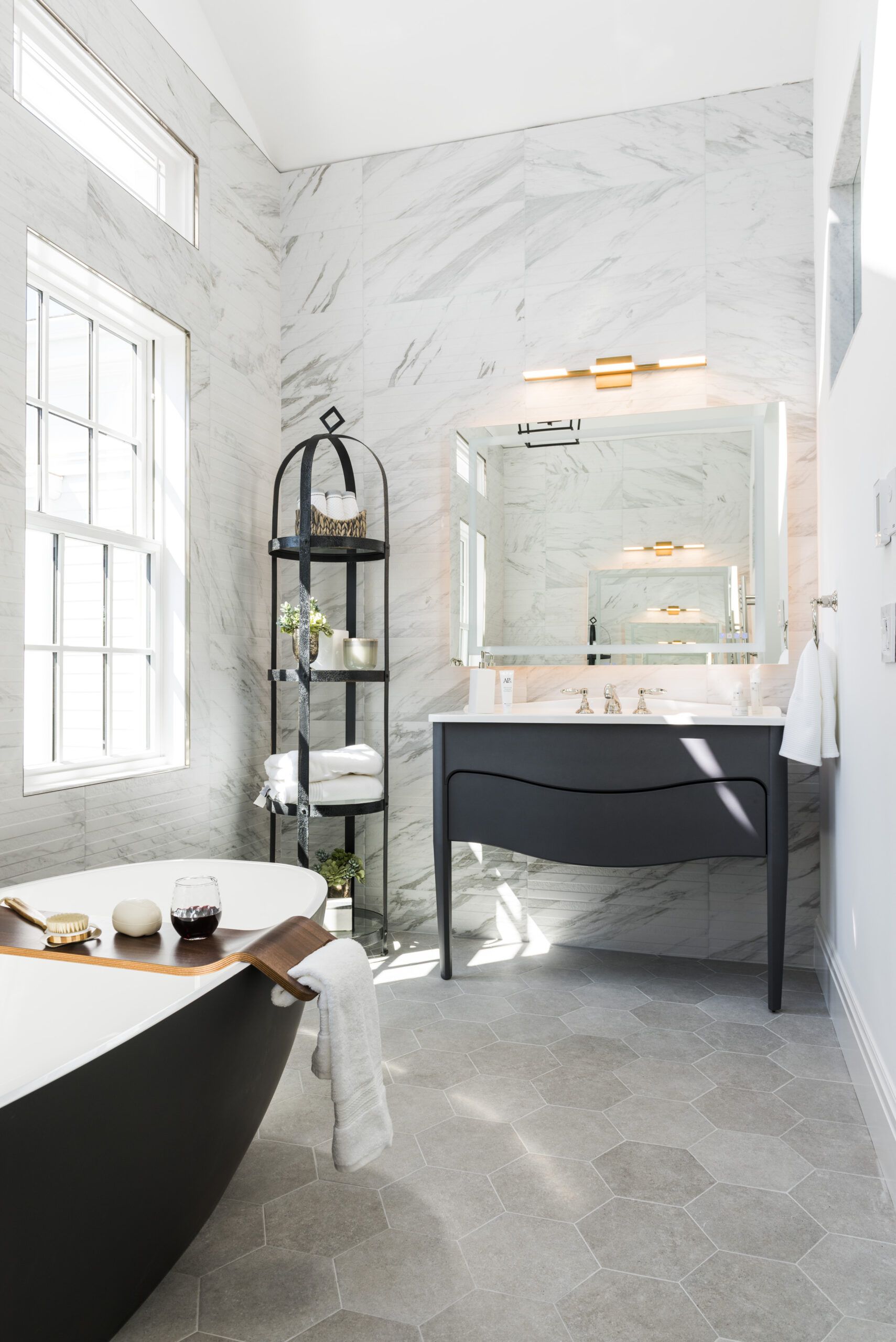 Curvy quartz-topped vanities on opposite sides of the master bath have the graceful lines of fine furniture, with touch-latch drawers. State-of-the-art mirrors integrate LED lighting, defogging technology, and their own sound system, operated by integrated switch or smartphone app.
STYLING & ÉTAGÉRE: Stickley Audi & Co.
VANITY: Victoria + Albert
FAUCET: ROHL
TILE: Walls, Floor by Merola Tile
MIRROR: Häfele
LIGHTING: Circa Lighting
Airy Retreat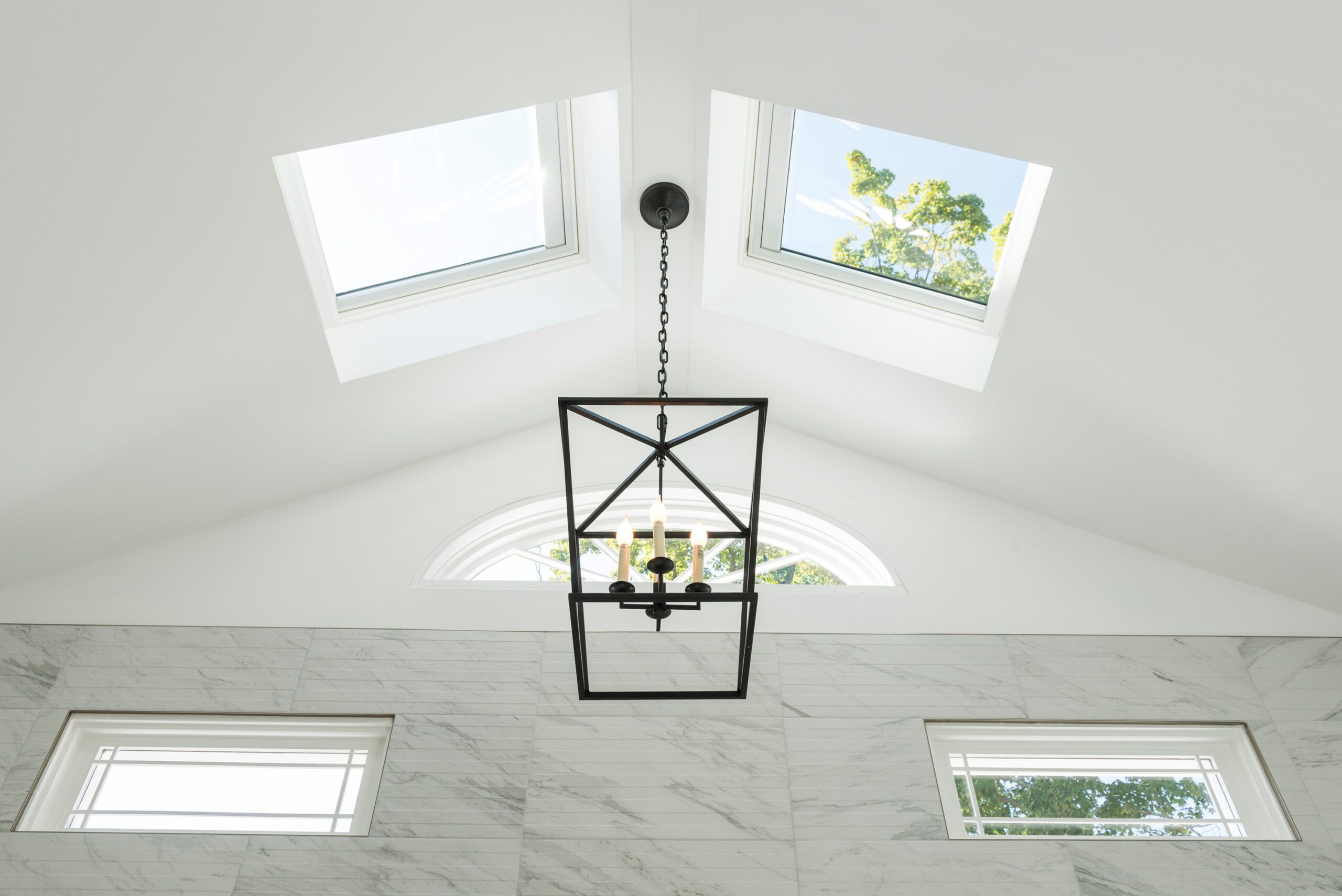 The master bath takes dramatic advantage of the home's original architectural windows and gable roofline, with a soaring ceiling that captures daylight from the fanlight, frieze lights, and six-over-six double-hungs, as well as solar-powered skylights over the tub.
SKYLIGHTS: VELUX
LIGHT FIXTURE: Circa Lighting
TILE: Merola Tile
Let the Adventure Begin!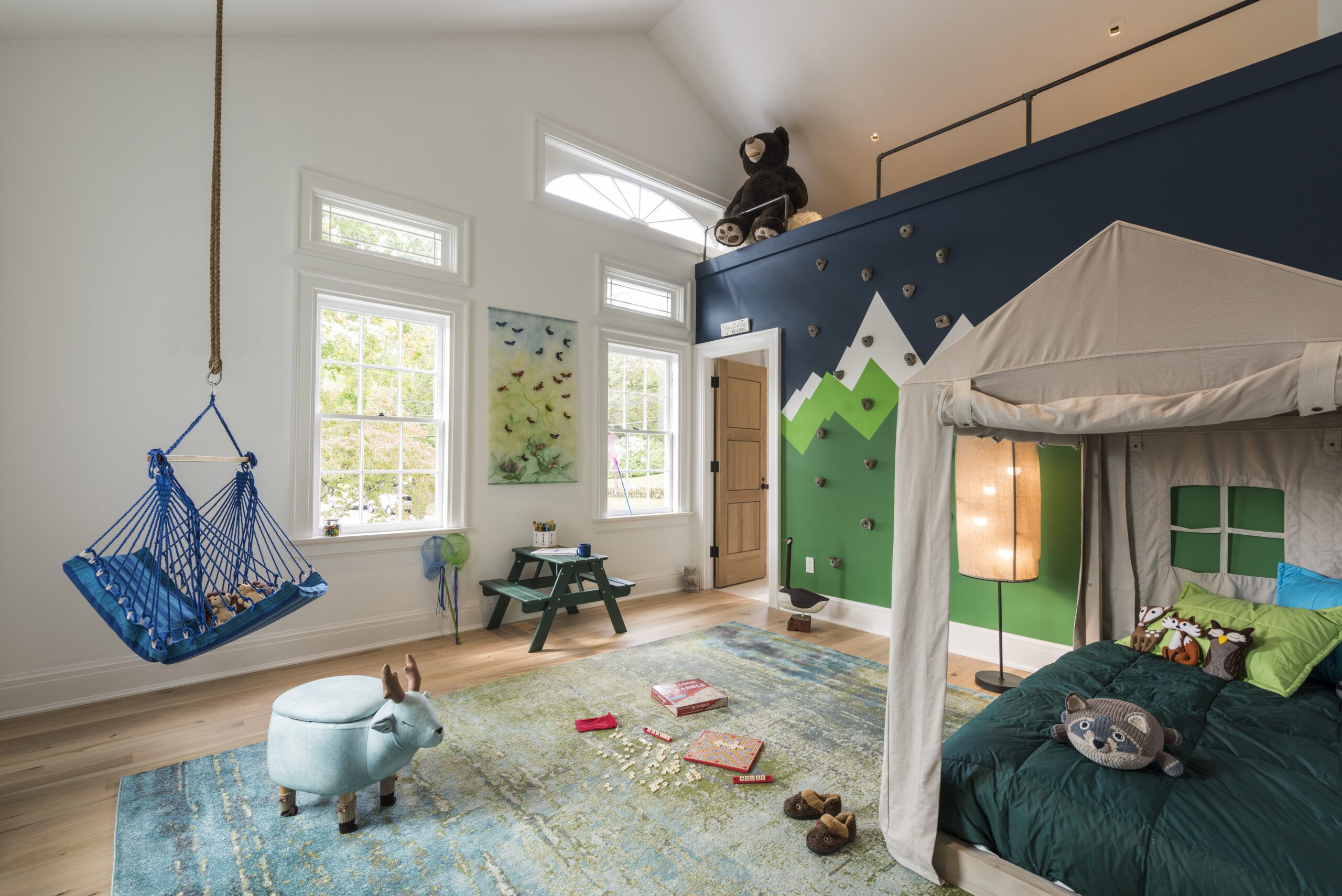 The child's mountain-wilderness-theme bedroom is built for sleep and play with promises of adventure at every turn. The vaulted ceiling follows the pitch of the original front gable and makes for an ideal place to hang a hammock-chair swing. A pint-sized picnic table set beneath a whimsical butterfly scroll and a bevvy of woodland friends completes this outdoorsy retreat.
HAMMOCK SWING: The Home Depot
RUG: Rugs Direct
TENT BED: RH Baby & Child
MOUNTAIN MURAL: Sandy McDonald
BUTTERFLY SCROLL: Donna Marxer
CHILD'S PICNIC TABLE: Hayneedle
FLOOR LAMP: Clarkson Lighting
Bedtime Made Better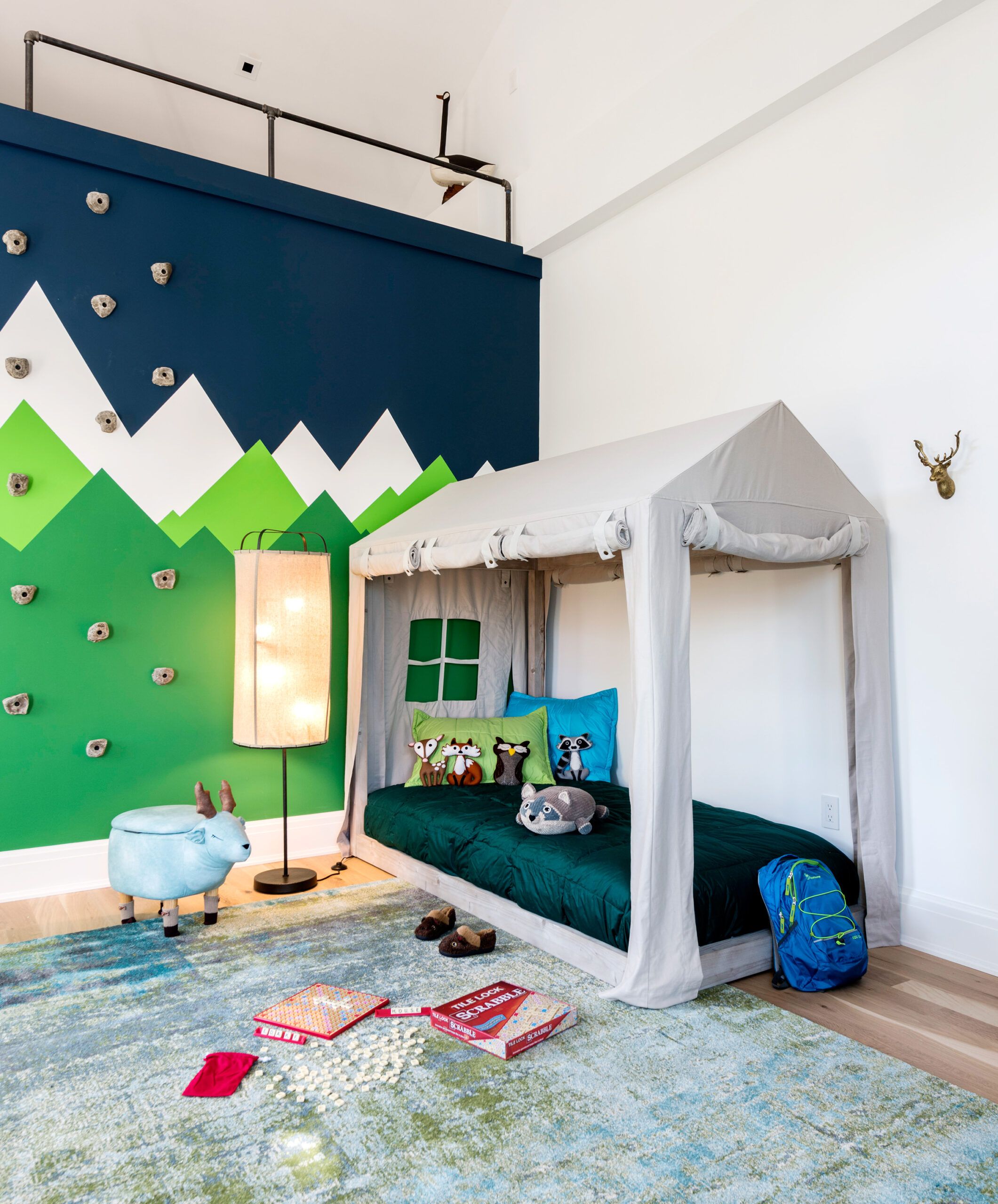 What child would resist bedtime when it means "glamping," or nestling in a cozy tent bed with roll-up curtains? A hand-painted mountain mural serves as the backdrop for a rock-climbing wall that leads to a tucked-away loft play space.
RUG: Rugs Direct
TENT BED: RH Baby & Child
MOUNTAIN MURAL: Sandy McDonald
FLOOR LAMP: Clarkson Lighting
Ship-to-Shore Bookshelf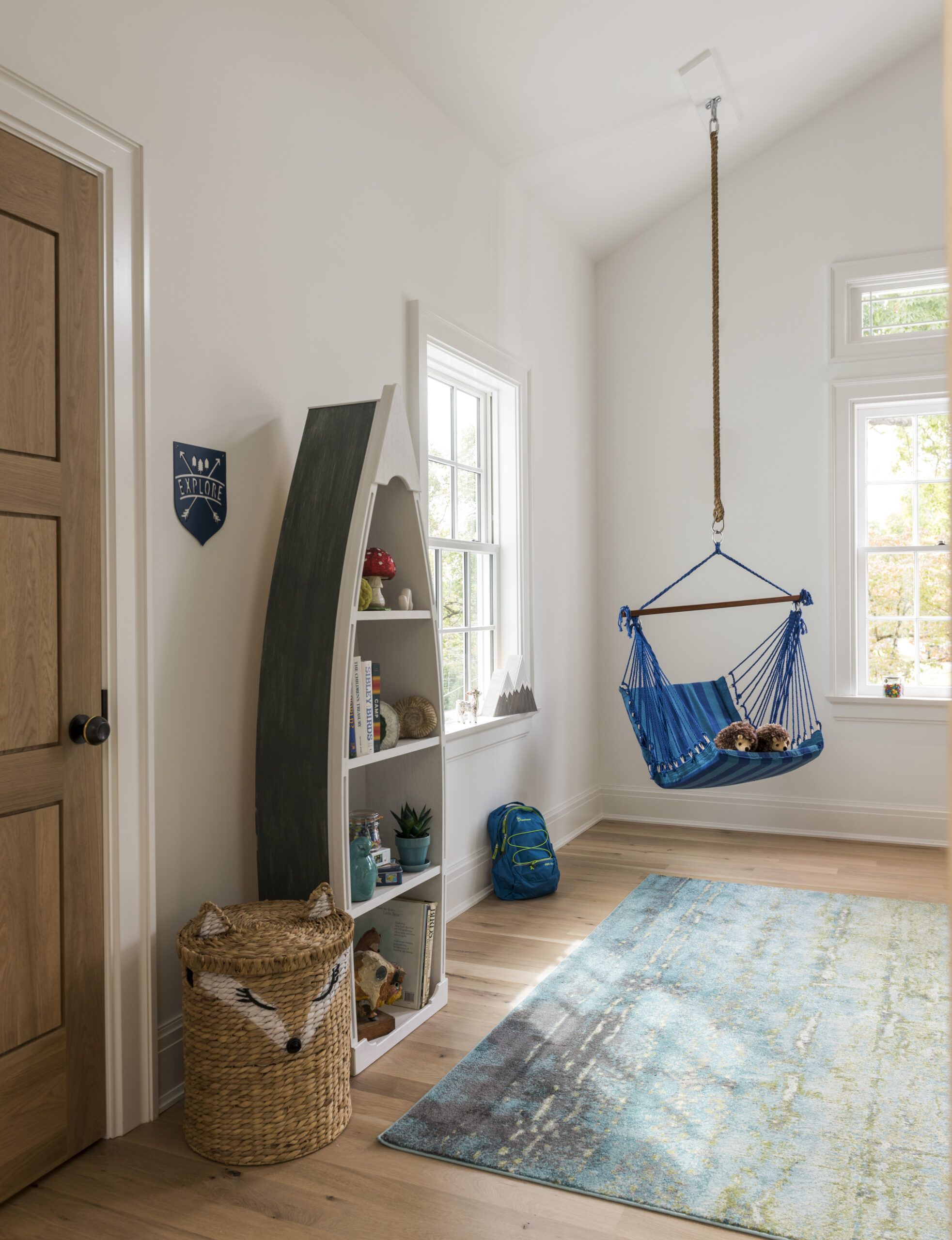 A watery blue-and-green rug sits at the base of an upright-rowboat-shaped shelf—perfect for displaying prize possessions. A foxy laundry hamper stands guard at the door.
ROWBOAT BOOKSHELF: JM Gillespie, via Etsy
FOX HAMPER: Pottery Barn Kids
HAMMOCK SWING: The Home Depot
RUG: Rugs Direct
Bathroom Border Accent Tile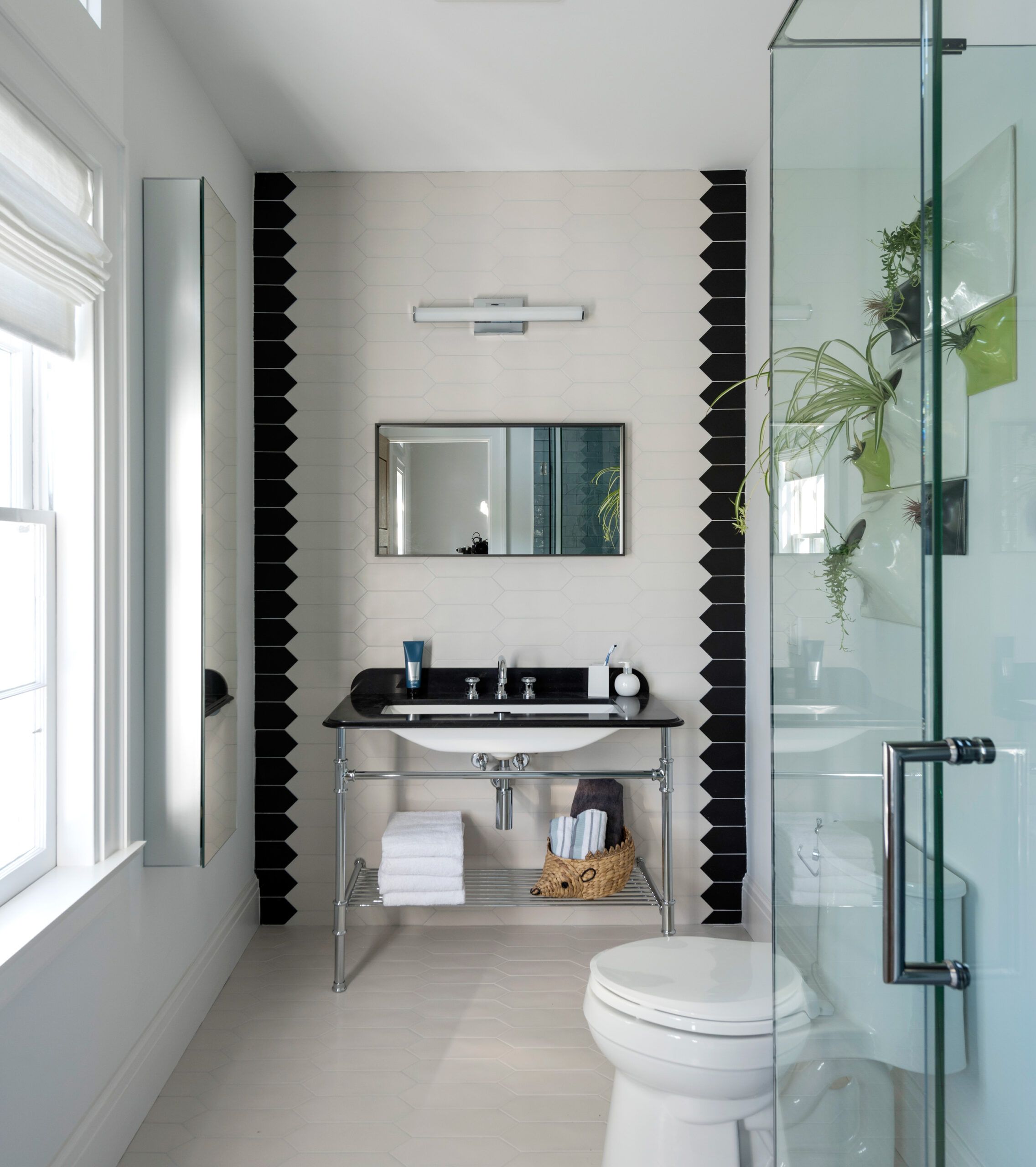 In the child's en suite bath, elongated white and black hex field tiles create a sawtooth pattern on the vanity wall, framing the black quartz-topped console sink.
TILE: Merola Tile
SHOWER DOOR: DreamLine
TOILET: Kohler, from Bender
WASHSTAND: Victoria + Albert
FAUCET: ROHL
LIGHT FIXTURE: Circa Lighting
TILE PROFILE: Schluter-Systems
CERAMIC WALL PLANTER: Pandemic Design Studio
Eclectic Design Eras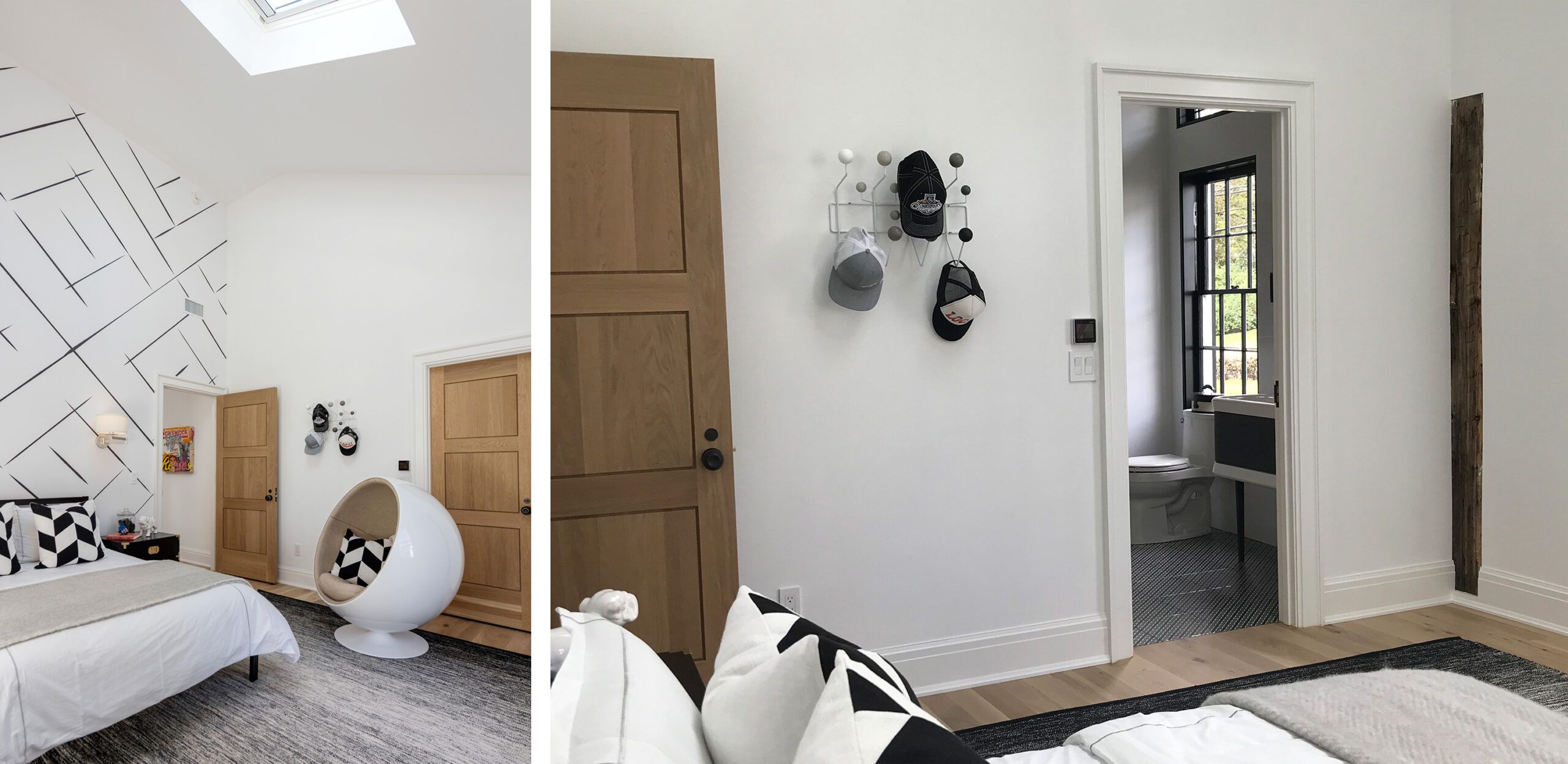 A modern take on a Chippendale-wallpaper-patterned accent wall seems right at home in this bedroom located in the historic part of our Greek Revival Idea House, where the builders left an original beam exposed. An iconic globe chair from the 1960s offers a surprisingly comfortable place to curl up. The vaulted ceiling appears even more lofty with the help of a solar-powered skylight. And an inconspicuous smart sensor on the nightstand monitors air quality and activates the ventilation system when needed.
STYLING: Iconic Modern Home
SKYLIGHT: VELUX
HEALTHY HOME SYSTEM: Cosmos by Panasonic
RUG: Lillian August
WALL COVERING: Mitchell Black
DOORS: Baird Brothers Fine Hardwoods
Black and White Bath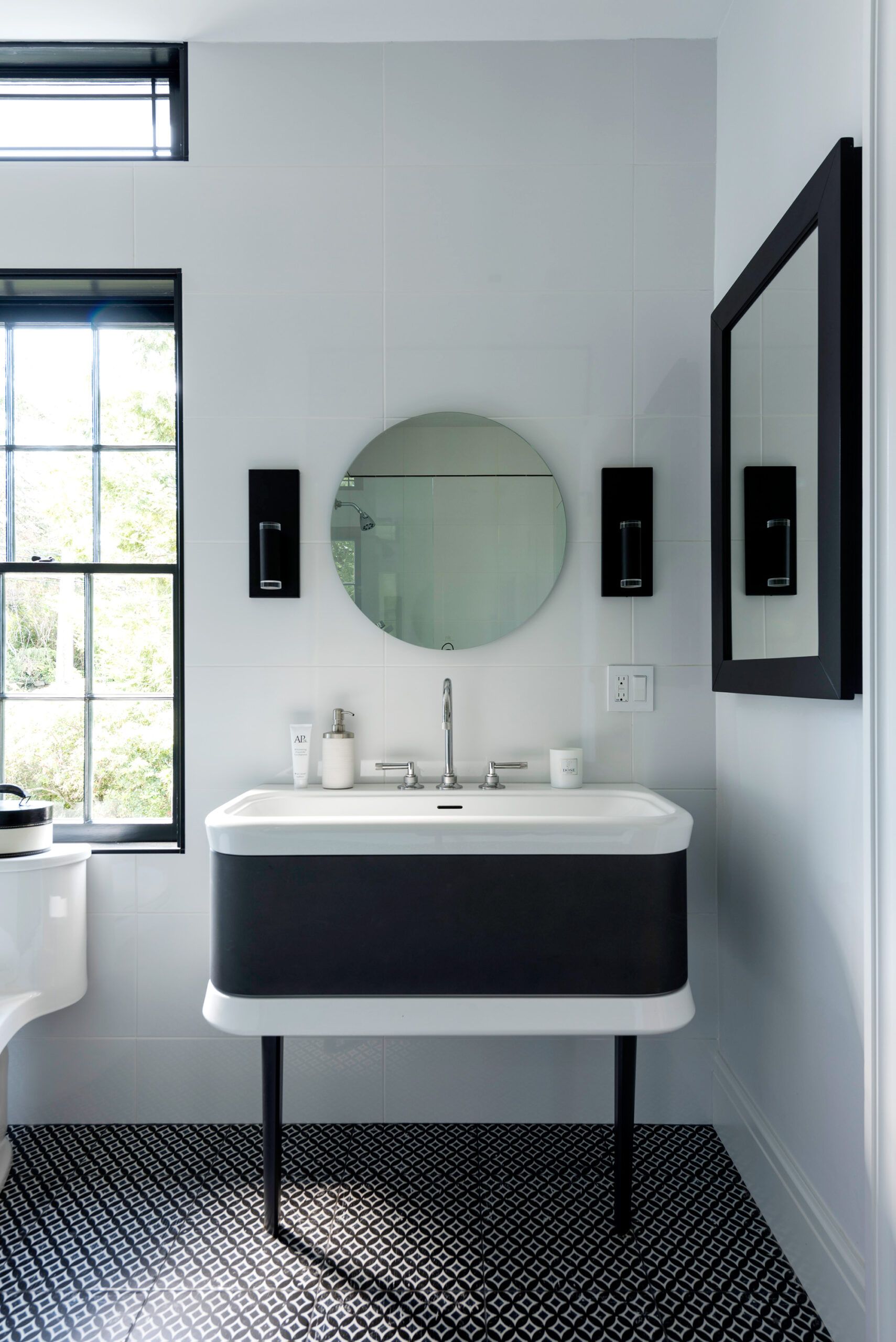 Multipane windows in this second-floor bath get a contemporary edge—literally—with matte-black aluminum tile edging. Sleek, ultra-modern cylindrical light fixtures cast a glow through illuminated rings of pure optic crystal. The medicine cabinet is mounted on the interior wall to avoid interrupting the insulation.
TILE EDGE PROFILE: Schluter-Systems
VANITY: Victoria + Albert
FAUCET: ROHL
TILE: Floor, Walls, by Merola Tile
LIGHT FIXTURES: Circa Lighting
Supersize Subway Tile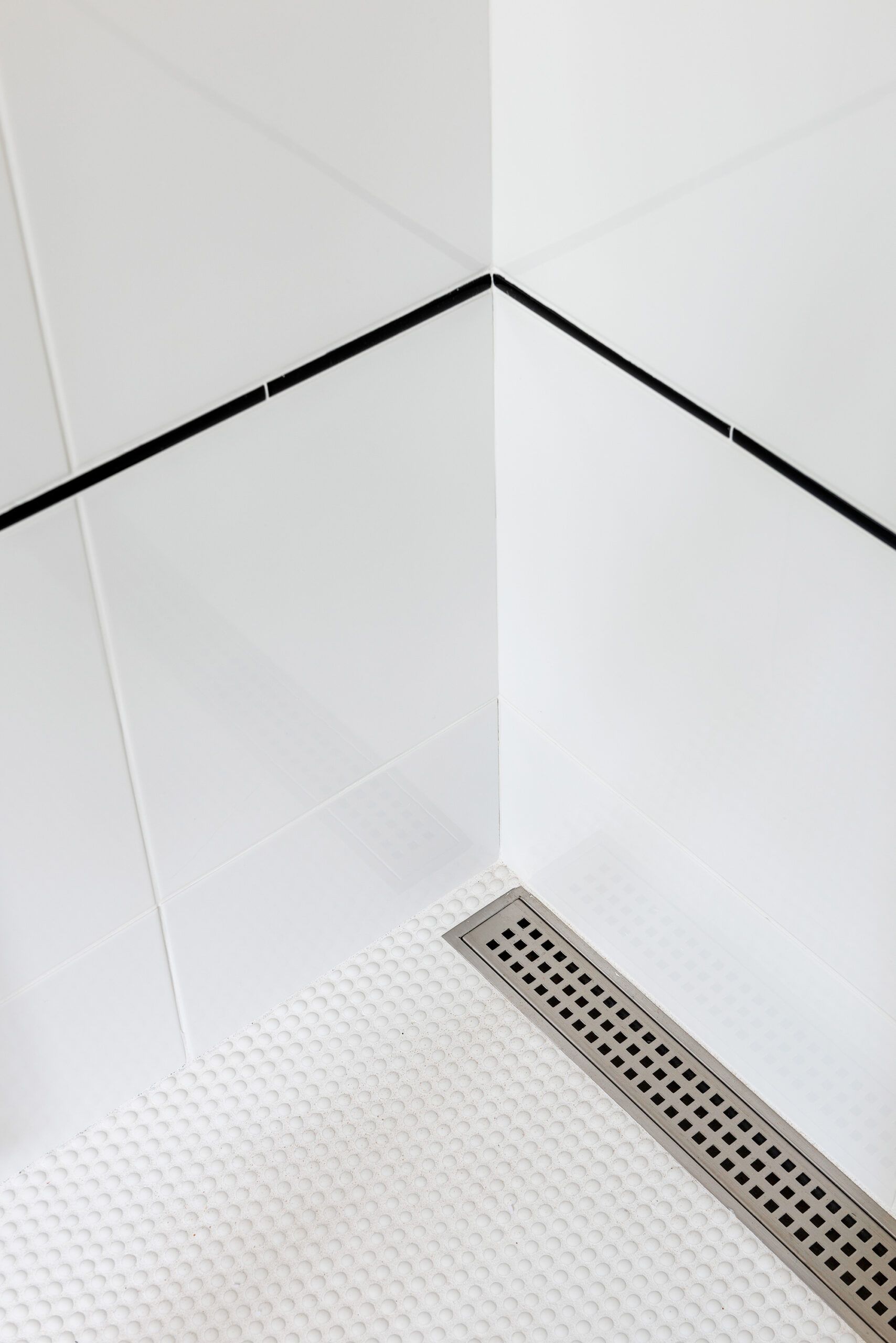 Like all of the showers in the house, the black and white bathroom stall features a linear drain for a contemporary look. This one also sports glistening white 12×24-inch ceramic tiles—a modern take on the traditional subway—accented with black linear pencil tiles.
TILE: Walls, Trim, by Merola Tile
LINEAR DRAIN: Schluter-Systems
Day—and Night—at the Beach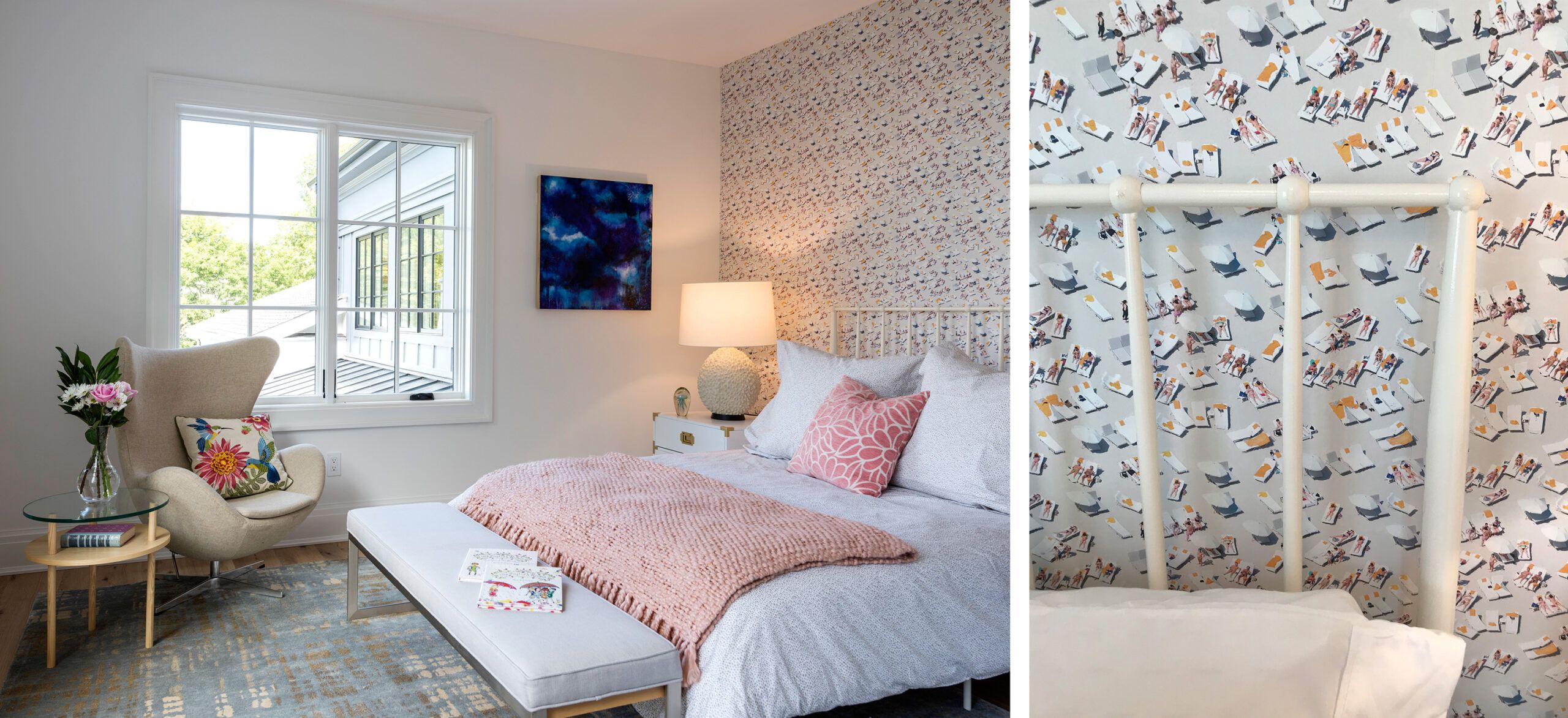 A wallpapered accent wall creates a textured backdrop for a vintage-style iron bed frame outfitted in pretty pinks. A closer look at the accent wall reveals crowds of intricately illustrated sunbathers enjoying a day at the beach.
STYLING: Iconic Modern Home
WALL COVERING: Mitchell Black
RUG: Lillian August
ART: Emily Klima
TABLE LAMPS: Clarkson Lighting
Beauty in the (Bathroom Tile) Mix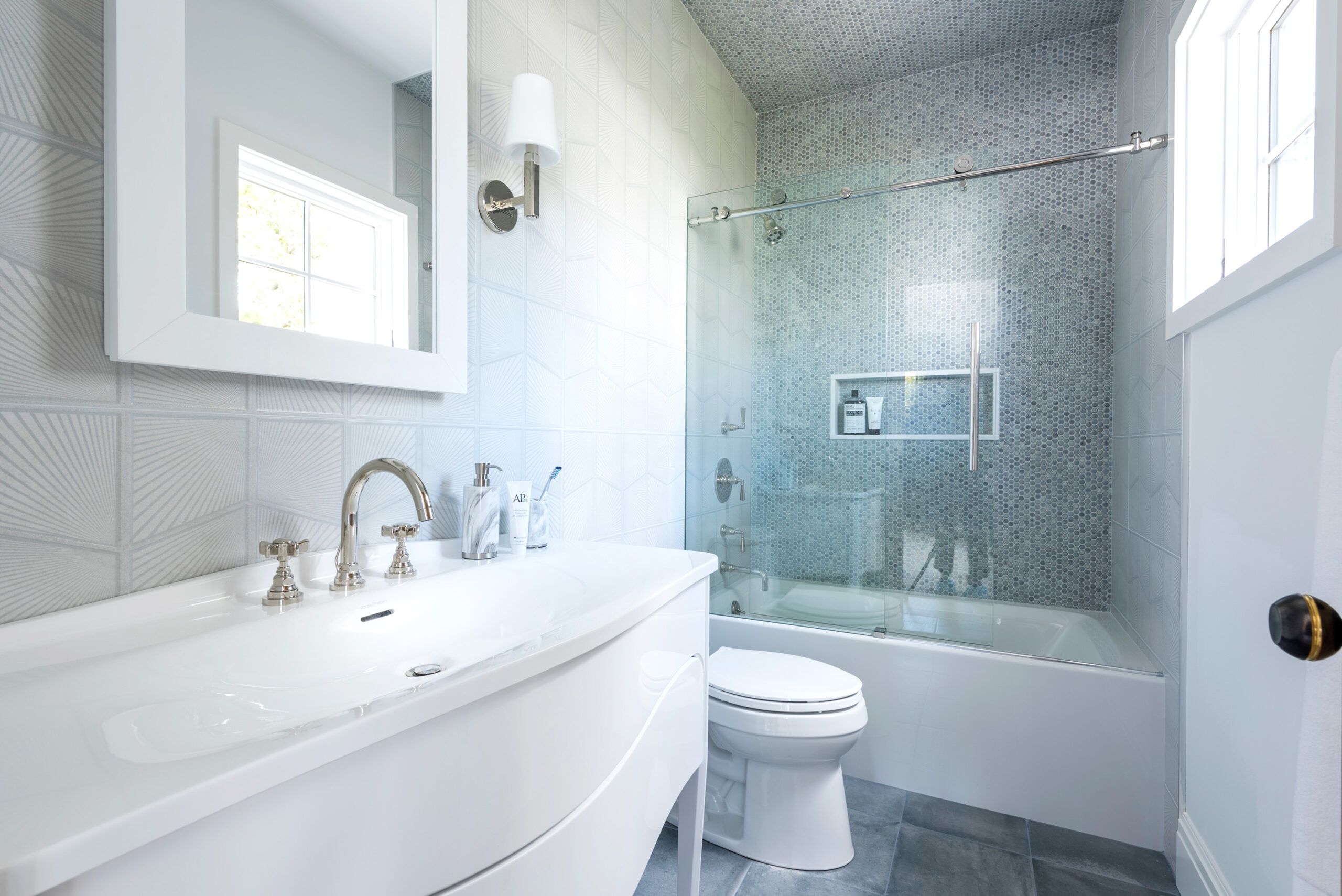 Three distinct porcelain tile designs in complementary shades of gray harmonize in the "sunbather" bedroom's en suite bath. The crisp white vanity features undulating curves and storage drawers that pop open with a touch.
VANITY: Victoria + Albert
FAUCET, TOWEL BAR, AND HOOKS: ROHL
TILE: Tub Sides & Wet Wall, Tub Back Wall, Floor, by Merola Tile
SCONCE: Circa Lighting
TUB/SHOWER DOOR: DreamLine
Roll It!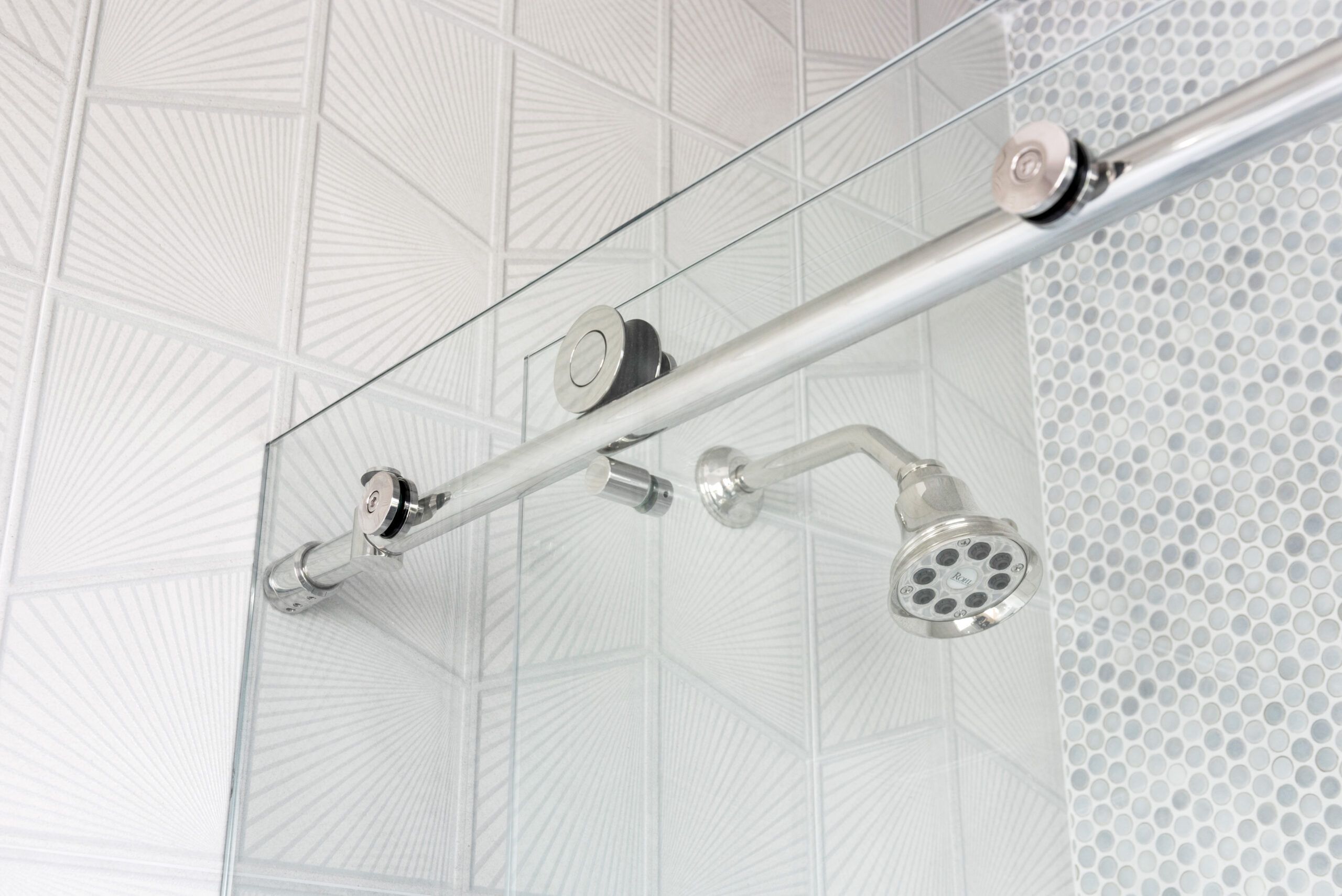 The clear-glass rolling tub/shower door allows the tiles inside to stand out.
TUB/SHOWER DOOR & ROLLING HARDWARE: DreamLine
TILE: Merola Tile
SHOWERHEAD: ROHL
Sleepover Retreat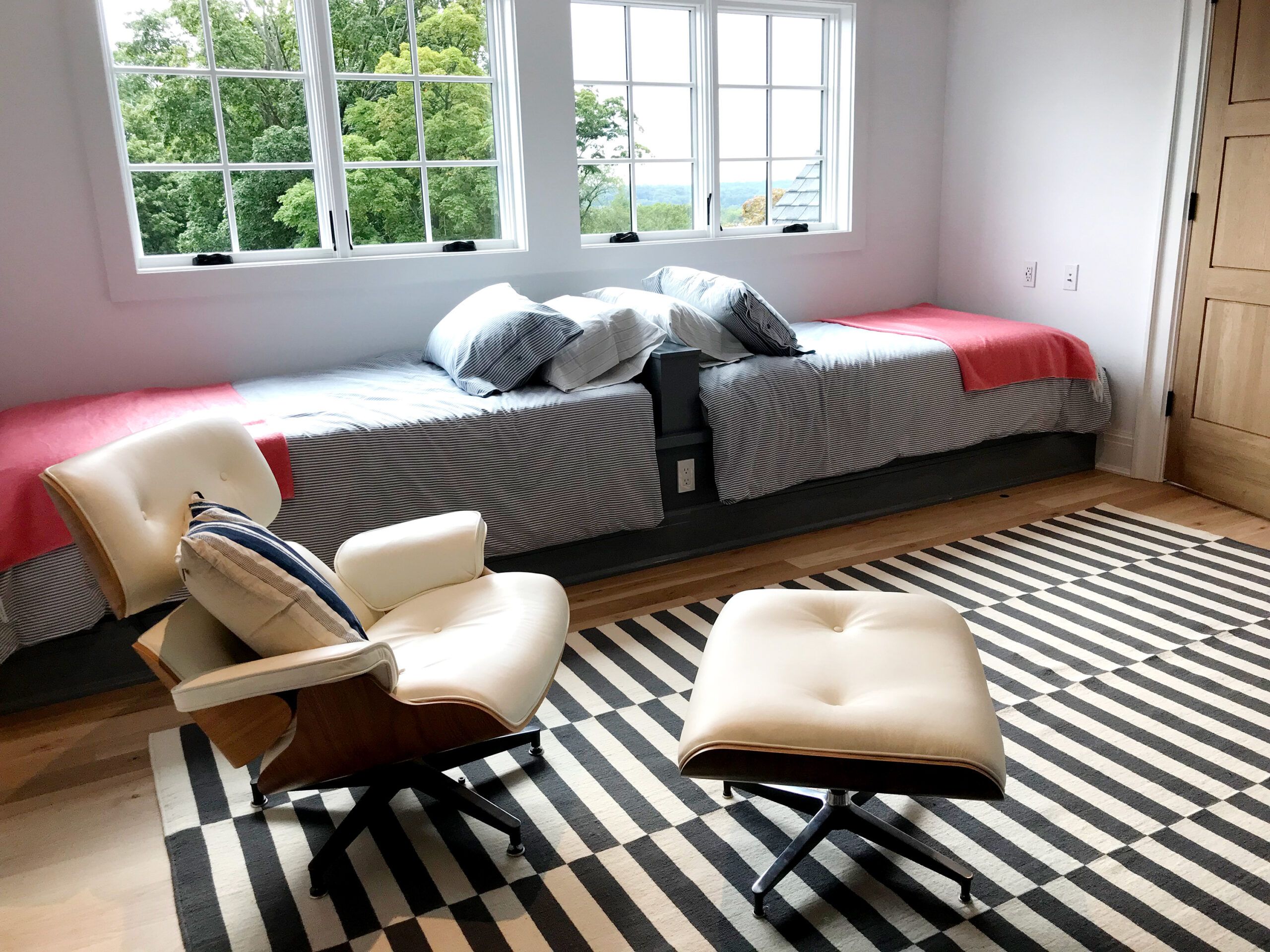 A bedroom tucked into the eaves on the third floor sports a pair of built-in platform beds—just the ticket for fun sleepovers or teens who might want a little privacy.
STYLING: Iconic Modern Home
WINDOWS: Sierra Pacific Windows
PLATFORM BEDS: Gilbert Violette of KARP Associates, Inc.
Creative Touches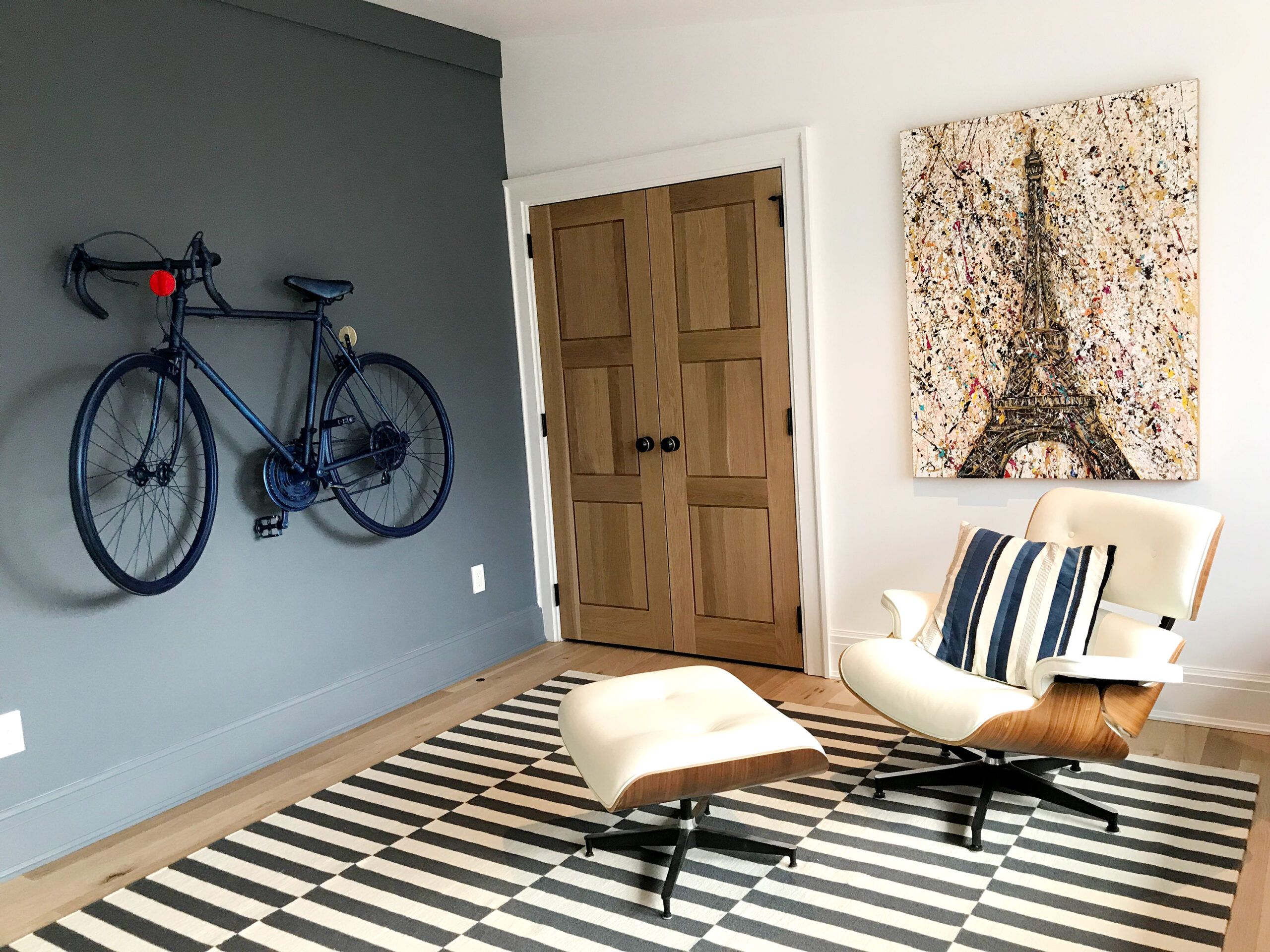 An inexpensive bicycle picked up from Craigslist gets new life with a coat of metallic navy spray paint.
STYLING: Iconic Modern Home
ART: Dollka Morico
DOORS: Baird Brothers Fine Hardwoods
Pebble-Stone Accent Wall
Tiny pebble-stone mosaic tile creates a textural backdrop for the washstand sink in the third-floor bathroom.
TILE: Merola Tile
SCONCES: Circa Lighting
WASHSTAND: Victoria + Albert
Texture with Tile—Wood for Warmth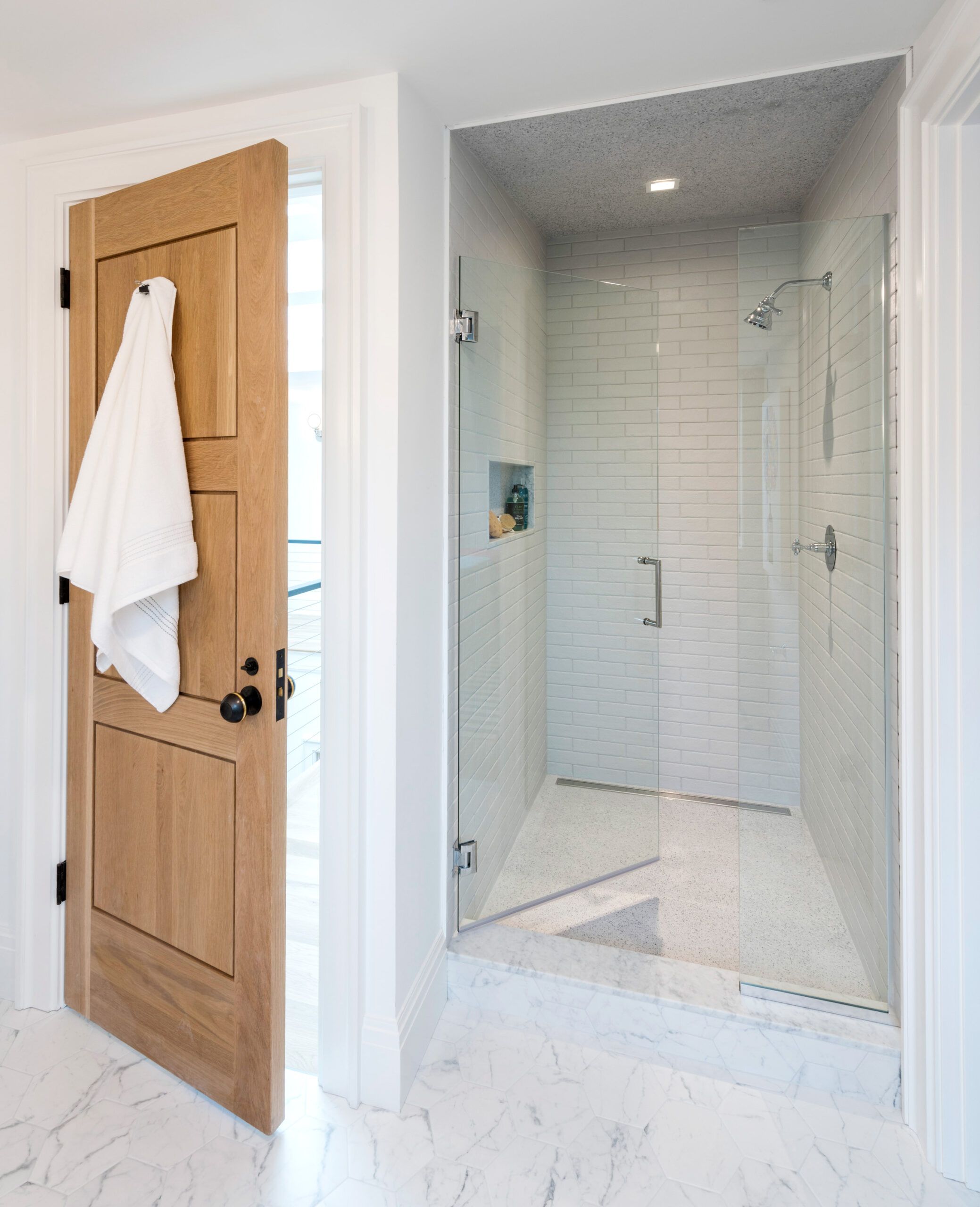 The mini pebble mosaic tile on the third-floor bathroom accent wall is repeated on the shower floor and ceiling. Here, it is paired with textured brick-style subways on the shower walls and oversize hexagon porcelain floor tiles that mimic Carrara marble. The solid-oak panel door adds a warm touch to this otherwise cool gray-and-white water closet.
TILE: Shower Walls; Shower Ceiling, Niche, by Merola Tile
SHOWER DOOR: DreamLine
DOOR: Baird Brothers Fine Hardwoods
DOOR HARDWARE: Accurate Lock & Hardware