Gorgeous Flared Eaves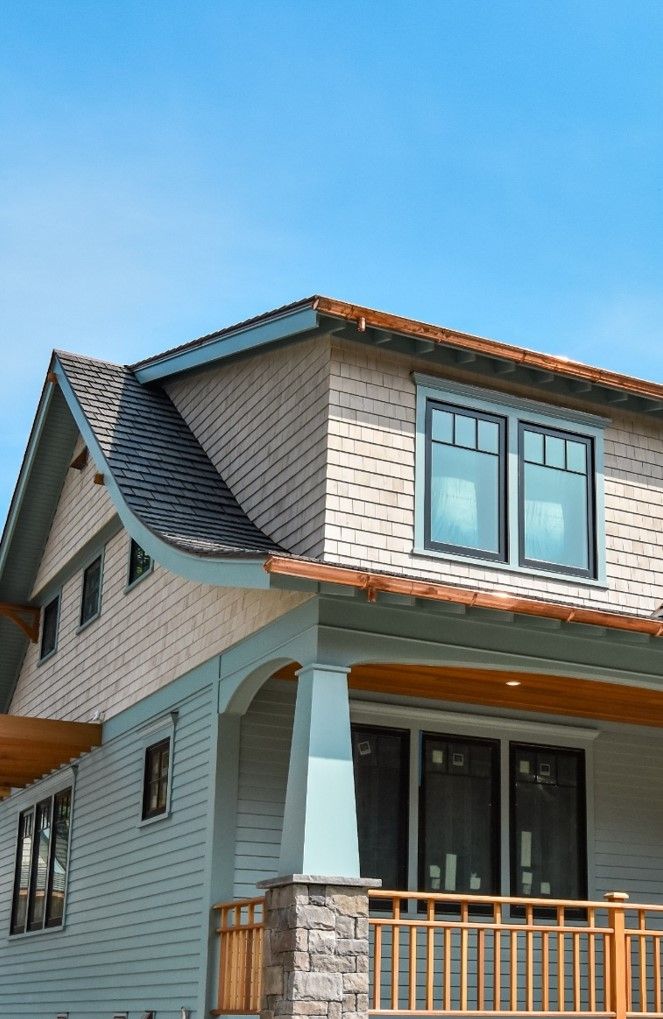 "The level of craftsmanship really gets your attention at this house," says TOH host Kevin O'Connor, who was particularly taken with the swooping roofline. "That curve took extra effort, and it's a beautiful flared detail."
ROOF: DaVinci Roofscapes
SHINGLES: SBC Cedar
Entry Lighting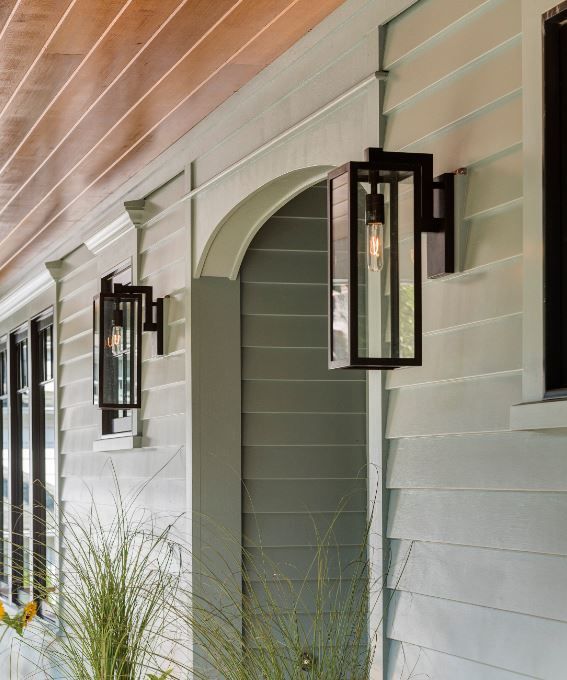 Carriage-house lanterns with strong, clean lines greet visitors at the arched entrance.
WALL SCONES: Circa Lighting
Detail-filled Garage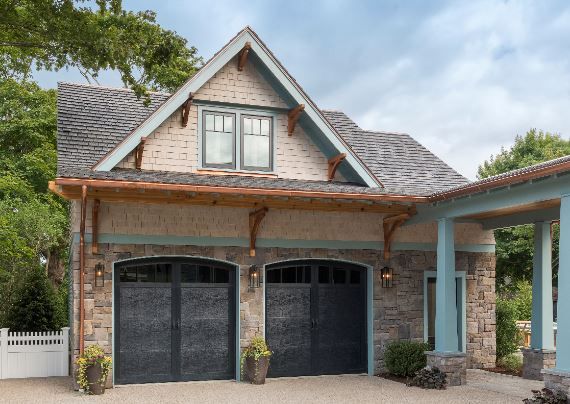 The garage repeats many of the house's Craftsman-style details: a curved roof, a central gable, exposed brackets, and a textural mix of siding materials, with cedar shingles above manufactured-stone veneer. You can read more about exterior features in TOH 2018 Idea House: Craftsman Details.
GARAGE DOORS: Haas Door
COMPOSITE ROOF TILES: DaVinci Roofscapes
STONE VENEER: Eldorado Stone
LIGHTING: Circa Lighting
CEDAR SHINGLES: SBC Cedar
Egress Windows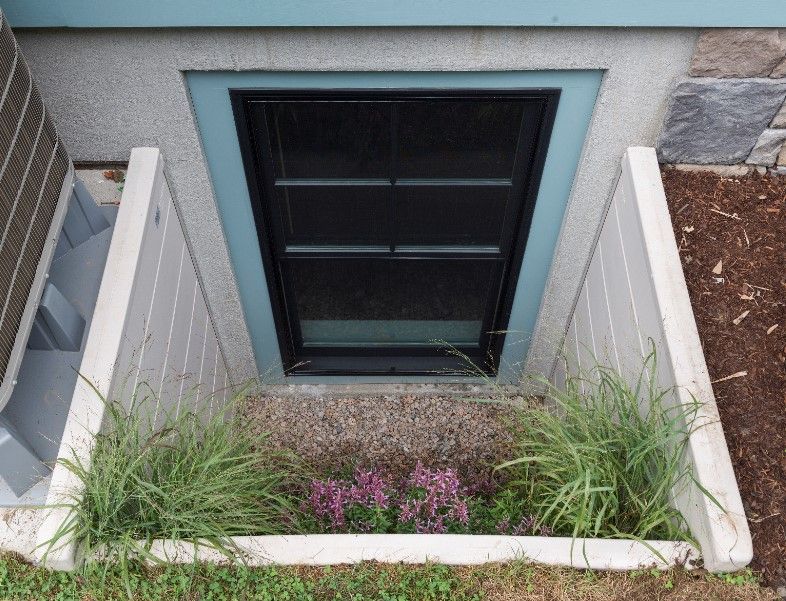 Defined as any window that is large enough to allow for emergency exit or entry, an egress window provides the additional benefit of bringing in light and ventilation. Read more in The Great Escape: Egress Doors and Window Wells.
Staycation-worthy Plunge Pool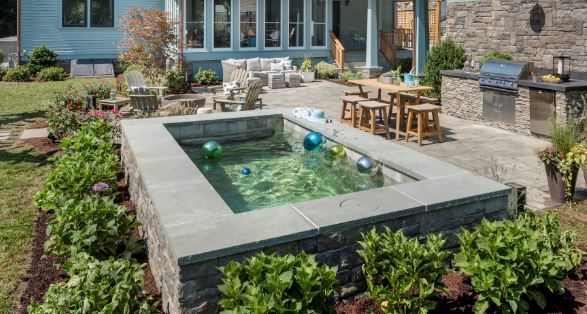 This 7×13-foot pre-cast plunge pool was delivered in one piece, dropped into a 4-foot hole, and then faced with stone veneer and a bluestone ledge. With a built-in bench and water temperature controls, this right-size pool is perfect for a quick, cooling dip when the mercury climbs.
PLUNGE POOL: Soake Pools
STONE VENEER: Eldorado Stone
FURNISHINGS: Hayneedle
Outdoor Shower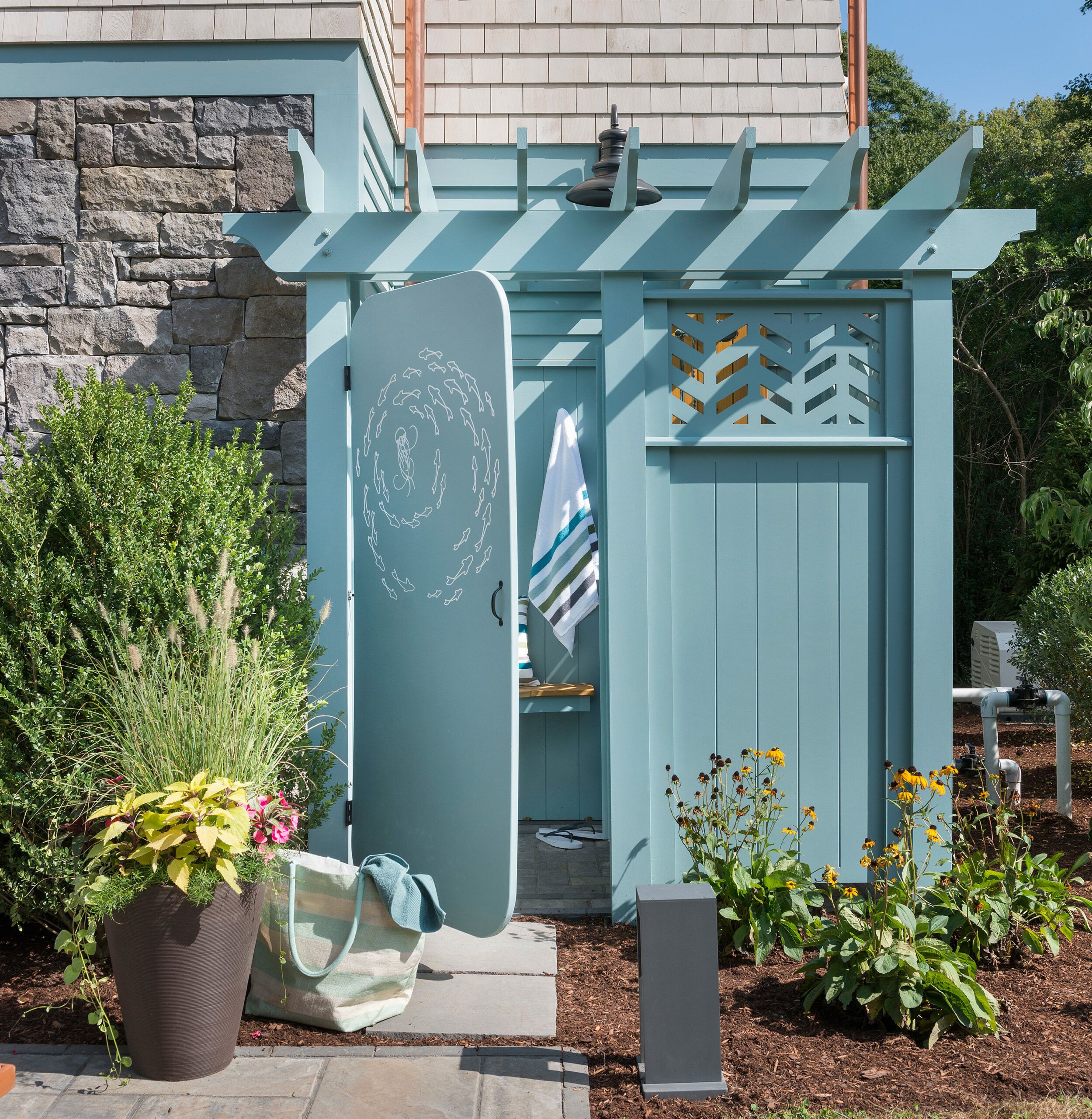 Tucked into the far corner of the concrete-paver patio, the custom-built outdoor shower features a pergola roof, custom-designed privacy panels, and a door laser-cut with a design of schooling fish.
OUTDOOR SHOWER: Sweenor Builders
Built-In Barbeque Station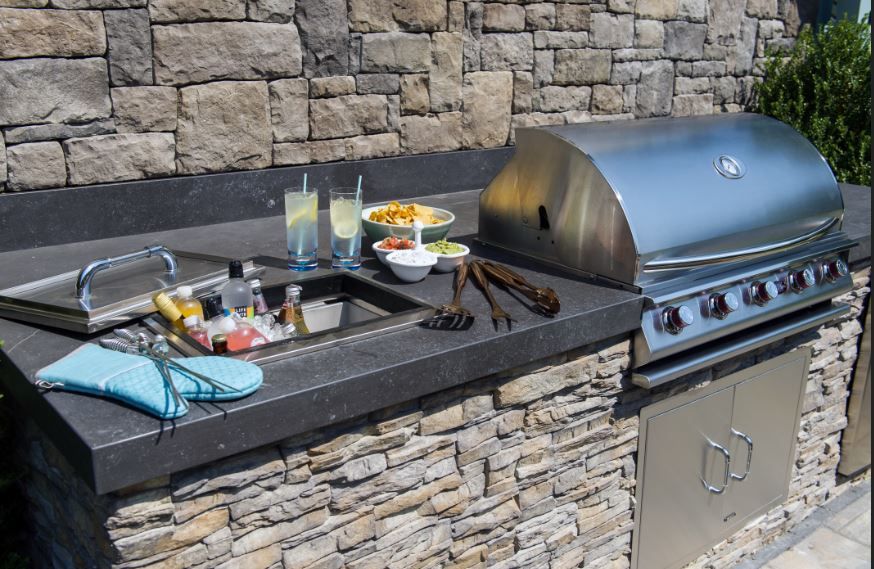 To create the outdoor kitchen, builder Jeff Sweenor started with pre-fab cabinets and cut out holes for a gas grill, stainless-steel refrigerator, and ice chest. He then covered it with manufactured stone veneer, and topped it with a non-porous, scratch- and stain-resistant countertop.
KITCHEN BASE AND STONE VENEER: Eldorado Stone
GRILL, ICE CHEST, REFRIGERATOR: Hayneedle
COUNTERTOP: Dekton by Cosentino
Neat & Tidy Outdoor Faucet System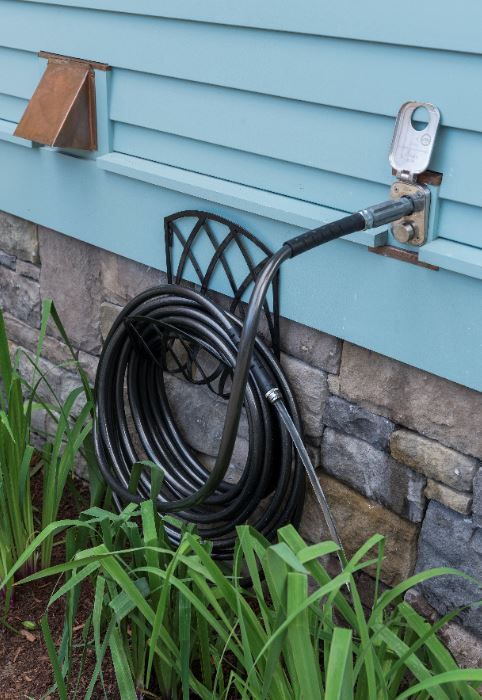 The no-leak, no-drip, never-freeze outdoor faucet system features a twist-lock design that automatically turns the water on as soon as the connector is inserted.
HOUSE HYDRANT & HOSE: Aquor Water Systems
Concrete Fire Bowl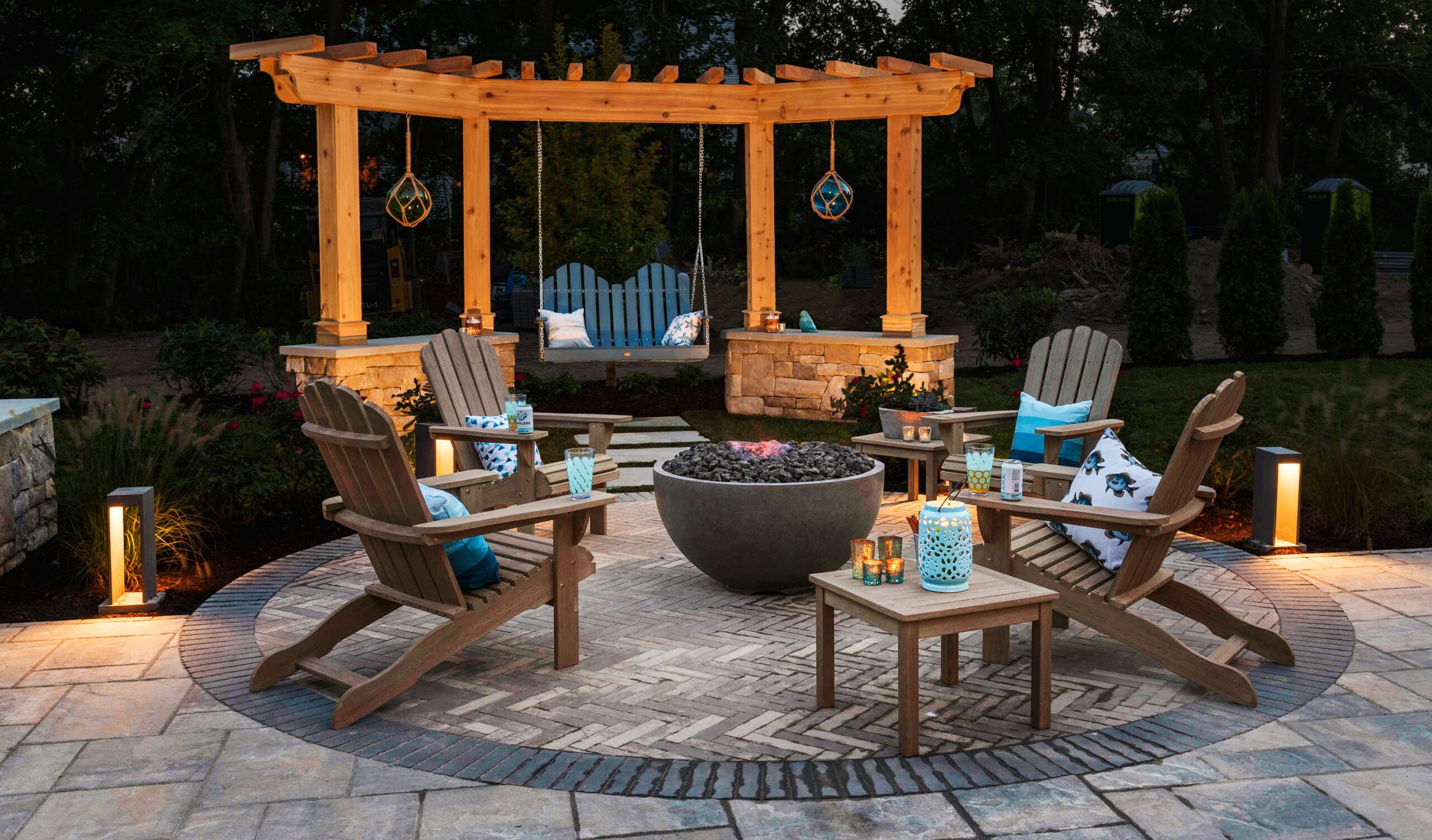 On evenings when there's a chill in the air, the gas fire bowl has a magnetic attraction. Casual Adirondack-style seating, including a bench swing hung from an angled pergola—echoed in the circular paving design—offers plenty of options for gathering around into the wee hours. Read more about the outdoor features of the Idea House in 2018 Idea House | Outdoor Gathering Spaces.
PERGOLA: Sweenor Builders Mill Shop
PATIO PAVERS: Unilock
LIGHTING: Clarkson Lighting
Interior Architectural Details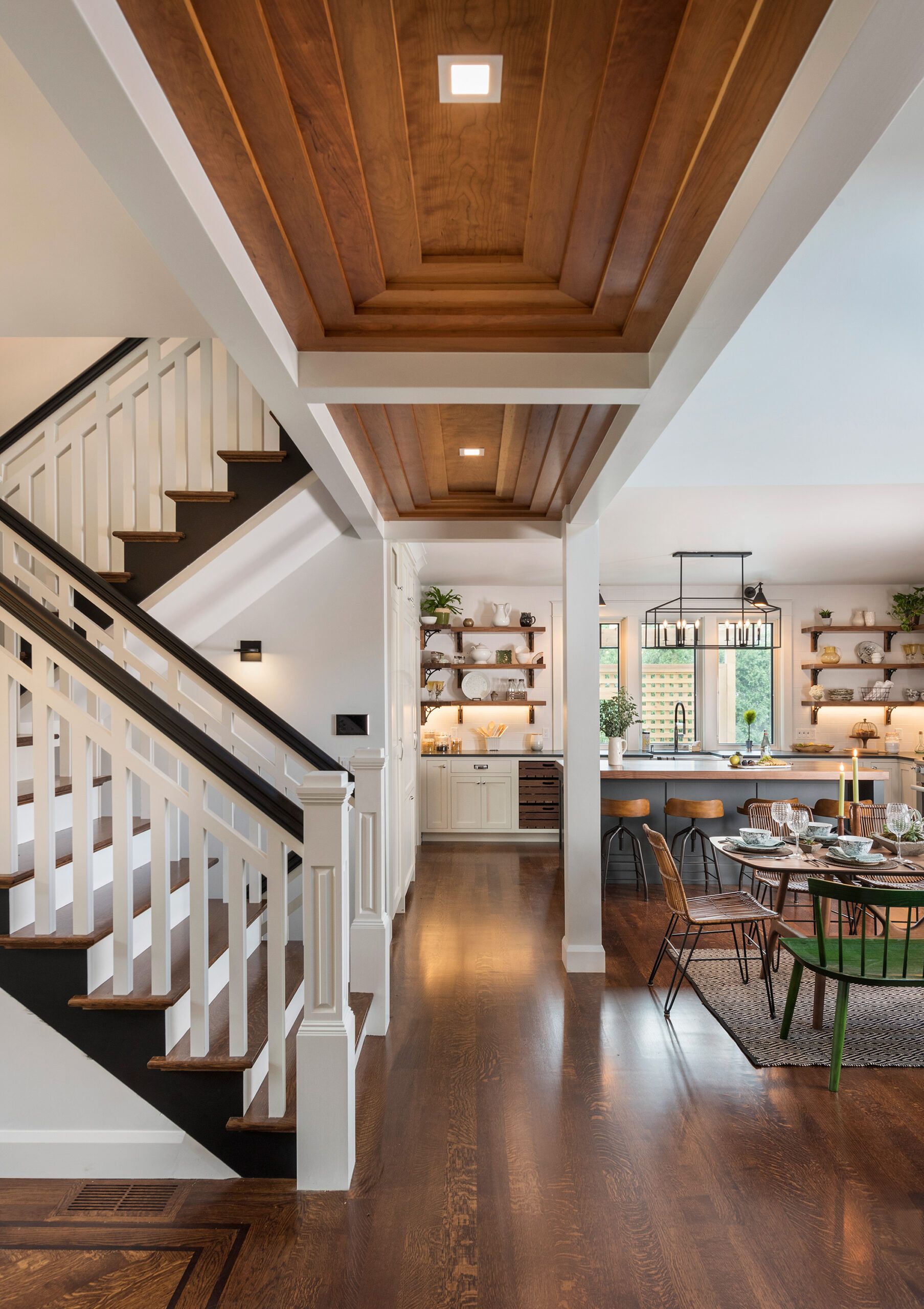 Finely crafted wood details add distinction, from the stairway's oak treads to the open hallway's cherry ceiling trays to the kitchen's black walnut floating shelves and vegetable drawers.
STAIRWAY PARTS, CEILING: Baird Brothers Fine Hardwoods
KITCHEN FLOATING SHELVES: Grothouse
KITCHEN VEGETABLE DRAWERS: Signature Custom Cabinetry
Coffee-Bar Combo Station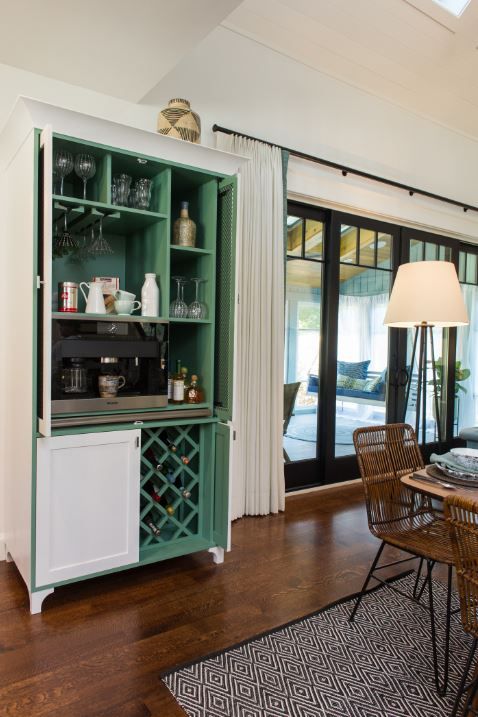 A two-toned custom-built beverage hutch with plumbed-in coffee maker and wine storage is situated between the kitchen and dining areas for easy entertaining.
PAINT: Glidden's Swan White (walls), Slate Green (inside hutch)
COFFEE SYSTEM: Miele from Wickford Appliance
HUTCH: Sweenor Builders Mill Shop
Island Hub with Pendant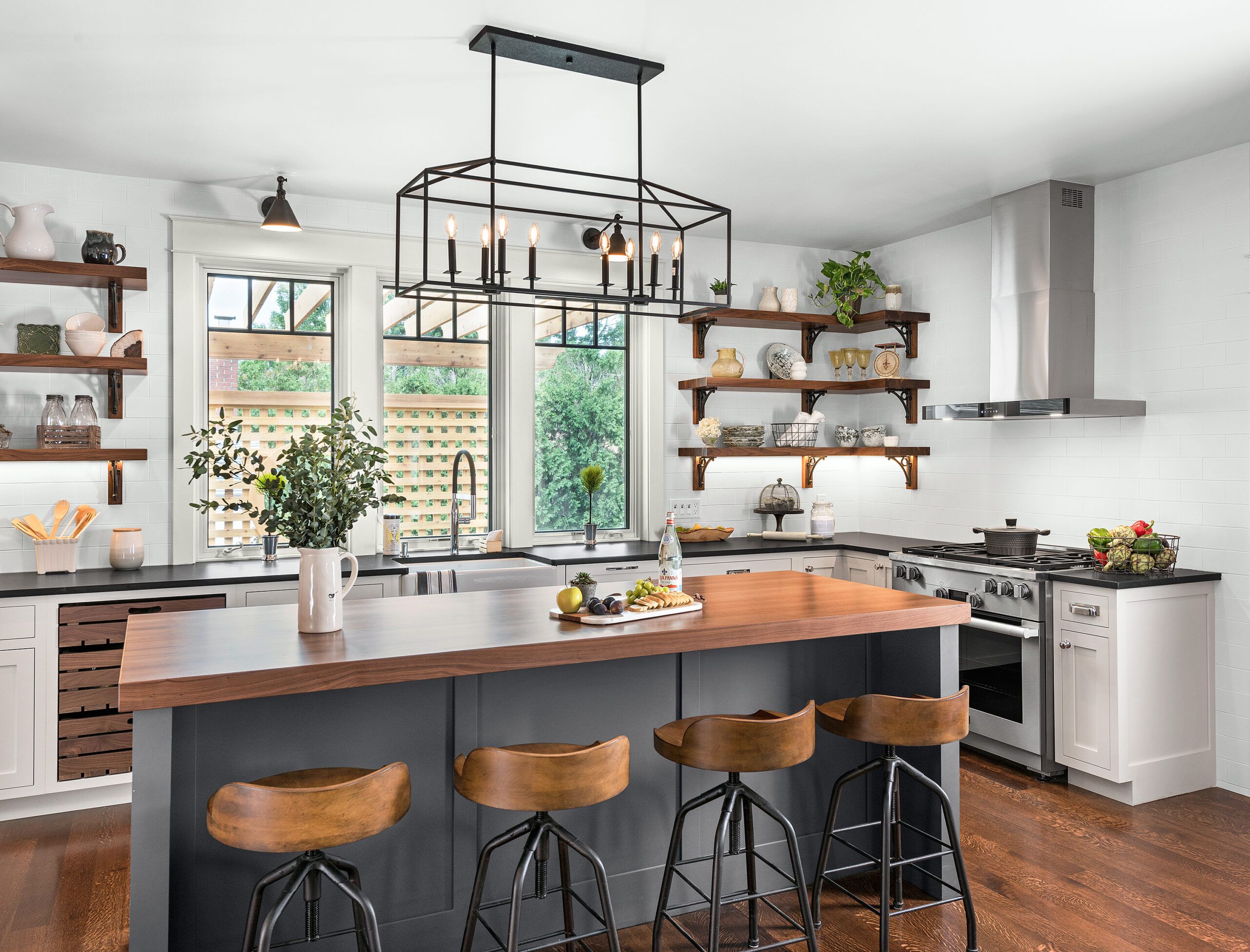 Natural wood elements carry the Craftsman aesthetic into the open-plan kitchen, which features quartersawn white oak floors, a black walnut island top, walnut open shelves and vegetable drawers, and wood-seat barstools. Around the perimeter, quartz counters with a soapstone look offer an easy-care alternative to natural stone. To anchor the space, the island base is painted graphite, while perimeter cabinets and backsplash tile are a fresh white. The sleek stainless-steel appliances and vent hood add a contemporary touch. Layered lighting helps the space work hard and feel good, with a carriage-house-style pendant over the island, task library lights above the sink, recessed ceiling cans, and LEDs set into channels in the open shelves. Sink windows look out onto the driveway's custom pergola.
ISLAND BASE, AND VEGETABLE DRAWERS: Signature Custom Cabinetry
QUARTZ COUNTERTOPS: Cosentino
WOOD COUNTERTOPS AND FLOATING SHELVES: Grothouse
LIGHT FIXTURES: Clarkson Lighting
APPLIANCES: Miele
VENT HOOD: Panasonic
FLOOR AND BACKSPLASH TILE: Merola Tile
STOOLS: hayneedle.com
KITCHEN SINK: DXV
KITCHEN FAUCET: GROHE
WINDOWS: Andersen
Farmhouse Sink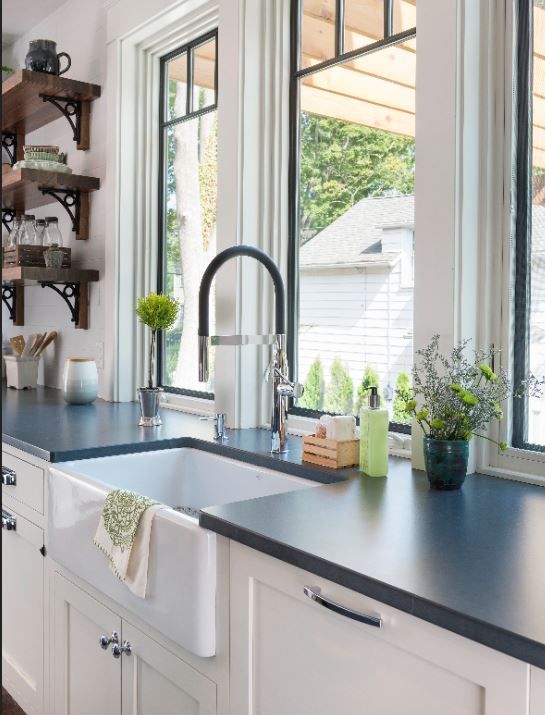 A deep apron-front sink and professional-grade, single-handle faucet with flexible hose make for easy prep and clean-up.
SINK: DXV
FAUCET: GROHE
CABINETRY: Signature Custom Cabinetry
HARDWARE: House of Antique Hardware
WINDOWS: Andersen
Root Vegetable Drawers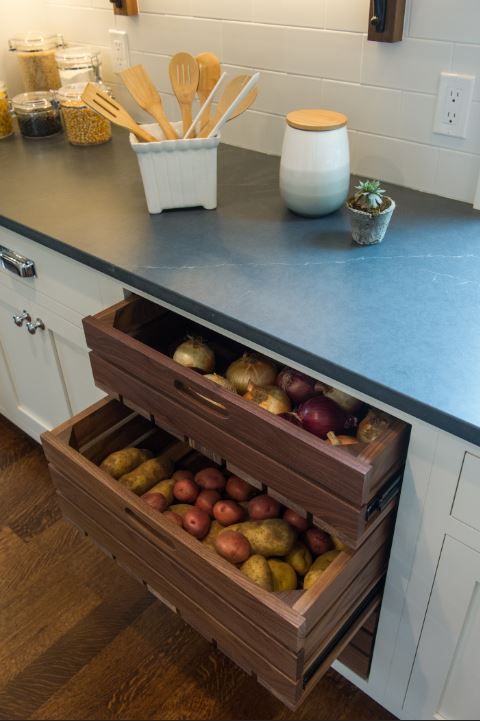 Handsome slatted drawers crafted in walnut house onions and root vegetables, which are best stored at room temperature. Read more about the Kitchen in 2018 Idea House | Indoor Gathering Spaces.
CABINETS AND ROOT VEGETABLE DRAWER: Signature Custom Cabinetry
COUNTERTOP: Silestone by Cosentino
Mirrored Barn Door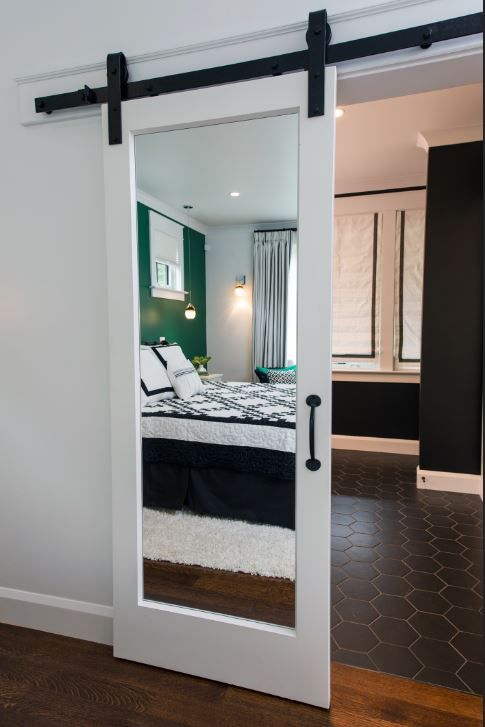 A sliding barn door, mirrored on both sides, leads to the master bathroom, where the high-contrast theme continues.
PAINT: Glidden's Black Magic
MIRRORED BARN DOOR: Baird Brothers Fine Hardwoods
ROMAN SHADES: Smith & Noble
FLOOR TILE: Merola
Spa-style Soaking Tub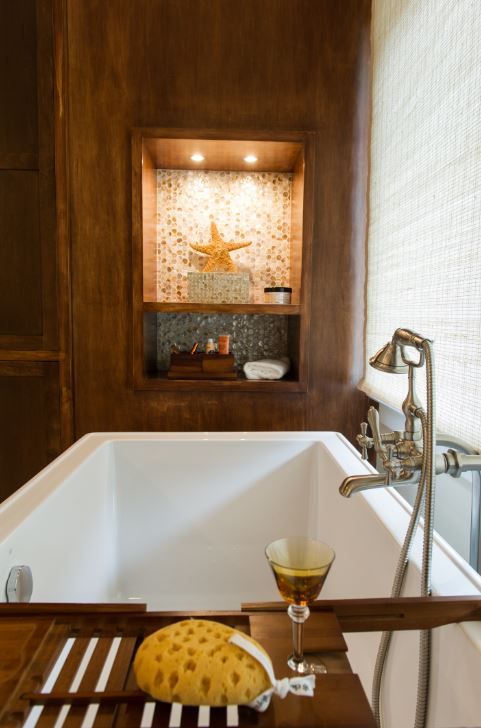 A walnut tray caddy sits astride a deep, freestanding soak tub, perfect for housing an array of pampering accessories. Seashell mosaic tile in the LED-lit wall niche provides an iridescent backdrop.
FREESTANDING TUB AND FLOOR-MOUNT FAUCET: DXV
MOSAIC TILE: Merola Tile
LED LIGHTING: Circa Lighting
TRAY CADDY: Amazon.com
Kid-friendly Wall Art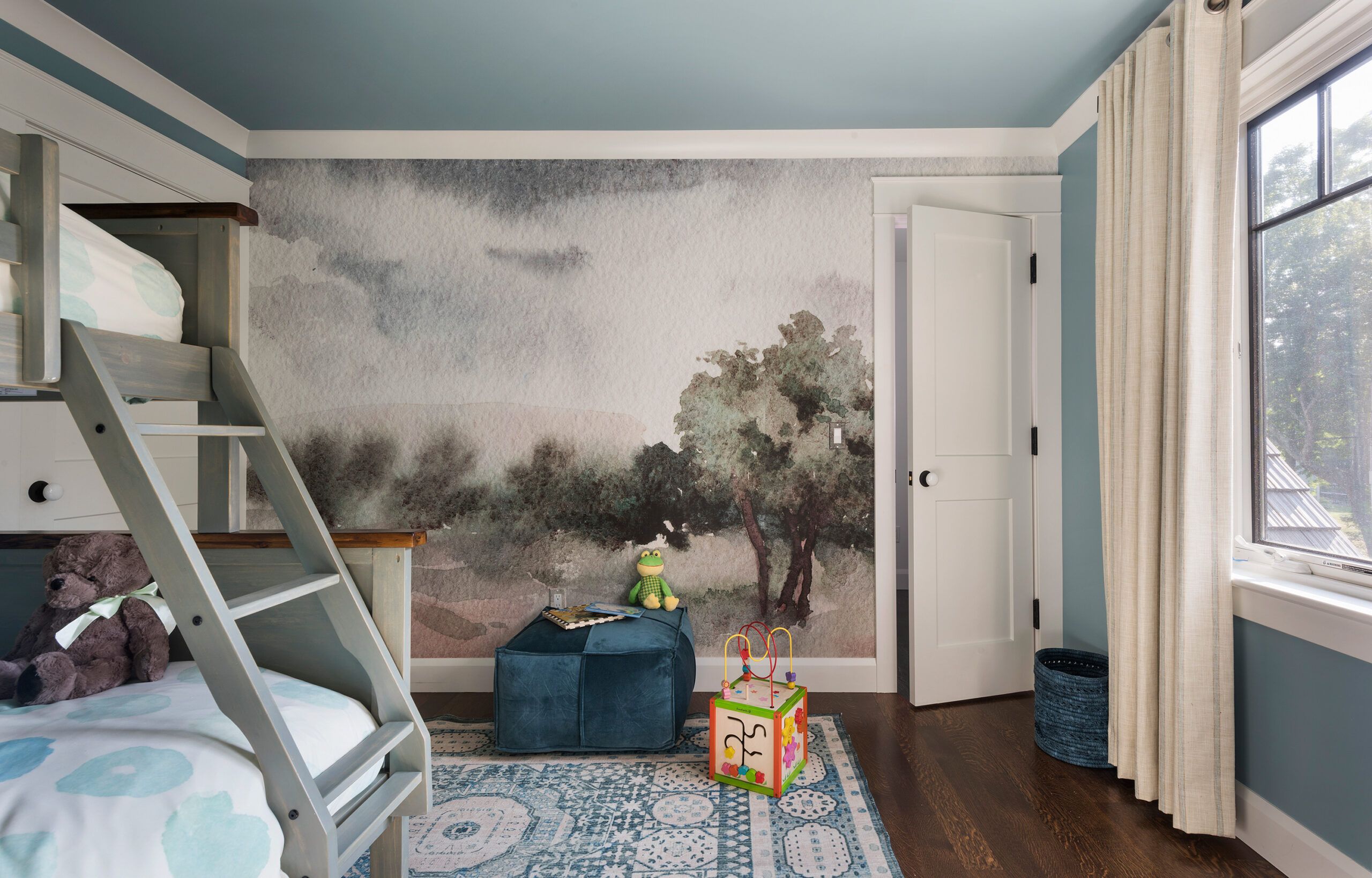 A vinyl mural depicting a forest landscape adds a dreamy touch to the second-floor bunk room.
BED, FURNISHINGS: hayneedle.com
MURAL WALL COVERING: Blue Décor Murals via Etsy
Murphy Bed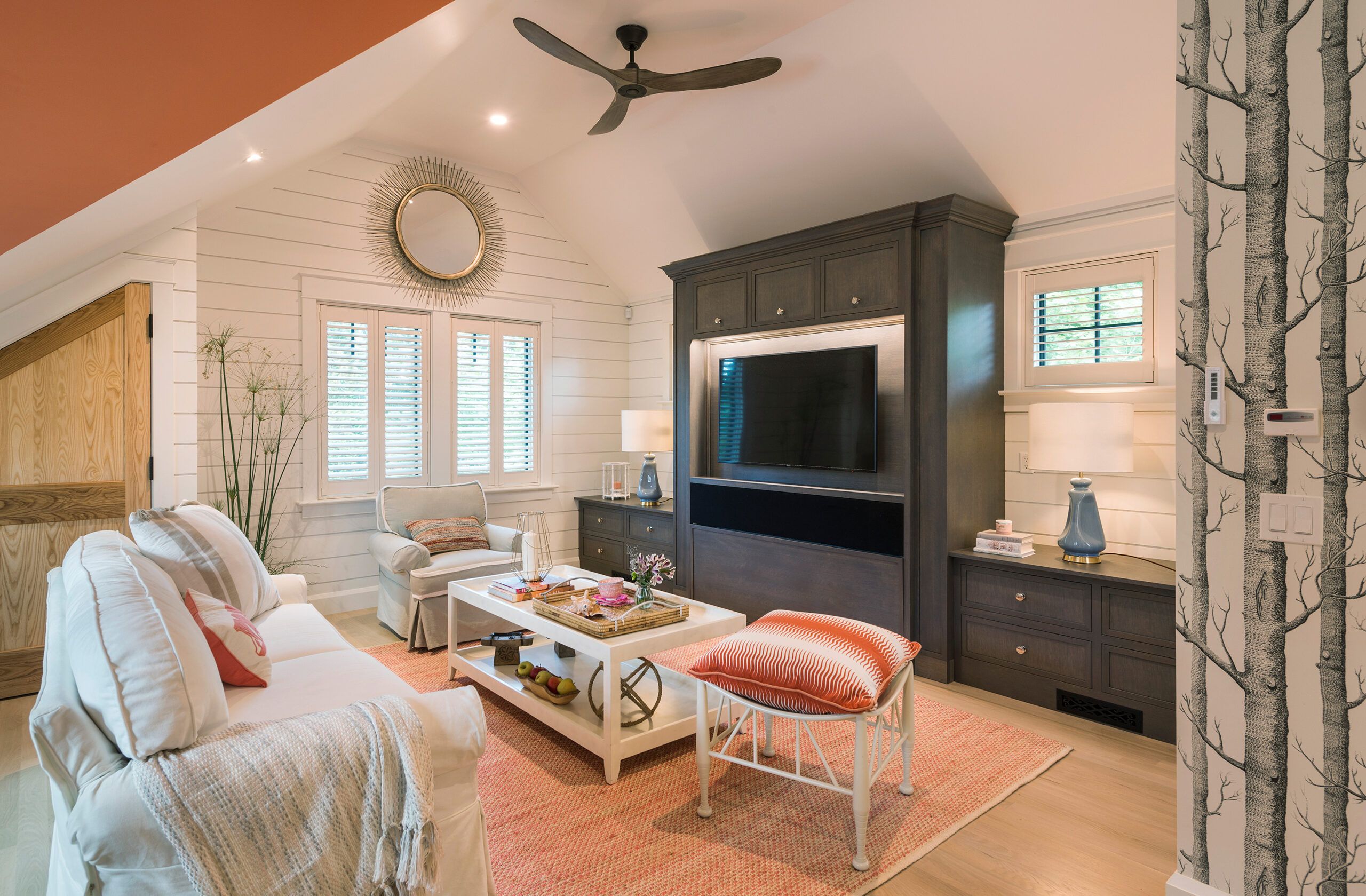 The garage guest suite's Murphy bed retracts into the cabinetry when not in use, freeing up circulation space.
RETRACTABLE QUEEN-SIZE MURPHY BED: Zoom-Room
Shower Storage Niche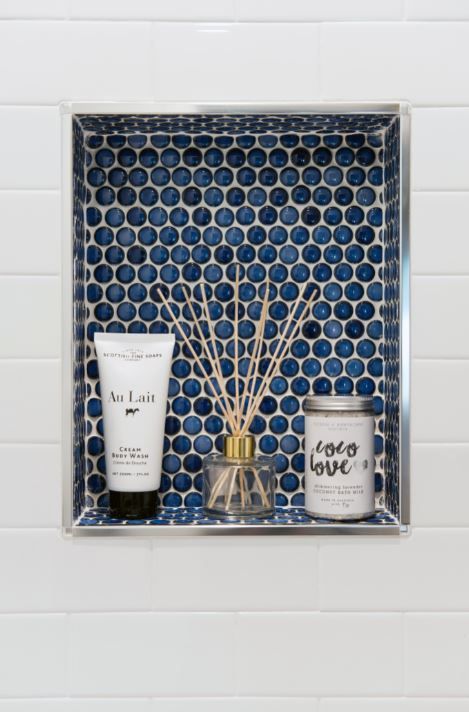 Chrome profiles provide a clean edge for the sapphire-colored penny round tiles that line the twin niches set into the guest quarters' tub-shower walls. Explore all beds and baths in 2018 Idea House | Beds and Baths.
TILE: Merola Tile
PROFILE EDGE: Schluter-Systems
Built-in Mudroom Bench
Inside the back door, custom mudroom cubbies and a built-in bench offer a convenient drop spot for outerwear and grocery bags. Poplar shiplap is installed with a nickel gap reminiscent of wall cladding found in older beach cottages in the area. For a high-contrast look, the walls' crisp white paint is accented by deep green on the built-ins and trim. Durable black ceramic tile underfoot stands up to wet umbrellas and sandy feet with ease.
PAINT: Glidden's Swan White (walls), Royal Hunter Green (built-ins and trim)
FLOOR TILE: Merola Tile
INTERIOR Lighting: Clarkson Lighting
HARDWARE: House of Antique Hardware
MUDROOM BUILT-INS: Sweenor Builders Mill Shop
BENCH CUSHION: Smith & Noble
Built-in Pet Station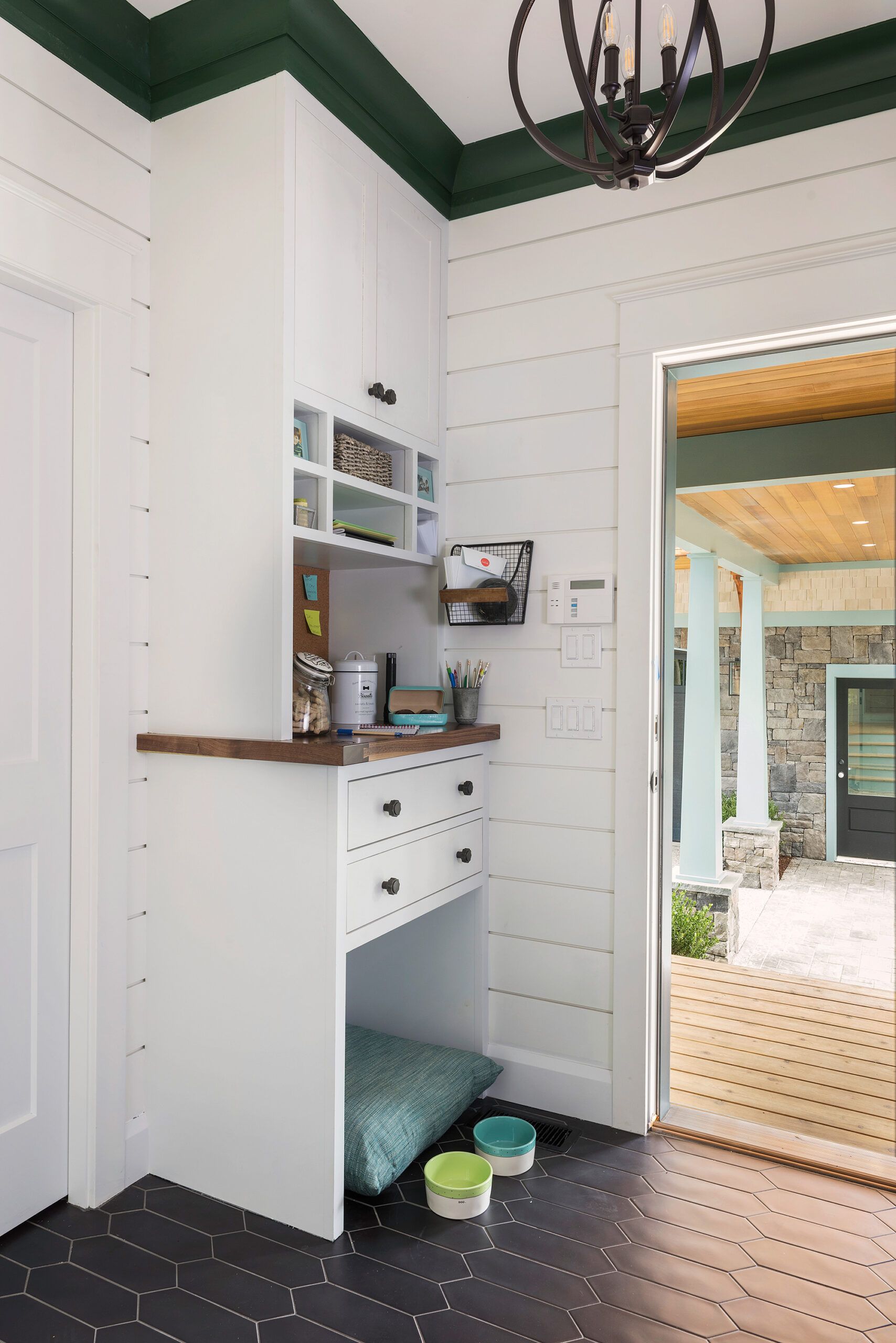 The mudroom's built-in conveniences include a dog bed/feeding station and an open-shelf/counter area to organize keys, phones, and other necessities.
AMERICAN BLACK WALNUT COUNTERTOP: Grothouse
PAINTED POPLAR SHIPLAP WALLS: Baird Brothers Fine Hardwoods
Counter with Integrated Fruit Bowl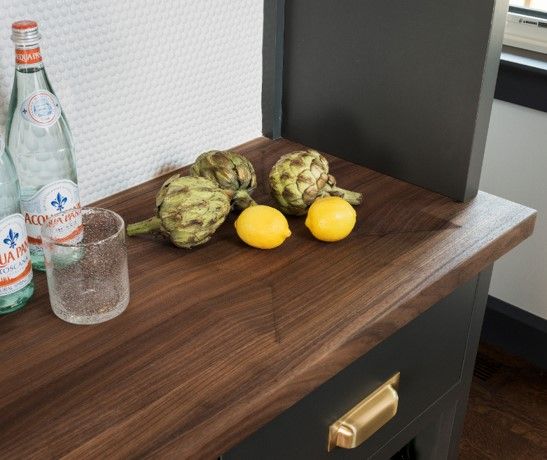 Round fruits and vegetables will not roll off the counter, thanks to this black walnut countertop with a convenient, custom-carved integrated fruit bowl. Explore other features in 2018 Idea House | Work & Play Spaces.
COUNTERTOP: Grothouse
CABINETRY: Signature Custom Cabinetry
DRAWER PULLS: House of Antique Hardware
BACKSPLASH: Merola Tile
What is YOUR favorite Idea House 2018 design idea? Tell us in a comment below