While the Coastal Grandmother aesthetic may seem like a new design trend thanks to the hashtag trending on social apps like TikTok and Instagram, the truth is, this interior design look has been around for decades. One part aspirational, one part cozy chic, this natural and breezy style is the epitome of easy-going, seaside elegance. To really understand it, all you have to do is think of the interior design and fashion choices of the grand matrons of the Coastal Grandmother look: Martha Stewart, Ina Garten, and Nancy Meyers, whose movies like "Something's Gotta Give" have provided endless visual inspiration.
Tiktok influencer Lex Nicoleta is the one who is attributed with coining the phrase "Coastal Grandmother." She defines the look as "open kitchens, rustic textiles, white accents, slipcovered sofas, the mixture of beautiful older pieces with newer ones, and lots of natural light."
Why Has Coastal Grandmother Gained Popularity Recently?
Despite its luxurious origins (beachfront property is not cheap—especially in settings like The Hamptons, Cape Cod, and Santa Barbara), the Coastal Grandmother style is all about an approachable, comfortable, and attainable look—no matter where you live. Consider it the lived-in version of traditional interior design or the pared-down version of grand-Millenial or granny chic decor. Coastal Grandmother style is refreshing and unfussy—both in color palette and decor items.
And the key to nailing this look is to start with a backdrop of white paint and then adding simple, functional furniture and accessories. Picture just-picked wildflowers in a vase on a vintage white-washed table next to a cozy, off-white slipcovered armchair. That's peak Coastal Grandmothers vibes.
14 Tips for Recreating the Coastal Grandmother Style at Home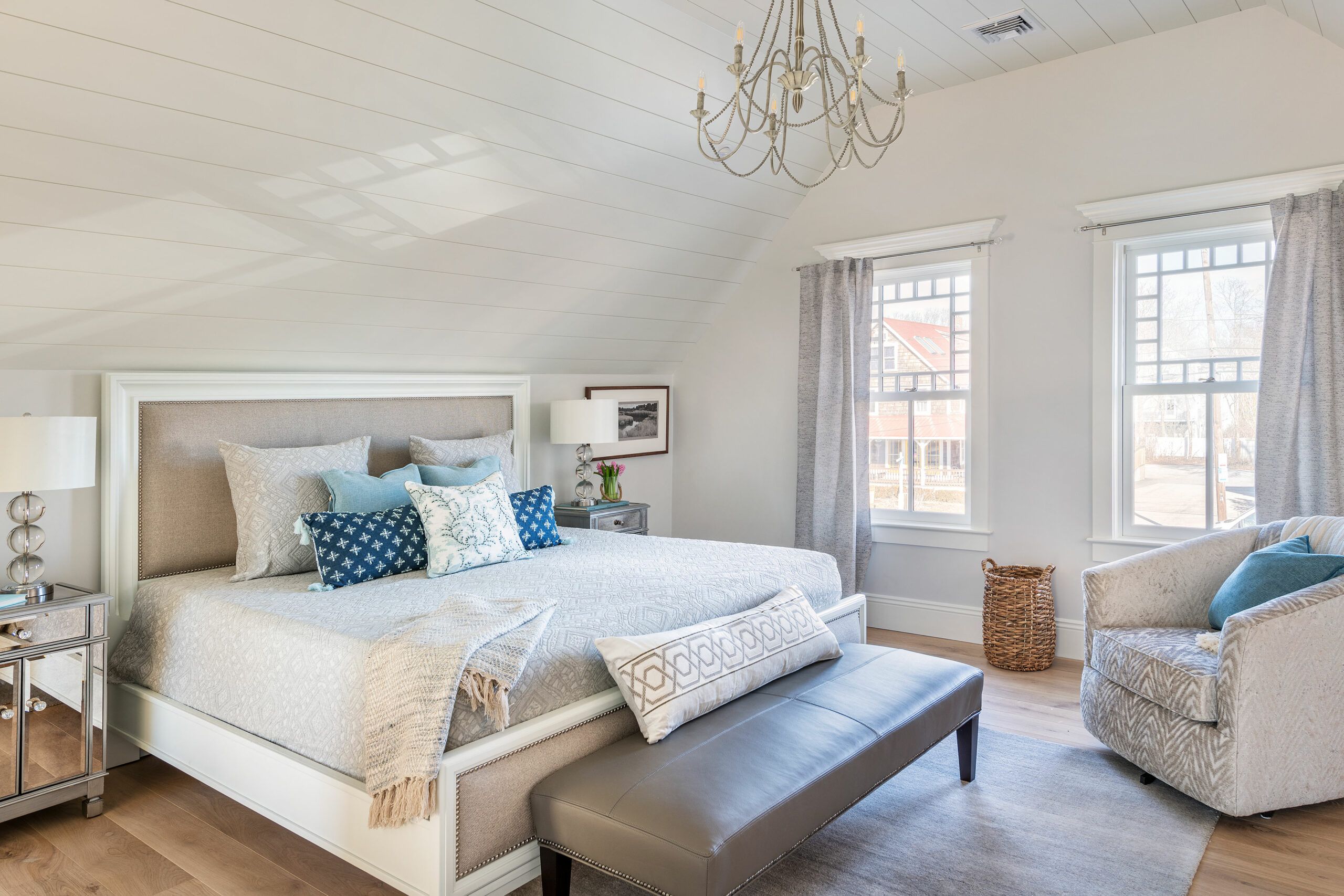 Tap into the easy-breezy look and feel of living large by the sea, even if you don't live anywhere nowhere near the ocean:
1. Choose a neutral palette
Take color cues directly from the sandy coastline—shades of white, beige, and shell colors, plus the various blues inspired by the ocean and sky. Refrain from decorating with on-the-nose beach décor like lighthouse lamps and beach signs.
2. Mix old with new
Part of the charm of the Coastal Grandmother aesthetic is decorating with slightly worn-in pieces. Whether inherited or thrift-store finds, secondhand items add history, character, and warmth that new furniture often lacks.
3. Luxuriate in natural fibers
From pillows and throws to upholstered furniture like sofas and armchairs, choose pieces in tactile fabrics like linen and cotton within the neutral color palette. To prevent the room from looking too bland, add other natural materials like marble, cane, rattan, seagrass, and jute via decorative items like a table, a rug, and baskets.
4. Add a handmade piece or two
Rustic ceramics, painted pottery, and accessories that have the look of being crafted by hand feel like they have a history, not like you picked them up at the big-box store.
5. Add architectural elements
Moldings, wainscotting, and shiplap add a luxurious feel to plain white walls while providing an interesting layer to an otherwise simply decorated room. Without these elements, the room may feel cold and sterile but thanks to these architectural layers, the room instantly becomes a cozier space without adding unnecessary clutter.
6. Decorate with farmer's market finds
Nature takes center stage in Coastal Grandmother style—set vases of fresh flowers around the house (don't forget the bathrooms), a bowl of fruit on the kitchen island, and maybe even plant some herbs on a windowsill.
7. Choose open shelving with easy access to entertaining pieces
Kitchens designed with open shelving have a two-fold benefit; It places handy platters and dishware on decorative display but also evoke that casual, "I can throw together a last-minute family-style dinner party without any stress" look—allowing guests and hosts to focus on the conversation rather than matching plates.
8. Show off your collections
A favorite of Coastal Grandmother decor are stacks and stacks of books, filled end-to-end on shelves or within built-in bookcases. Whether it's art books, novels, or beach reads (ideally a mix of all three), part of this lifestyle choice is relaxing, cozy up on the couch, and unplugging from the rest of the world.
9. Plant impressive flowers in the garden
Blooming flowers not only add a splash of color to your exterior but they also enhance your home's curb appeal. Add to that an easy way to sprinkle just-cut blooms (hydrangeas being a Coastal Grandma favorite) straight from the garden. Leave the fussy and high-maintenance displays to the event planners—the goal here is to gather a casual, slightly wild bouquet, whether in a white pitcher or a rustic vase, and place them center stage—on a kitchen island or on an entryway table for a cheerful welcome.
10. Bring on the stripes
The more classic, the better. Ticking stripes, in particular, are iconic Coastal Grandma. The subtle linear pattern helps break up all those neutrals without stealing the show.
11. Layer in throws
That's what's going to make the place feel extra homey. Choose blankets in the same muted colors as the rest of your house but opt for ones with some texture, say, a chunky cable knit, to keep things interesting.
12. Hang gauzy curtains
Coastal Grandmother style is all about letting in as much natural light as possible—install lightweight drapes in semi-sheer linen or cotton that won't block the sun's rays and will billow in the breeze.
13. Stick to light woods
Whether adding wood accessories like vintage dough bowls or installing wood floors, opt for bleached-by-the-sun tints, like the color of driftwood and white oak, to give you that beach-house feel. Except for the occasional piece, it's best to avoid cherry, walnut, or espresso finishes, which seem much more formal.
14. Don't forget the outdoors
Of course, to fully channel the Coastal Grandmother lifestyle is to also enjoy the outdoors and watch the ocean's waves (ideally). And while your view might not include the Atlantic or Pacific, a great outdoor spot for lounging, whether via Adirondack chairs or something similarly comfortable, will ensure your Coastal Grandmother vibes are on-point on your porch, deck, or yard.
Where to shop the Coastal Grandmother aesthetic: Serena & Lily, Annie Selke, ​​Pottery Barn, Jenni Kayne, Crate & Barrel, and Lulu & Georgia.