Financially-Friendly Trade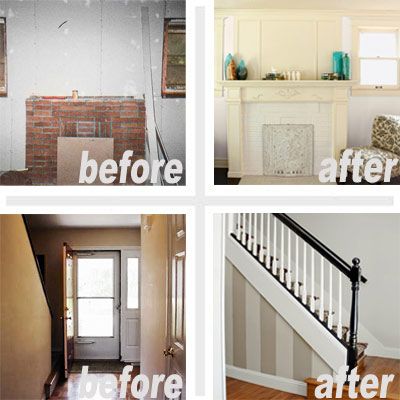 Just because you have to stretch your home-improvement dollars doesn't mean you need to scrimp on style. Coming up, resourceful TOH readers show how to turn a dated cook space into a handsome farmhouse kitchen, plus five more standout projects—all by trading sweat equity for green.
Bright Farmhouse-Kitchen Redo: Before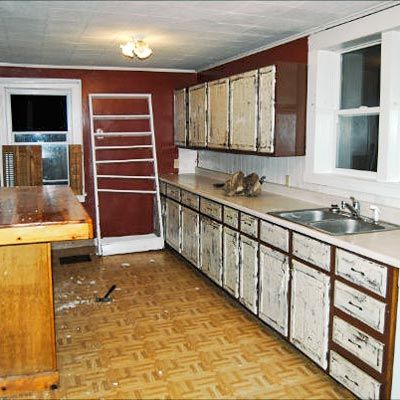 Who: Macksi and Cody Warner
Where: Marathon, N.Y.
Macksi and Cody Warner loved everything about their late 1800s home in rural New York State—except, that is, for its chopped-up floor plan with tiny rooms. The worst was the kitchen, which Cody says was little more than a narrow hallway lined with rickety cabinets. The couple's dramatic fix: Knock out the wall separating the kitchen from the adjoining dining room to create one open space. They then started from scratch with new base cabinets and open shelves in lieu of bulky uppers. Furthering the airy feel, they exposed and whitewashed the original ceiling beams.
Though Macksi and Cody hired an Amish neighbor to build the poplar cabinets, they kept costs down by installing and painting the units. They also put up a counter-to-ceiling beadboard backsplash, as well as the open shelves made with stock parts from the home center. Taking pride of place below the windows is a secondhand enameled-cast-iron sink that the couple scored for just $30. "Our kitchen is so welcoming now," says Macksi. "For years I was compiling ideas of what I wanted, and this came out exactly as I imagined."
Shown: Decrepit two-tone cabinets and maroon walls accentuated the narrow kitchen's cave-like feel.
Bright Farmhouse-Kitchen Redo: After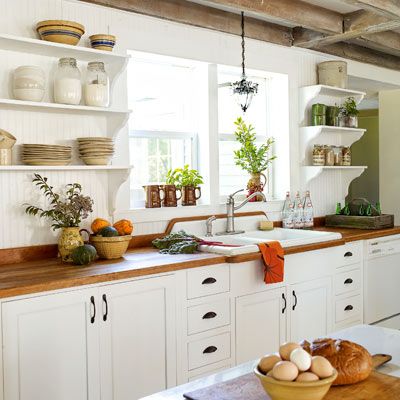 Who: Macksi and Cody Warner
Where: Marathon, N.Y.
The Project Tally:
• Demolished the wall between the kitchen and the dining room $0
• Exposed and whitewashed the ceiling beams and drywalled the recesses $130
• Installed custom cabinets and a cherry butcher-block top $1,500
• Painted the cabinets, walls, and floor $210
• Added cabinet knobs and pulls from the home center $35
• Put up a beadboard backsplash and open shelves made from pine planks and prefab corbels $180
• Dropped in a vintage double-bowl cast-iron sink $30
• Hooked up a new faucet $149
Total: $2,234
Shown: White-painted base cabinets have an elegant simplicity, while open shelves and exposed beams add a sense of loftiness.
Staircase-Turned-Showpiece: Before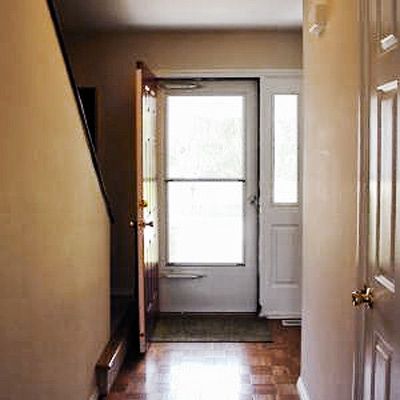 Who: Marie Hespen
Where: Saint Charles, Mo.
The enclosed staircase in Marie Hespen's foyer made the room feel like a tunnel—not an ideal place to greet houseguests. To open it up and create a brighter, more welcoming entry, Marie demolished the offending wall and replaced it with a new balustrade made from shapely white-painted wood spindles and a handrail and newel stained jet black. She then ripped out the wall-to-wall carpeting covering the treads and stained the bare wood to match the new red-oak floors that she'd recently installed throughout her home's main living area. Using a TOH tutorial as a guide, Marie topped the stairs with a floral-patterned runner that she cut to size and stapled in place. To draw the eye up and riff on the vertical lines of the spindles, she striped the wall below the new balustrade with a warm beige paint. Marie couldn't be happier with the results, but it's her family members whose opinions she values most. "My husband, Scott, will tell anybody he meets about the time he came home from work and his wife had torn out the wall," she says. "He's so proud of my work."
Shown: Walled-up stairs made for an inhospitable foyer.
Staircase-Turned-Showpiece: After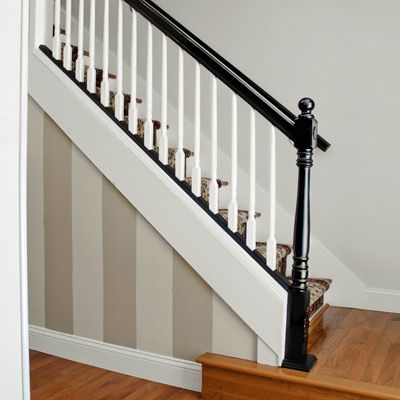 Who: Marie Hespen
Where: Saint Charles, Mo.
The Project Tally:
• Demolished the drywall using a handsaw and elbow grease $0
• Built a balustrade using stock stair parts (spindles, a handrail, and a newel) $153
• Painted the spindles with leftover white trim paint; bought black stain for the rail and newel $8
• Stained the stair treads to match the new red-oak floor in the foyer $20
• Replaced the old carpeting with a patterned stair runner $160
• Created a faux-striped-wallpaper effect using leftover paint $0
Total: $341
Shown: An open balustrade and new stair runner make it welcoming.
Vintage Bath Revamp: Before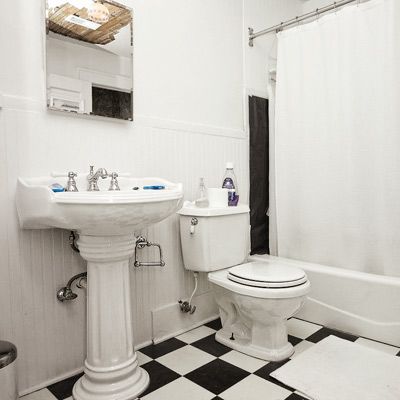 Who: Katherine and Conan Fugit
Where: Wichita, Kans.
What began with water dripping through the kitchen ceiling ended with a gut renovation of the main bathroom in Katherine and Conan Fugit's 1917 Colonial Revival. A leaky toilet and tub were to blame, but once the floor and walls were opened up to make repairs, the couple just kept going. They replaced vinyl squares with porcelain hex tiles underfoot and mounted new beadboard on the walls. A little-used linen closet became a shower stall that they lined with subway tile and fitted with a glass door.
Shown: The checkered vinyl floor and fancy repro fixtures clashed with the couple's clean-lined style.
Vintage Bath Revamp After: Lucky Vintage Finds
Who: Katherine and Conan Fugit
Where: Wichita, Kans.
Out went the old tub in favor of a salvaged cast-iron claw-foot. And instead of the existing Grecian-inspired sink, the couple plumbed a vintage pedestal that they got for just $60 on Craigslist. The sink's cross-handle faucet taps were a lucky find at a local antiques store. To house towels and toiletries, Katherine reworked a thrift-store media cabinet. With a new painted finish, glass panels in the upper doors, and robe hooks on one side, it's the perfect bathroom storage piece."I'm all for slow decorating," says Katherine. "I want to find the exact right thing at the exact right price." And even though the remodel took a year to complete, she says, "it was worth it."
Shown: A modified media cabinet stores bath essentials in style.
Vintage Bath Revamp After: Slowly But Surely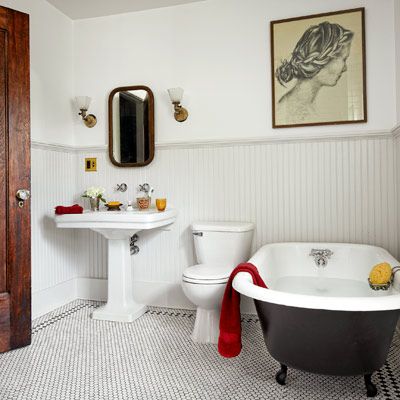 Who: Katherine and Conan Fugit
Where: Wichita, Kans.
The Project Tally:
• Tore out old vinyl flooring, plaster walls, and beadboard $0
• Hung drywall and added new beadboard wainscoting, then painted $618
• Installed subway tile in the shower and hex tile on the floor $950
• Added new shower fixtures and a glass door $160
• Put in a salvaged cast-iron claw-foot tub and painted the outside $115
• Installed a vintage pedestal sink and faucet $77
• Refinished the original wood door $40
• Made the mirror over the sink using an old frame and cutting mirror glass to fit $43
• Relocated the toilet and the brass sconces from other rooms in the house to the bath $0
• Refreshed a thrift-store cabinet with new glass door panels, hooks, and paint $125
• Put in push-button switches and brass switch plates $56
Total: $2,181
Shown: The classic hex-tile floor sets the stage for a period claw-foot tub and pedestal sink.
Inviting Living Room Makeover: Before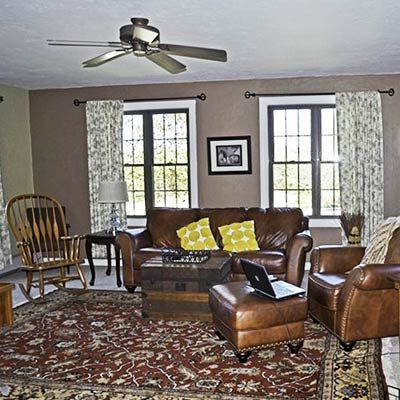 Who: Jessica Bruno
Where: Sutton, Mass.
The challenge for Jessica Bruno was creating a living room in her 1960s Colonial-style home where all seven resident members of her four-generation family could comfortably gather at the same time. Even more than supplying lots of seating, she wanted to create a cozy and serene effect in the 500-square-foot space. Jessica started by nailing up wainscoting made from horizontal tongue-and-groove pine planks topped with a 2-inch-deep plate rail. She painted the paneling white and the wall above it a watery blue-green.
Shown: Unadorned beige walls and the lack of a focal point made the living room feel blah and haphazard.
Inviting Living Room Makeover After: Cozy Gathering Spot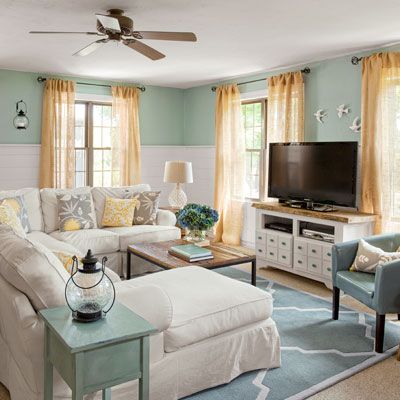 Who: Jessica Bruno
Where: Sutton, Mass.
Next on Jessica's list was to customize an existing peninsula-style divider that separated the living room from an adjoining area. She installed shelves in the center, and beadboard cabinet doors to enclose what had been an open recess. On the wall alongside the divider, she added open shelves for extra storage and display space.
Her final touch was to build a media cabinet for the family's flat-screen TV. It has hinged doors decorated with wood squares that mimic the look of small apothecary drawers, faux knobs made from turquoise beads, and a reclaimed-barn-wood top. The cabinet has become the focal point in what's now a warm and welcoming living room. "Everyone hangs out in here," says Jessica. "We all fight over the choice seats."
Shown: Crisp white wainscoting and blue-green wall paint make it bright and cheery, while a handcrafted media cabinet makes movie viewing the main event.
Inviting Living Room Makeover After: Tucked-Away TV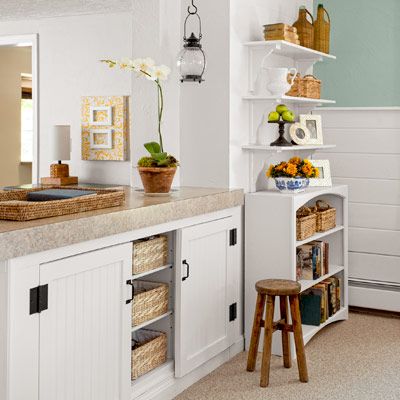 Who: Jessica Bruno
Where: Sutton, Mass.
The Project Tally:
• Added wainscoting made from 6½-inch-wide tongue-and-groove pine planks $222
• Painted the wainscoting and the walls above $110
• Made a media cabinet using pine boards for the frame, hinged cabinet doors made to look like apothecary drawers, and a barn-wood top $72
• Customized a room divider with cabinet doors left over from a kitchen reno, new hardware, and pine shelves $31
• Built wall-mounted shelves using leftover pine and home-center corbels $12
Total: $447
Shown: An existing room divider was fitted with beadboard cabinet doors and a group of shelves with baskets to keep sewing supplies and other hobby gear hidden from view.
Space-Saving Bunk Beds: Before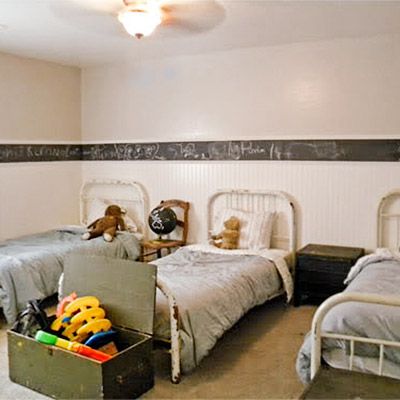 Who: Nikki and Caleb Grandy
Where: San Tan Valley, Ariz.
With four kids under the age of 7, Nikki and Caleb Grandy have had to make many of the rooms in their home do double duty. For their three boys' shared bedroom, that meant carving out space for both sleeping and playing. So rather than dedicate precious square footage to three twin beds, the couple created a sleek wall of built-in bunks that leaves the floor clear for spreading out toys and roughhousing. Nikki and Caleb started by building the bunk beds' 2×4 frame, which they anchored into the walls and ceiling. Next the couple sheathed the structure with medium-density fiberboard (MDF) and trimmed its face with molding for a paneled look. Crown at the top, baseboard at the bottom, and beadboard inside tie the built-in bunks with the room's existing molding and wainscoting.
Shown: Three twin-size beds took up much of the room's total area.
Space-Saving Bunk Beds After: Sleep and Play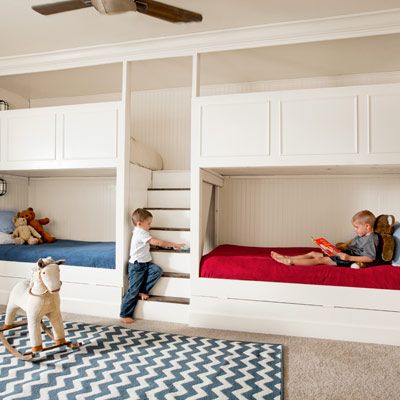 Who: Nikki and Caleb Grandy
Where: San Tan Valley, Ariz.
To separate the two sets of bunks and offer safe passage to the top level, Nikki and Caleb built an easy-to-climb staircase. They left the space under the stairs open to serve as a storage area for stuffed animals and a secret hangout for hide-and-seek. Four nautical sconces, just $12 each, are wired separately so that the boys can control their own lights. "My kids have 14 cousins on my side and 10 more on my husband's, who all live pretty close," says Nikki. "When those kids come over, they immediately head to the bunk-bed room."
Shown: Hangout-friendly bunks maximize the floor area so that the bedroom can also serve as a play space.
Space-Saving Bunk Beds After: Personal Light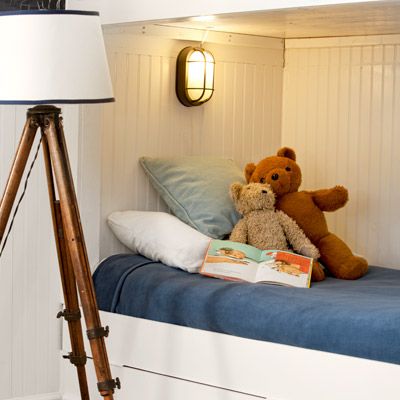 Who: Nikki and Caleb Grandy
Where: San Tan Valley, Ariz.
The Project Tally:
• Created the 24 bunk-bed frame and sheathed it with MDF $350
• Detailed the bunks with astragal and crown molding, baseboards, and beadboard panels $61
• Painted the bunks white and stained the stair treads $30
• Installed four sconces, one for each bed $48
• Reused the kids' twin mattresses and bought a fourth from a neighbor $20
Total: $509
Shown: Each bunk has its own toggle-switch sconce; hinged baseboards conceal toy storage and trundles for overnight guests.
Fireplace Face-Lift: Before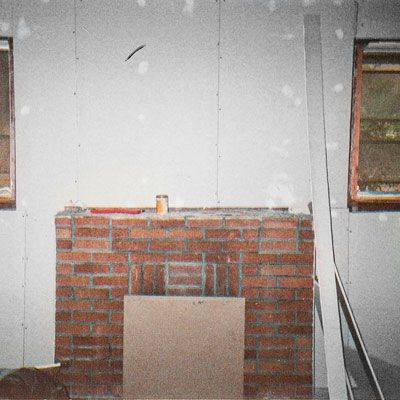 Who: John and Casey Spencer
Where: Tampa, Fla.
The nonworking brick fireplace in John and Casey Spencer's 1920s bungalow was more of an eyesore than an eye-catcher. It lacked a mantel, and hiring a carpenter to custom-build one was beyond the couple's budget. Their solution? Make one using off-the-shelf supplies. For the mantel's pilaster-style legs, John boxed the corners of the existing surround with MDF boards secured to the brick with construction adhesive. He then detailed the smooth surface of the legs with astragal molding and used baseboard to create plinth blocks at the bottom. Topping the legs is an MDF frieze and a mantel shelf that's trimmed with a two-part cornice made from crown and egg-and-dart quarter-round moldings. Wood appliques adhered to the face of the frieze add vintage charm. To give the fireplace more prominence in the room, Casey designed and Jon installed faux paneling above the mantel by securing baseboard and mullion moldings directly to the wall with construction adhesive and finishing nails. A few coats of cream-color paint unite all the disparate parts. The couple's finishing touch was to enclose the firebox with a Victorian-era cast-iron front that they found at an antiques fair. "Everyone thinks the mantel is original, and that we just restored it," says Casey. "Our fireplace is the centerpiece of the house."
Shown: A missing mantel and a dark brick surround made the fireplace stand out—in a bad way.
Fireplace Face-Lift: After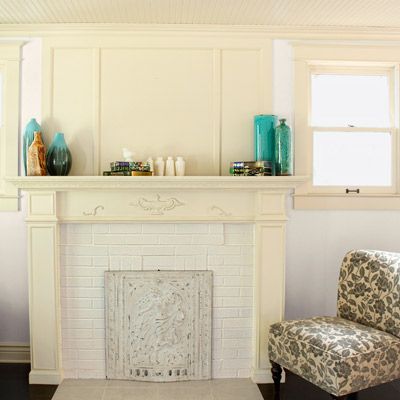 Who: John and Casey Spencer
Where: Tampa, Fla.
The Project Tally:
• Made the mantel legs, frieze, and shelf of MDF adhered to the existing brick surround $62
• Detailed the mantel legs with astragal molding for a paneled look $11
• Used baseboard trim to make plinth blocks for the legs $22
• Accented the mantel shelf with crown and egg-and-dart quarter-round molding $85
• Adhered appliques to the frieze and skirted it with chair rail $88
• Created faux paneling on the wall above the mantel with baseboard and mullion moldings $31
• Painted the brick fireplace surround and used a leftover gallon from another project for the mantel and wall paneling $12
• Enclosed the firebox with a vintage cast-iron front $125
Total: $436
Shown: Creative use of stock moldings and a vintage cast-iron firebox cover turn the hearth into a showpiece.