Handsaws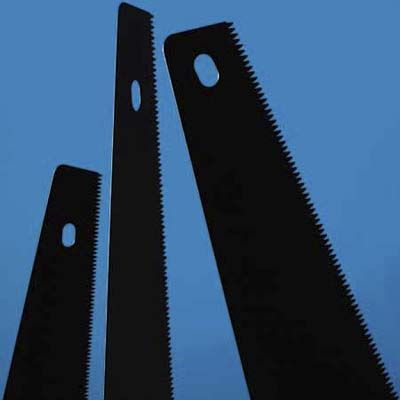 Sure, it's easy to pull the trigger on a circular saw to cut wood in two. But it's safer, quieter, and cheaper to pick up a handsaw and slide it back and forth through the work. Traditional handsaws, with thick blades and ­sturdy teeth that cut on the push stroke, still come in handy for cutting posts too fat for a circ saw, notching stair stringers, or making any cut where a ­power tool would be unwieldy or unsafe.
These days, handsaws are ­either heirlooms or disposable. Heirlooms have carved-wood handles, long blades of tough spring steel, and teeth that can be resharpened. Less ­expensive ­disposables use the latest technology: composite handles, low-friction blade coatings, and heat-hardened teeth to chew through wood faster and longer. But once they're dull, the saw is toast. We'll show you both types, to help make your next cuts quick, clean, and easy.
Ripsaw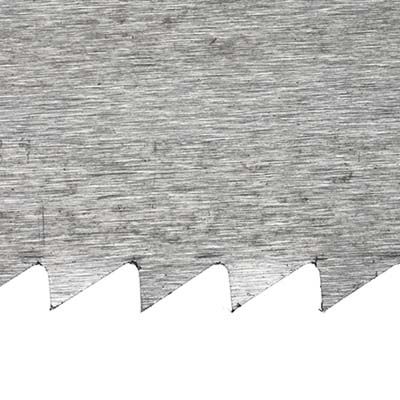 To figure out a saw's function, look at its teeth. The number of teeth per inch (tpi), the angle of their rake, or slope, and how they are sharpened all determine how well a saw can cut across a board or down its length, or both. All teeth have set, a slight sideways splay that makes the slot, or kerf, wide enough for the blade to move without binding.
Ripsaw teeth are big, widely spaced—about 5 tpi—and have a straight rake on their leading edges, all the better for cutting boards lengthwise with the grain by quickly scooping out wood fibers.
Crosscut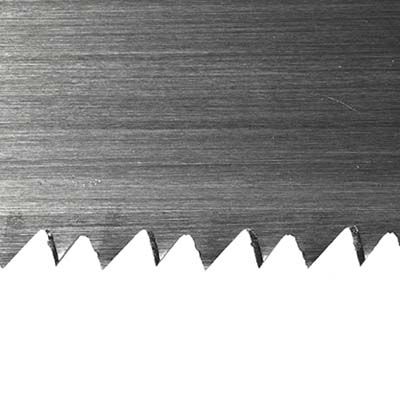 Crosscut saw teeth are smaller, closely spaced (8 to 12 tpi), and have leading edges that slant toward the handle for smooth cuts across the grain.
Hybrid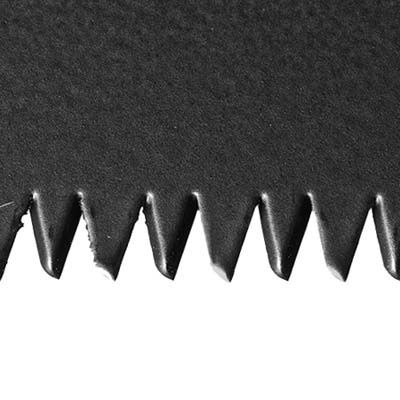 Hybrid saw teeth are long and narrow, so they can make both rip cuts and fast, rough crosscuts and work on both the push and the pull strokes. They're also hardened to stay sharp longer.
Features to Consider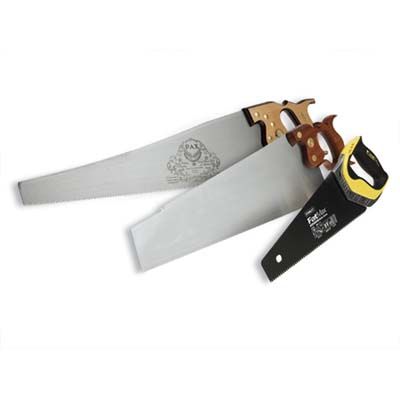 Blade length: The longer the saw the more work gets done with each stroke
and the longer you can go without tiring. Shorter is better for small, quick jobs,
and for portability.
Handle: Comfort is key—you want ample room for your fingers and no hard edges that would raise blisters.
Shown, left: The top edge of the 26-inch blade on this English-made Pax saw is thinner than the toothed edge, to reduce friction as it cuts. The blade also has a curved back for better balance. To speed the cut, the toothed edge has a slight bow, or breast, that compensates for an arm's natural sawing motion. 4½ tpi, about $110; Tools for Working Wood
Center: This reproduction of a 19th-century tool, from famed U.S. saw maker Henry Disston, has a 20-inch blade made from high-carbon Swedish spring steel, a hard yet resilient metal. The handle fits only three fingers comfortably; the index finger is meant to rest on the side of the handle for better blade control. 9 tpi, about $265; Wenzloff & Sons
Each hardened tooth on the 15-inch Fat Max has three knife-sharp edges for fast rips and crosscuts. A Teflon-like coating on the blade reduces friction and repels rust. Rubber over lightweight aluminum makes for a comfortable handle. 9 tpi, about $20; Stanley
Specialized Saws: Log Saw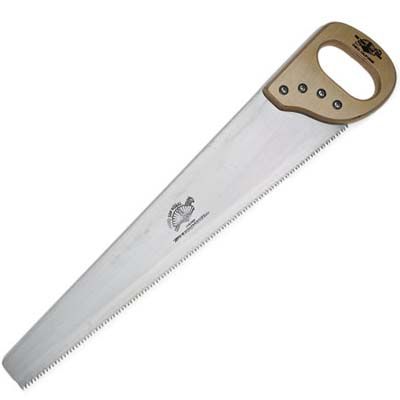 Handsaws come in a variety of shapes and sizes to perform special tasks, whether it's to saw logs, slip into a toolbox, or just give you the feel of what it's like to hold an heirloom. Here are some of our favorites.
Log Saw
The extra-rigid 18-gauge steel blade on this 24-inch saw from Fanno Saw Works can handle rough carpentry, limb pruning, and log cutting. There's a big opening on the laminated hardwood handle to fit a gloved hand—making the saw a favorite with public utility crews. 5 tpi, about $42; Fanno Saw Works
Heirloom Crosscut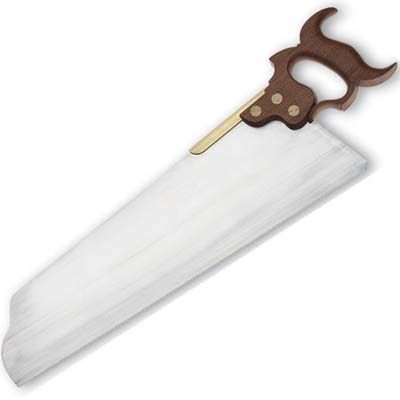 Wenzloff's handmade half-back saw, a copy
of one from the 1860s, uses a short brass spine to help reduce wiggle in the 18-inch-long blade. 9 tpi, about $185; Wenzloff & Sons
Kid's Saw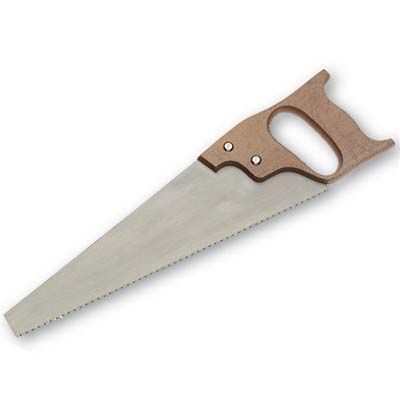 Start junior carpenters off with this small yet capable 14-inch crosscut saw from E.C. Emmerich. It fits little hands and short arms but still has the feel of a good tool. It also fits nicely inside an adult's toolbox. 9 tpi, About $20; E.C.Emmerich
Versatile Heirloom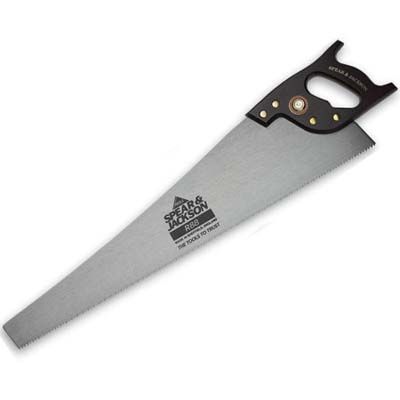 Spear & Jackson's skew-back 26-inch saw
can handle both rip cuts and rough crosscuts. Since 1760, the English company has made saws from Sheffield steel—world-renowned for toughness. 6 tpi, about $139; Traditional Woodworker
TOH All-Purpose Pick: Quick-Cutting Hybrid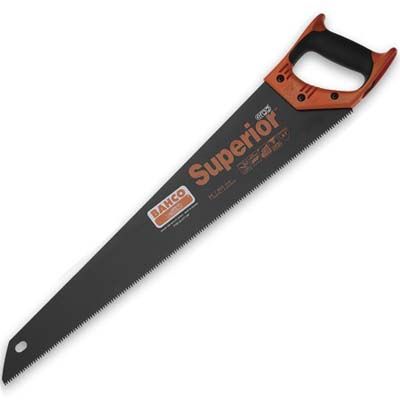 Bahco's 24-inch Superior has the length of a traditional saw and the knife-edged, hardened teeth of a modern hybrid, so it eats through wood with impressive speed on every push and pull stroke. The blade's textured polymer coating helps it slide more smoothly in the kerf. 7 tpi, about $40; J.H. Williams Tool Group
Pro Advice:
"To prevent a saw blade from rusting, spray it with a silicone-free lubricant such as Slipit before putting it away. Don't use oily lubricants, which leave a residue on wood that will interfere with glues and finishes."
—Norm Abram, This Old House Master Carpenter