Once exclusive to dining spaces and foyers—not to mention virtually every Bridgerton interior—chandeliers have now arrived to illuminate the bathroom in high style. These decorative light fixtures, which suspend from the ceiling via a chain or tube, are typically comprised of branches that hold the bulbs.
While more ornate than flush-mount and recessed lighting, bathroom chandeliers needn't drip with lavish crystal or be massive enough to swing from; in fact, trendy mini models work well in smaller spaces, possibly even powder rooms. But not every bath is well suited to a chandelier, and certain precautions must be taken before putting one in such damp digs. So read on to familiarize yourself with these fabulous fixtures, learn what spatial and electrical requirements affect their installation, and peruse a few options that may give your bath a grand upgrade. Feather duster sold separately!
How to Choose the Right Size Bathroom Chandelier
Chandeliers come in a range of shapes and sizes, but they tend to take up more space than other fixtures and demand attention by design. The right chandelier for the bath will add a luxurious element without overwhelming.
As a general rule, the sum of the length and width of the room, in feet, dictates the diameter of its chandelier, in inches. Yet while a bathroom that's 10 feet by 12 feet can sport a chandelier 22 inches in diameter, it may be best to err on the side of smaller with ornate ceiling jewelry.
Consider the Ceiling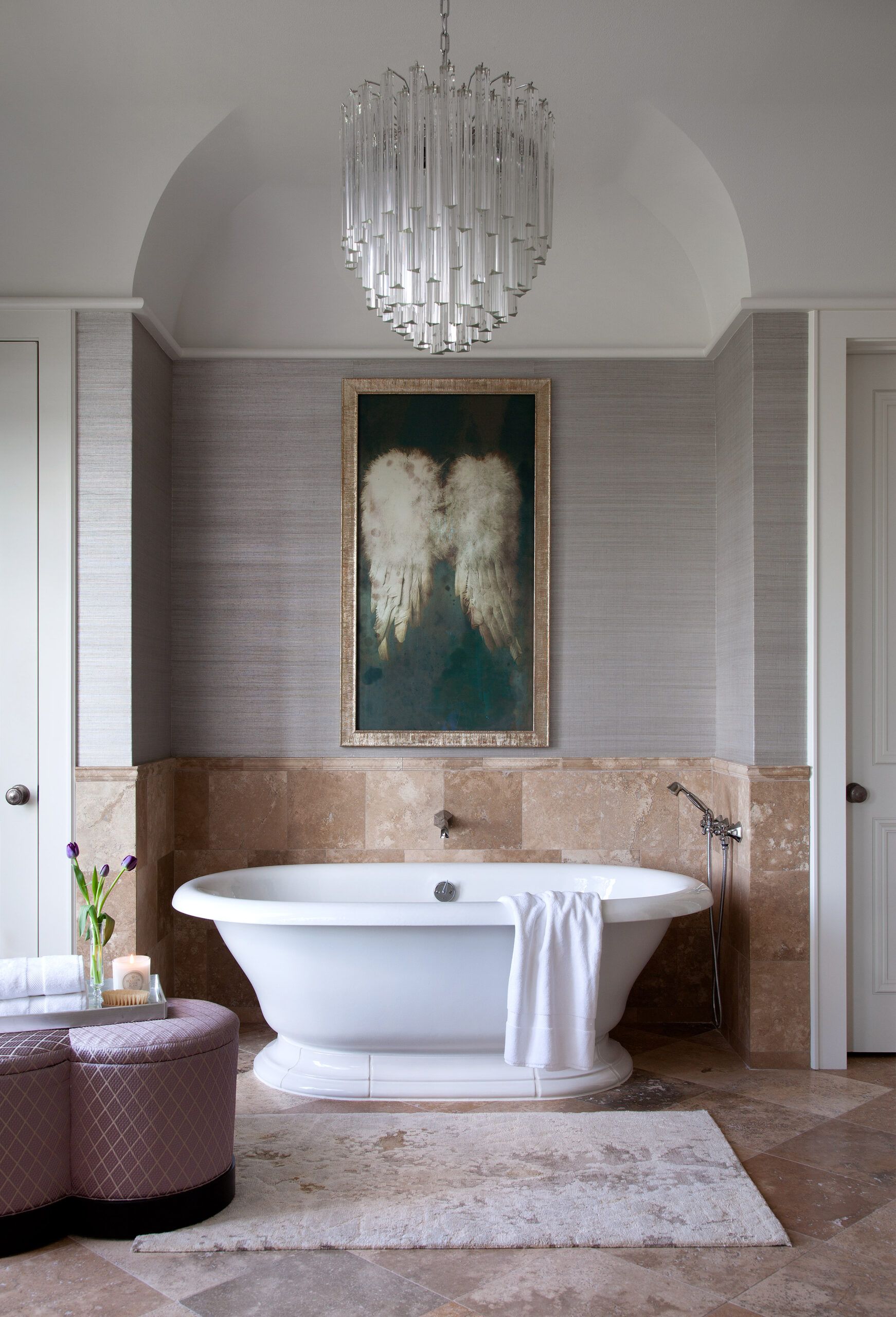 The height of the ceiling is a key factor in choosing a chandelier for the bathroom. Generally speaking, the bottom of a chandelier should hang at least seven and a half feet above an open floor—but more stringent additional standards apply in the bath. For residential electrical safety and to pass inspection, the National Electrical Code (NEC) has established that any bathroom light fixture, fan, or vent must be at least eight feet above the tub or three feet away from it.
Ensure Electrical Safety
Various other electrical aspects must be addressed with a bathroom chandelier. Check local codes for your appropriate IP (ingress protection) rating, a measurement of how electrical components are sealed against dust, dirt, dampness, and liquids.
Only purchase a bathroom chandelier described as suitable for wet or damp locations. To further abide by NEC regulations, the chandelier should be connected to a wall switch, and while it may sound divine to be able to dim the lights from the comfort of a bubbly tub, that's an absolute no-no.
Where to Place a Bathroom Chandelier
A chandelier will make a dramatic addition, but it should enhance, not detract from, other elements—that means placement is key. Often, it's best to install the fixture in the center of the room to balance the tub, shower, and vanity that line the walls. If the room has a freestanding tub, the chandelier can be hung above it, the two components in tandem as a focal point. Or it can suspend from the highest part of a sloped ceiling, making sure that the chain is long enough for the chandelier to catch the eye and light the room just right.
Make Sure Materials Mesh
A bathroom is likely to have other sources of illumination, such as sconces for task lighting around vanity mirrors, so the chandelier should compliment them and the faucets, surfaces, and cabinet hardware. Tastefully mixing and matching a few materials and finishes (warm brass with bright nickel, say) can suit a host of design schemes.
Just avoid glaring differences: A crystal chandelier in a sleek modern bathroom would clash. Also, on the topic of materials: Some chandeliers surround individual bulbs with fabric shades—if you like this look, find fabric that can hold up to moisture without spotting or fading.
Bathroom Chandelier Styles
To choose the ultimate bathroom chandelier, aim for graceful, not gaudy. Opt for a mini chandelier for a modest three-quarter bath or powder room that can offer major impact at a 12-inch (or less) diameter. As far as shapes go, the sky—well, the ceiling—is the limit, so consider these bathroom chandelier ideas.
Traditional
This formal style of chandelier features a series of branches that extend from the center base and curve upwards to hold the bulbs. They can be simple and elegant or include light-catching crystal drops for the ultimate in ornamentation. Beautiful in a bath with a rounded claw foot tub, old-fashioned faucets, and other antique-y elements.
Drum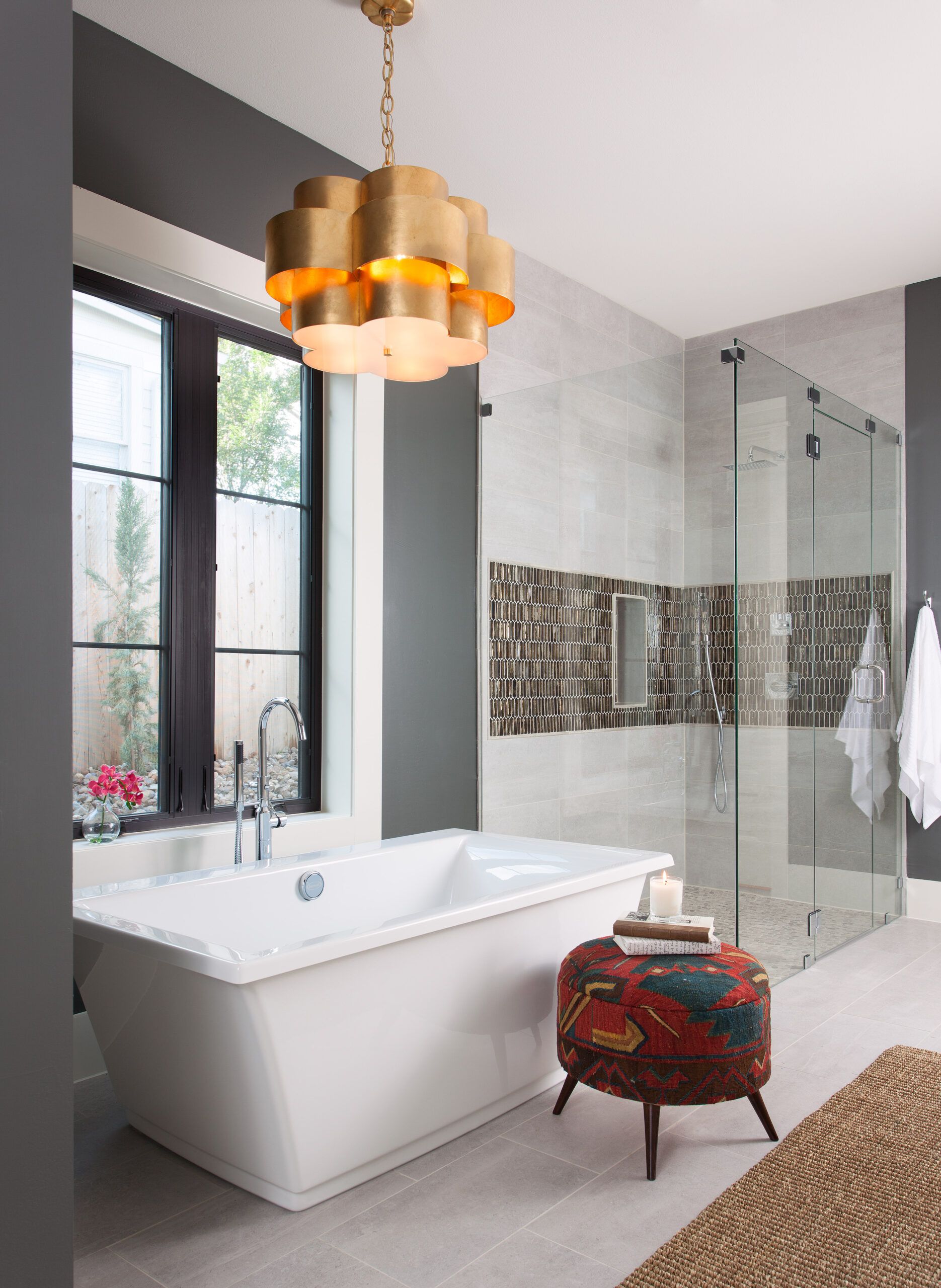 Similar to a shaded fixture, a drum chandelier encloses the branched light source within a drum-shaped cylinder. The drum, which can be made of a host of different materials to suit a variety of décors, tends to soften the illumination to for an intimate glow.
Tiered
In this design, a series of different-sized, often circular, frames descend from largest to smallest, with bulbs arranged in a number of possible ways inside or around the frames. The more tiers, the larger the fixture, so this style is usually best in larger statement-making baths with high ceilings.
Starburst
This space-age style, also known as a sputnik, features multiple straight branches extending from a center point to create an orb shape, with bulbs usually screwed into the tips of the branches. Starburst chandeliers suit modern bathrooms and impart a sense of fun, so they're nice in house where the décor doesn't take itself too seriously.