We all want our homes to be welcoming—at least to our loved ones, friends, and neighbors. In winter that means shoveling snow from the sidewalks. In summer it includes eliminating the treachery of darkened paths and stairs. You don't need to light up your house like a crime scene, of course. But for safety reasons, it pays to install walkway lighting that will gently guide everyone to your front porch or your backyard picnic table.
These days, that's much easier to do than you might think. Contrary to conventional wisdom, you don't have to have a degree in electrical engineering or an offshore bank account to get started. There's a wide selection of inexpensive fixtures, and the installation process is nearly foolproof. Designed to operate in low-voltage systems, the lights are almost as safe to handle as a 9-volt battery.
On the following slides, you'll find everything you need to know to plan the ideal layout. Before long, you'll have guests gathering at your doorstep. The invited kind, that is. Burglars? They hate it when you see them coming.
Shown: "Light defines space," says Mike Gotowala, president of Preferred Properties Landscaping, in Connecticut, who designed the award-winning layout for this home. To achieve a nice warm glow, he recommends that path fixtures be installed about 14 inches high. Cast Lighting's CSA1CB Savannah path light, about $447; amazon.com
Anatomy of a DIY Kit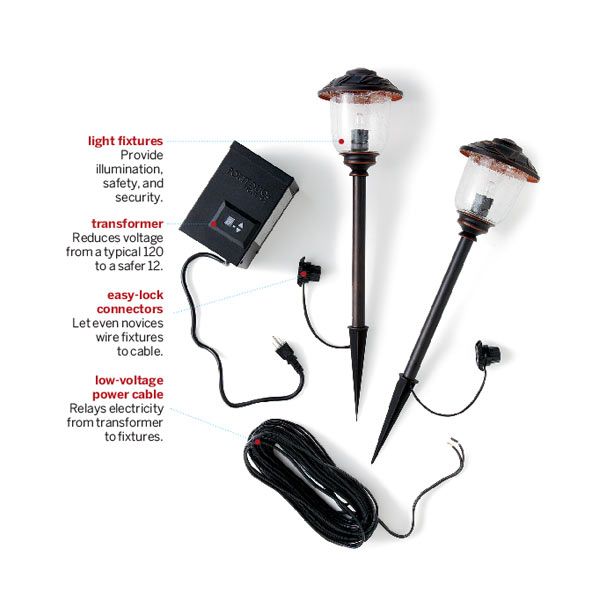 For homeowners pressed for time and patience, manufacturers offer this simple solution: Everything you need comes in one box.
Shown: Portfolio bronze path lights, about $130 for six; lowes.com
Light fixtures – Provide illumination, safety, and security.
Transformer – Reduces voltage from a typical 120 to a safer 12.
Easy-lock connectors – Let even novices wire fixtures to cable.
Low-voltage power cable – Relays electricity from transformer to fixtures.
Vitals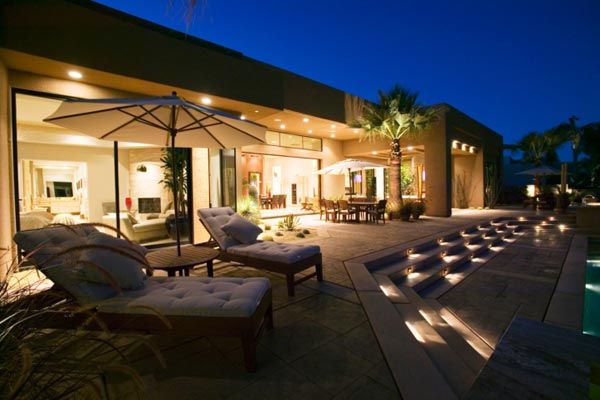 How much does it cost?
Fixtures range from $3 to $400 apiece, cables cost roughly 50 cents per foot, and a transformer can set you back up to $1,000. A 10-light system installed by a pro typically starts at $2,000.
DIY or hire a pro?
The average homeowner can install a simple path-light system. Stair lights require more handiwork, often with masonry and electric skills. For a truly inspired layout, go with a landscape-lighting specialist.
How much upkeep?
Remove leaves and debris from fixtures to keep them from overheating. Replace burned-out bulbs right away to avoid overtaxing others in the circuit.
How long will they last?
Warranties on fixtures and transformers range from one to 10 years, but high-quality copper or brass lamps will light the way for decades.
Choose a Type: Step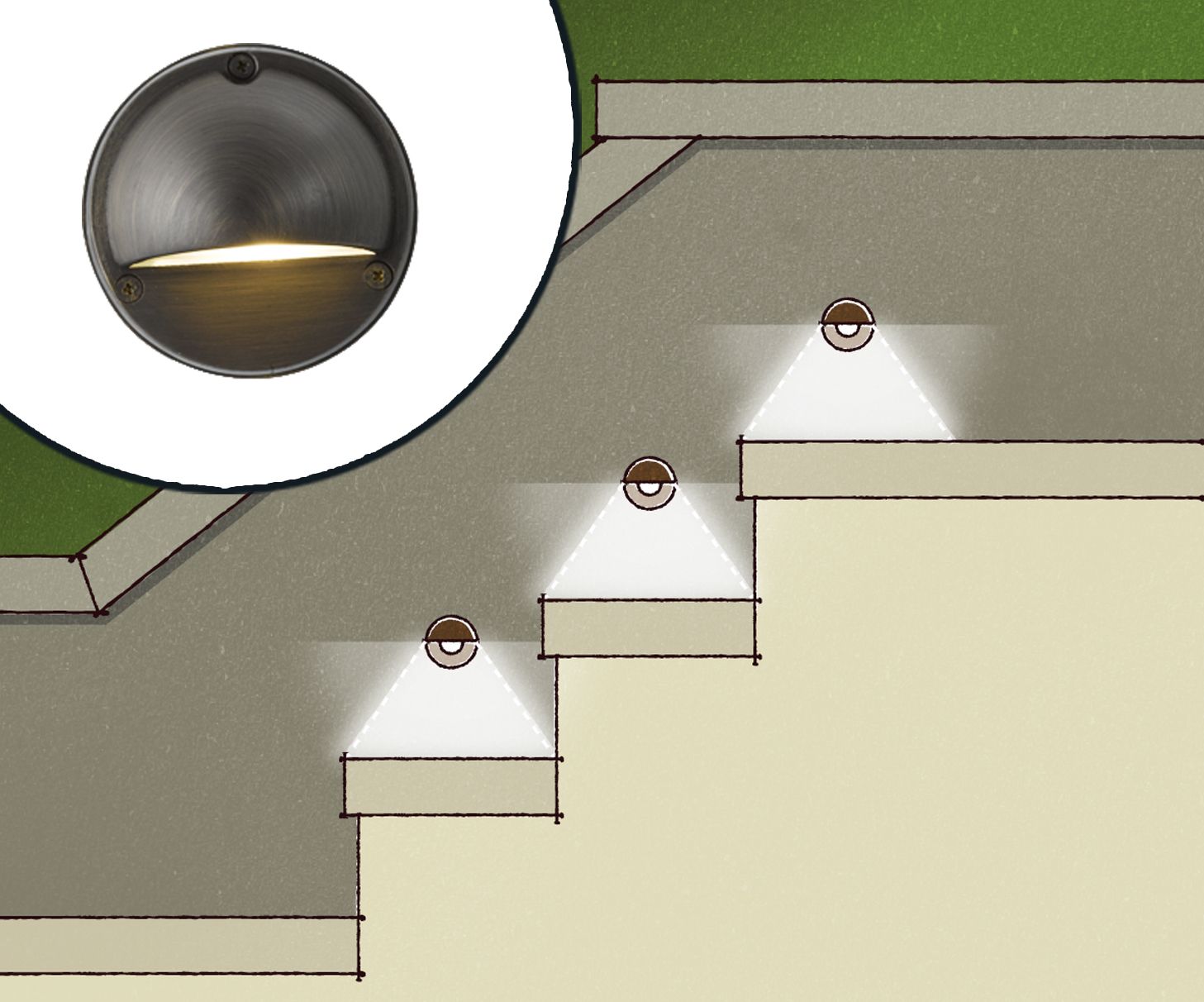 Small in stature, the lamps serve a vital function: preventing missteps.
Shown: CM.830 surface-mount light by Copper Moon, about $90; landscapelightwerks.com
Choose a Type: Step Risers
Fixtures can be installed in risers, on a wall beside the stairway, or beneath the lips of treads.
Shown: FC-SL-08-LEDP-BRASS light by Focus Industries, about $190; arcadianhome.com
Choose a Type: Downlight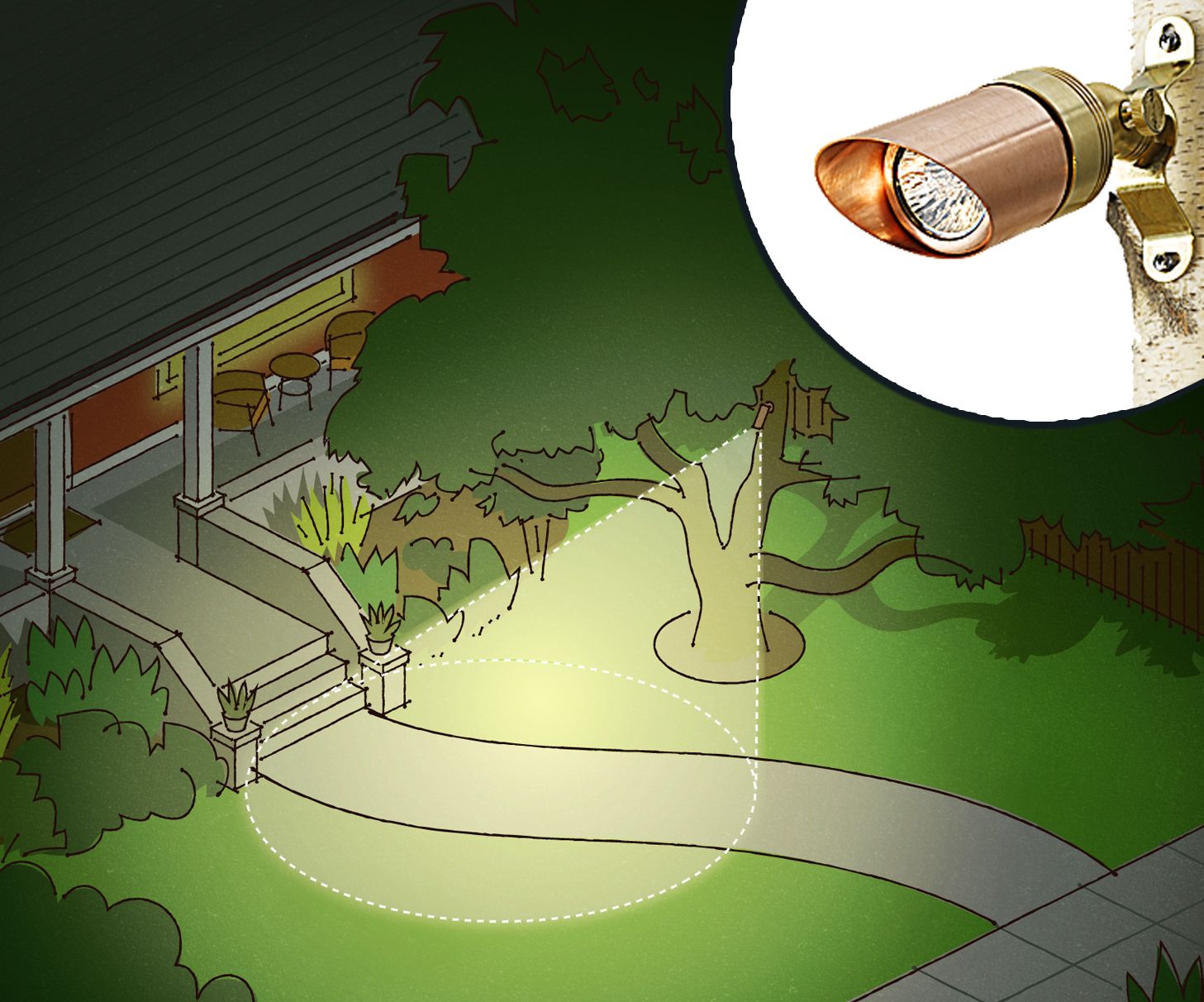 When placed high on a tree, the long, narrow fixtures create a moonlight effect, bathing a stairway or a stretch of path in a soft glow.
Shown: CRUS-12-35 by Unique Lighting Systems, about $60; sprinklersupplystore.com
Choose a Type: Path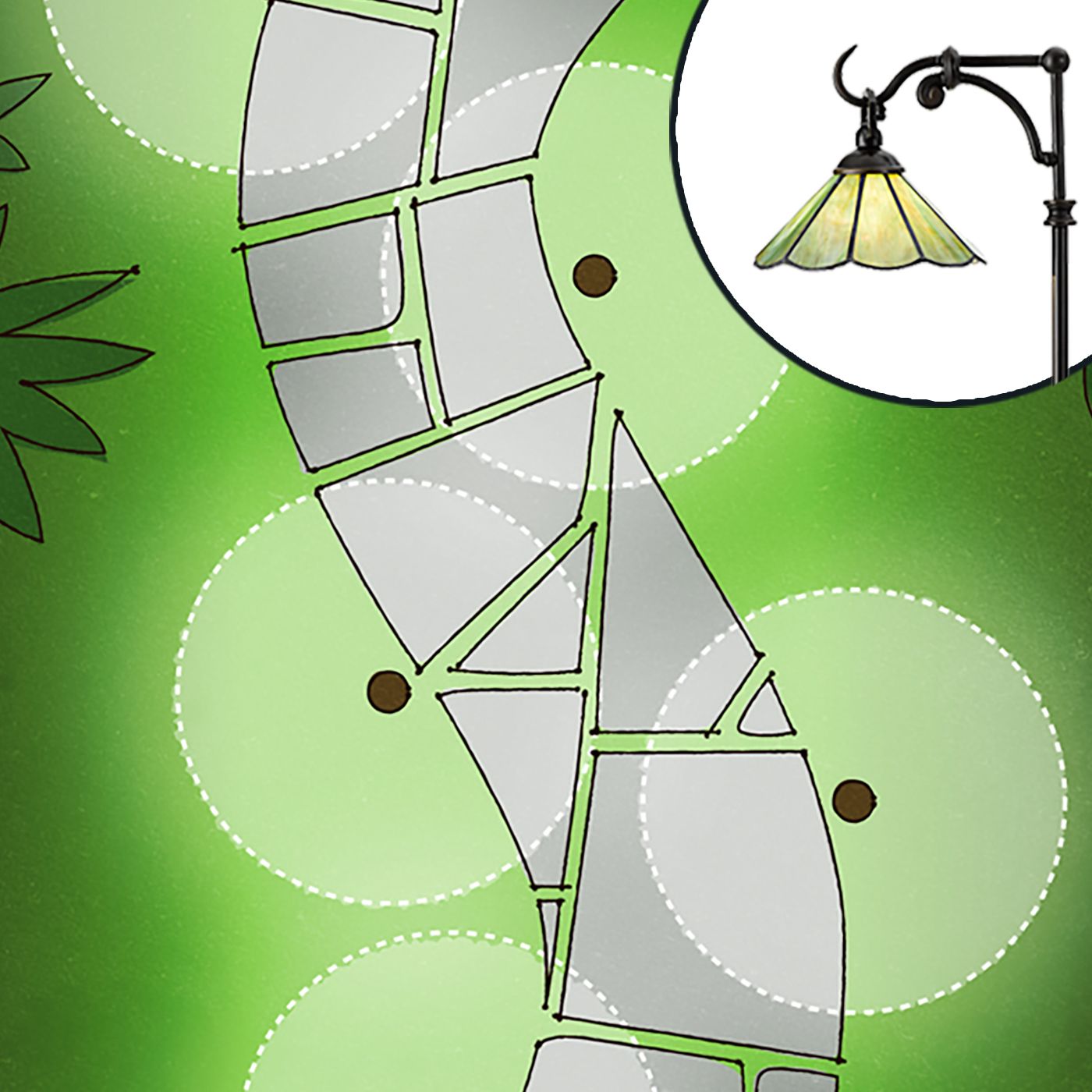 Set on stakes driven into the ground, these lamps have canopies in a range of decorative styles, but their real purpose is to project pools of light down toward your feet.
Shown: P5271-20 by Progress Lighting, about $95; lightingdirect.com
Save or Splurge?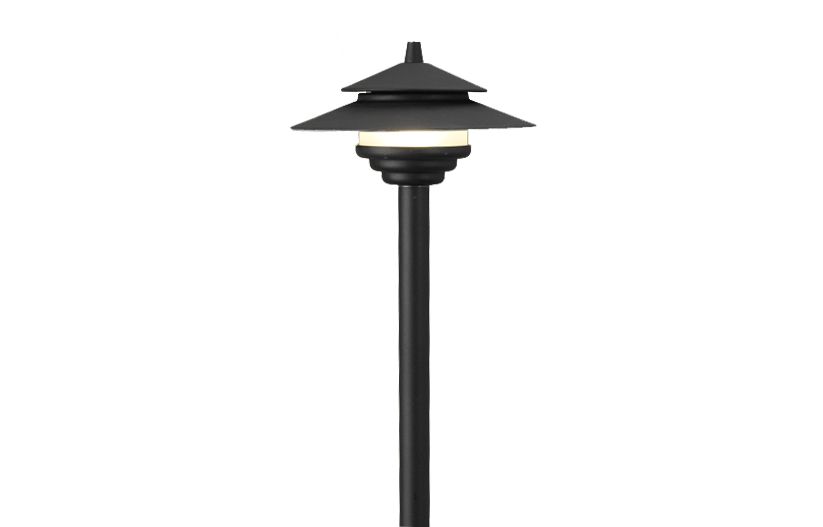 Some fixtures sell for $30. Others cost $300 or more. What's with the disparity? Well, aesthetics plays a role, of course. But craftsmanship and materials add to the price tag too. Take a look:
Good
The glass lens and metal body make for a sturdier, more weather-resistant construction than the plastic parts of bargain-basement rivals.
Allen + Roth LED Path Light, about $25; lowes.com
Save or Splurge: Better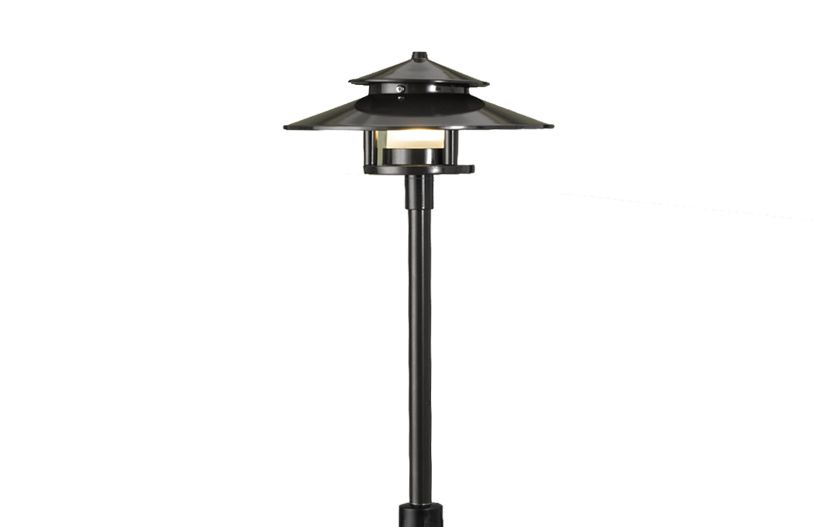 The powder-coat finish, applied to the cast-aluminum body after a five-step cleaning process, has been proved to withstand harsh weather. Ditto the stainless-steel fasteners.
Hadco RL4 Large Horizon Path Light, about $145; Amazon
Save or Splurge: Best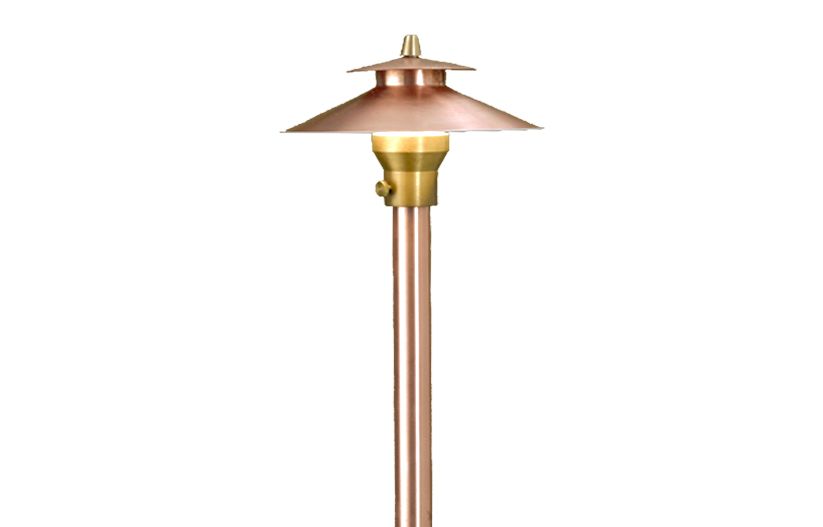 The copper body can endure decades of sun, wind, rain and snow, developing a maintenance-free patina along the way. The brass hub raises or lowers the hat to adjust the beam.
Focus Industries RXA-01 Path Light, about $90; arcadianhome.com
The State of Solar
The great appeal of solar lighting is hassle-free installation. When the sun supplies the power, who needs cables? But solar technology has its drawbacks. New fixtures can take weeks to reach their optimum output. And once they do, you're still at the mercy of Mother Nature. In some northern climates, the sun's rays produce 8 to 10 hours' worth of energy in summer but only 3 to 6 in winter. To make the most of that power, manufacturers often sacrifice lamp brightness. Bottom line: Solar lights have grown more efficient, but they can't defy the weekend weather forecast.
The Best Bulb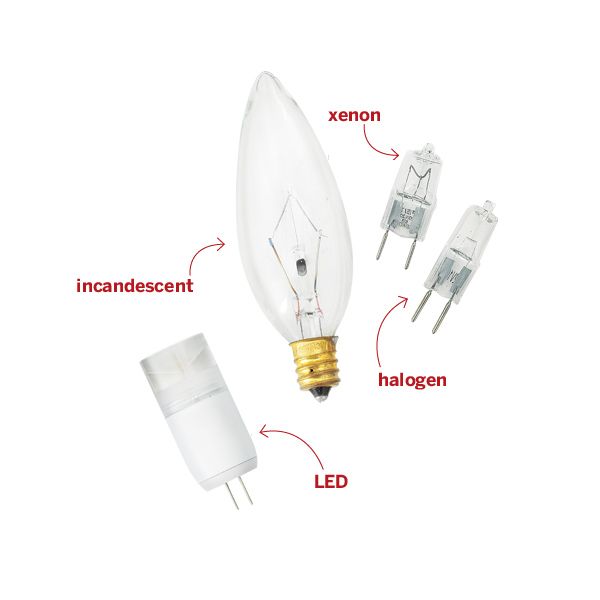 For more than a century, we learned everything we needed to know about lightbulbs in grade school. By this time next year, though, Thomas Edison's energy-squandering incandescent will be officially retired due to the stricter efficiency standards adopted by Congress in 2007. So what's the ideal alternative? Therein lies your first big decision. The future of pathway lighting belongs to the LED (light-emitting diode) and its electron-driven semiconductor. LED bulbs burn cool and reduce power consumption by as much as 75 percent, but that savings will cost you more up front. The bulbs live significantly longer (about 25,000 hours), they can be powered by a smaller transformer, and the light they give off—once derided for being too blue—is much warmer these days. Be sure to check for yourself, though, because light quality often varies from one manufacturer to the next. By contrast, halogen bulbs are less expensive, produce a glow comparable to their old-school peers, and consume 30 percent less energy. Xenon bulbs, which use electrons in a cloud of xenon gas to generate light, are less efficient and less bright but a little warmer, and they can last up to 20,000 hours—not quite in LED territory, but close.
Rating The New Bulbs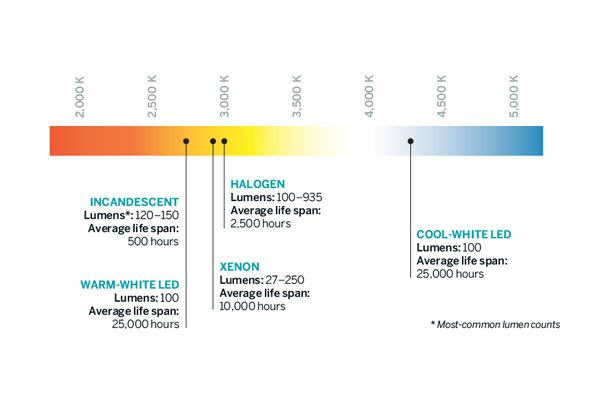 The chart below provides some idea of the ideal light colors available for each option. Keep in mind that the warmth, measured in kelvins (K), will vary from one product to the next. When shopping, also note the life span of each bulb and the number of lumens, which indicates the amount of light generated. For comparison, a typical 60-watt bulb equals about 800 lumens.
How to Select a Transformer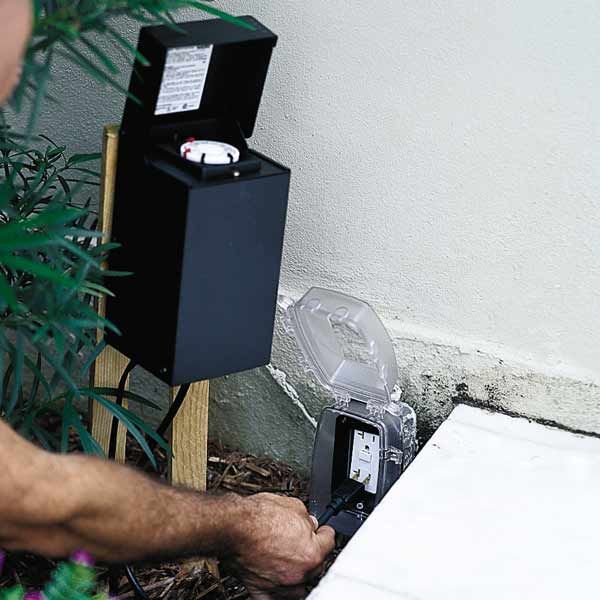 Before installing any pathway fixtures, you need to step down the voltage from your household system so that you don't have to worry about harming pets or small children who might fiddle with the cables. If you don't have an outdoor receptacle at the ready to receive the transformer plug, hire an electrician to install one.
Transformers vary in size from 100 to 1,200 watts. To determine which one is best for you, add up the number of watts required to power all your fixtures, then multiply that figure by 1.25, just in case you decide to buy more lights later on.
Take a moment to consider add-on options, too. Some transformers offer timers, photo-electric sensors, wireless remote control, and even multiple circuits, if you want one setup for safety lighting, one for accent lighting, and one for the works.
DIY Tips from a Pro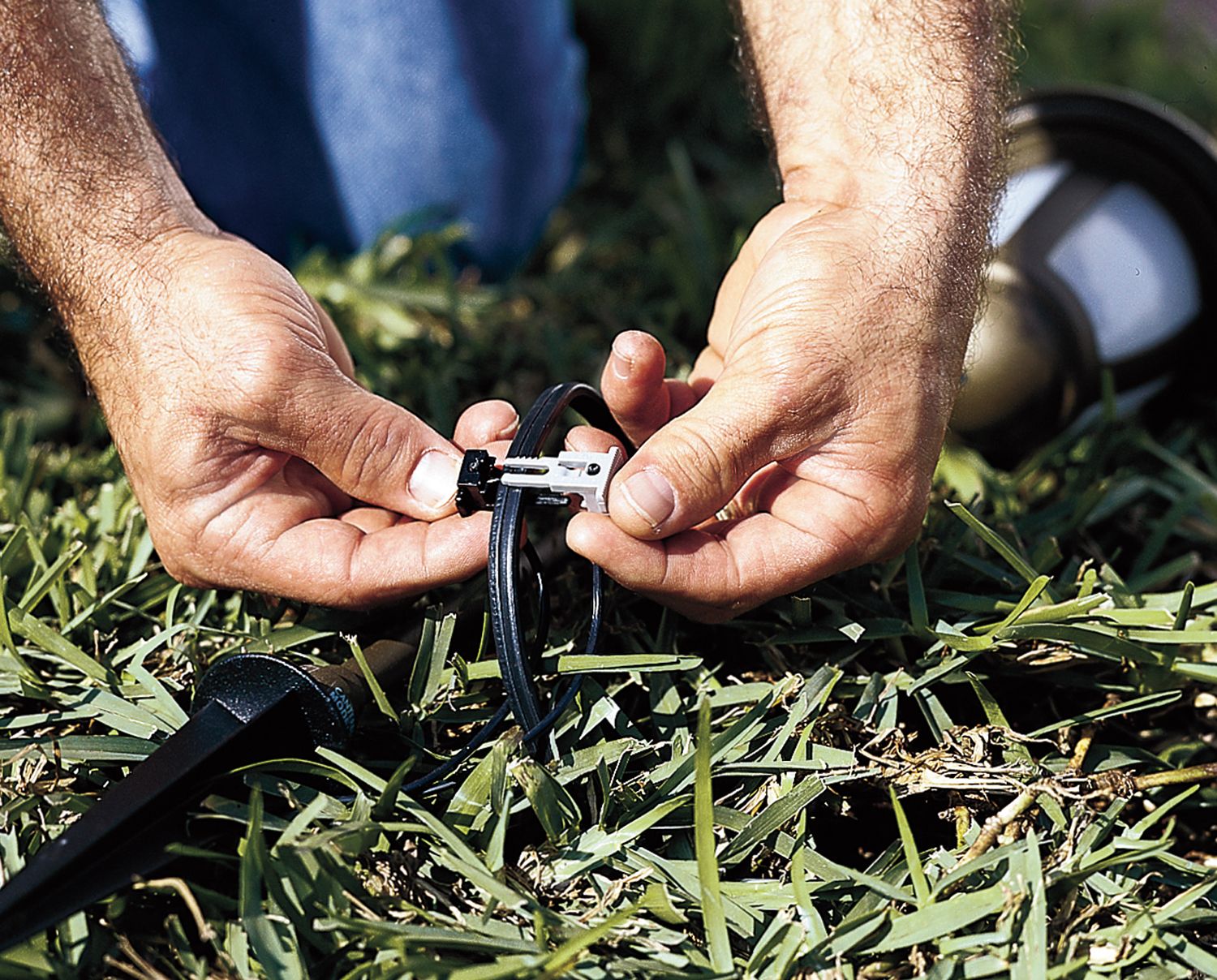 Mark Piantedosi of Commonwealth Landscape Lighting has been installing fixtures in Massachusetts for 13 years. He offers this advice to help you avoid rookie mistakes.
Wiring
It's natural to want to string lights in one straight line from the transformer. But that can leave the lamps at the very end starved for power. It's better to create hubs or a T, with the transformer at its base.
Placement
As a general rule, it's best to illuminate from above. A lamp in a tree covers more ground than one installed at knee level.
Spacing
Resist the urge to brighten every inch of walkway. You're not lighting a parking lot. Ideally the lamps should be placed 10 to 15 feet apart, creating pools of light that gently point the way.
Positioning
Poorly aimed lamps can be harsh on the eyes, especially around stairways and hillsides. Don't forget that eye level shifts when people sit down. If you want folks to enjoy that garden bench, don't throw light in their faces.
Aesthetics
Despite the extra effort to run a line beneath the walkway, it's more attractive to place lights on both sides of a path. Stagger them rather than placing them directly opposite one another runway-style.
Make Magic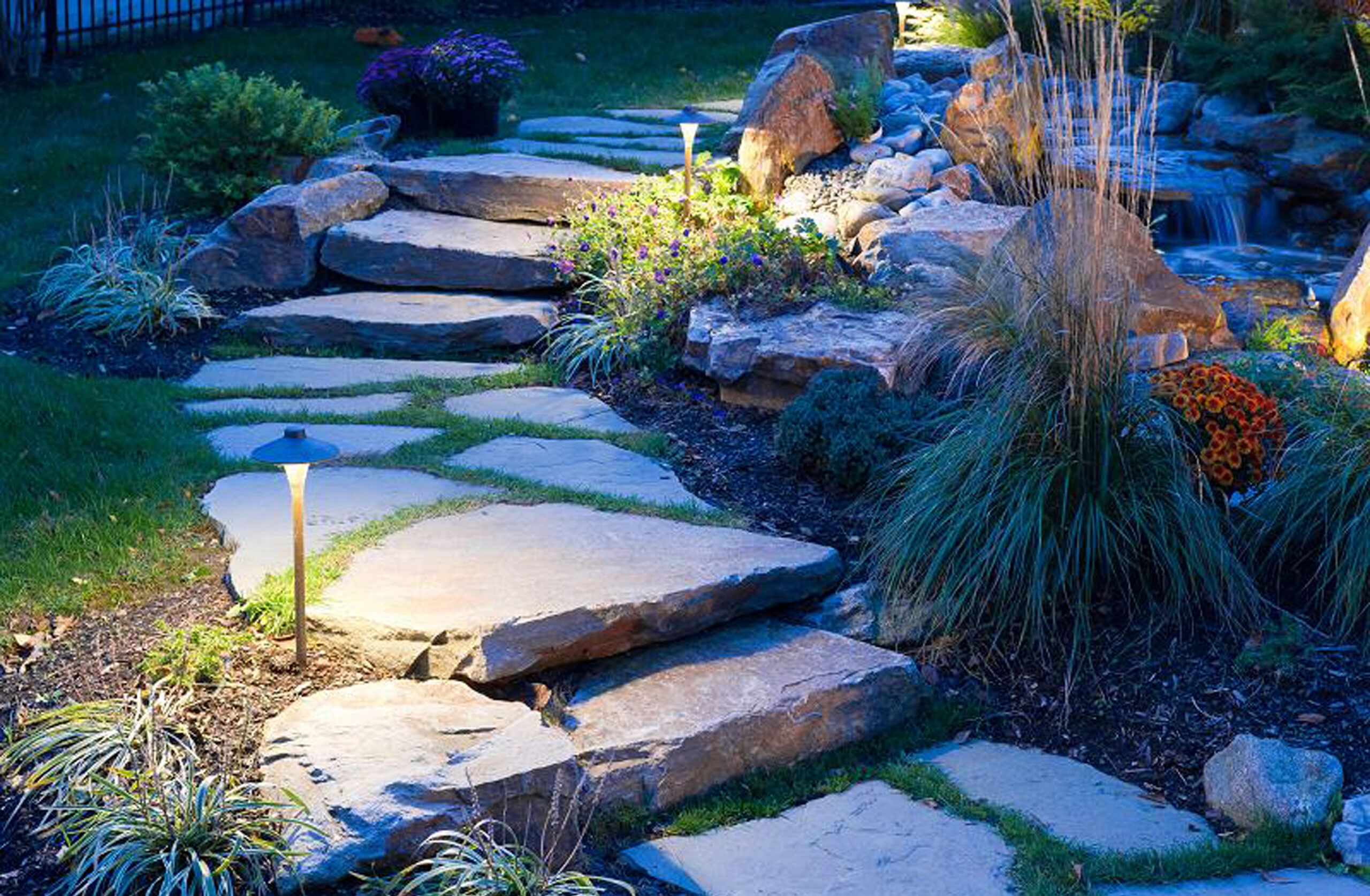 With the right touch, path lights bring the most charming features of your yard into view, creating a late-night dreamscape. Here are a few bright ideas:
A clever twist
From their perch above the stairs, these lamps reveal the path and the beauty of the landscape
Similar to shown: Cast Lighting's CCH1CB Small China Hat Light, about $190; cast-lighting.com
Make Magic: Eye Candy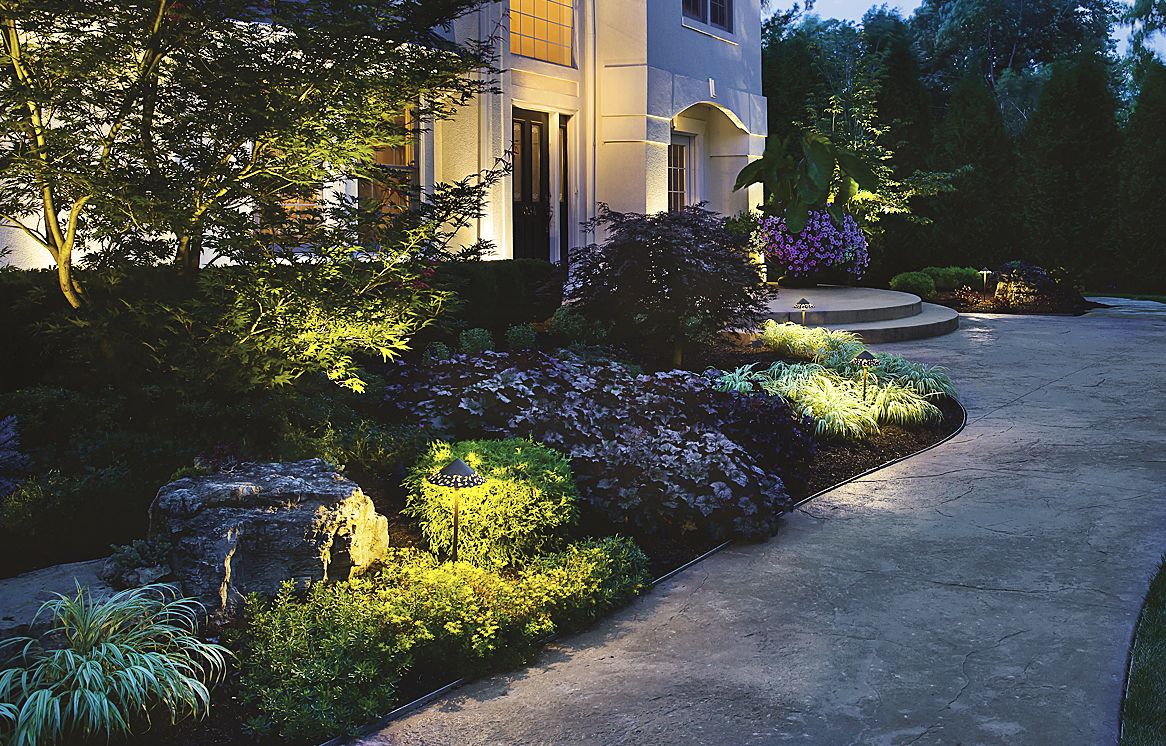 Instead of showcasing the property's concrete work, the fixtures in this layout let the lush greenery beside the walk lead the way.
Shown: Kichler 15871 Tannery Bronze Hammered Roof Light, about $265; Amazon
Make Magic: Moonlit Walk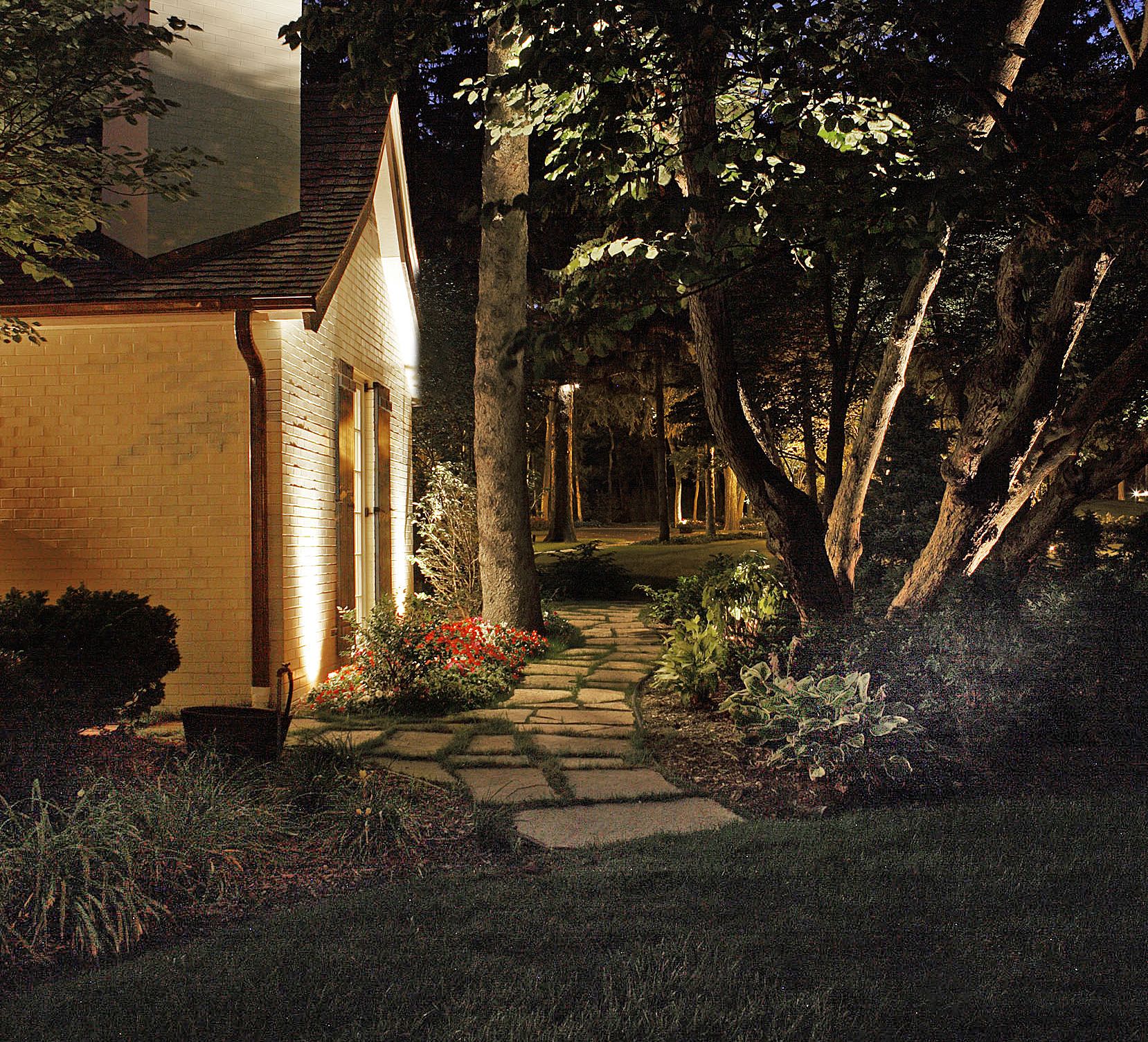 Much like a certain heavenly body, a downlight placed on a branch of a favorite shade tree invites romance.
Shown: Nightscaping's WM-0404CU Artisan Light, about $135; outdoorlighting.com
Make Magic: Magic Lantern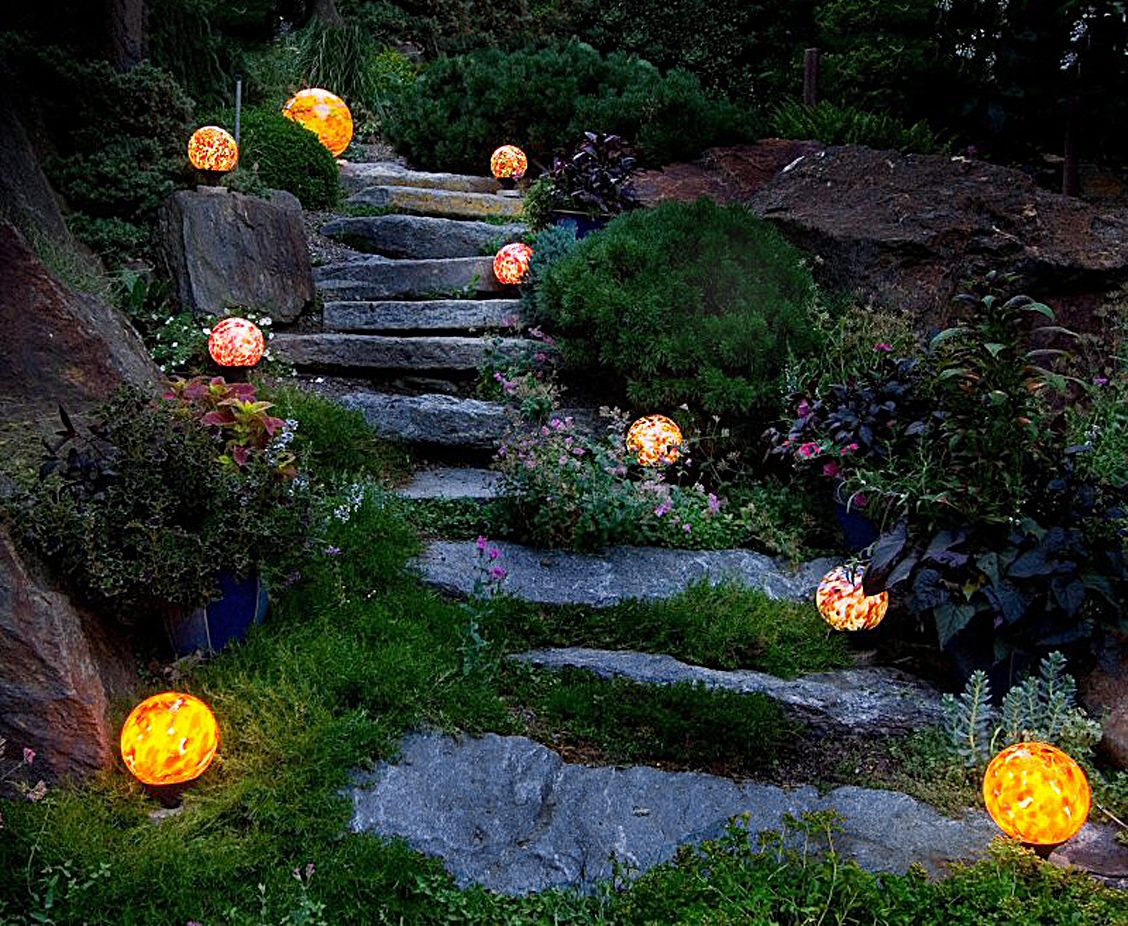 These ethereal globes don't throw a lot of light, but they do signal a change in elevation in a very bewitching way.
Shown: Land Mount NightOrb, about $400; nightorbs.com
Professional Maintenance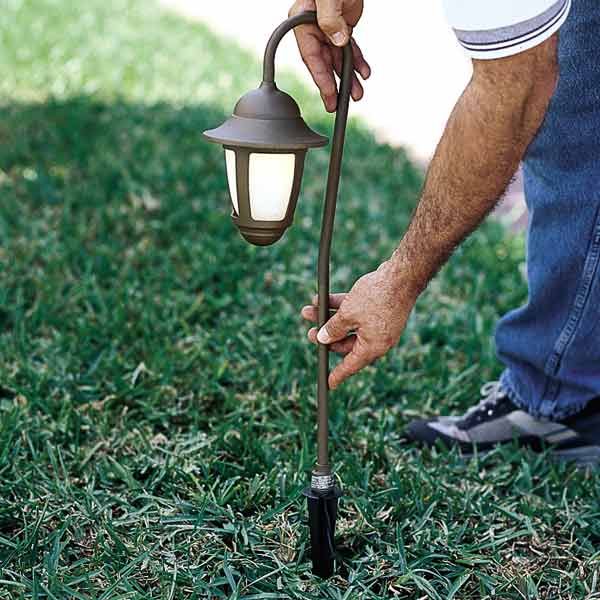 Though fixtures are designed to perform from dusk to dawn year-round, many lighting-installation experts offer service contracts. For a fee, they return to your home once a year to straighten fixtures, clean lenses, and replace bulbs. They also test the circuits to make sure each lamp receives between 10.8 and 12 volts. "If the first fixture gets more than 12, the bulb will burn out faster," says Andrew Coleman of McKay Landscape Lighting, in Omaha. "The one at the end may get 9, which means it will last longer but burn less brightly." A real pro also knows how to move solar fixtures in the dark days of winter to capture more light.