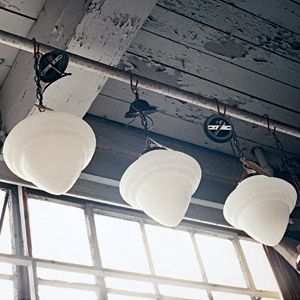 Today, you have only to flip a switch. But in the late 18th century, lighting a chandelier was…difficult. After climbing the ladder—or more likely steadying yourself on a chair—and lifting the heavy wrought-iron fixture off its giant hanging hook, you then had to break out the tools: tinder box, striker, and scissor snuffer. Candlewicks couldn't just be lit, they required frequent trimming to keep them from smoking up the house.
I tell you this not to discourage you from hanging a period light fixture above your dining table but to demonstrate how far household lighting has come. Plus, most of the chandeliers and pendant lamps that you're likely to find dangling from the rafters in architectural salvage and antiques shops are far less troublesome.
Thank Thomas Edison for that. In 1879, he invented the first commercially viable incandescent lightbulb and, more important, the electric lamp to power it. That meant Americans could stop fussing with candles and later gas fixtures. Victorian-era urbanites who were wealthy enough to take advantage of gaslight technology, which preceded electricity in the home, converted their elegant "gasoliers," swapping out jets for sockets and running wires through piping that previously pulsed with fuel.
These converted fixtures are among the most expensive today. They are also some of the most opulent, with cast brass or bronze arms decorated with floral, animal, and human forms, and with hand-blown glass shades, often in brilliant colors. One such chandelier, with ram's-head castings and frosted glass shades, salvaged from a late-19th-century Second Empire–style mansion in Bar Harbor, Maine, costs $8,500 at Blue Dolphin Antiques in nearby Northport.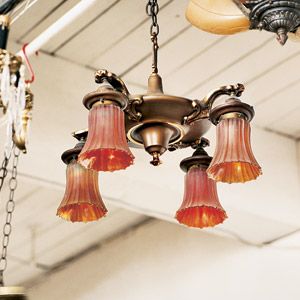 More common, and typically less expensive, are hanging lights made during the 1920s, '30s, and '40s, when companies such as Lightolier in New York City were mass-producing fixtures for the millions of new homes, as well as schools and commercial buildings, being built with central electricity. The styles of these lights run the gamut from a hammered-copper pendant with an amber-color bowl-shaped shade for a Craftsman bungalow to a flashy chandelier dripping with crystal teardrops for the grand foyer of a Colonial Revival.
My favorites are the clean-lined Moderne lights popularized after the Paris Exposition Des Arts Decoratifs in 1925, because nearly
a century later they still look contemporary. I recently bought such a fixture, with a milky-white and clear glass shade shaped like an inverted wedding cake, for $125 at Zaborski Emporium in Kingston, New York. Now hanging in my bedroom, it's infinitely more stylish than the nondescript home-center light the previous owners of my Art Deco apartment had installed. It's also from the right design era, which is an important factor to consider when buying a salvaged fixture. For interiors without a discernible architectural style, choose lights that match the size and scale of the room. For instance, a flush-mount light will fit in far better than a large chandelier in a narrow hallway. Coordinating the color of a glass shade with furniture, paint, or an area rug will help marry your lighting and decorating schemes.
Once you've got the aesthetics figured out, the installation is simple enough (see how at right). No electrician—or lamplighter or candle snuffer, for that matter—required.
TOH Tip: You can tell a converted gaslight by its shades, which are open at the top and point upward to promote combustion. Shades on electric fixtures often point down for more efficient lighting and can be open or closed.