Wash, Dry, Repeat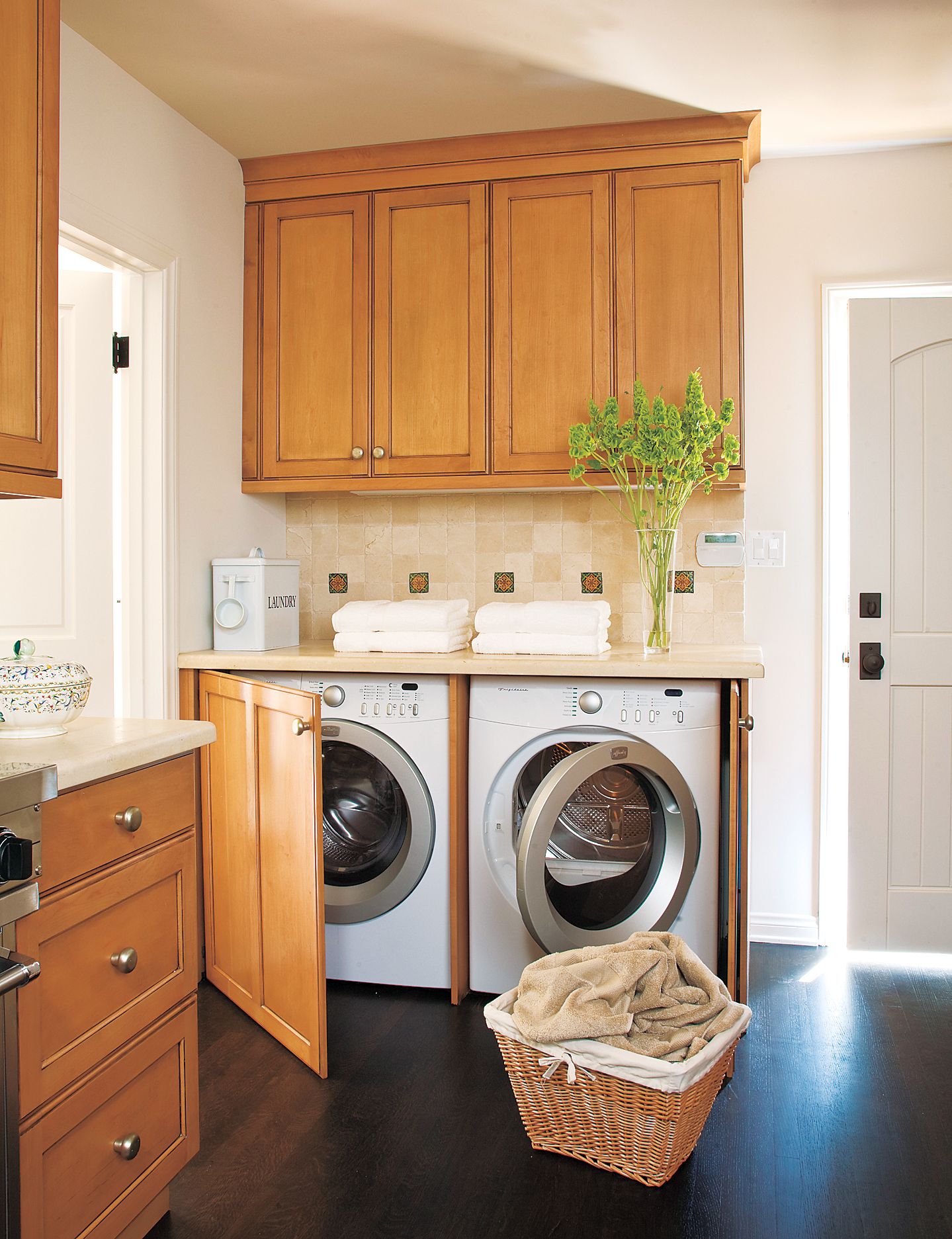 Americans spend more time in the laundry room than in the bathroom: an average of eight hours a week, collectively doing some 35 billion loads of laundry a year. And yet, while bath design has evolved into a discipline of its own, and the space into a bona fide retreat with soothing soaker tubs, the laundry is often relegated to a basement, separated from the life of the home.
Increasingly, though, homeowners are creating laundry rooms that are as integrated as a bath or the kitchen. They can even be in a bath or kitchen. Chalk it up to busier lives and a need to multitask, says designer Dana Jones of Long Beach, California. A first-floor laundry room can serve as a command center—a nook near the family room, where parents can keep an eye on the kids while folding, or off the back door, where it can double as a mudroom, home office, or hobby area. On the second floor, stackable, whisper-quiet front-loaders can tuck into a hall closet, just a balled-up-shirt-toss from the bedroom.
For help bringing your wash-and-dry space closer to the hub of your home and boosting its function, check out the elements of the decked-out laundry at left. Then, in the following gallery, see how those features, as well as other smart ideas and versatile layouts, are put to work.
Laundry List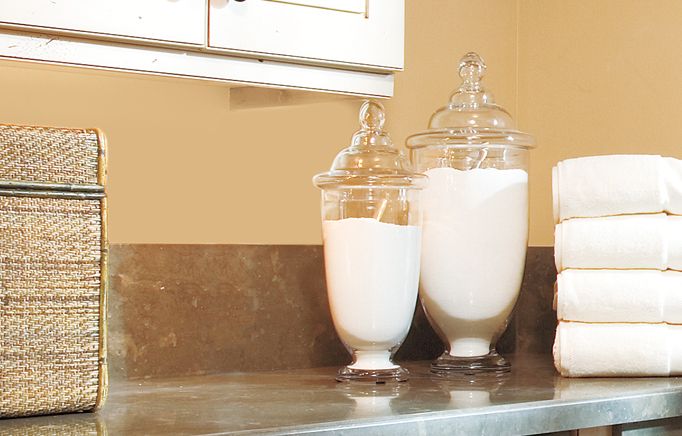 Along with a washer and dryer, consider these elements:
Task lighting, such as under-cabinet strips, illuminates specific work zones. Ambient sources, like natural light or a ceiling fixture, brighten the room.
Utility Sink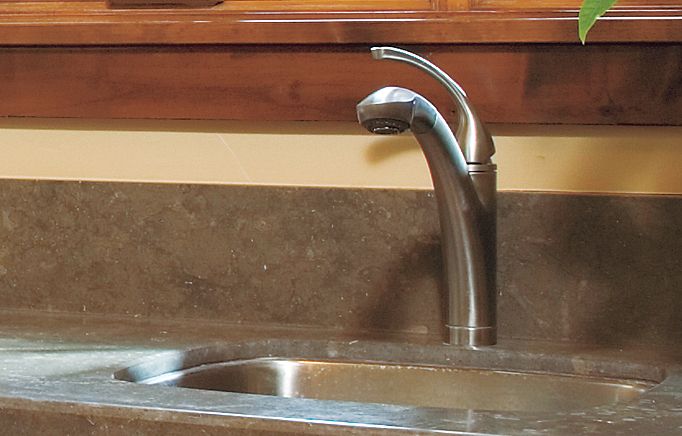 A utility sink multitasks as a hand-washing station, a place to soak soiled sports gear, even an area to pot plants.
Hanging Racks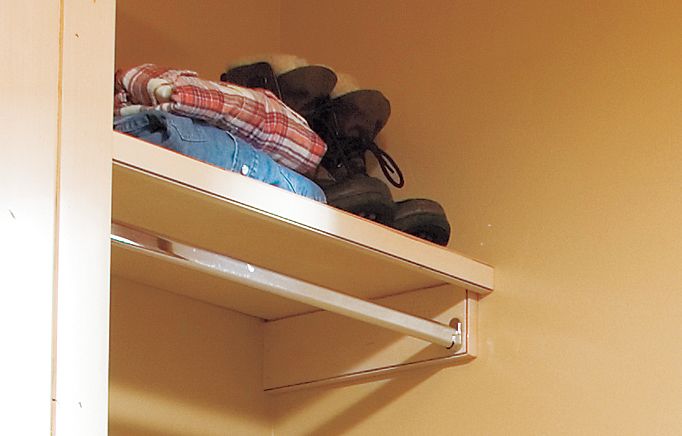 Hanging racks provide a place to air-dry delicates and hang shirts straight from the dryer. Choose a steel bar, a retractable clothesline, or a fold-up rack.
Varying Countertop Heights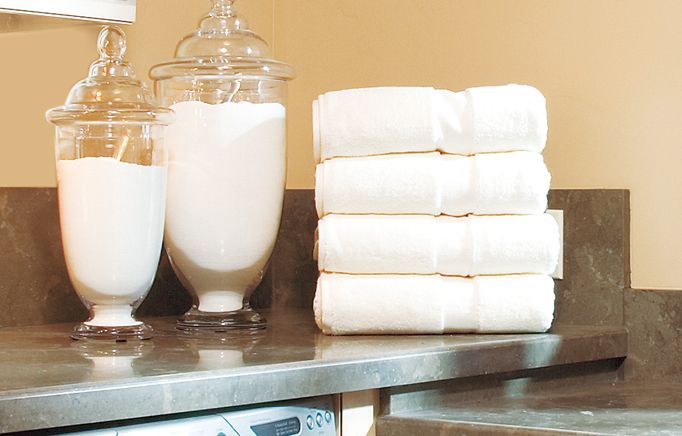 Counters of varying heights suit different jobs. A raised surface atop front-loaders is perfect for folding, while a 36-inch height is the norm at a sink.
Cabinetry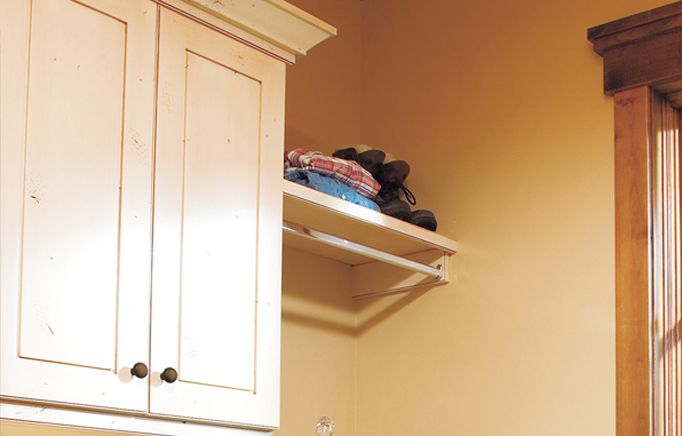 Cabinetry can hide detergent and cleaning supplies, as well as an ironing board, pull-out hampers, and sliding utility rails.
Open Storage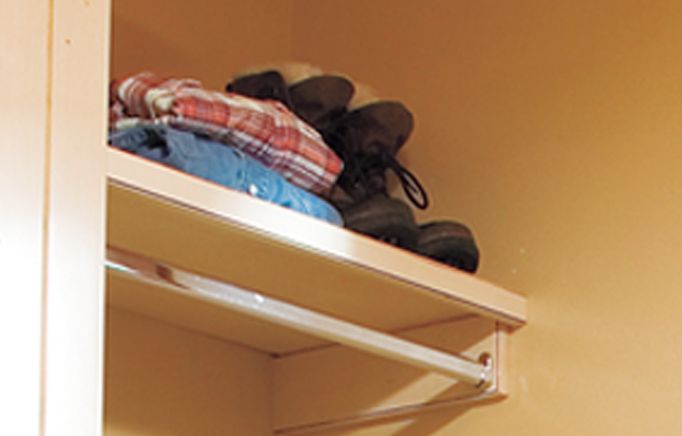 Open storage above a counter keeps folded linens high and dry. Low cubbies can encourage kids to drop off their dirties and retrieve clean laundry themselves.
Water-Resistant Materials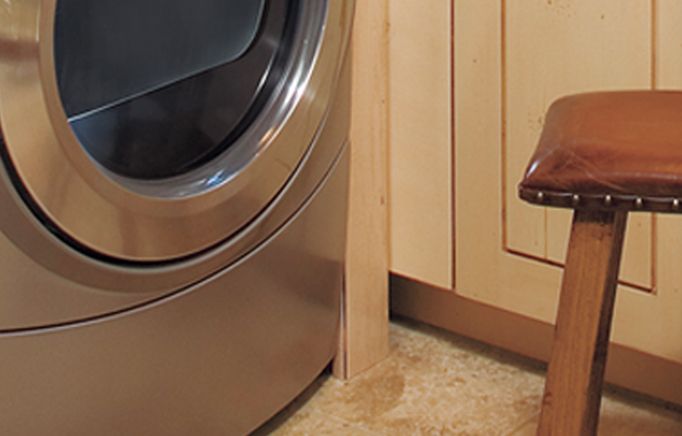 Water-resistant materials, such as concrete counters and stone floor tiles, are durable and easy to clean. A laminate top and ceramic tile are thrifty alternatives.
Colonize a Closet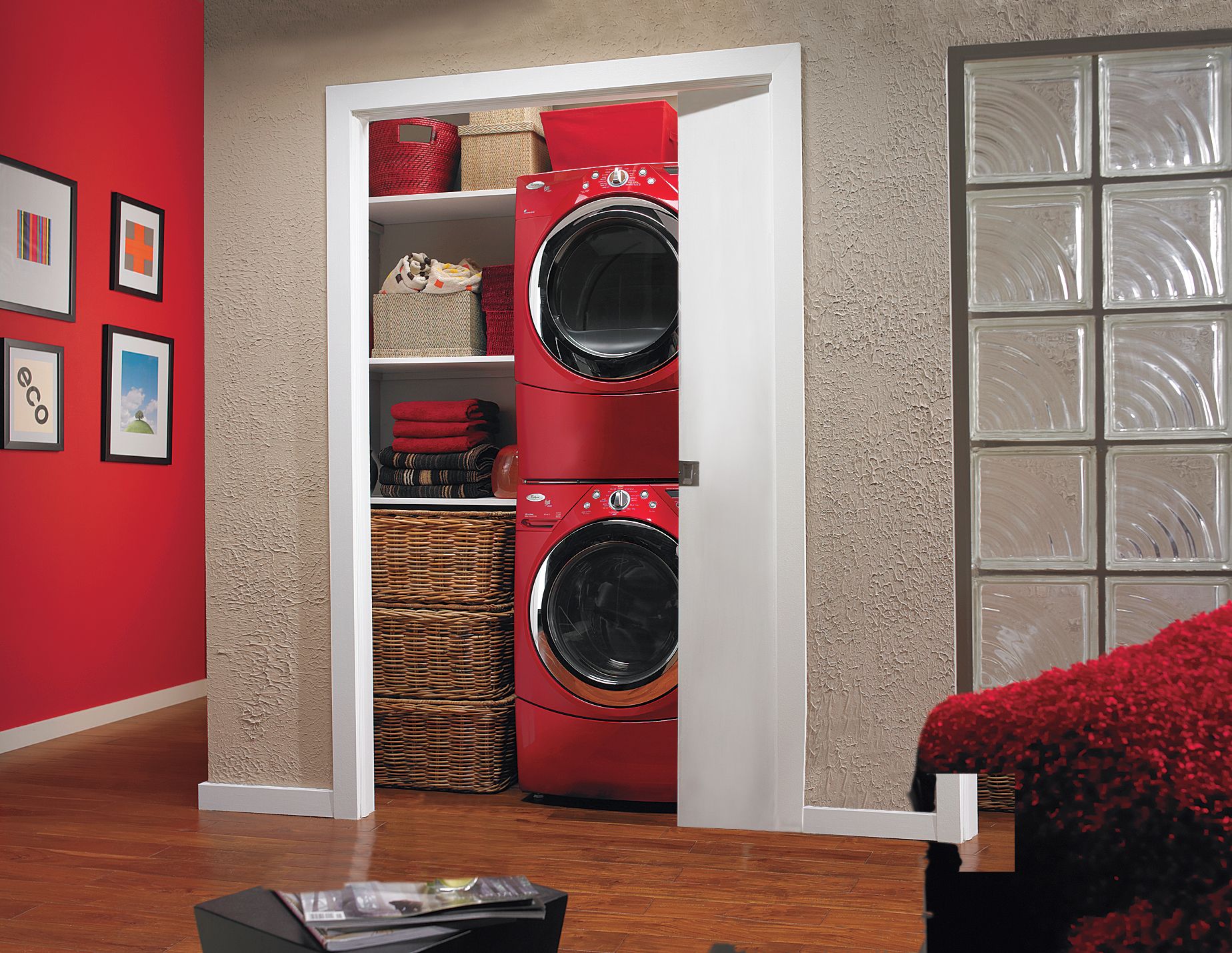 Fitted with a water line for the washer and ductwork for the dryer, this hall closet was transformed into an ultraefficient home for a laundry room.
Stackable Machines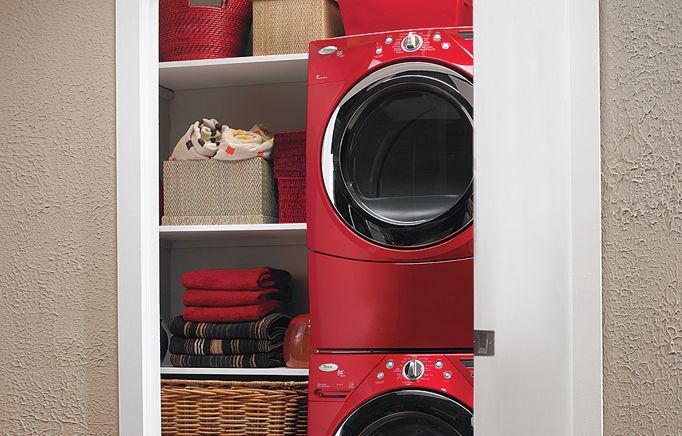 A front-loading design allows a full-size washer and dryer, such as these from LG, to squeeze into a narrow passage, leaving room to one side and above for open storage shelves.
Color Connection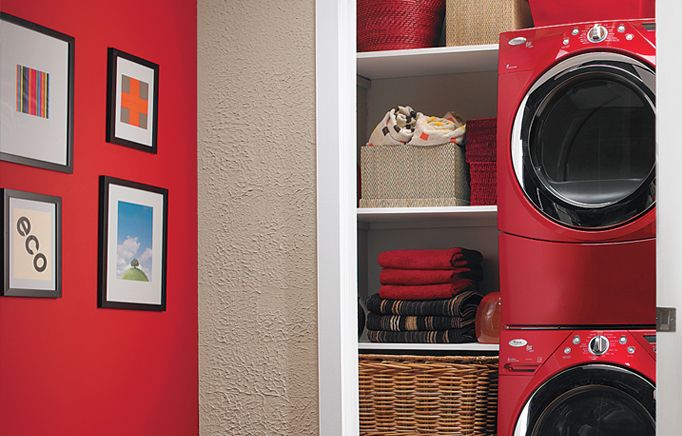 With the sliding door open, cheerful red machines echo nearby wall paint, making the space feel connected rather than shut off.
Tidy Bins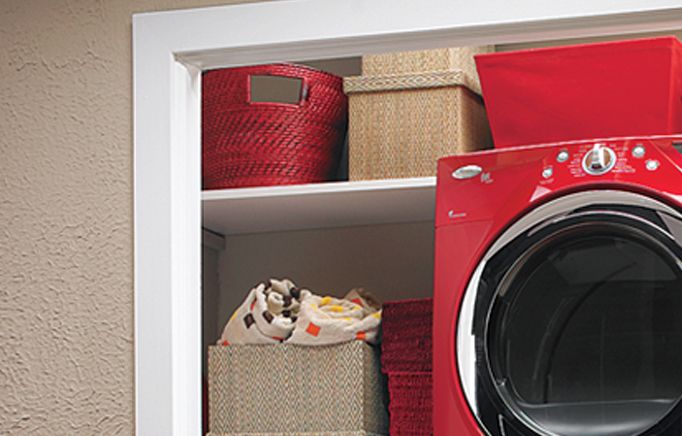 In addition to dirty clothes, a combination of lidded and open-top woven containers hold cleaning supplies, extra toiletries, and towels.
Hide in the Kitchen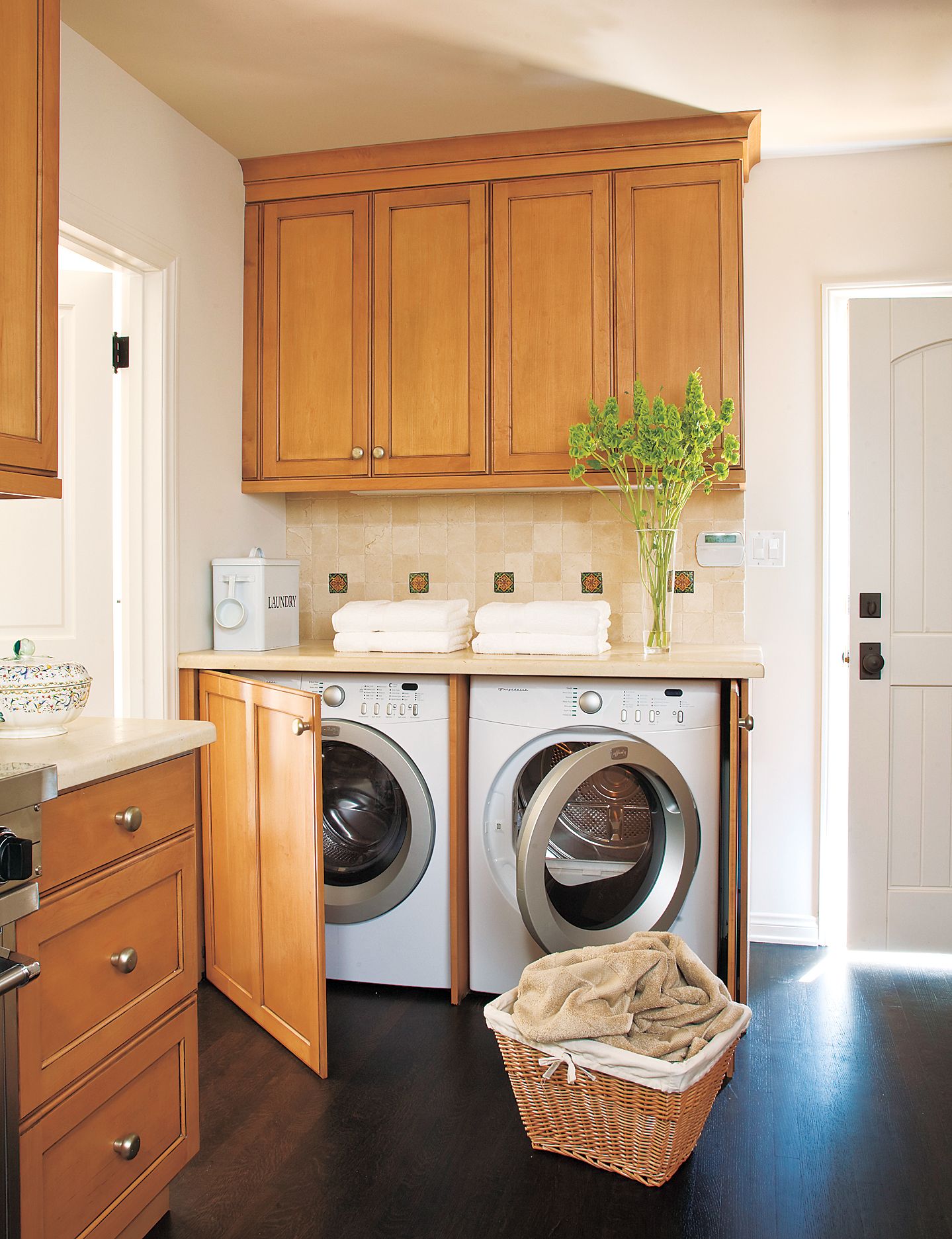 Tucked into the corner of a cooking space and concealed by cabinetry, this laundry area masquerades as a sideboard.
Clever Cover-Ups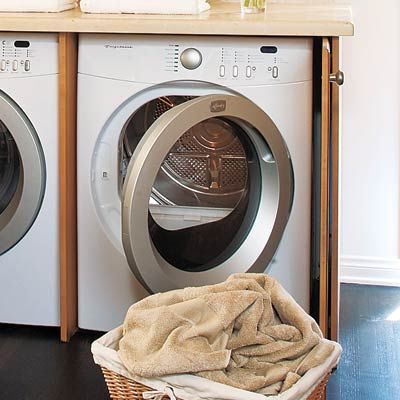 Fitted with "flipper" media cabinet hardware, 30-inch-wide cabinet doors open out into the room, then slide back inside the cabinet to reveal a front-loading washer and dryer. Unlike regular hinged doors, these can remain open without eating up floor space or blocking access to an adjacent doorway.
Cabinet sets start at about $38; rockler.com)
Overhead Storage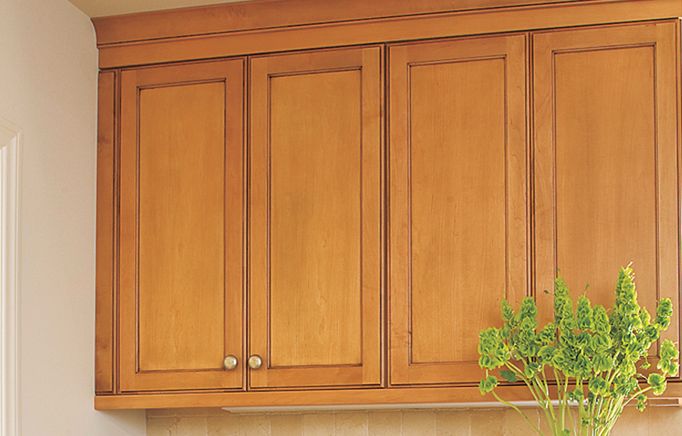 Upper cabinets serve as a linen closet and are deep enough to store small laundry baskets.
Counter Chameleon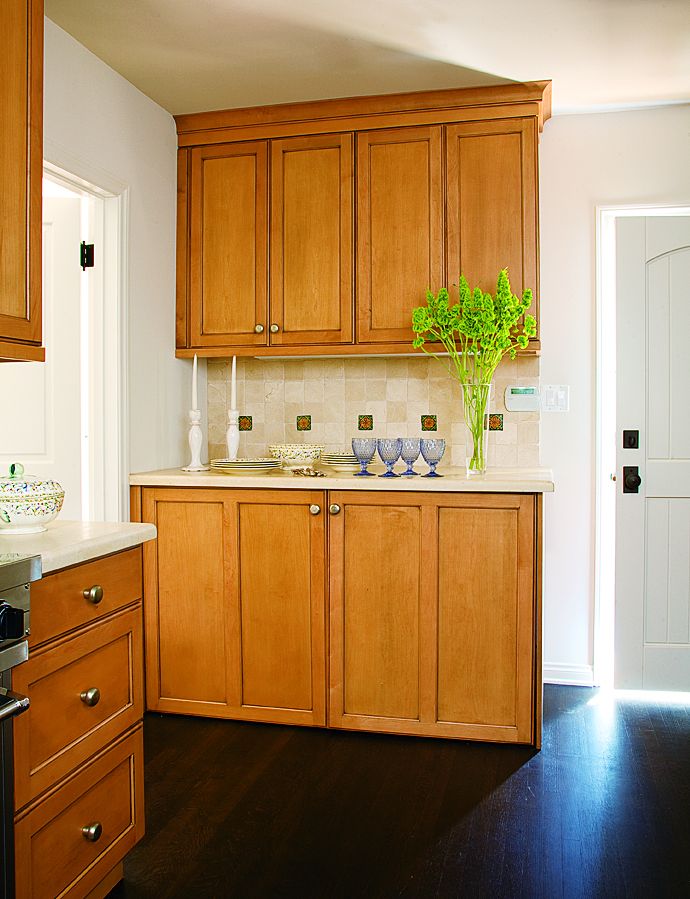 When not being used to fold clothes and linens, the surface above the washer and dryer turns into a sideboard for setting out serving dishes, glassware, and buffet-style meals.
Revamp a Catchall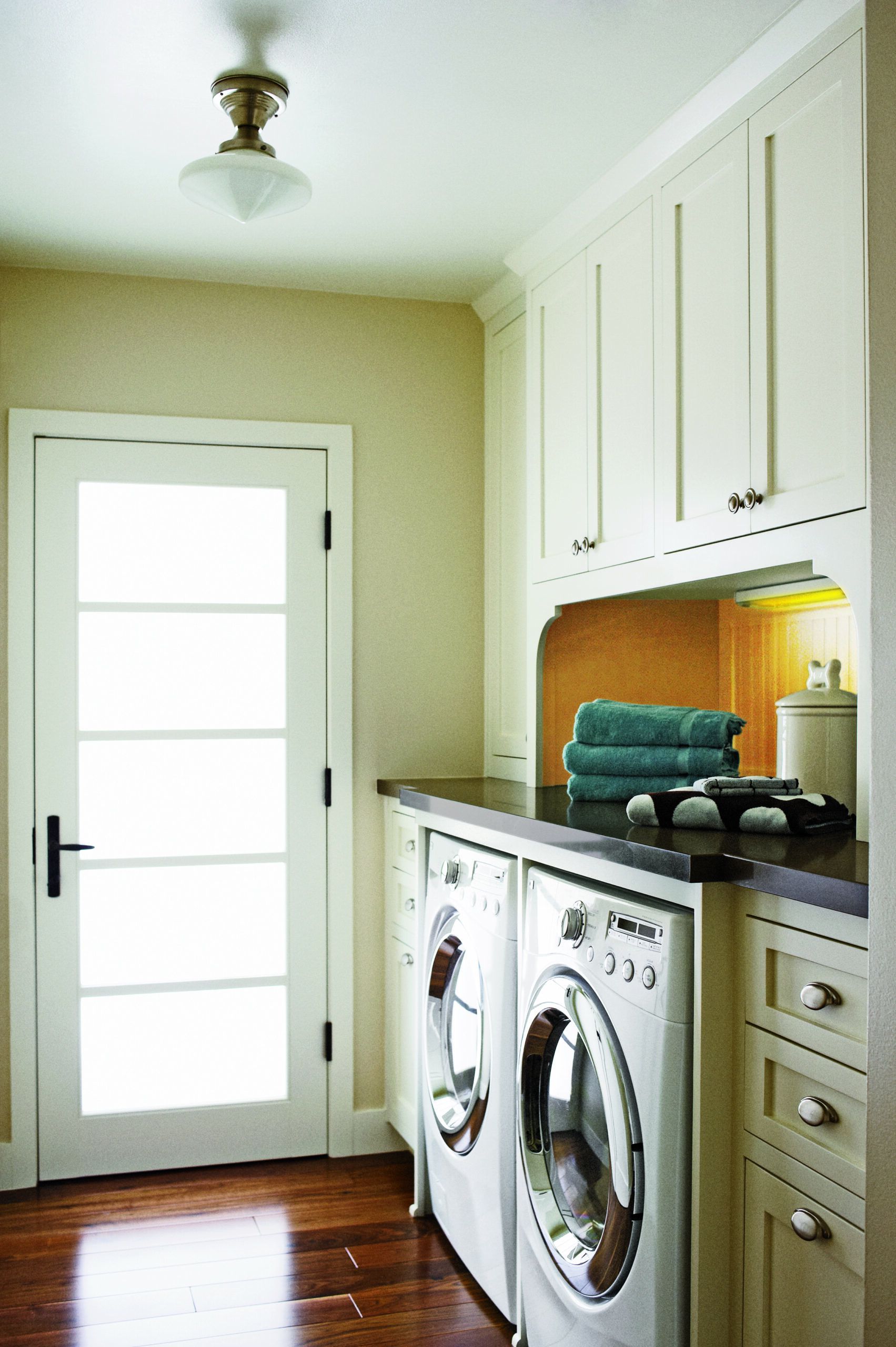 What was once a combo mudroom and pantry with a washer and dryer shoehorned in is now a dedicated laundry area packed with hidden conveniences.
Sewing Drawer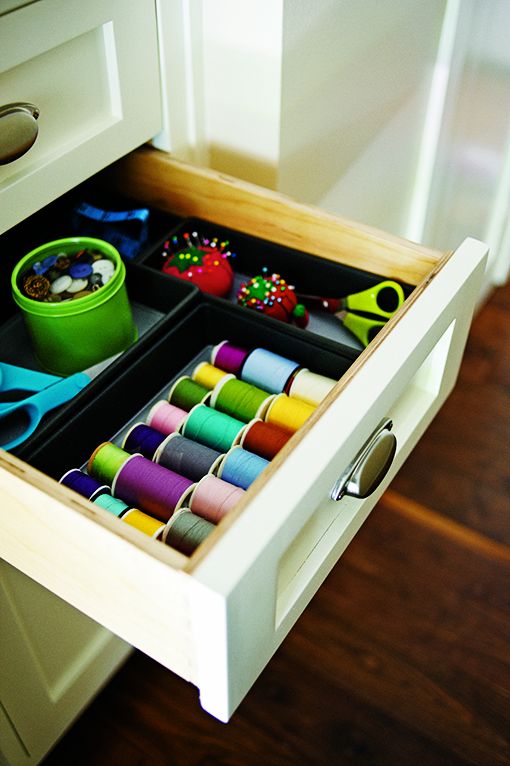 Similar to a kitchen cutlery tray, this in-drawer organizer keeps thread, scissors, buttons, and pincushions at the ready for mending tears.
Retractable Ironing Board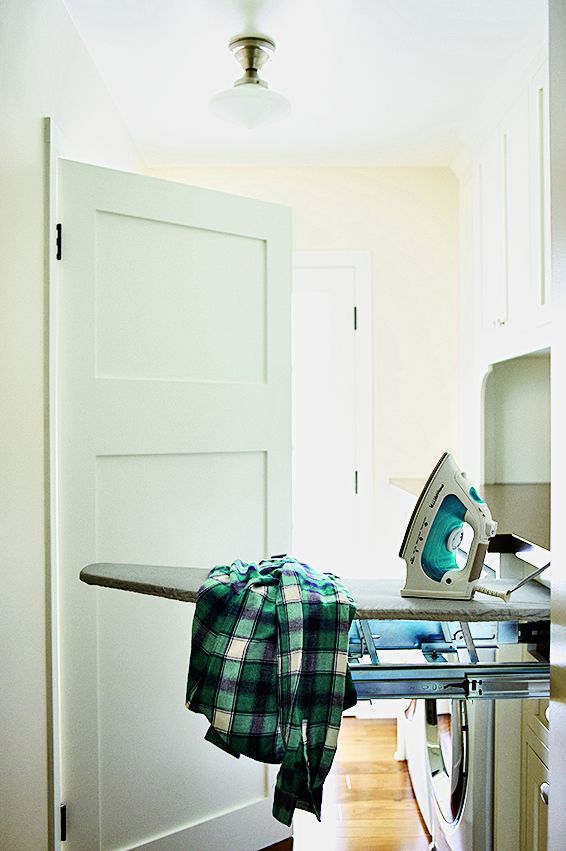 With little space to prop up a traditional ironing board, the homeowners chose a folding version that fits neatly inside a drawer. The board stretches 3 feet out from behind a false drawer front.
Rev-A-Shelf Fold Out Ironing Board, about $232; amazon.com
Pull-Out Hamper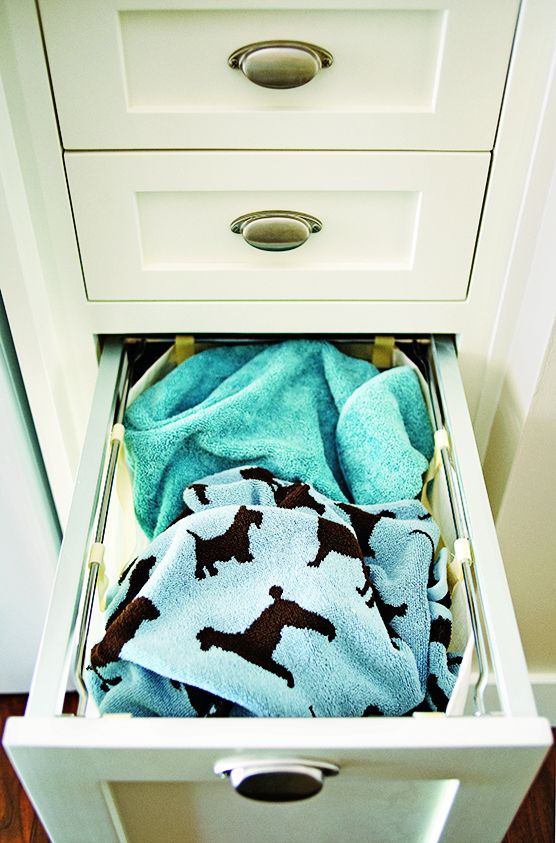 Concealed inside a drawer below the ironing board is a canvas hamper that holds clothes in need of pressing. A matching bin on the other side of the machines keeps dirties out of sight.
Under-Cabinet Light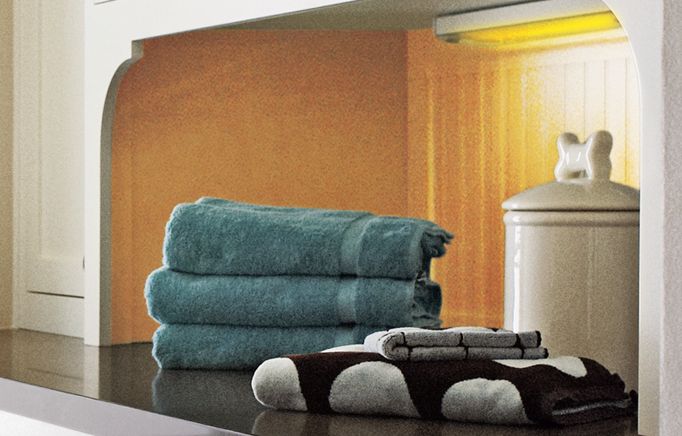 A halogen strip tucked behind a soffit brightens a quartz counter used for specific tasks: sewing and folding, and attending to stains. Additional, ambient light comes from the windowed door and ceiling fixtures.
Proper Precautions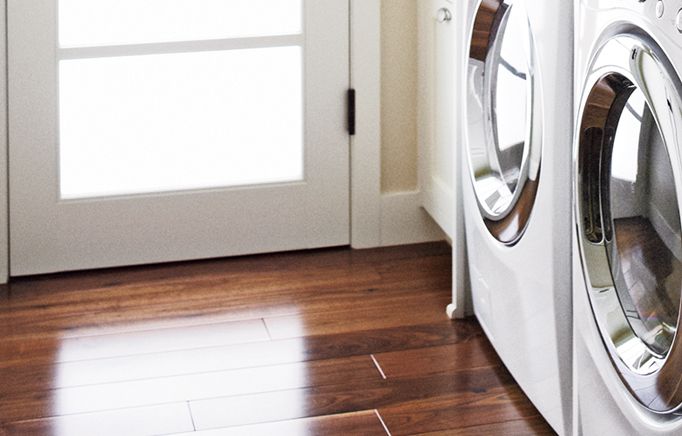 Protect floors by installing an automatic shutoff valve that cuts water to the washer if it detects a leak or a burst hose.
FloodStop, about $226; amazon.com
Clean Up the Garage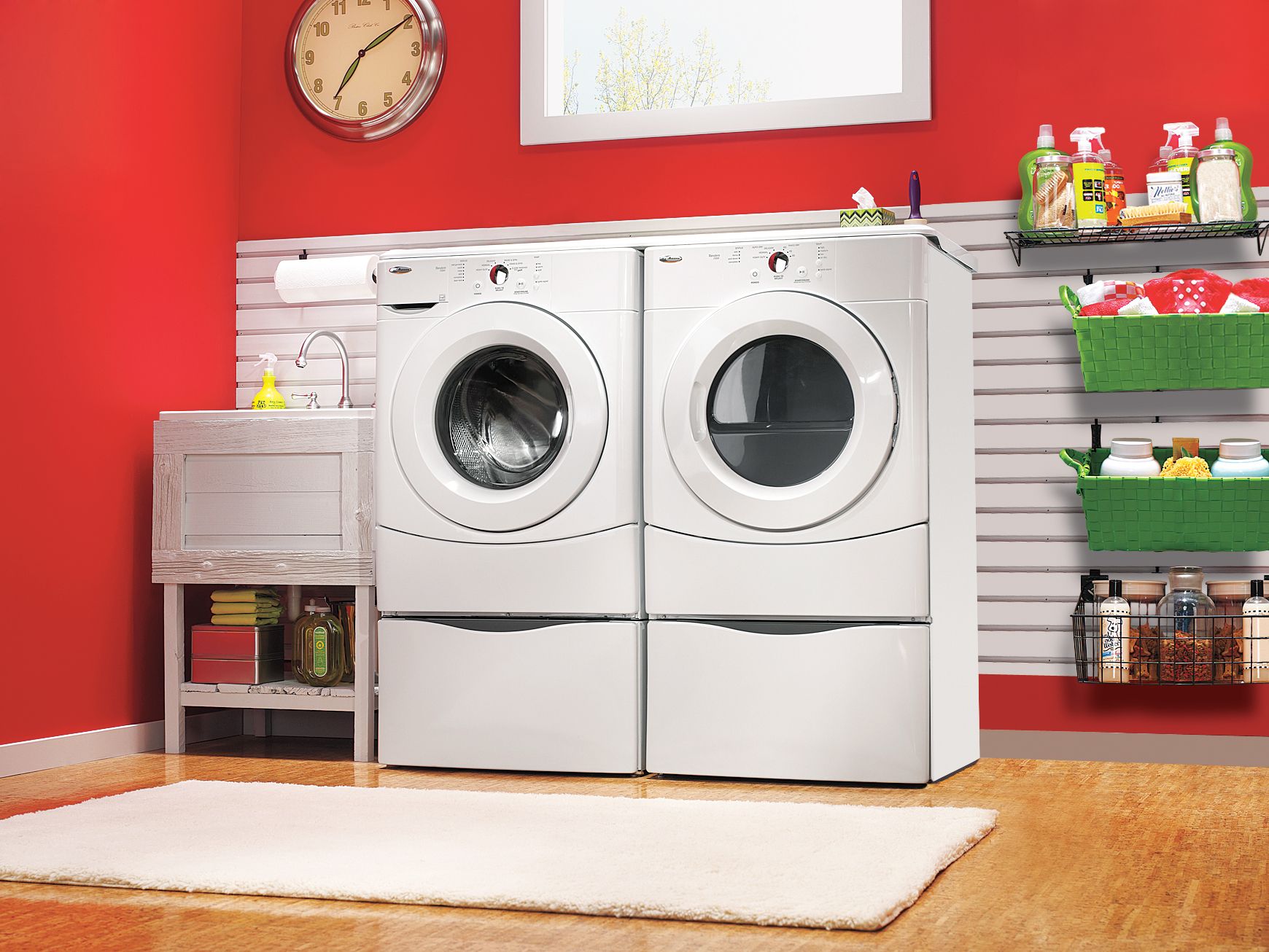 Inventive storage solutions, vibrant paint, and a DIY-friendly floating floor made of cushiony cork transform what had been an unused parking space into a bright and organized laundry room.
Slatted Wall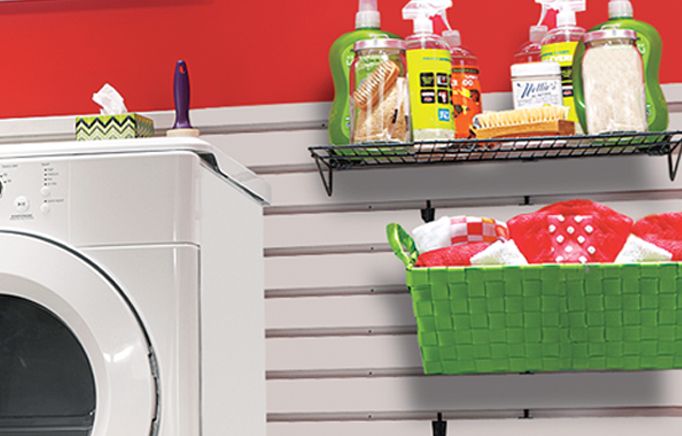 Designed as vertical storage for car-care staples, such as jumper cables, a system like the Gladiator Gear Wall Panels easily corrals laundry supplies when decked out with hook-on wire shelves and baskets.
About $90; sears.com
Machine Pedestals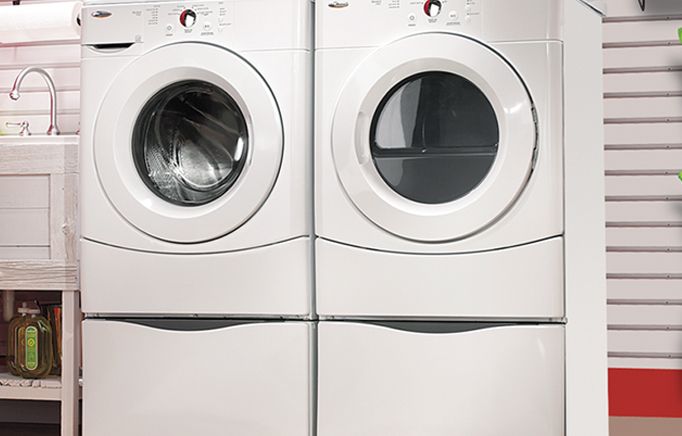 Most major brands sell drawers, like these from Amana, that fit neatly below the matching washer and dryer. Drawers are 10 to 15½ inches tall.
$100 to $300 for each drawer; amana.com
Upgraded Utility Sink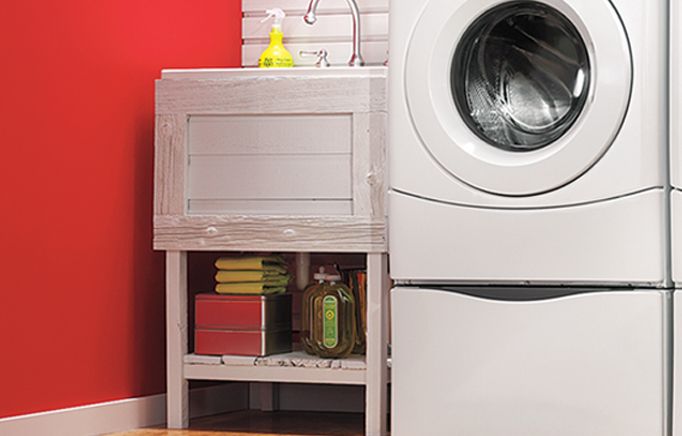 A rustic enclosure made from whitewashed scrap wood gives an inexpensive plastic sink a stylish look.
Rethink a Home Office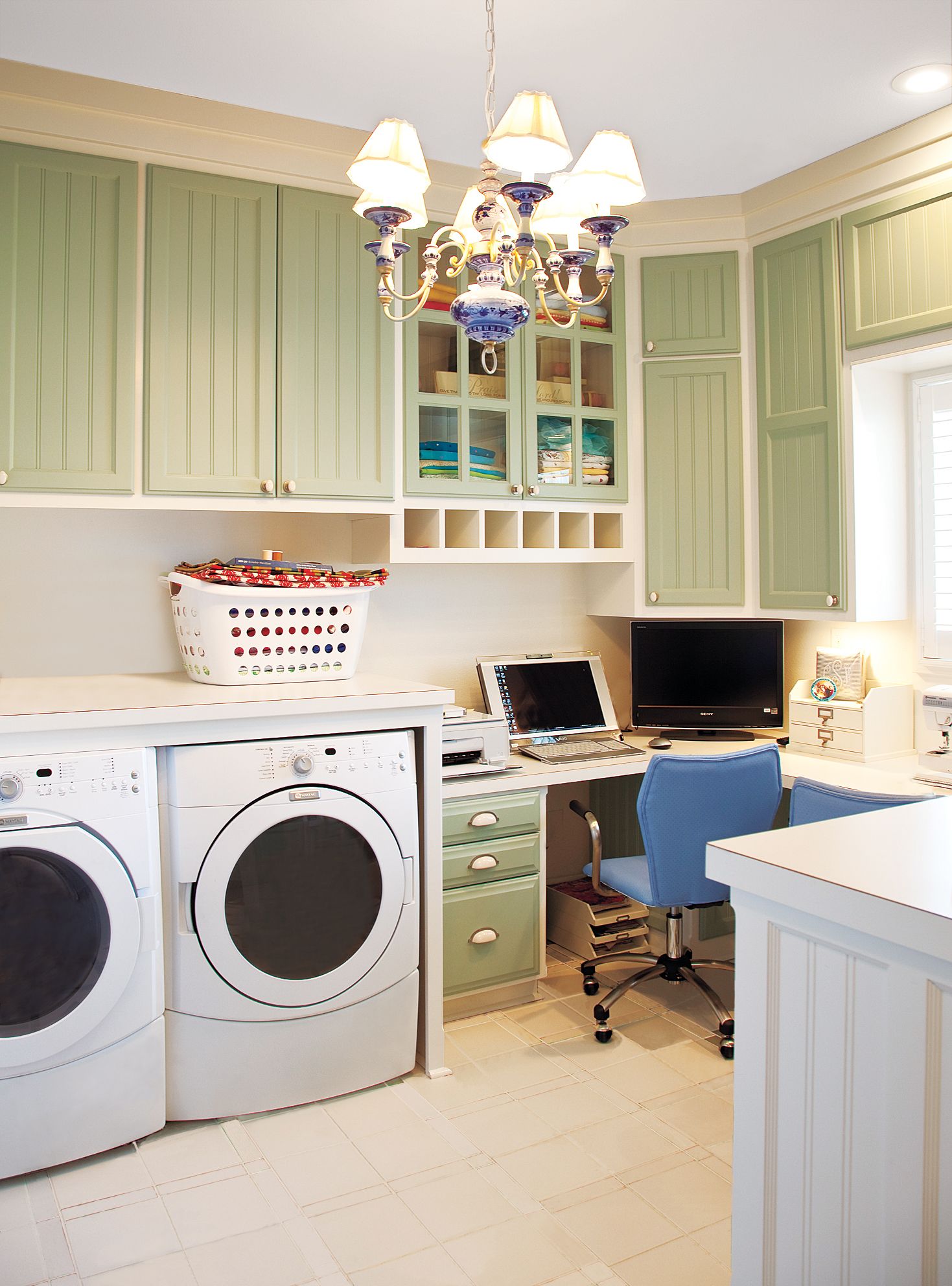 Rather than dedicating a guest room or a portion of the kitchen to bill paying and web surfing, a spacious laundry area becomes host to a handsome home office.
Custom Desk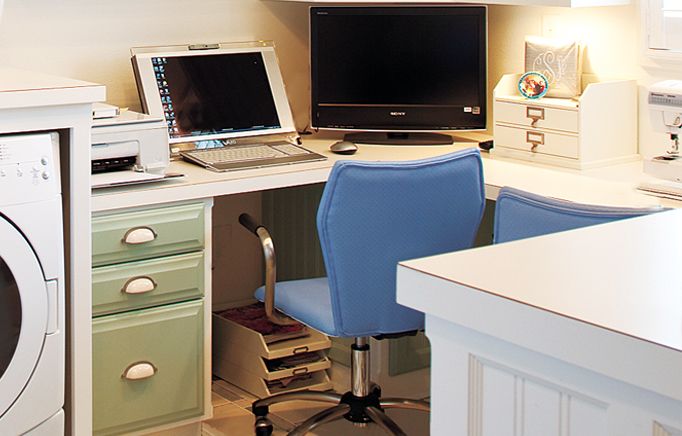 The counter height goes from about 42 inches atop the machines, for folding and sorting clothes, to just 30 inches at the desk, the standard for comfort at a sit-down work station.
Set for Work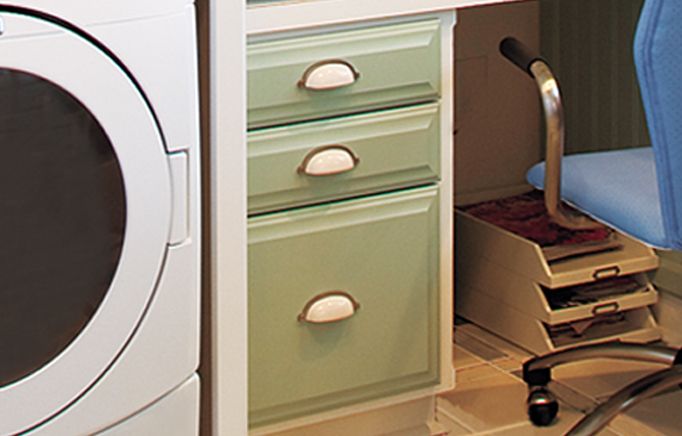 In addition to a cable hookup for high-speed Internet access and extra electrical outlets for computer peripherals, the office is outfitted with wide file drawers and cubbies for sorting mail.
Homey Details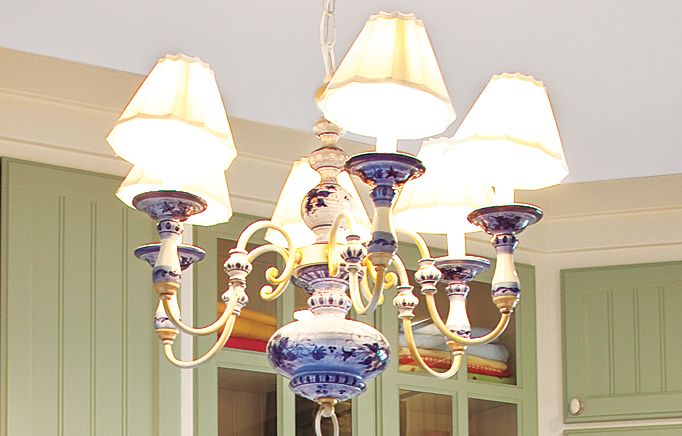 A sage-green-and-creamy-white paint scheme gives the cabinetry a warm, vintage look that connects the laundry area to the rest of the house. The blue porcelain chandelier is another elegant touch in an unexpected place.
Create a Multifunctional Hobby Space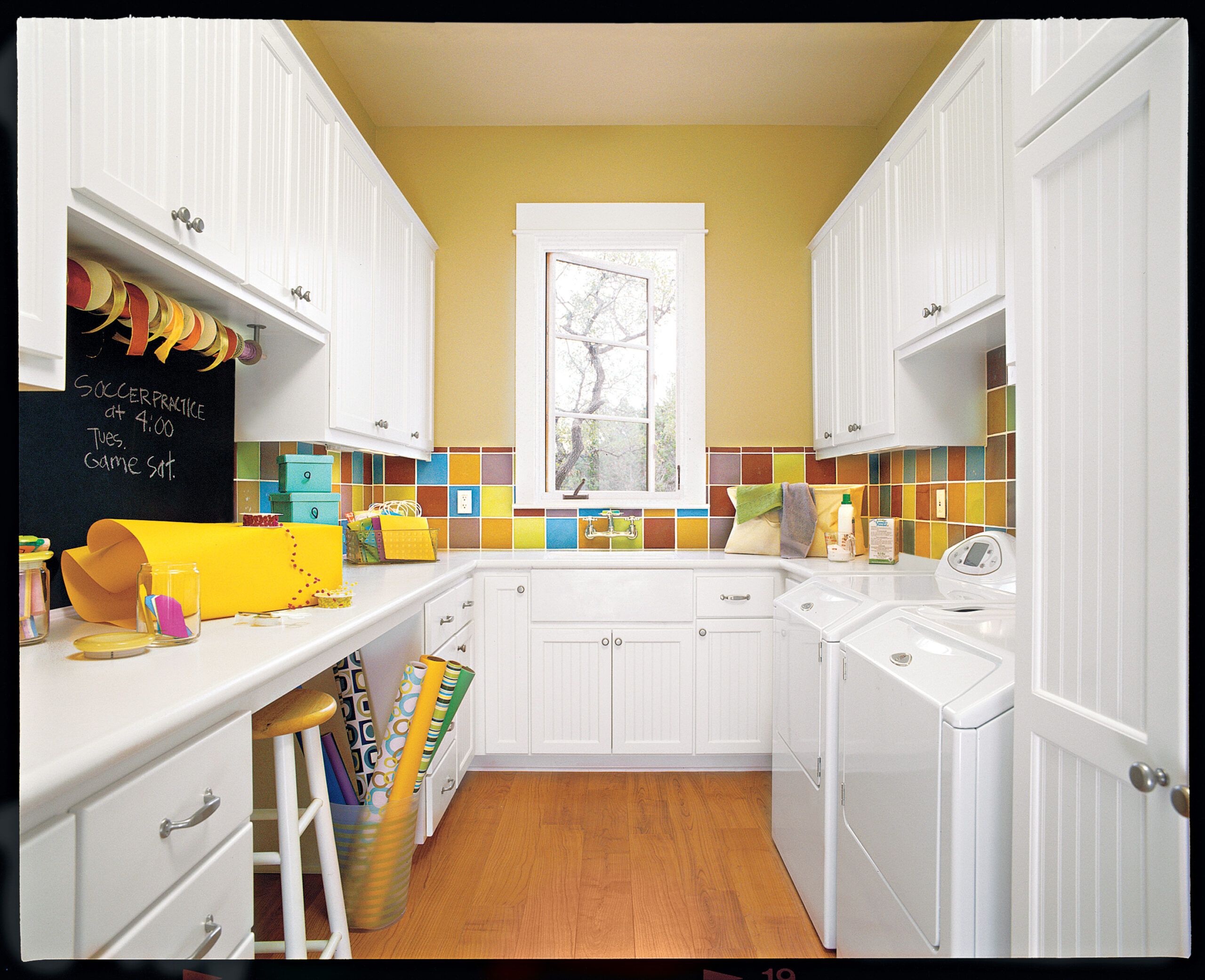 This cheery room welcomes a range of the domestic arts, from laundry and sewing to crafting and gift wrapping. It's where the family can be together while taking part in a variety of activities.
Basin With a View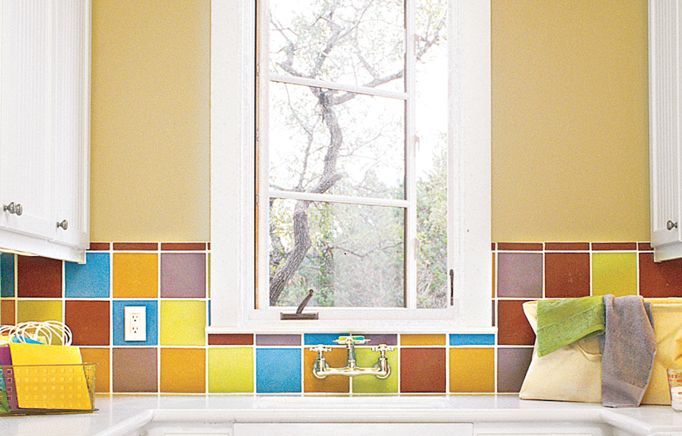 Scrubbing stains and rinsing watercolor brushes is less of a chore when the sink is installed below a window that overlooks the landscape. The window also provides a natural source of ambient light for the room, and supplies fresh air and ventilation to prevent humidity from building up when the washer and dryer are in use.
Bright Wall Tiles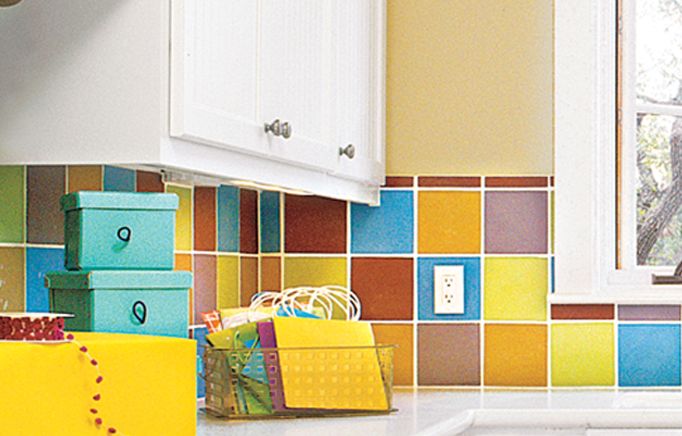 Six-by-six-inch glass squares create a water-resistant backsplash. The multihued patchwork pattern lifts the mood of the room and makes the laundry area, with its baskets of colorful towels, and the gift-wrap station, with its reels of red, gold, and orange ribbons, feel integrated.
Beadboard Built-Ins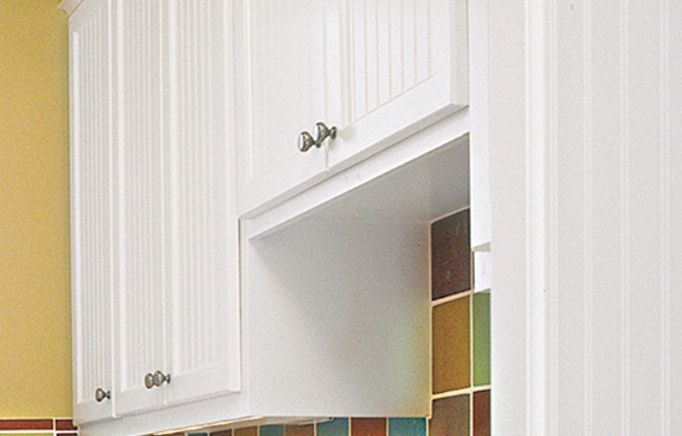 Shaker-style cabinets coated with easy-to-clean high-gloss paint create a cottage feeling in the room and hide everything from fabric softener to glue sticks. The pantry to the right of the machines is tall enough to stow a full-size ironing board.
Hiding in Plain Sight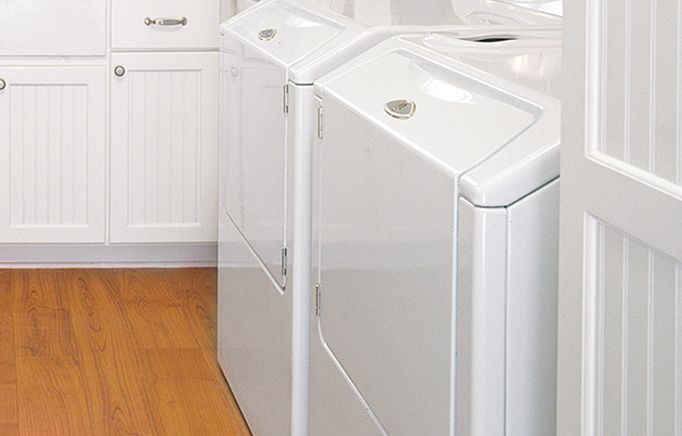 Despite the array of appliance color choices out there—fire-engine red, silvery gray, cobalt blue—these homeowners went with a white finish to make the washer and dryer almost disappear amid the white cabinetry and countertops.
Message Board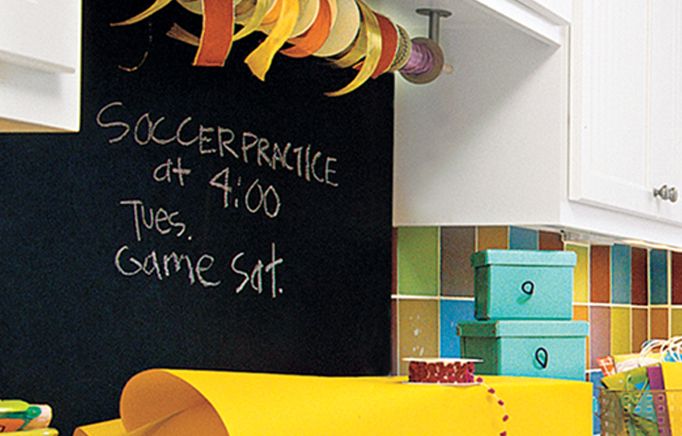 Turn a backsplash into a message board by brushing on blackboard paint.
About $13 per quart; officedepot.com