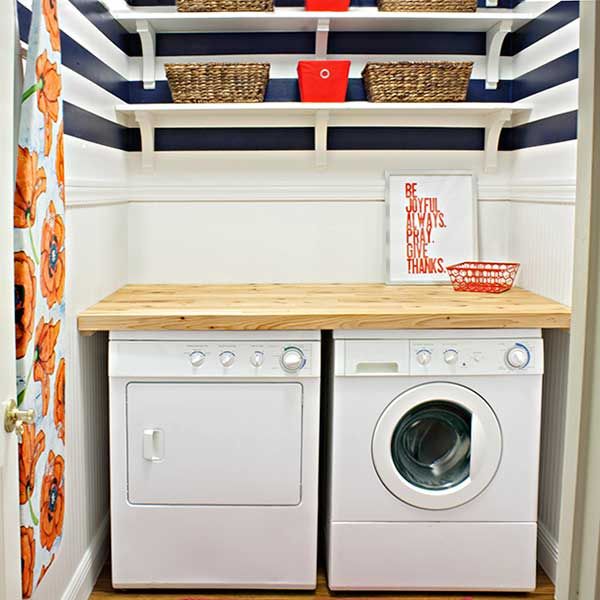 Doing laundry may be a chore, but that doesn't mean the laundry room has to be the most boring room in the house. Just ask Katie and Matthew Parris, who recently renovated their 1992 home, in Merritt Island, Florida. Over the past two-plus decades, the laundry room had acquired layers of dingy, dated decor.
First task: ripping up three kinds of vinyl flooring to install warm bamboo planks. Then they peeled back two layers of wallpaper only to discover a mold problem. After scrubbing the walls with bleach and applying a coat of mold-killing primer, they hung beadboard wallpaper on the bottom half of the walls and painted crisp navy stripes on the upper half, adding a chair rail to conceal the transition.
Katie wanted a butcher-block counter, but a slab deep enough to fit over the washer and dryer was not in the budget. Matt's solution? Edge-glued cedar 1x4s screwed into a plywood base, with a 1×4 turned on edge and trimmed to finish the front.
Open shelves, storage baskets, and a punchy ironing-board cover provide the finishing touches to a space that's no longer an eyesore. "I used to hate going in there," Katie says. "Now it's my favorite room in the house!"
The Project Tally
• Tore up three layers of peel-and-stick vinyl tiles and installed bamboo flooring $110
• Covered the walls with mold-killing primer; painted the upper portion white and navy $40
• Hung beadboard wallpaper and capped it with a decorative chair rail $50
• Removed an awkwardly placed shelf, hooks, and a mirror; patched the walls; and installed three open shelves with wood brackets $110
• Built a faux-butcher-block countertop using plywood and cedar 1x4s, and sealed it with polyurethane $35
• Added storage baskets, a colorful ironing-board cover, and a throw rug $75
Total $420