Steps for Planting a Cherry Tree:
Start by identifying a good location for the tree, keeping in mind that it will grow and get larger.
Trace the outside of the bucket using the shovel, then pull the tree out of the way to dig. Leave space on the outside of the bucket so that the hole ends up being about twice as wide as the tree.
Dig the hole for the tree about as deep as the pot. Be sure to set the grass on top aside so it doesn't end up in the backfill pile. It helps to place the soil and the grass on a tarp to prevent damage to the lawn.
Loosen up some of the soil at the bottom of the hole and mix in some compost.
Pull the tree out of the bucket and place it in the hole.
Gently break up the roots of the tree using a hand rake.
Rotate the tree and orient it in the desired position.
Mix more of the compost in with the soil that was originally dug out of the hole. Use this mix to backfill the tree. Be sure to keep the flare of the tree above the soil line.
Soak the tree with water.
Cover the base of the tree with a layer of mulch to help keep the roots moist and prevent weeds.
Tip: Identify Root Flare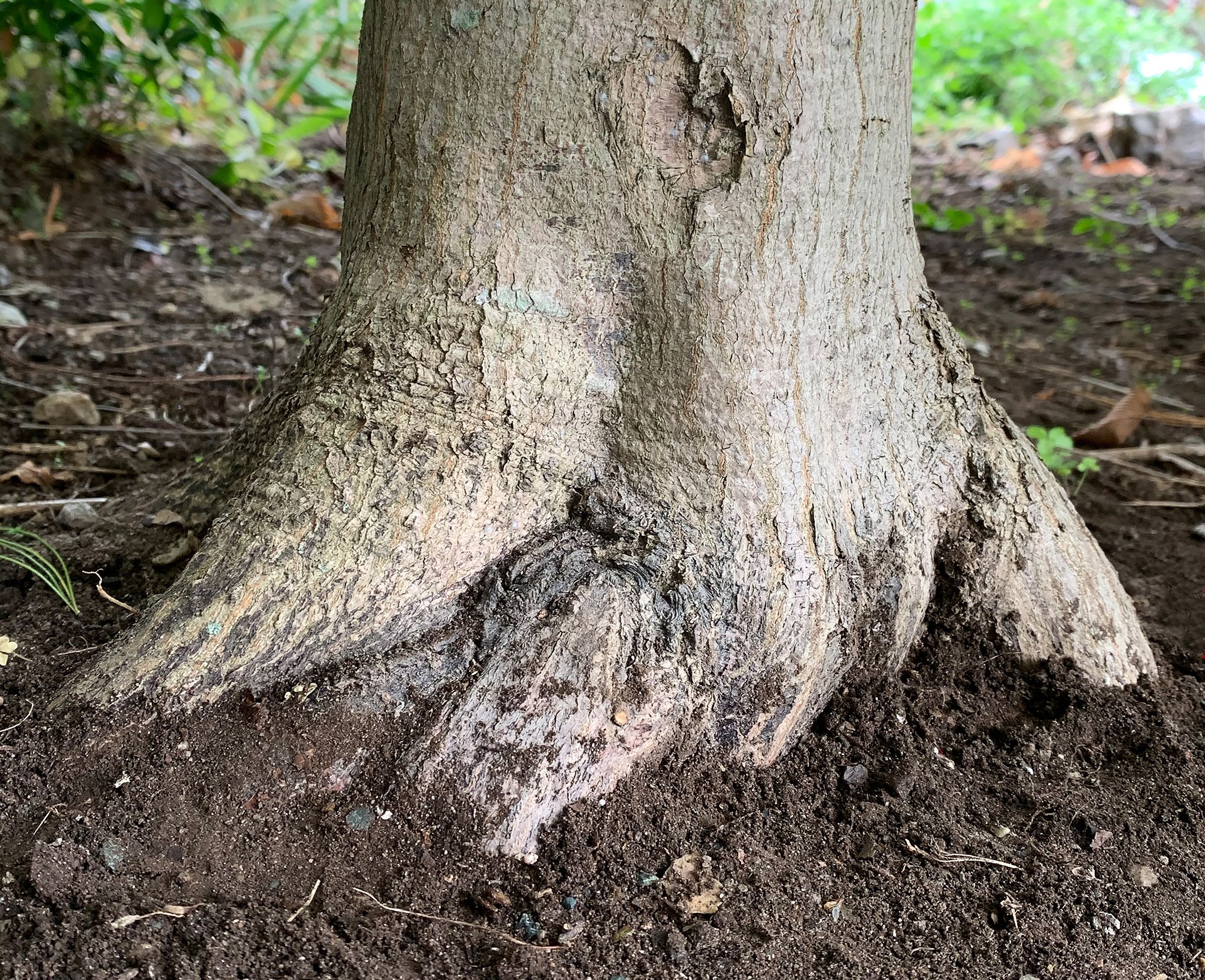 The long-term health of any tree depends on keeping soil or mulch off the root flare—the area at the tree's base, shown above, where the trunk transitions to the roots. Burying this crucial juncture traps moisture, encouraging the growth of girdling roots that can choke off the flow of nutrients to the tree.
---
Resources:
Jenn planted a Yoshino cherry, which grows best in Hardiness Zones 5-8 and can be purchased from a nursery or garden center.
Expert assistance with this segment was provided by Cordt Gardens, LLC
Shopping List:
Tools: