Leaf blowers are versatile machines. They can take the raking out of autumn cleanup, and also double as driveway sweepers or snow clearers. Some models vacuum; others bag mulch, clean gutters, or spray trees.
Of course, the bigger the blower, the more noise it makes, which is why these tools have their detractors. Some towns restrict decibel levels and hours of operation, while others have banned them outright. (Manufacturers have come back with mufflers for gas-powered blowers, although you'll still need ear protection.) But all that power serves a purpose: Blowers are the easiest way to quickly gather big messes of leaves into manageable piles.
There's a type of blower to suit every yard, from small electric handhelds ($40 to $70) to beefier gas-powered backpack models ($200 to $400) or powerful walk-behind machines ($600 to $1,000). Homeowners often err by buying an underpowered machine, says Roger Cook, This Old House landscape contractor. "It really takes a lot of energy to lift and move wet leaves," he says. "The little ones just can't handle the volume, and the ones that mulch could choke on a big pile."
Roger's strategy is to start near the house and blast beds and shrubs, collecting leaves into heaps or rows. But even the biggest blower will reach its limits if the leaves are just too heavy. So to move a big pile, don't wade into it head-on; start at the edge and back yourself into the bulk. Better yet, blow the leaves onto a tarp you can drag—quietly—to the compost pile. Your neighbors will thank you.
Gas Blowers
More power (and noise) than electric, with a reach beyond the limits of an extension cord. Two-cycle engines require a mix of gas and oil. See images 1-3.
Electric Blowers
Less powerful than gas, but lighter and quieter (you still need hearing protection)—and no exhaust fumes. See images 4-6.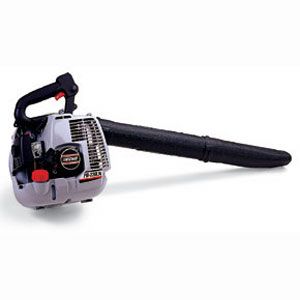 Where to Find It
Hand-held electric blower:
#FT1000 FlexTube blower/sweeper by Black & Decker
800-544-6986
www.blackanddecker.com
Hand-held gasoline blower:
Echo PB24LN Low-Noise provided by Timberland machines
Lancaster, NH
800-258-8996
Back-pack gas blower:
#BR340L lownoise by Stihl
800-467-8445
www.stihlusa.com
Walk-behind blower:
Mighty Mac by MacKissic
800-348-1117
www.mackissic.com
Combo blower-vac:
Sears Craftsman
#07179940
800-549-4505
www.sears.com