Windowsill to Table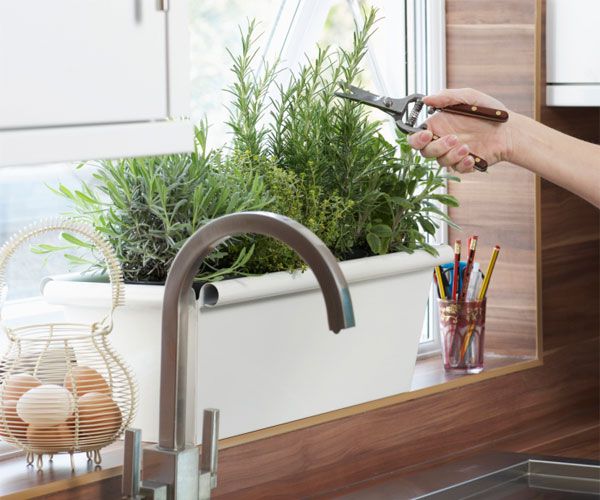 You don't need your own outdoor garden to source homegrown herbs for your kitchen. Instead, a well-lit windowsill is an adequate space to grow plants that will add fresh flavors to whatever's on the menu. Here are eight herb planters and kits that are compact—and stylish enough—to fit sink-side in your cook space.
Chalkboard Hydroponic Planter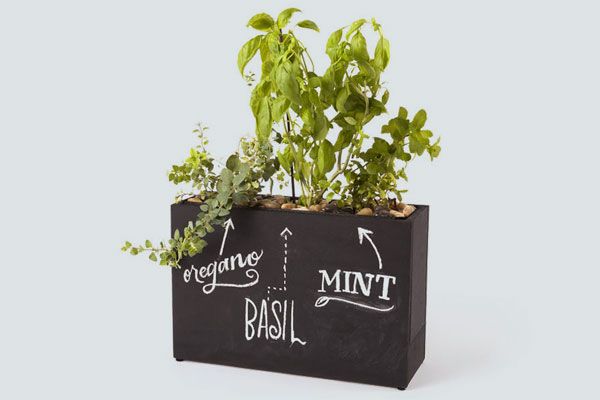 This narrow, attractive container not only allows you to label your herbs for quicker cooking but also packs in hydroponic growing technology. It comes with a pre-programmed timer, a quiet air pump, a tray with three plant bases, a soilless growing medium, and a ¾-gallon water reservoir.
Countertop Hydroponic Planter, about $130; Modern Sprout, Gardener's Supply Company
Watch This Old House TV landscape contractor Roger Cook help a homeowner build a hydroponic garden in an Ask This Old House episode.
Streamlined Planter With Scissors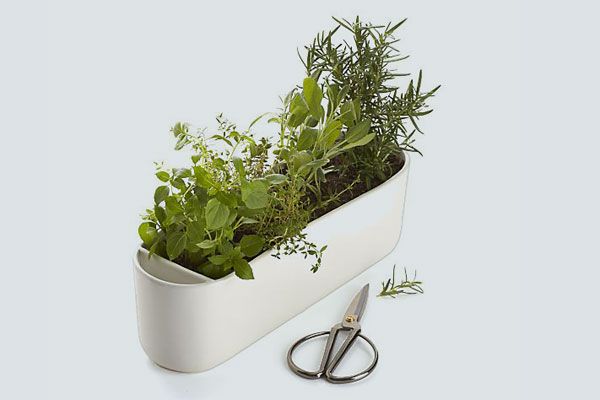 Keep your snipping utensil at the ready in this sturdy white ceramic planter for adding a dash of this or that to whatever you're cooking.
Herb Planter with Scissors, about $25; Crate & Barrel
Get planting with these picks for adding healthy herbs to your garden.
Customizable Herb Labels and Tray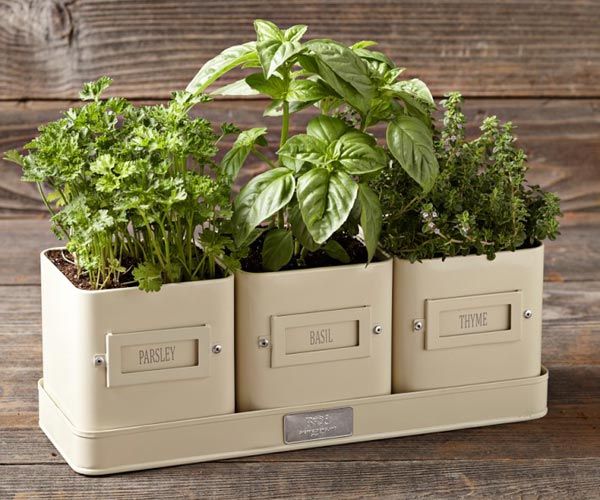 Grow the go-to trio of parsley, basil, and thyme, and slip your own plant labels into these cream containers. A tray—also made of powder-coated, rust-resistant steel—keeps it all tidy.
Herb Pot with Tray, about $30; Williams-Sonoma
Add more color to your plate with these edible flower picks.
Contemporary Concrete Planter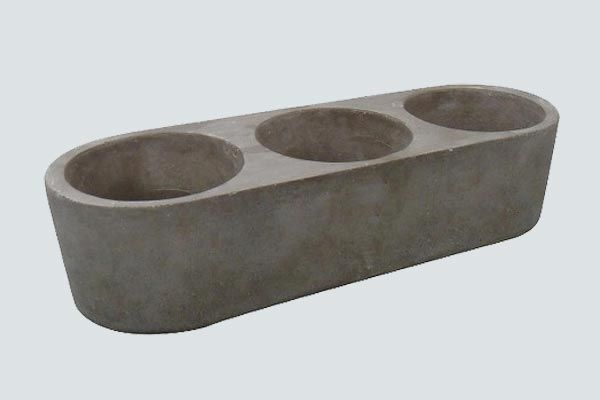 Let the plantings take center stage with this planter's smooth, industrial-concrete construction.
Herb Trio Round Concrete Planter, about $15; Threshold, Target
Put the striking building material to work in your outdoor garden by building a concrete planter.
Handsome Cedar Planter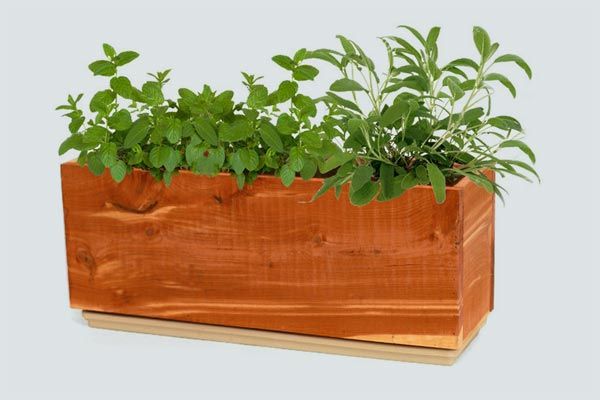 Give plant roots plenty of footing with this 8½ inches-deep, rot-resistant cedar planter box. A removable tray catches excess water and makes cleanup easy.
Windowsill Herb Planter, about $49; Grindstone Design, Houzz
If you love the look of this planter, build a similar, bigger version with our raised herb-garden planter project.
Realistic-Log Look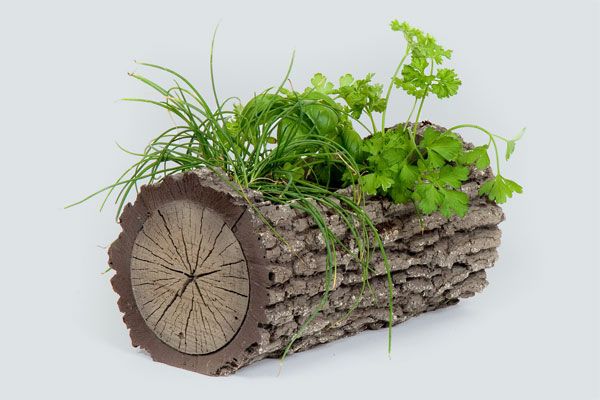 Take the natural look a step further on your windowsill with this log stand-in. The plastic material and drainage holes will keep your herbs—and windowsill paint job—happy.
REAL Horizontal Planter, about $24; Wayfair.com
Put a real tree to use in your yard by creating a tree-stump planter.
Microgreens Window Kit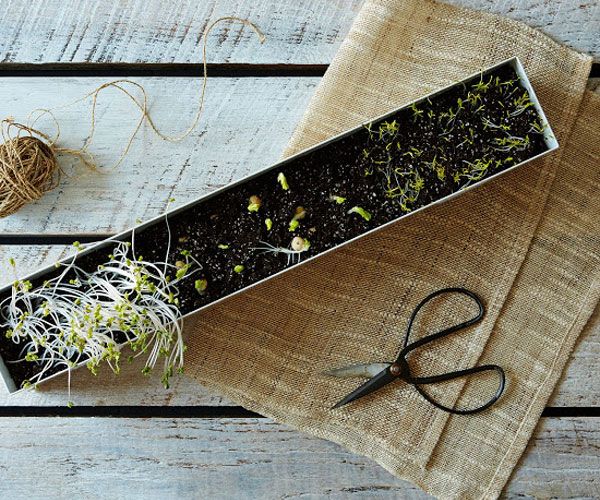 A recycled steel box nestles nicely into a windowsill. Kit comes with seeds for three flavorful veggies: Red Russian kale, mini carrots, and Tom Thumb peas.
Microgreens Veggie Window Box Kit, about $48; Potting Shed Creations, FOOD52
See how to blend fruits and vegetables into your garden by exploring a reader's edible landscape.
Mason-Jar Kit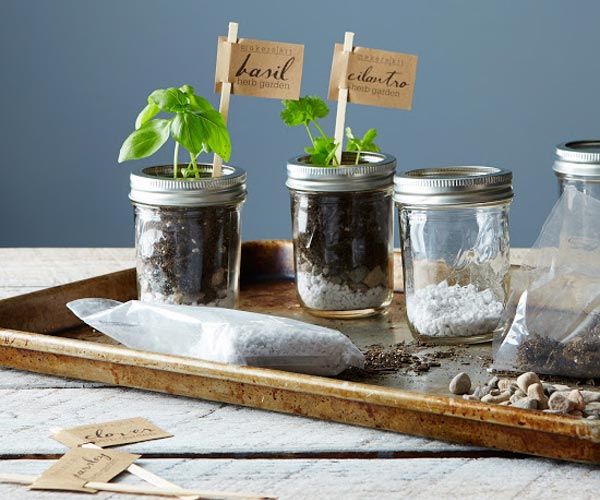 Circumvent less-than-stellar gardening skills with this all-in-one kit that fits in a charming mason jar. A combo of perlite, pea pebbles, and organic soil requires only that you fill water up to the rock line once a week.
DIY Mason Jar Herb Garden Kit, about $26; MakersKit, FOOD52
Serve up dishes with your homegrown herbs under the glow of these mason-jar patio lights.