Satisfying Aesthetic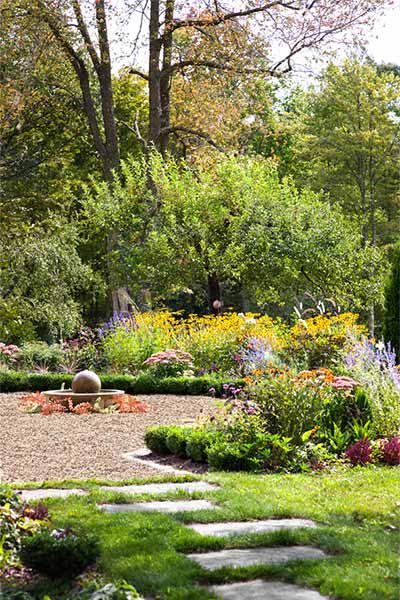 Tucking a vegetable patch planted with tidy rows in the backyard puts tomatoes on the table, but an edible landscape—a combination of flowers, herbs, fruits, and veggies mixed together in beds and borders—can be downright pretty, turning production into an artistic expression.
But pretty also has to be functional. Edible landscaping needs to reflect a larger set of priorities than the purely ornamental, as veteran garden designer Jenny Lee Hughes knows well. Strong bones, including well-defined paths and stone walls, fencing, and hedges that enclose individual spaces, are critically important in an edible garden to balance the sometimes chaotic mix of plants, with their different textures, sizes, and shapes. Elements like birdbaths, fountains, and containers yield focal points in the typically billowing mass of greenery. Arbors and trellises not only provide height and vertical surfaces for vining plants but also keep the garden visually interesting when the beds are filled with young seedlings or sit empty following a harvest. And purposeful structures placed close at hand, such as a potting shed or greenhouse for seed starting, as well as all the essential systems for watering and composting, also top the list of edible-landscape must-haves.
Shown: The home's front steps lead to a semicircular terrace paved with pea gravel and ringed with boxwoods.
Landscape Both Formal and Exuberant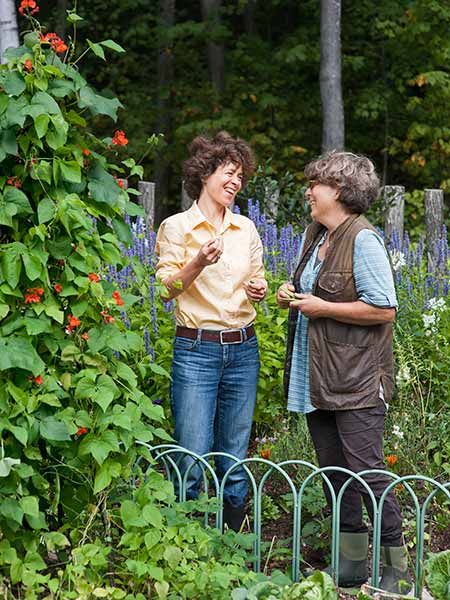 Hughes (right) started putting these indispensables to work five years ago when creating this series of garden rooms surrounding the New Hampshire home of Rebecca Henderson (left). Utilizing the same design principles she would employ if planting a strictly ornamental garden, Hughes cooked up a jam-packed but easy-to-navigate landscape. Flowing out from the house are grids of symmetrically laid beds, a fruit-tree orchard, and deep borders filled with a vigorous array of herbs, flowers (many of them edible), and flowering and fruiting shrubs, such as high-bush blueberries, interplanted with vegetables and other fruits. Within easy reach is an 8-by-12-foot greenhouse with solar-powered ventilation, which produces a nearly continuous supply of seedlings during the growing season.
Shown: Henderson teamed up with the designer to build a landscape that's equal parts European formality and English-cottage exuberance.
Bountiful Fruit Orchard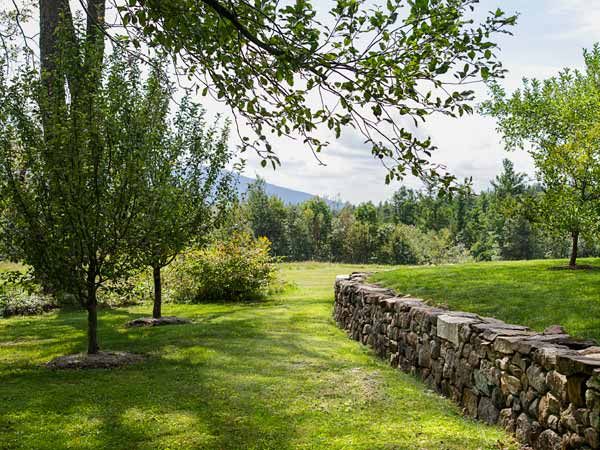 When you have a starting point as enviable as Rebecca's stunning views of Mount Monadnock, you make the most of it. Hughes began by clearing new-growth pines that blocked the vista and added a small but elegant semicircular terrace looking toward the mountain. Finished with pea gravel underfoot, it's ringed with a clipped boxwood hedge. A sphere-shaped fountain placed at the center gives the scene music and a place for honeybees to drink. Looking back toward the house, Hughes edged 4-foot-deep beds flanking the deck stairs with granite cobblestones and filled them with perennials, like coneflowers, sedums, daylilies, and Russian sage, and sprinkled in herbs, such as agastaches and salvias.
Shown: The fruit orchard, planted with 48 trees, includes peaches, apricots, plums, and cherries.
Heirloom Apple Trees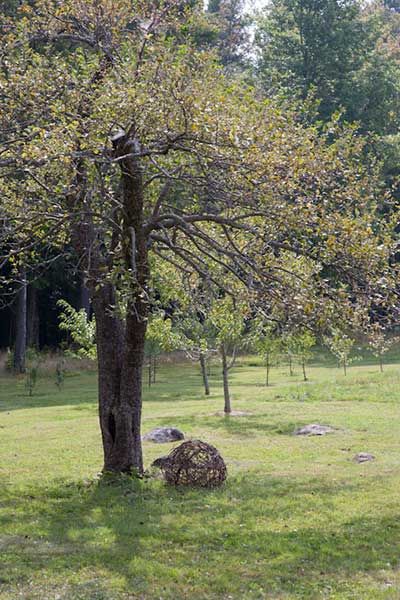 Just outside the side door, the star is the potager—a fancy term for a formal kitchen garden—made up of rectangular raised beds edged with Belgian block and gravel pathways that reduce maintenance while also echoing the gravel in the front perennial garden. The beds are packed with lettuce, beets, chard, kale, tomatoes, eggplant, artichokes, cardoons, leeks, herbs, and ornamentals from A (angelica) to Z (zinnia). A long border runs along the far side, with arched metal trellises supporting tomatoes underplanted with eggplants and, for added color, 'Red Gem' marigolds and calendulas.
Shown: The orchard includes six old heirloom apple trees, which, though mature, are still productive. Pests are managed with an organic spray of neem and garlic oils, which is applied at the beginning of the season or whenever insects appear. The decorative sphere under the tree is woven from grapevine.
Bookends of Overflowing Flower Beds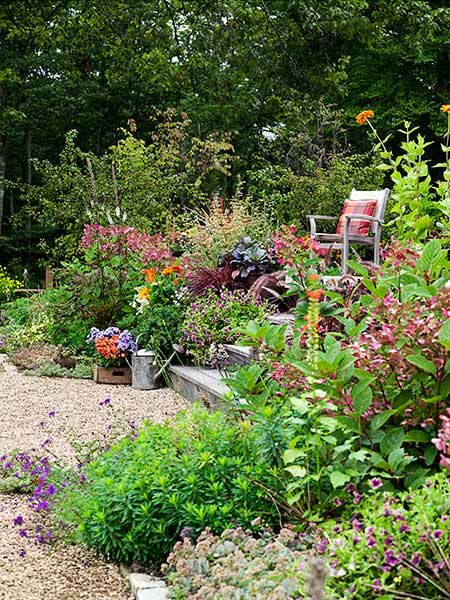 Working with Rebecca's desire to have even more grounds for growing, Hughes added the large formal vegetable garden adjacent to the new orchard. Dwarf crabapple hedges satisfy early flying pollinators in spring and feed hungry birds in autumn. As the centerpiece of each bed, a crabapple tree set in crushed gravel is bordered by more Belgian block, with large swaths of kale around the edges.
Shown: The front deck, which looks out toward a mountain, is flanked by overflowing beds that mix colorful perennials and annuals, including hydrangea, baneberry, sedum, ornamental cabbage, and allium.
Aged Compost for Colorful Combos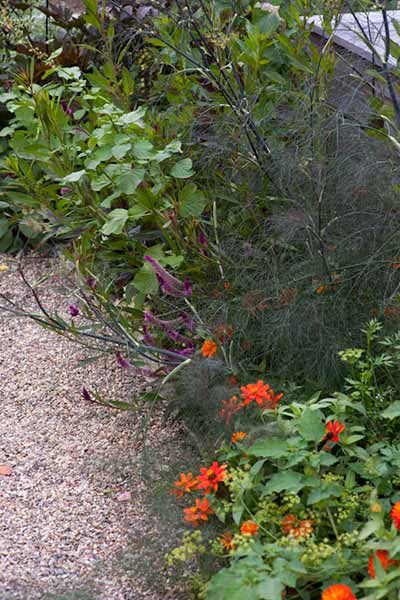 The following spring, she added the "Beatrix Potter" garden, as it's come to be called. Against so many right angles and straight lines, this rustic addition is a visual treat. Set near the encroaching forest, its fieldstone paths, weathered-metal scalloped hoop edging, and primitive fence made of posts from nearby locust trees put a whimsical spin on the otherwise tailored landscape.
Shown: One of the colorful combinations in the border flanking the house's front stairs is an artful composition of copper fennel, Mexican zinnia, and 'Berggarten' salvia. Hughes credits compost for the bounty. "Add lots of aged compost, made from farm manure or vegetable matter, every year," she says. "It makes the difference between happy, gorgeous plants and lackluster, sad ones."
Aged Compost for Colorful Combos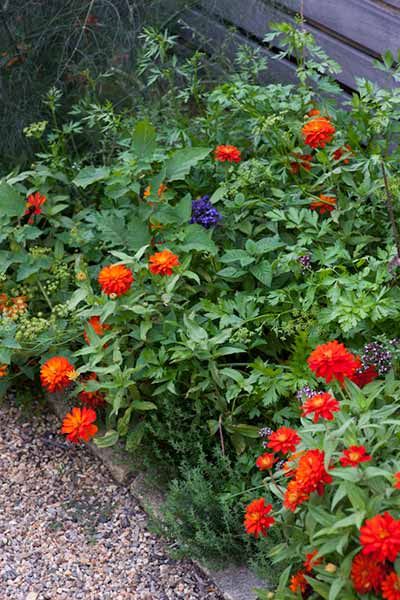 The result of all this careful planning is a garden that pumps out produce while looking good throughout the year. "In May, I think it couldn't be more beautiful," says Rebecca. "And then June comes, and I think it's the loveliest ever. And then comes July, August, September, and October, and it's gorgeous. Plus it's a usable garden. That's such a pleasure!"
Shown: Everywhere you look there's a clever combination that helps keep a balance in the garden. Bright flowers bring in pollinators and beneficial insects, which in turn help keep vegetables, fruits, and herbs producing and healthy. Case in point: this bed of zinnia and heliotrope interplanted with thyme, parsley, and oregano.
Garden Designer Tips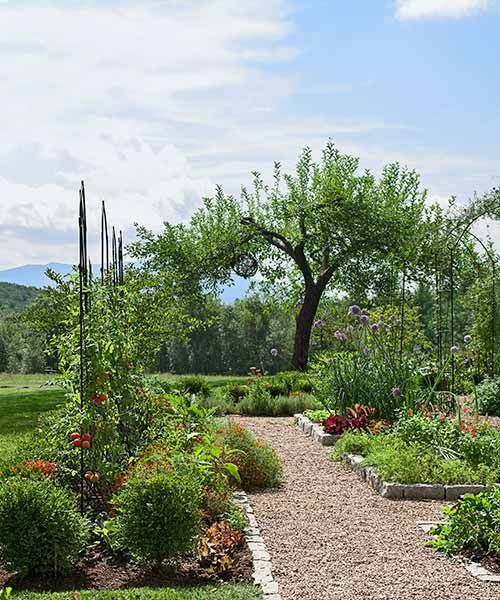 Garden designer Jenny Lee Hughes offers ideas for incorporating edibles in your landscape:
Enrich your soil. Most vegetables grow best in rich, organic, well-drained, fluffy soil with a pH between 6.0 and 7.0. Amend beds with copious amounts of compost at the start of every growing season.
Start small. Try mixing herbs into sunny, established beds and borders. Rosemary, sage, thyme, winter savory, basil, and oregano all blend in well with flowering perennials. Just 2 to 3 feet is enough width for a border full of edibles.
Adapt to your site. Lacking a full 8 hours of sun? Plant vegetables that can tolerate some shade, such as beets, cabbage, cauliflower, leaf lettuce, spinach, turnips, radishes, and beans.
Shown: The right angles and straight lines of the kitchen garden set a formal tone; rugged stone edging and metal trellises relax it a bit.
Garden Designer Tips: Continued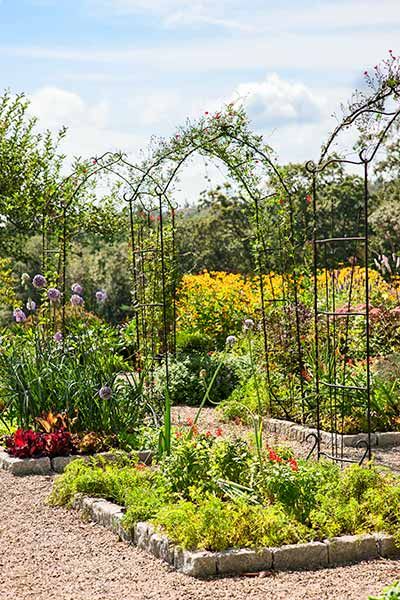 Add fruiting shrubs. Blueberry, currant, and elderberry shrubs are attractive in their own right, putting out pretty flowers in spring and, especially in the case of blueberries, a colorful fall show.
Consider looks as well as taste. Alternate purple cabbage with snowy-white cauliflower, and use curly parsley or lettuce as an edging plant in an ornamental bed. Tuck colorful 'Bright Lights' Swiss chard, radicchio, Osaka purple mustard greens, or Tuscan kale between perennials. Plant scarlet runner beans on arbors, trellises, or along fences.
Choose plants that produce over a long period. Eggplants, chili peppers, chard, and kale yield a large harvest for the amount of space they take up. Experiment with planting them in clusters rather than rows for a more decorative effect.
Try a few of her favorite combinations: Cucumbers on a trellis with coral gladiolus; yellow zucchini with red zinnias and purple basil; carrots and dwarf nasturtiums; artichokes with dahlias.
Shown: To add verticality, Hughes straddled the potager's carrot and lettuce beds with tall metal arbors, covered in red-flowering cardinal vine to soften the hard metal without shading the garden.
Formal Vegetable Garden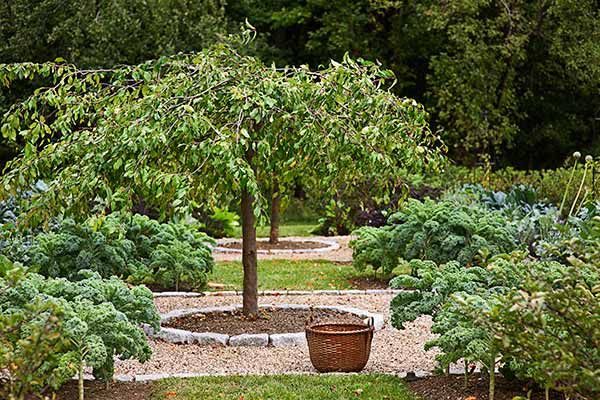 In the formal vegetable garden, masses of curly 'Winterbor' kale, rhubarb, and Swiss chard surround weeping 'Red Jade' crabapple trees.
Greenhouse for a Longer Growing Season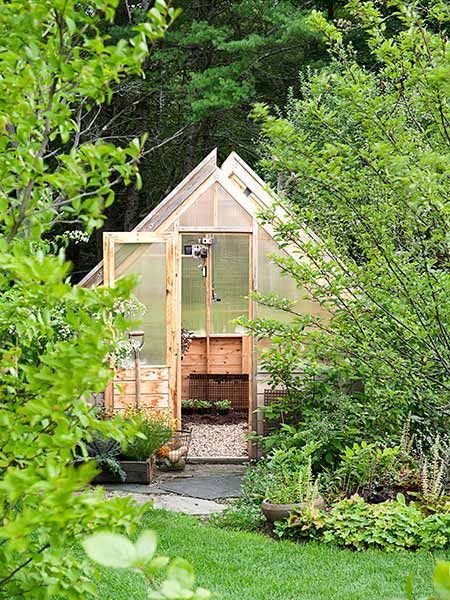 A simple greenhouse extends the short gardening season in this Zone 5b growing zone. Sowing seeds every few weeks keeps the harvest coming; even in winter the homeowner can grow turnips and kale within its walls.
Container of Moisture-Loving Plants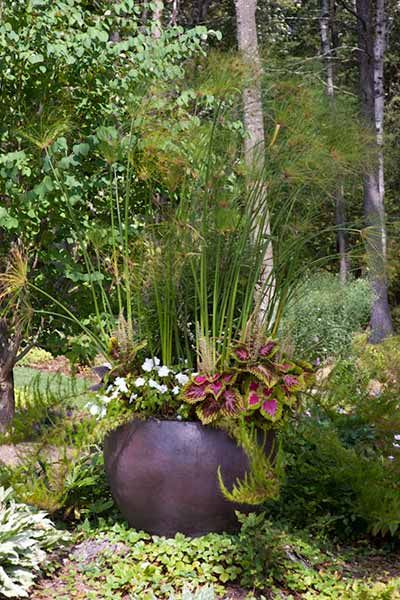 Tucked into a shady spot en route to the "Beatrix Potter" garden, this frost-proof ceramic pot overflows with moisture-loving plants, including 'King Tut' umbrella plant, variegated coleus, impatiens, and lambsquarters (Chenopodium); all are annuals in this northern climate.
"Beatrix Potter" Garden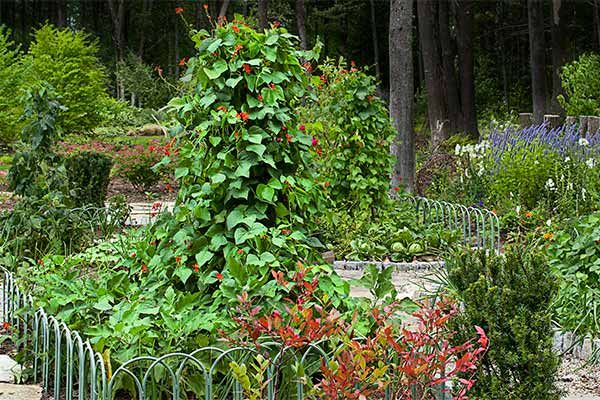 In what Rebecca calls her "Beatrix Potter" garden, near the back of the property, she grows lettuces, flowers, and scarlet runner beans that scramble up sturdy wood teepees that look good in all seasons.
Charming Locust Tree Fence Posts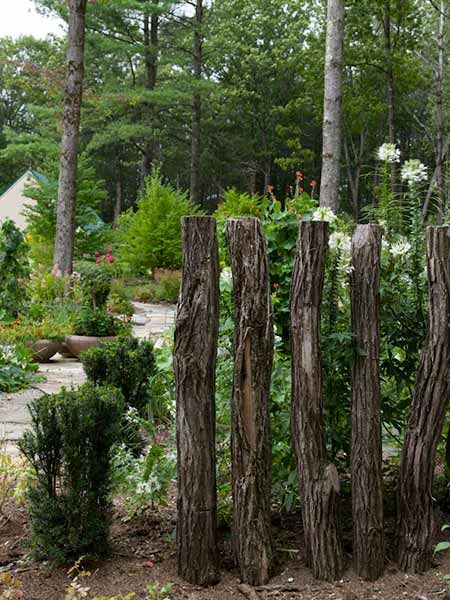 Posts made from locust trees that were cut down to make way for this sunny spot create a whimsical fence in the "Beatrix Potter" garden. White-flowering cleome grows with abandon behind it.
Flagstone Path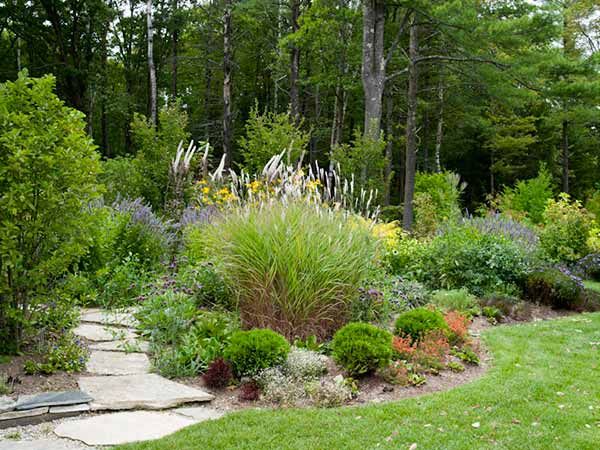 A path of rustic flagstones wends through a sunny perennial border into the woodland garden beyond. Tough, easy-care plants, including purple fountain grass (Miscanthus purpurescens), 'Diamond Frost' euphorbia, 'Brunette' actaea, and a border of 'Globe' thuja, thrive here.
Rustic Twig Bench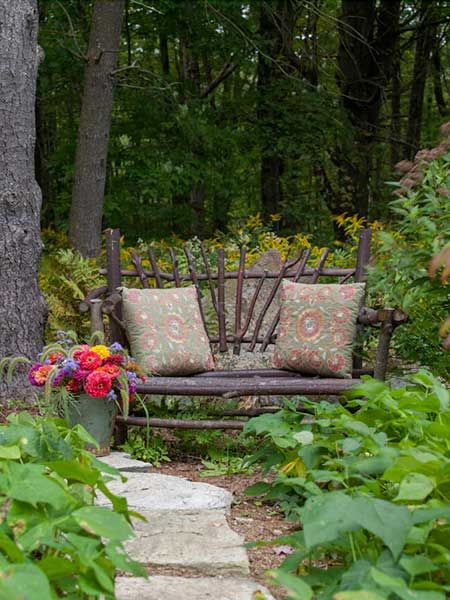 A rustic wood bench made from twigs offers a spot to sit awhile in the woodland garden, where French beans (for dried beans) are planted as a groundcover. A bucket of zinnias and ornamental grasses adds some late-summer color.
Potager Full of Dinner Ingredients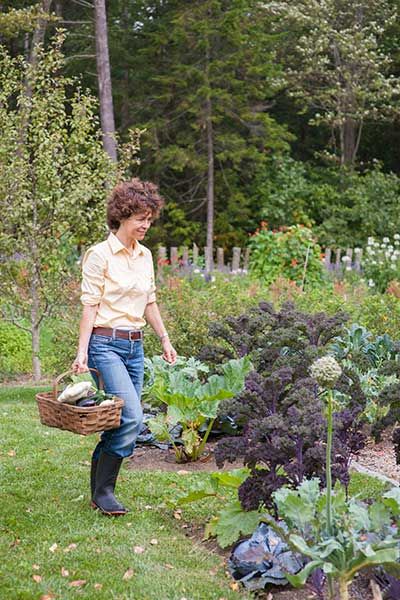 Basket in hand, Rebecca heads for the potager, where beds stuffed with 'Redbor' kale, rhubarb, and leeks provide the start of a fine dinner. The Baldwin apple tree behind her, though planted just three years ago, is already producing a small crop.
Succession Planting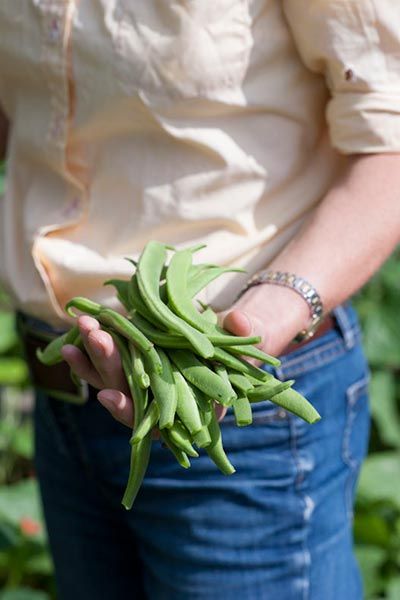 Succession planting is the key to a bountiful potager. Early-spring French sorrel is followed by spinach, arugula, and parsnips that overwintered; later come asparagus, lettuce, peas, and radishes. Warmer weather brings strawberries, greens, carrots, and herbs. By late summer, tomatoes, beans—including these scarlet runner beans—eggplant, cucumber, zucchini, and squash are all ready to harvest.
Tuscan Kale for Most Climate Zones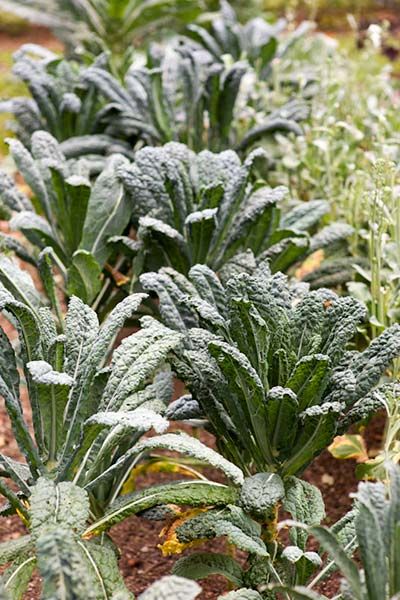 Tuscan kale is one of Rebecca's favorite greens because of its bold, peppery flavor and chewy texture. This staple of Italian cuisine should be harvested young. While it prefers cooler weather, it can be grown in most climate zones.
Colorful Eats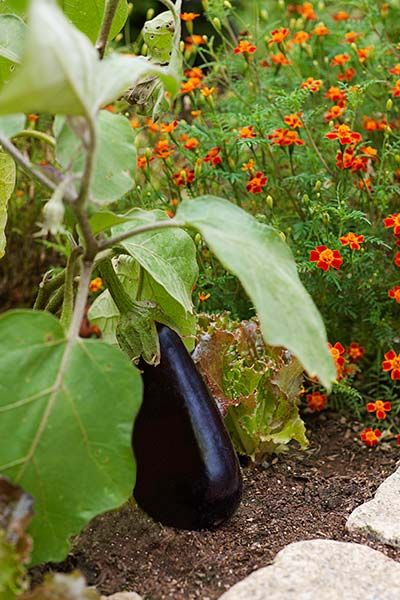 Eggplant, purple-edged leaf lettuce, and 'Red Gem' marigolds form just one of the potager's colorful combinations.
The Garden Design Plan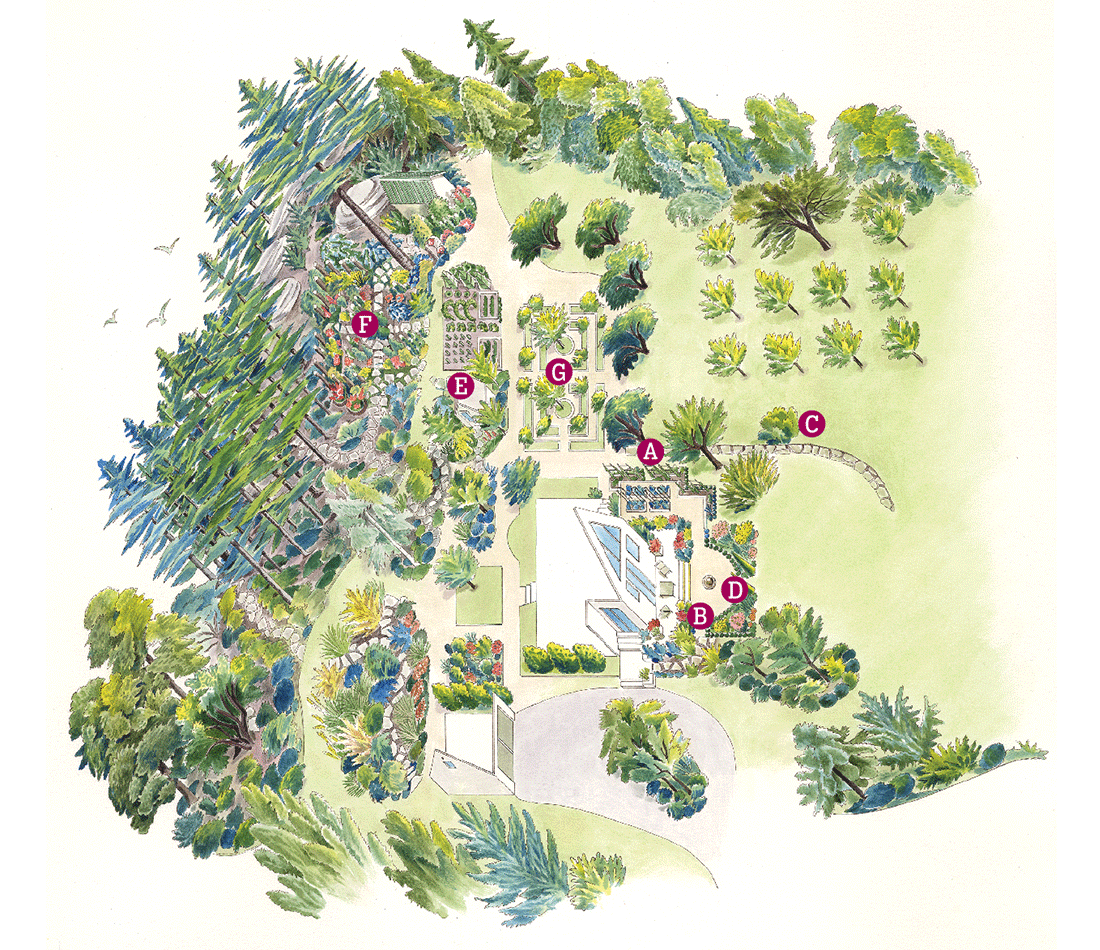 Garden designer Jenny Lee Hughes first broadened the sloping meadow in front of the house by clearing trees and adding a gravel terrace. The following year, she began the edible theme, adding the formal kitchen gardens, fruit-tree orchard, and contrasting woodland garden beds.
Shown:
A. Stone edging and metal trellises at the potager's beds
B. Front deck flanked by overflowing beds
C. Fruit orchard
D. Semicircular terrace
E. Greenhouse
F. "Beatrix Potter" garden
G. Formal vegetable garden