Better Access for Cooking Prep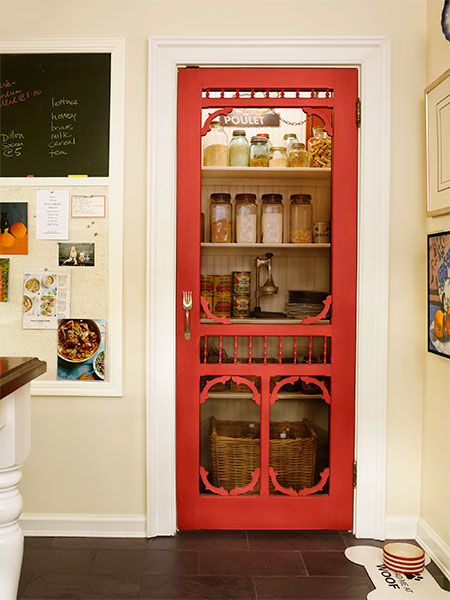 Squeezing bargain store-size bags of breakfast cereal and spaghetti noodles into your pantry can help your family's budget, but obscure the other goods you have stored there. Find that pack of gluten-free cookies and keep the cereal from going stale with these attractive ways to update your pantry storage, without looking like a plastic container hoarder.
Drawers: Custom Sliding Built-Ins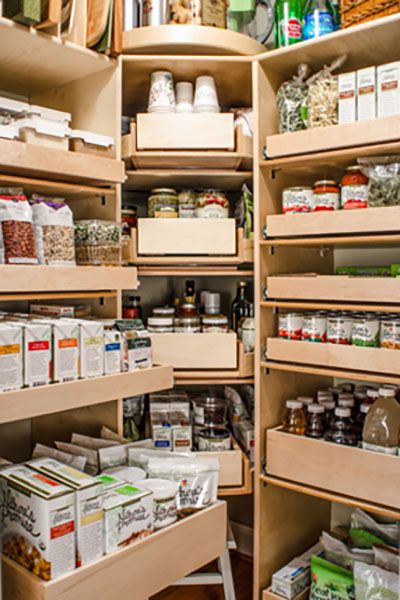 Soft-close, sliding kitchen cabinet drawers are at the top of any kitchen reno wish list. But this storage feature isn't limited to your island and under-counter storage. Consider putting these favorites in your pantry so you don't have to empty it in pursuit of a box of elusive crackers. When shopping, look for gliding shelf systems made of sturdy materials that can withstand the weight of your pantry contents. Metal gliding systems can withstand more than plastic systems.
Check out ShelfGenie for custom systems that are designed to hold up to 100 pounds of weight.
Learn how to get the most out of your existing kitchen cabinet space by watching This Old House TV general contractor Tom Silva install full-extension cabinet drawers.
Drawers: Sliding Baskets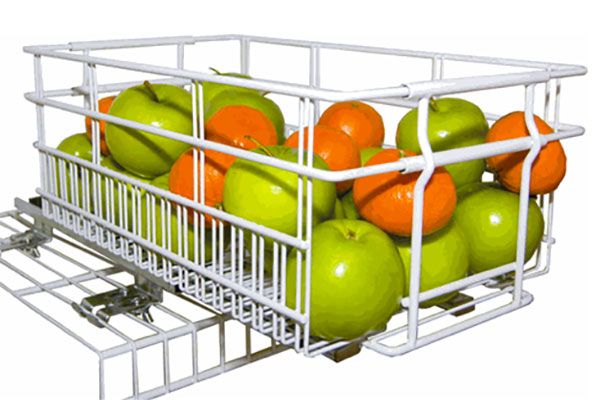 Enjoy nearly the same benefit as pricier custom built-ins with a basket version that feels a little less permanent. Basket drawers designed for closet organization systems can handle lighter items, but if you're going for the full-duty storage, invest in models built to handle kitchen goods. This expandable basket is built for pantry use with locking mechanisms designed to attach to wire or wood shelving.
Expandable Pantry Pull Out Basket, 12″ x 6″ in White, about $30; Organize.com
RELATED: Get kitchen storage secrets from a first-class chef.
Drawer Alternatives: Bins on Shelves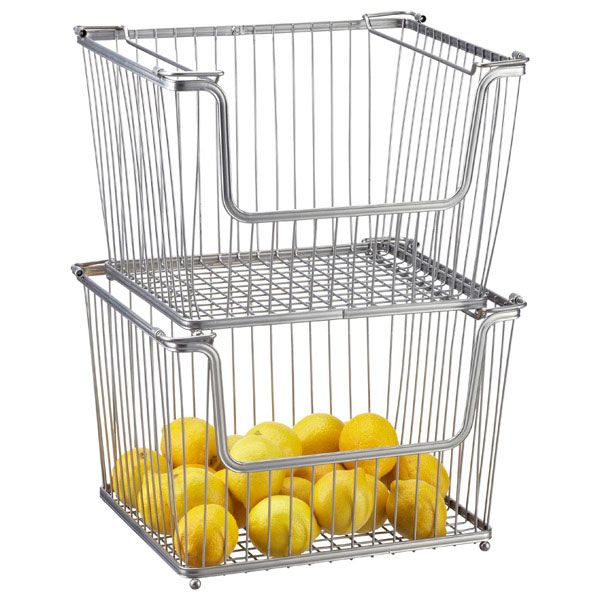 Forgo locking mechanisms and installation by corralling goods on shelves in bins or baskets. Pick containers in a finish that matches kitchen and pantry hardware for a sleek look that cuts out clutter. We like these baskets built for easy grabbing during food prep.
Large Silver York Open Stack Basket, about $25; The Container Store
RELATED: Alternatively, use wine crates as wall storage for your eye-pleasing cooking essentials.
Stackable: Shelf Inserts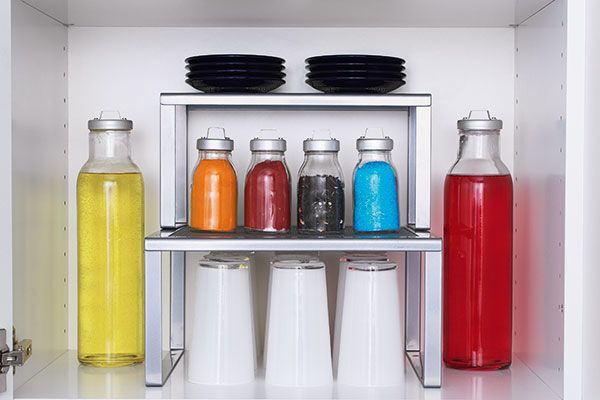 Organized pantry shelves are still within your reach—even if you can't bother with matching bins. Slide in some shelf inserts to arrange and elevate cans, boxes of dry pasta, and more. This steel, powder-coated style will fade into your shelving and keep the ingredient you're hunting down front and center for better finding. Connect two or more together using the included screws.
VARIERA shelf insert, about $6; IKEA
RELATED: Get more use out of your kitchen cabinets by installing a pull-out kitchen shelf.
Stackable: Can Racks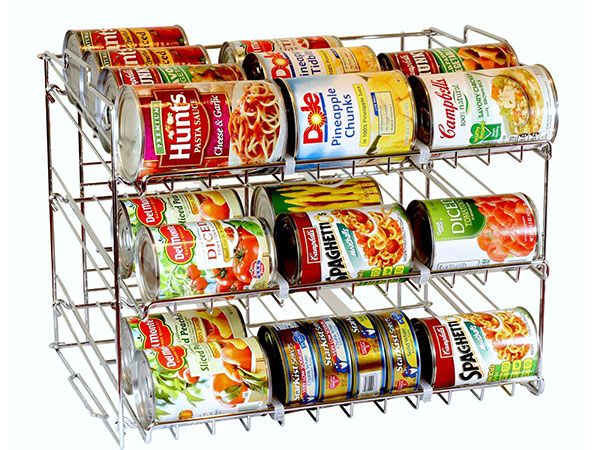 Stockpiling cans of tuna during a big sale is only helpful if you can see them before they expire. Place them in your eye line with can racks, a favorite of Birmingham-based organizer Amanda LeBlanc. When you remove a front can, the next can will roll forward within sight. Get the most out of obscured upper shelves by filling them with these racks and your family's canned staples.
Supreme Stackable Can Rack Organizer, Chrome Finish, about $25; DecoBros, Amazon.com
RELATED:Read about more of Amanda's picks and other pro organizer's life changing tips for a more organized home.
Wall-Mounted: Spice Rod and Bags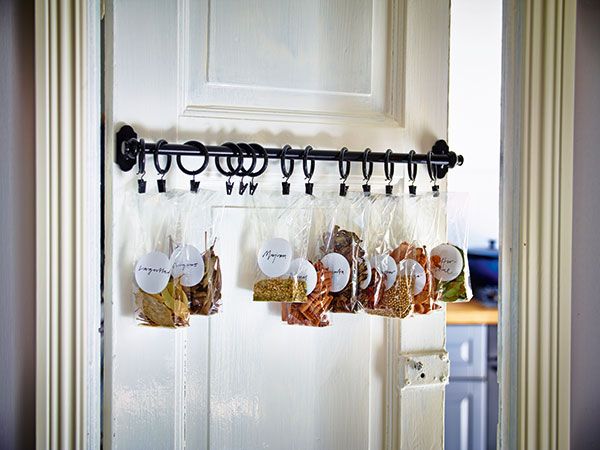 Free up shelf and countertop space by hanging up your spice bags with this multi-tasking rod. Either invest in a 5-pack of matching S-hooks (about $3, IKEA), or shower curtain rings with mini clamps to grab onto spice bags. You can also double the length by connecting two rails using one bracket.
FINTORP rail, about $9; IKEA
RELATED:Corral recipe cards, magazine clippings and more in your pantry by building a takeout menu holder.
Wall-Mounted: Bulb Baskets
Bring onion and garlic bulbs out of the damaging refrigerator drawer and dark pantry corners. Hang them from your wall in one of these handcrafted steel wire baskets.
Wall-Mounted Onion & Garlic Baskets, about $24 for 1 garlic, $36 for 1 garlic size, or $54 for 1 of both; Charest Studios, Amazon
If you prefer to buy your root vegetables in bulk and can spare the wall space, opt for a magazine wall rack. Choose a wire one with smaller openings so garlic won't slip through. Try Modern Age Double Wall Organizer, about $55; Dot & Bo
Countertop: Spice Rack With Erasable Labels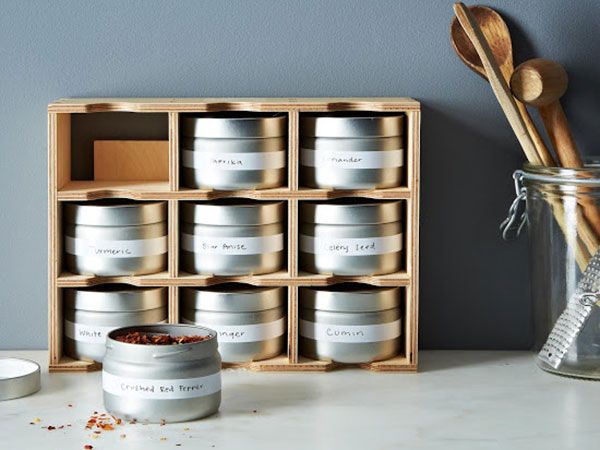 Keep tiny bottles of cumin and crushed red pepper from tumbling out of upper cabinets in an avalanche by emptying their contents into these lustrous jars. Then label each with a wet dry erase marker (included) and grab them at your food prep leisure. You can also mount the rack on your wall with the included wall toggles.
Spice Rack with Erasable Labels, about $86 to $150; Storage Studies, Food52
Give your go-to food storage containers an upgrade with chalkboard stickers. Try Set of 16 Chalkboard Sticker Labels, about $10; Crate & Barrel.
RELATED: See an inspiring budget pantry redo with industrial edge.
Countertop: Lazy Susans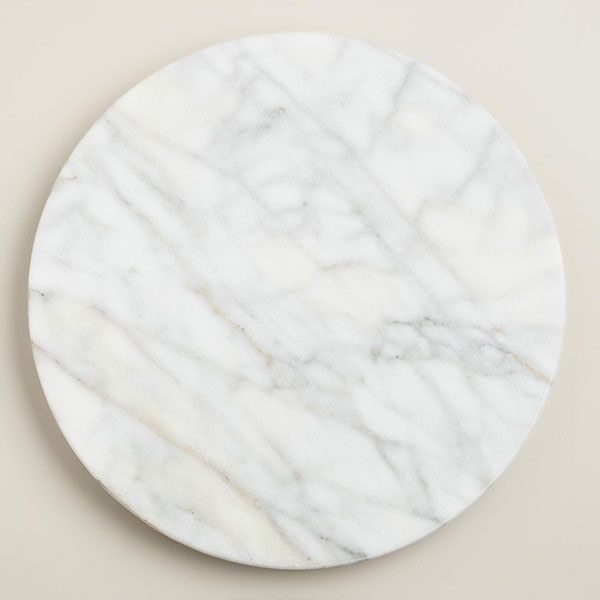 No matter how many storage items you employ in your pantry, you'll still play favorites by keeping the necessities to the front of shelves and storage units. Circumvent shoving bottles and containers aside by spinning them around on a Lazy Susan as you need them. When it's time to entertain, bring this white marble version out for condiments or appetizers.
White Marble Lazy Susan, about $15; World Market
Squeeze in two tiers of Lazy Susans with a set built with a telescoping shaft. Try Rev-a-Shelf Value Line-Full Circle-Independently Rotating 2 Shelf Set, about $40 to $85; Hayneedle.com
Countertop: Fruit Basket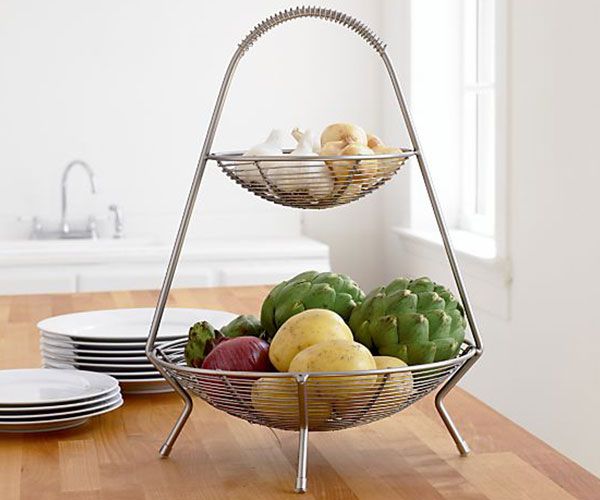 Corral root vegetables or fruit in this airy basket that will still leave plenty of countertop storage room for other pantry fixtures. It's even nice enough to bring out of hiding when entertaining.
Handled 2-Tier Wire Fruit Basket, about $20; Craft & Barrel
Check out other thrifty ways to customize your kitchen area.
Floor Space: Utility Cart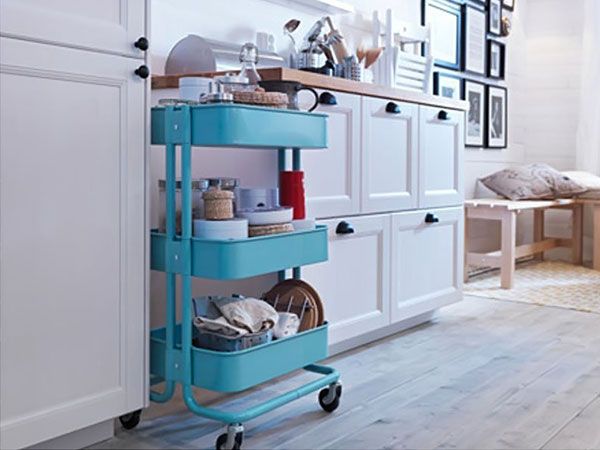 There's no such thing as too many moving parts when it comes to pantry storage. Roll through the punches with bulkier dry goods by employing a hardwearing utility cart that's small enough to fit into odd spaces or under floating shelves. This steel powder-coated find is a favorite amongst home bloggers for bathroom storage, bar carts, and more.
RASKOG utility cart, about $30; IKEA
RELATED:If wood is more your style, watch Tom Silva build a utility cart that you can also put to work in the pantry.
Floor Space: Step Stool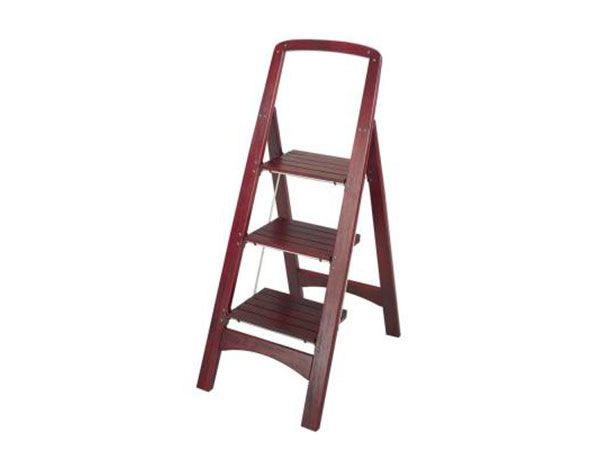 Give yourself a leg up for reaching your stacked can racks and other sky-high goods in your pantry—even the ones you stacked on top of your cabinets—with this sturdy three-step stool. Its handsome mahogany build features a safety rail for easy climbing and a design for folding flat when not in use. Plus, it's the only wood step stool available that's ANSI compliant.
Rockford 11255MGY1 Wood Step Stool, 3-Step, Mahogany, about $68; Cosco, Amazon
Watch how to make a mini step stool with a checkerboard top.