Project details
Cost
$208 + Vac (or $308 total)
Because my mobile workbench with a built-in table saw is centered as an island in my shop, it's difficult to connect and disconnect it from a main dust collection unit. For this reason, in today's video, I'm showing how I assembled a basic dust collection setup using a shop vac and install it inside the bench.
As a quick disclaimer, know that every dust collection setup will look different depending on your needs and budget. Before you get started, you should note that retailers carry different versions of the same type of hose and fittings, and not all are compatible even though they all say 2½-inch, so attempt to purchase items from the same brand or plan on some trial and error.
For the cut list, tools, and materials needed for this project, scroll down to the bottom of this page.
Steps for Adding Dust Collection to a Workbench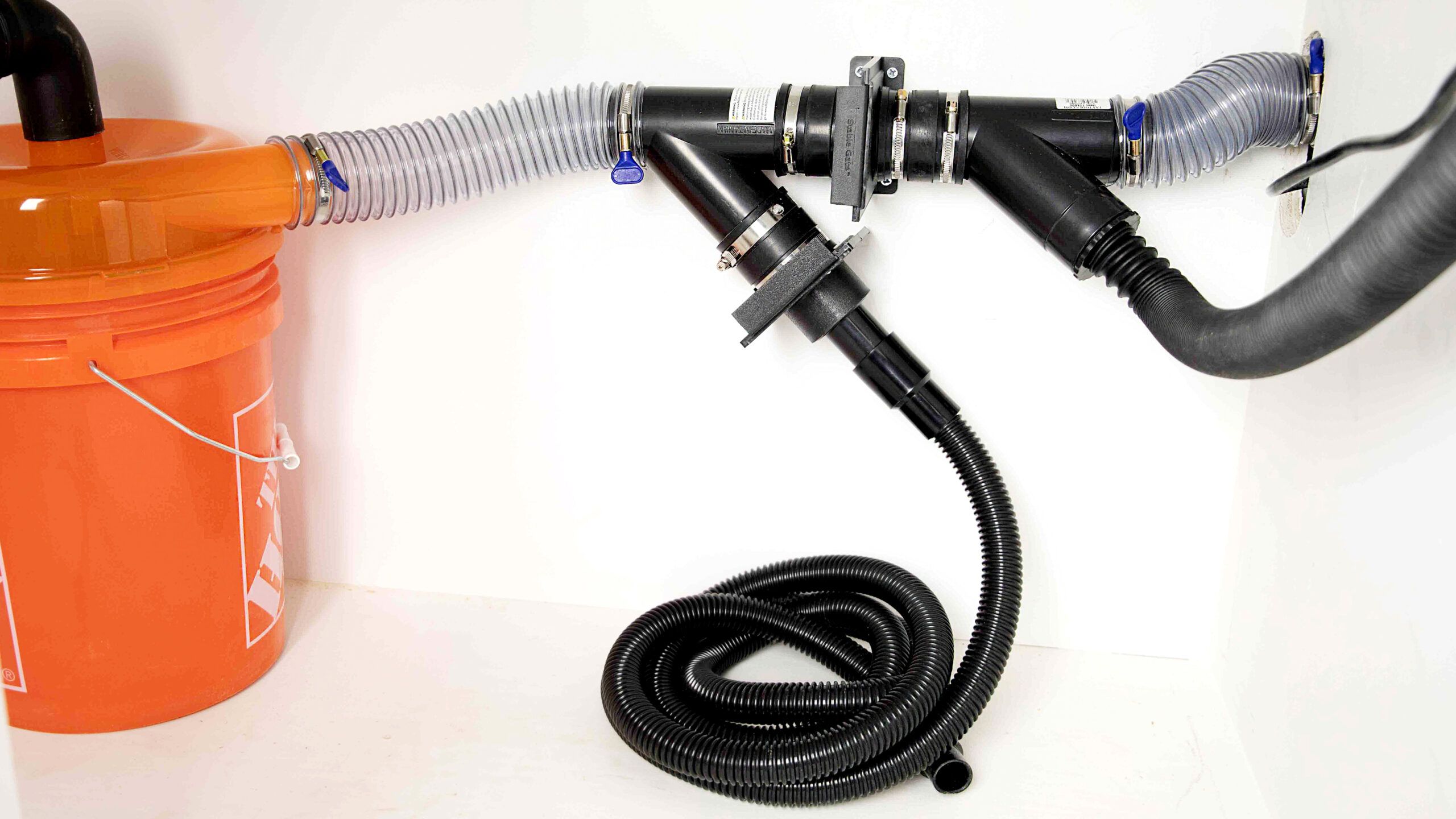 Step 1: Plan your setup
To plan my setup, I started by making a layout of my design, so I could start thinking about what fittings and hose I need. My setup consists of a shop vac with two branches controlled by blast gates, one that's accessible for use with a tool like a sander, and another connected to my table saw which has a main vac port and a smaller dust collection port on the blade guard.
Since my shop vac has a bag and I don't want to be changing it all the time, I'm also adding a dust separator to catch the majority of my sawdust in a bucket before it reaches my shop vac so I can dump it more easily. And while this layout looks stretched out to show the pieces, you'll see these sections are actually very short to maintain as much suction I can since I am only using a shop vac.
Step 2: Begin assembly
Working my way from the table saw, I first cut a section of 2 ½-inch flexible hose. I slid hose clamps on each end and then used it to connect the reducer that will fit onto the main dust collection port on my table saw and the y-fitting that will branch a hose off to the smaller dust collection port on my blade guard.
Next, I used a flexible coupling with hose clamps to attach the y-fitting to a blast gate. Now I can attach another y-fitting with another blast gate to create the second branch. And finish by cutting another section of 2 ½-inch hose and then using hose clamps to connect the y-fitting to the dust separator.
So now, I've connected my vac to a dust separator followed by a flexible hose and a y-fitting fitted with two blast gates that allow me to open a line for a small tool like a sander, or a branch to my table saw which has another y-fitting that branches to my saw's main dust collection port and up to the smaller dust collection port on my blade guard.
Step 3: Installation
First I'll attach it to the table saw, and then to the dust collection port. One blast gate has a stabilizer I can mount inside the cabinet to hold everything in place. Having the blast gates at the back of the cabinet is not ideal, but I would rather have shorter lengths of hose, so I opted to keep them here.
Now that I've created all of my connections, it's time to automate the vacuum power with a special plug. This plug allows my table saw to trigger my vac automatically when it's turned on, and runs for a bit after my saw shuts down to clear any remaining sawdust. Alternatively, I can hit the switch to turn on my vac manually when I'm using the branch that's not connected to the table saw.
I know there are a lot of moving parts, but hopefully, this installation gives you some ideas about how to set up your own mini system.
To see the other customizations I made to this bench, click the links below this video:
---
Dust collection plans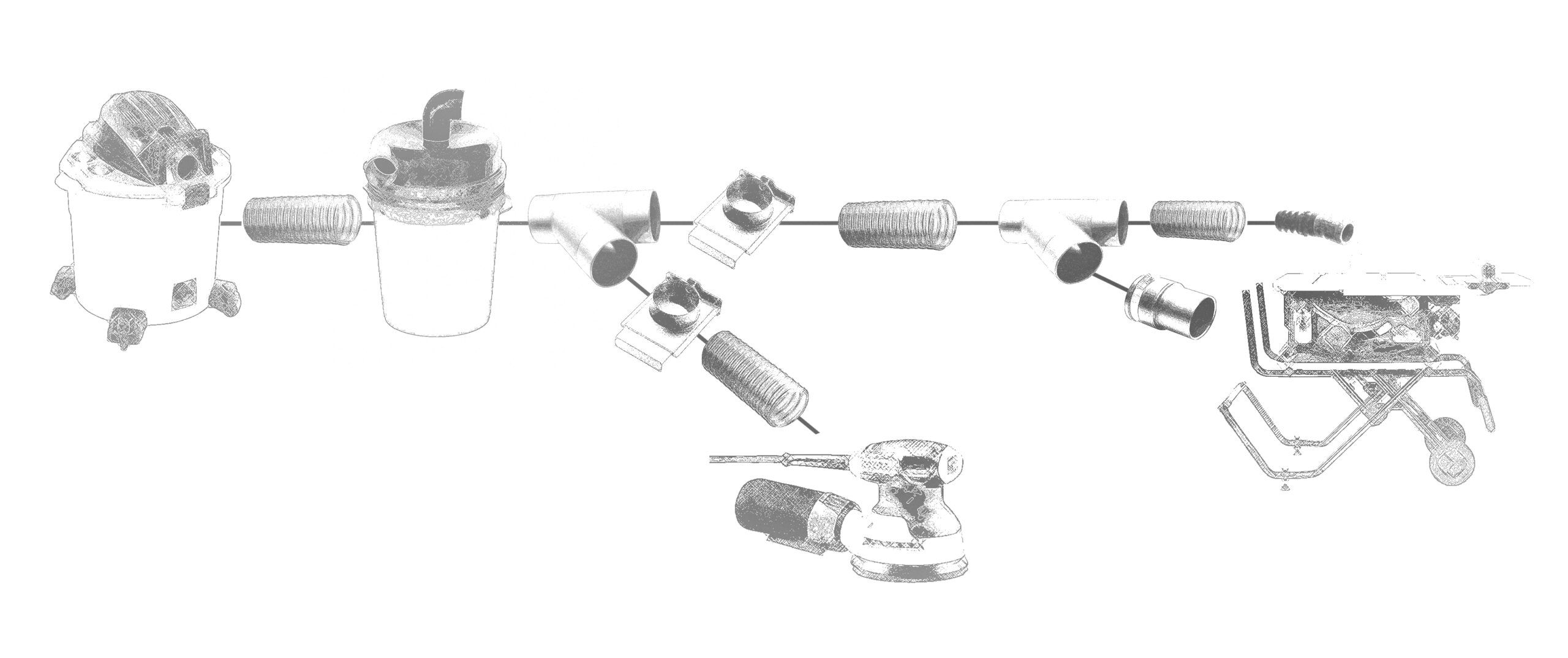 ---
Materials
Note: On one branch I show a cheaper hose I bought on Amazon. After testing its performance, I've upgraded it to the same hose (the FlexiPort Power Tool Hose Kit) I used on the table saw's blade guard.
---
Tools