Beverage Tubs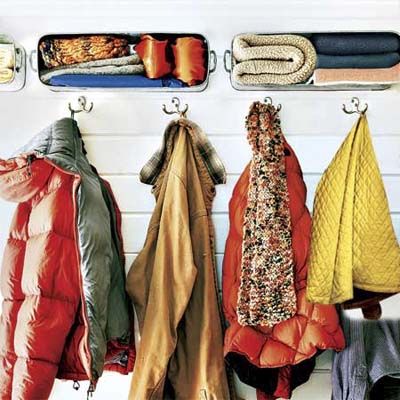 If there's no place to park them, scarves, gloves, and hats can become a tangled heap in your entryway, complicating matters for anyone on their way out the door. To store winter items that can slip off conventional shelves, mount galvanized-steel beverage tubs to the wall above a row of coat hooks. To hang them: Locate and mark the wall studs, then drill at least two holes for each tub, making sure one goes into a stud and using a toggle-bolt anchor in the other hole. Drill corresponding holes on the bottom of each tub, and use deck screws to fasten them to the wall. Check for level and adjust the tubs as needed. They'll add a touch of rustic charm in an entryway—and keep the party spirit alive for months to come.
Shutter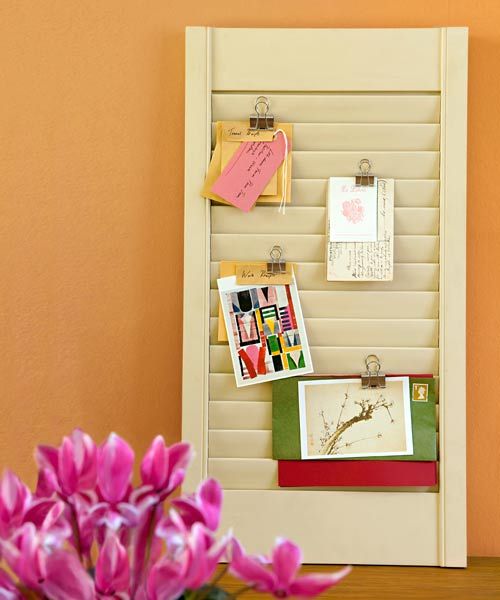 When you're planning a remodel, why hide color swatches and inspiration materials in a file folder? Put them on display on a propped-up wood shutter, and you can review and add to your collection easily. If you don't have a shutter ready for reuse, pick one up at a home center or local salvage yard. (Guard against potential lead-paint hazards by coating old painted shutters with a spray-on satin-finish clear polyurethane to keep the exterior from chipping.) Simple binder clips keep items securely in place but allow them to be moved as your ideas take shape.
Mason Jars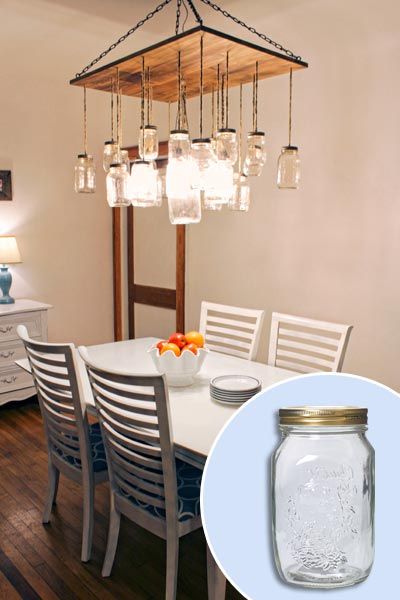 Reader Cassandra Stambaugh and her husband wanted a chandelier for their dining room but couldn't swing the $400 price tag. So they made one instead, using a 1-inch-thick wood panel, jute rope, two types of chain, and mason jars from a closeout store. "It cost just $101.77!" she says.
Ice Cube Tray and Bakeware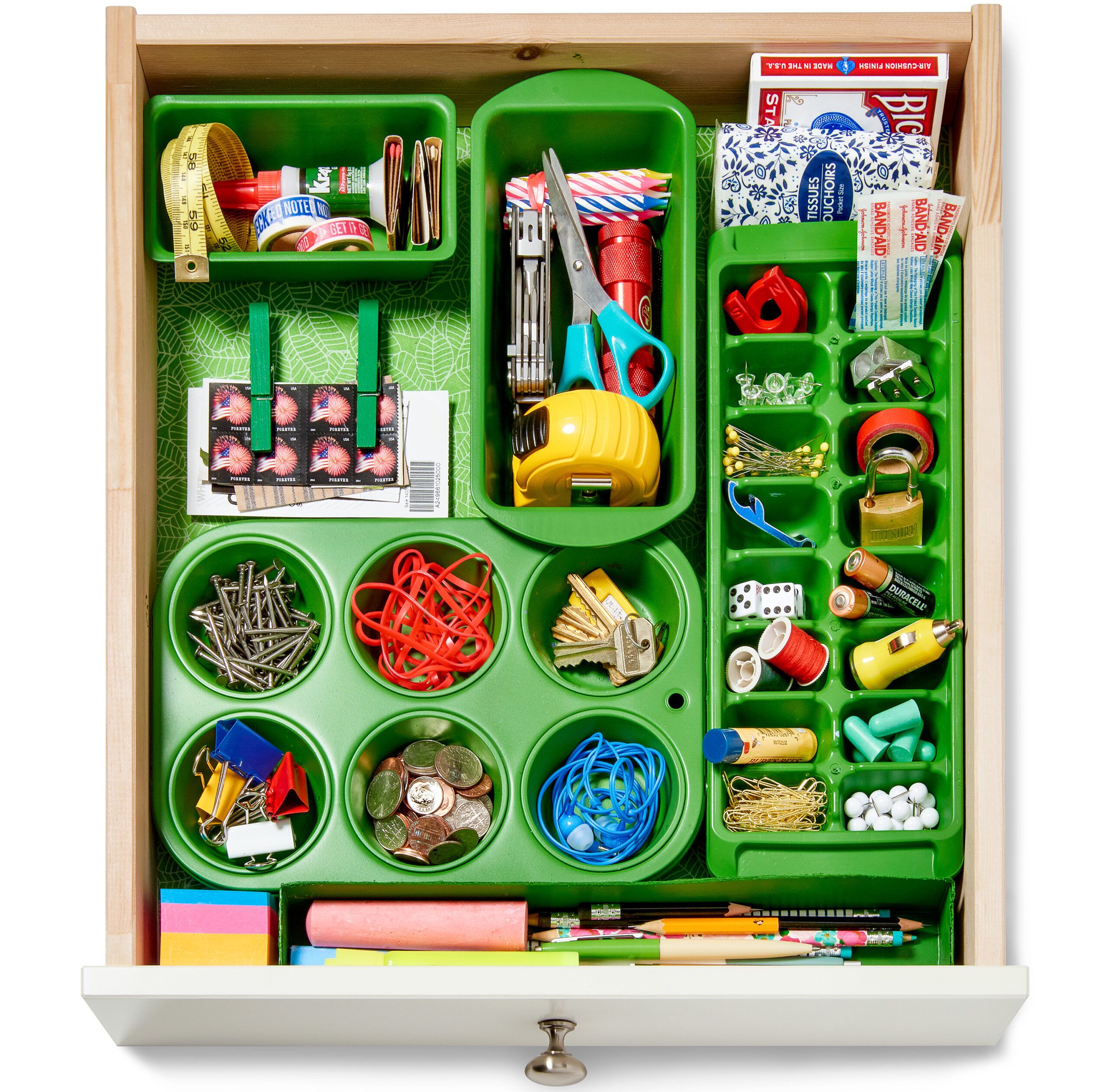 Published in September 2017
Turn a cluttered kitchen catchall into neatly organized storage by repurposing items you already have on hand. We used an ice cube tray, a few baking pans, and some clothespins, but anything from tin cans to take-out containers can do the trick. Empty the drawer and toss anything that's truly junk. Set aside the stuff you want to stash, then arrange your containers Tetris-style so they fit snugly in the drawer. Give them a couple of coats of spray paint to unify the disparate materials. Once they're dry, place the containers back in the drawer, and you're ready to divide and conquer.
Plastic Bottles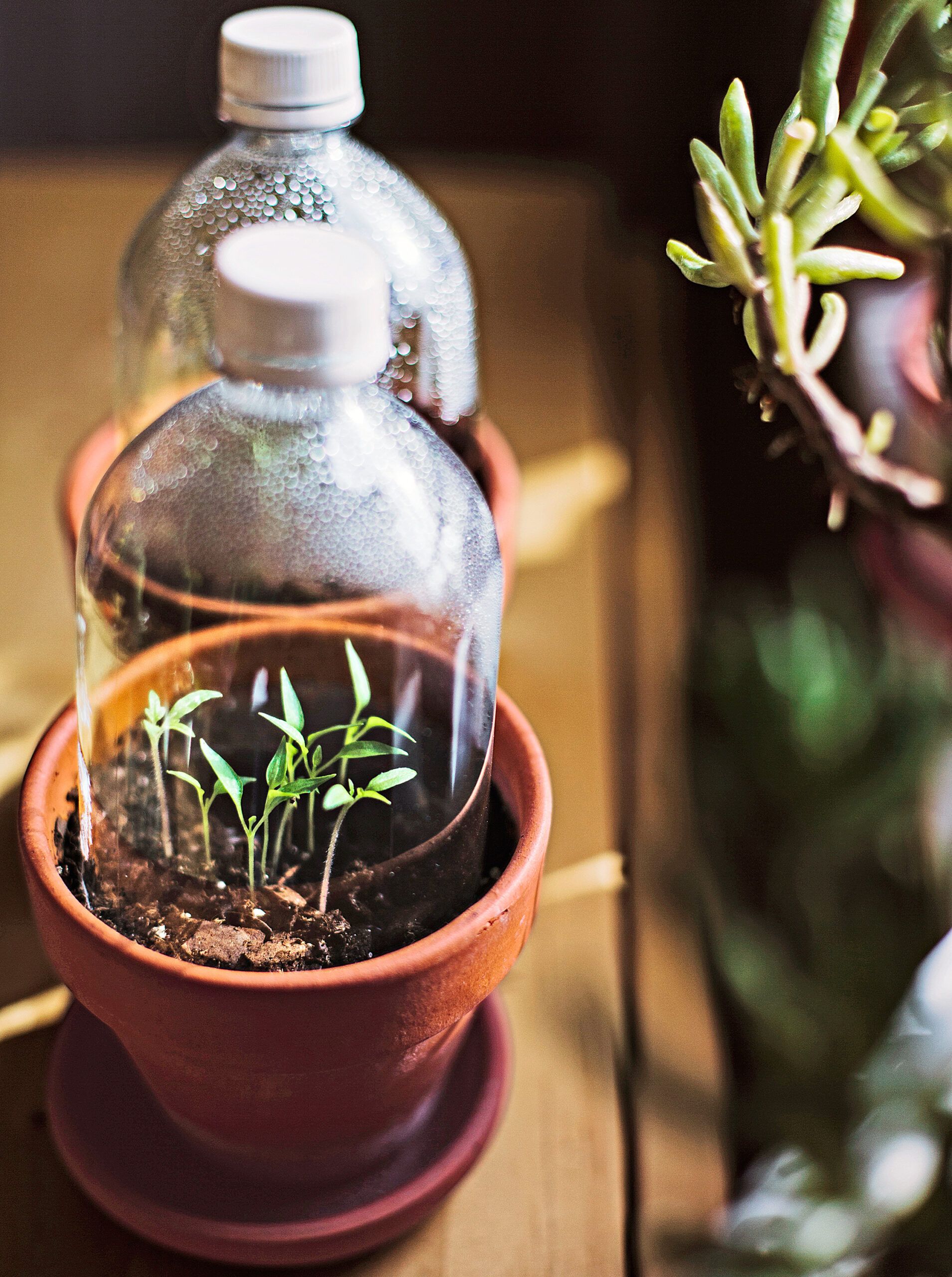 From the Mar/Apr 2017 issue of This Old House magazine
Starting seeds indoors? Mini greenhouses, made by slicing the bottoms off plastic bottles, can encourage them to germinate. The see-through incubators help keep soil evenly moist while blocking drafts and allowing you to keep an eye on the sprouts' progress. Once they're on their feet, you can transition them to the real world by putting the pots on a porch or stoop and removing the cloches—during the day only, if you can't resist coddling your seedlings a little bit longer.
Too hot and steamy? Twist off the bottle cap to let in fresh air.
Radiator Screening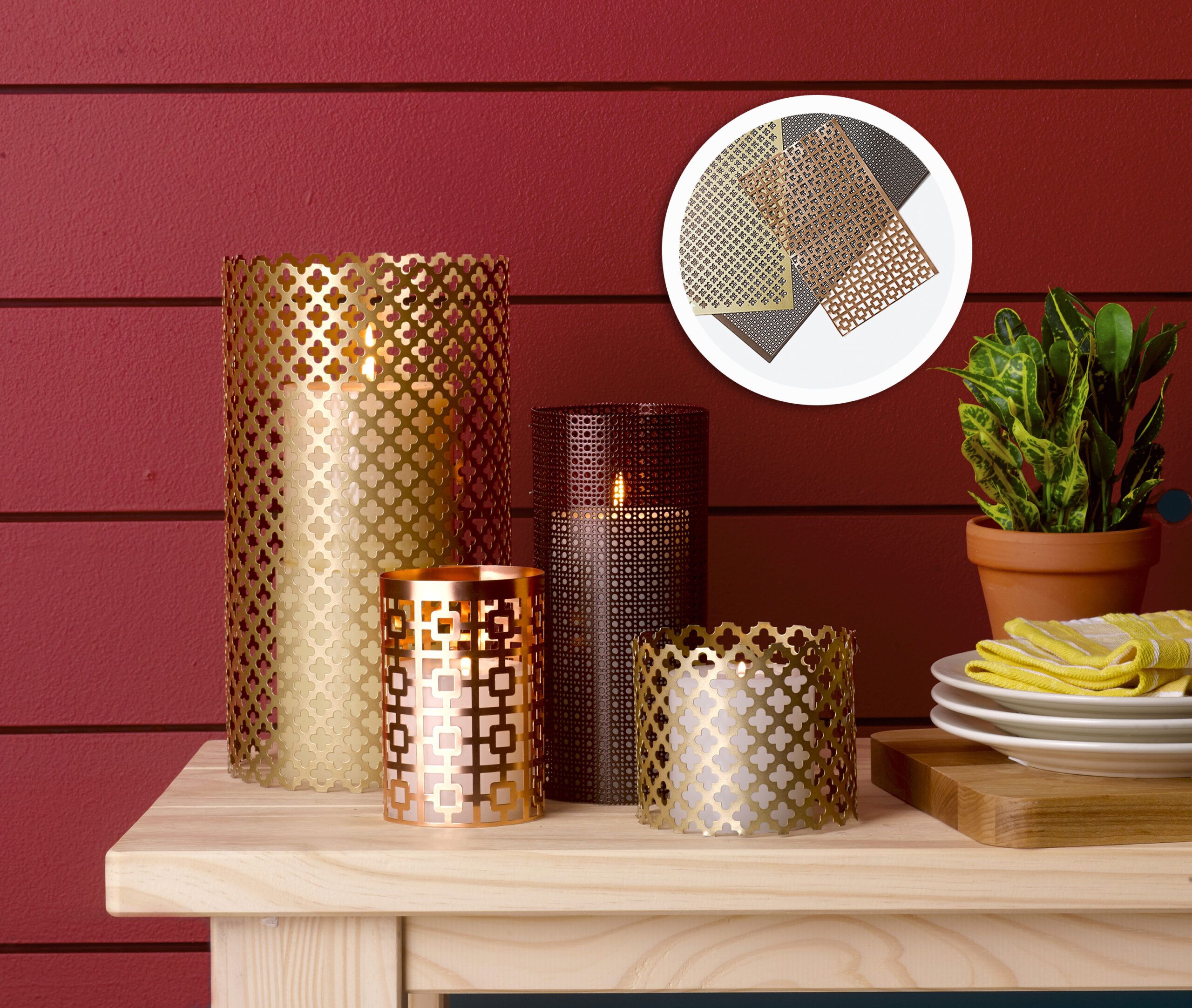 Create a light show and prevent unintentional snuffing by wrapping candle pillars with scraps of radiator screening. The sheets come in a wide variety of patterns and finishes, starting at about $11 per sheet at the home center. We cut pieces to size using tin snips, then used needle-nose pliers to bend a few loops of wire to close up seams.
Shipping Pallet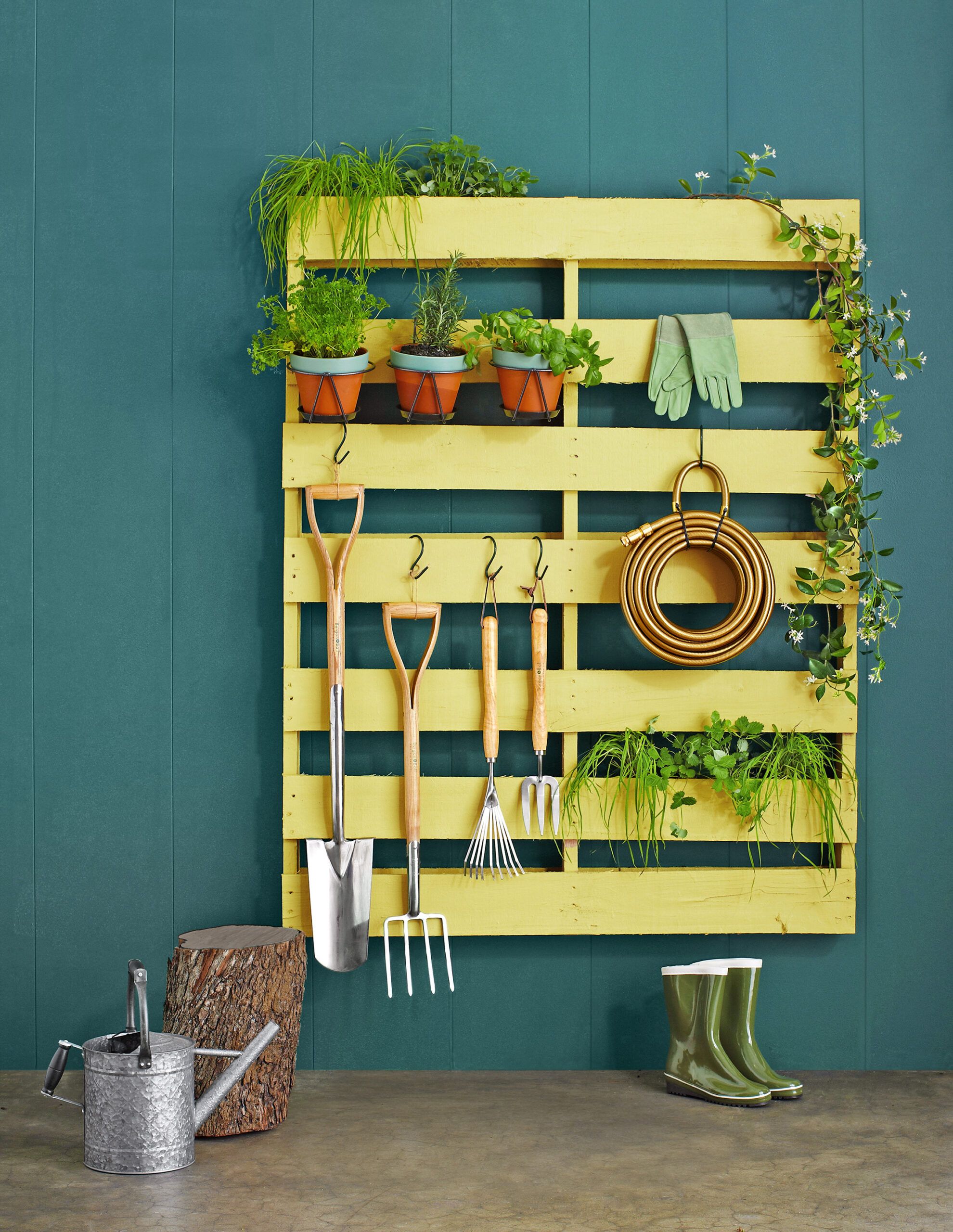 No need to spend a fortune to bring some order to your garden tools—a salvaged wood shipping pallet does the trick. Ask around at local retailers for pieces that are in good shape and free for the taking, or keep your eyes peeled for curbside finds. Once you get your pallet home, sand the wood before cleaning it with equal parts bleach and water. Then prime and paint in a high-impact hue—we like this summery citrus color—and affix it to the wall using a heavy-duty French cleat. Use S-hooks to hang tools, gear, and even potted plants for easy access and a handsome effect. The result: an organized display that really racks up the charm.
Mason Jars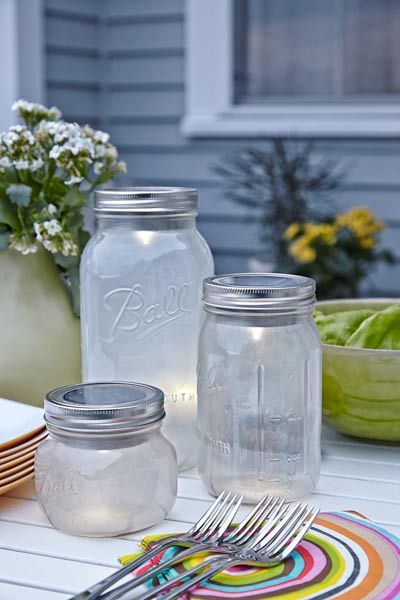 For wire-free outdoor illumination, try these DIY solar lanterns, which give off a warm glow well after the sun sets. This easy project uses wide-mouth mason jars, with each lid's metal insert replaced by a piece of plexiglass to allow the sun's rays to power the solar cell through the lid. We coated the interiors of the jars with Rust-Oleum's Frosted Glass Spray (about $9; rustoleum.com) to give the lanterns a hazy, aged-patina look, and glued the solar-cell assembly of a mini pathway light from the home center (about $4 each) to the underside of each lid. Once assembled, leave the lights in a spot where they'll get direct sun, and you'll never be left in the dark again.
See the full step-by-step instructions.
Balusters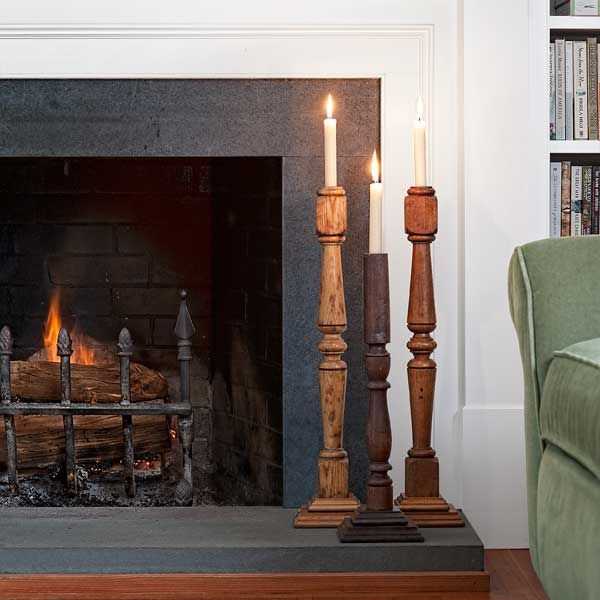 With their elaborate turnings and striking height, vintage wood balusters—long parted from the staircases they adorned—make for stately candleholders set up on a hearth. Just as elegant is how little the project can cost: We found our spindles at a salvage yard for $4 and $5 apiece. The shapely holders, evocative of classic candlesticks cast in bronze and iron, are also simple to make. With just a couple of quick cuts, a drilled-out hole, and a coat of polyurethane (which will also encapsulate any residual lead paint), the balusters are ready to mount on a base of stacked 4×4 and 6×6 post caps (a few bucks at home stores), stained to match.
See the full step-by-step.
Doorknobs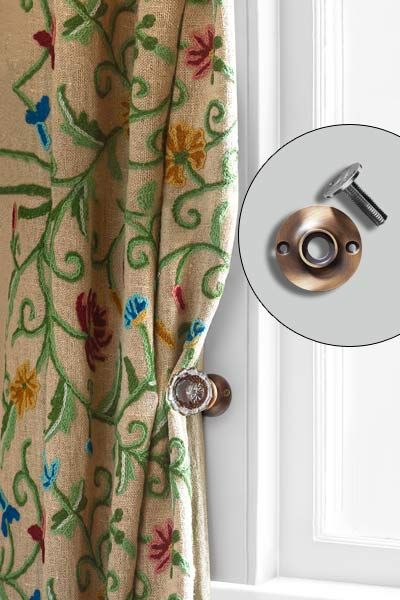 Let some natural light in by installing drapery hardware that's made to handle the push and pull of daily use: old doorknobs. Scour salvage yards, antiques shops, or flea markets to find the right ones to flank your window. Don't worry if a knob's threaded rod or backplate is damaged or missing; to install, you'll need a dummy spindle (inset, right; under $5 at specialty hardware stores), which anchors to the wall and threads onto the knob. A reproduction rosette like the one shown (inset, left; about $6.49 at houseofantiquehardware.com) slides over the spindle, covering the hardware.
Old Dresser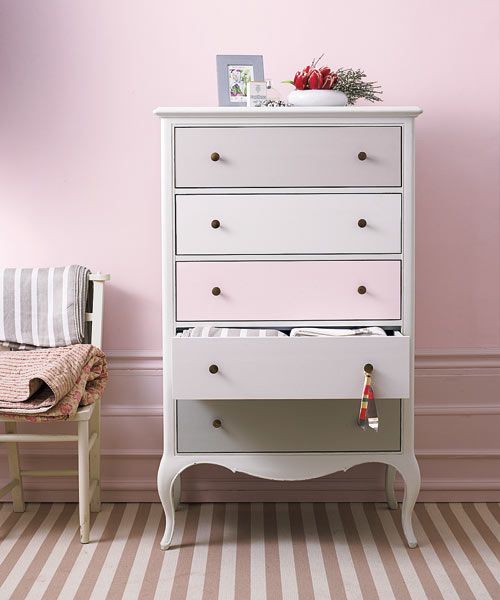 Turn an old bureau into an elegant custom piece with a unique tonal paint job. Tinting one drawer the same pale shade as the walls, like the rose shown here, makes the furniture a perfect fit for the room while giving it an unexpected hit of color. Painting the other drawers and the dresser body in an array of neutral grays and off-whites turns that pastel shade from sweet to sophisticated. To get the look, try Sherwin-Williams's Rosebud, Snowfall, Grayish, and Essential Gray. What a way to set a new tone for spring!
Lattice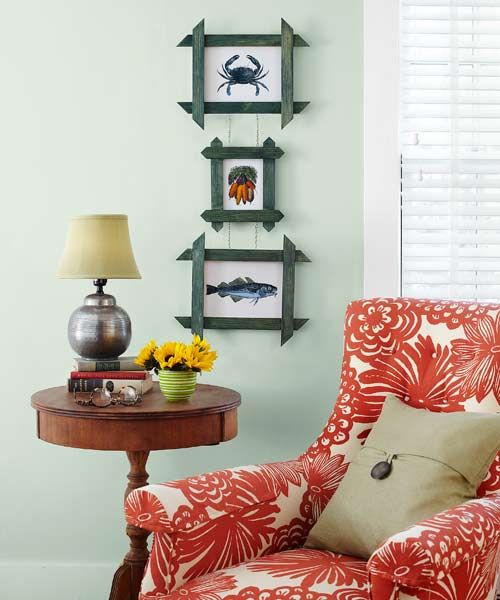 Those crisscrossed strips of wood can do more than support a climbing vine. Try putting them to work indoors to give unfinished wood frames a playful cottage look. Pry leftover lattice apart or buy new strips at a lumberyard, and cut lengths slightly longer than the sides of the frame (one with a flat face works best). Miter each end at a 45-degree angle, or make two opposing cuts to give each corner a charming picket shape. Dry-fit your design, secure with wood glue, and add a colored stain that won't hide the grain. Then fasten with hooks and chains for a display that really hangs together.
Old Rake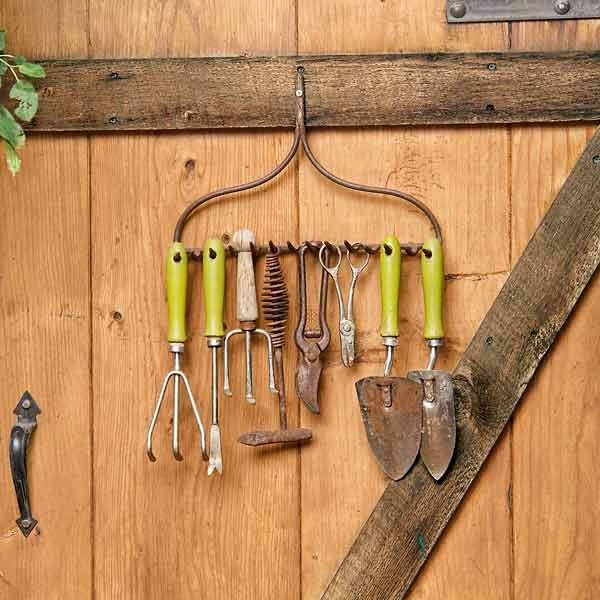 Got a rusty old steel rake that's seen better days? Don't just toss it. When mounted tines-out on a shed wall or a door, the rake's head becomes a vintage-look rack for your gardening tools that's as charming as it is convenient.
Find more gorgeous home accessories and furniture made with salvage-yard finds on our Salvage Style board
Old Dining Chairs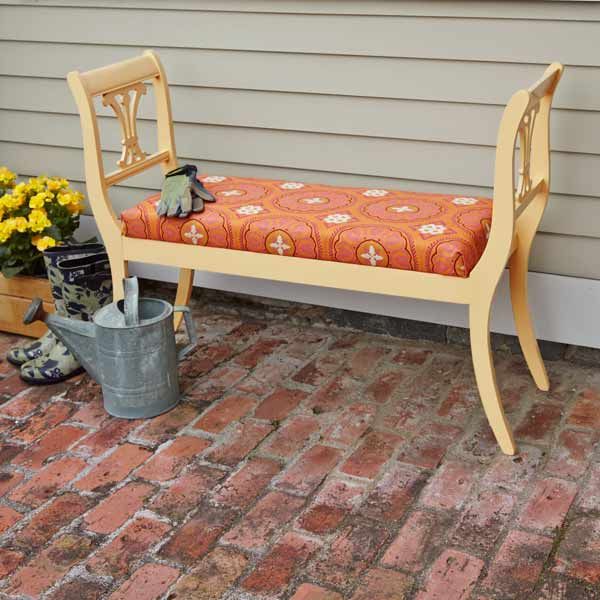 Harp-back chairs are frequent finds at used-furniture stores and flea markets—ripe for a DIY reinvention. This sleigh-style bench takes advantage of the chairs' graceful contoured backs and gets its new seat frame from home-center 1x3s and plywood. A couple of coats of exterior latex paint (we used Benjamin Moore semigloss in Goldfinch), plus upholstery in a water-resistant, fade-resistant fabric (here, Sunbrella in Zara Sunset), and you have a porch-ready perch.
See the full step-by-step instructions
Old Drawers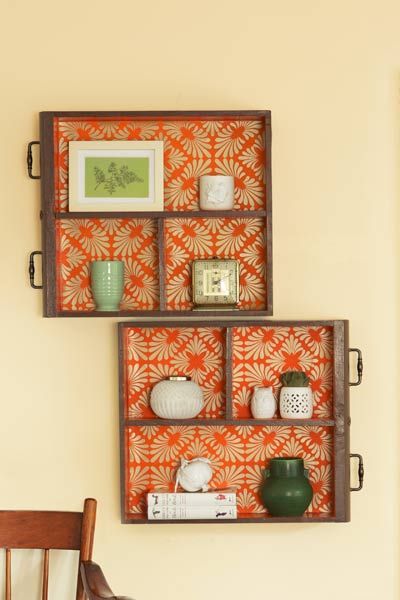 Orphaned desk or dresser drawers—often spotted curbside—can enjoy a second go-round as decorative shelves. To make ones like these, cover the bottom of the drawers' interior with spray-adhesive-backed wallpaper in a colorful graphic pattern. Cut interior shelves to fit (we used ½-inch-thick poplar). Paint and let dry. Install shelves by tacking brads from the back and sides of the drawers. Hang the drawers using a metal French cleat kit (available at home centers for about $8). Then you'll have a shelf display that really stacks up.
Clamps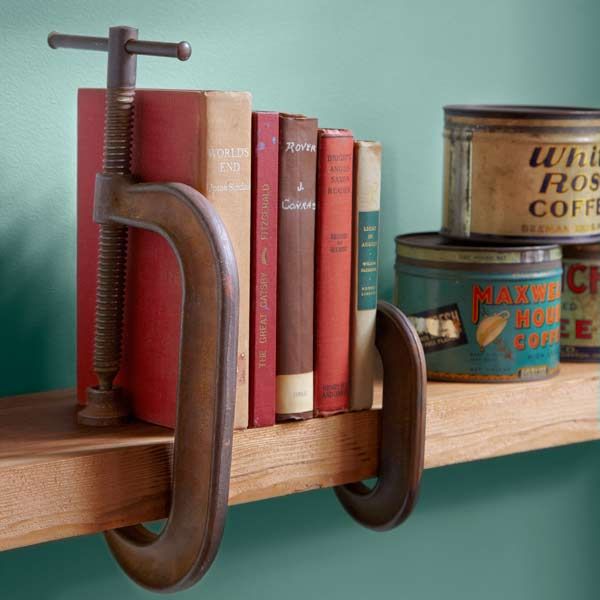 Give a display ledge an unexpected edge: Prop up your favorite volumes by using vintage C-clamps as bookends. Pick up a pair of these well-worn woodworking tools at a local flea market or salvage yard. Whisk off any loose rust with some steel wool or a wire brush. Twist the clamps in place just snugly enough to keep the books upright without denting the shelf's surface—or, if you're using them on fine furniture, protect the wood by gluing small pieces of felt to the clamp ends as padding.
Old or Salvaged Bookcase
We turned a small bookcase into the drinks station shown here in a few steps. After coating it with glossy red paint—Benjamin Moore's Tomato Red—we installed a rack for stemware and a towel bar so that spill relief is never far (about $13 and $11 each; amazon.com). Adding casters (about $6 for two; homedepot.com) allows for wheeling the party into any room. Let the good times roll!
Chicken Feeder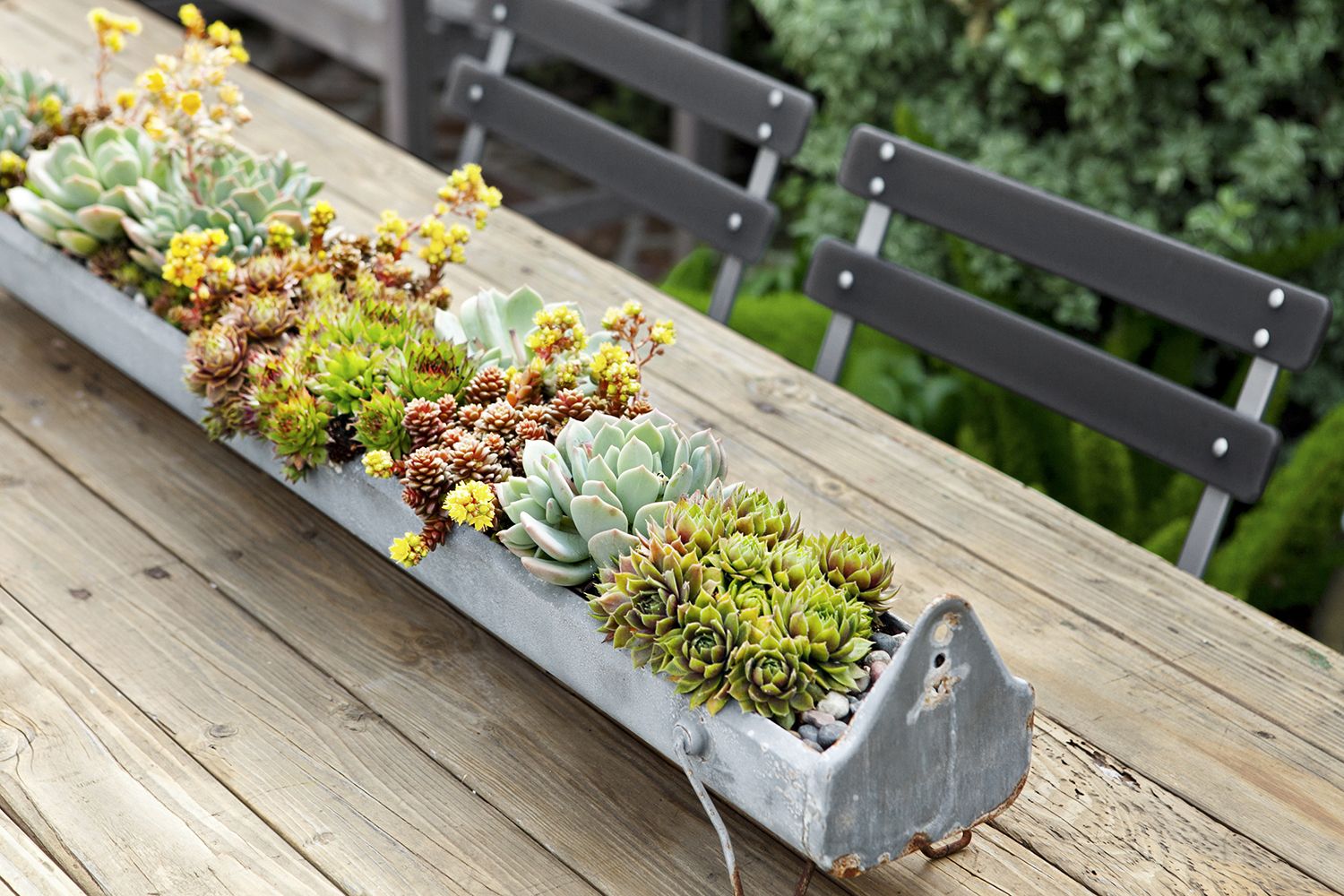 A vintage chicken feeder plucked from eBay requires only drainage holes to keep roots from getting soggy, a bag of cactus soil, and a topping of pebbles. Along with contributing color and texture, this living tabletop accessory is practically self-sustaining—unlike most potted plants, it soaks up this month's dry heat.
Tin Ceiling Tile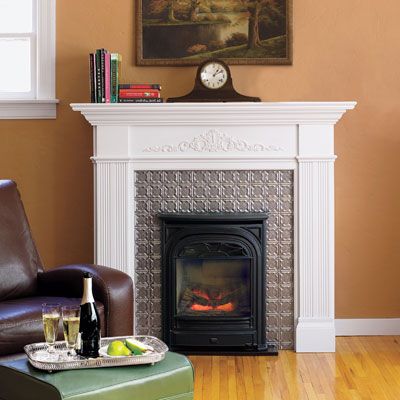 While looking for a way to add personality to their new custom fireplace, Steve and Sandy Miller had this flash of genius: Why not use the same unique tin tiles that adorned their kitchen backsplash for the surround? The couple first chose their design—an ornate pattern of 3-inch squares, which they cut to fit from large panels. Then they covered the surround with cement board and affixed the tin with a heat-resistant construction adhesive. In total, the project took only a few days—but the result will look cozy all winter.
Tub Feet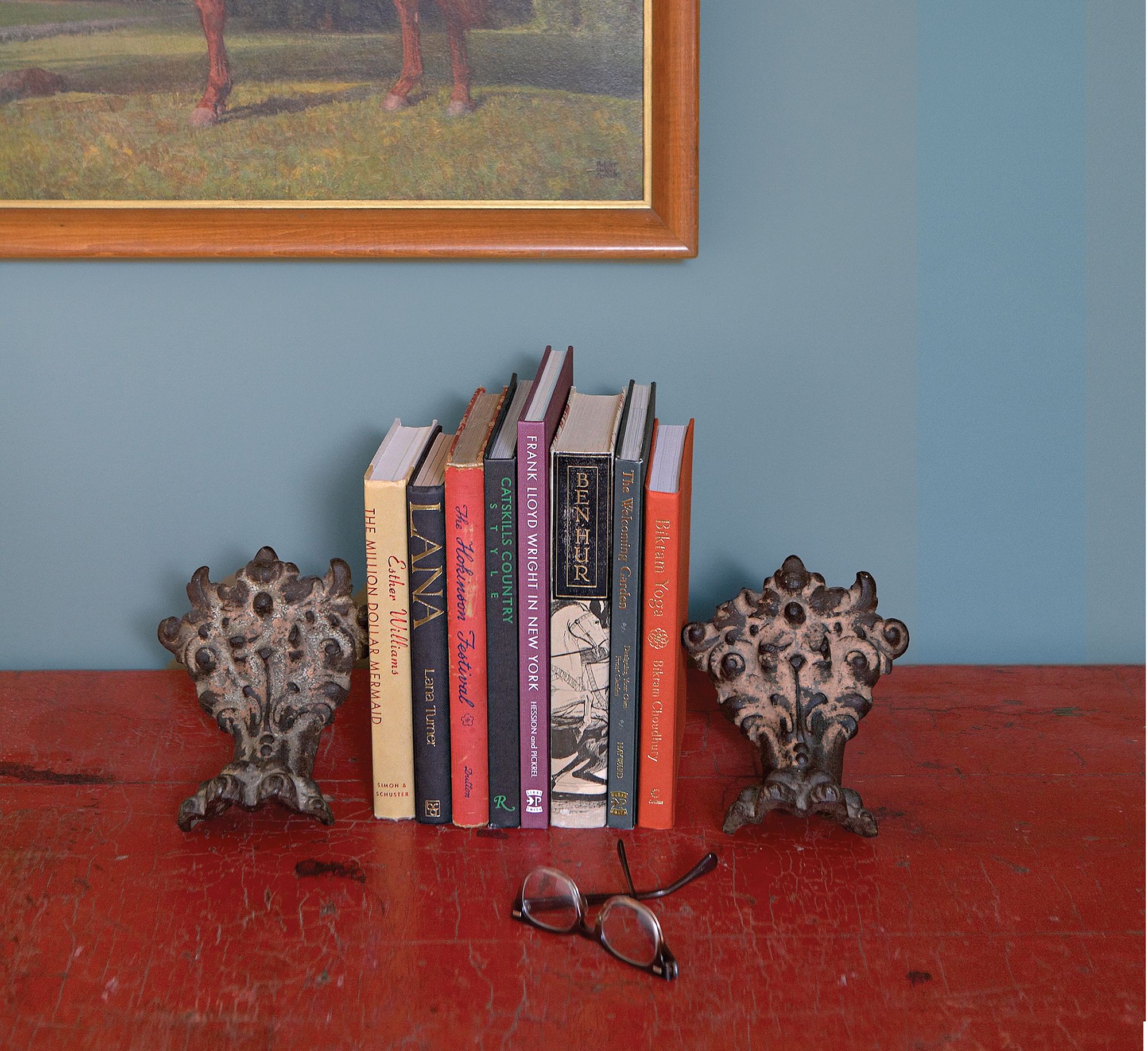 Looking for something small and affordable at the salvage yard? Decorative iron tub supports can be found at most such shops—and are far easier to recycle than the heavy vessels that once perched upon them. A matching pair like these ornate tiger claws costs about $50. Put them to work as bookends on your desk or use just one to prop up magazines inside a shelving unit. To protect wood from scratches, stick felt cushions on the feet bottoms. Then put your own feet up and enjoy the ironwork's vintage charm.
Pro Tip: To preserve the iron's patina and seal any lead paint, add a coat of clear acrylic finish.
Hall Closet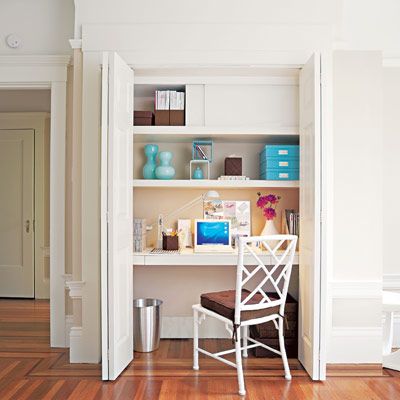 When you're tight on space, a home office may seem like a luxury, but carving one out from a seldom-used closet is easier than you think. Just take out the existing rod and follow these tips:
1. Set shelves at least 1 foot apart and mount with standards, which can hold up to 70 pounds per foot. Try: Elfa's Driftwood and Platinum Office in a Closet, $232; containerstore.com.
2. Avoid clutter by stashing stationery and odds and ends in labeled, stackable boxes.
3. If your doors don't fold, take advantage of vertical real estate by screwing thin sheets of cork to their back sides for posting notes and bills.
4. Set your to-do lists in sight with a small, movable magnetic or dry-erase board. To make a one-of-a-kind version, prime and coat a piece of wood with blackboard paint.
5. Pick a narrow desk with slim drawers directly beneath the top for space-saving, easy-to-access storage.
6. Instead of installing a ceiling light, opt for a task lamp with an adjustable arm.
Tile Scraps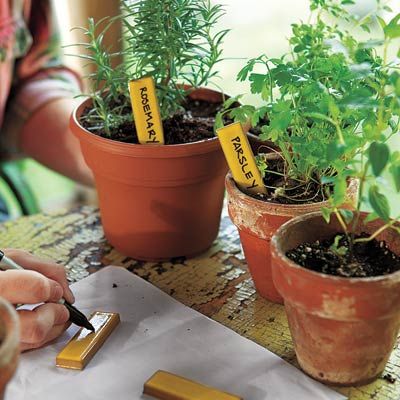 Every tile project seems to result in leftover squares, shards, and odd off-cuts. Before you turn to the trash, consider this smart ways to reuse them Create tags by writing on small tiles with a permanent marker. To reuse, wipe with nail polish remover.
Tin Ceiling Tile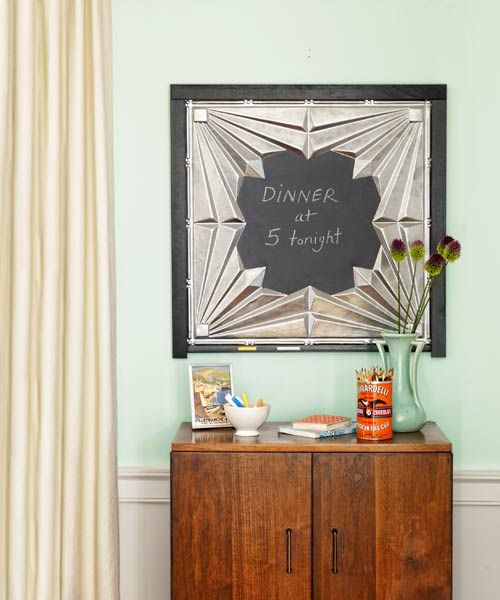 Any family can benefit from a centrally located message center, but those ubiquitous dry-erase boards often sorely lack style.
See a detailed step-by-step of this project for something with a little more charm.
Ladder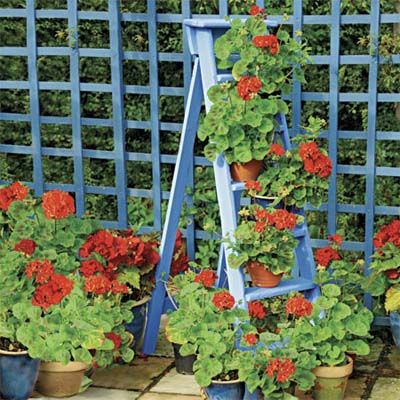 A rickety wooden ladder that's been gathering cobwebs in your basement may be unsafe to climb, but that doesn't mean you should kick it to the curb. With a fresh coat of paint in a cheery color, it becomes a space-efficient, budget-friendly display station for prized potted plants. If the ladder's spreaders—the horizontal braces that connect the ladder's rung-bearing base and fly sections—are missing or broken, lean the ladder against a vertical surface or stabilize it with two scrap pieces of 1×3 fastened where the spreaders would go. In any case, remember not to walk underneath your new creation—you wouldn't want to jinx your green thumb.
Pro Tip: Potted geraniums thrive in full sun and well-drained soil.
Old Garden Tools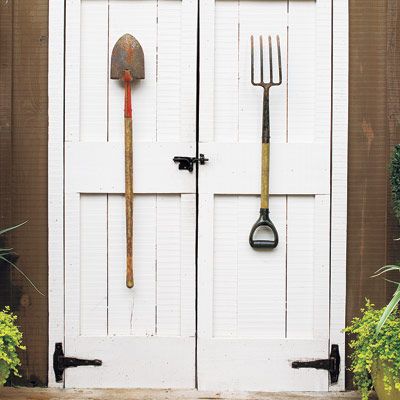 Get a handle on that jumble of rusty gardening spades and forks cluttering your garage or shed by turning a pair into out-of-the-ordinary door pulls. Simply center the tool on the door's surface, drill two holes about 6 inches apart on the back side of the wood handle, and screw to the door from the inside. Garden-variety pulls can't even compare.
Driftwood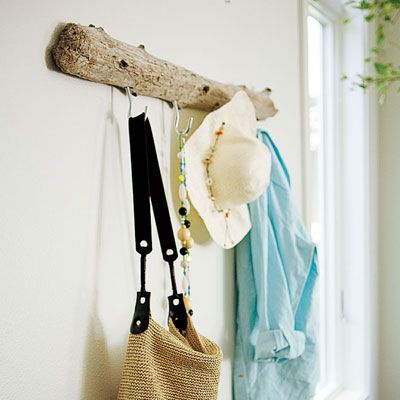 To make this beachy fixture, find a piece of driftwood that's a few feet long. Use a hand saw to cut off a third of the wood lengthwise so it lies flat against the wall. You'll need four hook screws; drill a pilot hole into the bottom of the wood for each, then screw them in. Finish by mounting the piece to the wall's studs with deck screws.
Summer Front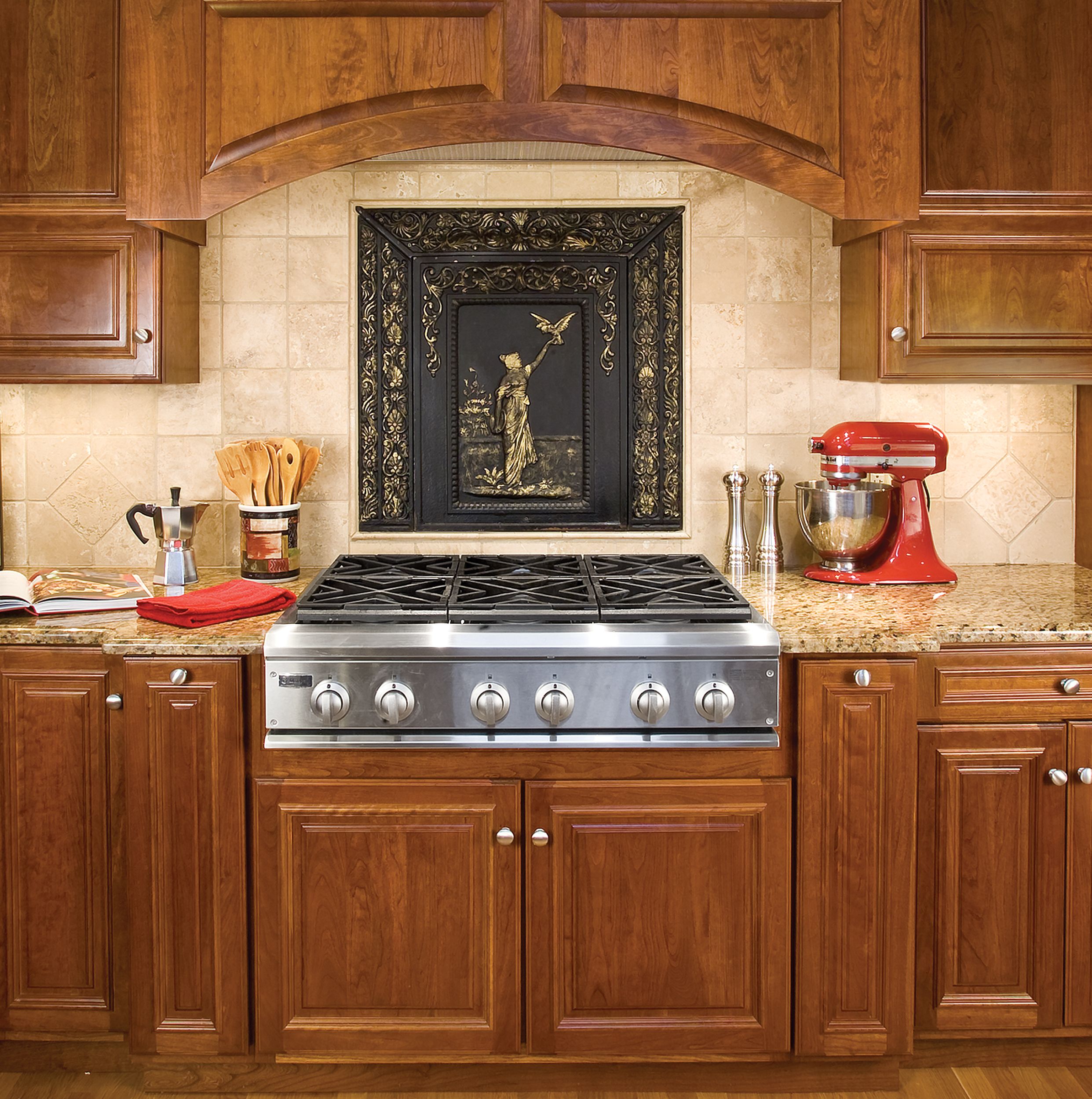 "We bought this 'summer front' at a farm auction for $110," says Kentucky homeowner Renay Davis, who had been looking at pricey basket-weave tile to protect the wall behind her cooktop. This Victorian-era cast-iron antique, once used to cover a fireplace during the off-season, is now a fancy focal point that saved the Davises more than $800 in materials. We like how it turns the kitchen into the true hearth of their home.
TOH Tip: The Davises coated the piece with tile sealer to make it easy to clean, then mounted it between the wall studs.
Crates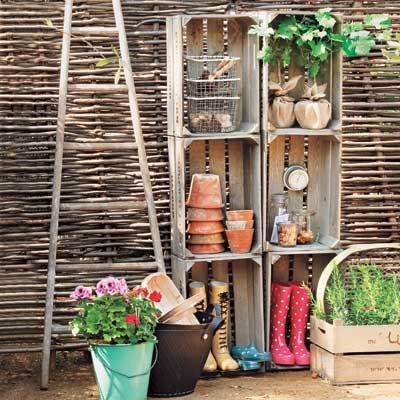 Beef up your garage or shed's storage with this rustic shelving unit. Made from slatted fruit crates, it's a breeze to build: Just place the crates—check local orchards for extras or find vintage versions on eBay for as little as $8 each—on top of one another, one at a time. Drill pilot holes in the corner braces to prevent the wood from splitting, then fasten with 2-inch deck screws. For extra support, screw the unit into a wall from inside the crates. The resulting shelves are sturdy enough to store pots, plants, even galoshes, and can easily weather any mud or dirt that comes their way.
Toy Wagon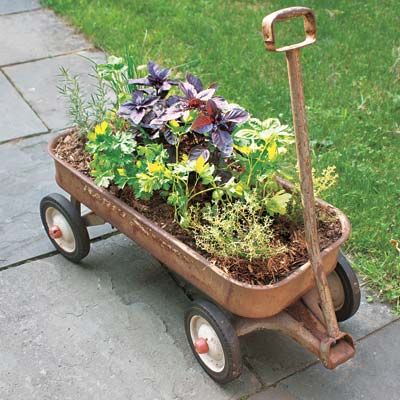 Looking to spice up your container garden? Dig out Junior's rusty old Radio Flyer and turn it into a mobile planter that can go from a sun-steeped corner right to your kitchen door.
Leftover Decking
To keep little feet—or big ones—from beating a dusty trail into your grass, install a few "stepping stones" made from composite decking. They're durable, rot-resistant, and affordable (or even free, if you use leftover boards). And the playful, cheery design will put a spring in your step for seasons to come.
The How-to: Place seven boards side by side, leaving ¼ inch between them for drainage, and trace a circle onto them. Use deck screws to attach a base of three boards perpendicular to the others, one at the centerline, the other two near opposite ends of the circle. Use a jigsaw to cut out the circle, then bury the base so that the piece is flush with grade.
Old Picnic Table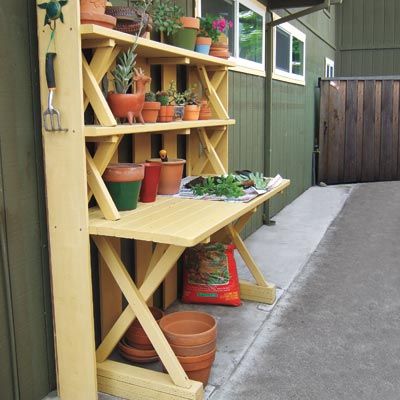 Tired of her old redwood picnic set, TOH reader
Tarja Varis stuck it in a corner of her yard and
forgot about it—until she needed a place to exercise her green thumb. "Stacked on the table, the benches looked like shelves," she says. To turn the pieces into a bona fide potting bench, she raised the table to a good working height with 2×4s. Then she used old fence boards to add support to the back and sides, and secured the entire structure with deck screws. After priming the bench, Tarja coated it with deck paint in pale yellow
and installed hooks for hand tools. Total cost: $30!
Terra-Cotta Pot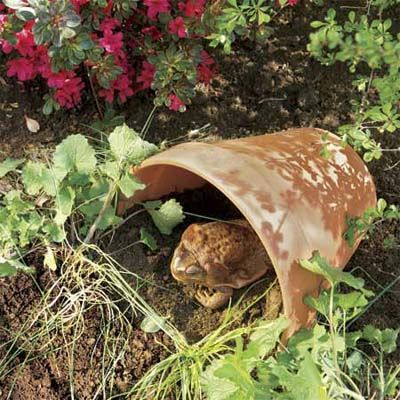 While they're not the most graceful of garden creatures, toads feast on flying insects and plant-destroying cutworms. Give these hoppers a habitat near your beds by making a shelter from a cracked or chipped terra-cotta pot. Simply turn the pot on its side and partially bury it in a shady, cool spot, preferably near a light source, where bugs congregate. Toads dig a moist environment, so don't worry if water pools around or inside the pot. Just avoid using chemical fertilizers or herbicides nearby, which can harm the little guys. After all, they're doing you a big favor.
Clipboards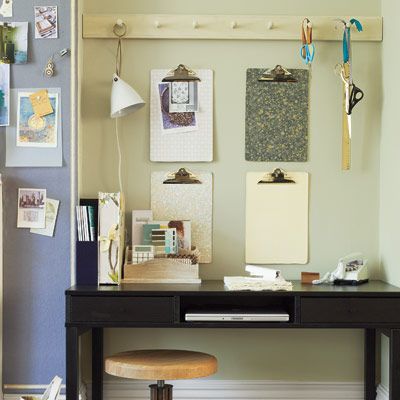 Tidy those piles of papers threatening to overtake your desk. The best way to create extra storage? Think vertically. Here, a peg rail corrals supplies and a hanging task lamp, while wall-mounted clipboards sit ready to organize incoming papers—one each for bills, unanswered mail, messages, and magazine tear sheets. Next to the desk, an idea-file board, created by affixing ½-inch-thick cork to the wall and covering it in felt, makes it easy to spot inspiration for a future remodel. Other materials, such as magazines, paint chips, and carpet samples, can be tucked into neat files and boxes, leaving the desktop clear for whatever home-related work comes its way.