After: A New Gardening Obsession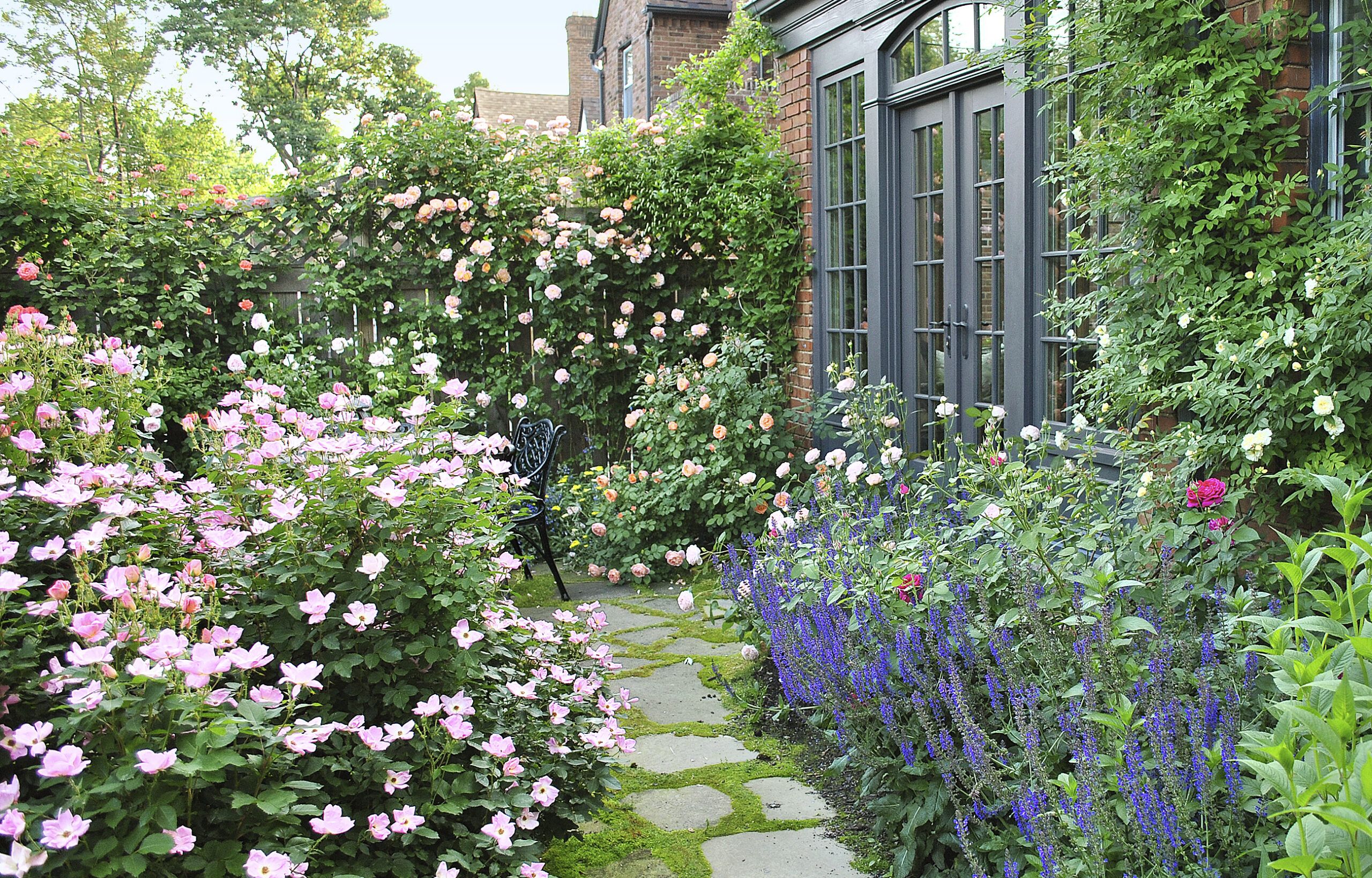 Doing things halfway is just not in Corky Thacker's nature—even when it comes to her hobbies. As a girl, she rode horses. Rain or shine, she was at the stables after school and competing in horse shows on weekends. As an adult, she considered taking up golf but decided that the last thing she needed was another compulsive sport. "I'd been there and done that with horses," she says. "At least, that's how I felt until I fell in love with roses."
Shown: Now 'May Night' salvia and other purple bloomers line the paths that wind through the lush, colorful garden.
Before: Yard In Need of Sprucing Up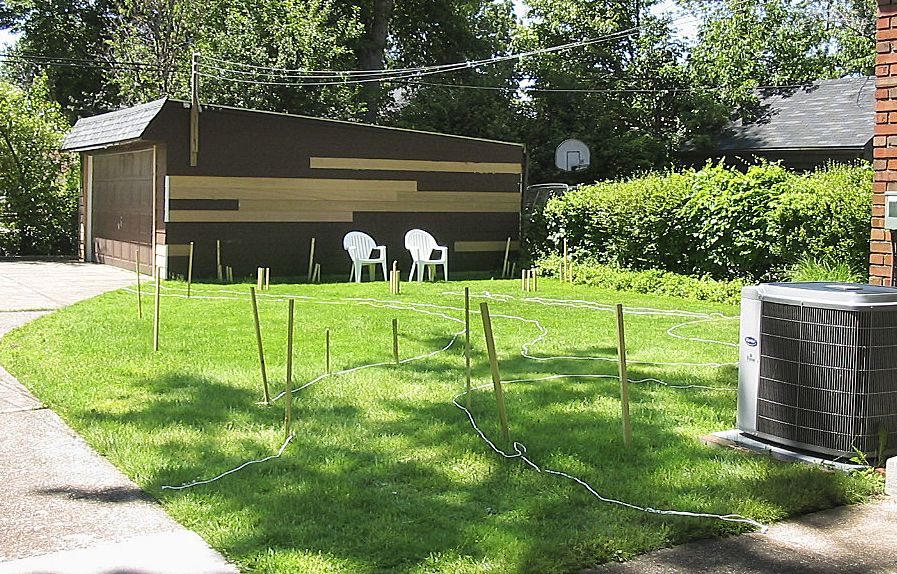 Seven years ago, Corky was a gardening novice, though you'd never know it from the looks of her yard today. Back then, she and her boyfriend, Michael O'Brien, were too consumed with renovating their 1930s Tudor Revival house to worry much about their green space. It wasn't until the next-door neighbors piped up about unkempt shrubs scratching their cars that the couple turned their attention outdoors. The privet hedge along the side yard would have to go, which got Corky thinking about what could take its place.
Shown: With plans to remove the privet hedge and turf grass, Corky used a clothesline and stakes to map out future beds and paths.
Cottage Style Anchored with Roses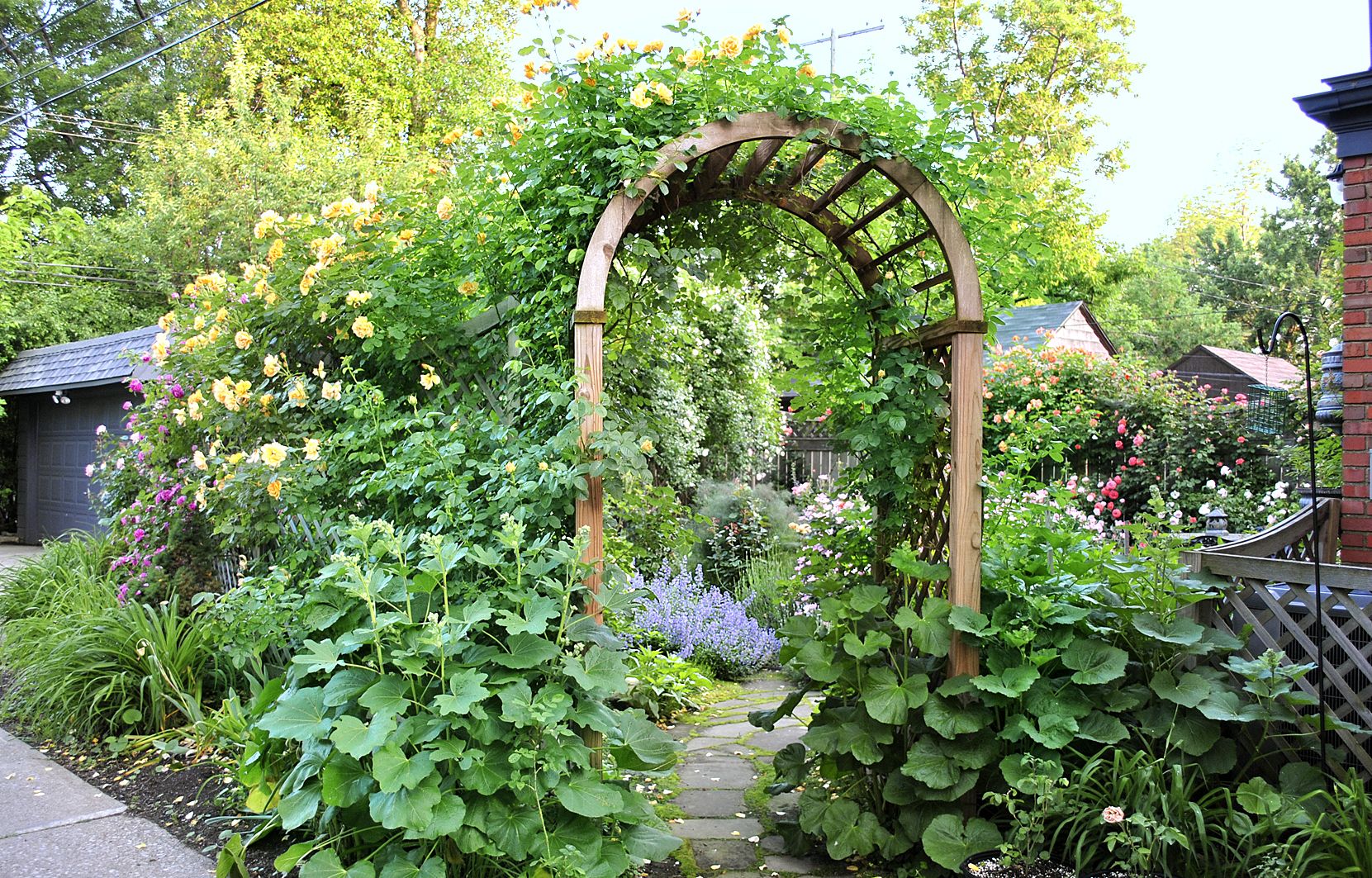 In her mind, roses would make a lovely, low-maintenance substitute. While living in Florida, she'd planted a hedge of famously carefree Knock Out shrub roses along her foundation. There, daily downpours in summer washed away any potential pests. Roses were easy, as far as Corky was concerned. So she set out to create an English cottage-style garden to complement the house, with roses as the anchor plant. After sketching out a detailed plan, she hired a carpenter to turn her sketches of a scalloped, lattice-top fence and gate, an entry arbor, and a pergola with lattice arches into reality. She also found a landscaper to transform her lawn into paths and plant-ready beds.
Shown: An 'Autumn Sunset' shrub rose scrambles up the entry arbor near the house, while leafy, self-sowing hollyhocks grow at its base.
Overcoming a Soil Problem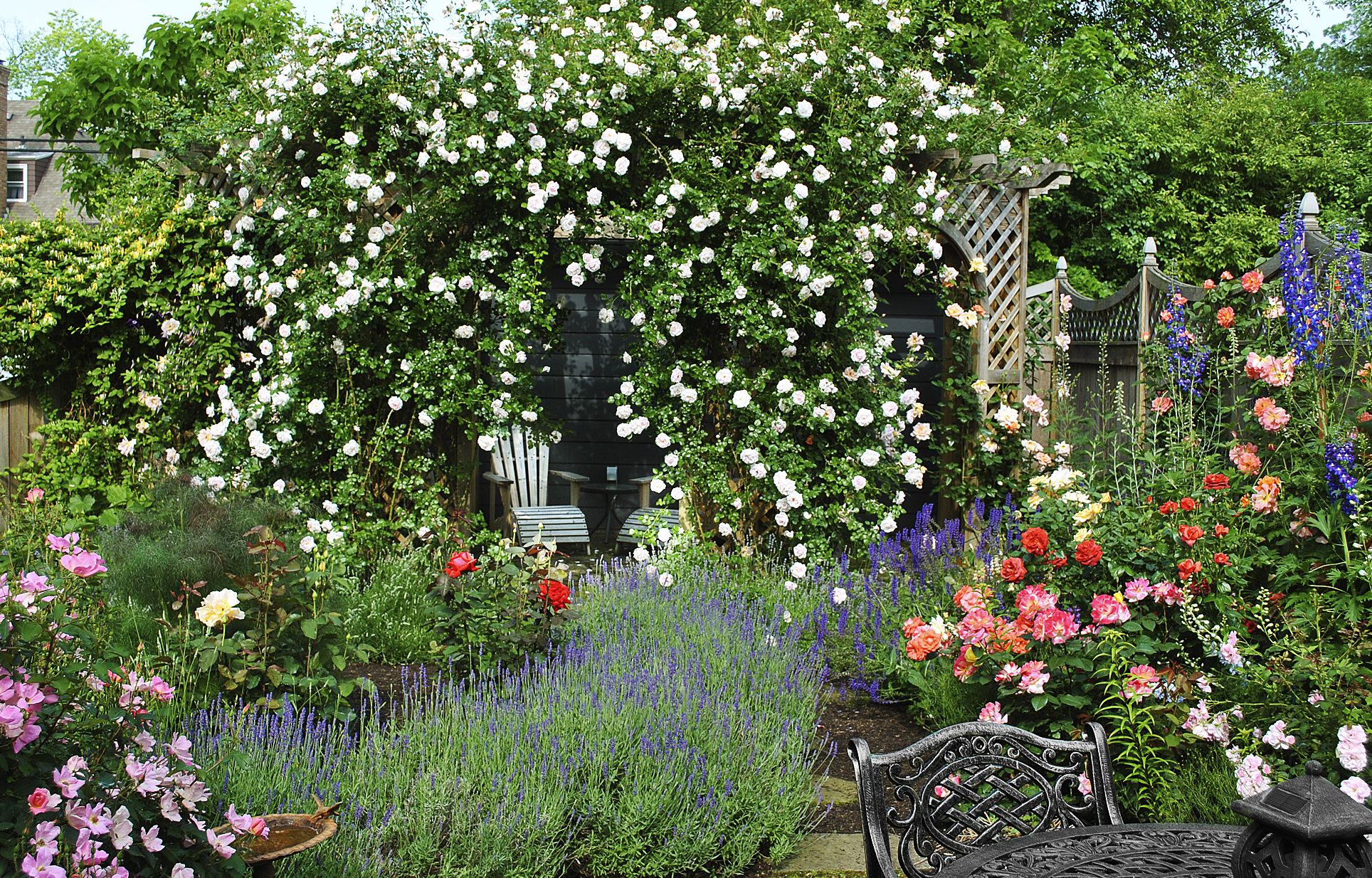 Early on, though, the project hit a snag. Once the stone paths were in place, the landscape crew tilled the beds without removing several big piles of limestone dust left over from the hardscape installation. A soil test confirmed Corky's worst fear: The pH had risen to 8.9—far too alkaline for roses.
Shown: The pergola, nearly engulfed by 'New Dawn' roses, serves as a perch for songbirds and hides the garage from view.
Expert Soil Advice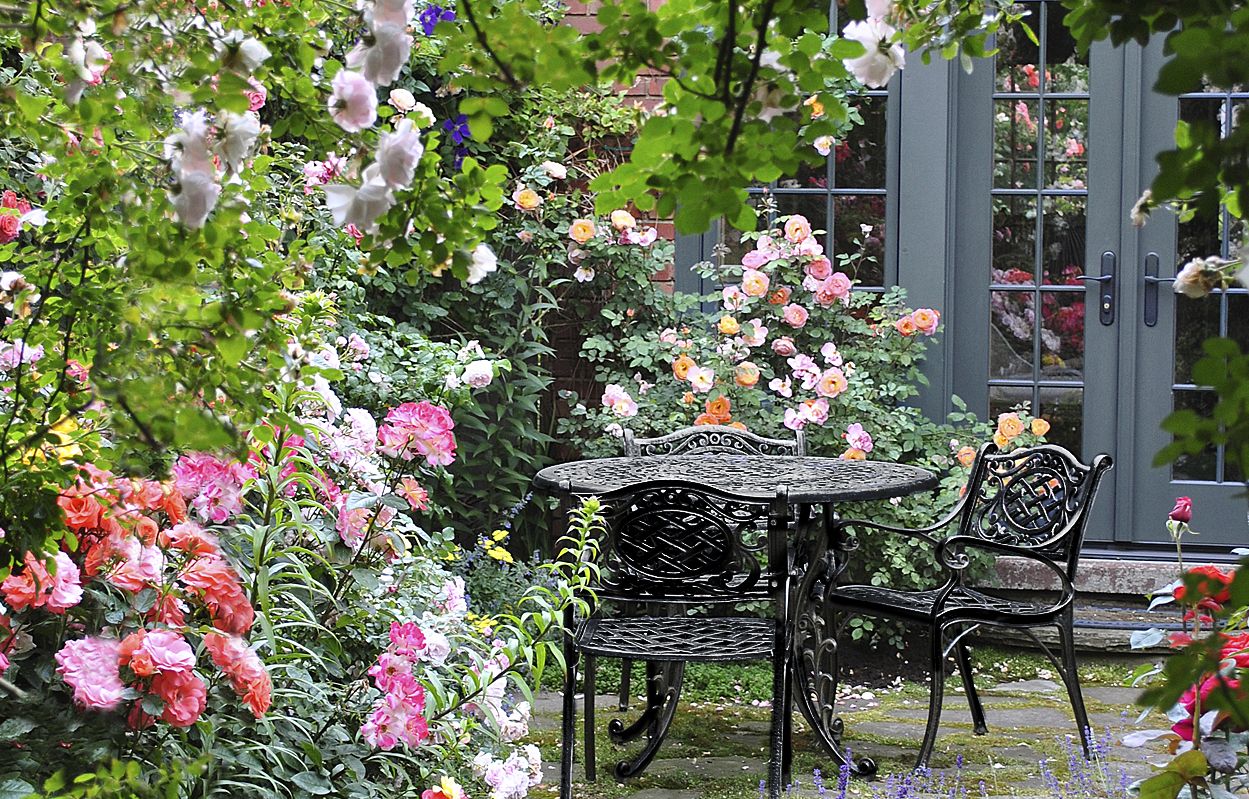 Exasperated but determined, she took the advice of a soil scientist at her local cooperative extension service and set about removing 2 feet of tainted soil and amending the foot below it with peat moss mixed with coarse sand. She topped that with a mix of leaf humus, sand, and topsoil. "I grossly underestimated the time it would take for one woman with a shovel to do the job," she says.
Shown: A favorite dinner spot, the patio is screened from neighboring houses and nestled beside a rose-covered fence.
Sketches Come to Life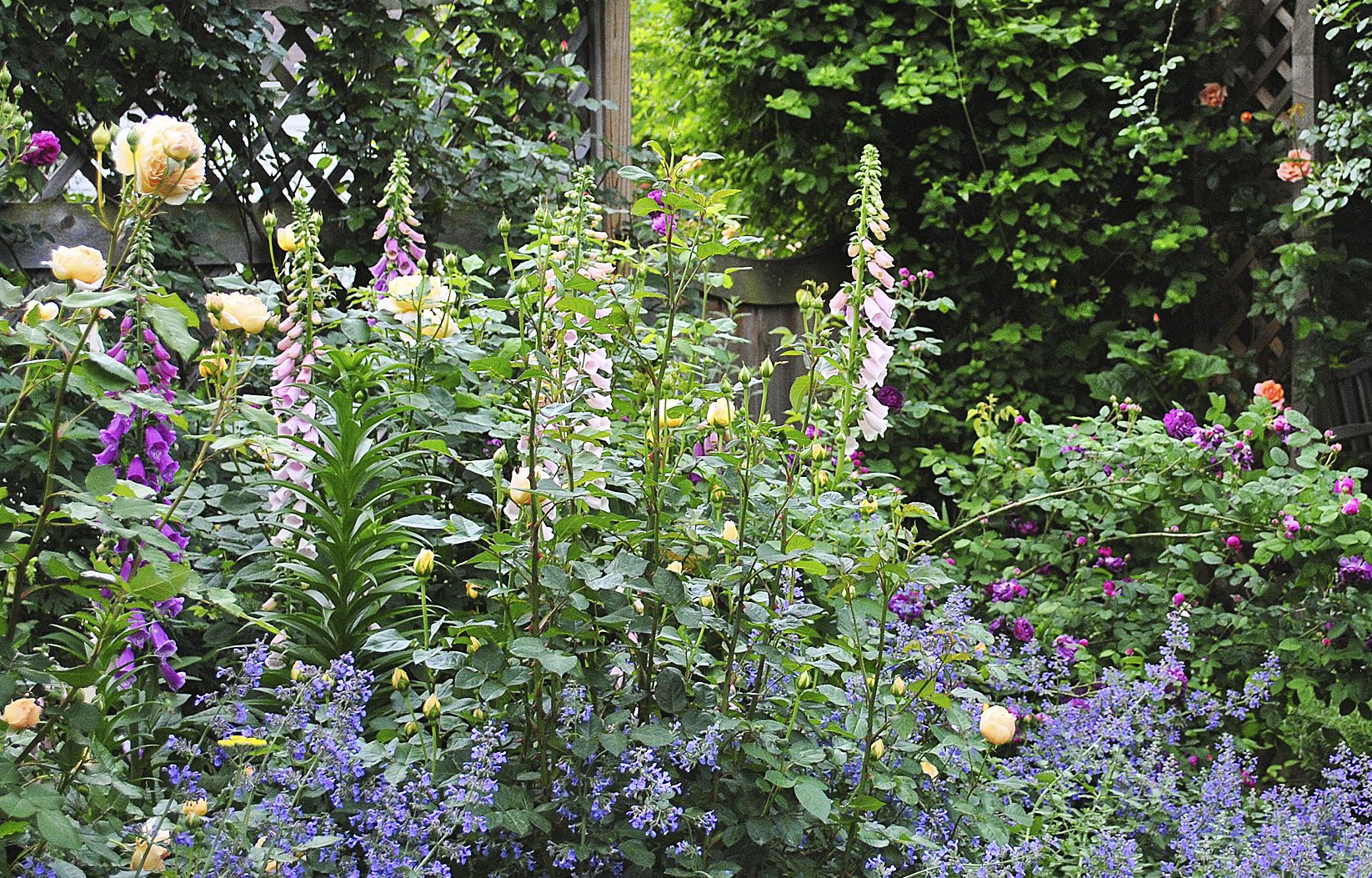 A year passed between the time Corky sketched her plans and planted her first rose. She joined the Cleveland Rose Society in the winter of that year, and with every meeting, she learned about more varieties to try. Swept away by their colors, fragrances, and sheer versatility in the landscape, she was soon planting roses in the spots she had reserved for flowering vines, shrubs, and herbs.
Shown: Self-sowers, such as pink foxglove, naturalize freely—with help from Corky, who harvests their pods and sprinkles their seeds.
Growing Roses in Ohio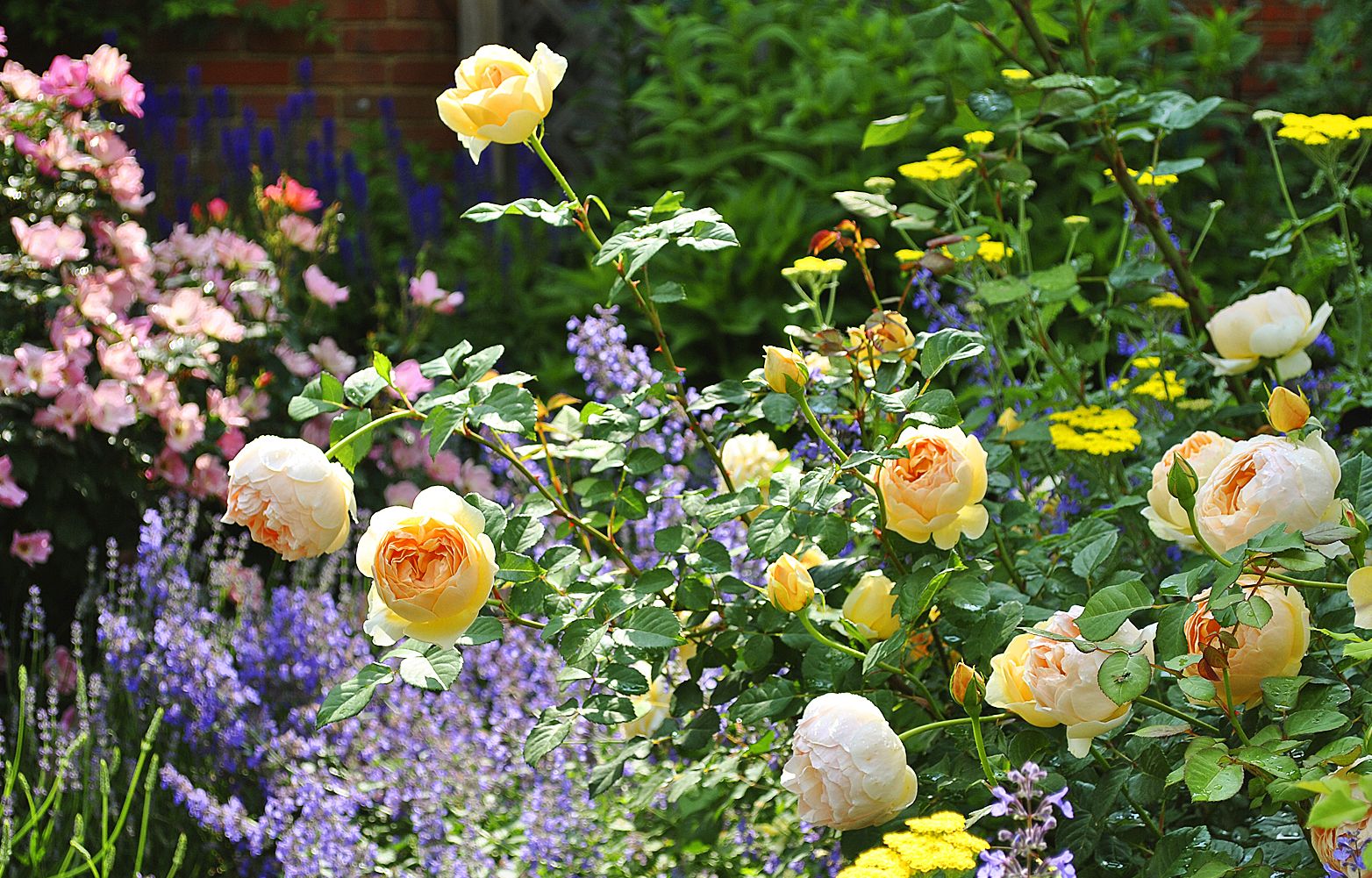 She wasn't always picking disease-resistant types, however, and Ohio had some pests she hadn't experienced in Florida, such as rose midges, which she now controls with a soil drench. She was learning that there was a lot more to growing roses than she'd initially thought, which only stirred her curiosity more. "I'm kind of a learning junkie," she says. "For years, I read only books about roses."
Shown: A 'Jude the Obscure' shrub rose, yellow yarrow, and purple catmint form a classic cottage-garden combination.
Rosarian Expertise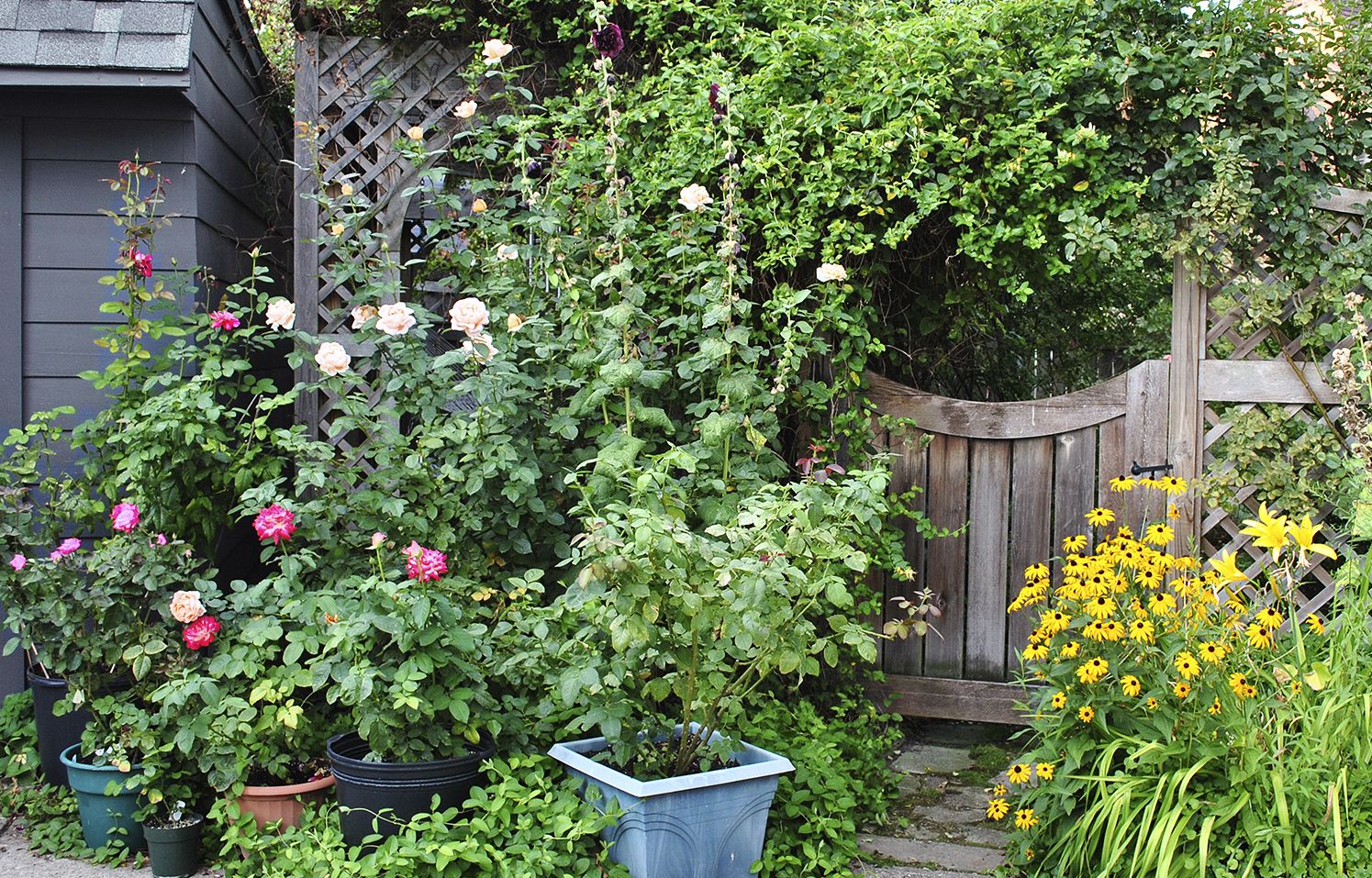 As a result, these days Corky is often the one doing the teaching. Now a consulting rosarian, she regularly makes house calls, helping other gardeners troubleshoot problems and pick the right plants. She's also an accredited judge for the American Rose Society, a contender at rose shows herself, and the devoted caretaker of some 90 varieties. Many of her specimens grow far bigger in her backyard than as advertised in plant catalogs, thanks to her rich soil and carefully honed routine: a monthly feeding with Mills Magic Rose Mix organic fertilizer and, to combat disease and pests, a dose of neem-oil-based spray every two weeks.
Shown: Upon arrival, new roses are planted in pots and set along the driveway, where they'll stay until Corky finds a home for them in the garden.
Like Roses in Picture Books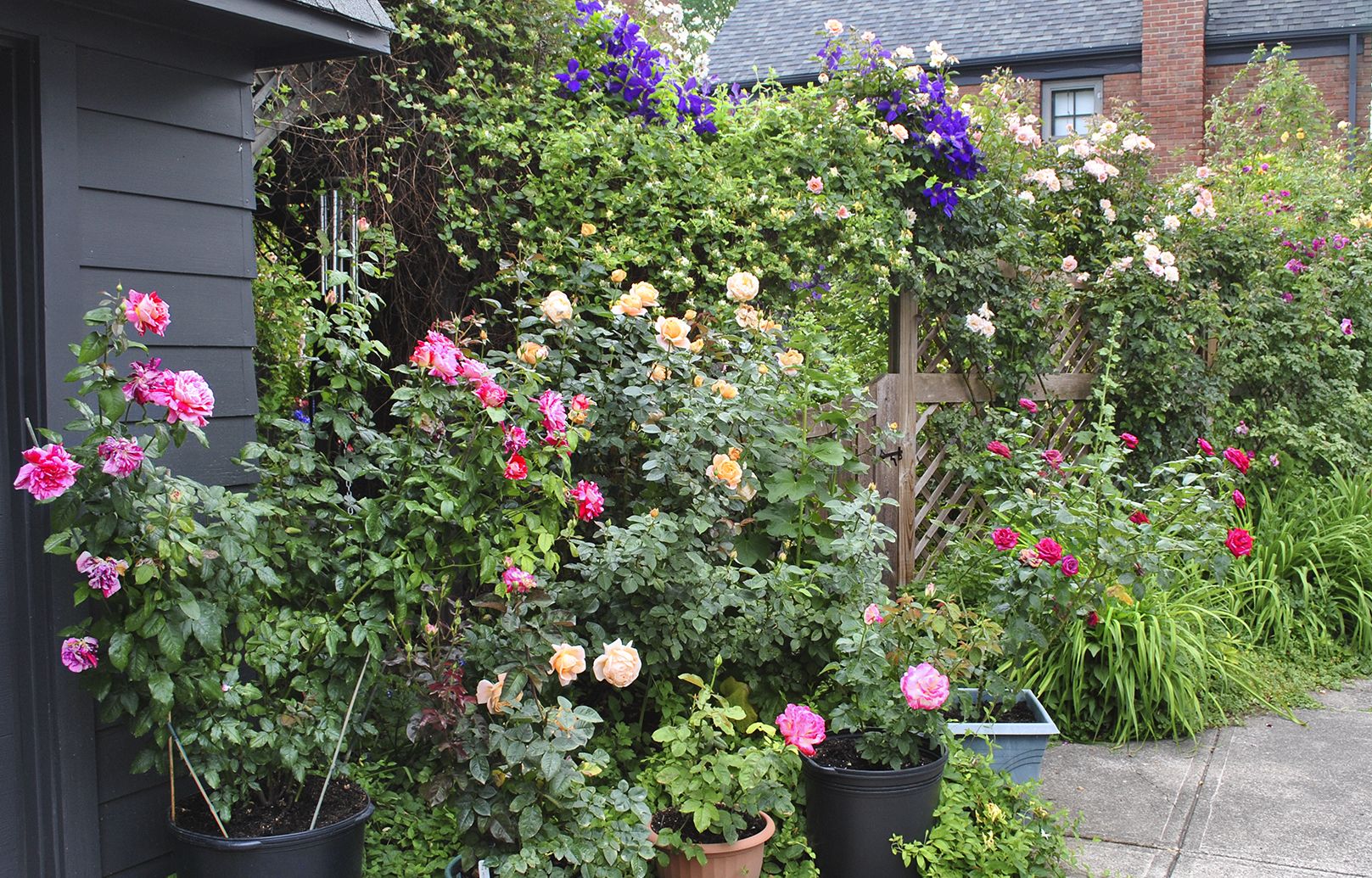 For someone whose first paying job was mucking stalls, pushing a wheelbarrow and dragging a garden hose feel comfortingly familiar. "There are a lot of aspects of gardening that mirror caring for horses," says Corky, who thinks nothing of spending 2 to 4 hours each day tending her plants. Although there is a hammock under her rose-covered pergola and a table and chairs on the patio, she spends little time in either spot. "I might last three minutes drinking in the scenery, before I go, 'Oh no, there's a weed!' and start in on the beds," she says. But this tireless achiever believes the results speak for themselves. "I wanted to grow roses like the ones I saw in picture books," she explains. "And I have."
Shown: Good air circulation helps keep climbers disease-free, making this lattice fencing a smarter choice than standard board-and-batten designs.
Rose Container Garden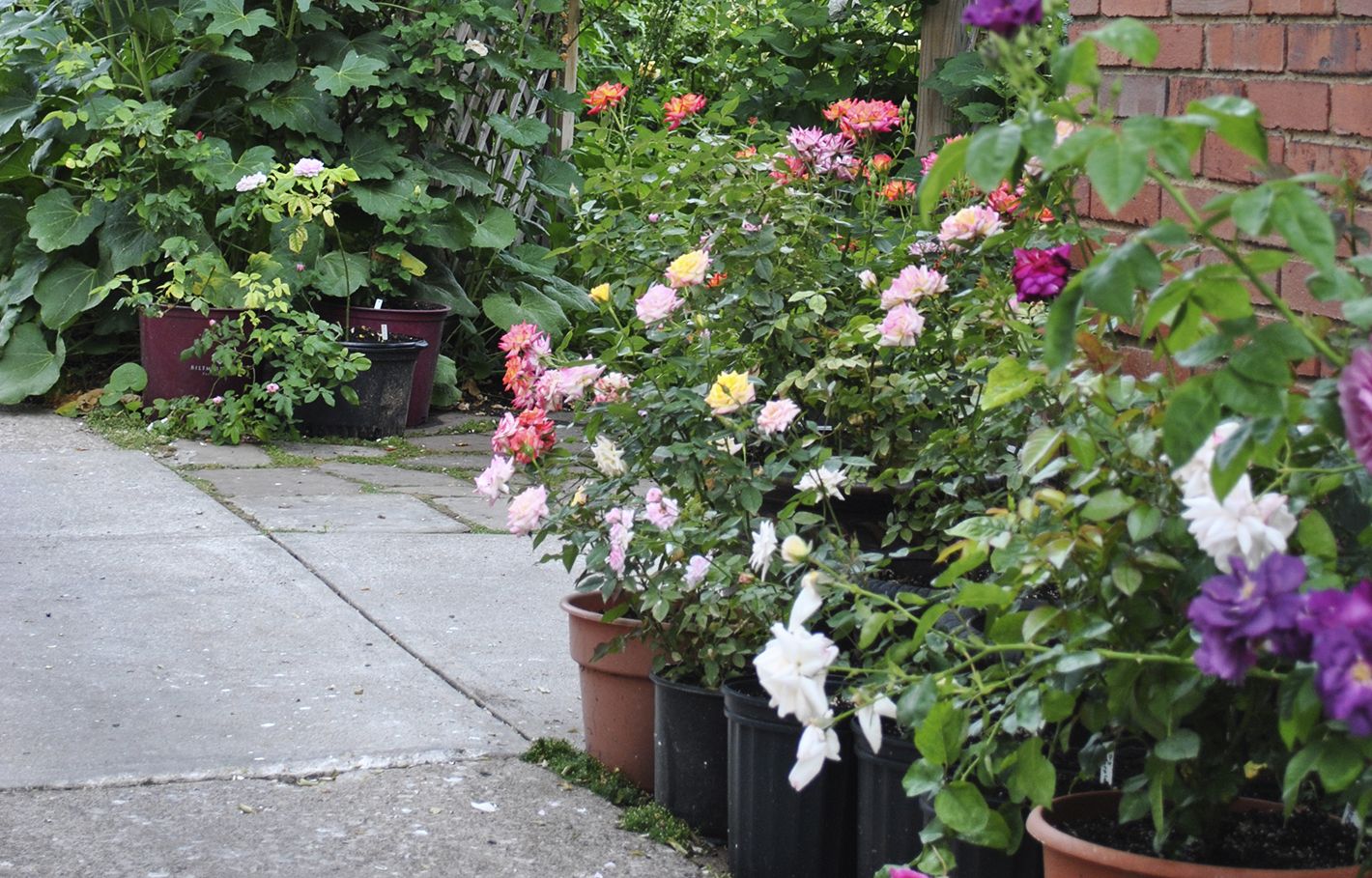 Potted roses soften the hard edge where the brick house meets the driveway.
Knock Out Roses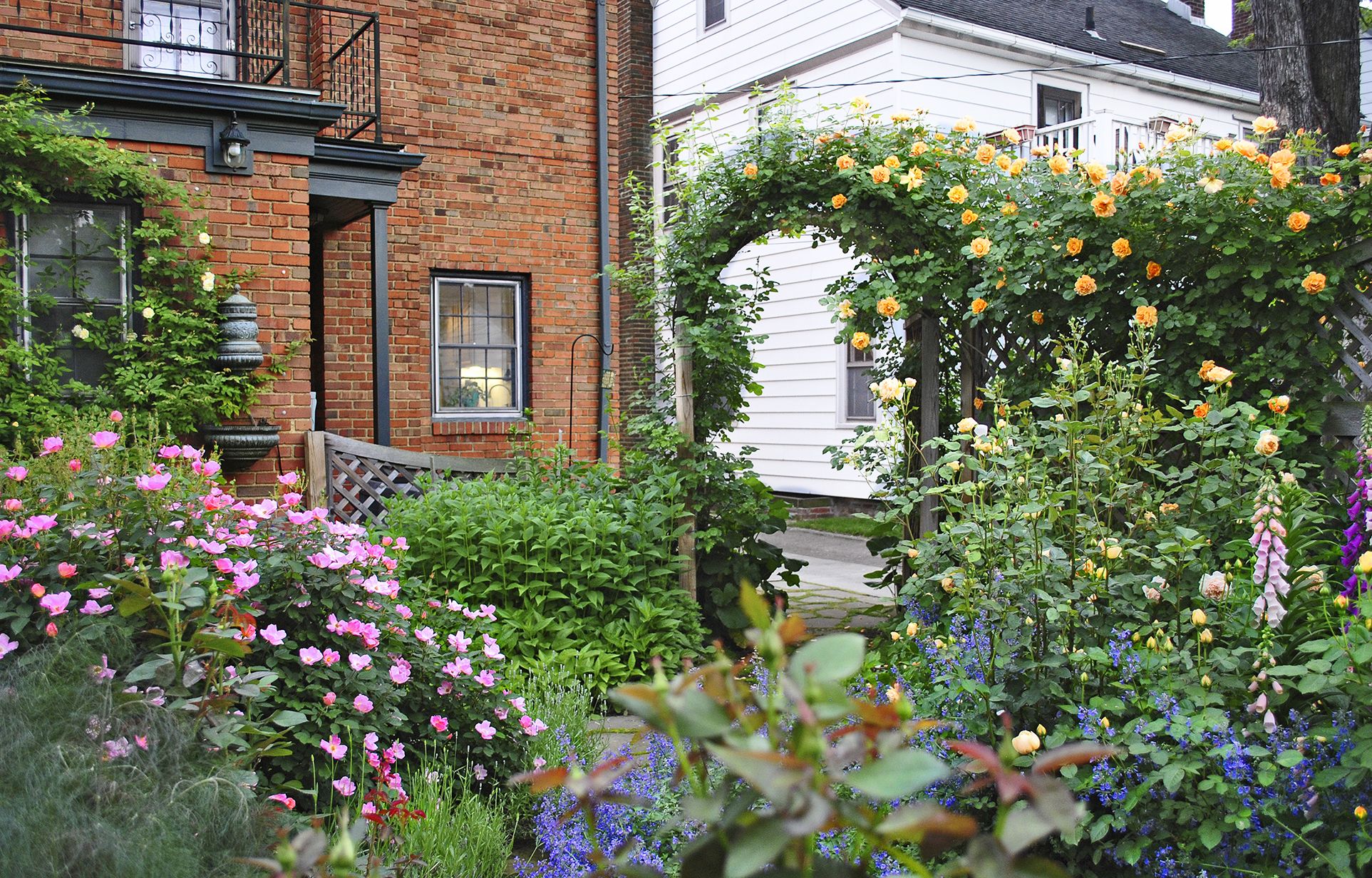 Most of Corky's roses are fragrant, but some earn their keep in other ways. This cluster of pink Rainbow Knock Outs are the first roses to bloom every spring and continue to flower profusely until hit by a hard frost.
Buffer Herb Beds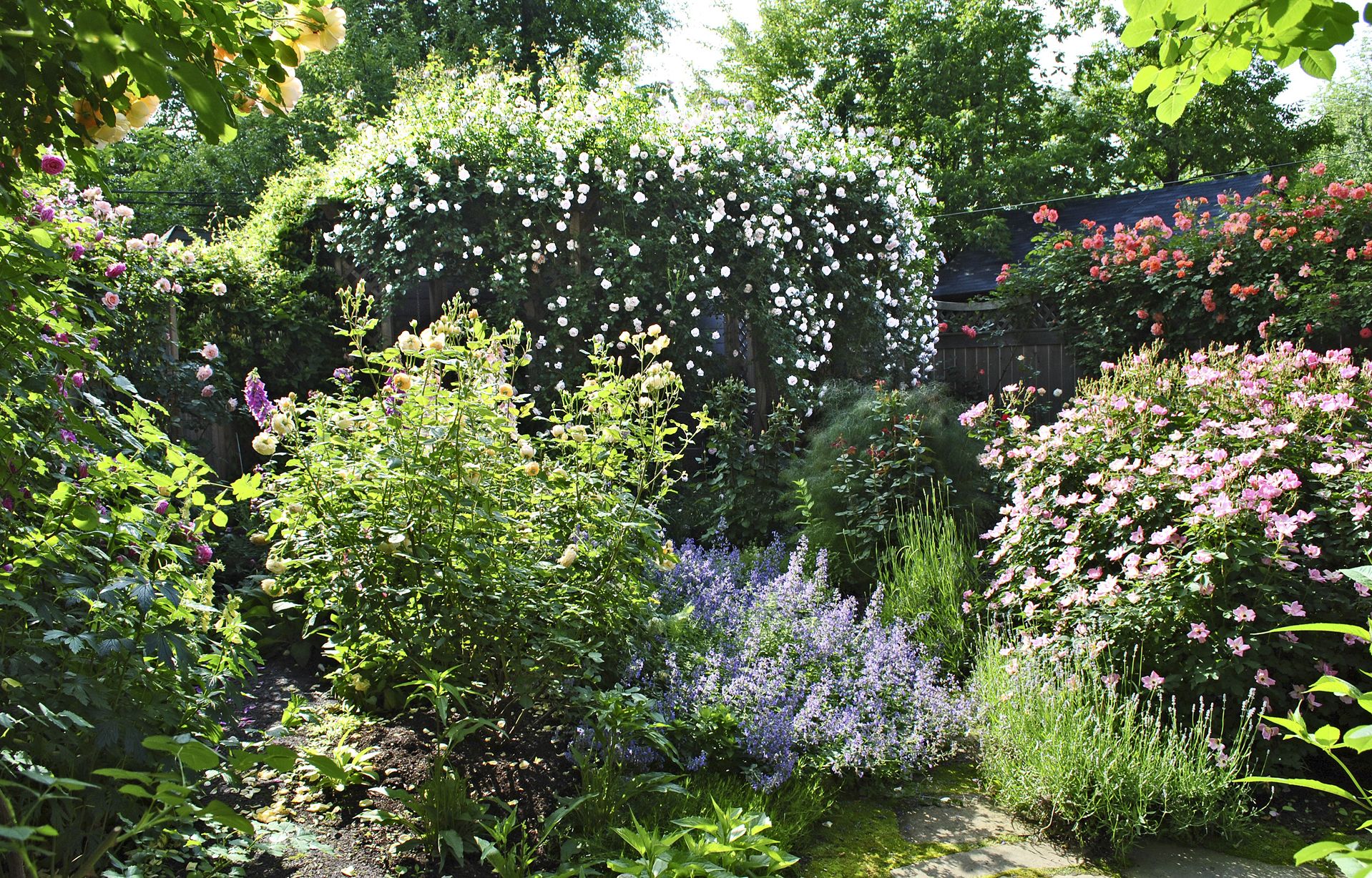 Alkaline-tolerant herbs, such as catmint and lavender, run along the stone paths and act, in theory, as a buffer between the limestone dust and Corky's roses.
Climbers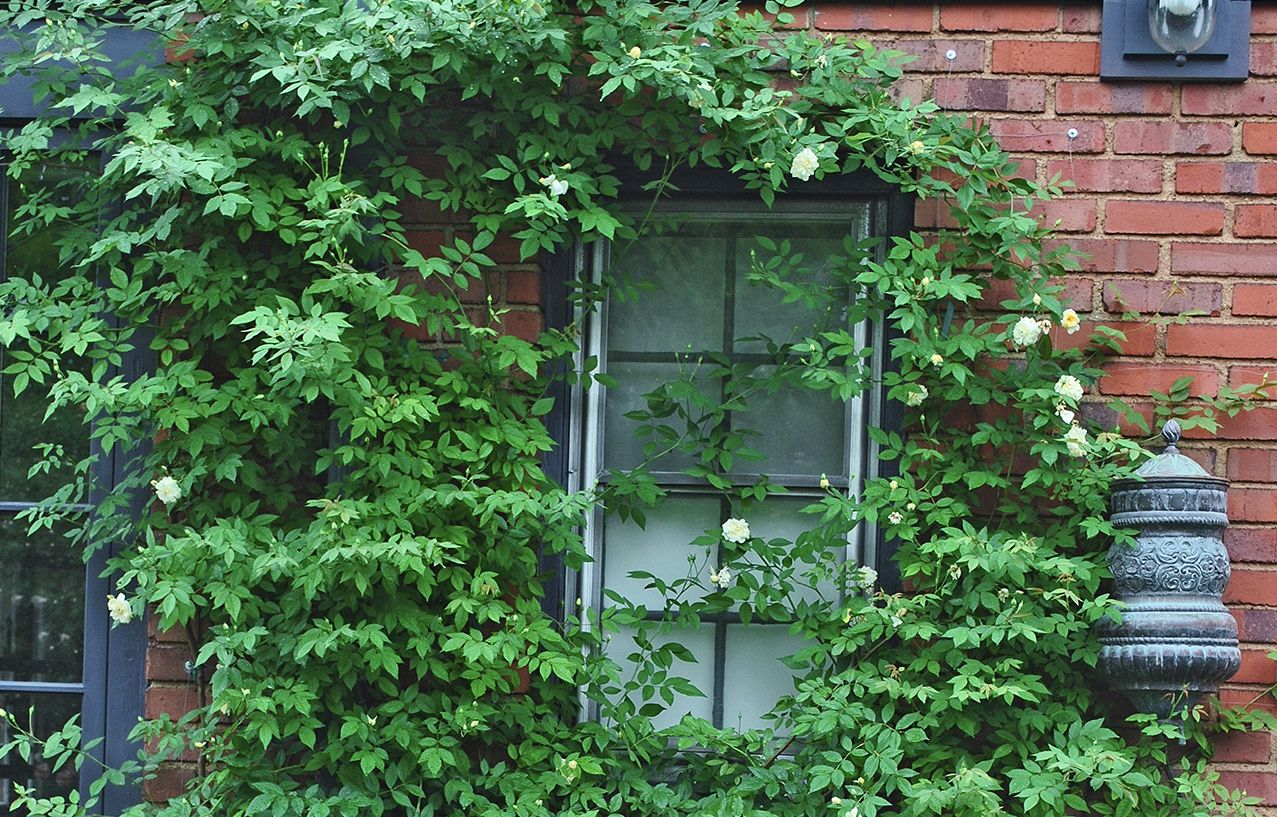 A repeat-blooming 'Malvern Hills' rambling rose climbs the brick facade, helping to tie the house to the landscape.
French Doors View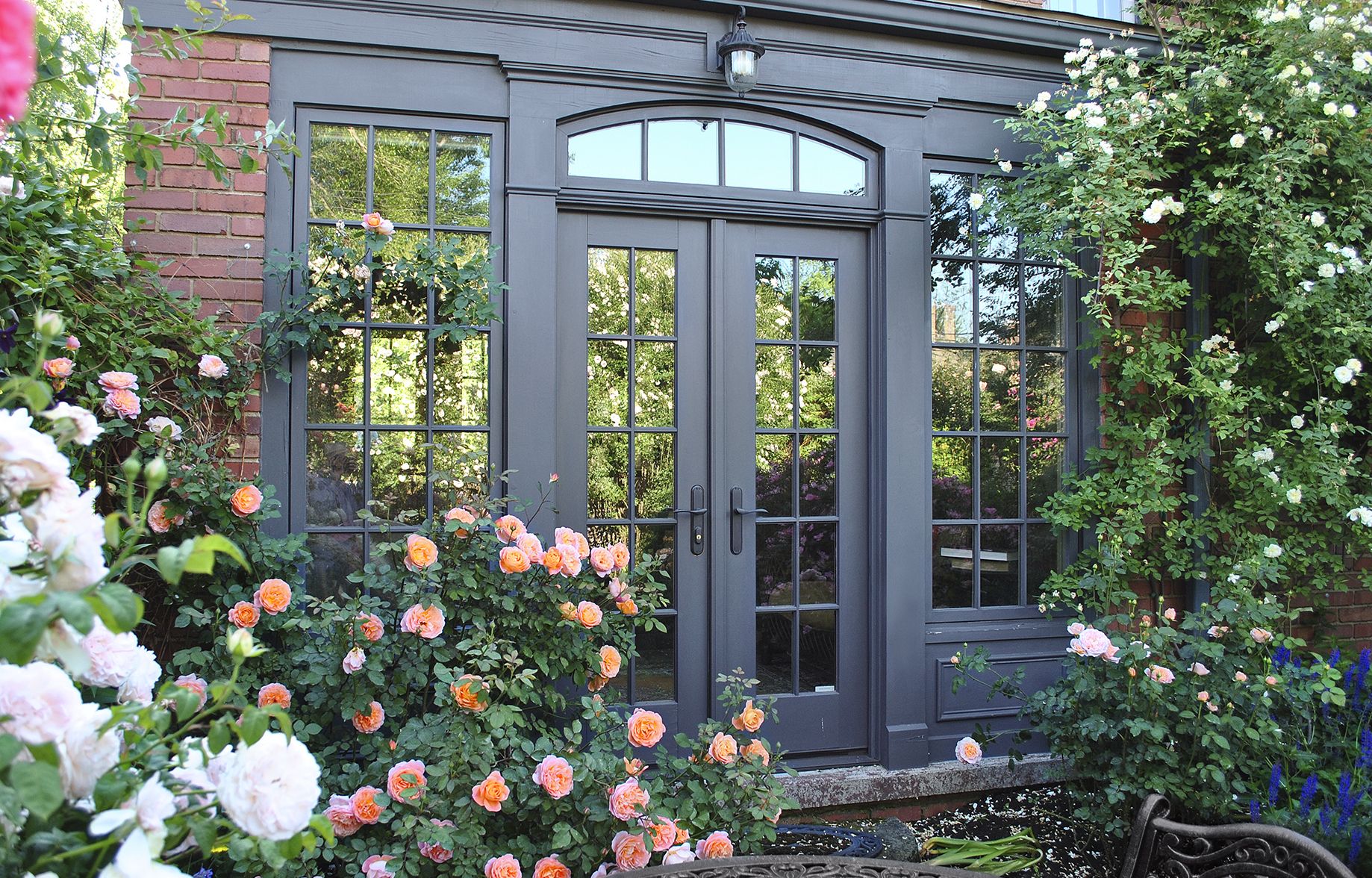 French doors invite views of the garden inside, while the painted trim outside echoes the purple- and blue-flowering perennials that wind through the garden.
A Few of Corky's Favorite Roses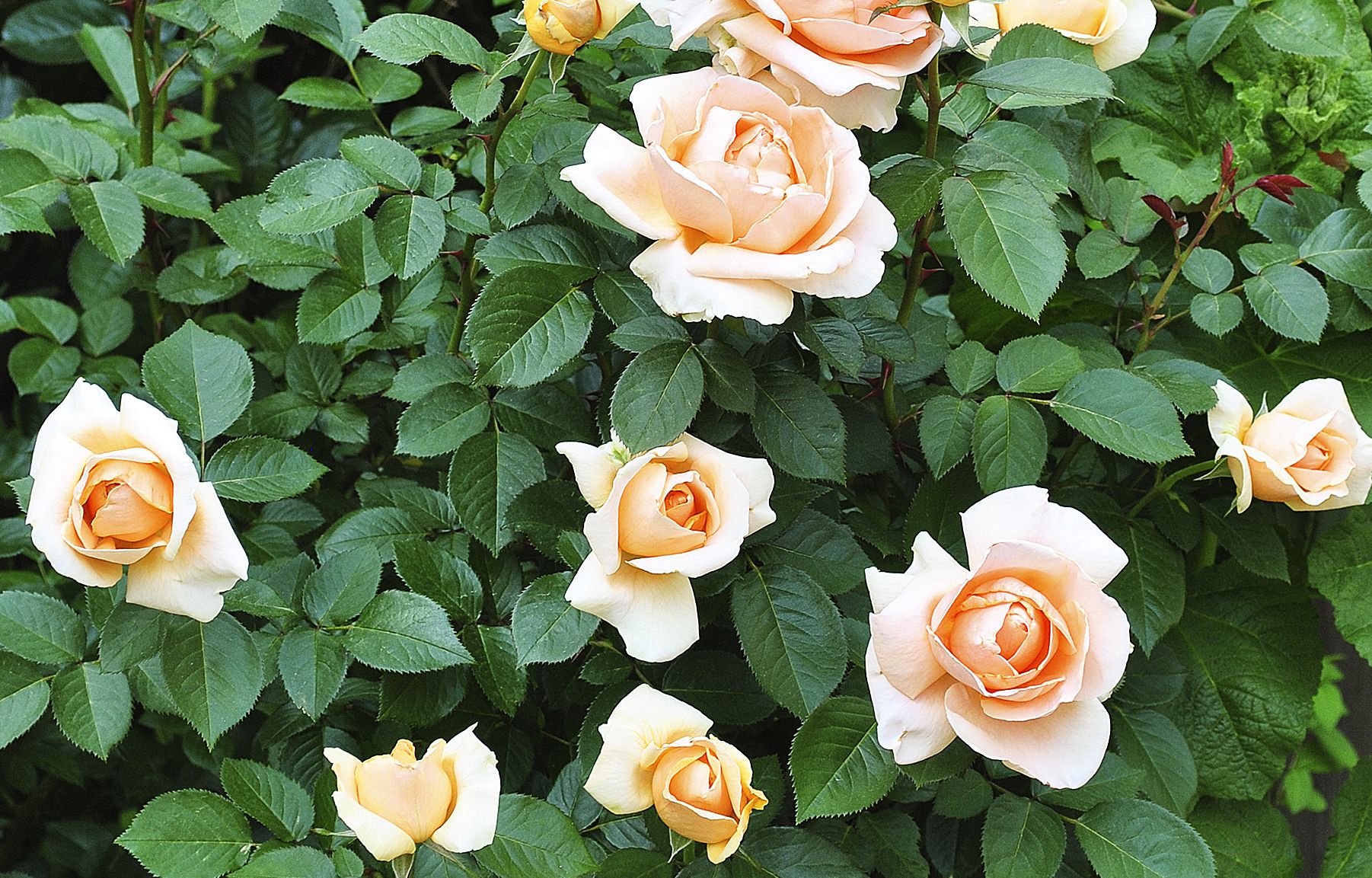 These repeat bloomers are highly disease resistant and look lovely with minimal maintenance.
'Abbaye de Cluny'
A fast grower with big, spicy-scented apricot blooms, this tidy hybrid tea has strong upright stems perfect for cutting. Grows 3 to 4 feet tall and wide in Zones 5-10.
Corky's Favorite Roses: 'Henry Hudson'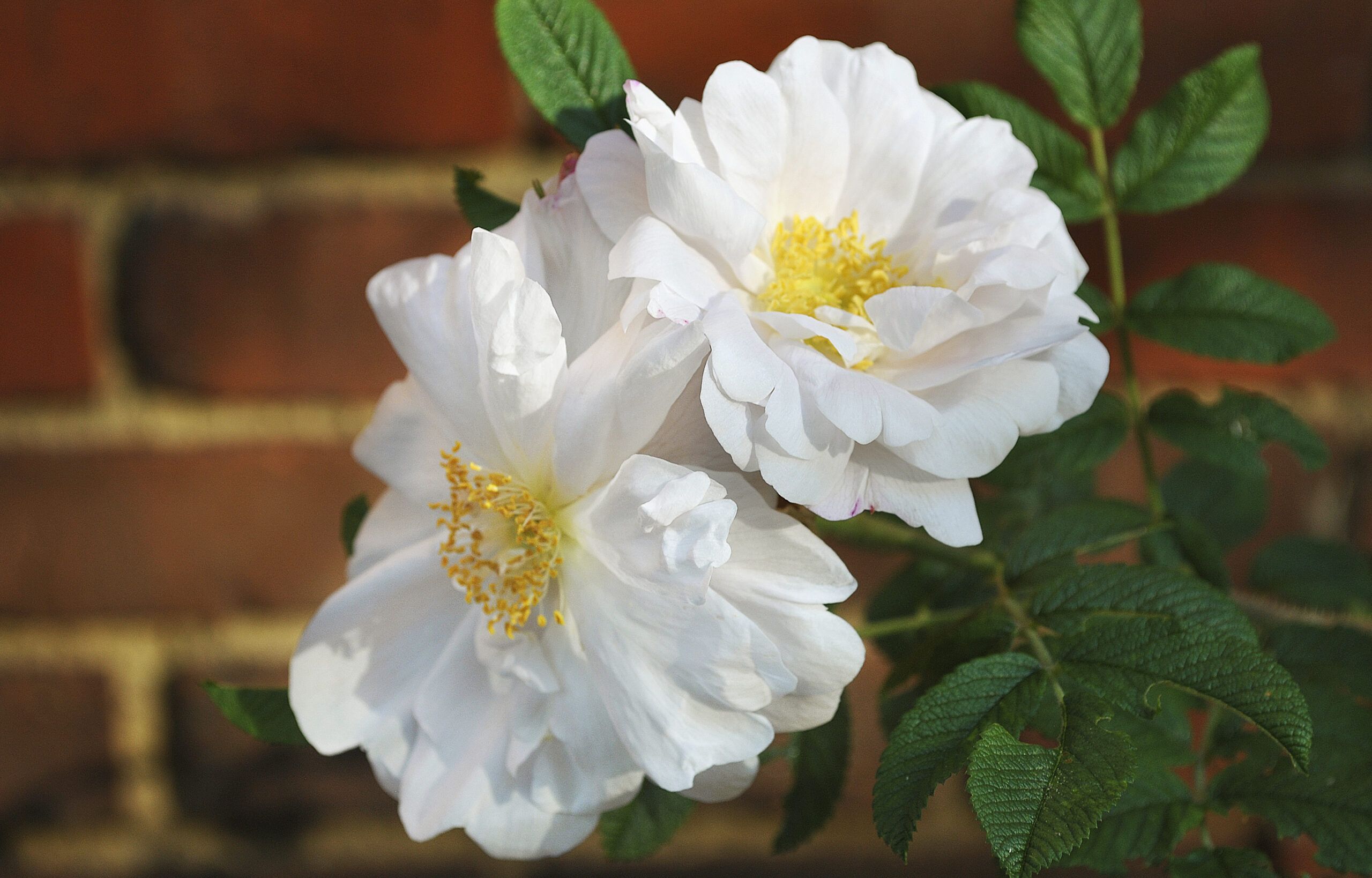 This tough shrub sports clove-scented white blooms and makes a resilient hedge along sidewalks and driveways. Grows 3 to 6 feet tall and 4 to 5 wide in Zones 3-7.
Corky's Favorite Roses: 'New Dawn'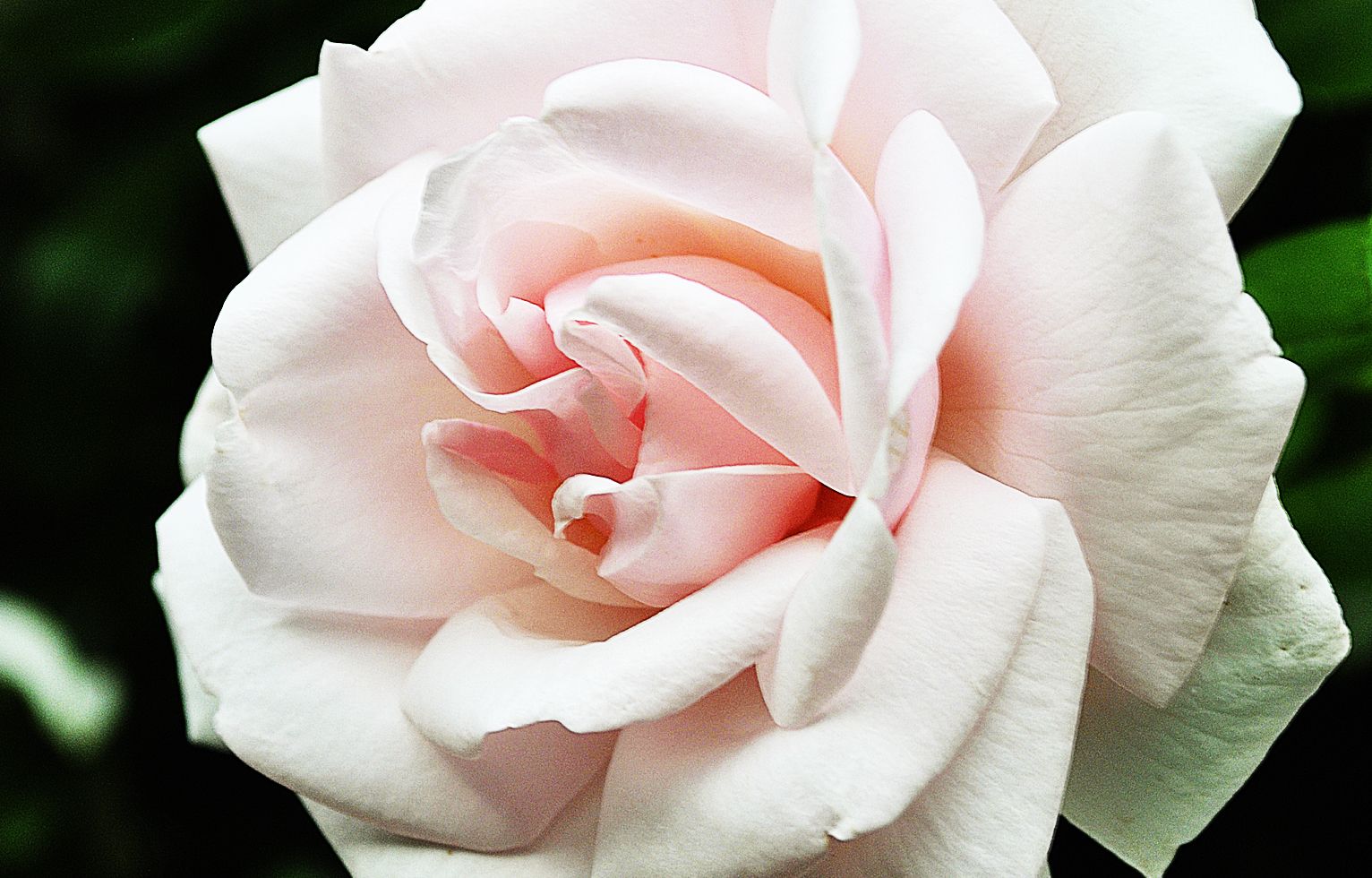 Fragrant shell-pink flowers cover this climber all season, turning into bright-red hips in fall. Grows 8 to 12 feet tall and 3 to 6 feet wide in Zones 5-9.
The Garden Plan
In "Corky's jungle," as a friend likes to call it, sandstone paths loop through the 30-by-40-foot garden, defining beds of cottage-style plantings and widening into a patio. The fence, arbors, and pergola offer ample privacy, while the roses that cover them add color and fragrance.