Charming Little Guest Cottage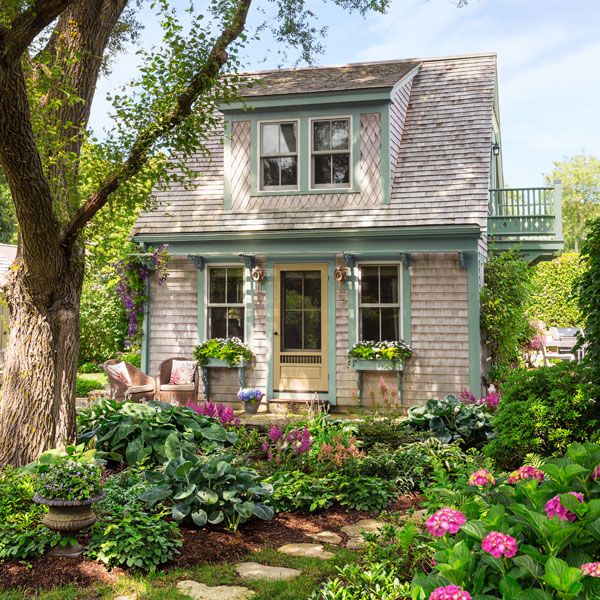 A fabulous house in a fabulous location can be a mixed blessing. On the one hand, you know exactly where you'll be spending your spare time. On the other, so do a lot of your friends and relatives.
Faced with just this situation, Marilyn and Brian Thompson, owners of a home just steps from the water on Cape Cod, in Massachusetts, cast a fresh eye on a dilapidated garage hovering behind their Victorian-era house. While previously it had screamed "teardown," it now sang "potential guest suite."
Shown: Cedar shingles cured by the salt air, window brackets borrowed from the 1880s main house, a sunny balcony, and a shady elm give the former garage a storybook look.The entry lights and cast-iron front step are salvaged finds.
Architect: Kuhn Riddle Architects, Amherst, MA; 413-259-1630
General contractor (built-ins and balcony): Tom Hague III Building & Remodeling, Brewster, MA; 508-240-1143
Interior and some exterior design: Elisha Beaman House, Amherst, MA; 413-253-3854
Windows and doors: Marvin
Screen doors: Vintage Woodworks
Exterior stain: maibec
Paint: Benjamin Moore's BM 699 Garden Oasis (trim and windoboxes)
Lived-In Appeal With Vintage Furniture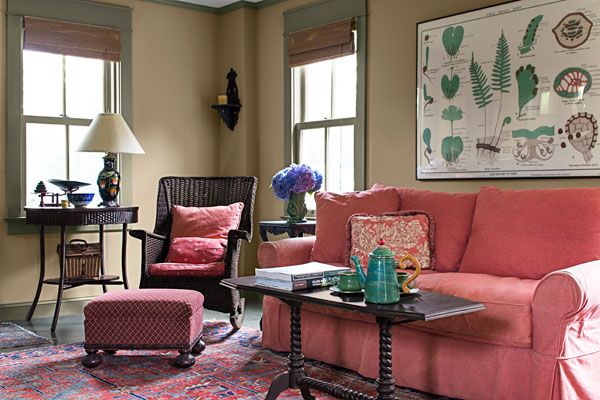 The garage, they learned, had come with a significant perk. Built around 1960, it was grandfathered under tough setback requirements that had gone into effect since. "Tearing it down would have been legal," Marilyn explains, "but building a new structure, on this size lot, would not." In order to destroy it, you might say, they had to save it.
"It was a dreadful sight," says Marilyn, recalling the first time she ventured inside. Though it had a classic garage door, it hadn't held cars for a while. Instead, a bath and an unfinished room took up the first floor, spiked by stairs to a dusty attic crash pad. The previous owner had rented out the space in summer while using part of the first floor to dump stuff he might need someday…for something.
Shown: Scaled-down vintage furnishings, collected over time, give the open first floor a lived-in feel.
Paint: Benjamin Moore's HC89 Northampton Putty (living room and kitchen walls), HC 112 Tate Olive (living room trim and staircase balusters), BM 2138-30 Mohegan Sage (living room floor and stair treads)
Built-Ins Placed With Care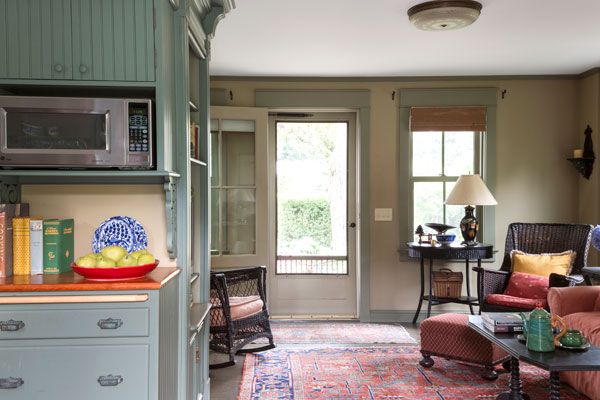 Granted, a makeover would require work, but the new owners were already steeling themselves for a redo of the house, a wonderful old clapboard confection that needed, among other things, a new foundation. Marilyn had assembled a team for the big job: preservation-minded architect John Kuhn, seasoned general contractor Tom Hague III, and interior designer Tina Lalonde. Why not tackle the garage too?
Creating a hideaway with cunning details like a salvaged iron doorstep proved as compelling as building out the big house, and the former garage was soon prepped for the full English-cottage treatment, from cedar shingles to overflowing window boxes.
Shown: A bracketed niche holds the microwave, while the built-in around the corner—crowned with a salvaged mantel—takes care of the TV.
Warm Kitchen With Salvage Touches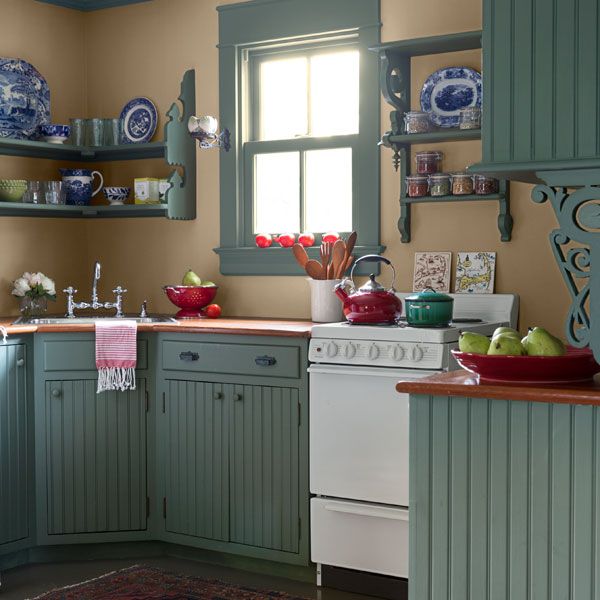 But first, some bodywork. The garage was sitting on a slab but suffering from the same drainage issues as the house, complete with soggy sill plates and siding. "The walls were leaning out; there was no real foundation on it," says a laconic Hague.
When Marilyn suggested picking the thing up, moving it back a few feet, and rebuilding it board by board, Hague was agreeable. It helped, she says, that once the garage door was gone, "you could have lifted it with two fingers."
Shown: The kitchenette is warmed up by painted beadboard, salvaged brackets—some turned upside down—a bridge faucet, and an Oriental rug.
Paint: Benjamin Moore's HC 124 Caldwell Green (cabinets and bathroom beadboard and trim)
Ornate Cottage Stairs Details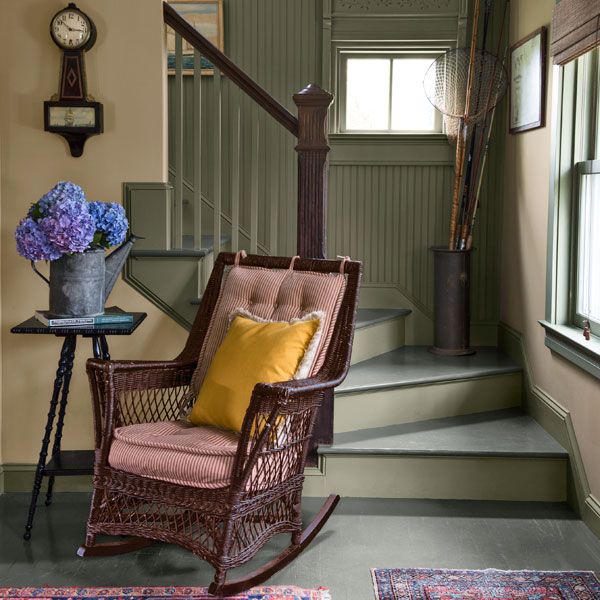 Well, almost. First, Hague's crew sliced through the sill plates to loosen the house from its concrete slab, as if opening an oyster. "We braced it well—diagonal 2x6s, inside and outside—and put it on rollers," says Hague. Did he mention that, after all this, he stripped the sad structure to its studs?
Before sliding the skeleton back in place, the crew dug a hole in a slightly different spot and poured concrete for a basement. "Then we built a floor and reinforced it with a steel beam," Hague says, "and rolled the frame back in place."
Shown: The staircase was layered with color and texture, including ornate window trim, a salvaged newel post, and paint and stain.
Flush Laundry Built-In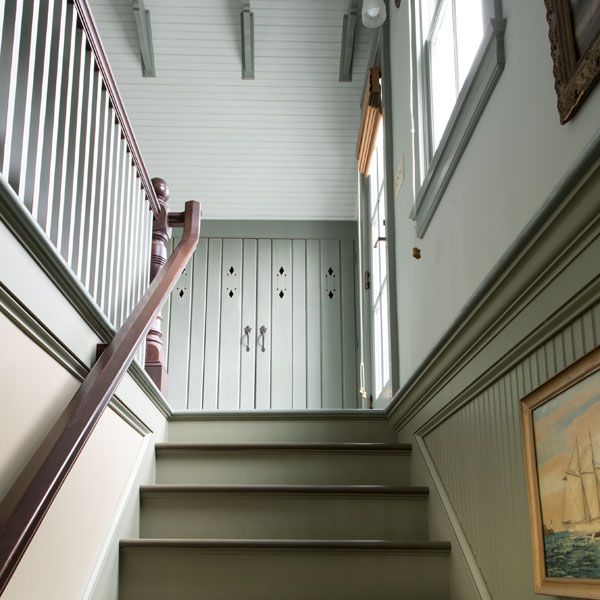 The team had varying notions about how to turn the remains of the garage into a cottage worthy of Hansel and Gretel's Cape Cod cousins. Along with a traditional facade, Kuhn favored an open living space and stairs against one wall. Marilyn pictured a balcony off the bedroom, at the gable end facing the house, where guests could lean over and sneak a peek inside to see about lunch.
Hague quietly opposed the idea of placing support columns under the balcony, as originally planned, plotting instead to cantilever it off steel flitch plates embedded in the second floor. As lifelong scavengers who think nothing of pulling off the road to pick up an abandoned cabinet, Marilyn and Lalonde had already scared up vintage support brackets for the balcony. Hague gamely reinforced them with steel inserts and up they went, along with a railing of square and flatsawn balusters pierced with breezy cutouts.
Shown: A built-in at the top of the stairs hides a washer and dryer behind doors made with random-width planks that have decorative cutouts.
Airy Upstairs Bedroom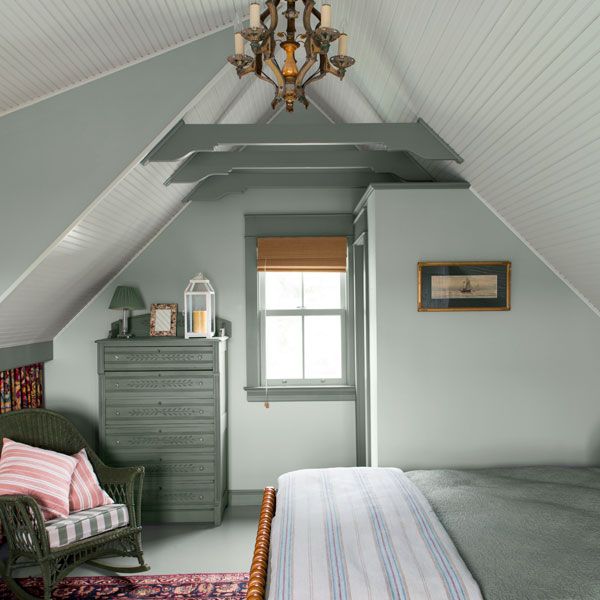 Equal attention was paid to the front of the cottage, which faces a side street from a self-effacing distance. "We put the shed dormer over the front door, which is flanked by two windows, so it's got a simple, symmetrical shape. It works nicely with the existing house," Kuhn says. The smart little facade boasts two types of shingles, diamond and straight-sided, "which breaks down the scale and carries your eye to where they meet," Kuhn says. Windows were matched to the house's but painted soft green, bowing to the main structure's more formal white while melting a bit into the foliage.
Hague says the hardest part inside was engineering the stairs, partly because the 256- square-foot second floor had to accommodate a stair landing, a door to the balcony, and Marilyn's thoughtful request for a half bath. To fit the pieces together just so, while also meeting code, Kuhn designed a windowed stairwell with steps that descend and wind around to stop short of the front door. Hague built it with three types of wood, and Lalonde finished it in two shades of green. Neatly trimmed built-ins and lots of beadboard and crown molding give the little cottage a layered, grown-up look. Lalonde wove in salvaged finds and finished the kitchenette cottage-style. "We didn't want the cabinets to be too nice," Marilyn says of their desire for a been-there, can't-remember-how-long effect.
Shown: The upstairs bedroom pulls in air and light through a gable-end window and an adjacent dormer; tucked in one corner is a tiny half bath.
Paint: Benjamin Moore's BM 2138-50 Misted Green (walls), BM2138-40 Carolina Gull (trim and beams), BM 2138-6 Gray Cashmere (beadboard), and BM 1574 Rushing River (floor)
Tiny Bath With Cottage Spirit to Spare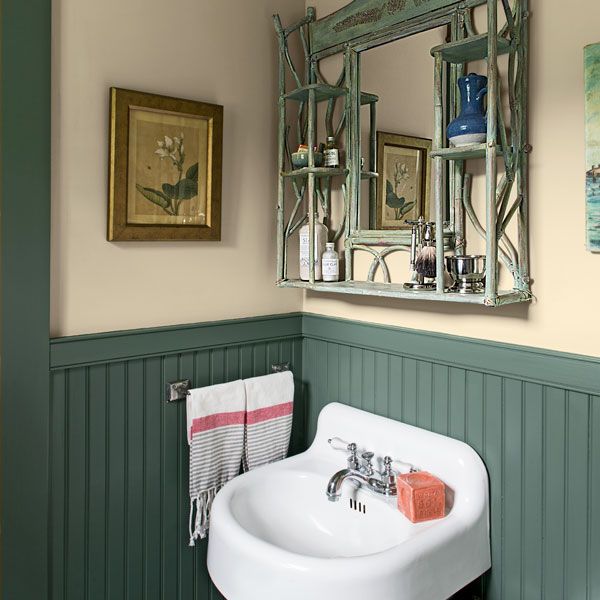 She furnished the rest of the guest suite with gathered-over-time finds like a deep armchair culled from the family's former place nearby.
"The cottage has its own front patio and a little stone wall, and you can sit out there," Marilyn says. But often she prefers to curl up inside this cozy getaway all on her own, after the summer season subsides. "I take a glass of wine and sit over there in the big chair," she says. "And I think, This is about all I really need—just this little house.
Shown: In the main bath, beadboard and a salvaged sink reinforce the cottage spirit.
Floor Plan: First Floor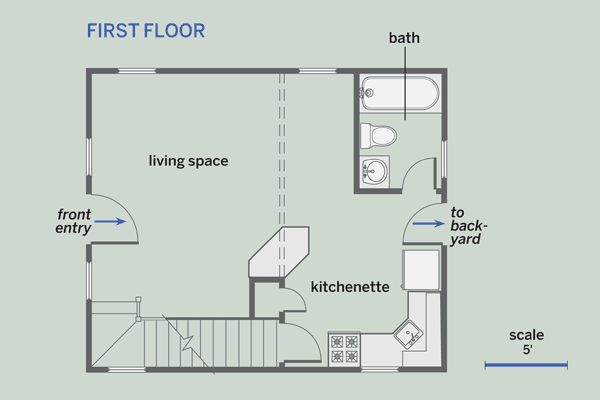 The former garage came with a bath downstairs and an attic. The first floor was opened up, and a dormered bedroom was added upstairs, along with a half bath.
Floor Plan: Second Floor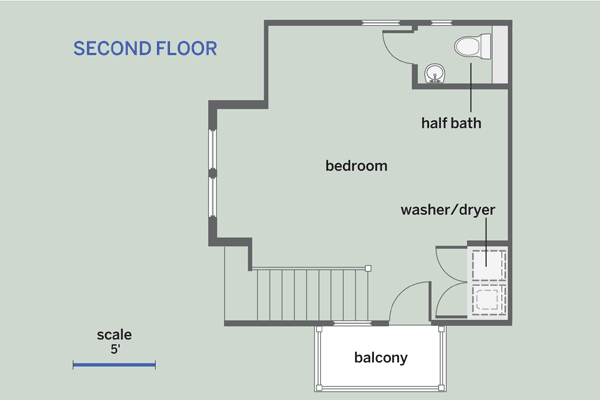 The 676-square-foot guest cottage now has a balcony that overlooks the main house and a basement (not shown) for ping-pong and storage.