1. DIY Map-Drawer Dresser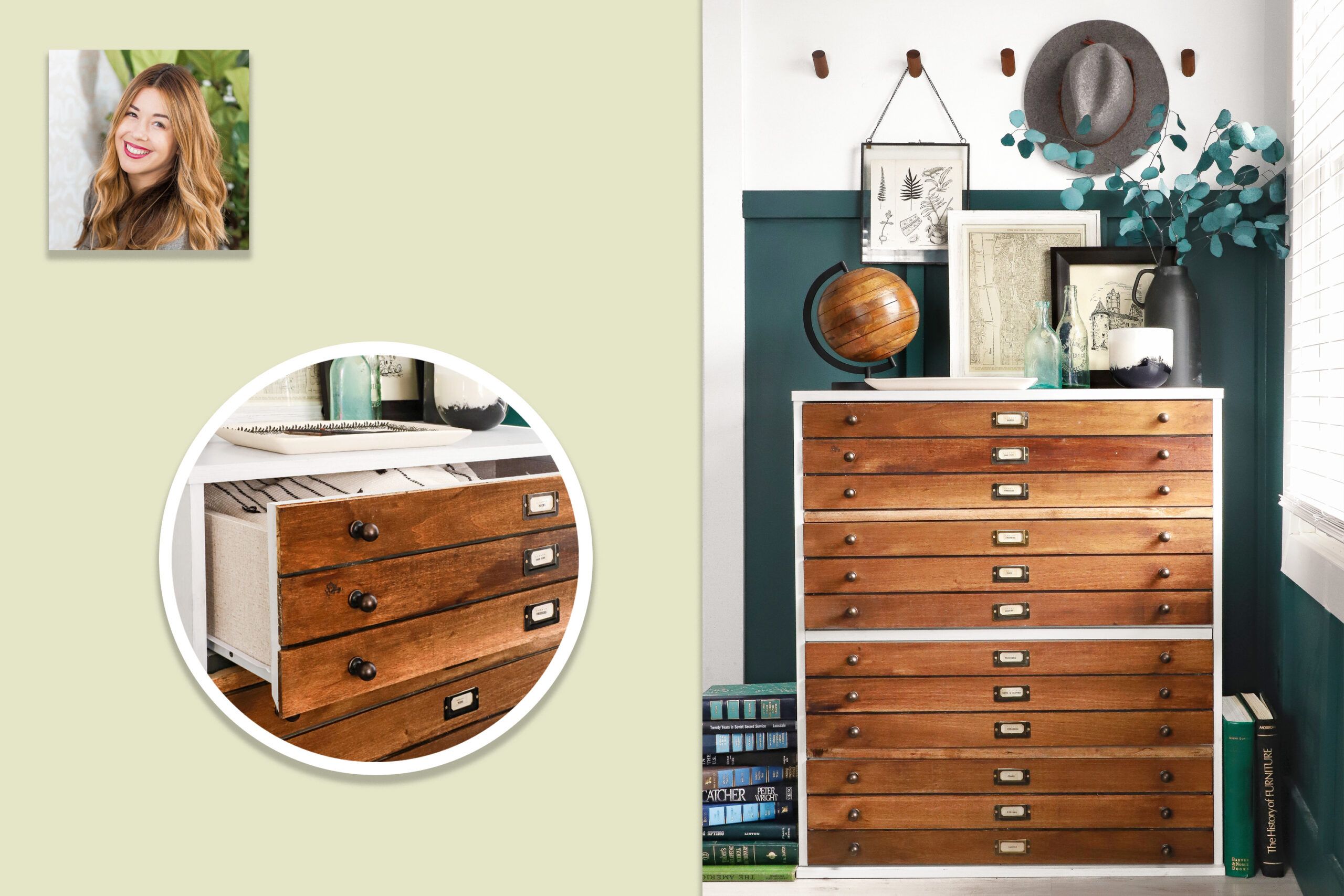 The DIYer: Jenni Radosevich, a home-improvement fanatic who has been blogging about everything DIY on her website, I Spy DIY, for nearly a decade.
The inspiration: "I needed some extra storage for off-season clothes in my guest room," Jenni says. "I love the look of vintage map drawers, but their cost is crazy expensive."
How she did it: To hack the look of shallow map drawers, Jenni started with a simple white dresser from a big-box store. To cover the flat drawer fronts, she cut 3-inch-wide strips of inch poplar to length and enriched them with stain she had on hand. She affixed three planks per drawer by screwing two knobs through each piece of poplar and the drawer front. Label holders and labels soaked in coffee grounds and water complete the effect. See a full step-by-step tutorial for this project right here.
Total cost: $174—starting with a plain white dresser ($120) and adding poplar boards ($20), knobs ($24), and label holders ($10) to turn it into a statement piece.
2. Rustic-Modern Bath Vanity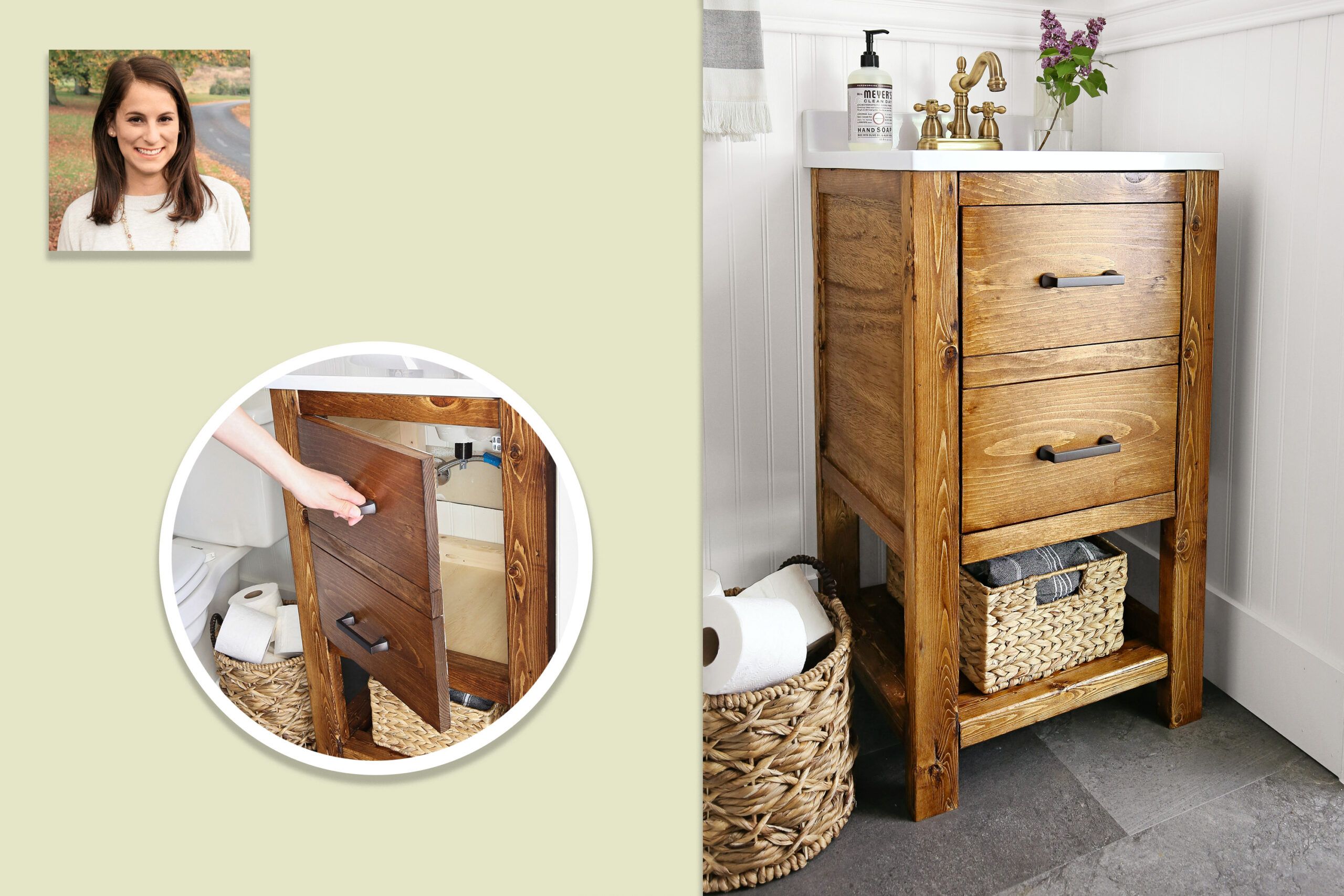 The DIYer: Angela Marie, whose love for DIY began with her first build, a farmhouse table. The rest, as they say, is history. She shares step-by-step tutorials for her woodworking projects, as well as home decor ideas, at Angela Marie Made.
The inspiration: "Most of the room was going to be black and white with a mix of metals, so I wanted to contrast the somewhat cold finishes with something a little warmer," Angela says of her recent bath renovation. "The vanity was a good opportunity to do that."
How she did it: Angela built the vanity using plywood for the sides, knotty pine for the faux-drawer door, and 2×3 framing lumber for the legs, which kept costs down. She finished it with oil-based polyurethane to protect the wood from water splashes, then added a prefab countertop-sink combo.
Total cost: $196, including lumber and hardware for the vanity ($65), plus a cultured-marble composite sink top ($55) and a new faucet ($76).
Shown: Rather than build two drawers, which would limit the vanity's storage space to smaller items, Angela made a single door with two faux-drawer fronts. Plus, Angela says, the extra detail and hardware make the piece more interesting.
3. Mudroom Bench and Pet-Feeding Station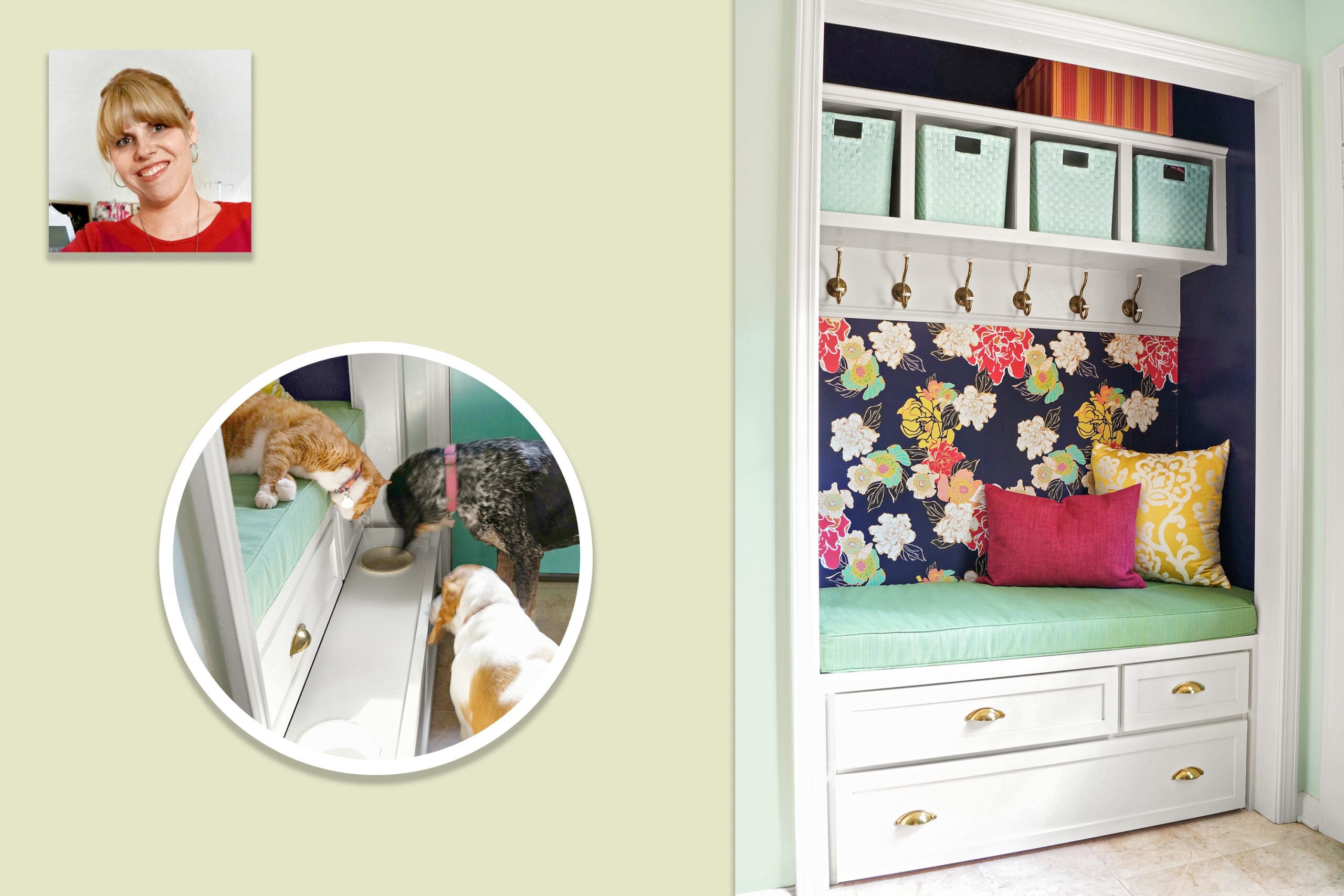 The DIYer: Maggie Overby, a military wife who is frequently on the move. She blogs about how she makes her house, wherever that may be at any given time, into a home at Maggie Overby Studios.
The inspiration: "We had a room off the garage that wasn't functional," Maggie says. "Pet bowls were everywhere, and the dogs would eat the cat food and vice versa. Plus, the kids had nowhere to drop their stuff except in the kitchen. I thought we could kill two birds with one stone with this project."
How she did it: Maggie ripped out the shelving in the underutilized closet and replaced it with a storage bench she snagged from her daughter's room. She trimmed out the piece to look like a custom built-in, then added new hardware for character. Inside the drawers, she created a pet-feeding station. Overhead, she built storage cubbies to corral her kids' odds and ends. See a before and after of this project right here.
Total cost: $290; repurposing a three-drawer storage bench and some of the wood from the old closet shelving reduced costs considerably, so she only spent for wallpaper ($90), a custom seat cushion ($100), hardware ($50), and extra lumber ($50).
Shown: Dog food and bowls, hidden in the bottom drawer, can be neatly tucked away when mealtime is over—keeping kitties from dropping in uninvited. A drawer insert that holds the bowls lifts out for easy cleaning.
4. Freestanding Kitchen Island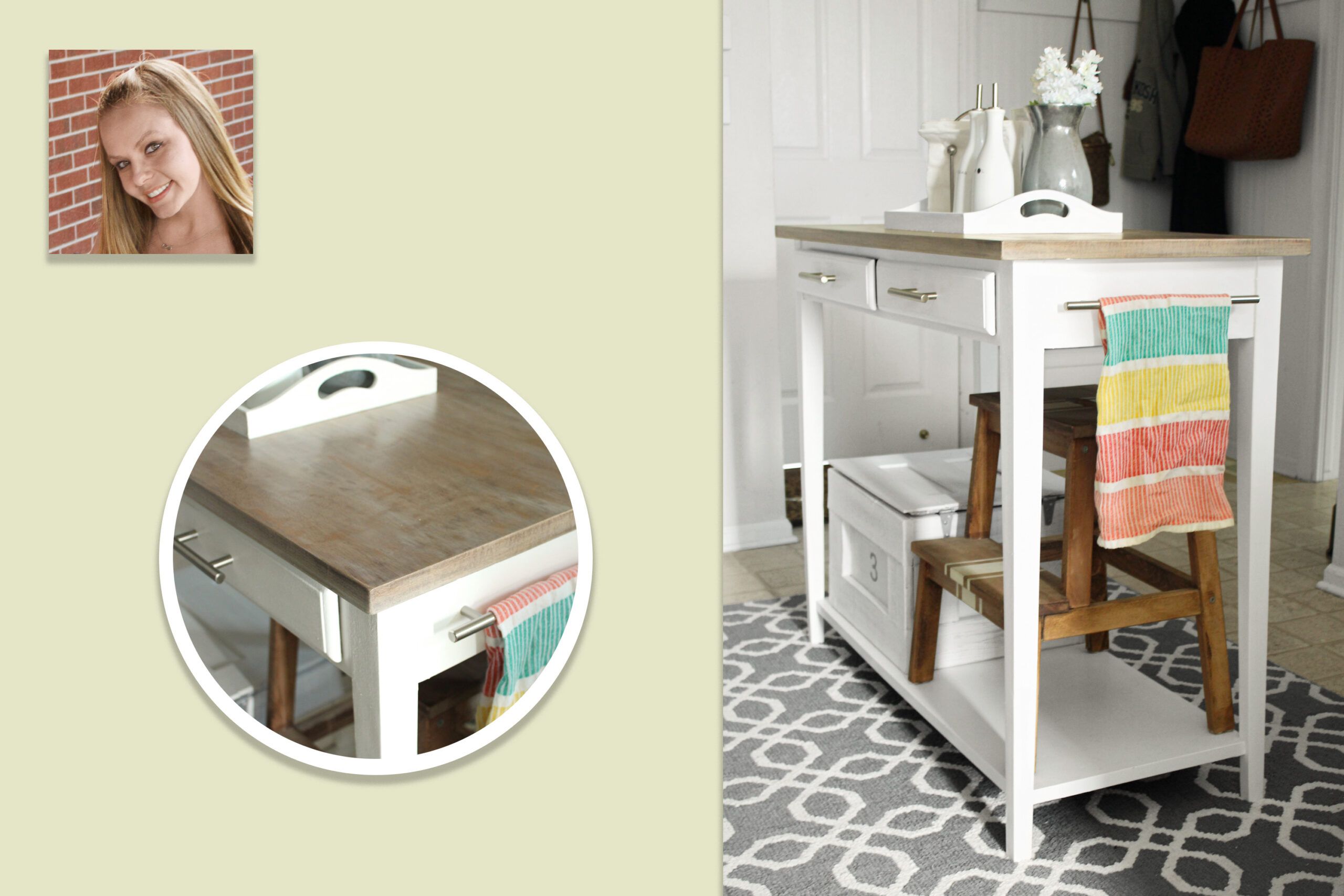 The DIYer: Angela Jimenez, who shares tips, tricks, and her "creating simple beauty on a budget" philosophy on her blog at Simply Beautiful by Angela.
The inspiration: "With no kitchen island, we were always short on counter space," Angela says. "My husband found this piece of furniture at a garage sale and brought it home for me. It had a towel rack already—I think it might have been used as a bar—so I realized it would make a perfect kitchen island."
How she did it: After removing the existing wood towel bar, Angela painted the base of the piece with the same paint as her kitchen cabinets, then refinished the work surface. Modern silver pulls, plus an oversize one for a towel, made the island feel cohesive with the rest of the kitchen. See a full step-by-step tutorial for this project right here.
Total cost: $30—the table was a thrifted steal at just $10. Angela already had both the paint and the stain on hand, so all that needed to be purchased was new hardware for $20.
5. Faux-Leather Platform Bed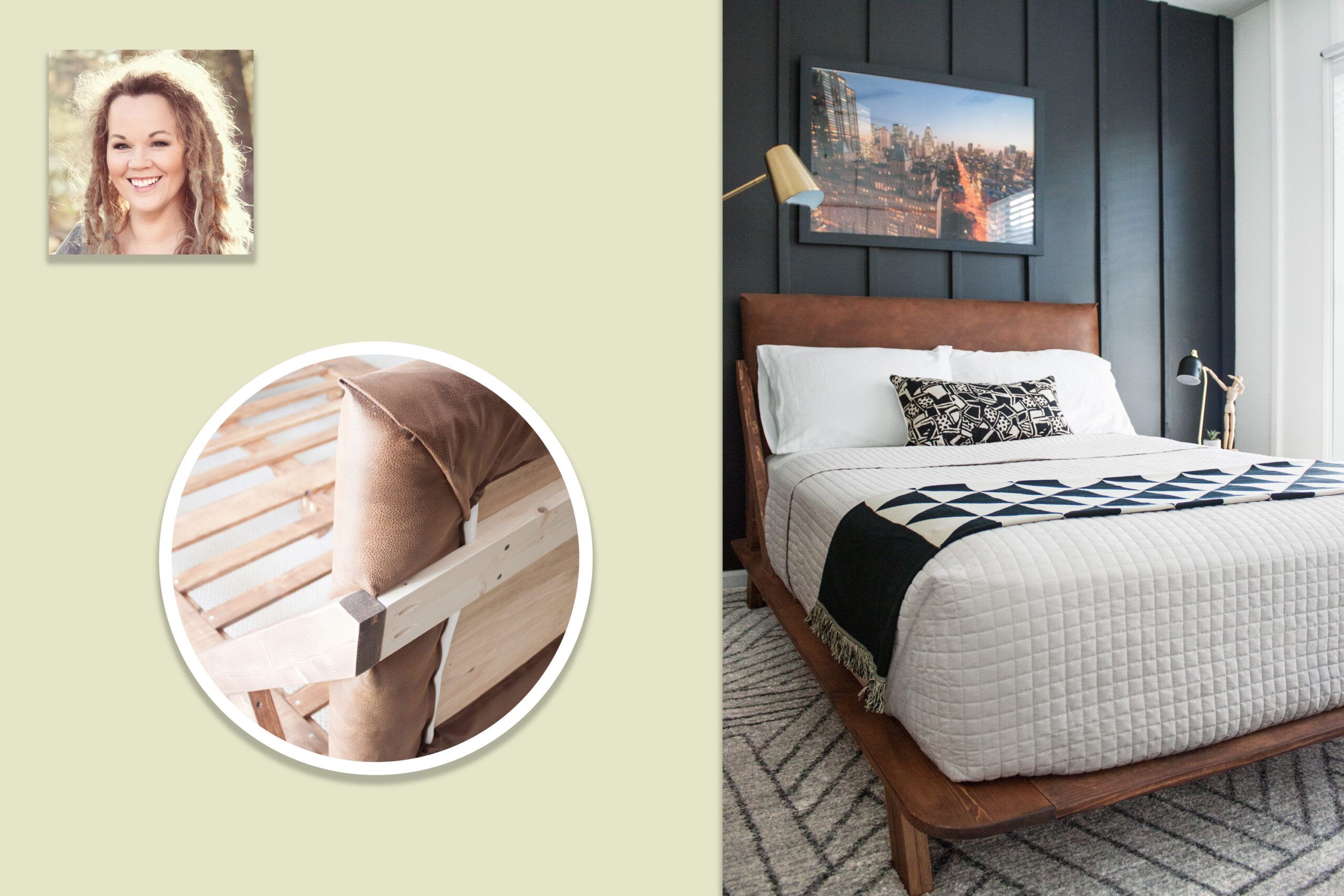 The DIYer: Jamie Lott, who has been DIYing since she was a teenager, working alongside her mom to make the family home beautiful. Now she blogs about her own endeavors at Southern Revivals.
The inspiration: "When my son turned 15 we decided to give his room a refresh," Jamie says. "He wanted something more mature and more modern. He picked out a bed at a retail store—with a $1,400 price tag! I decided to build it myself so we could splurge on a good mattress."
How she did it: Jamie used pine dimensional lumber to build the platform, copying the full-size bed she saw, and used plywood, foam, and faux-leather fabric for the upholstered headboard. To protect the stained pine and give it a richer look, she finished it with furniture wax. See a full stetp-by-step tutorial for this project right here.
Total cost: $391—including lumber, fasteners, and fabric. In lieu of pricey foam and batting, she used her son's old mattress topper, plus another $5 egg-crate topper. She already owned the stain, wood conditioner, and wax.
6. Nightstand with Charging Station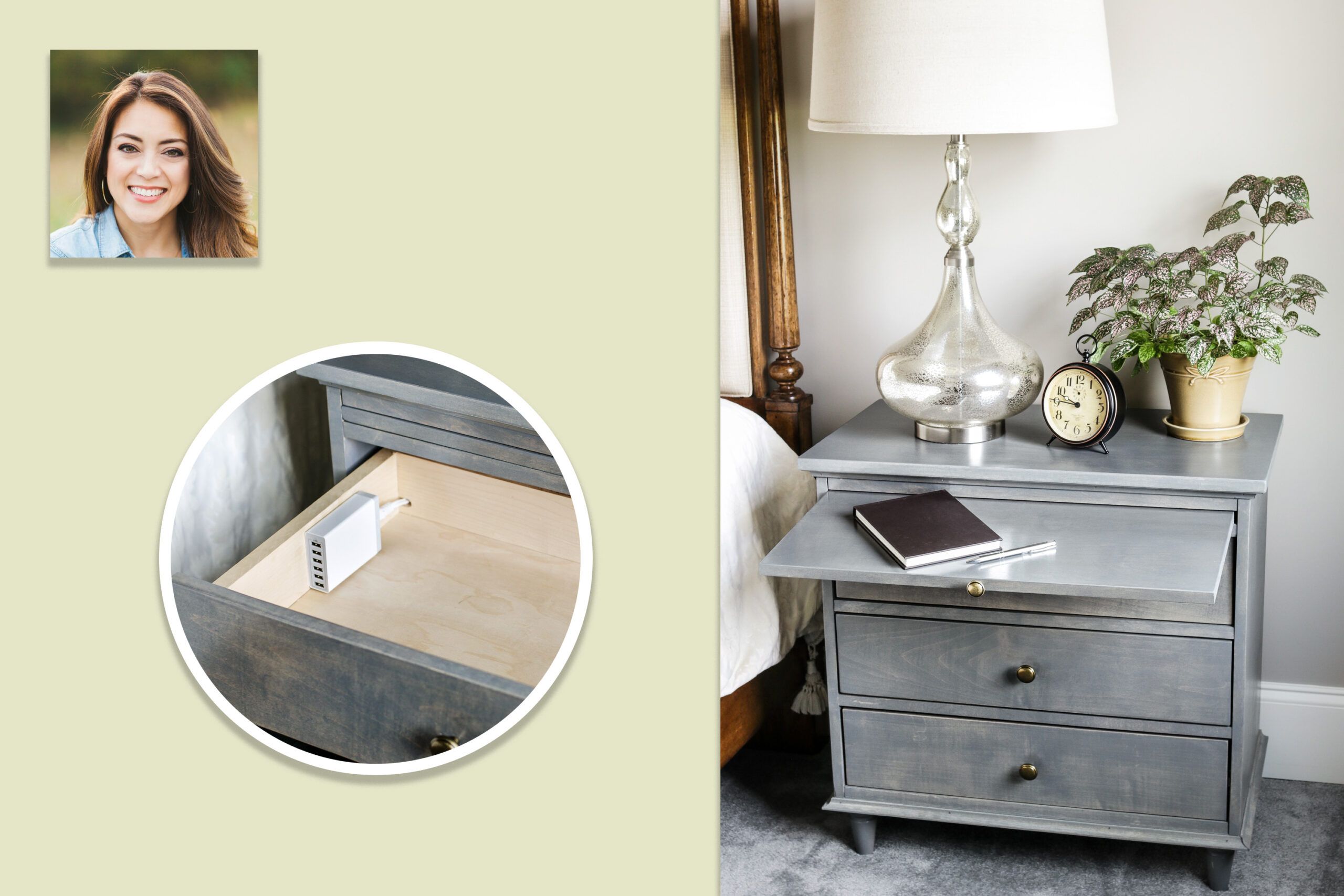 The DIYer: Jen Woodhouse, a singer/songwriter-turned-carpenter whose love of woodworking inspired her blog, The House of Wood. She encourages readers to "build their way to a more beautiful home," and offers downloadable project plans complete with cut lists and step-by-step instructions for each project.
The inspiration: "My sister was newly married, had just bought a house, and was in need of furniture," says Jen. "The nightstands she wanted cost almost $800 apiece from a high-end catalog—and she would need two. Building them meant we could customize them to her space and her storage needs."
How she did it: After sketching out a plan her sister was pleased with, Jen chose furniture-grade birch plywood to build the cabinet box and three drawers, using pocket-hole joinery and modifying the top drawer to fit a USB charging port. Above the drawers, Jen installed a writing tray that slides in and out to hold spillover books and pads. Simple cove molding along the base added an elegant touch above furniture feet she screwed on to elevate the piece off the floor. A coat of weathered-gray stain gave the nightstand a cool, almost translucent finish that Jen preserved with polyurethane to protect it from wear and tear.
Total cost: $130 per nightstand for 1 ½ sheets of birch plywood ($75), knobs ($15), a six-port USB wall charger ($30), and fasteners ($10)—a fraction of the cost of the original.
A hidden charging station makes the piece feel high-tech without giving it a high price tag. To install the charger, Jen just made a hole to thread the plug through in the back of the drawer, and another parallel hole in the cabinet's back panel. Now phones and tablets can be tucked away at night without any cord clutter.
7. DIY Built-In Bookcase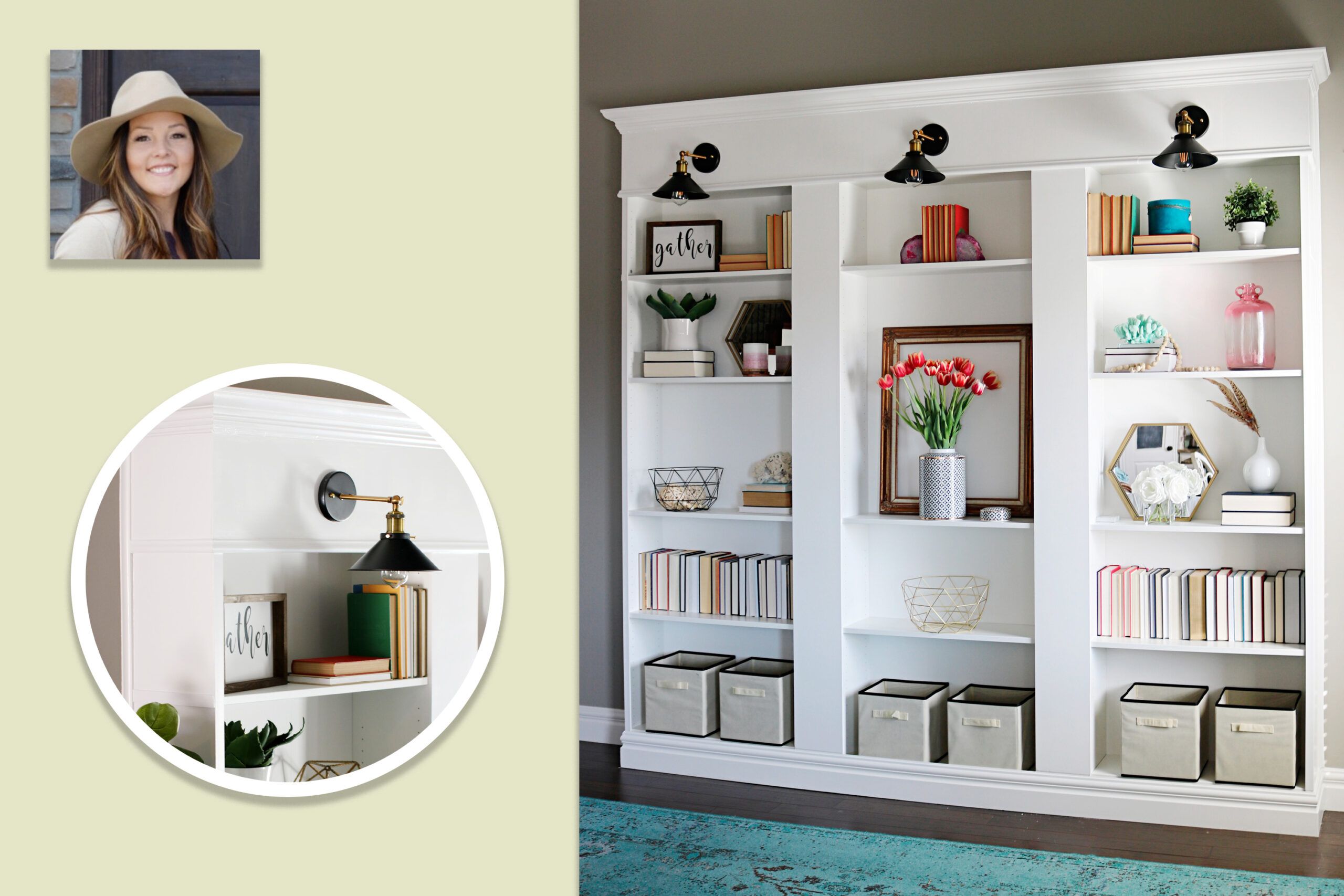 The DIYer: Mysha Bolen, whose blog covers topics for the home ranging from DIY projects to recipes. Find her at Remington Avenue.
The inspiration: "My living room has a vaulted ceiling and no architectural interest or detail," Mysha says. "We had no place to put our books and we needed a solution for our kids' toys, too. I'd heard about people hacking IKEA's Billy bookcases to make them look more custom. If we'd hired a finish carpenter to do this, it would have cost thousands!"
How she did it: Mysha used three Billy bookcases from IKEA to form the base of the shelving unit, plus the matching extension pieces to give them some more height. To marry the three units and make them look like one built-in, she covered the gaps between the pieces with 8-inch-wide strips of plywood, and wrapped the bottom and top with trim and crown molding. She installed three black-and-brass sconces along the top for a library look, connecting them to a hidden plug-in power strip she could operate by remote control. Pick up a step-by-step tutorial for this project right here.
Total cost: $400 total—$59 each for three Billy bookcases, $25 each for three extension pieces, $25 for each of three sconces, $25 for a power strip with remote control, plus lumber and molding totaling $48.