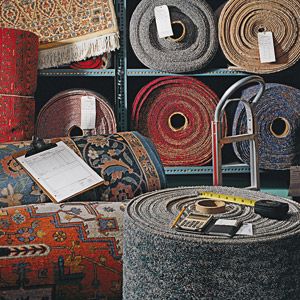 Getting ready to lug your worn-out wall-to-wall to the curb? You're not alone. Americans get rid of some five billion pounds of carpet each year—that's nearly seven times the weight of the Empire State Building. But thanks to an industry/government group called the Carpet America Recovery Effort (CARE), you may be able to recycle rugs you once would have thrown away.
CARE unites a national network of recyclers that turn old carpet into raw materials for new products, like composite lumber and carpet padding. Though the network is still in its infancy—recycling facilities aren't available everywhere yet, and homeowners typically pay from 5 to 25 cents per pound of carpet to recycle it—more facilities are joining, and costs will likely drop as CARE expands. "Last year, we kept 261 million pounds of carpet out of landfills," says Robert Peoples, CARE's executive director. Right now, recyclers are available in 26 states; visit CARE for an up-to-date map and listing.
Individual carpet companies are doing their part, too. Many manufacturers offer lines that contain recycled content, and some let you ship back samples or old rugs for free. Take our cheat sheet to the store, and make sure to ask your carpet dealer if there are rug recyclers in your town:
Mohawk: The company's EverStrand carpet fiber incorporates PET (polyethylene terephthalate) from recycled plastic bottles, using 100 percent postconsumer recycled content.
Shaw: Some lines of this brand containing Anson nylon use recycled content and can be recycled at Shaw's facility in August, Georgia.
Milliken: Its Tesserae carpet tile incorporates 33 percent recycled content.
Flor: The Fedora line uses 80 percent postconsumer fibers to make new carpet tiles and is available in seven colors. Customers can also ship old Flor carpet tiles free of charge to the company's recycling facilities.