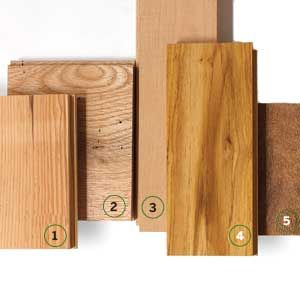 When it came time for Simon Lewis and Wendy Smith to replace the floors in their Edwardian-era home in the Potrero Hill section of San Francisco, they struggled with the options. "It had to be beautiful," Lewis says, "but we also wanted to make sure we were conserving nature."
In the end, they chose EcoTimber's White Tigerwood, an amber-striped hardwood from Bolivia. The 3-inch tongue-
and-groove planks came from trees that had been grown without chemical pesticides or fertilizers and were selectively cut down one at a time, rather than clear-cut in one fell swoop. "The decision to buy eco-friendly wood was the socially responsible thing to do," Lewis says.
Lewis and Smith are part of a growing group of consumers who, when it comes to flooring, actually can see the forest for the trees. They're driving the market for "sustainable" products—those made from trees that have been raised and harvested with minimal damage to the environment.
Unlike homeowners of a few decades ago, who had fewer options when it came to saving trees, today's environmentally conscious remodelers don't have to sacrifice the look, feel, and durability of wood underfoot. In fact, sustainable flooring comes in all the popular species: white and red oak, cherry, maple, red birch, hickory, even exotics like teak, rosewood, and cumaru. And it doesn't cost a fortune. Four-inch wide, medium-grade American cherry that has been certified by the Forest Stewardship Council (FSC)—an international nonprofit organization promoting responsible forest management — costs $5 a square foot, the same as standard cherry.
To get the FSC's stamp of approval, forest operations must meet 57 criteria, including protection of local wildlife, minimal use of chemical pesticides, even the guarantee that loggers can unionize. If a forest makes the grade, its wood products get branded with the FSC logo and a "chain of custody" number, which allows them to be traced them back to their source.
By 2005, there were 556 U.S. companies turning out FSC-certified lumber, up from 20 when the program was founded a decade ago, and 4,000 internationally. While the flooring they produce still makes up a small share of the U.S. market, it's growing fast. EcoTimber, a supplier in San Rafael, California, whose clients include Pottery Barn and Nike, has seen its sales of FSC-certified wood double in the last three years. "Environmental concerns are starting to have a very real effect on the wood marketplace, and it's about time," says Dan Harrington, EcoTimber's director of architectural sales and marketing.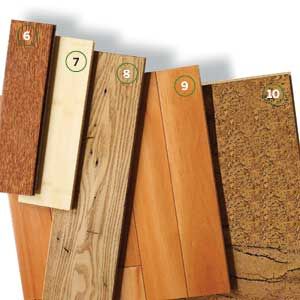 More important, they're having an effect on the nation's forests. By 2005, FSC-certified woodlands blanketed 15.5 million acres, up from a mere 1.4 million in 1995. Internationally, the numbers are even more compelling, with 135 million acres of FSC-approved forests covering the globe.
While the FSC stamp is the gold standard, it's not the only way to get an earth-friendly wood floor. Another option is reclaimed wood, such as palm harvested from fallen trees on coconut plantations, timbers salvaged from abandoned buildings, and logs pulled from the bottoms of rivers, where they sank on their way to the mill (though some environmentalists decry underwater salvage, on the grounds that it disrupts aquatic ecosystems that have been in place for decades).
Then there's "wood" that isn't wood at all, like bamboo, a grass whose lightning-quick seven-year growth cycle makes it a favorite of many eco-conscious homeowners, and the bark of the cork oak, which when properly harvested doesn't harm the tree. Even engineered flooring—wood layers joined with low-toxicity glue and topped with a hardwood veneer — makes more use of the entire tree, thus lessening the toll on the forest.
How do you know your flooring dollar is really going back to companies with sound environmental practices? Look for a label from the FSC or the Sustainable Forestry Initiative (SFI), a group founded by timber and paper companies that has advanced its own set of standards. Though less stringent than the FSC—it doesn't require a chain of custody, for example—the SFI promotes reforestation and wildlife protection.
Only about 10 percent of the typical retailer's stock is likely to be "green," so you may have to do some hunting. For a list of certified companies in your area, visit The Forest Stewardship Council website. But you shouldn't have to look too far. "The availability of products is increasing along with consumer awareness," says Tom Dietsche, program manager for the U.S. Green Building Council, which has made FSC certification a benchmark in the new Leadership in Energy and Environmental Design (LEED) guidelines for homebuilders. "We've made a lot of progress."
FSC-Certified Hardwoods:
Meticulously followed from the forest
to your floor, these are logged and milled according to the highest environmental standards.
1. Long-leaf pine, approx. $3-$6 per sq. ft.; Environmental Home Center
2. Country Oak, approx. $6-$10 per sq. ft.; EcoTimber
3. American cherry, approx. $5 per sq. ft.; Green River Lumber
4. Central American teak, approx. $5-$7 per sq. ft.; EcoTimber
5. Brazilian cumaru, $5-$6 per sq. ft.; EcoTimber
Sustainable Alternatives: Reclaimed and salvaged timber, plantation-grown wood, and renewable resources like bamboo, palm, and cork preserve old-growth forests.
6. Coco palm (DuraPalm), $9 per square foot; Smith & Fong
7. Bamboo, $5 per sq. ft.; EcoFriendly Flooring
8. Reclaimed chestnut, $8 per sq. ft.; Vintage Log & Lumber
9. Hybrid eucalyptus (Lyptus), $5 per sq. ft.; Weyerhaeuser
10. Cork, $5 per sq. ft., EcoFriendly Flooring