The trim around the doors of your home is a structural element with distinct decorative attributes. Functionally, this kind of molding—called doorway casing—fills the gaps between the wall and the door jamb (the frame from on which the door is hinged and where the latch engages).
Aesthetically, door trim can reflect the architectural style of the house and the décor of the room it's in. Like crown molding and baseboards, the right doorway casing gives a space a finished, refined appearance. Installing interior door trim is a relatively easy do-it-yourself project that can have huge impact. So whether you aim to add a classic accent, complement a rustic room, or create a more ornate entrance, you'll find valuable info and ample inspiration in this gallery of lovely ways to adorn a door.
What is a Doorway Casing?
Doorway casing consists of three strips of material, usually wood boards: two long pieces installed vertically and a horizontal head casing that goes along the top to perfectly surround the door. The boards can be flat or have a shapely profile, and they are milled to be slightly thinner on the edge placed toward the inside of the door frame. Door trim boards are generally between 2¼ inches and 3½ inches wide.
Doorway casing can be made of paint-grade wood (such as pine), stain-grade wood (such as hemlock), or medium-density fiberboard (material comprised of sawdust, known as MDF). Hardwood (such as oak or maple) door trim is also available; a warp-resistant choice, it's recommended for bathrooms and other spaces that get their share of moisture. Prices for door trim may start as low as about $1 per linear foot, with hardwood typically more expensive. Of course, the wider and/or more detailed the trim, the costlier it becomes. For easier installation, DIYers can find pre-cut, pre-primed door trim at home improvement stores.
Types of Door Casing
There are two general forms that door casing takes: mitered or butted.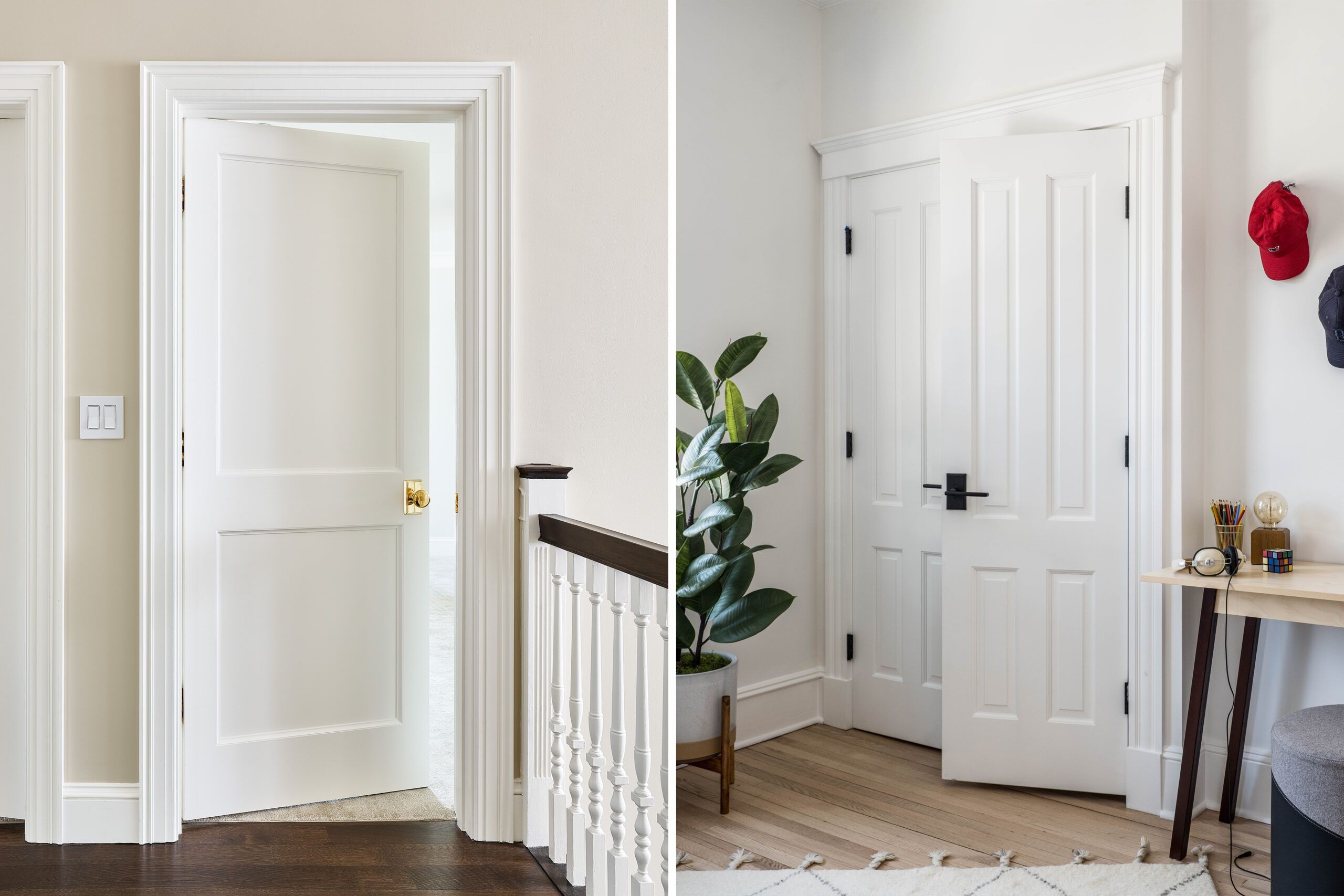 With mitered trim, the pieces connect above the door along 45-degree angled (i.e., mitered) joints. Mitered casings look sharp and neat, so they tend to suit modern settings as well as rooms with lower ceilings. Though the look is simple, cutting mitered angles precisely and connecting them can be tricky, making for a somewhat more challenging DIY project.
With butted trim, the header sits straight across the top of the side pieces. Butted trim allows for more customization, as in wider, longer, or more detailed head casing. This aspect of butted trim makes it suited to higher ceilings, since it draws the gaze upward. While butted trim can be visually more complex, installing it tends to be an easier DIY job, since there are no angles to cut and join.
A Doorway Casing Style For Every Style
We've rounded up some of the most popular types of door casing for almost any style of home. See below for examples of doorway casing styles.
Colonial Casing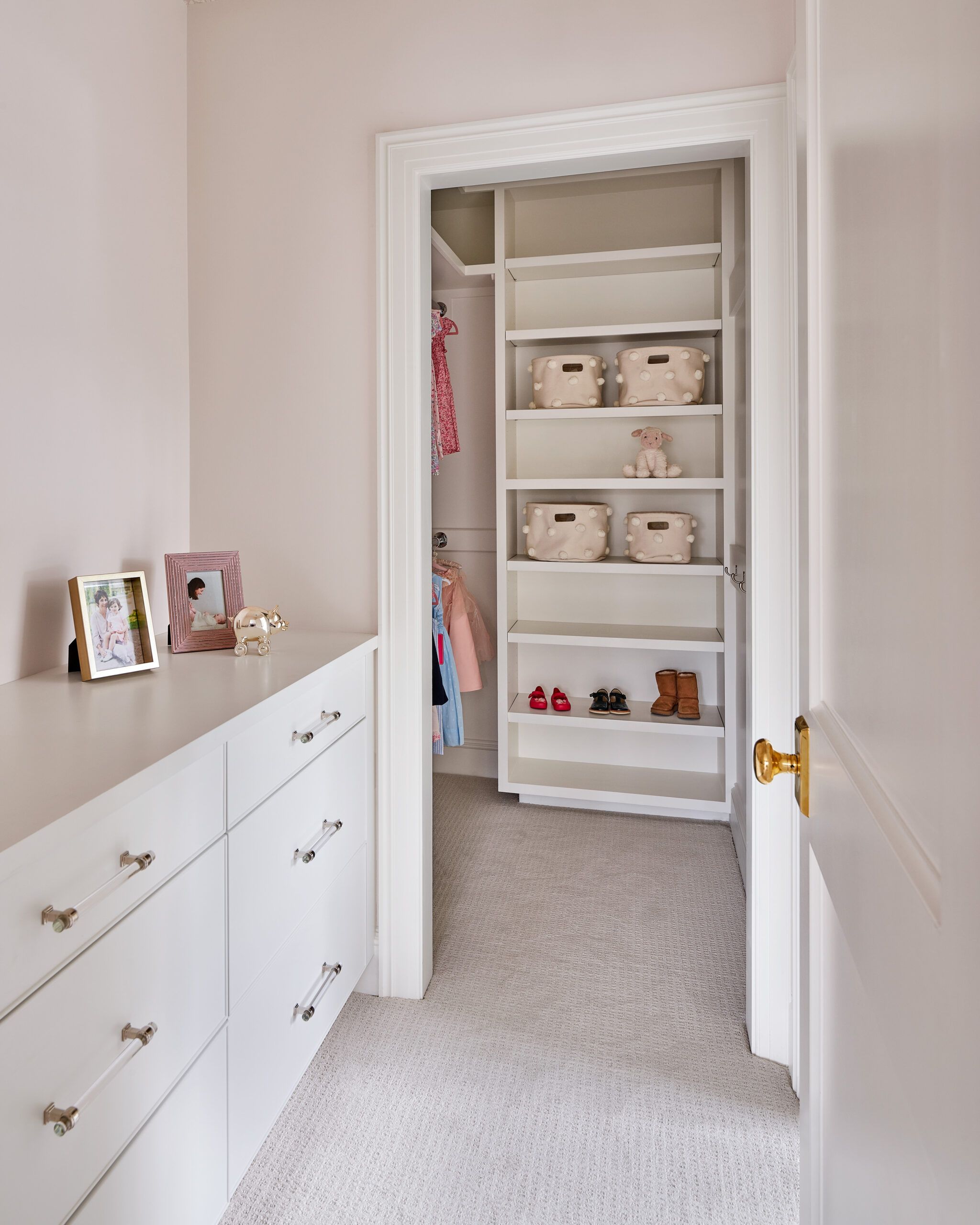 For Colonial and other traditional types of architecture, consider doorway casing with a cove-and-bead profile. This elegant, old-world style offers just enough decorative detail to enhance classic settings.
A somewhat more decorative door trim approach is the ripple effect, in which mitered corners are built out from the inside of the door jamb, using different board widths. This adds depth and interest to the room without being overly ornate.
Victorian Casing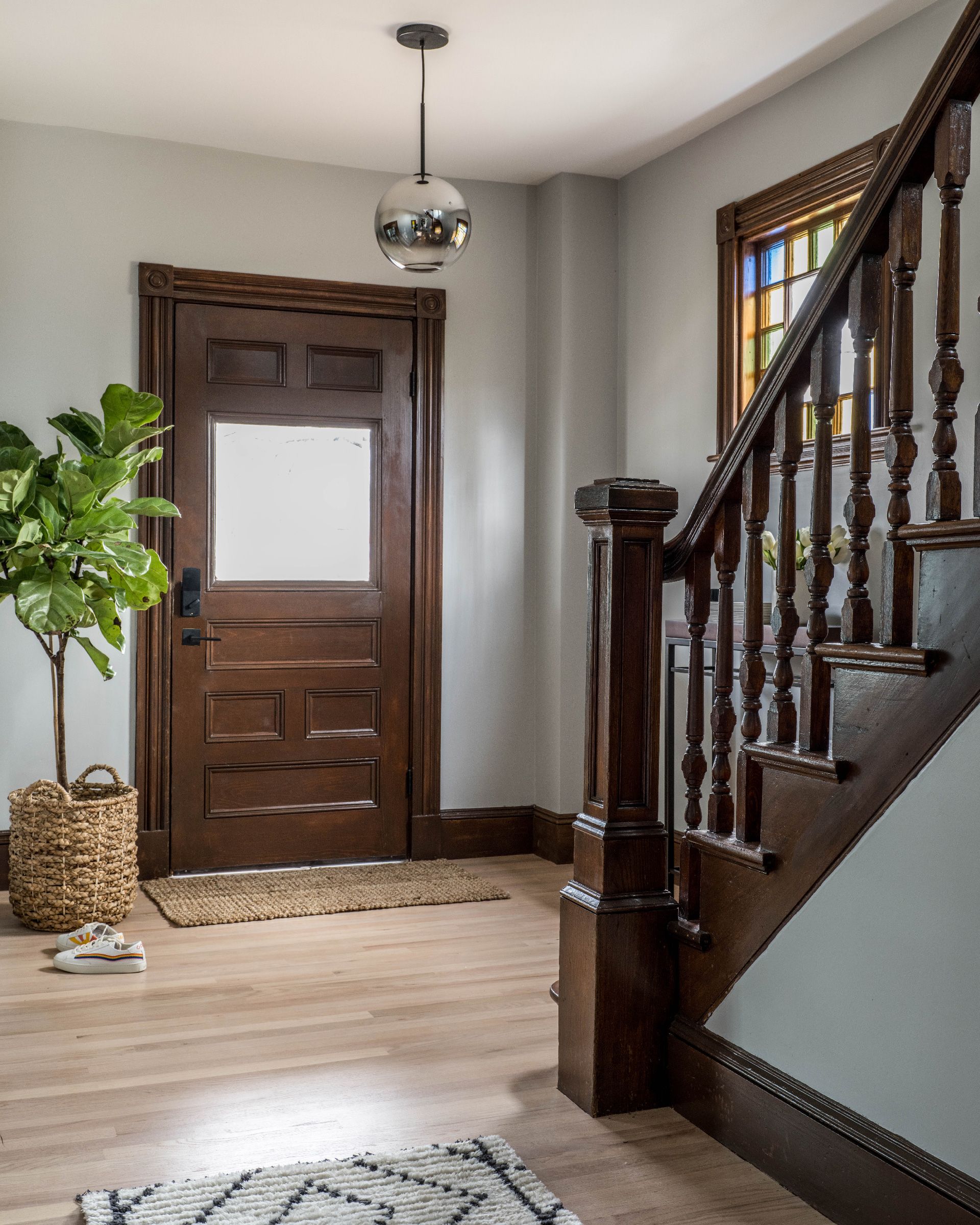 Fluted door trim is an excellent option for Victorian-style houses, which is known for its "gingerbread" woodwork. Narrow flutes (also called ribs or ridges) run the length of the boards, which may be topped with an even more elaborate header.
A pair of pretty rosettes often dress up the doors in Victorian homes. These square corner blocks traditionally have a flower carved in the middle, hence the name. If rosettes aren't for you, look for other designs from simple concentric circles, stars, or even animal images.
Country Casing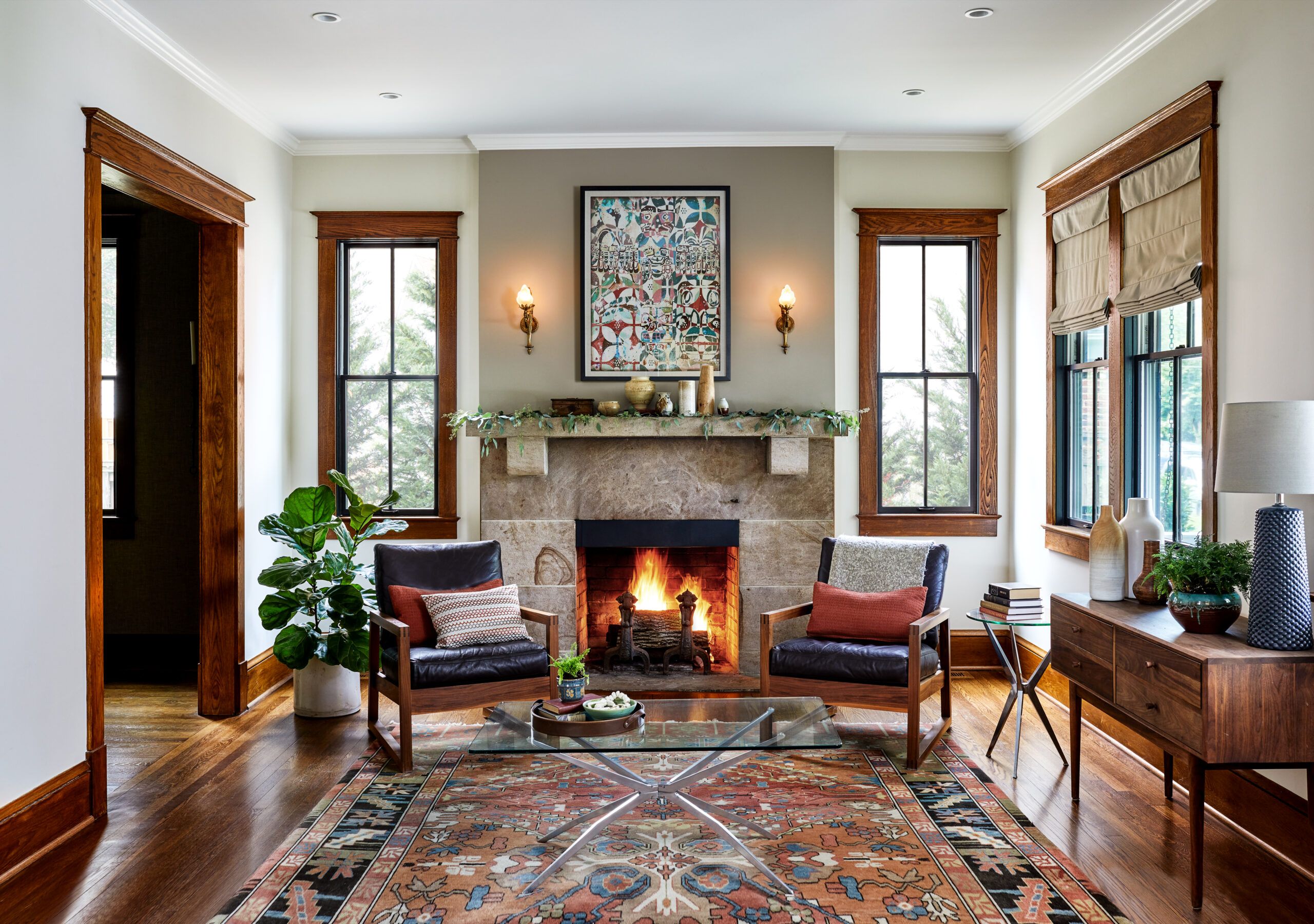 In a rustic farmhouse, basic doorway casing with straight lines often works best—but wood with a few knots and a distinct grain pattern can complement a homey setting.
For a detail that's bold without being showy, consider installing the side pieces of doorway casing trim on a rectangular plinth block.
Those with a Craftsman-style cottage might like casings with a thick border. Super-sized door trim (4 inches, say) is simple yet impactful. Just ensure that the furniture in the room is chunky, not dainty, to match the vibe.
Minimalist Casing
It's hard to go wrong in modern homes with flat door casing. True to its name, this molding style purposely lacks any profile or shape. The plain border around the door makes a subtle rather than standout statement.
For an interesting twist, flat-mitered boards can be installed at an angle to create a bevel. This adds depth while offering a fuss-free style.
Want even more minimalism? Choose ultra-narrow door casing. The slimmer the trim, the sleeker the look. Or consider going totally trim-free! Indeed, a door that eschews casing can disappear into the wall—a concept that disguises access to areas such as hallway closets and laundry rooms.
Unconventional Casing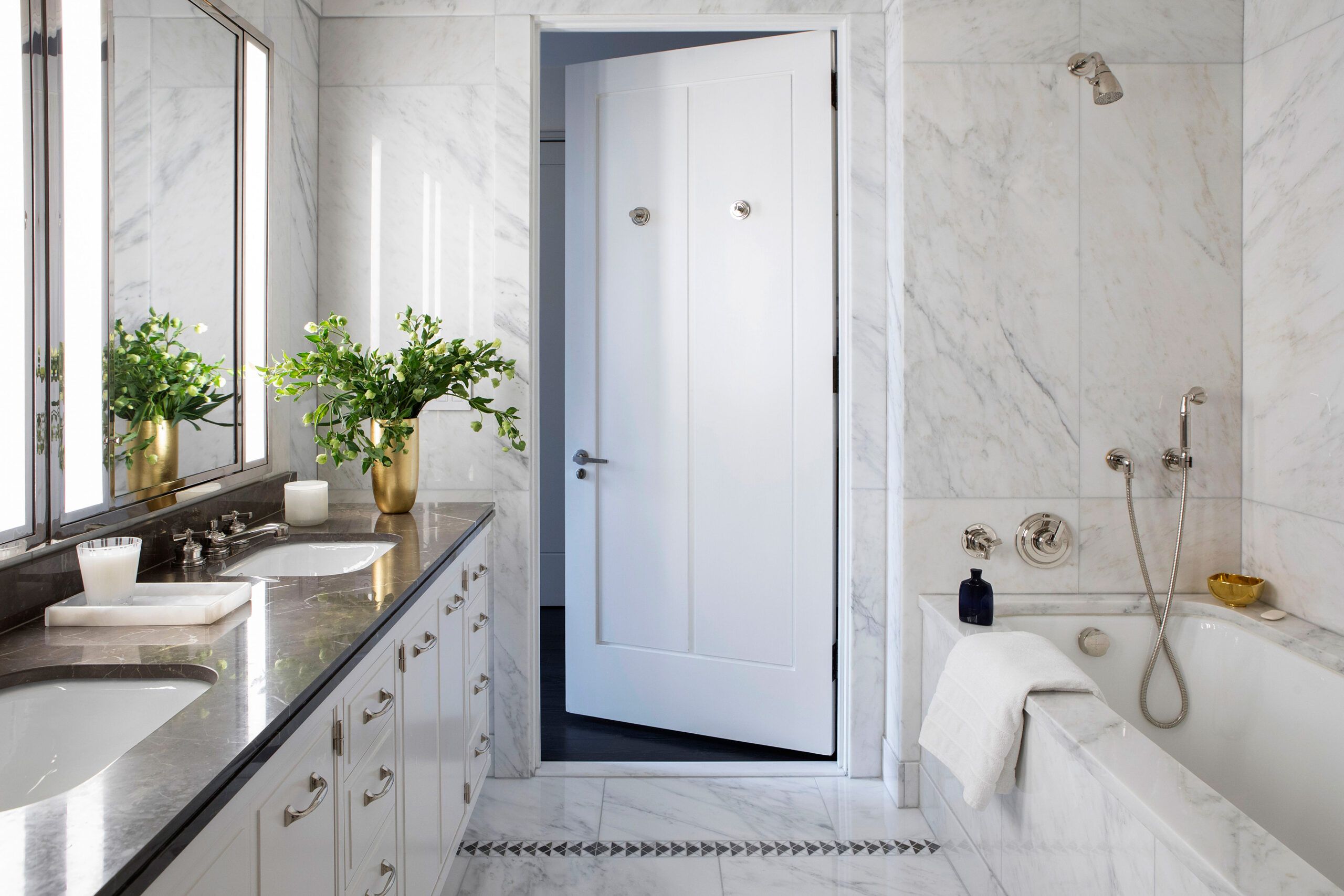 There's no rule that doorway casing must be made of timber. Tile trim is playful and unexpected—and it's certainly a smart choice for a moisture-prone space like a bathroom.
Not just for countertops and backsplashes, luxurious marble casing can make a majestic impression. Talk about a grand entrance!
Painted Casing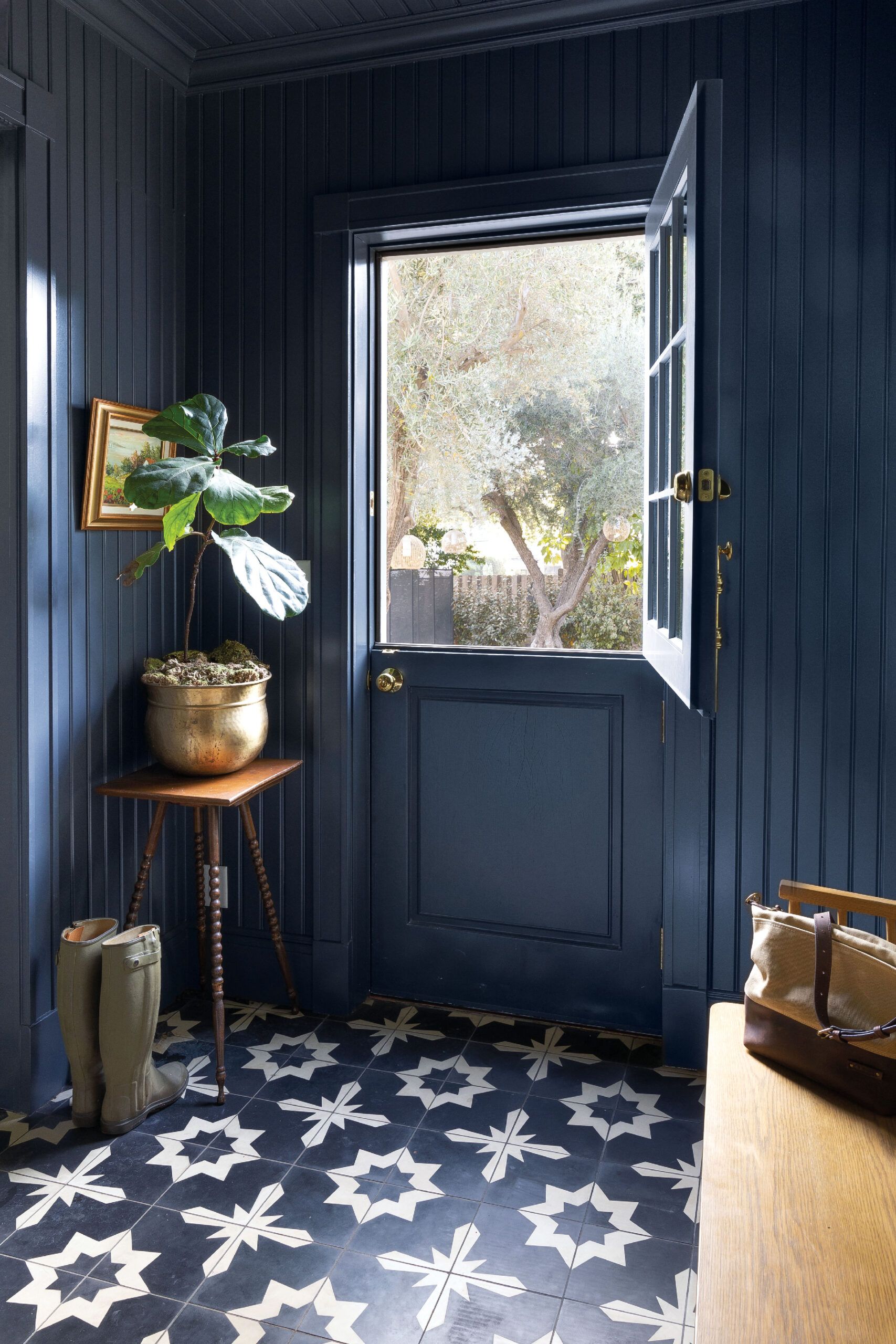 Color can be the finishing touch to door trim. Traditionally, doorway casing is painted in a contrasting or complementary shade to stand out as a decorative element. Painting the other molding in the room the same shade keeps the look cohesive.
Painting trim in the same color as the rest of the room is a trendy, modern approach. Called "color drenching," the monochrome scheme allows the casing to blend in with the walls.