Maybe you have a new stone patio and want to open a sunny passageway from the living room. Or you'd like to see your garden from the kitchen while also ushering in more light and air.
When the French crossed doors with windows back in the 1600s, they had something similar in mind. Exported to North America a century later, pairs of the multipaned doors could be flung open to catch a breeze in summer while inviting in the sun year-round. In fact, Thomas Jefferson installed several pairs of them at Monticello.
Today, French doors come in a wide variety of styles, from uninterrupted panes of glass to ones crisscrossed with diamond-shaped grids, and they slide as well as swing. New engineering means greater energy efficiency, wind resistance, and security, freeing the mind to focus on what counts: light and air.
"One of the nicest things in a room is a splash of sunlight on the floor," says interior designer Mally Skok. "Unlike windows, French doors let light in low, and create a sense of always being able to step outside, which is cheering."
Here's how to bring this now very American tradition home.
Similar to shown: 7010 Thermal French doors, from Simpson
Exterior French Door Parts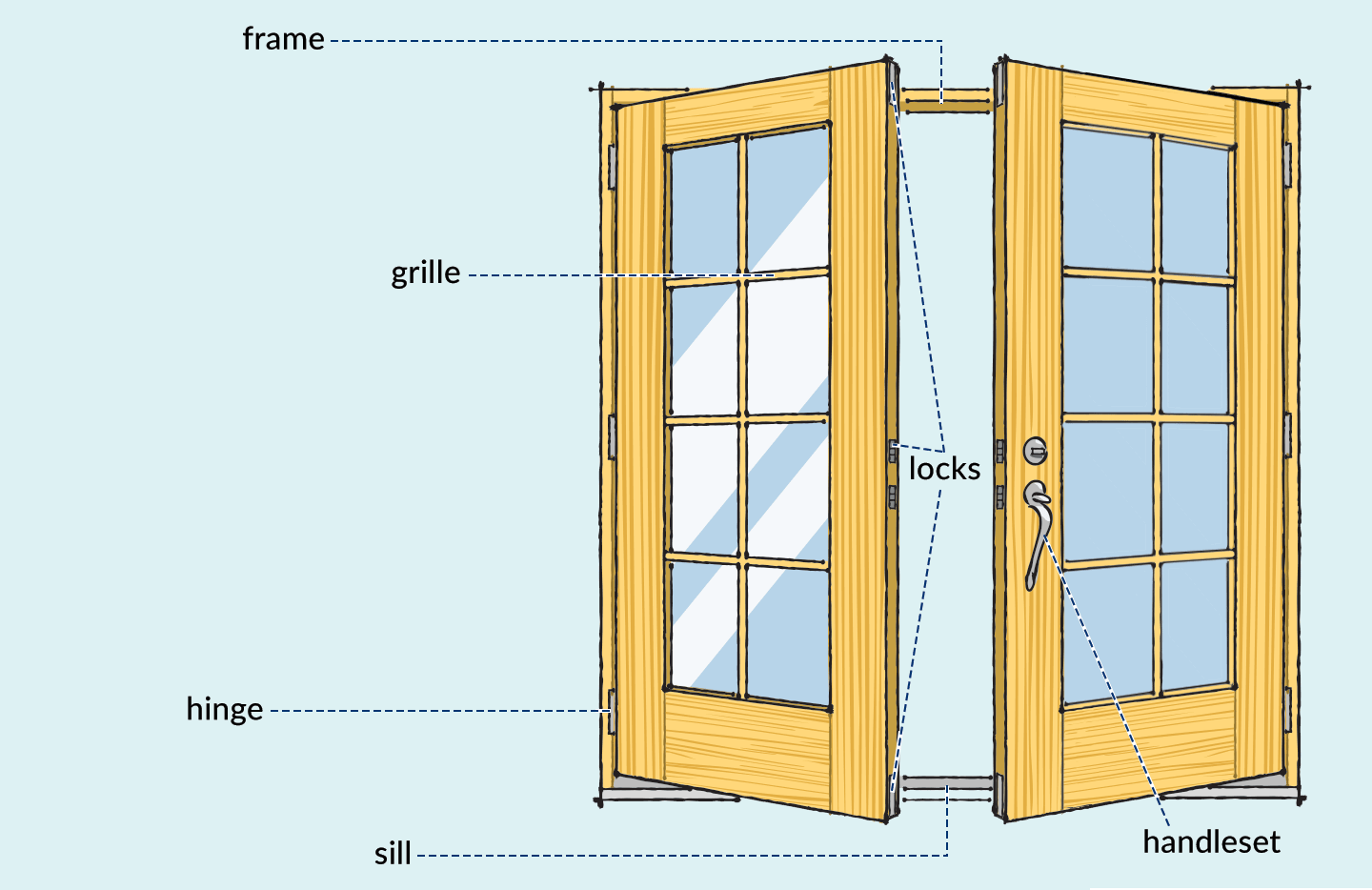 Today's exterior French doors often arrive prehung in a wood frame, complete with sill and weatherstripping. This simplifies installation. Optional grilles and hardware can be added to round out your door style.
Exterior French Doors: Questions You Should Ask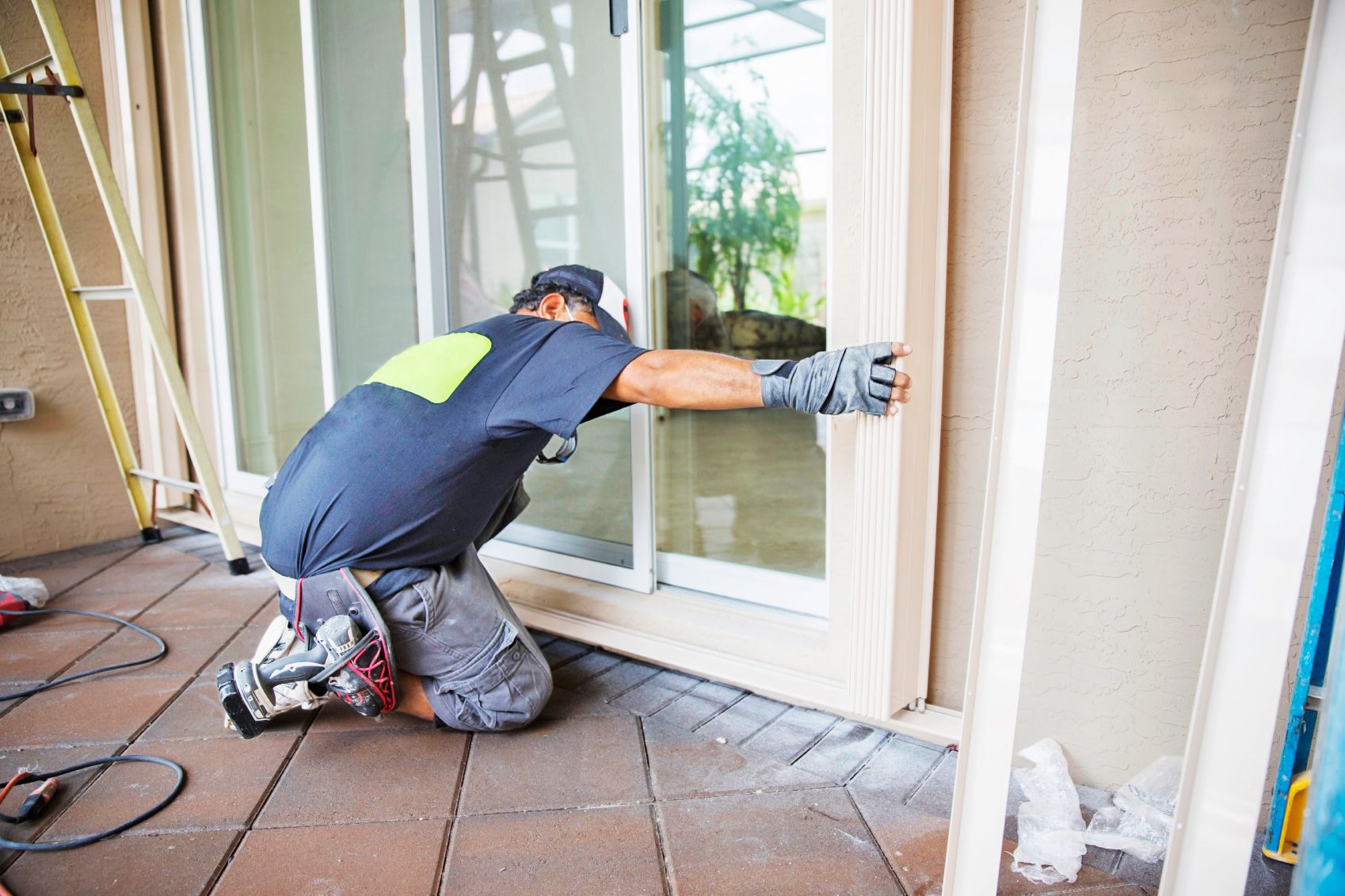 DIY or hire a pro? While a seasoned DIYer might be comfortable swapping in a new set of prehung doors for old ones, most homeowners will want to call a pro— especially if a new opening is needed.
How much do they cost? From $400 for a stock steel set to more than $3,000 for semi-custom in fiberglass or aluminum-clad wood (uninstalled).
How long will they last? Warranties run anywhere from 2 years to 20, and some can be transferred to the next homeowner.
Where to buy? Home centers stock low- to mid-range models. But for the widest selection, visit high-end lumberyards and window and door showrooms.
Exterior French Doors: Pros & Cons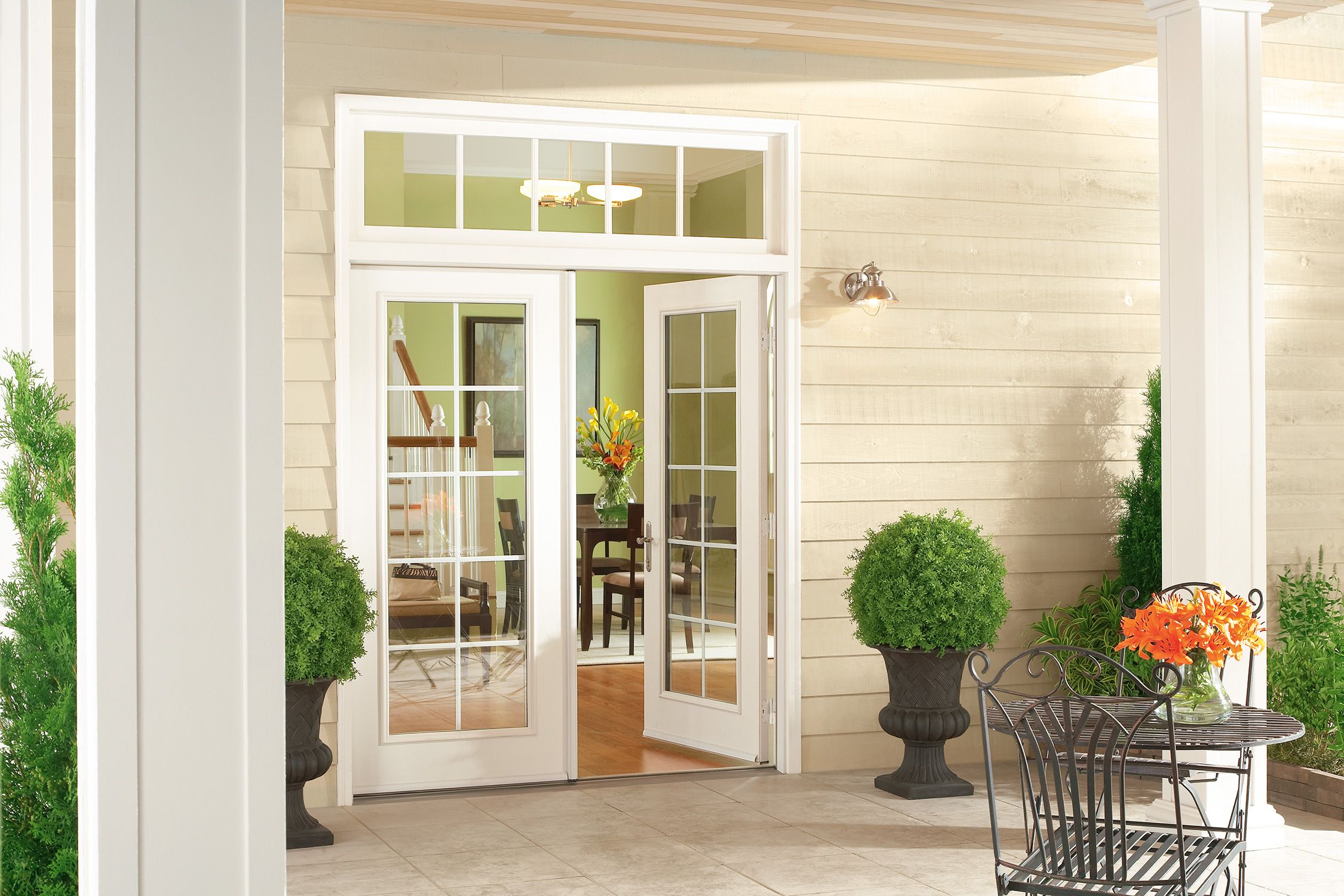 Pros:
They let in lots of natural light, creating an unrivaled sense of spaciousness and indoor-outdoor connection. They can brighten indoor rooms even when it rains.
They can let in lots of air, boosting cross-ventilation in summer. When closed in winter, all that glass can channel the sun's warmth.
They allow sliders to have a more traditional look by means of beefier bottom rails and window grilles.
They come with a wide choice of lights, so you can reinforce the style of your house and add architectural detail.
Cons:
They can require floor space—on both sides if swinging doors are paired with swinging screens.
They are subject to the elements. Ones that swing in may invite in water. Ones that swing out are exposed to the weather.
They require some maintenance. With sliders, tracks have to be kept free of debris. Weatherstripping will need periodic replacement, and hinges tightening. All those panes need regular cleaning to preserve the view.
They put you on view, too. At night, they may require shades, blinds, or drapes for privacy.
Before You Buy
Sight lines: Unless you are simply swapping in new French doors for old ones, work with your designer or general contractor on the best spot for views from inside, comfortable access, and sun and wind exposure.
Clearances: Before opting for hinged doors, make sure they will have room to fully open, whether they swing in or out. Space-saving options include one hinged door and one that's fixed, or doors that slide.
Type of glass: A transom or sidelights can augment the impact. Textured or frosted panes add privacy; in a hurricane zone, look for a design pressure rating that complies with local building code.
Screen options: Hinged screens need floor space, and sliders mean another track; a semitransparent material like fiberglass screen cloth is less obtrusive. The best solution may be a retractable screen, sometimes sold with the door, that rolls up into the jamb, out of sight until needed.
Shown: Lumera 10-light doors, from Simonton
Material Types of Exterior French Doors
Vinyl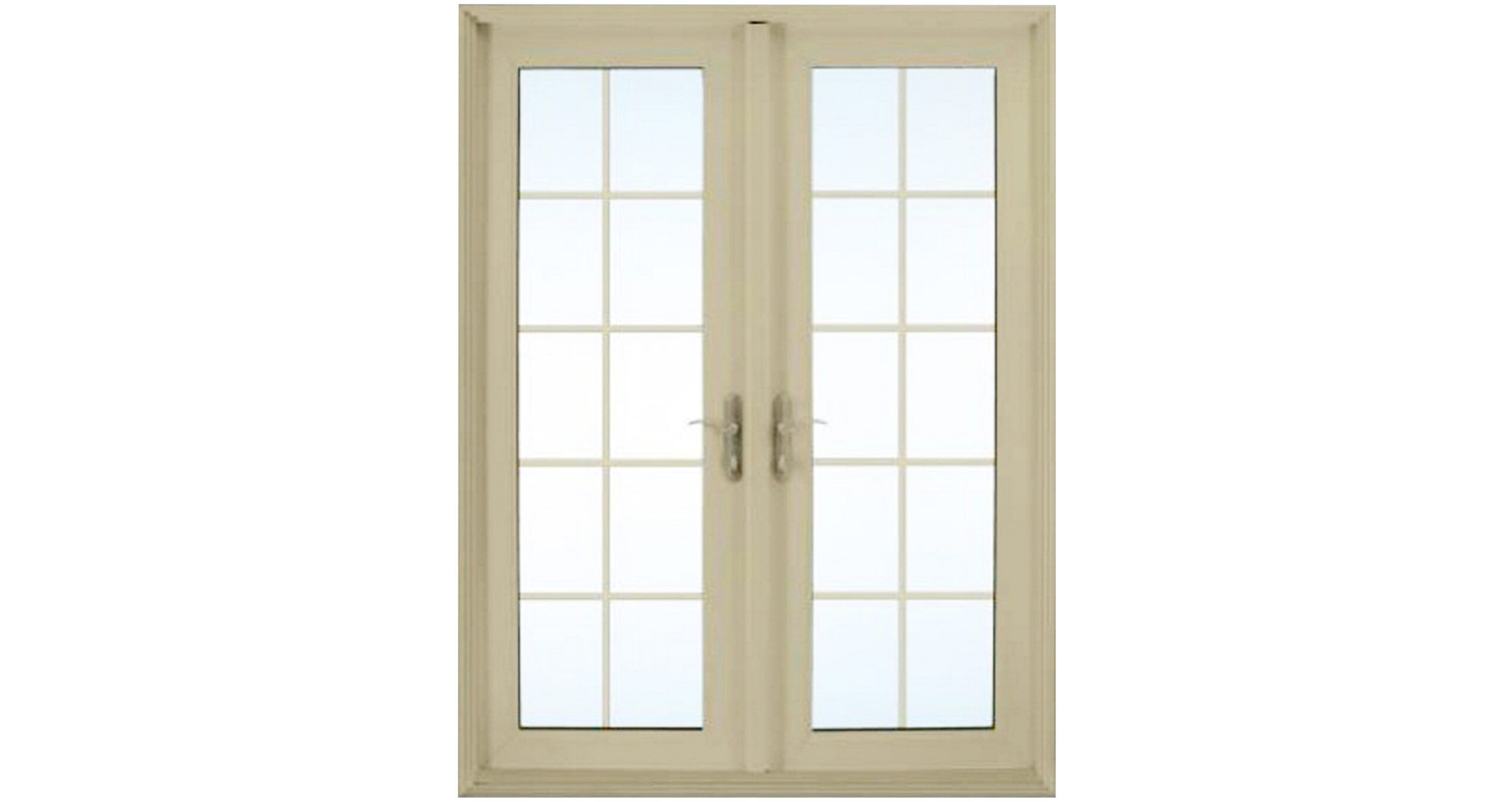 Cost: $-$$
Quality vinyl is affordable and durable, and mimics the look of painted wood—choose a different color for each side. A stiff foam core adds energy efficiency.
Shown: Premium Atlantic Vinyl doors, prehung pair from $2,700; Jeld-Wen
Fiberglass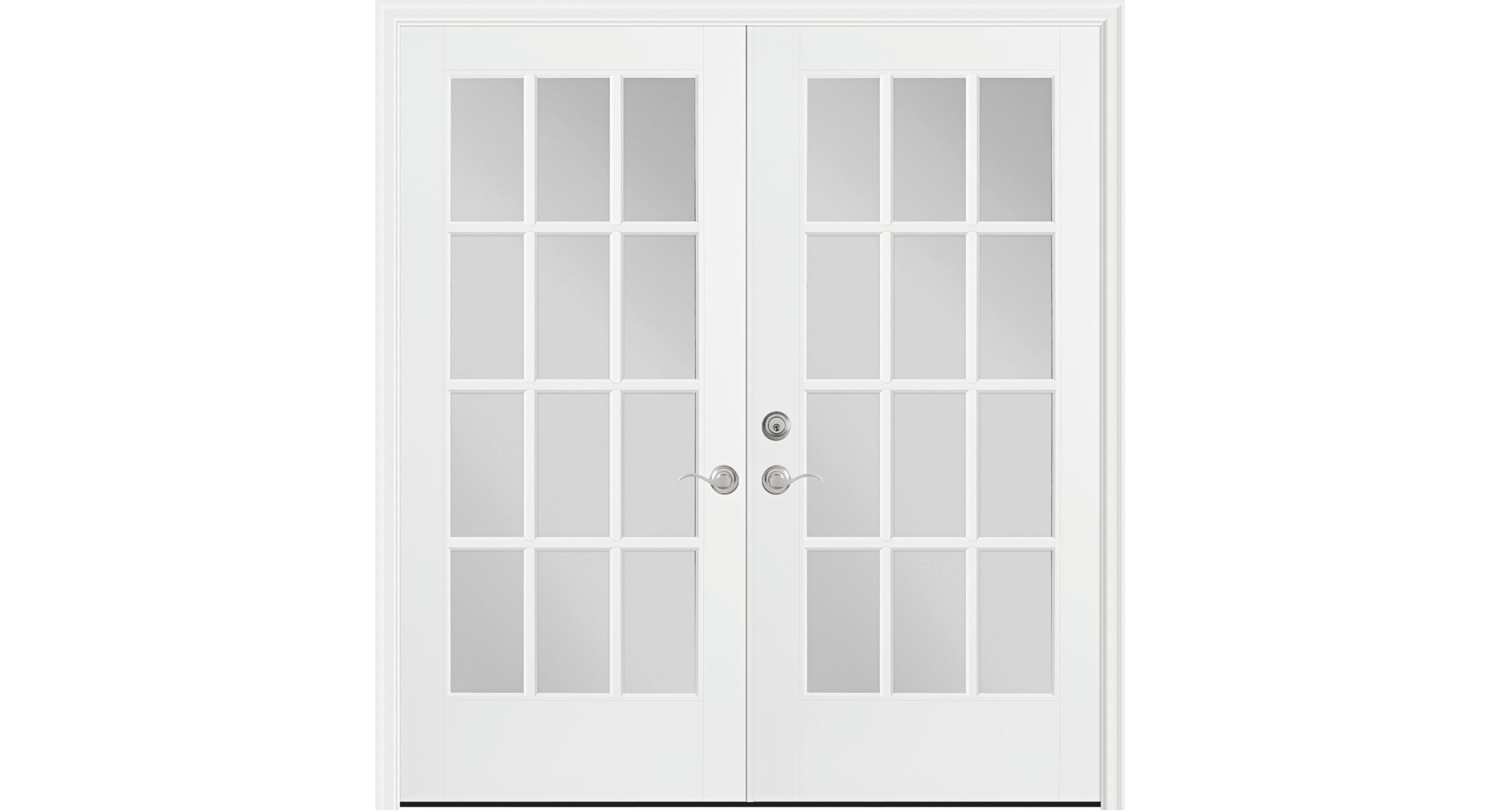 Cost: $$-$$$
Stable, energy-efficient, and low-maintenance, sturdy fiberglass offers superior resistance to UV rays, rain, and cold weather; can be painted or finished with marine varnish. Foam cores provide insulation. Comes in a smooth finish or with a realistic embossed wood-grain look that can be stained.
Shown: VistaGrande doors, prehung pair from $3,500; Masonite
Clad Wood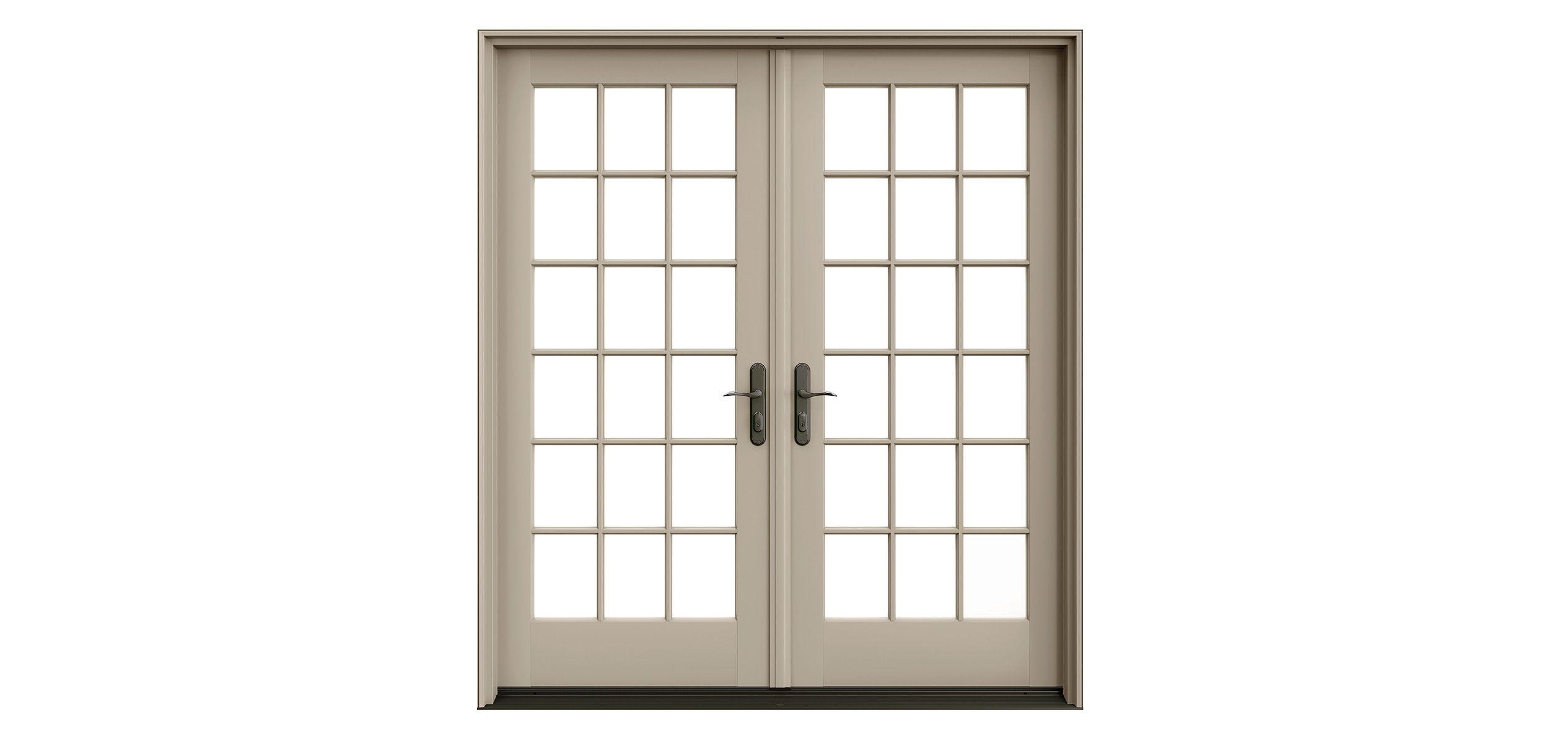 Cost: $$-$$$$
Wood on the interior has a warm, traditional look; aluminum, vinyl, or fiberglass cladding on the outside adds durability and stands up to the elements better. The core is typically engineered lumber, for added strength; paint or another finish can keep the laminated veneer inside looking new.
Shown: Proline 450 Series Patio doors, prehung pair from $2,600; Pella
Energy Efficient French Doors Exterior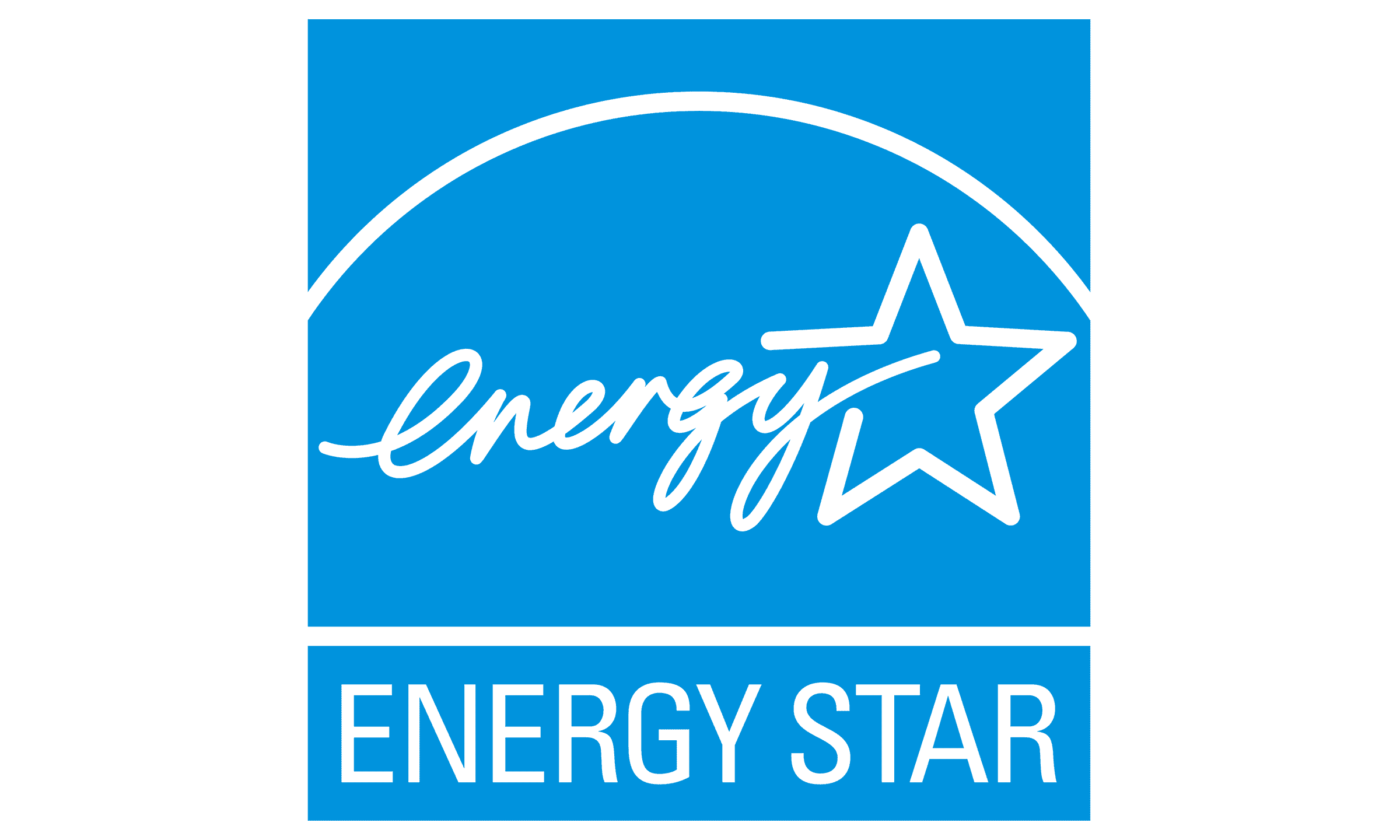 Window glass no longer transfers heat the way it used to. Choices now include doubled or tripled tempered panes (which can block some light), with air or a gas-like krypton providing insulation; "low-e" coatings can also help prevent heat transfer.
An Energy Star label means the door has been tested and certified to meet strict standards; the lower the U-factor, the better. Energy Star-certified sliders installed before December 31, 2016, qualify for a federal tax credit; find details at energystar.zendesk.com. But equally important is proper installation and maintenance. To conserve energy and cut down on drafts, the doors need to close tight and have weatherstripping in good shape.
Dividing the Light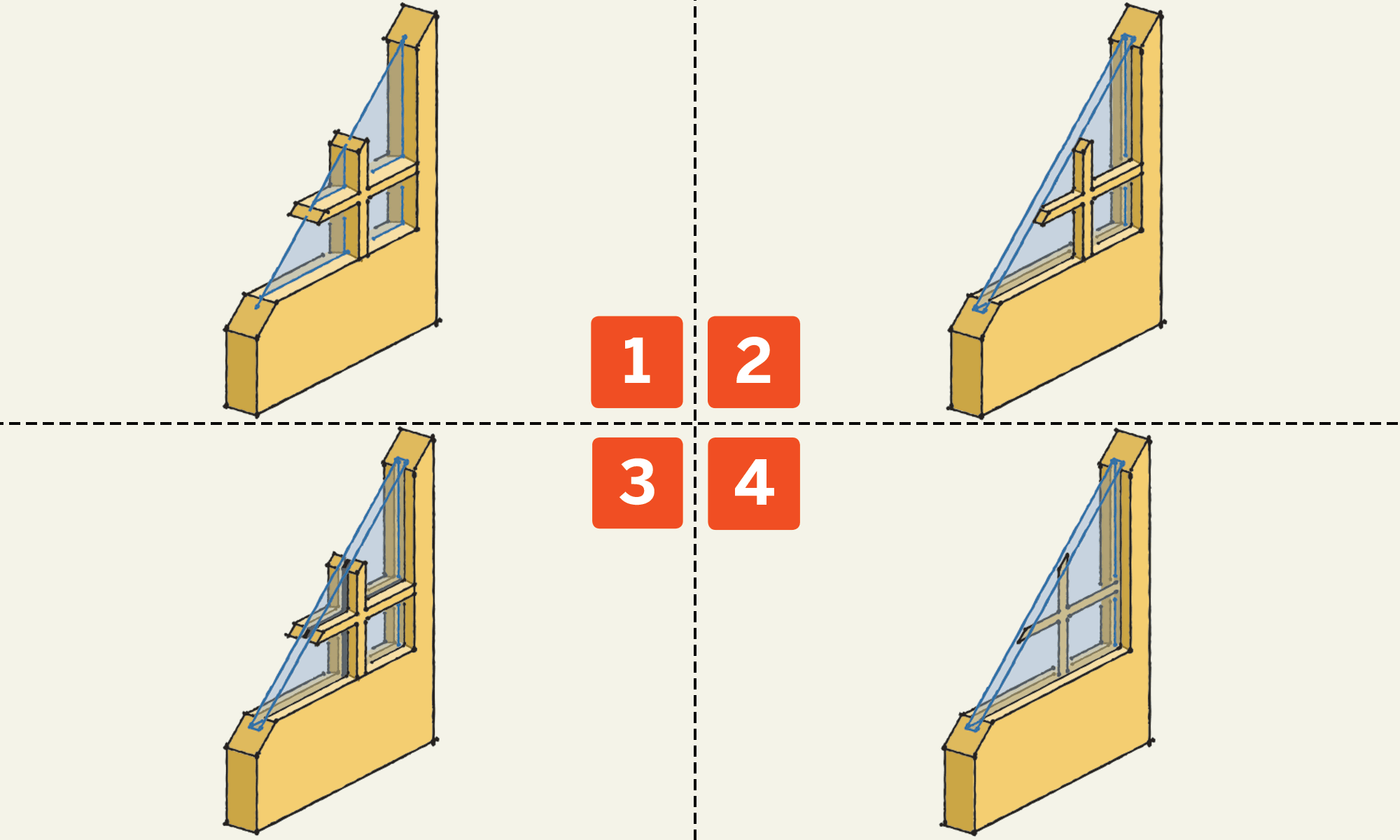 Manufacturers offer different ways to get the look of individual panes, while cutting energy loss.
True Divided Lights: Separate small panes hark to a time when glass couldn't be made in sheets—or insulated. Hard to clean.
Bars or Grille on One Side: Flat or beveled grids offer the illusion of divided lights—outside for curb appeal, inside to frame views. Can be fixed or removable for cleaning.
Bars or Grilles on Two Sides: If there are double panes, spacers between them can make the illusion more convincing.
Sandwiched Grille: A grid between two panes looks least authentic from any angle, but is easiest to clean.
Door Types
Single In-Swinging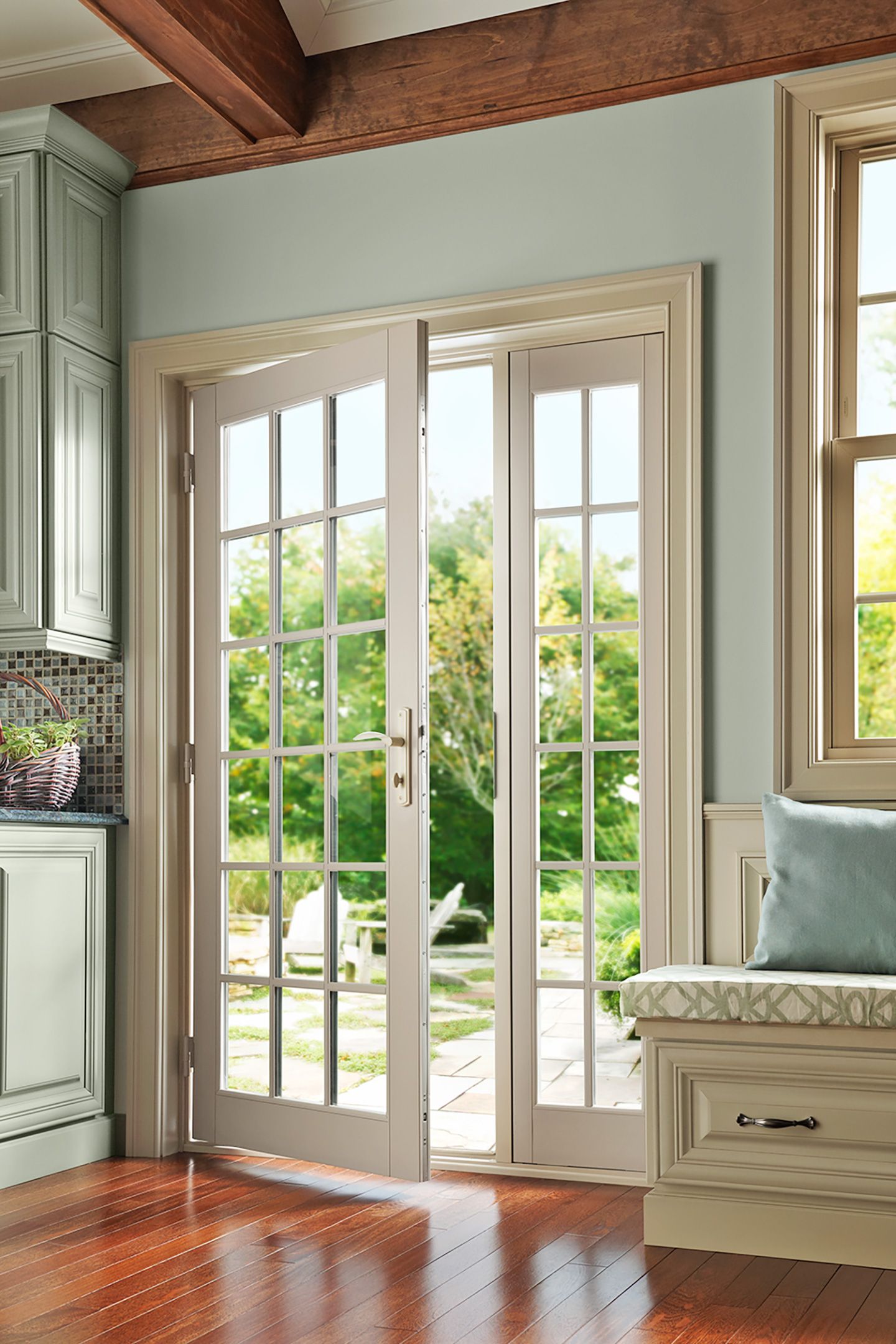 A one-hinged panel is considered a French door; a fixed sidelight can suggest the look of a pair. An overhang helps keep rain out when the door opens inward.
Shown: Tuscany Series door and fixed panel, in vinyl; from about $2,000; Milgard
Double In-Swinging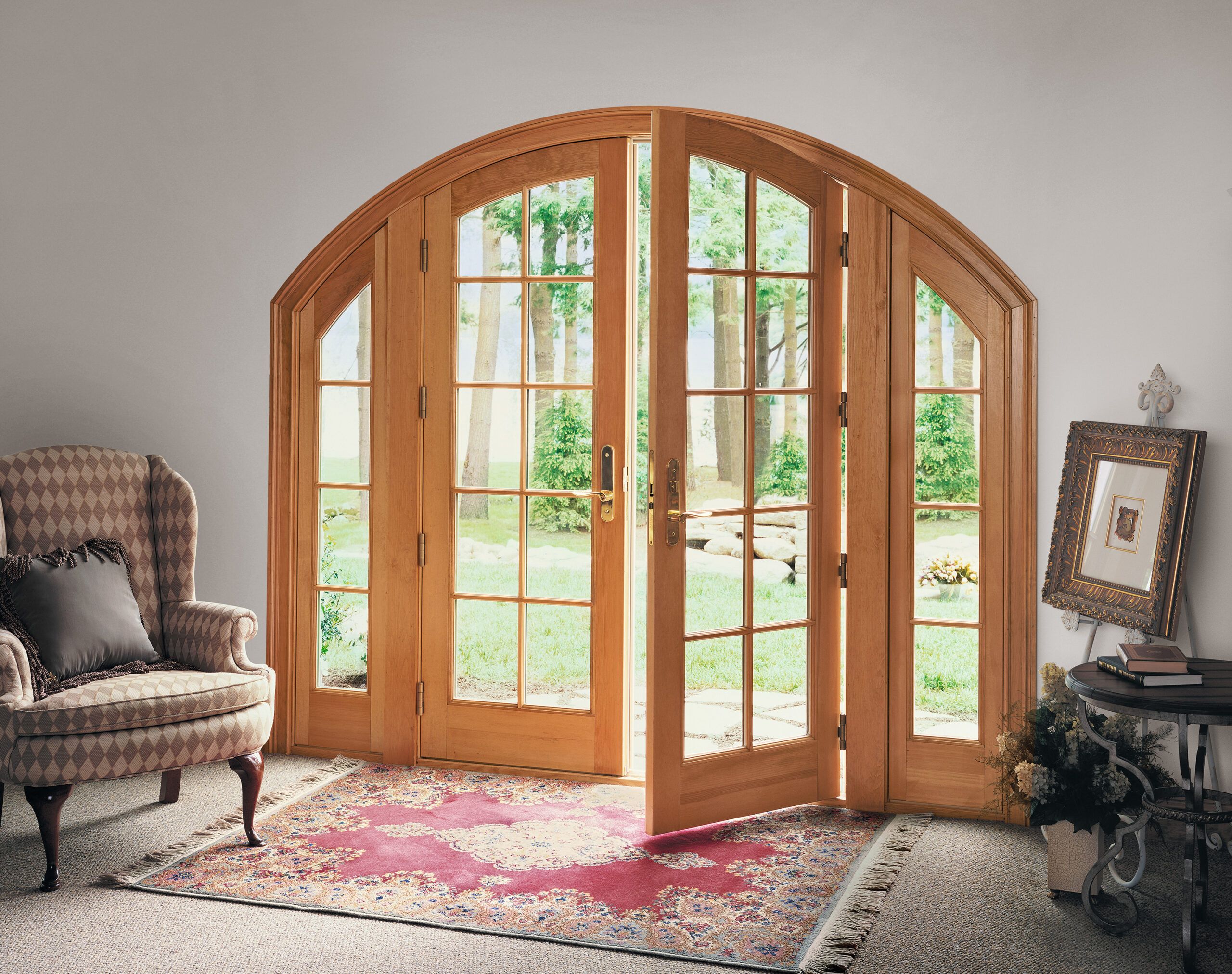 Two doors that open in have a gracious look. An arched shape can add interest.
Shown: Ultimate Swinging Arch Top French doors, in aluminum-clad wood; prehung pair from $6,000; Marvin
Doubles That Swing Out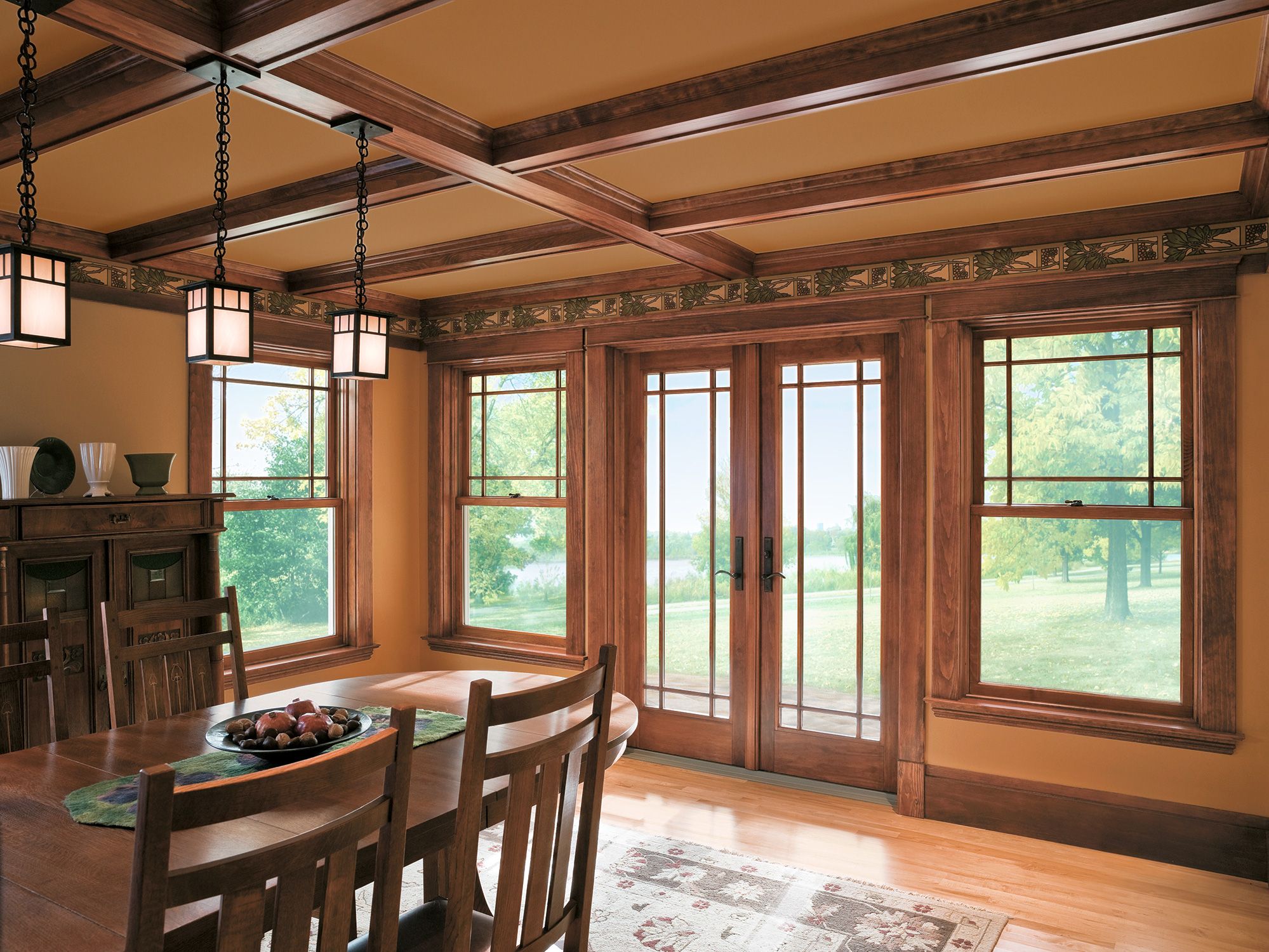 Out-swingers just get tighter as the wind blows, compressing the seal. Coordinating windows add visual impact.
Shown: A Series Hinged Patio doors, in wood, fiberglass, and composite; prehung pair from $2,860; Andersen
Center-Hinged In-Swinging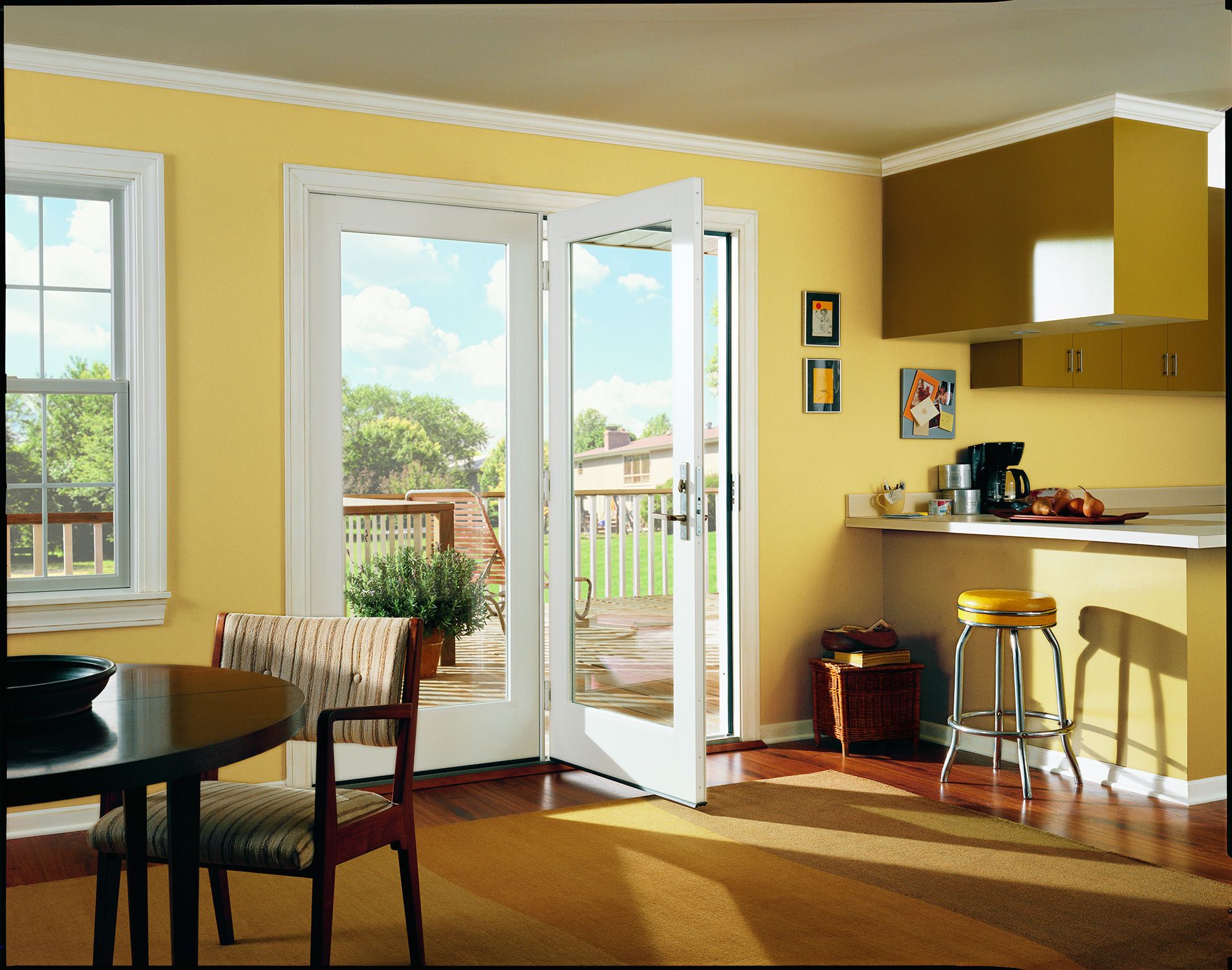 One door and one fixed pane suggest a pair. Place the hinged side where the swing is most convenient. Taller bottom rails give single panes French-door cred.
Shown: 200 Series Hinged Patio doors, in vinyl-clad wood; prehung pair from $2,470; Andersen
Single Slider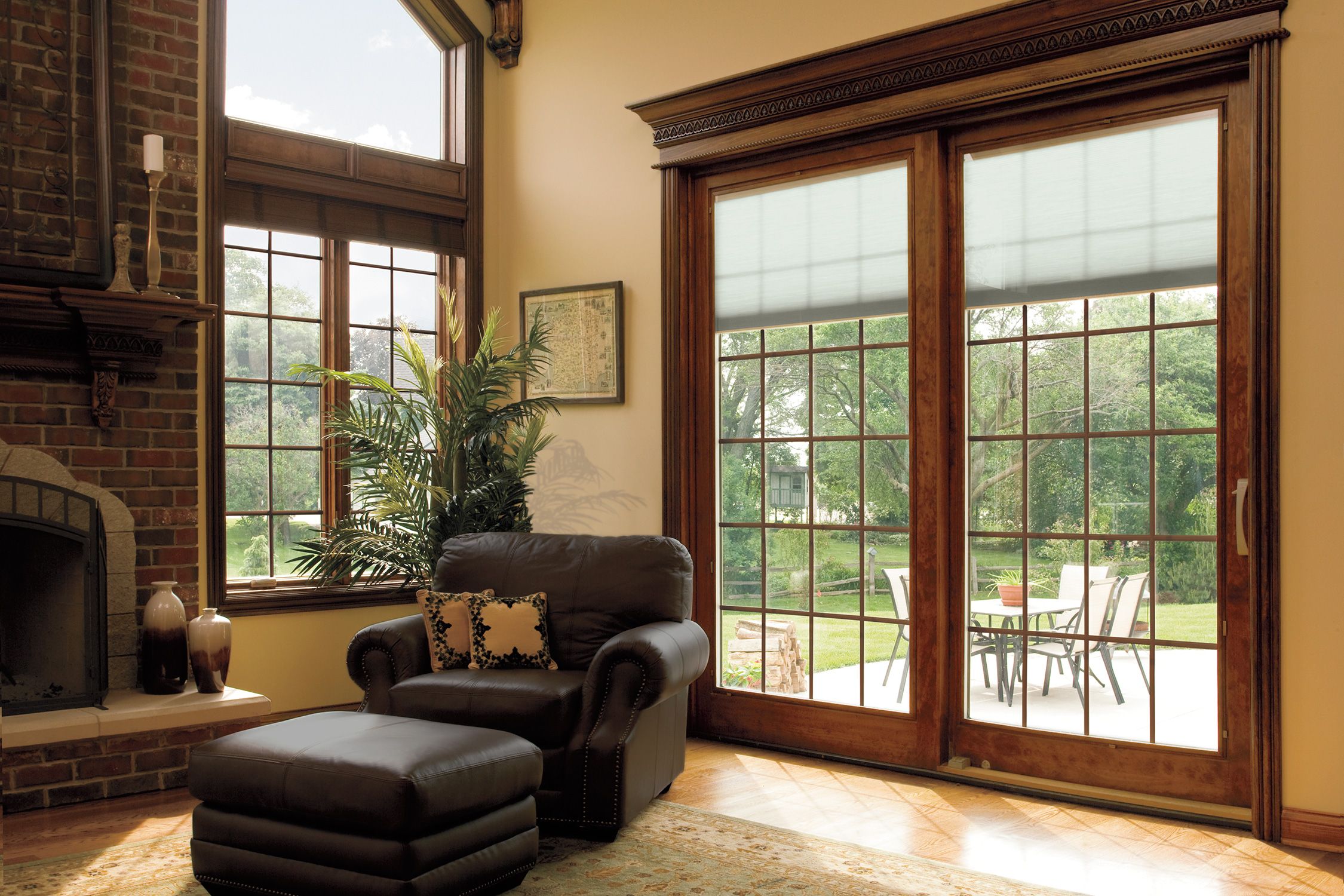 A slider saves space indoors and out. Remote-control blinds fitted between panes provide light control with a clean look.
Shown: Designer Series Sliding Patio doors with motorized shades, in aluminum-clad wood; prehung pair from $4,425; Pella
Telescoping Slider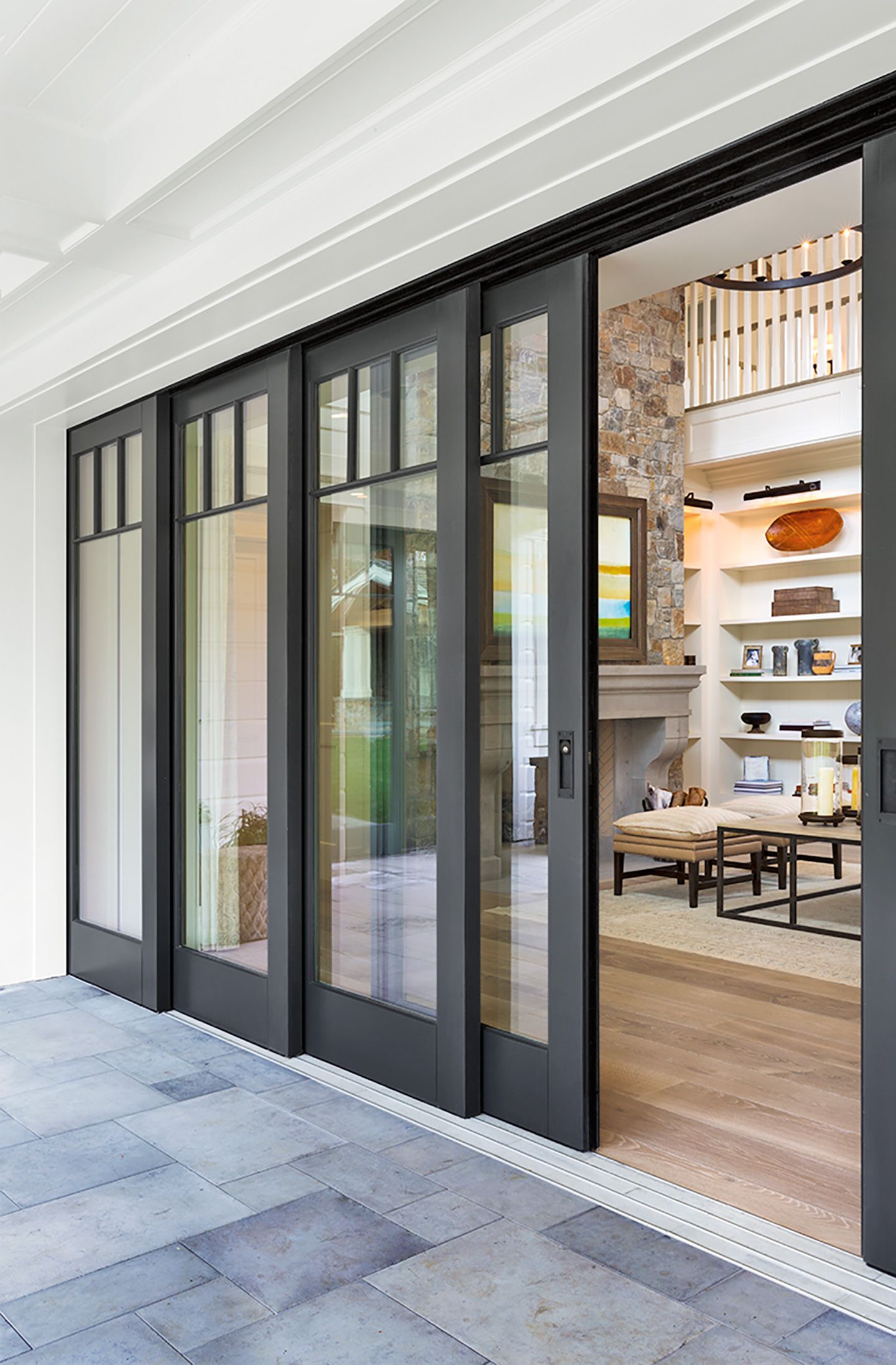 Up to 10 panels travel on smooth-gliding ball-bearing rollers.
Shown: Architect Series Multi-Slide and Lift-and-Slide Patio doors, in aluminum-clad wood; this configuration from $14,560; Pella
Light Styles
Colonial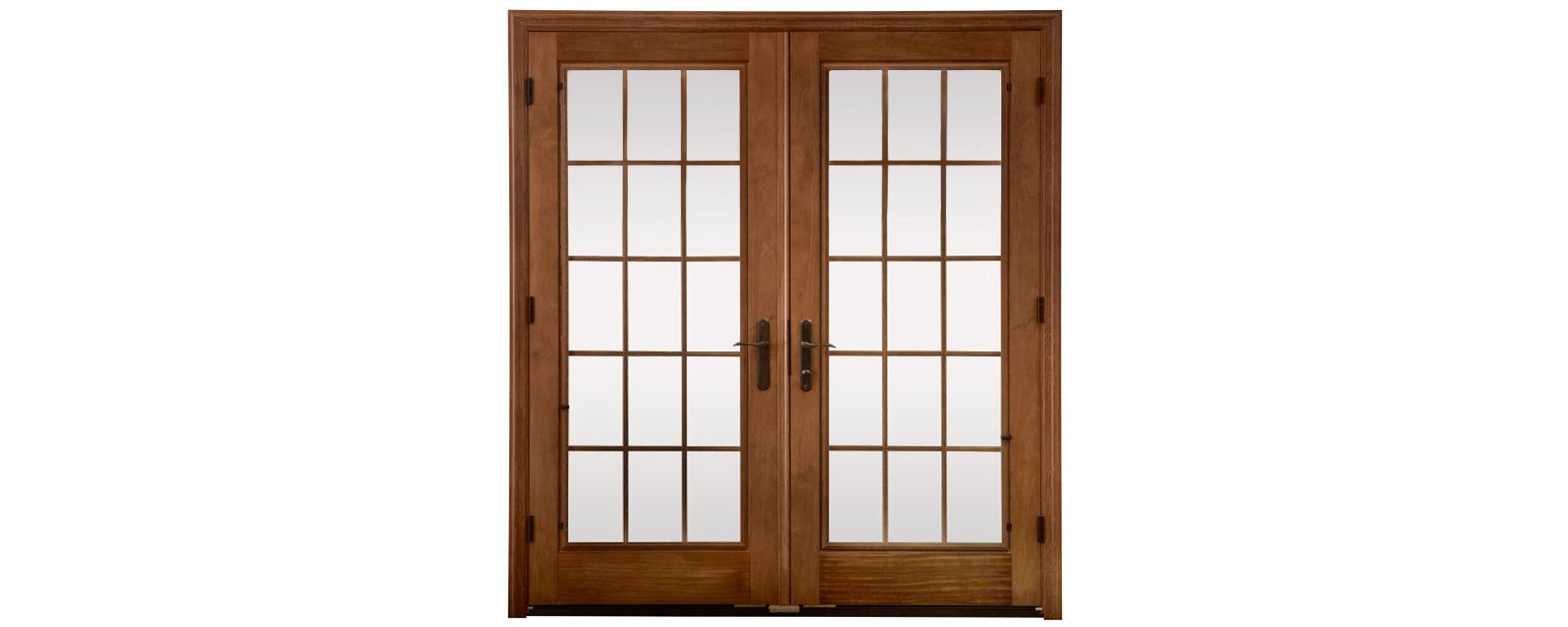 Doors with 15 divided lights signal traditional style.
Shown: Architect Series, prehung pair from $3,700; Pella
Victorian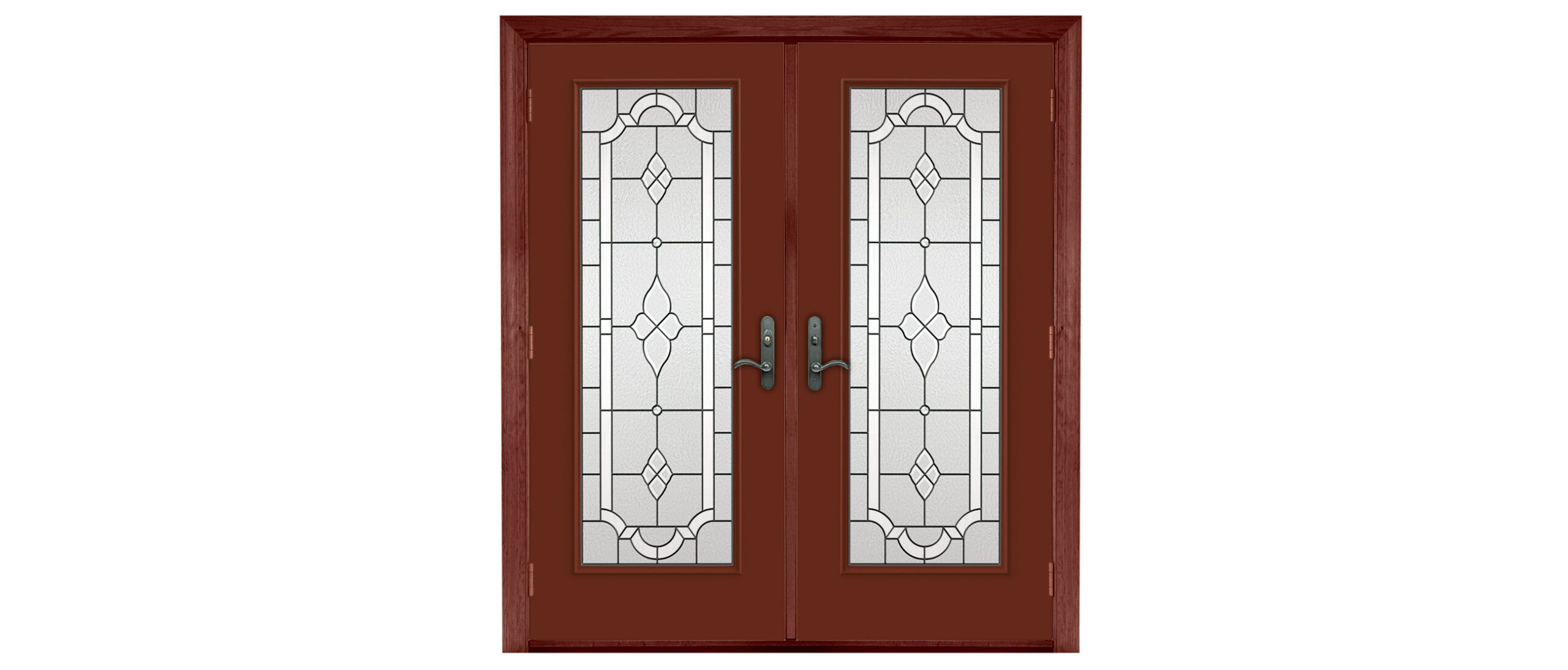 Leaded glass with a stylized floral design would suit a Queen Anne.
Shown: Design Pro Tripoli doors, prehung pair from $3,981; Jeld-Wen
Craftsman
Two-over-one lights evoke period bungalows.
Shown: 400 Series Frenchwood pine doors, prehung pair from $2,175; Andersen
Tudor Revival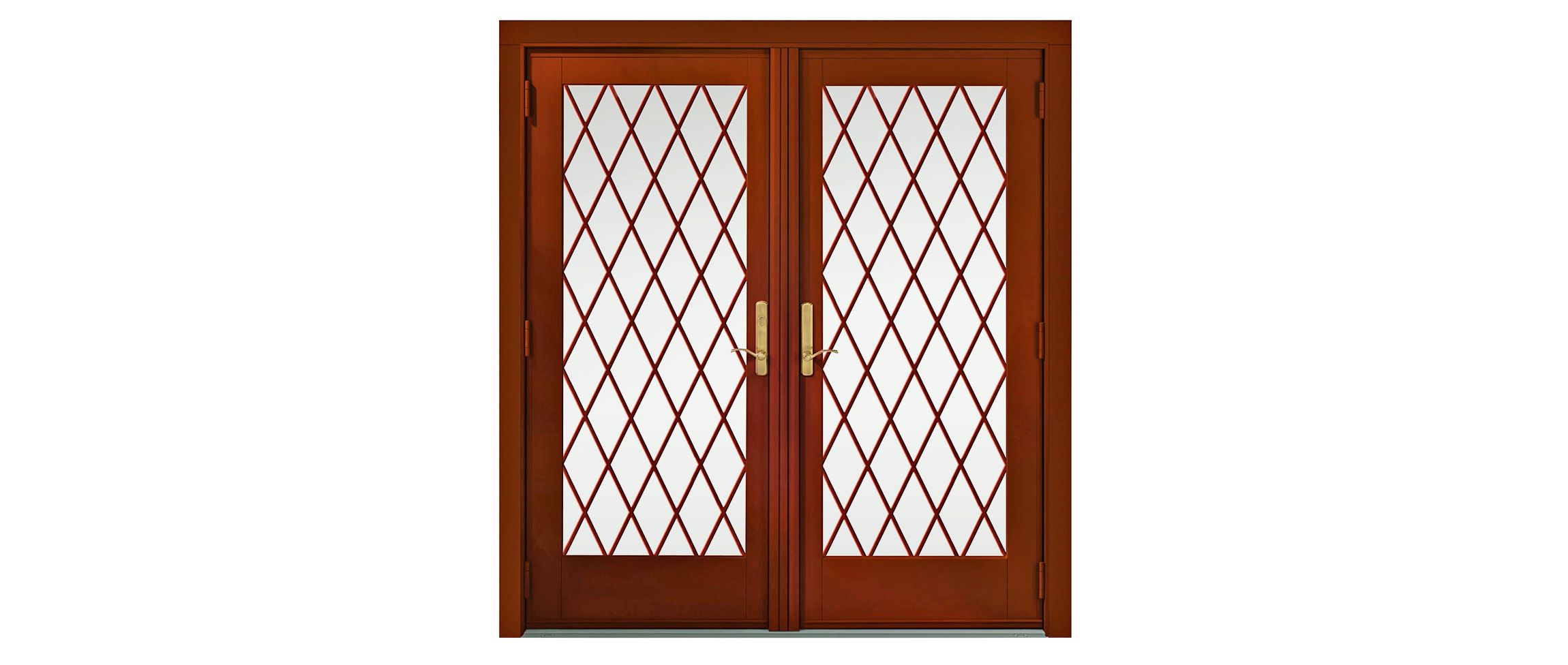 Diamond grids and a dark stain have that manor-house look.
Shown: A Series Diamond fiberglass/composite doors, prehung pair from $2,160; Andersen
Contemporary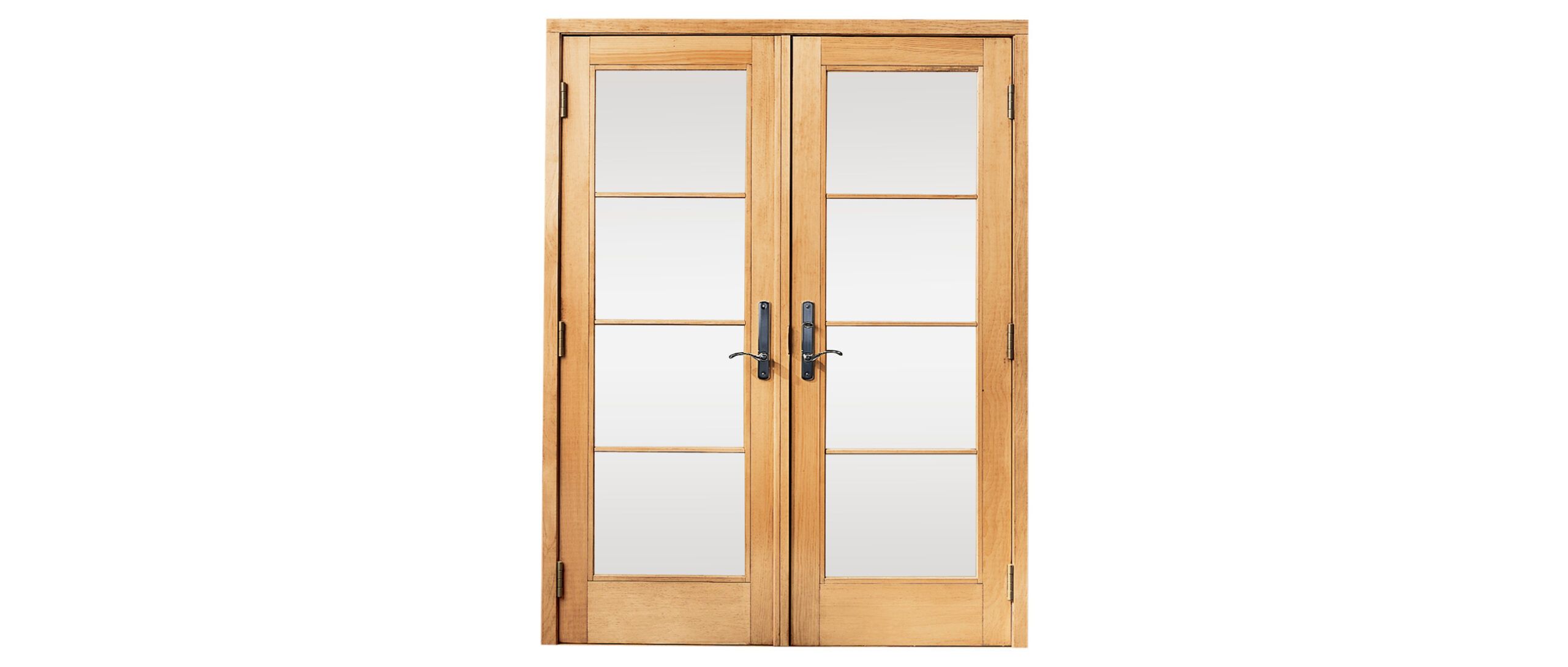 Sleek flat bars suit a minimalist aesthetic.
Shown: 400 Series Frenchwood pine doors, prehung pair from $2,420; Andersen
Prairie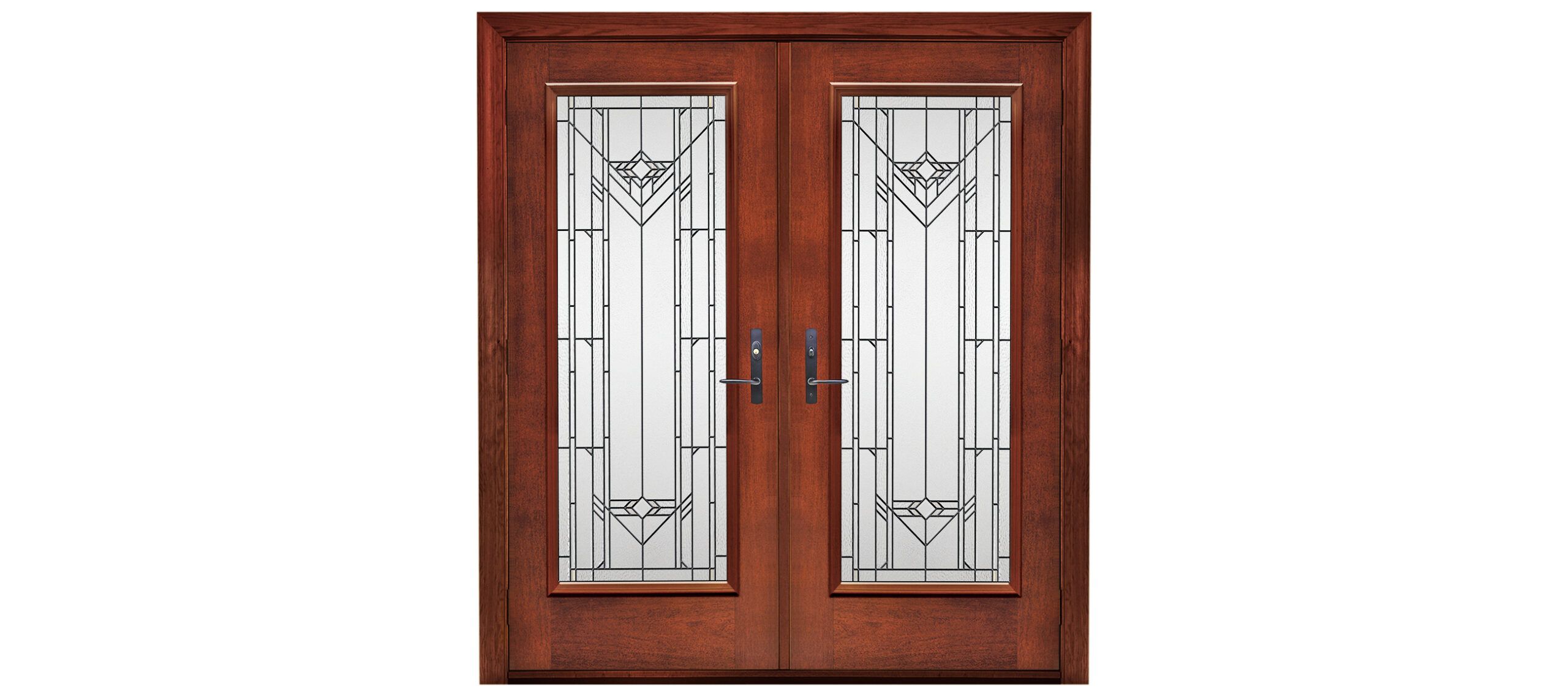 Faux leading in a clean, geometric pattern inspired by a Frank Lloyd Wright design.
Shown: Architectural Fiberglass Glass Panel doors, prehung pair from $7,150; Jeld-Wen
Pro advice: "A rough opening needs to be plumb, level, in the same plane, and about an inch wider and taller than the doors' frame. Installation always goes more quickly when you focus on prepping the opening right."
—Tom Silva, General Contractor, This Old House
Locks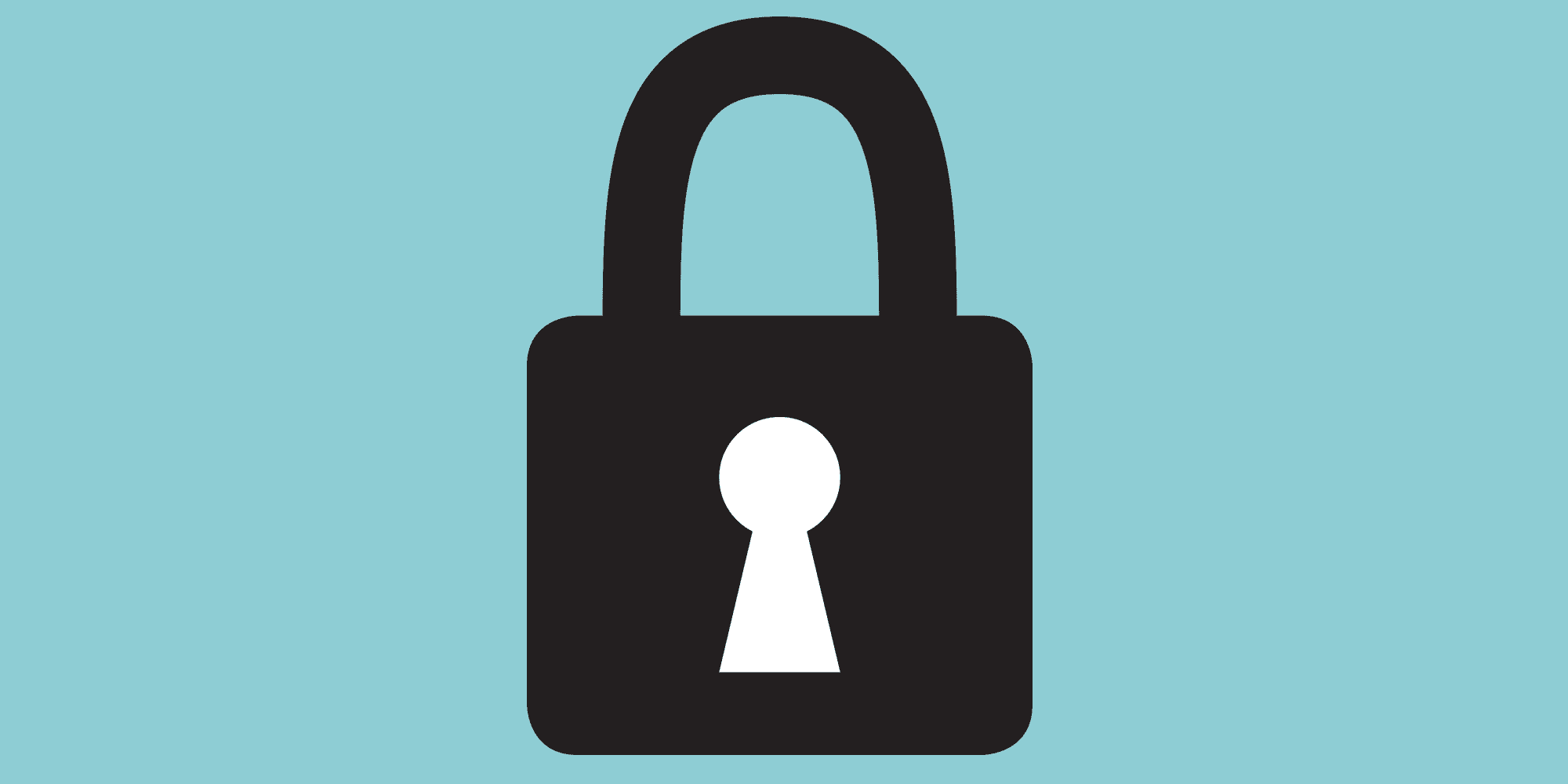 Multipoint sets offer more security—and fewer drafts. For both hinged and sliding doors, the best protection from break-ins and strong winds is a multipoint locking system, with dead bolts at the top, middle, and bottom.
Since they require a key, these bolts prevent thieves from breaking a pane and reaching in to open the door. For the extra-security-conscious, hinged doors can be made with five locking points, with two more bolts in the casing and threshold. Secure locks not only buy peace of mind but lower energy bills, thanks to the sturdier air seal.
Exterior French Door Hardware
Levers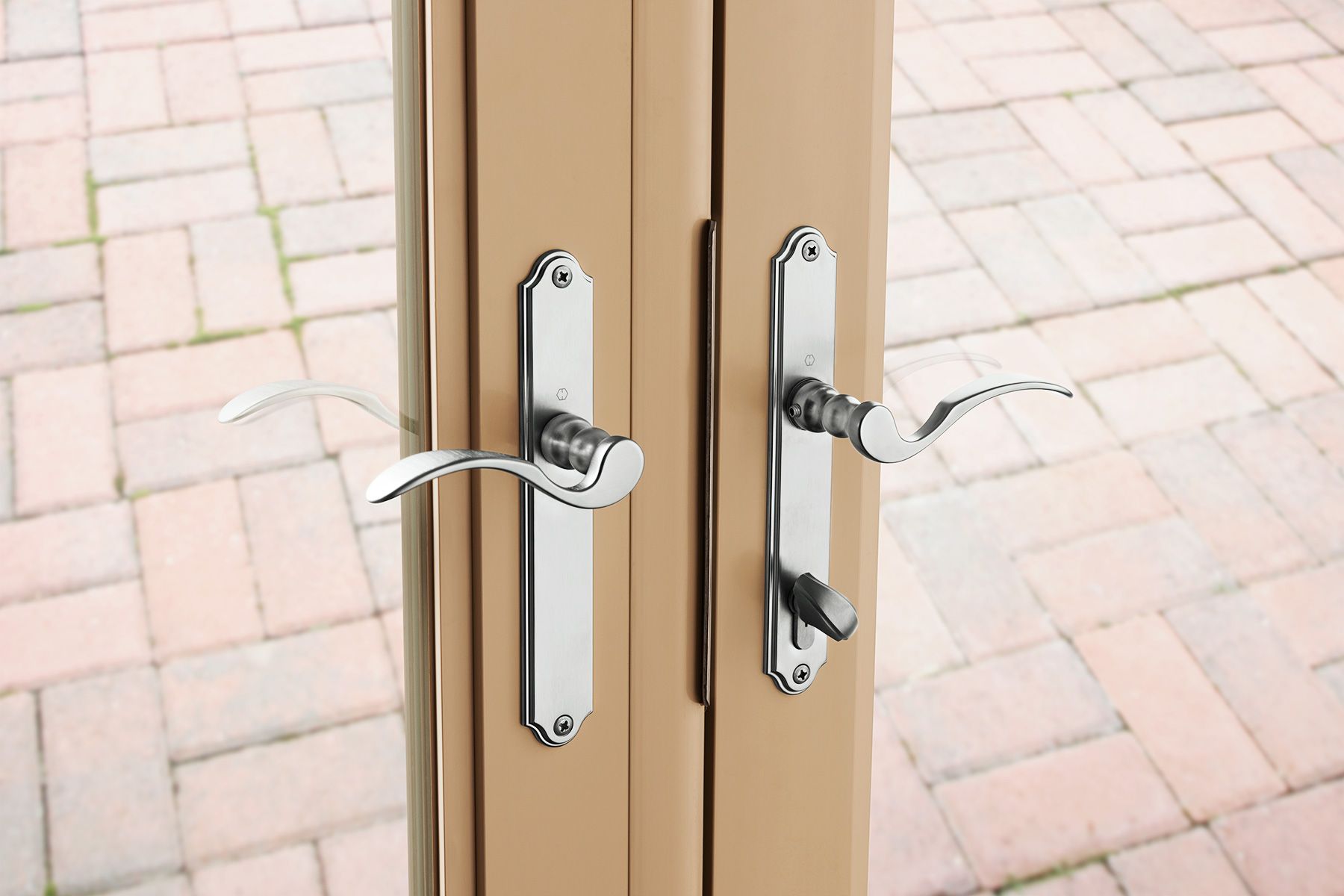 This classic choice is a natural for its ergonomic shape and traditional good looks, especially with an escutcheon plate. But knobs are an option too.
Shown: Garden Door Hardware, $170; Simonton
Pulls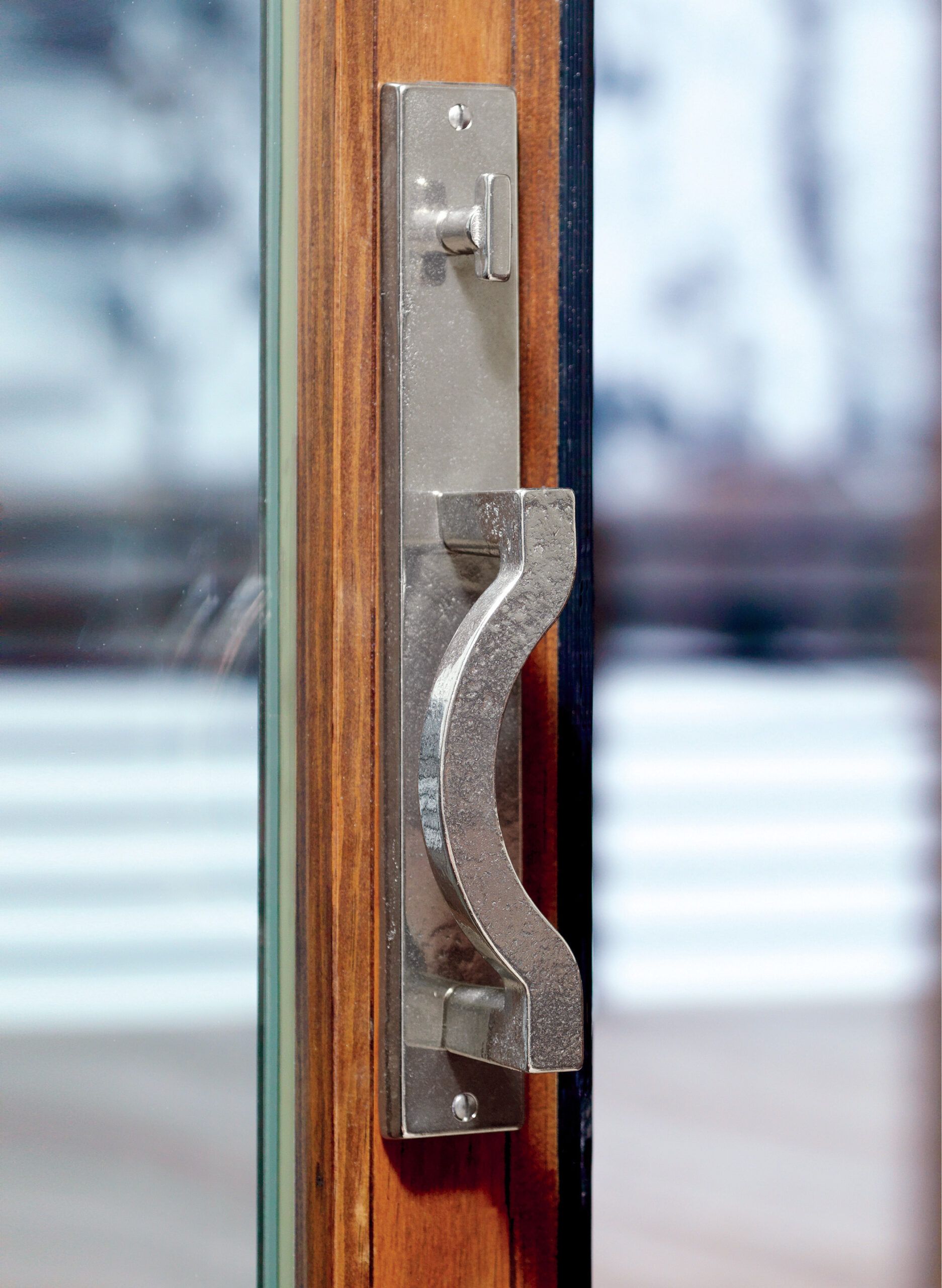 Fixed hand-holds help to ease sliders open. Can stand out and be decorative or recess into the door.
Shown: Metro Entry Sliding Door Set, $719; Rocky Mountain Hardware
Cremone Bolts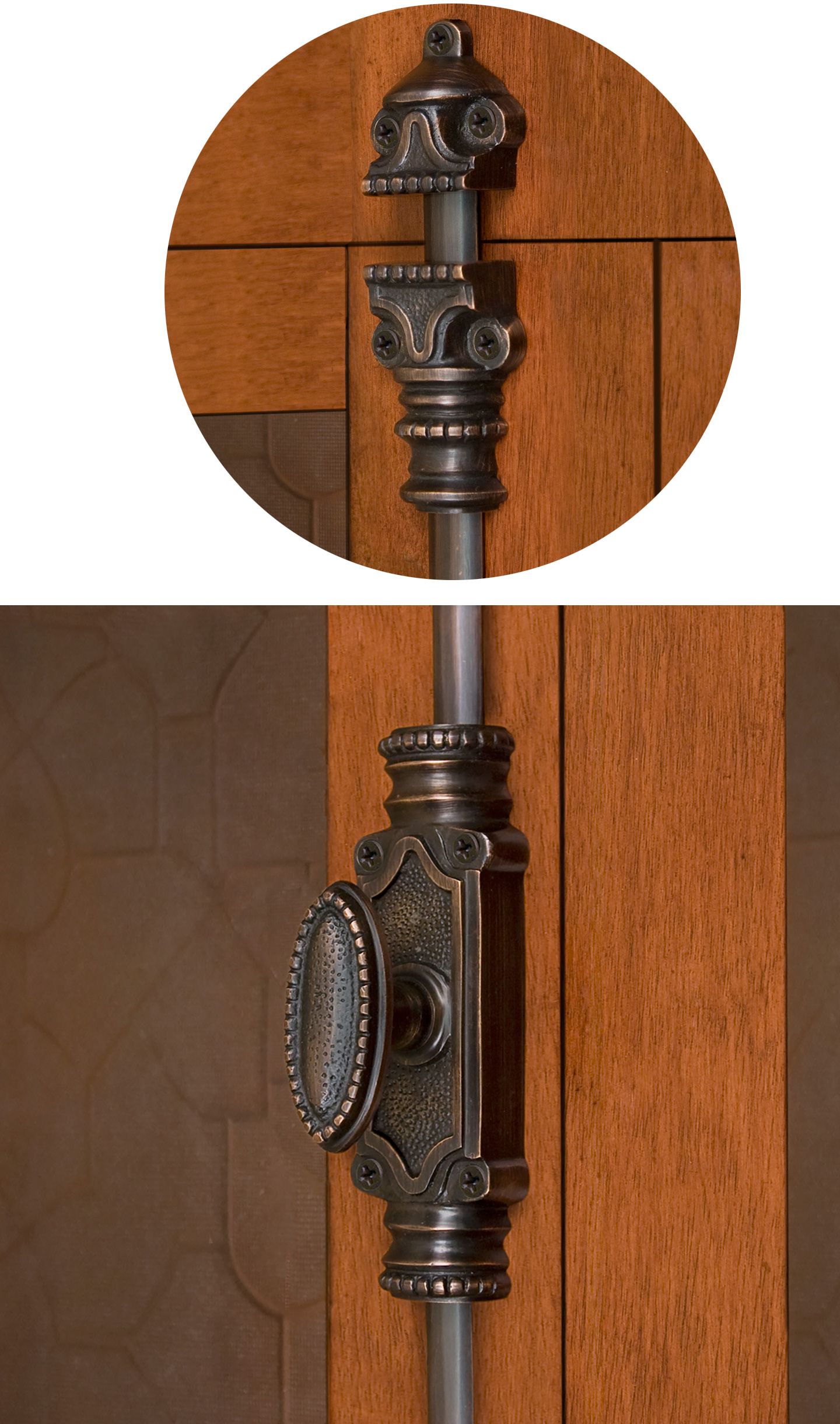 Evoking period French doors, these have face-mounted bars that run top to bottom and slot into sockets in the casing and threshold. They retract with a turn of the knob to open.
Shown: Brass Beaded Cremone Bolt, from $162; Signature Hardware