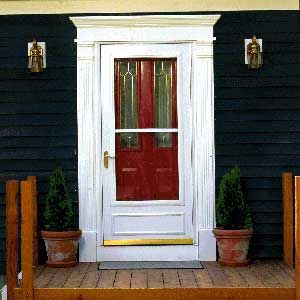 Steel entry doors are secure, they feature highly efficient magnetic weather stripping and they come in a variety of traditional and contemporary styles. Some models even have an embossed wood-grain pattern that can be stained. Plus, steel doors typically cost less than wood or fiberglass doors. It's no wonder they're so popular.
But steel doors aren't perfect. They dent fairly easily if struck by a hard object, such as a boot heel, rock thrown by the lawnmower or rising fastball. The good news is, with the proper patching compound you can permanently repair any dent, gouge or hole in less than two hours.
•Sand the dented area down to bare metal with 150-grit sandpaper. Be sure to remove paint from deep crevices.
•Clean and degrease the sanded area with a soft, clean cloth dampened with either acetone or rubbing alcohol.
•Squeeze out a bead of hardener beside the mound of auto-body filler. Blend the two with a putty knife.
•Use a 6-in.-wide plastic spreader to apply the filler to the dent. Be sure to slightly overfill the area.
•Smooth the patch first with 80-grit sandpaper on a rubber sanding block, then switch to 150-grit paper.
•Mask off the repair area with sheets of newspaper, then apply two light coats of a rust-inhibiting primer.
•Wrap 400-grit wet/dry sandpaper around a sponge, dip it into water and sand the patch until it's glassy-smooth.
•Brush on two light coats of a high-quality enamel trim paint, allowing the paint to completely dry between coats.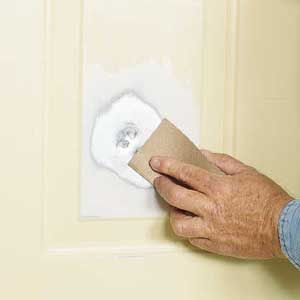 The Right Stuff
Don't repair a dented door with spackling paste or wood putty; neither compound bonds very well to metal. Instead, use an auto-body filler, which is specifically formulated for adhering to metal surfaces. This type of filler also dries rock hard so it sands smooth and flat, and it produces a perfect surface for paint.
For our door repair, we used the Bondo Auto-Body Repair Kit ($6), which includes a 15-oz. can of polyester resin-and-fiberglass filler, a small tube of cream hardener and a plastic spreader. You can find the kit at most hardware stores, home centers and auto-supply shops.
To complete the repair, you'll also need a rubber sanding block, a medium-size household sponge, acetone, two sheets of 80-grit aluminum-oxide sandpaper, two sheets of 150-grit aluminum-oxide sand-paper, one sheet of 400-grit silicon-carbide wet/dry sandpaper, metal primer and paint that matches the color of the door.
Good-bye Dent
Auto-body filler must be applied to bare metal, so begin by sanding the area around the dent with 150-grit sandpaper wrapped around the sanding block. Then, remove the sandpaper from the sanding block and use it to hand-sand the deep recesses of the dent. Lightly wipe down the entire area with a clean cloth dampened with acetone or rubbing alcohol.
Auto-body filler is a two-part resin that must be mixed with hardener before it can be applied. Keep in mind, though, once the filler is mixed, you've only got about four minutes to fill the dent before the resin begins to harden.
Using a clean putty knife, scoop out approximately 8 tbs. of the gray filler, placing it onto a piece of plywood or cardboard. After gently kneading the tube of red hardener, squeeze out about 1/2 tsp. next to the filler. Thoroughly mix the two components with a putty knife for no more than one minute. Be sure that the filler is uniformly pink, with no gray or red streaks.
Next, scoop up some of the filler with the plastic spreader and smear it across the dent, forcing it deep into the crevice. Overfill the dent slightly and then feather out the filler beyond the dent by an inch or so all around. Note that large, deep dents will require two applications of filler.
Wait about 30 minutes, then check to make sure the filler is fully cured. (If you can scratch it with your fingernail, wait a bit longer.) While wearing a dust mask, begin smoothing out the filler with 80-grit sandpaper on the rubber sanding block. Continue sanding until all the high spots are removed and the filler begins to blend in with the surrounding surface. Switch to 150-grit sandpaper and finish-sand the entire patch.
If you find any voids or low spots, mix up another batch of filler and spread a thin coat across the surface. When this coat has fully cured, lightly sand the surface with 150-grit sandpaper.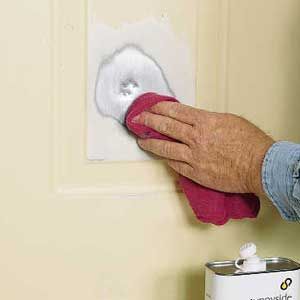 Final Touch-up
With the dent filled and sanded, it's time to apply a primer paint coat made specifically for metal. Choose either a rust-inhibiting automotive primer or a brush-on metal primer. We used a spray primer because it dries quickly and costs less.
Mask off the area around the repair with sheets of newspaper. Apply a thin primer coat and let it dry, then apply a second thin coat.
When the second coat is dry to the touch, remove the newspaper and smooth the primed area with 400-grit wet/dry sandpaper that you've wrapped around a sponge. Dip the sponge and sandpaper into a bucket of water and lightly sand the area.
Thoroughly dry the door, then brush on two light coats of an exterior-grade enamel paint. Apply the paint in vertical strokes to reduce the chance of unsightly brush marks.
Depending on the condition of the rest of the door, the freshly painted patch may stand out from the surrounding surface. If that's the case, you might want to repaint the entire door.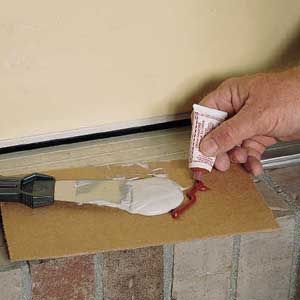 Where To Find It:
Bondo/Mar-Hyde Corp.
3700 Atlanta Industrial Pkwy
Dept. TH999
Atlanta, GA 30331
800/421-2663