Decks are becoming a much more popular option for entertaining as homeowners spend much more time outdoors. Unfortunately, if the deck isn't maintained, you could put your family and guests at risk for injury. Here is a safety checklist for maintaining a wood deck to keep them safe and functional for many years.
Deck Maintenance Do's
Here are the main things you should do to keep your deck properly maintained and safe.
Regular Cleaning
One of the most important things you can do for your deck is to clean it. Over time, wood decks can develop moss, mold, algae, and grime on the surface that can cause them to darken and look unsightly. Therefore, it is a good idea to clean your decks at least once a year, preferably in the spring when it is dry and temperatures are between 60- and 70-degrees Fahrenheit.
Start by covering up you plants with tarp or plastic sheeting. Or you can water any plants near your deck to keep them from getting damaged by cleaning agents. Next, remove all furniture and other items from your deck. Make sure to protect the part of the house near the deck with a tarp or plastic sheeting.
Use a pump sprayer along with a biodegradable wood deck cleaner to avoid damaging the wood fibers of your deck, causing it to splinter. Apply the solution to the deck according to the instructions on the cleaning solution you use. After applying the solution, remove dirt with a scrub brush, working in small sections. Finish by using a water hose to clear away the grime and the solution from the deck. Let your deck dry for two to three days before replacing furniture and resuming using it.
What You'll Need
Proper Painting, Sealing, and Staining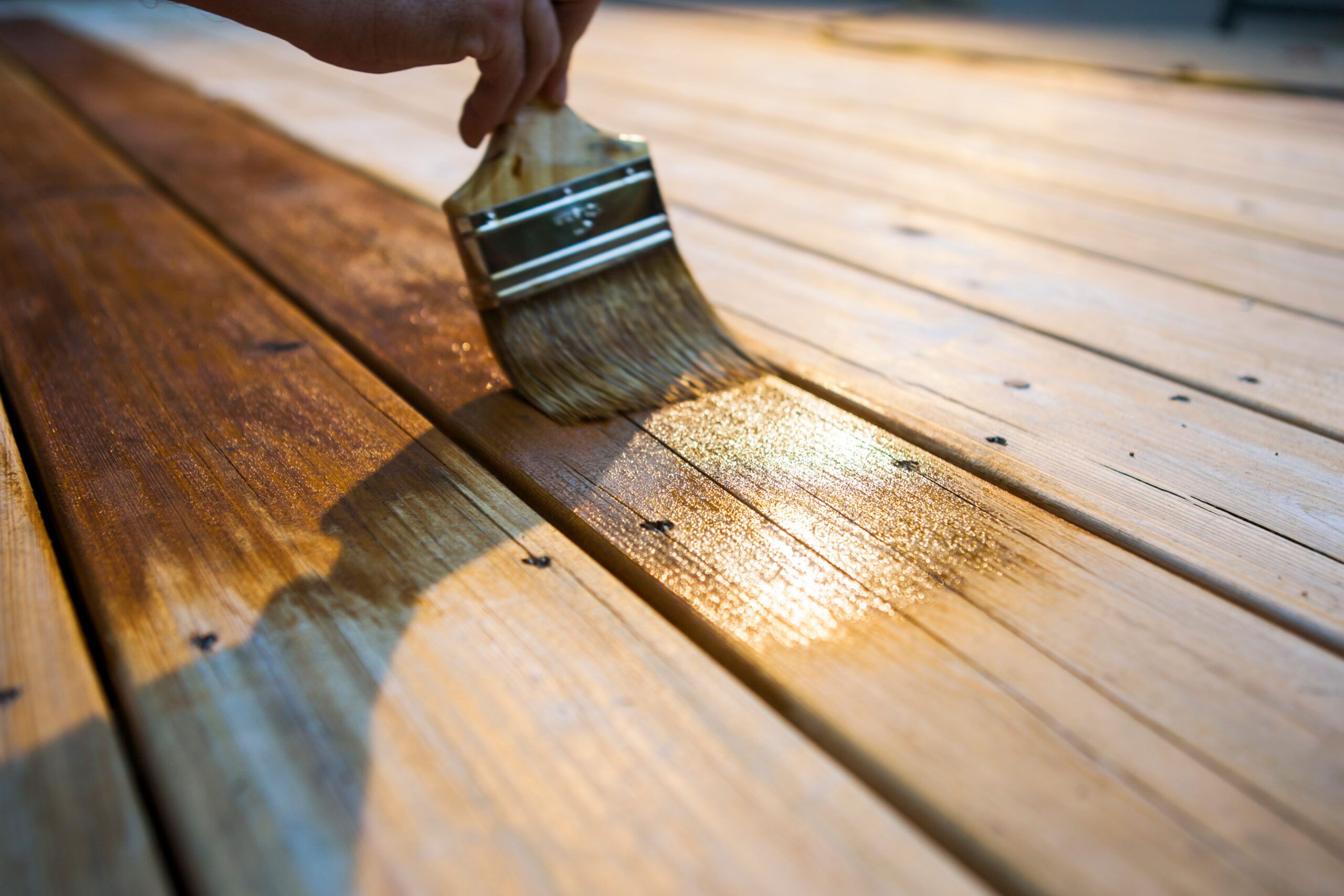 This one project will make a huge difference. If you are someone who wants to preserve the natural beauty of the wood, consider getting your deck stained or sealed. If you've had your deck for some time and it is starting to show signs of wear, it may be a good idea to paint it.
Start by cleaning away the accumulated grime on the deck (using the process outlined above). Once your deck is clean, you may want to apply borate to prevent algae and other microorganisms from building up on your deck.
As it is when you clean your deck, wait two to three days after applying the borate to let it dry. Once it is dry, check the deck for loose nails, splintering, and pockets of missing wood. For loose nails, hammer them back in place with a hammer and nail set. You can use a putty knife to get rid of any splintering and then sand down any rough patches of the deck. Finish up by adding wood putty or caulk in areas where there are gouges, cracks, or nicks to create an even surface. Let the wood putty dry two to eight hours.
Once your deck is ready, you can begin staining, sealing, or painting it. Stick with oil-based stains to enhance the natural wood color and prevent mold and mildew growth. Oil-based stains also help prevent cracking and warping. Water-based stains may dry too quickly and may wear more quickly than oil-based stains. Likewise, with paints, it is ideal to use an oil-based type.
When you paint or stain your deck, make sure that you choose the best deck sealers, stains, and paints that will protect the wood. Also, ensure that you reapply every few years to keep your stain or paint job looking its best.
Fixing What's Broken
It's always smart to stay on top of repairs. Over the years, your deck may endure a lot of stress from the sun's UV rays, snow, rain, and ice. The elements may cause your deck boards to contract and expand, making them loosen. Boards can even crack under such pressure, especially if they aren't sealed.
In these instances, you may need to replace damaged boards. Besides swapping in new planks of wood, it is also important to ensure that your railings are in good condition. Replace any railings that have warped or balusters that are rotted or damaged, and tighten the existing ones.
Keeping Pests Away
Certain kinds of wood act as a natural repellent for many types of pests. For example, redwoods, cedars, and cypress are great woods that suppress wood-destroying insects such as termites. So you can rest assured that if your deck is made of one of these types of wood, the worst kinds of pests will want to avoid your deck.
Wood is quite a tasty treat or potential home for many insects, including bark beetles, carpenter ants, carpenter bees, wood borers, snakes, and rodents. To keep these pests from eating away portions of your deck, inspect your decks for any signs of pests. Then, get proper pesticides, baits, and barriers to keep them from destroying your deck.
Deck Maintenance Don'ts
You'll want to avoid doing these things to avoid destroying your deck.
Grilling on the Deck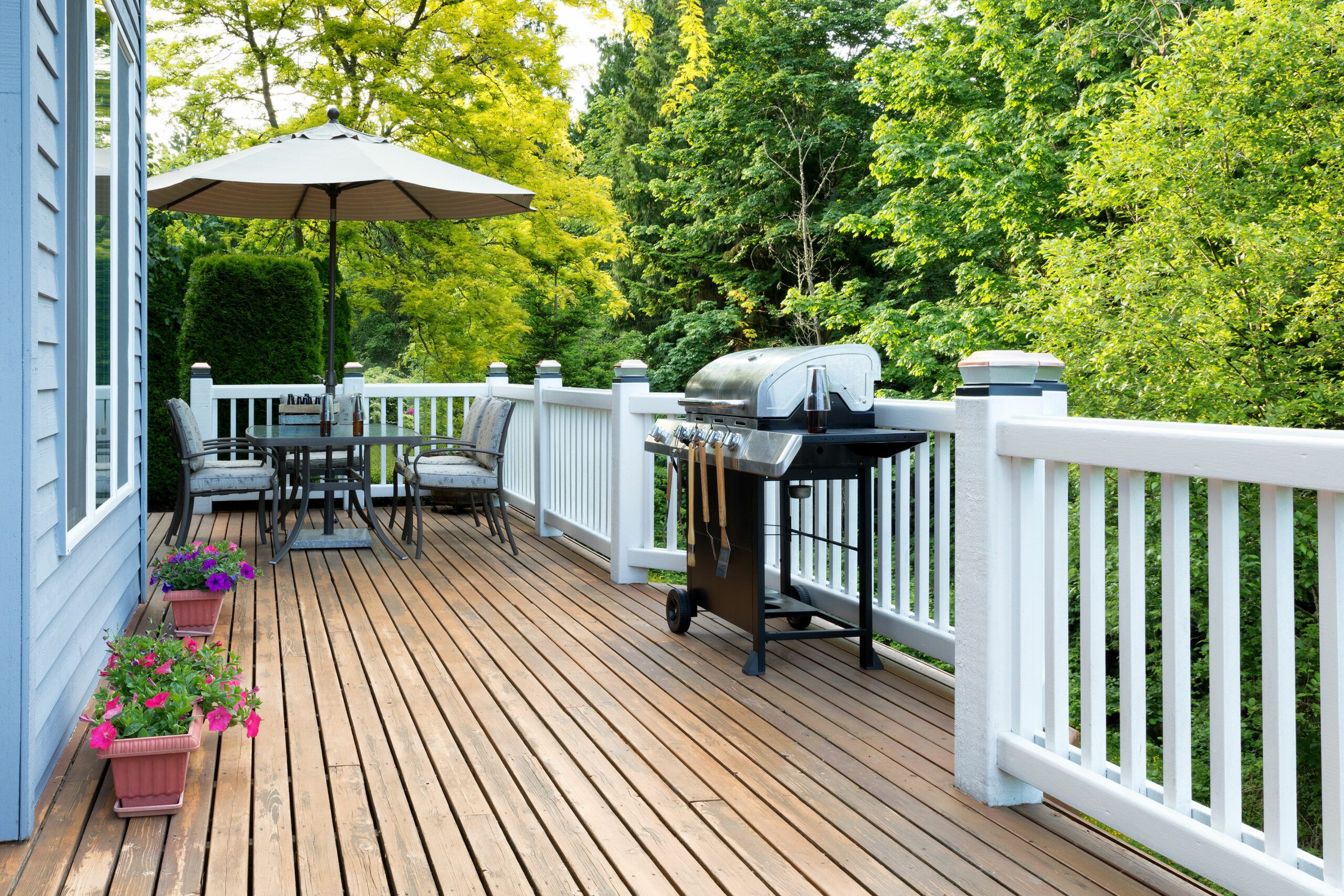 Decks can be a great place to gather and have a splendid time with family. There is nothing more exciting than having a cookout while you're entertaining. However, grilling on the deck may not be the safest idea. The paints or stains that you use on your deck could be flammable. Even if your deck doesn't have paint or stain, the wood could ignite if flames touch the dry surfaces.
It generally isn't recommended to grill on your deck. However, if you choose to, you should take safety precautions to prevent starting a potential fire. Keep a fire extinguisher nearby to put out any fire that may arise. Then place a fire-resistant grill mat between your grill and your deck to protect the wood from charcoal or embers that may fall onto the deck. Another option is to install fire-resistant decking and framing to minimize the possibility of fires on your deck.
Keeping Oily Rags on the Deck
Oily rags may seem like they aren't much of a threat, but they can quickly set your house ablaze. The heat from the summer sun warms these cloths and can ignite them, causing a deck fire. So whether you have rags from staining your deck or rags you've used fixing your car, avoid placing them on your deck.
A better way to safely dispose of oily rags is to lay them out individually on your driveway flat and hose them down. For a safer option, you can put them in an old paint can filled with a bit of water. Then close off the paint can with its top. When you're ready to remove them from your property, consider having your local junk removal company dispose of them.
Leaving Wet Things on the Deck
While moisture-rich items won't cause spontaneous combustion like oily rags, they can still cause problems for your deck. Wet mops, damp towels, plants, dog water bowls, and polypropylene rugs can discolor your deck, crack the wood, cause cupping or warping, and grow mildew. Avoid leaving these items on your deck to prevent moisture damage and practice good deck maintenance.
Using Improper Sealants, Stains, and Paints
Another no-no for decks is applying the wrong sealants, stains, and paints. You should always make sure you use the best types of each. For paints, consider using KILZ Low-Lustre Enamel Porch & Patio Latex Floor Paint. If you need a quality sealant or stain, try Ready Seal Exterior Stain and Sealer. When buying any paints, sealers, and stains that repel water, protect the wood from mildew, and screen out the sun's harmful UV rays.
Pressure Washing Too Much
Although you may want to keep your deck as clean as possible, cleaning it too often or harshly can do more harm than good. Using a garden hose to clean your deck or a pressure washer set at a low PSI is a good idea. This will prevent etching your wood. Too much pressure washing can scar your deck and cause it to splinter. Pressure washing your deck once a year should be sufficient to keep it looking great.
Wearing Improper Shoes
Decks can also sustain damage from certain types of shoes. Boots and dress shoes may leave scuffs on your decks, but high heels are the most damaging. These shoes can scratch, scuff, or ding the surface of your deck. Worst of all, wearing high heels, particularly stilettos, could also cause injuries to the wearer.
Since decks have ⅛-inch gaps between them that could cause slender heels to get lodged, ankle sprains or other types of injuries are common. Encouraging guests to wear appropriate footwear, such as sneakers or other rubber-soled shoes, will minimize damage to your deck and legal liabilities. If your guests must wear heels, ones that are wider will keep them from becoming a trip hazard.
Exceeding People Capacity
While poorly designed decks can be a significant cause of deck collapse, failing to limit the number of people on your deck can also cause your deck to fall. A deck built to code should hold 40 pounds per square foot. While a well-built deck can usually handle a lot of weight, be mindful of minimizing the number of people on your deck when entertaining.
As the outdoors continues to become a favorite part of the house for most, it is a good idea to know how to maintain a deck to keep it in good condition. This will prevent injuries and allow them to last for many years. If you cannot do the work yourself, consider hiring professionals to maintain your deck annually.