Do-It-Right Deck Building
Putting a deck on your house is like adding another room—just one without walls or a roof. That makes it the most affordable addition you can build. A deck project can range from about $10,000 to $20,000 depending on the design, layout, and materials you choose. Read on for inspired ideas, tips and techniques to help you get the deck of your dreams—from planning to installation to paying for it.
Keep It Level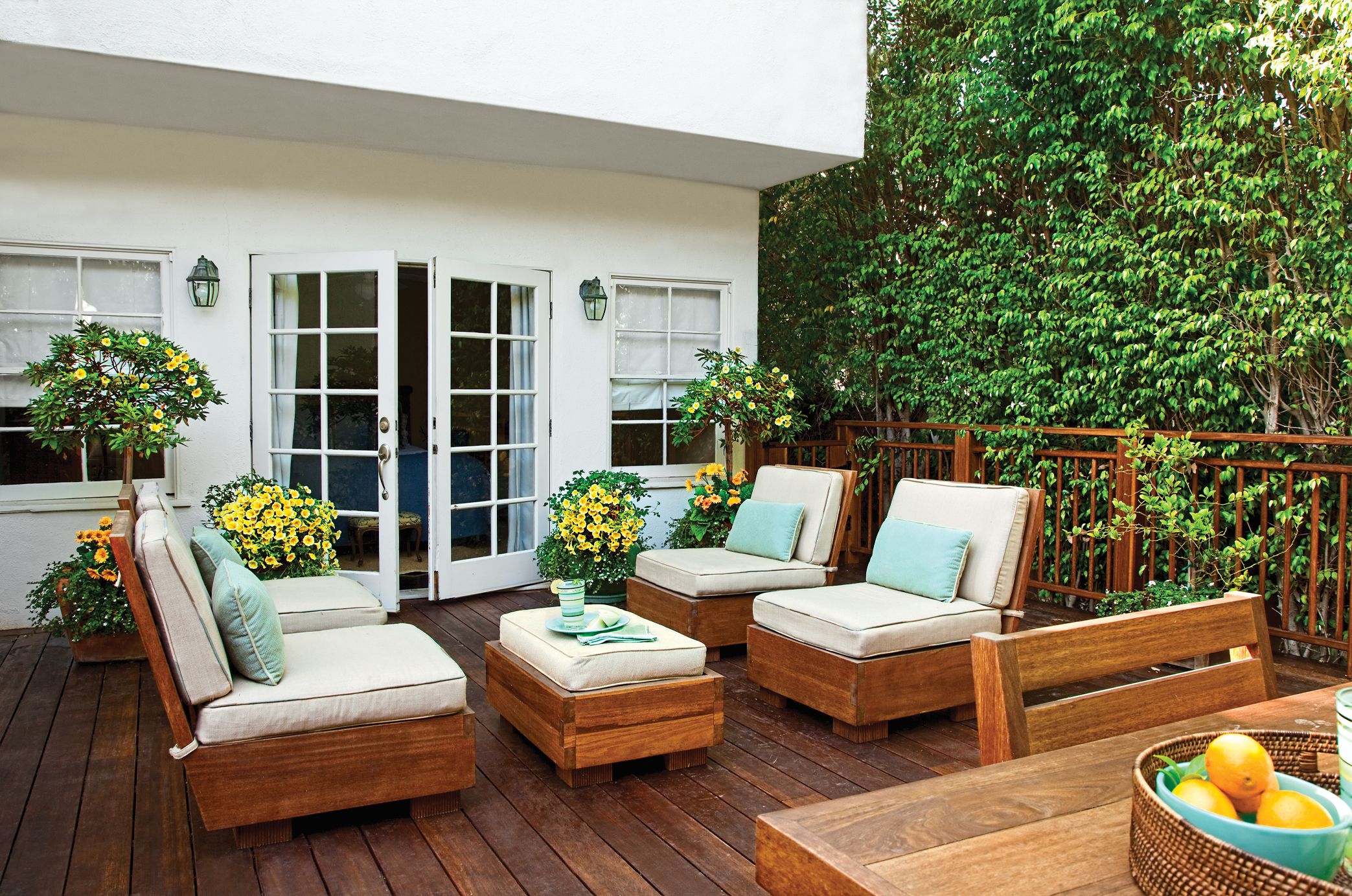 Set your deck at the same level as your interior floor, if at all possible, so your living space simply flows outside, and your house will feel bigger—even when the weather isn't cooperating and you're cooped up indoors.
Stake Out Your Space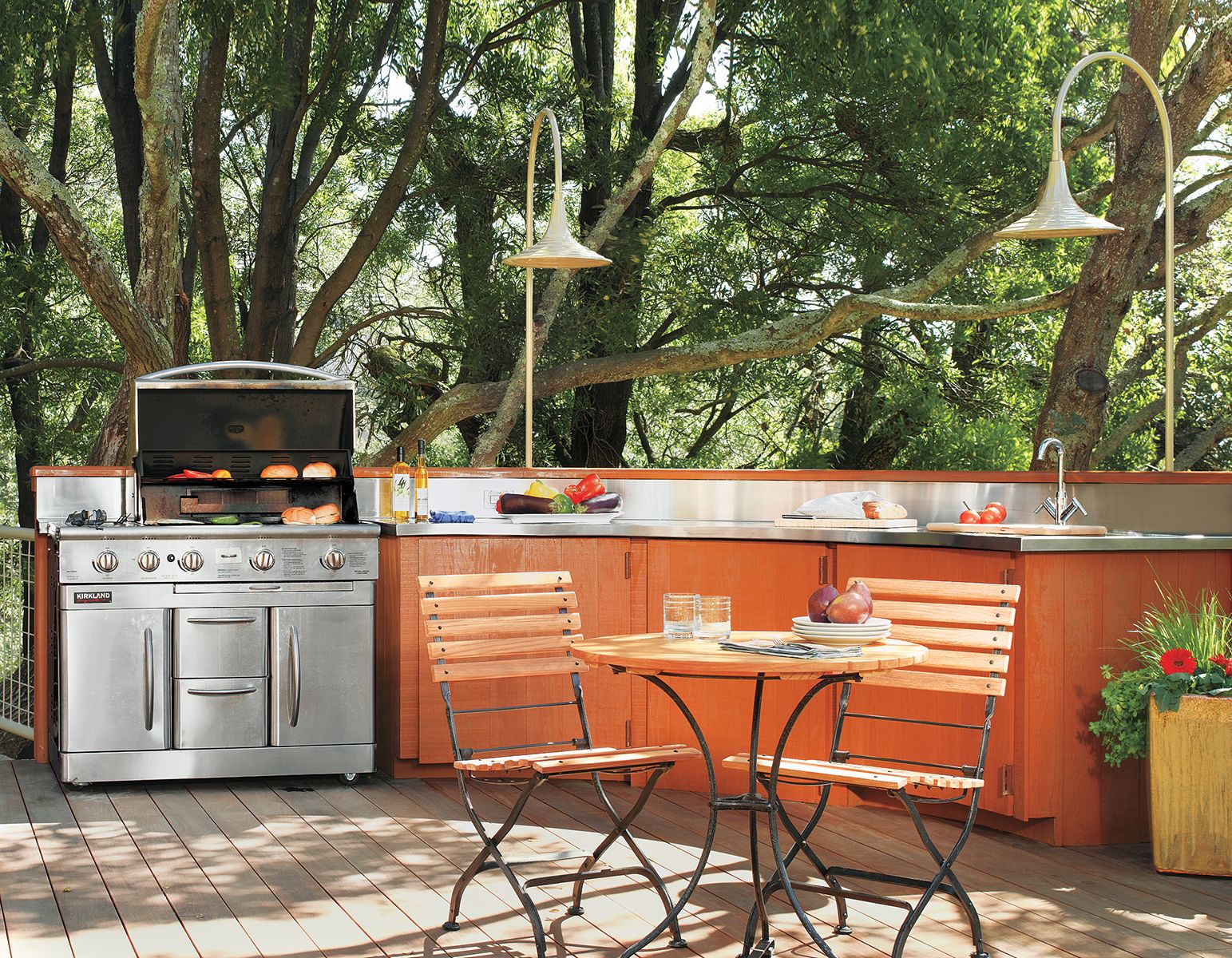 Will your deck be big enough for a patio dining set? Entertaining? A grilling station? Your favorite chaise lounge? Make sure by using stakes and string to frame out the footprint you're planning. You can place your outdoor furniture within the space to make sure it all fits comfortably. This process can help you understand how much yard you'll be giving up, as well.
Build It Strong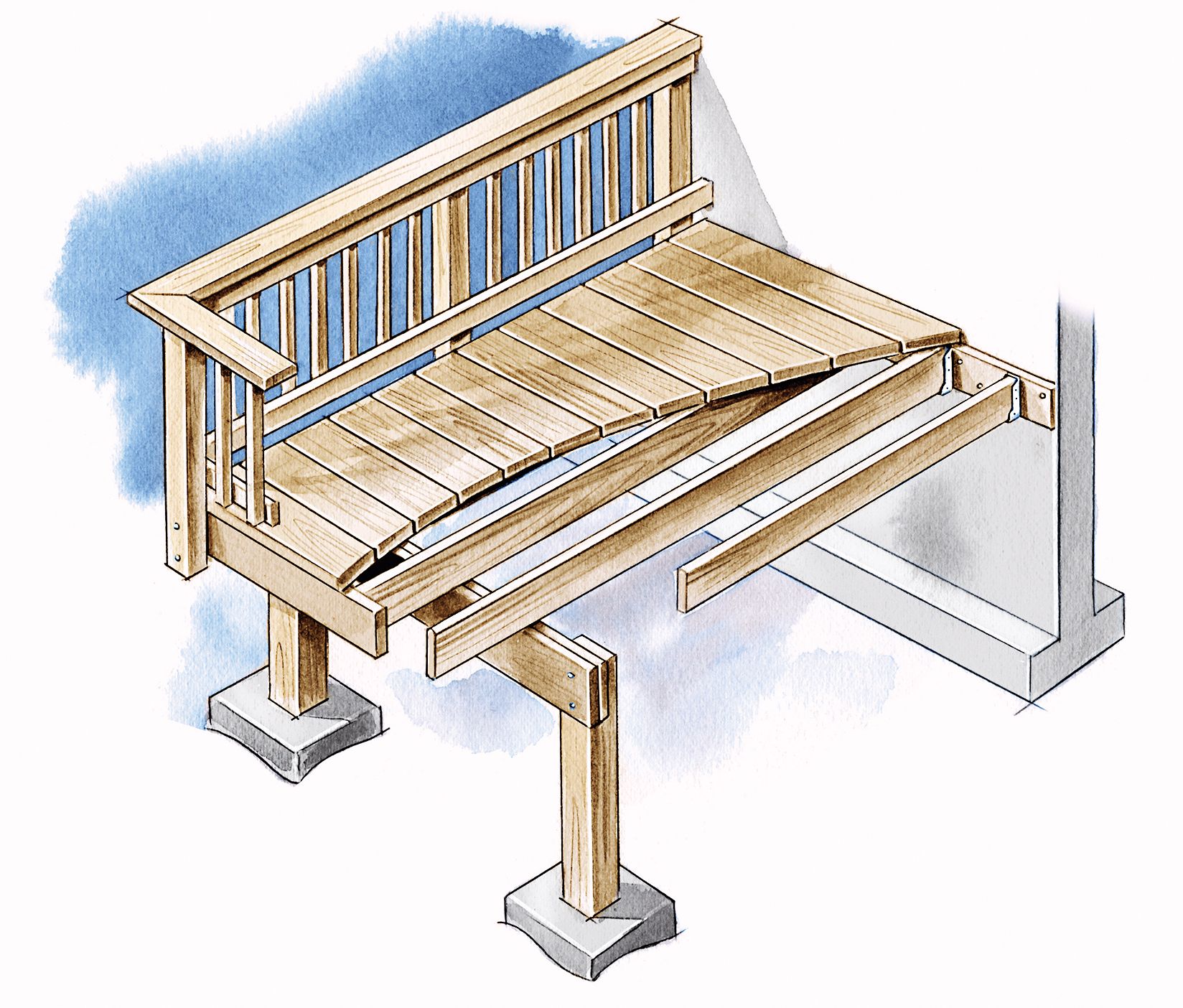 The most important part of any deck is the support structure you can't see. Make sure your ledger board—the weight-bearing member that connects the deck to your house—is bolted, not nailed, to the house's structure, and that it is flashed to keep it from getting wet and rotting. You'll also need concrete footings that are—at a minimum—spaced every 8 feet at the side of the deck opposite from the house. These footings must be deeper than the frost line in your climate. And the framing under your deck must be sized to hold the weight of the deck itself (called the "dead load") as well as people and furniture (the "live load"). Consult local code and local experts for specific details of what you'll need.
Check Your Local Code for Railing Height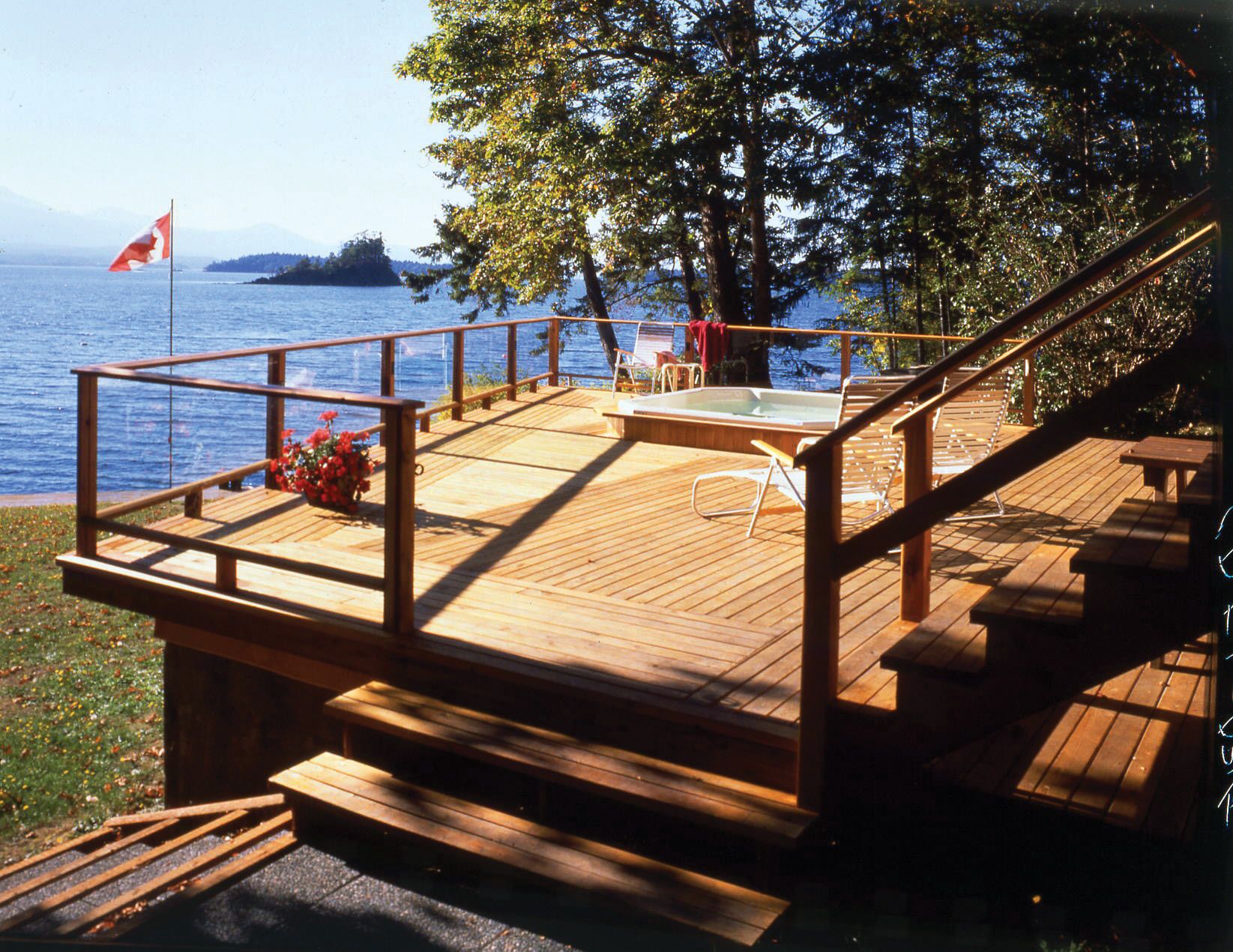 Local building codes dictate the specifications for the railings around your deck. In many areas, for example, railings are required if the height of the deck surface is 30 inches or more from the terrain below (measured 36 inches away from the deck to prevent a thick mulch bed from affecting the calculation). Typically, the railing must be 36 inches above the deck surface, with balusters that are spaced so that a 4-inch-diameter sphere cannot pass between them. For a deck that looks out over a beautiful vista or backyard landscape, consider railings you can see through. Options include glass, wire cables, or steel rods that have been designed for this purpose in your climate.
Choose Your Materials Wisely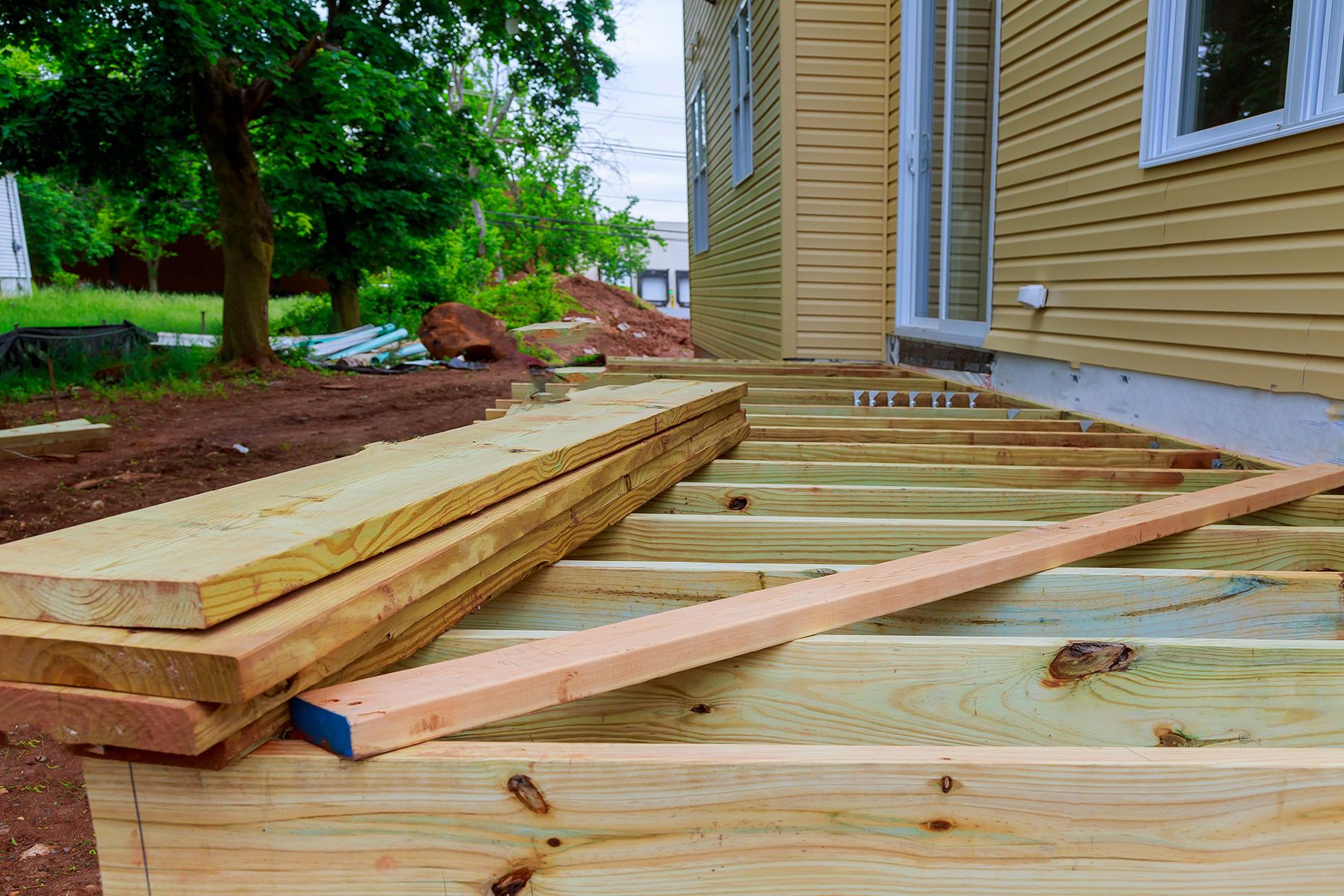 The decking surface you choose will define the look of your deck, the maintenance it requires—and its longevity. Here's what you should know about your options.
Pressure-Treated Wood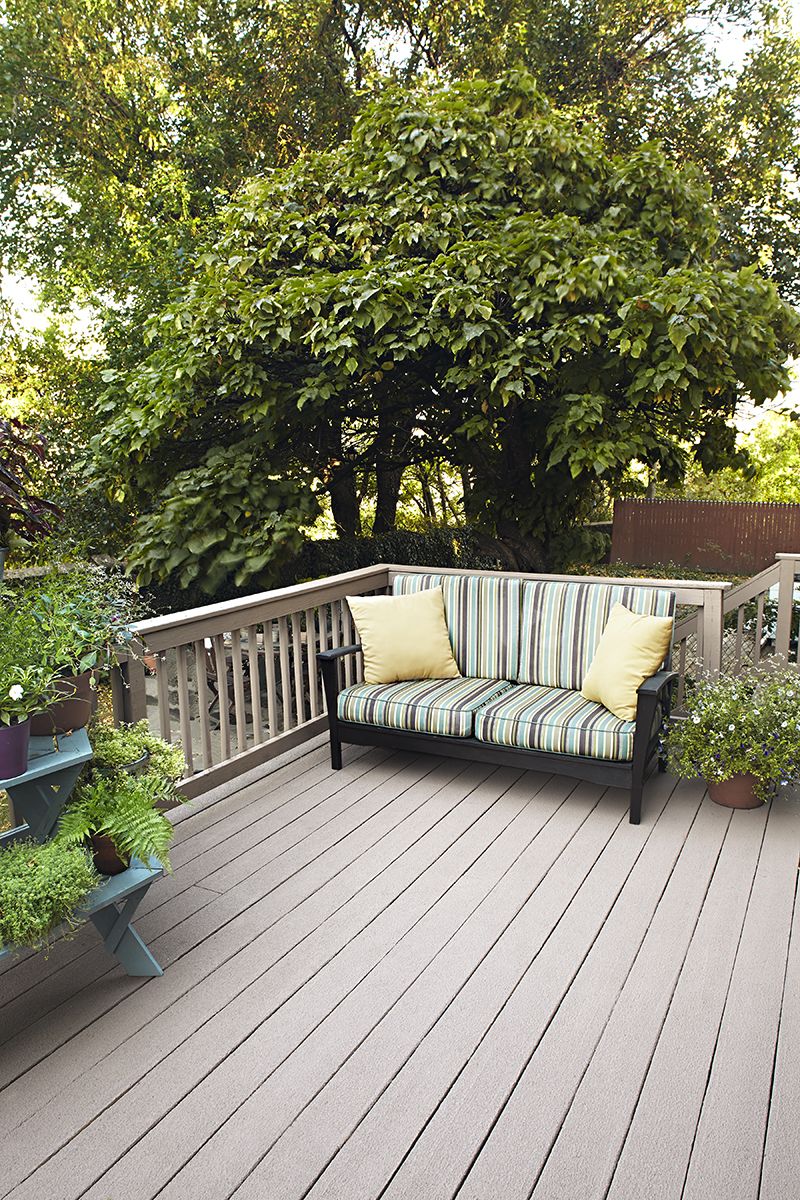 This is a low-cost and durable choice, but the cheapest versions are subject to warping and cracking. The chemicals this wood is treated with are toxic to insects. Premium or select varieties can cost 40 percent more, but won't shrink or twist when they dry. All will require frequent cleaning, resealing, and re-staining.
Composite
A moderately priced option, composite products made of sawdust fibers encapsulated in recycled plastic never need staining and won't splinter, crack, or rot. They're available in a wide range of colors and textures that mimic with increasing accuracy the look of actual wood. To minimize the scratching, staining, fading, and moisture absorption that composites can be susceptible to, some companies are capping their boards with a protective polymer.
PVC (Polyvinyl Chloride)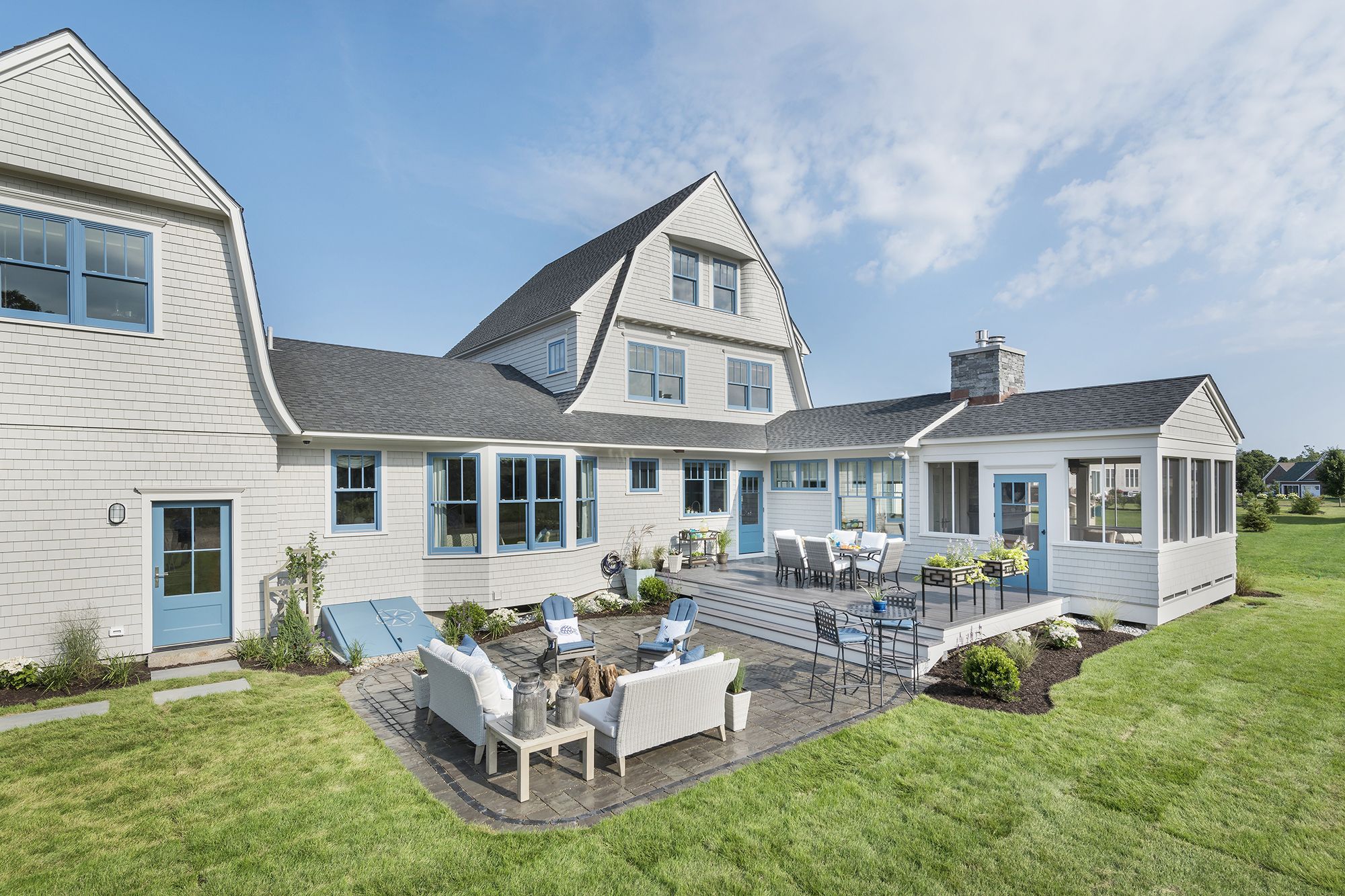 A moderately priced choice, PVC decking is extremely waterproof and won't swell, shrink, rot, split, or get eaten by termites. In recent years, this decking has come a long way in its ability to mimic the color and texture of real wood. Because PVC decking is susceptible to expansion and contraction, manufacturers have designed complex hidden fastener systems to help prevent the boards' natural inclination to squeak when walked on or to move with wild weather swings.
Cedar or Redwood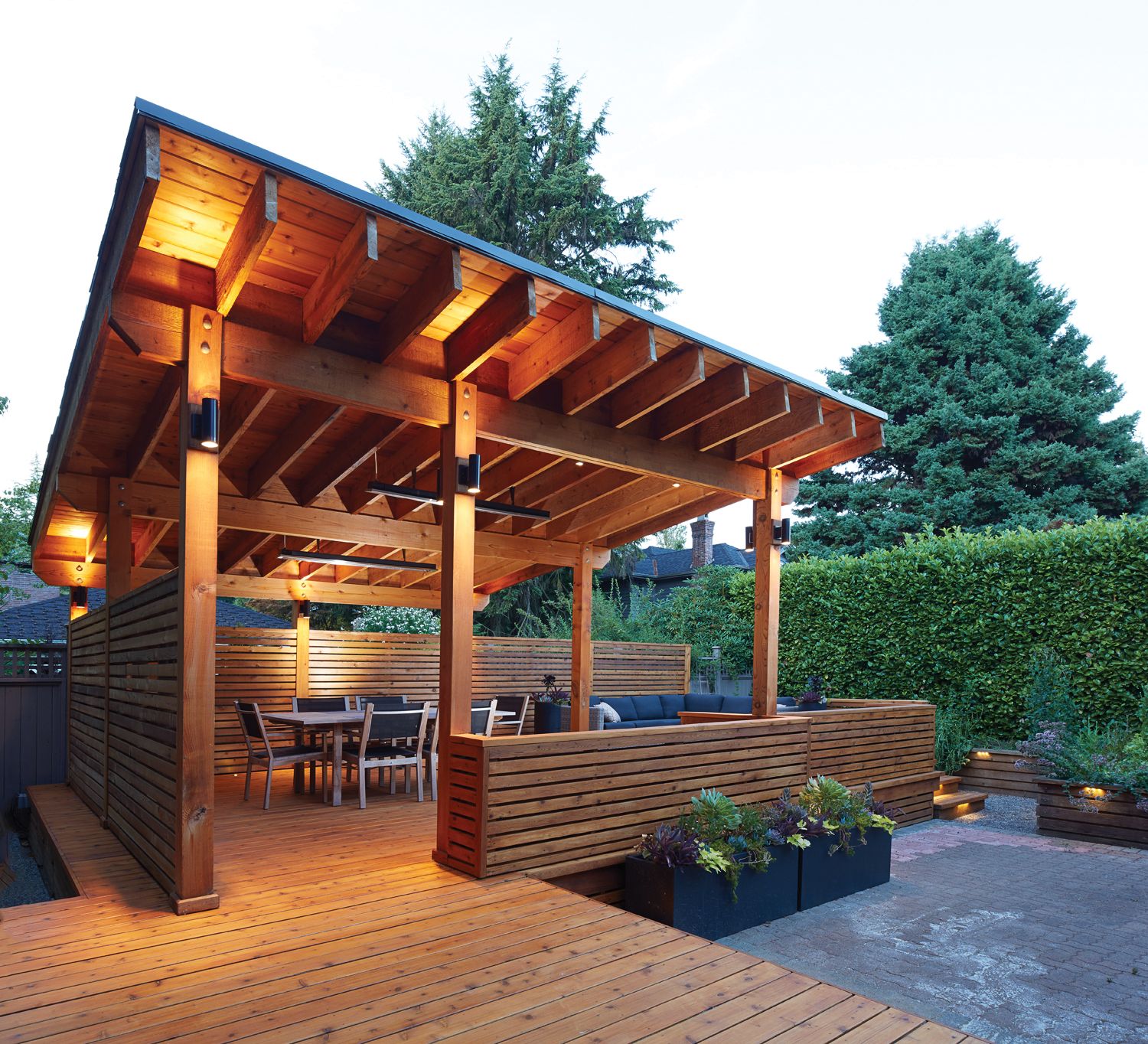 This moderate- to high-priced option (depending on your location) offers natural insect and rot resistance. It's a soft wood, however, that won't stand up well to heavy insult. It will turn a weathered gray over time, and requires frequent cleaning and waterproofing.
Tropical Hardwood
This higher-cost option is durable enough to withstand dents, dings, and scratches, and has natural oils that deter insects and rot. Ipe (shown here) has a rich brown luster that will fade to gray unless maintained with periodic oiling. In addition to paying more per linear foot, expect higher labor costs; Ipe's extreme density resists drills and saw blades.
Calculate Your Costs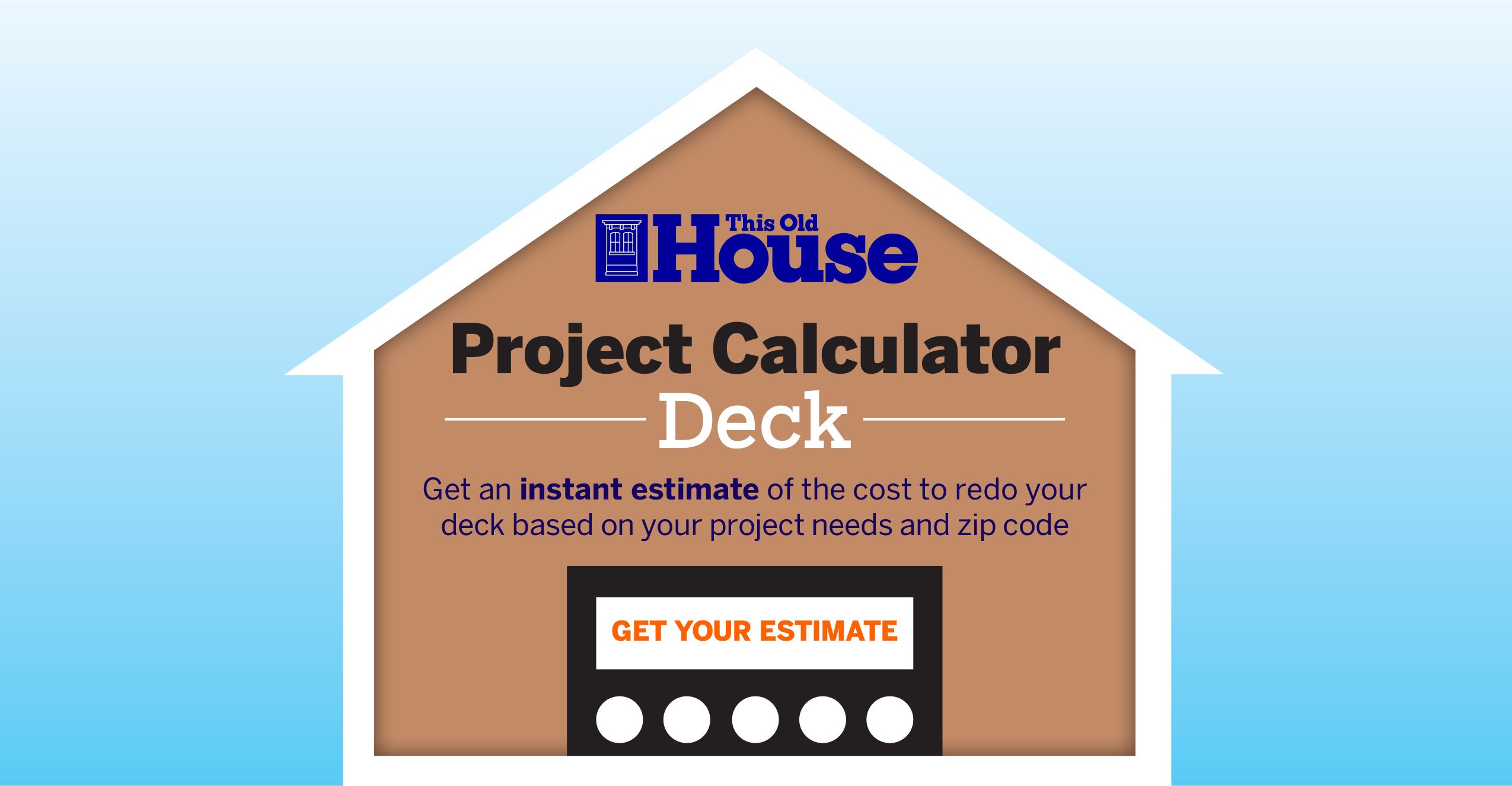 Before you hire a contractor or buy materials for your dream deck, get an estimate of the cost to execute a remodel based on the scope of your own project needs and zip code with our easy-to-use calculator.
NEED HELP FINANCING YOUR REMODEL?
Consider a personal loan. Preview your interest rate. Checking won't affect your credit score at all.
Fixed Rates | Quick Funds | Flexible Terms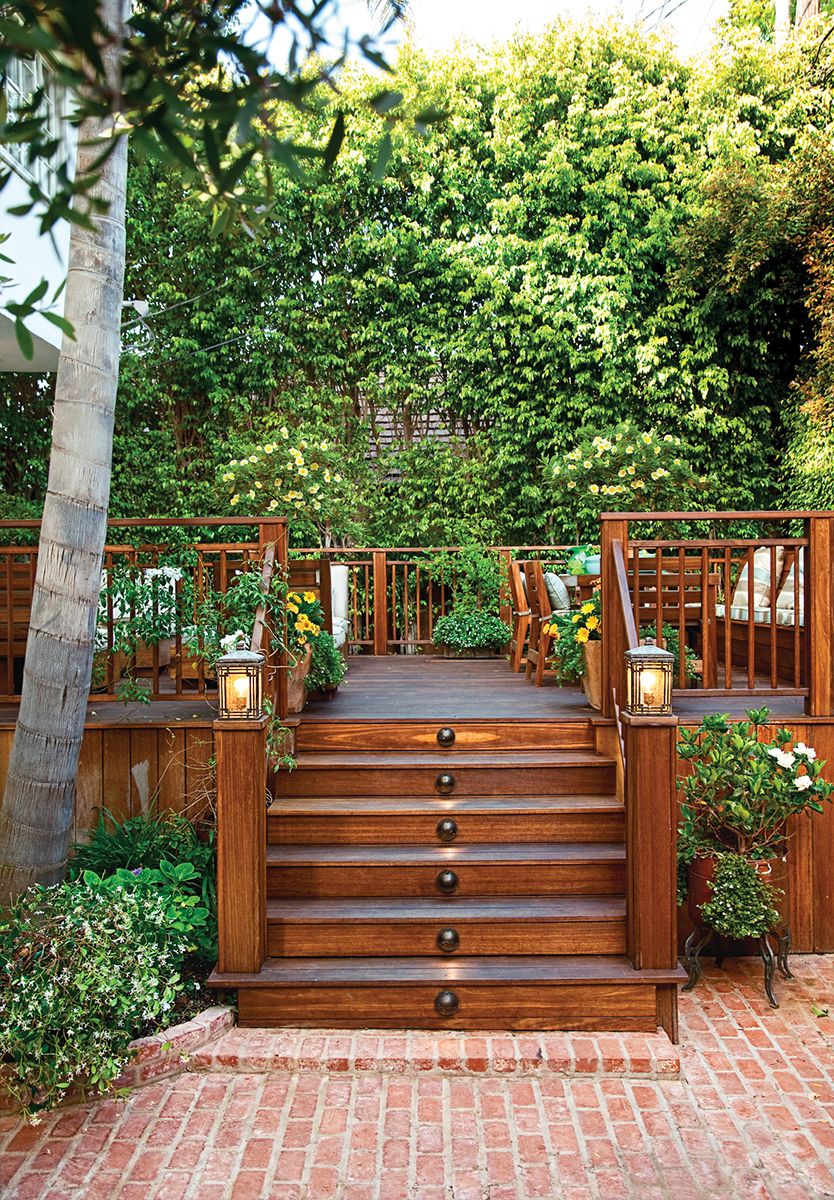 Don't rely on the glare of that motion-detector light on the back of your house to illuminate your deck. Add riser lights to brighten each stair tread, post-cap lights to help define the perimeter of the space, sconces on either side of your entry door, and tree- or wall-mounted lights to bathe the deck in ambient light.
Shield Your Deck from the Sun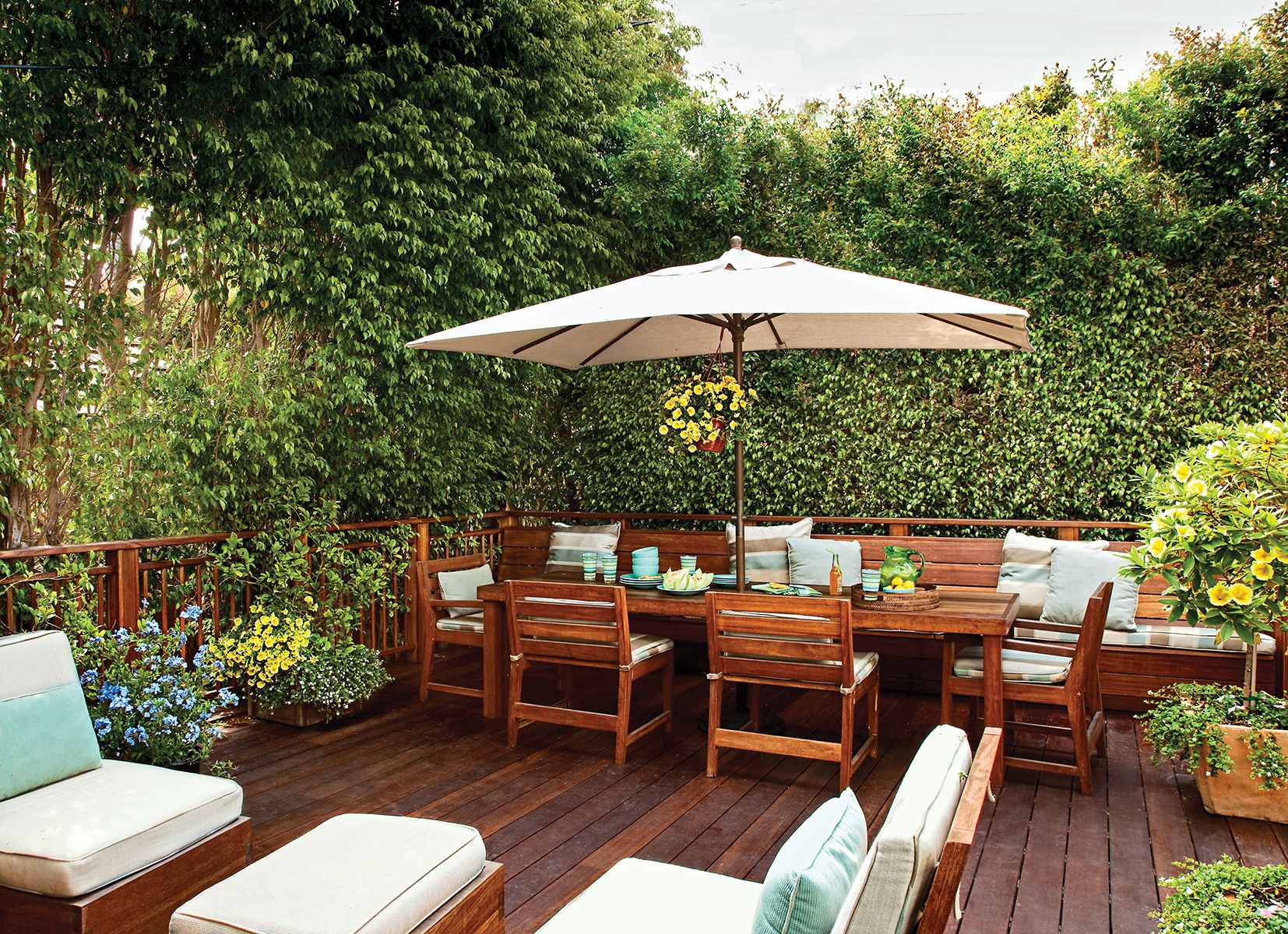 There are three main ways to protect your deck from the bright, hot sun. The most affordable option is to buy a deck umbrella, a freestanding shade provider that's far larger and more adjustable than a traditional table umbrella. The middle ground is to install a fabric canopy or awning over your deck. For either of these first two options, make sure to choose a product with an Ultraviolet Protective Factor (or UPF, which is something like an SPF for fabrics) of 50 or higher. The costliest and also most visually appealing option is to build a pergola over your deck to support the wisteria, bougainvillea, or other leafy vine you plant that will block the sun.
Don't Let Trees Get in the Way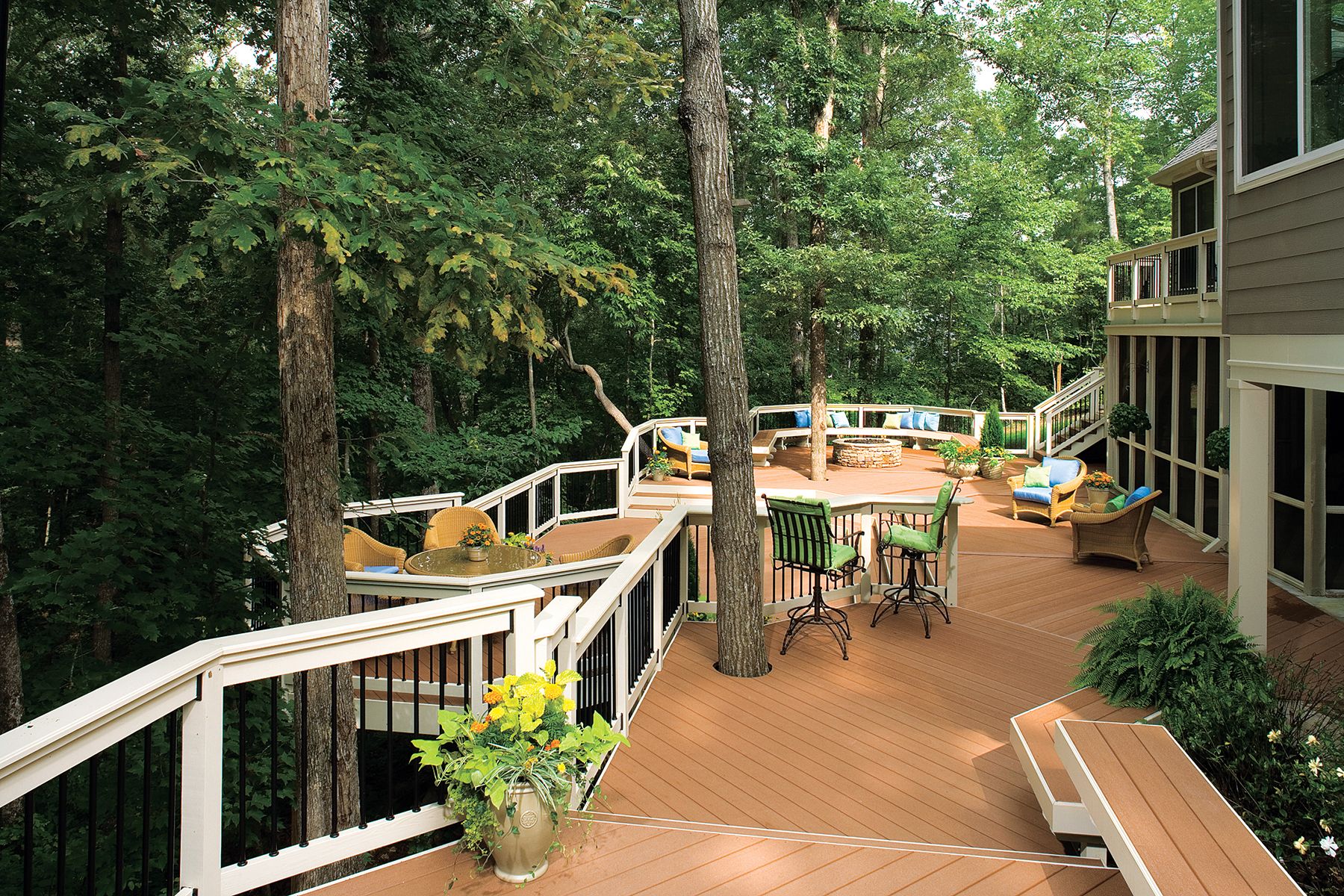 Trees provide natural shade, and as long as a tree is healthy, you can simply build your deck right around it. Cut the decking to create a circular opening big enough for the diameter of the trunk plus a 3-inch gap. That's big enough to accommodate tree growth without creating a hazardous gap.
Make Stairs Easy to Climb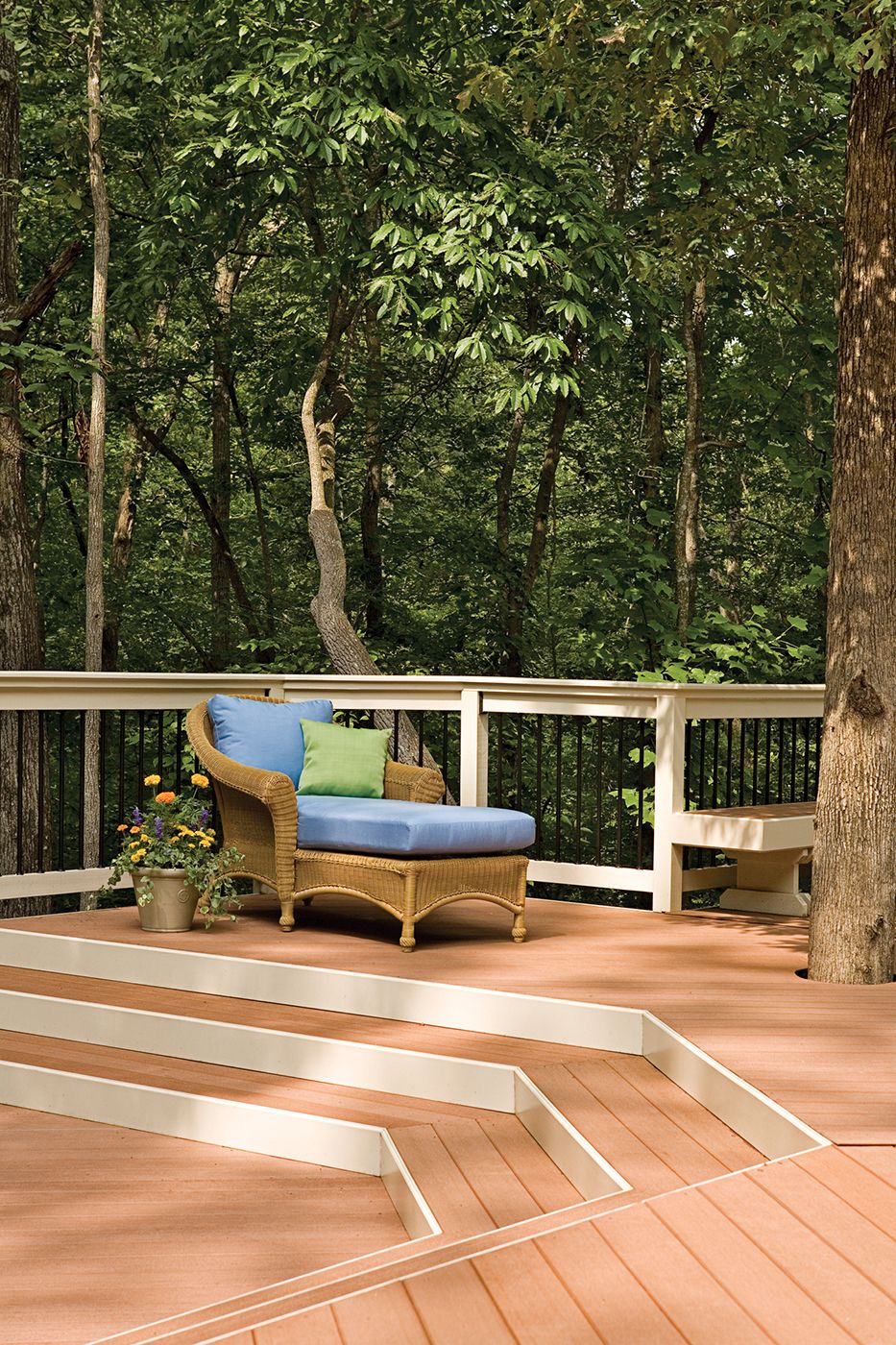 You'll have to follow local building code when building your deck and stairs, but there's some flexibility. Treads are usually 10 to 16 inches deep, and risers are usually 6 to 7½ inches. If possible, design your treads at the larger end of that spectrum and your risers at the smaller end, and you'll ensure that your staircase is easy to climb.
Soften the Perimeter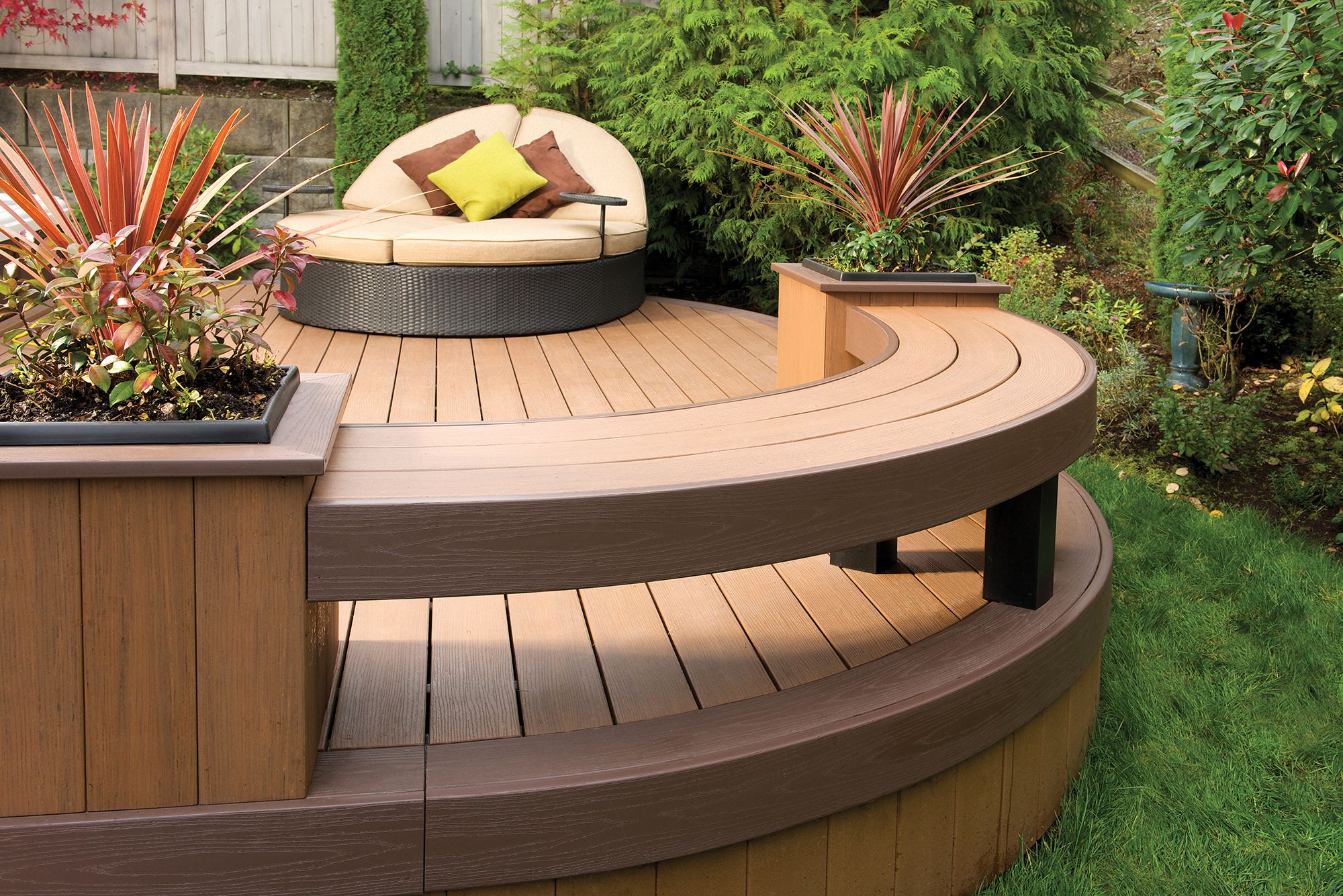 Built-in seating and planters constructed as part of the deck can create perimeter protection for a low deck where a railing isn't needed or help make transitions between deck levels of differing heights. Make sure to account for the weight of the garden soil, plants, and water in addition to the normal weight loads required by code for your deck. And you'll want to line the planter with waterproof fabric—or use a metal or plastic insert—to prevent the wood structure from sitting against the moist soil, which would cause rot. Be sure to drill an overflow drain in the wooden box for water that overruns the liner during heavy rains (or overzealous irrigating).
Maintain for a Long Life
No matter what decking material you choose, plan to sweep or leaf-blow the deck frequently. And give it a major cleaning annually: Use a power-washer on a low-pressure setting, with a brush and a cleaning fluid that are compatible with the surface. Use a fan tip on the wand, and keep the wand moving to minimize surface damage. Getting rid of mildew may require a specialty product. If you build your deck from wood, you're also going to need to regularly treat it with stain in order to protect the wood fibers from the sun (and to add color if you so choose). And for pressure-treated wood, regularly applying waterproofing will help to protect the wood from warping and cracking.
Finance Your Dream Deck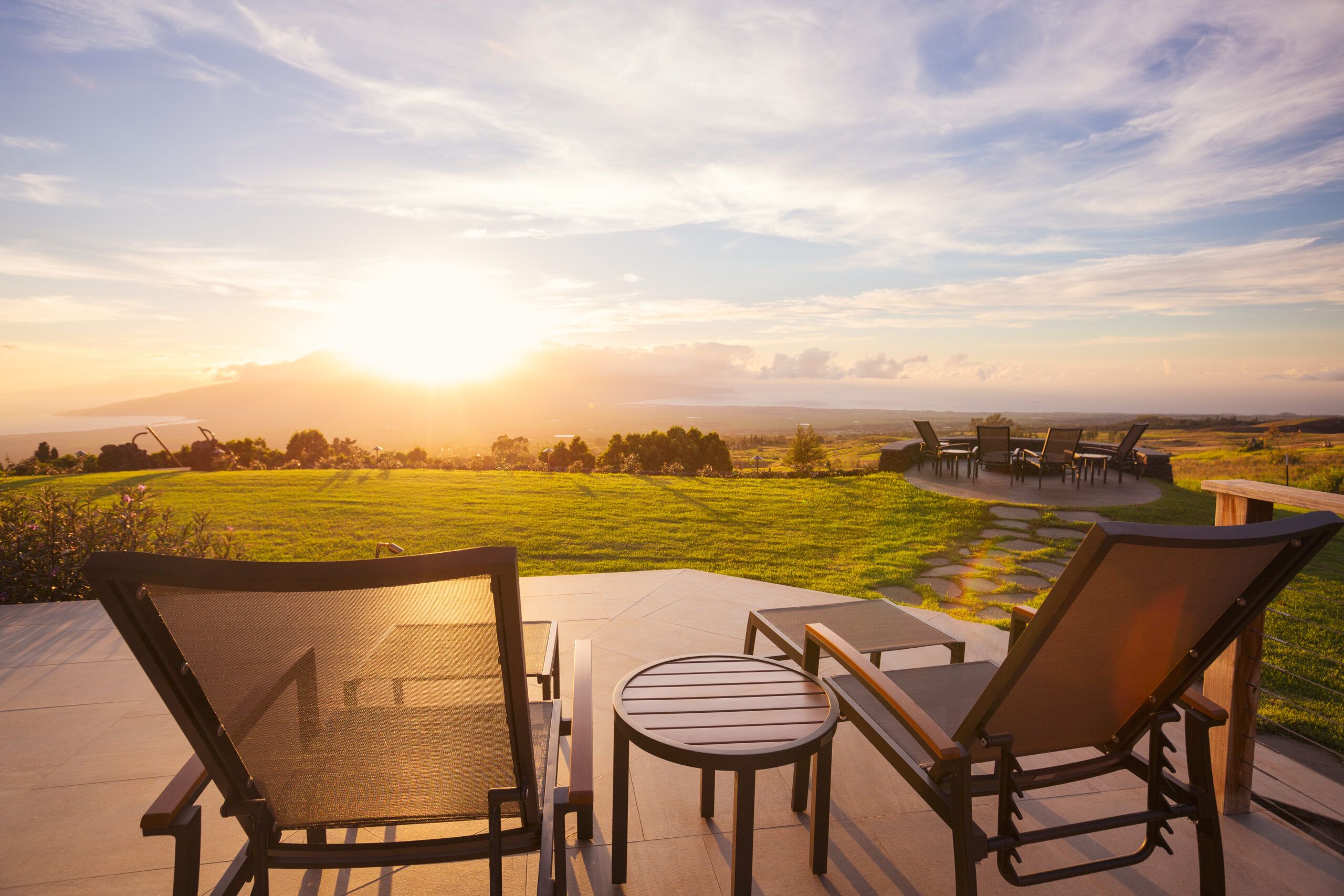 If you've been putting your home-improvement goals on hold or need extra cash to finance your new deck, a personal loan from Discover is a simple and easy option. Choose your loan amount up to $35,000 and term length for fast funds you can invest to enhance your outdoor living space and improve your home's long-term value.
Consider a personal loan. Preview your interest rate. Checking won't affect your credit score at all.
Fixed Rates | Quick Funds | Flexible Terms