Decking Out Your Deck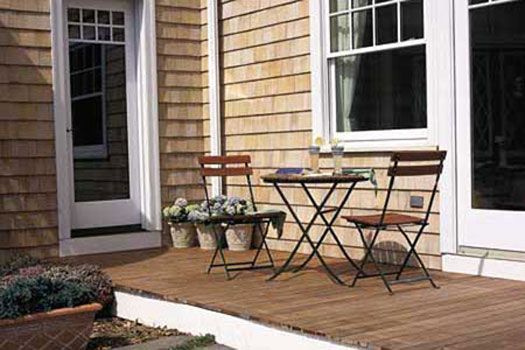 Come summer, everyone wants a backyard deck to extend living space outdoors. Once you have the structure built, there are plenty of ways to customize it to fit your needs and design aesthetics. Here are 16 ideas to make your deck more beautiful and functional.
More: How to Build a Simple Deck
Stain the Wood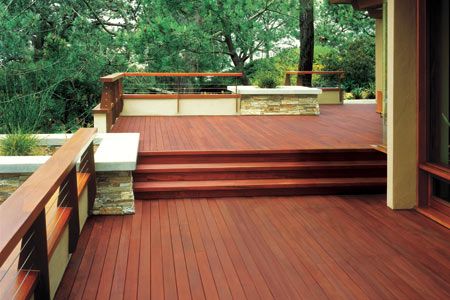 A knock-out deck starts with great wood—in this case, clear redwood protected with a burgundy-tinted penetrating stain, Behr Premium Semi-Transparent Weatherproofing Wood Stain.
Find more helpful tips on exterior stain: All About Exterior Stain
Checkerboard Pattern Painted Floor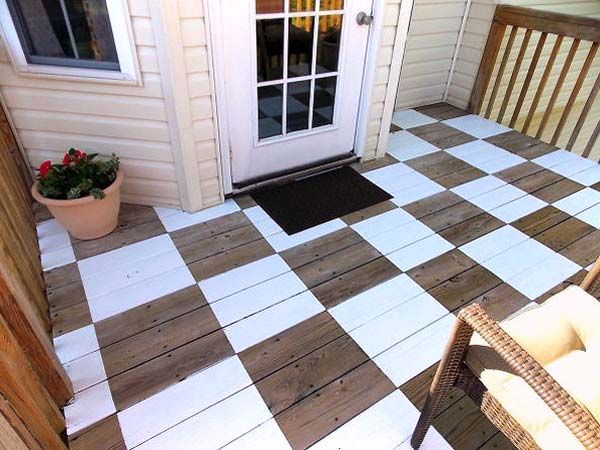 Choose a color or pattern to add visual interest to a plain deck. Here, Nikki P. used Valspar Severe Weather exterior paint in semi gloss white to create a checkerboard pattern.
See her step-by-step method: Painted Deck Reveal
Pergola for a Sunny Spot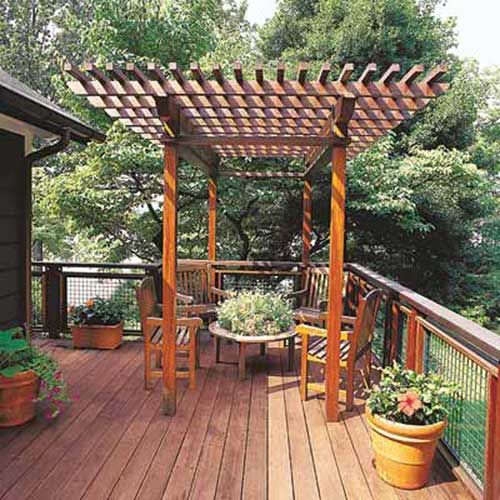 Add a pergola to provide a shield against strong rays while still letting you enjoy some sunlight. It can be oriented according to the seasons.
Privacy Lattice
Lattice offers a bit of camouflage without blocking any cool breezes.
Learn more about creating an Outdoor Living Room on the Deck
Bench Border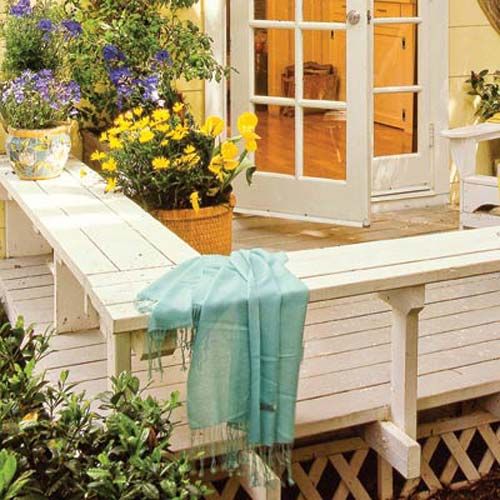 If your deck is low enough not to require a railing, build a bench around the perimeter to provide seating and a sense of enclosure. You can even use leftover deck boards for the seat.
Green Privacy Wall
This privacy fence will be a beautiful addition to your garden—or if space is tight, will be your garden. Set up a living wall system to hold plants in place.
DIY kits are available here: My Plant Connection
Plant Border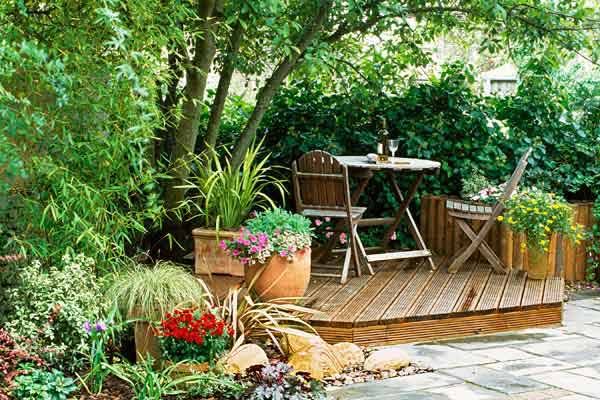 For a tucked-away feeling, surround a low deck with large cedar planter boxes.
Deck Planter Boxes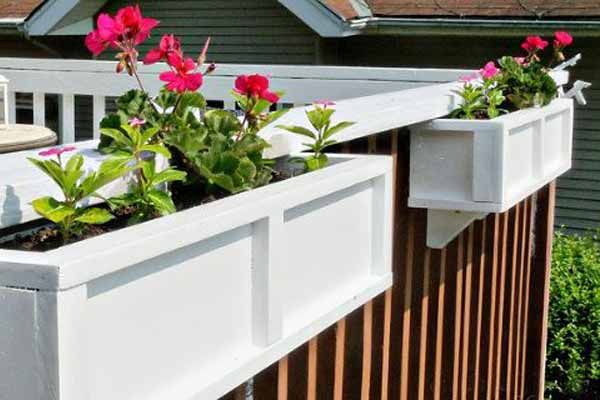 Hang planter boxes on the railings. You can DIY your own for a fraction of the cost of pre-made boxes.
See more on Deck Planter Boxes
Built-In Banquet
If you have room for a long dining table, add a built-in banquet to serve as seating plus extra hidden storage bays.
Container Gardens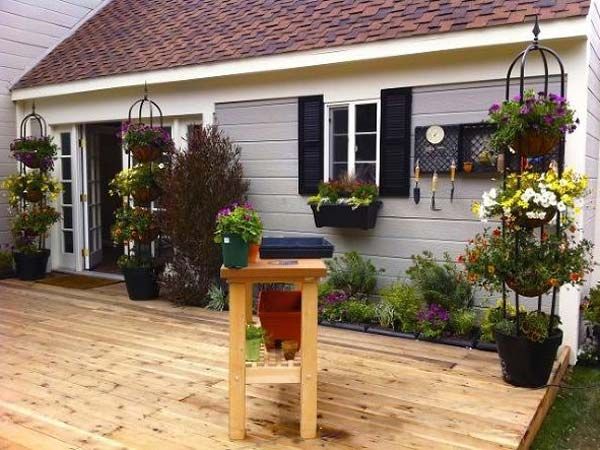 Use drop-in containers, planting towers, and window boxes to make a barren deck feel more like a garden room.
See the before and after Deck Garden Makeover
Cutout "Planter"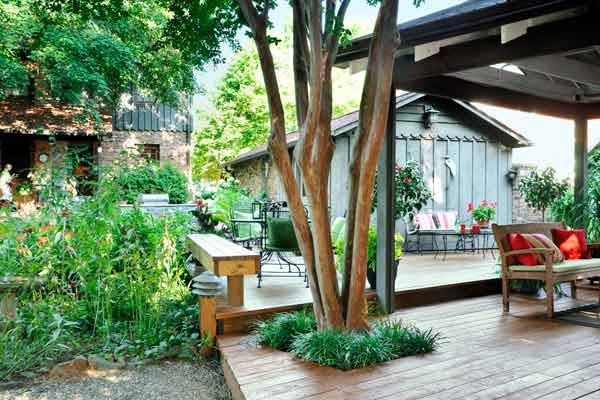 If you have an existing tree that is in the area planned for a new deck, design the structure around the tree.
Salvaged Shutters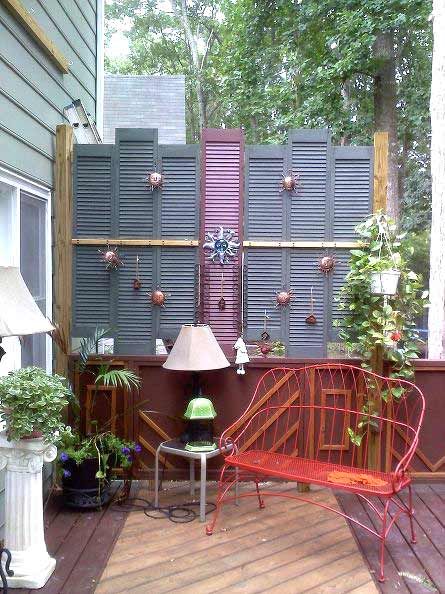 Turn garage-sale shutters to block a close neighbor's view, or your view of their deck!
Get the how-to on this easy deck privacy upgrade
Trees As a Design Element
As an alternative to a freestanding pergola, this slatted ceiling covers an open deck, using mature, sturdy tree trunks as supports.
Repurposed Tarp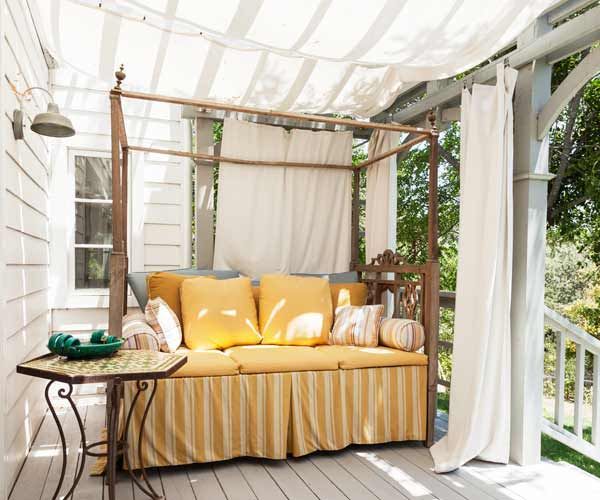 Use metal clips or ties to hang cotton canvas treated to resist moisture to serve as a temporary awning.
Post Lamps
Cap posts with carriage lights to provide both an attractive accent and welcome nighttime illumination. Here, wiring runs from the house, under the deck, and up the hollow posts.
Utilize Space Below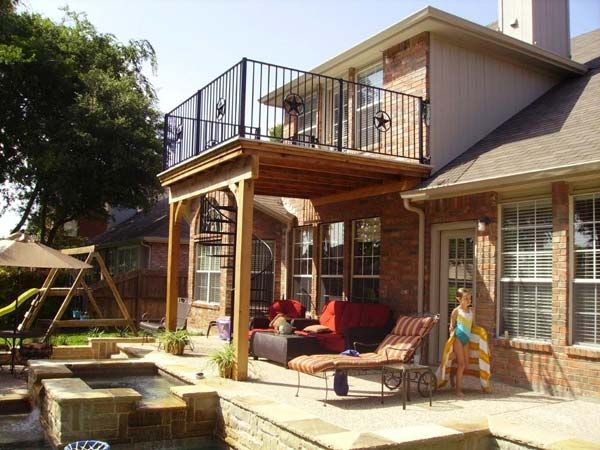 Create a seating area below a high deck. Here, the second floor deck provides shade over the seating on the patio. The deck is accessible via a winding staircase. The decking is AridDek aluminum Decking from Wahoo Decks.
See more ideas: How would you utilize the space below your deck?