Composite Boards
Decks are where fires often start, whether from windblown embers or from charcoal falling out of your grill. Most wood species are rated Class C for fire resistance, but you can build safer with a Class A–rated composite decking like AmeraDeck, made from PVC and wood fiber. Not all composite decking is created equal, though—be sure to check fire ratings before you buy. $2.15 per lineal foot. AmeraDeck, Chandler, AZ; 877-788-1887.
Pressure-Treated Wood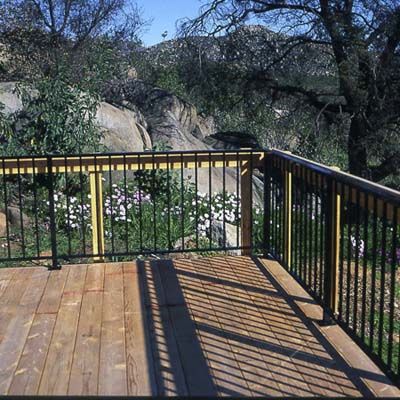 Wood impregnated with flame-retardant chemicals, like this Exterior Fire-X lumber from Hoover, is an economical choice for a fire-resistant deck. Hoover's treated southern yellow pine scores a 15 in flame-spread testing (25 or below gets a Class A rating). The company's treated deck heart-grade redwood and cedar have even lower flame-spread values of 10 each. $2.50 per lineal foot for redwood 2×6. Hoover Treated Wood Products Inc., Thomson, GA; 800-832-9663.
Structural Insulated Panels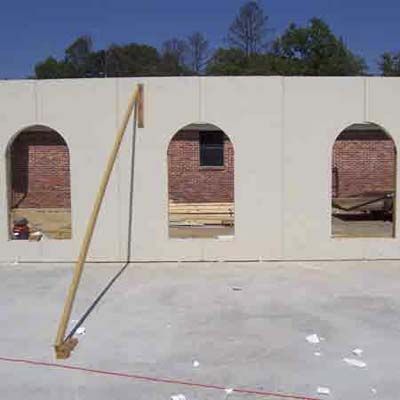 SIPs are prefabricated structural wall panels that replace conventional stud or "stick frame" construction. These engineered laminated panels have a solid foam core that's sandwiched between structural sheathing. The most common types of sheathing or skin materials are oriented strand board (OSB) and plywood. Some manufacturers sheathe both sides of their SIPs with fiber cement, giving them the highest fire rating, incredible strength for extreme weather conditions, and additional resistance to mold and water damage. The wall systems shown cost $3.50-$5 per square feet. ThermaSAVE Building Systems – IHSN, Inc., Florence Alabama; 256-766-3378.
Areated Concrete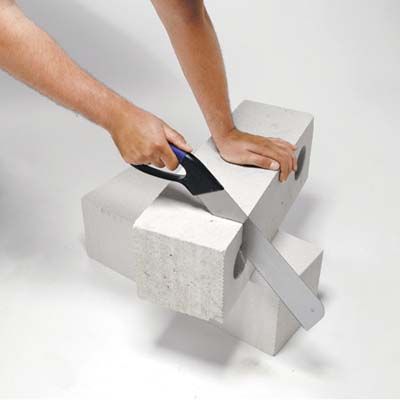 Autoclaved Aerated Concrete Blocks For every square inch of block you get an hour of protection from flames. These amazing building blocks made of aluminum and concrete are half the weight of traditional concrete blocks, have higher insulating qualities, and can be cut with a handsaw, which means your fire-resistant home can go up blazing fast. $2.71 per square foot. Aercon, Haines City, FL; 800-830-3171.
Fire-Retardant Treated (FRT) Wood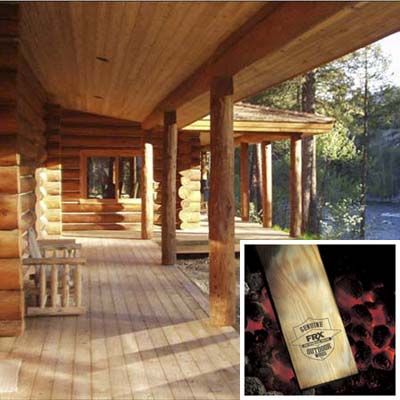 Traditional stick framing is still a safe option if you use lumber treated with a fire retardant. Available from the same companies that pressure-treat wood to prevent decay and termite infestation, FRX fire-retardant lumber holds a Class A rating, and is an affordable alternative to other noncombustible framing materials. FRX is also good for eaves and the underside of decks, which are particularly vulnerable to windblown embers. FRX lumber costs between 20 and 25 percent more than untreated. A 12-foot southern yellow pine 2×4, for instance, runs about $3.05. Arch Wood Protection Inc., Smyrna, GA; 770-805-3280.
Insulated Concrete Forms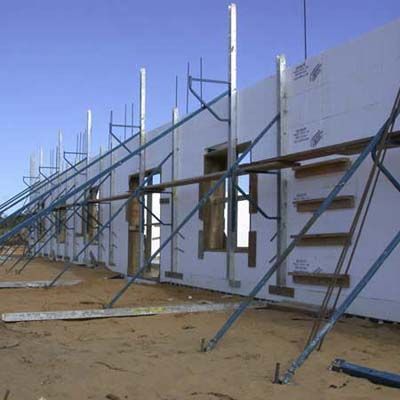 Walls made from ICFs, which are essentially polystyrene molds filled with a 4- to 6-inch-thick concrete core, withstand flames for up to three hours longer than a wall framed with conventional lumber. Some ICF makers are increasing the fire-resistance of their products even further by adding special flame-retardant chemicals to the expanded polystyrene molds. Cellox LLC, Reedsburg, Wisconsin; 866-339-BLOX.