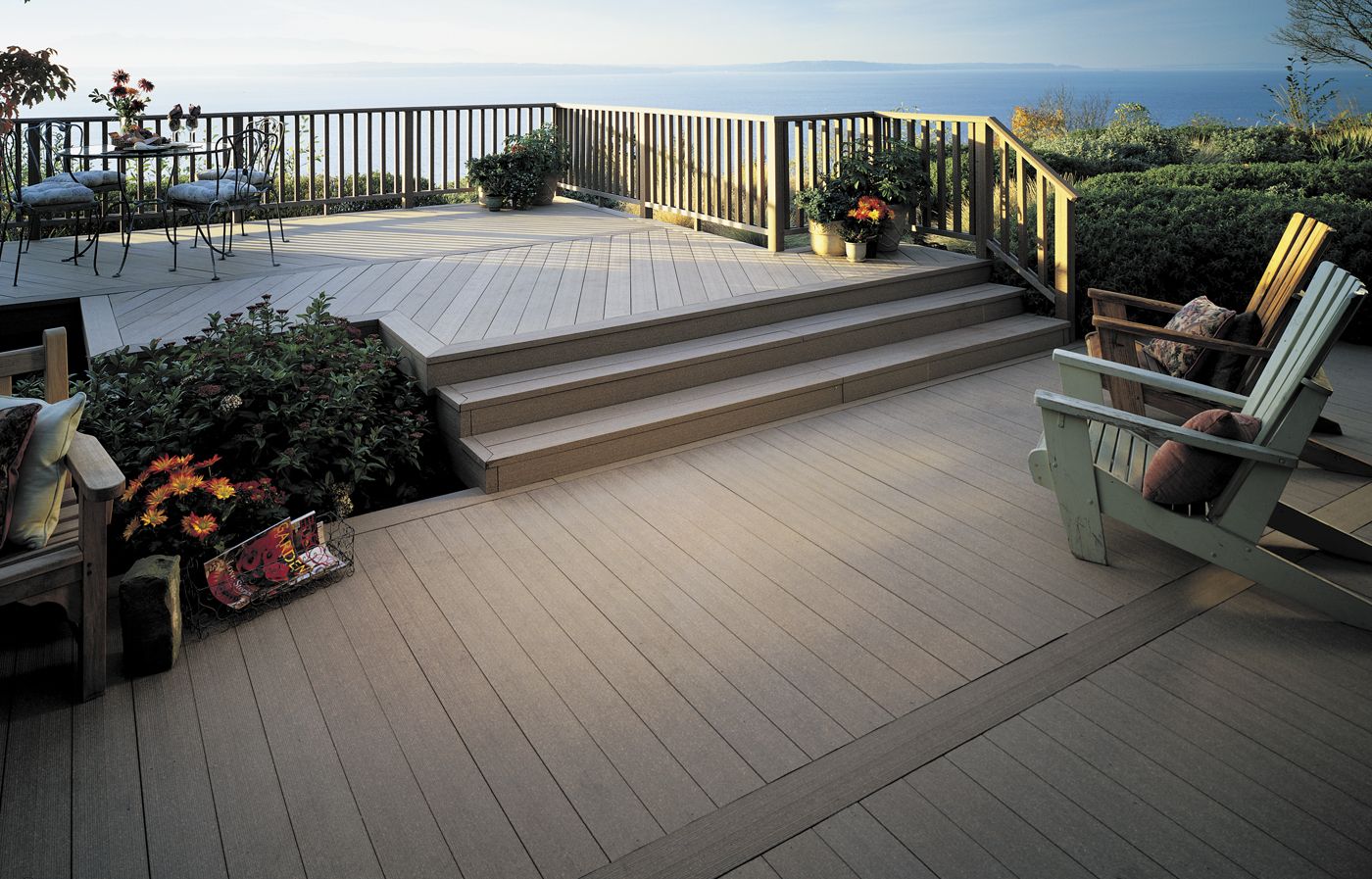 For all the lounging done on them, wood decks require a lot of work to maintain. They have to be cleaned frequently. When paint or stain fades and chalks because of the weather, they need to be recoated. Eventually, as sun and rain cause the wood to crack, splinter, and rot, boards will have to be torn up and replaced. To keep a wood deck looking its best takes time and money.
Building with nonwood decking can change that. This durable and low-maintenance alternative to wood will never split or rot and requires no paint or finish. Made from either recycled milk jugs and grocery bags or new plastics like vinyl, it accounts for 10 percent of the $3 billion-plus spent each year on residential deck boards and railings. Colors are mixed into the material, from white to dark to faux wood grain. Textures range from smooth to rough. Some types are solid and heavy, while others are hollow and lighter weight. And because much of this decking can be cut, shaped, and fastened almost like wood (some use simple clips), building with it is just as easy. Prices are competitive with those for cedar or redwood, but expect to pay 15 to 20 percent more than for pressure-treated pine.
Homeowners interested in nonwood planking will find two main types to choose from: all-plastic and composite. All-plastic lumber consists of plastic plus additives such as ultraviolet inhibitors (to provide protection against the sun) and color pigments. Composite boards are made by mixing plastic with sawdust or other natural fibers. Both products have their pros and cons.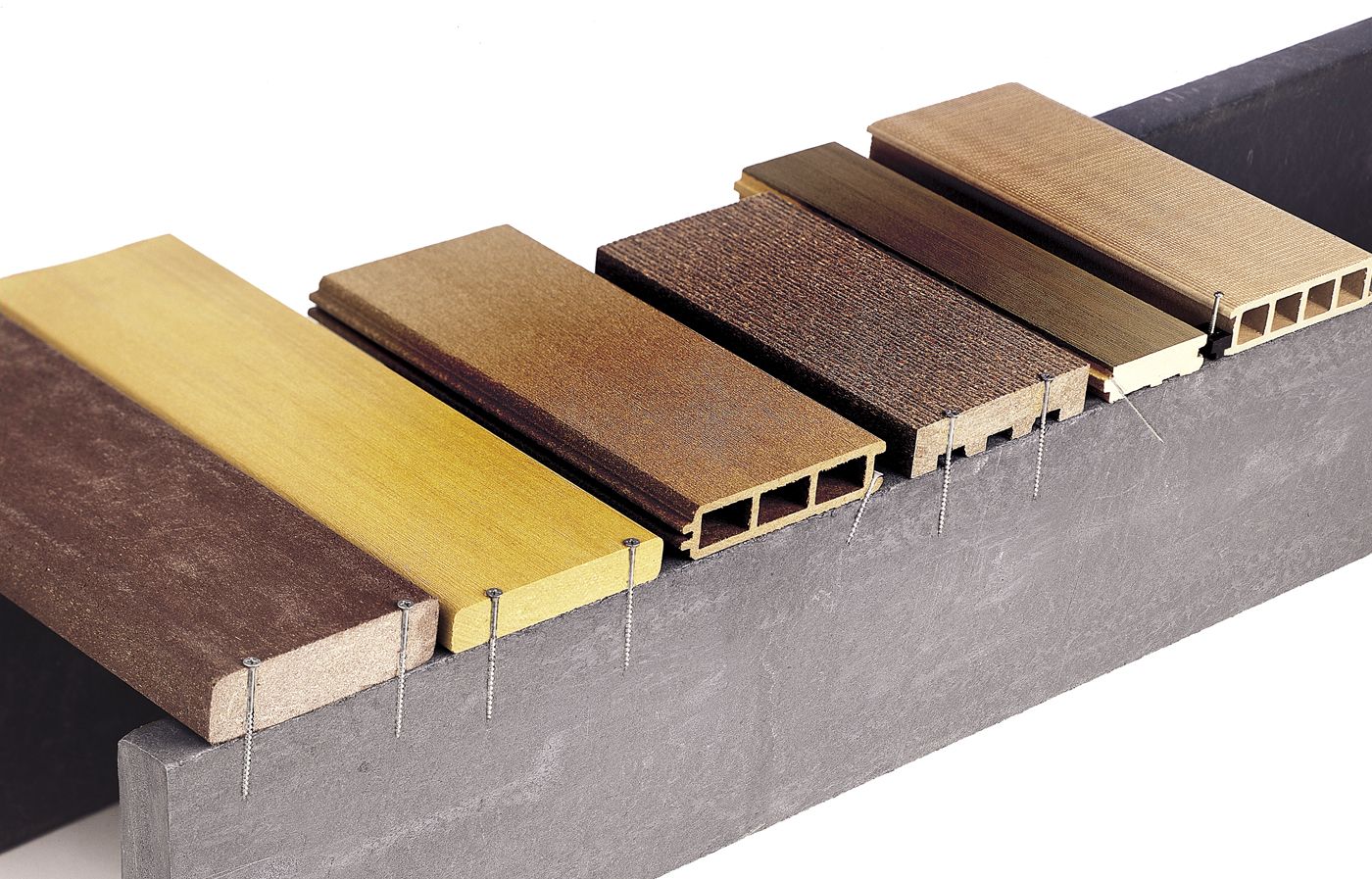 The Composite Option
Composites are by far the most popular type of nonwood decking, accounting for 80 percent of all products sold. The reasons for this are simple. Composites look, feel, and act more like wood. That's because they contain about 50 percent wood dust from sawmills, in addition to recycled and virgin high-density polyethylene (HDPE). (At least one company uses polyvinyl chloride (PVC) instead of HDPE.) The fiber content improves plastic's stiffness, reduces its tendency to move as temperatures change, and roughens its texture for improved skid resistance. It also makes the material easier to cut and install than all-plastic decking. Composites do not require a finish of any kind, making them easier to maintain than solid wood.
Even so, there are some drawbacks to composite lumber. Because of the natural fibers in the material, it absorbs water (although not nearly as much as solid wood decking), making it vulnerable to decay. It can stain and discolor from food spills or grill grease. Plus, textures in the wood tend to hold dirt, which can be a good environment for surface mold and mildew. As a result, composite decking needs to be cleaned periodically with a scrub brush and an off-the-shelf deck cleaner or a detergent that contains bleach. "Composites are not no-maintenance decks; they're low-maintenance decks," says Randall Firmin, regional sales manager for USPL, which makes both composite and all-plastic decking. Also, with the exception of a few brands, most composites — no matter what color they start out as — will eventually weather to a light gray from the sun. Composites carry 10-year warranties: better than wood (which has none), but less than the 50-year offers for solid plastic decking.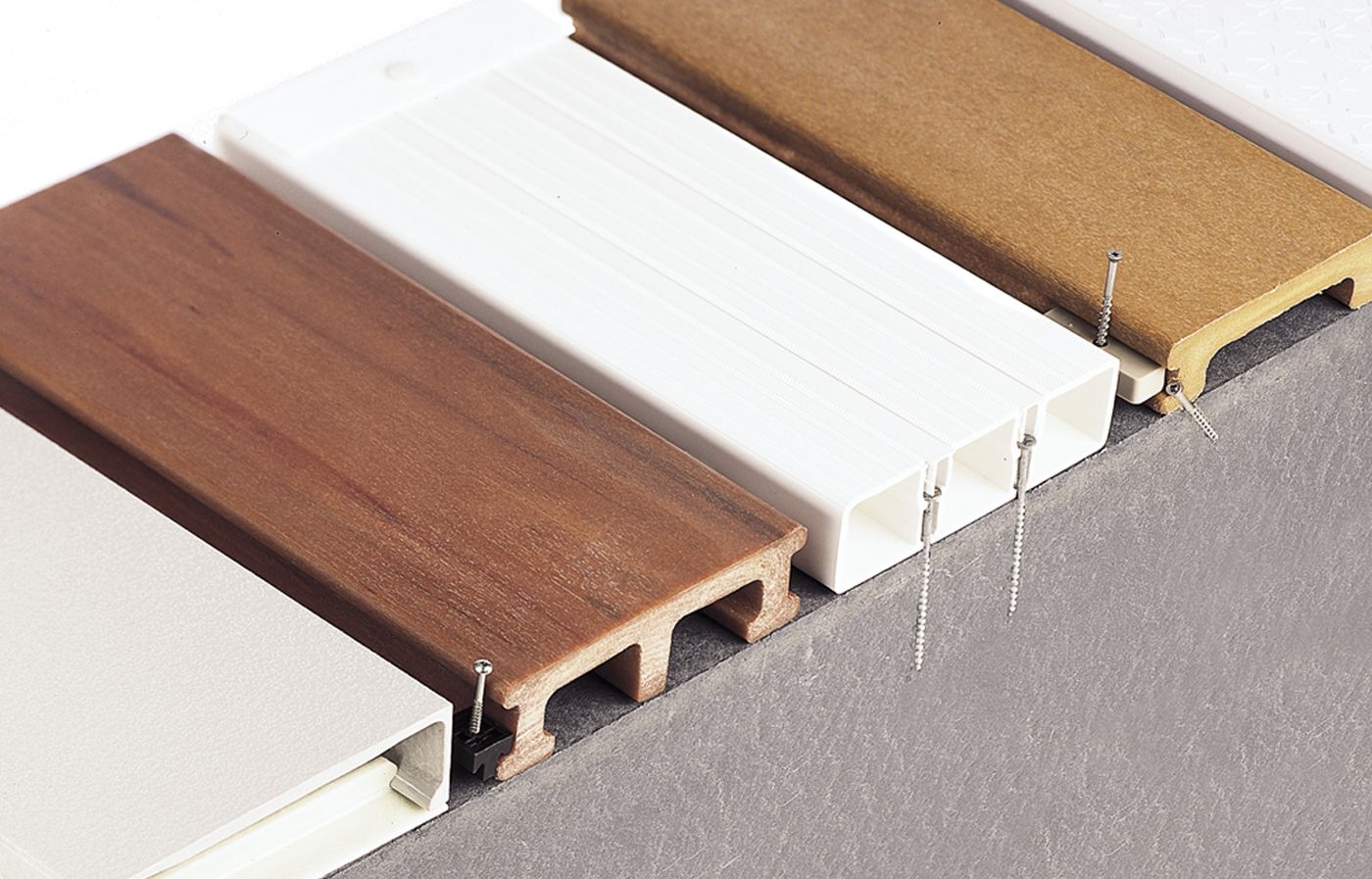 Composite Decking
A
Trex's 1 1/4-by-5 1/2-inch solid board contains equal parts sawdust and recycled polyethylene plastic. Cost: about $1.75 a linear foot.
B
Weatherbest is embossed with a faux wood-grain finish. This 1-by-5 1/2-inch plank contains pine dust and high-density polyethylene (HDPE). Cost: about $2 a linear foot.
C
Nexwood makes a 1 1/4-by-5 1/2-inch hollow-core tongue-and-groove product made from rice hulls and recycled HDPE. Cost: $1.75 a linear foot.
D
ChoiceDek's 1 1/4-by-5 1/2 inch board is a partially hollow product made from recycled polyethylene plastics and cedar. Cost: $1.75 a linear foot.
E
Tendura's 7/8-by-3 1/8-inch traditionally installed tongue-and-groove board is 60 percent recycled wood fibers and 40 percent recycled plastics (polypropylene). Cost $2.50 a linear foot.
F
Xtendex's 1 1/4-by-5 1/2-inch plank is made of rice hulls, flax, and virgin HDPE. A clip hides screws. Cost: about $1.60 a linear foot.
Composite decking looks and behaves more like wood than all-plastic does because it contains about 50 percent wood dust in addition to plastic. Most boards have solid or tongue-and-groove profiles and are screwed down just like wood. Some have hollow cores to cut down on weight.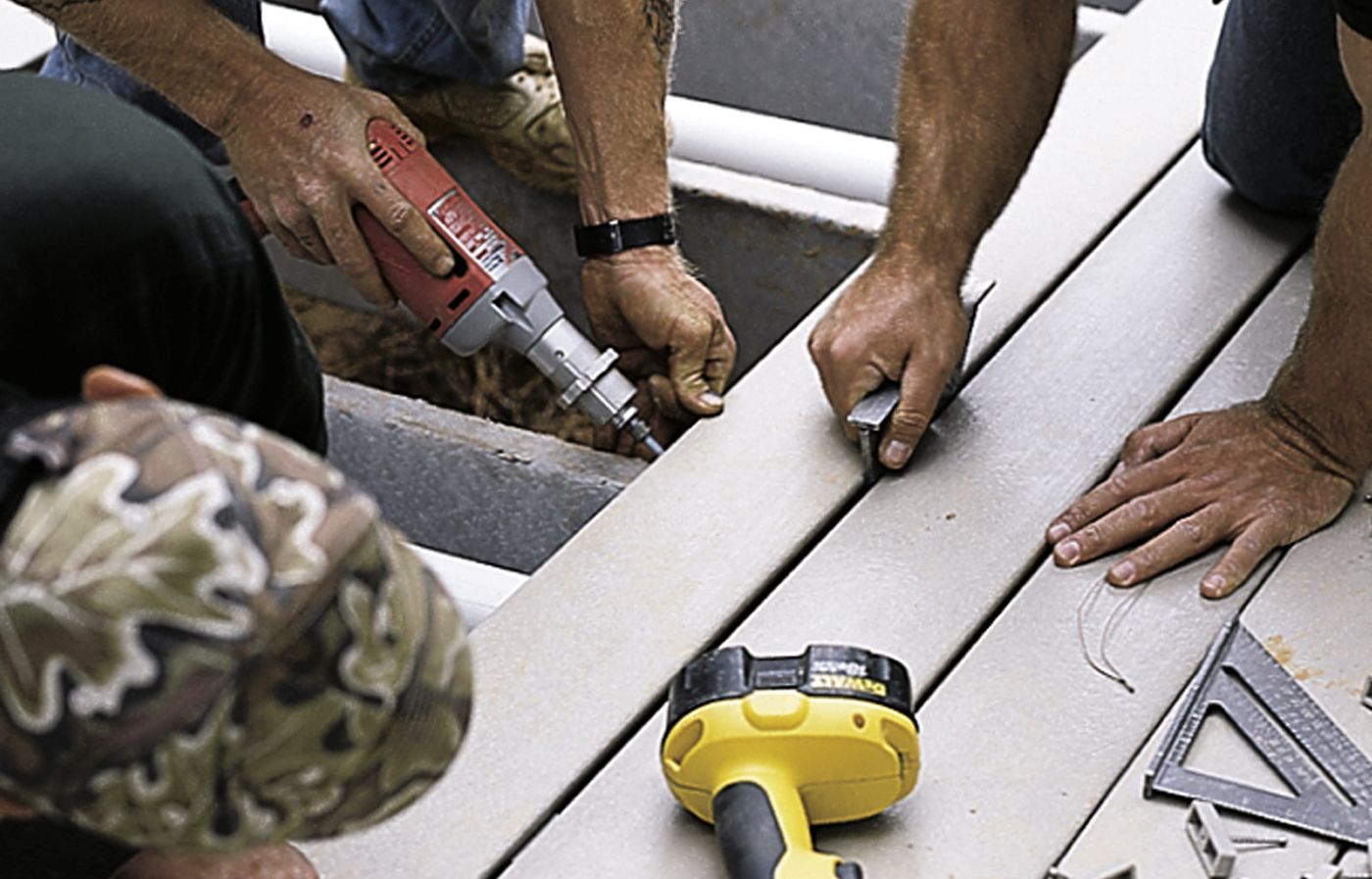 All-Plastic Decking
The biggest advantage to using all-plastic decking is that it needs virtually no maintenance. It can't absorb moisture and so isn't vulnerable to decay because it's made entirely from recycled polyethylene or virgin PVC. To clean off dirt or spilled food, simply hose off the boards or wash them with soap and water. Mildew can be scrubbed off with a deck cleaner or detergent that contains bleach. Plus, plastic decking can be thinner and lighter than wood or composite decking.
The downside is that plastic lumber doesn't look much like wood. And some products, particularly the hollow ones, make a noisy clatter when walked on. "It's just too 'plastic-y' for many people," says Marc Richmond, project manager for the Green Builder program in Austin, Texas. Sunlight will fade the color of a plastic deck board and eventually cause its surface to turn chalky. (Long-term testing shows there's no loss of strength or increase in brittleness.) And except for products made of vinyl, which remain cool in the sun, all-plastic decking tends to heat up more in bright sunshine and to stay hot longer than either wood or composites. "A redwood-color deck can become too hot to walk on barefoot," says Cynthia Kravitz, vice president of Phoenix Recycled Plastics. "When you hose it down, though, the heat dissipates instantly."
One concern about nonwood decking is how slippery it can be when wet. According to Richmond, who installs plastic and composite decks, all-plastic planks seem to be a little more slippery than regular wood, whereas composites are not. "Most plastic boards are smoother on top than composites, which have a rough texture to improve slip resistance," he says. To ensure safety, manufacturers of plastic and composite decking have started submitting products to slip-resistance tests set up by ASTM International. So far, however, a nationwide safety standard has not been established. "If you have any concern with slipperiness, go with a rough-textured composite," says Dr. Prabhat Krishnaswami, vice chair of an ASTM committee on plastic lumber standards.
Plastic Decking
A
E-Z Deck is made of fiberglass and polyester resins. The 1 1/2-by-5 7/8-inch planks snap onto a track that is screwed to the top of the joists. Cost: $5 a linear foot.
B
Eon's 1 1/2-by-5 1/2-inch board is made from recycled and virgin plastics and fastened down with a T-clip that fits into the side grooves. Cost: about $2.40 a linear foot.
C
Certainteed's 1 1/2-by-5 1/2-inch board is 100 percent PVC. Strips running the length of each board slide over screws for a clean surface finish. Cost: $4-$6 a linear foot.
D
USPL's 1 1/4-by-5-inch plank is 100 percent recycled plastic. It screws to joists through the side. Plastic spacers ensure uniform gaps. Cost: $2.30 a linear foot.
E
Dream Deck 1 5/8-by-5 1/2-inch boards are 100 percent PVC and snap onto an inverted U-shaped track fastened to the framing. Cost: $4 a linear foot.
Most all-plastic decking is made from vigin polyvinyl chloride (PVC) or recycled high-density polyethylene (HDPE). Some of these products have thin walls and hollow profiles, making them lighter than composites or wood but also requiring special installation hardware.
Installation Techniques
Building a deck with plastic or composite materials is very similar to using wood, with a few notable exceptions. Plastics tend to shrink and swell lengthwise as temperatures fall and rise (wood changes in width with humidity). For that reason, manufacturers specify gaps where board ends meet, or they provide a variety of attachment options to accommodate expansion and contraction. Plastics and composites also lose some rigidity and can be vulnerable to sagging when temperatures soar. This requires special joist spacing that can be as little as 12 inches, depending on the size and thickness of the decking material.
To cut composite or plastic decking, manufacturers recommend using carbide-tipped saw blades with 18 to 24 teeth per inch, to reduce friction and prevent the blade from gumming up. They also recommend drilling pilot holes for the screws because some decking tends to "mushroom" as it's fastened through the face, leaving a little ring-shaped bump around each screw head. Another strategy is to hammer the bumps flat, or to simply use self-tapping deck screws that limit mushrooming and eliminate the need for pilot holes. But the fastest way to eliminate mushrooming may be to use a new screw made specifically for nonwood decking. The TrapEase screw by Master Fastener uses a built-in secondary thread system to pull excess material down as the screw burrows in.
This Old House general contractor Tom Silva has his own method of fastening nonwood deck boards — both solid and hollow — that achieves the same clean look. He secures each plank with dabs of marine-grade polyurethane adhesive placed wherever the decking crosses a joist (and always sets joists 16 inches apart, even if 24 inches is allowed). He randomly nails or screws the boards in place while the glue sets. "I was pleasantly surprised the first time I worked with this material," he says. "You don't have to worry about the splinters or dust you get with wood. Plus, you won't ever have to replace the boards."
MATERIALS: NONWOOD DECKING
Composite decking:
A. Trex Easy Care Decking
Trex
Winchester, VA
800-289-8739
B. WeatherBest
Lousiana-Pacific
Huntersville, NC
800-521-4316
C.
Nexwood
Brampton, ON, Canada
888-763-9966
D. ChoiceDek Plus Line
Weyerhauser/AERT Inc.
Federal Way, WA
253-924-2345
E. Tendura
Troy, AL
800-836-3872
F. Xtendex
Barrie, ON, Canada
877-728-3498
Plastic decking
A. E-Z Deck
Imperial Building Products Corp.
Nisku, AB, Canada
800-990-3099
B. Eon
CPI Plastics Group Ltd.
Mississauga, ON, Canada
866-342-5366
C. EverNew Deck System
CertainTeed Corporation
Valley Forge, PA
800-233-8990
D. Carefree Xteriors Decking Systems
U.S. Plastic Lumber Corp.
Boca Raton, FL
888-733-2546
E. Dream Deck
Themral Industries
Pittsburgh, PA
800-245-1540