Looking for a pop of color around your home? Read our top foundation plants and flowers that will increase the curb appeal of your home.
House Huggers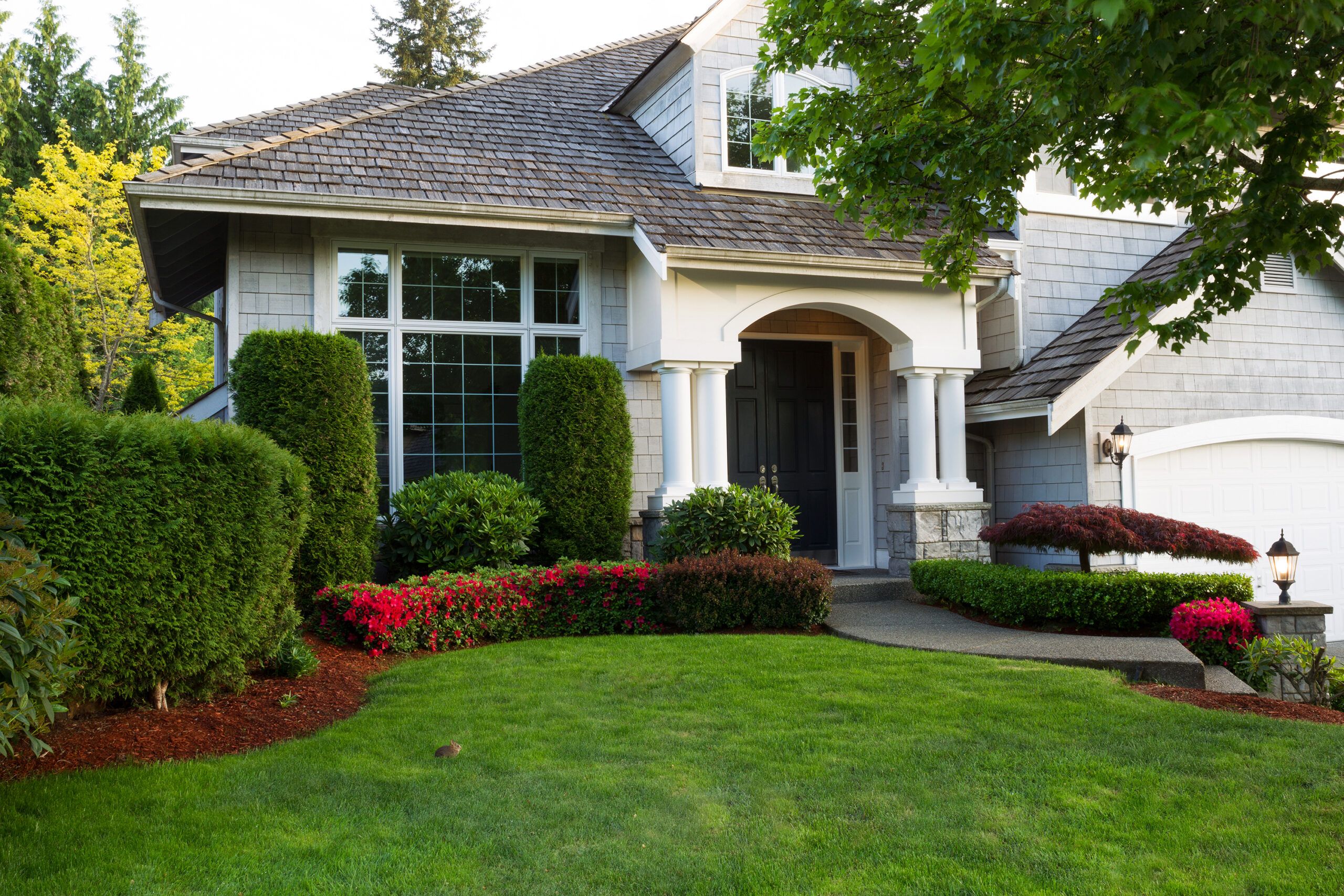 There is something unsettlingly stark about the intersection where house meets land—it begs to be softened with greenery. But just hiding that juncture with a tight fringe of evergreens isn't the answer. Neither is a one-scheme-fits-all formula.
"Two conical things on either side of the front door with two tall things on either end of the house with lower things in the middle—that's a dated approach," says Anne F. Walters, a landscape architect in West Chester, Pennsylvania. "The right foundation planting for most houses is a nice mix of evergreen and deciduous material, with dwarf varieties in order to keep window views open, some repetition of plants for a unified look, and an overall casual, naturalistic feeling."
Shown: Curved beds frame the porch and provide color and interest with a mix of flowering and evergreen plants.
Tallest in Back, Shortest in Front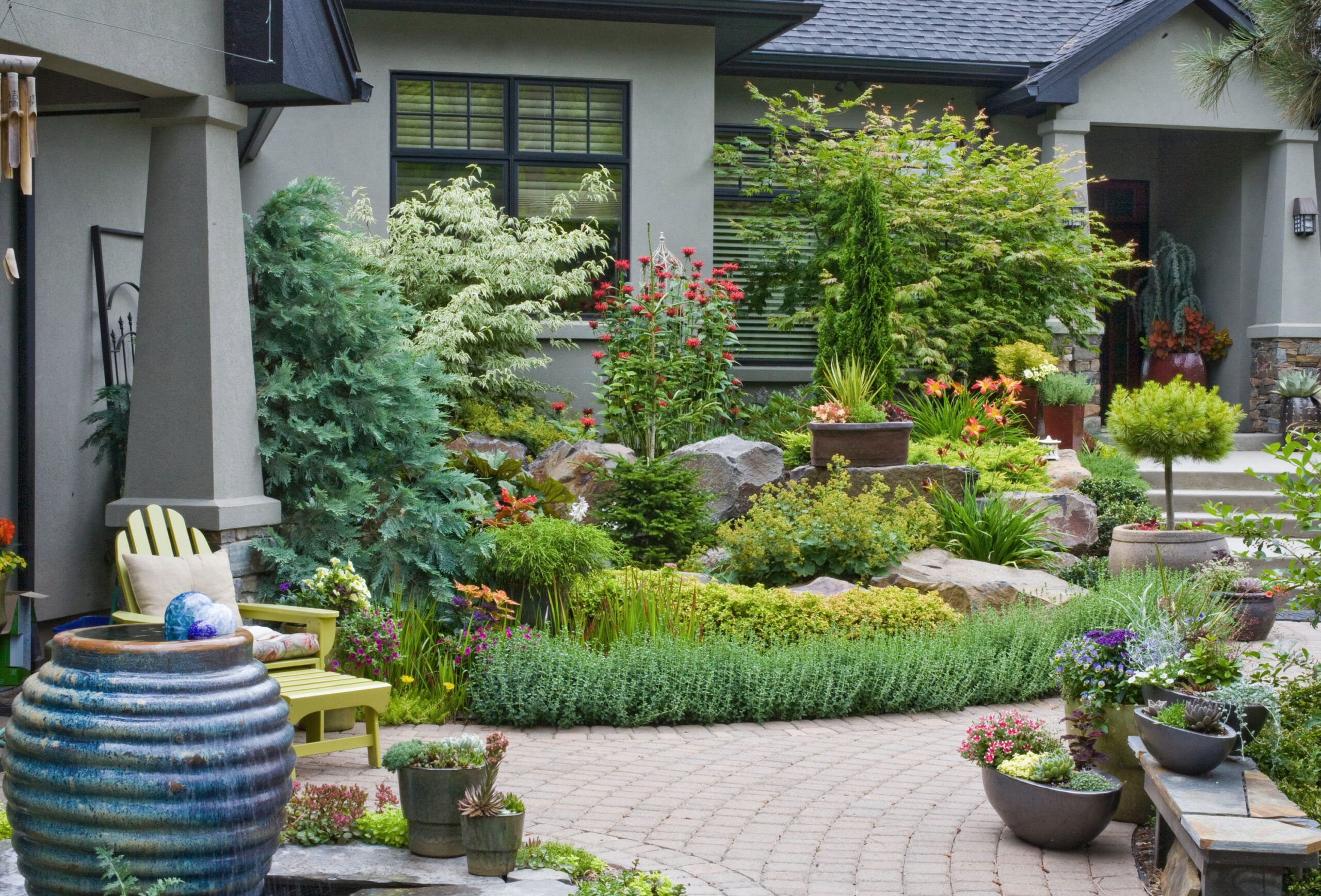 Put another way, a successful foundation planting starts with picking the right plants in the right proportion: evergreens to provide the structural bones of the beds year-round, deciduous and flowering shrubs to add texture, and perennials of varying heights that yield long-lasting color.
Michigan-based landscape designer Jeremy Christianson offers this rule of thumb: About 50 percent of the foundation bed's space should be evergreens, 25 percent deciduous and flowering shrubs, and 25 percent perennials. But even then, a good plant can be placed in a bad spot. When you see that beautiful, blooming rhododendron at the garden center in a 2-gallon pot, you have to consider how big it will get over time before you plant it a foot from your house.
Plan for at least 1 foot of space between the house and any mature plant to allow room for maintenance. This pushes the bed farther from the house, which is what most designers want, with front-of-the-house beds 6 to 8 feet deep. "This helps improve the view from inside, too," says Walters.
Lastly, designers agree that a restricted color palette helps give foundation plantings a considered, cohesive look. "Too many colors distract the eye," says Christianson. "When in doubt, use more plants with the same color or bloom instead of adding additional colors."
Read on for some top plant picks from our designers.
Evergreen Shrubs: Rhododendron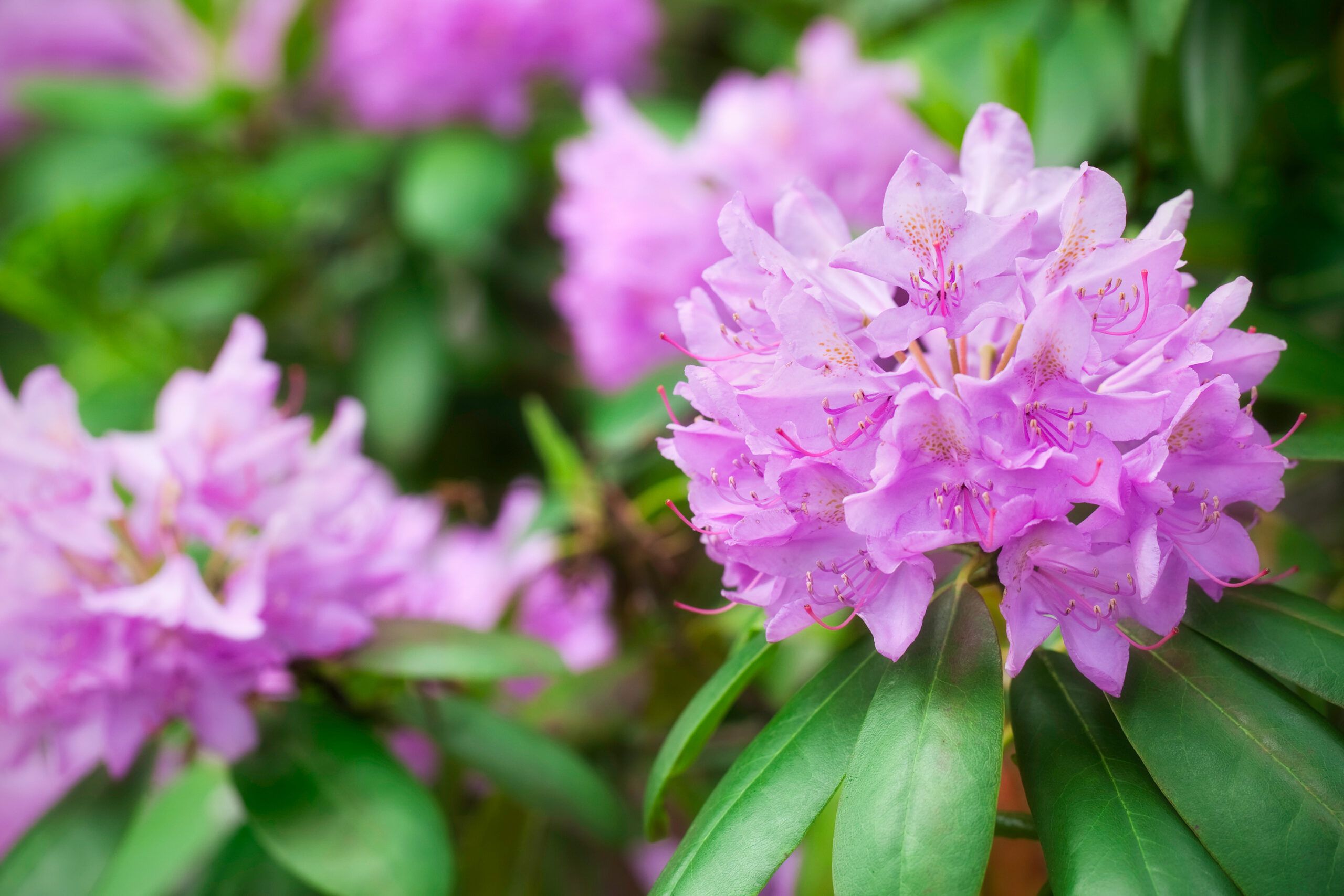 'Yaku Prince'
These bones of a foundation planting provide structure to the flowering specimens around them. Slow-growing, dwarf, or compact varieties are a smart choice, especially under windows.
Rhododendron is a favorite for showy spring flowers and glossy green leaves; shorter varieties require less maintenance pruning to stay in check. 'Yaku Prince' blooms with funnel-shaped pink flowers and grows to 3 feet high and wide with olive-green leaves; Zones 4 to 8. Azalea 'Delaware Valley White,' a subspecies, has tubular white flowers and gets about a foot bigger; USDA Hardiness Zones 5 to 8.
Littleleaf Boxwood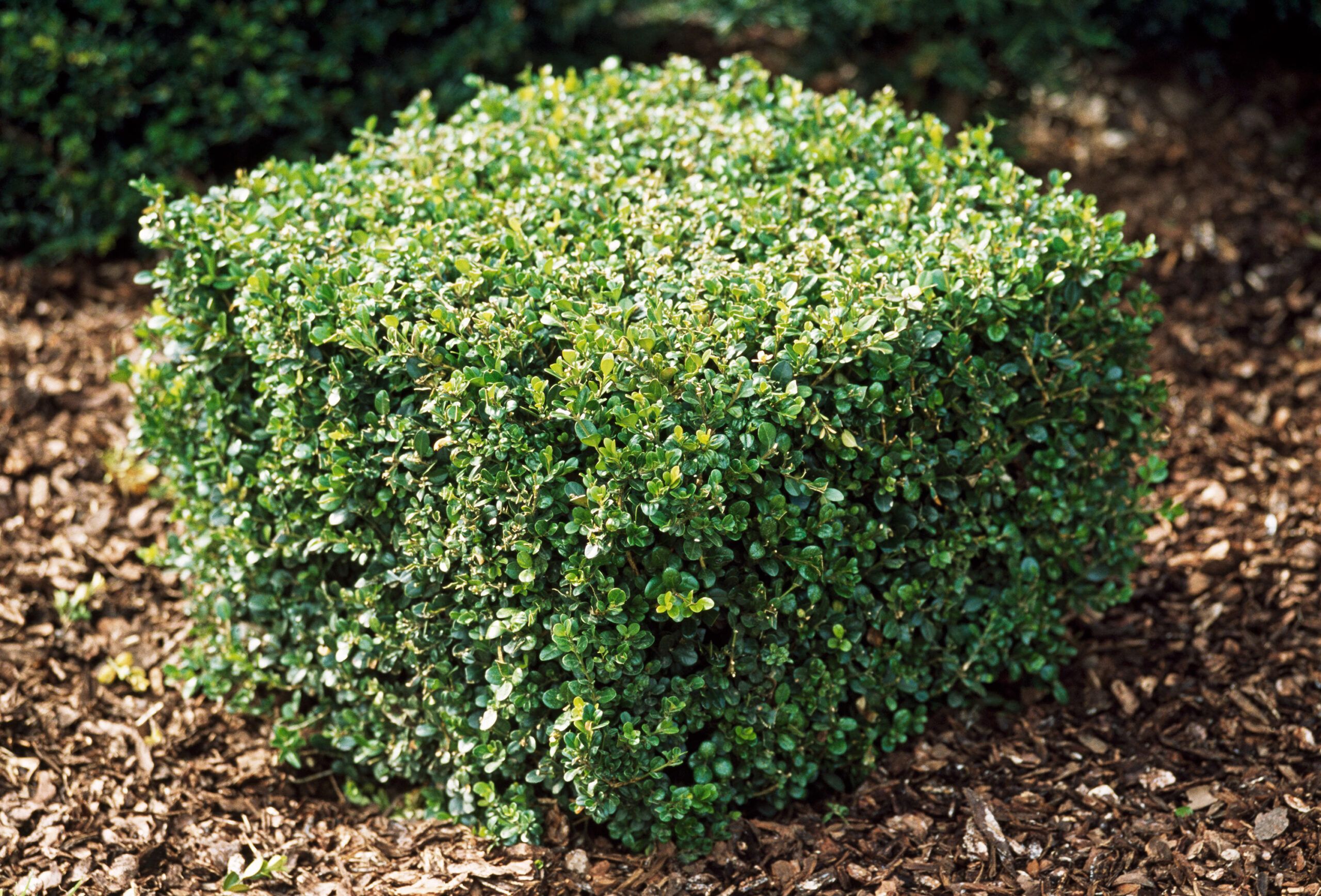 (Buxus microphylla) 'Winter Gem'
Among the more compact boxwoods, 'Green Velvet' has pale green leaves and a mounding habit that can grow to 4 feet high and wide; zones 5 to 8. 'Winter Gem' reaches a similar size but with yellowish-green leaves; USDA Hardiness Zones 5 to 9.
Japanese Pieris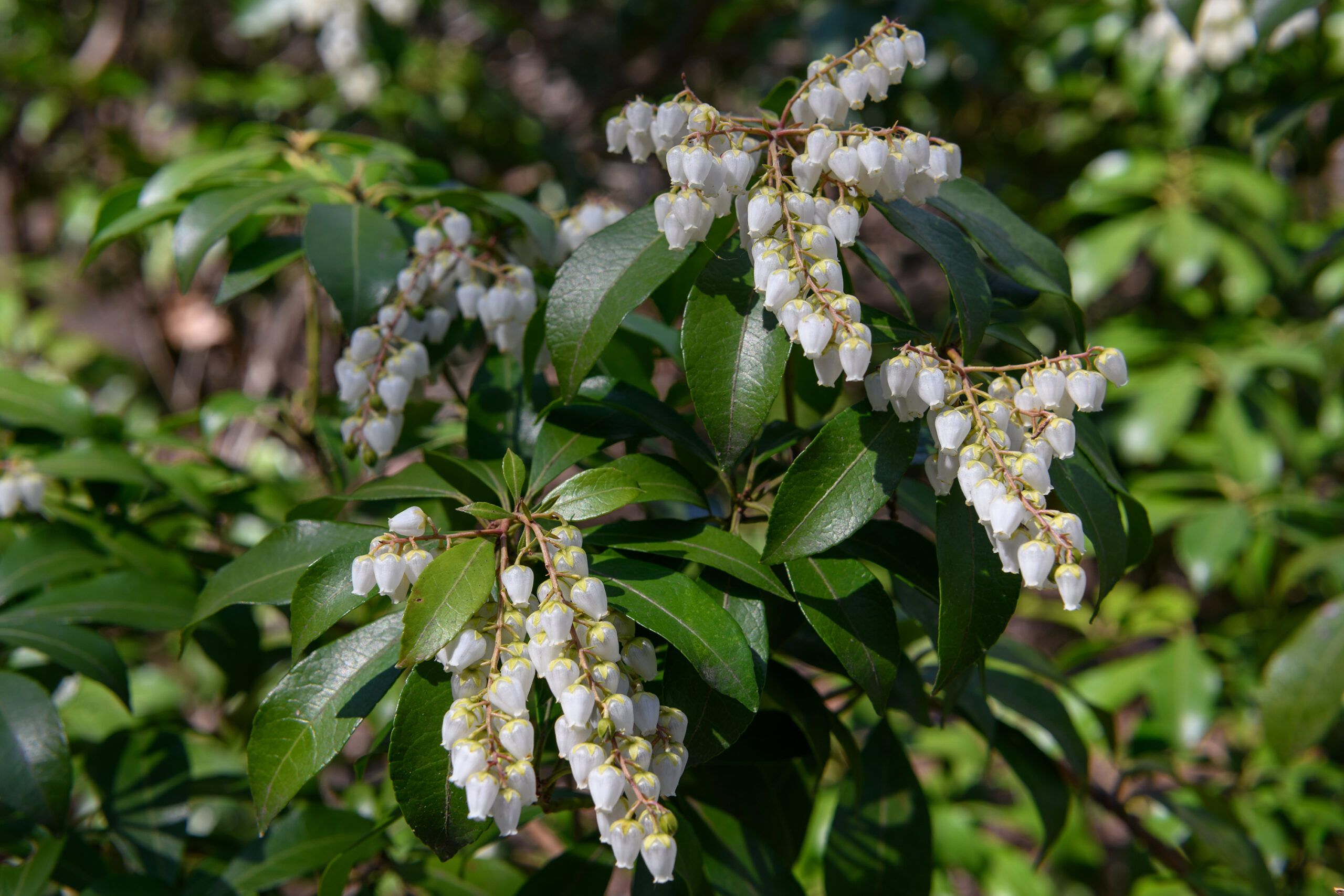 (Pieris japonica) 'Cavatine'
Dense habit with branches that reach to the ground. 'Cavatine' has leathery, dark green leaves with bell-like white flowers in spring. Can grow to 3 feet high and wide; USDA Hardiness Zones 5 to 9.
Inkberry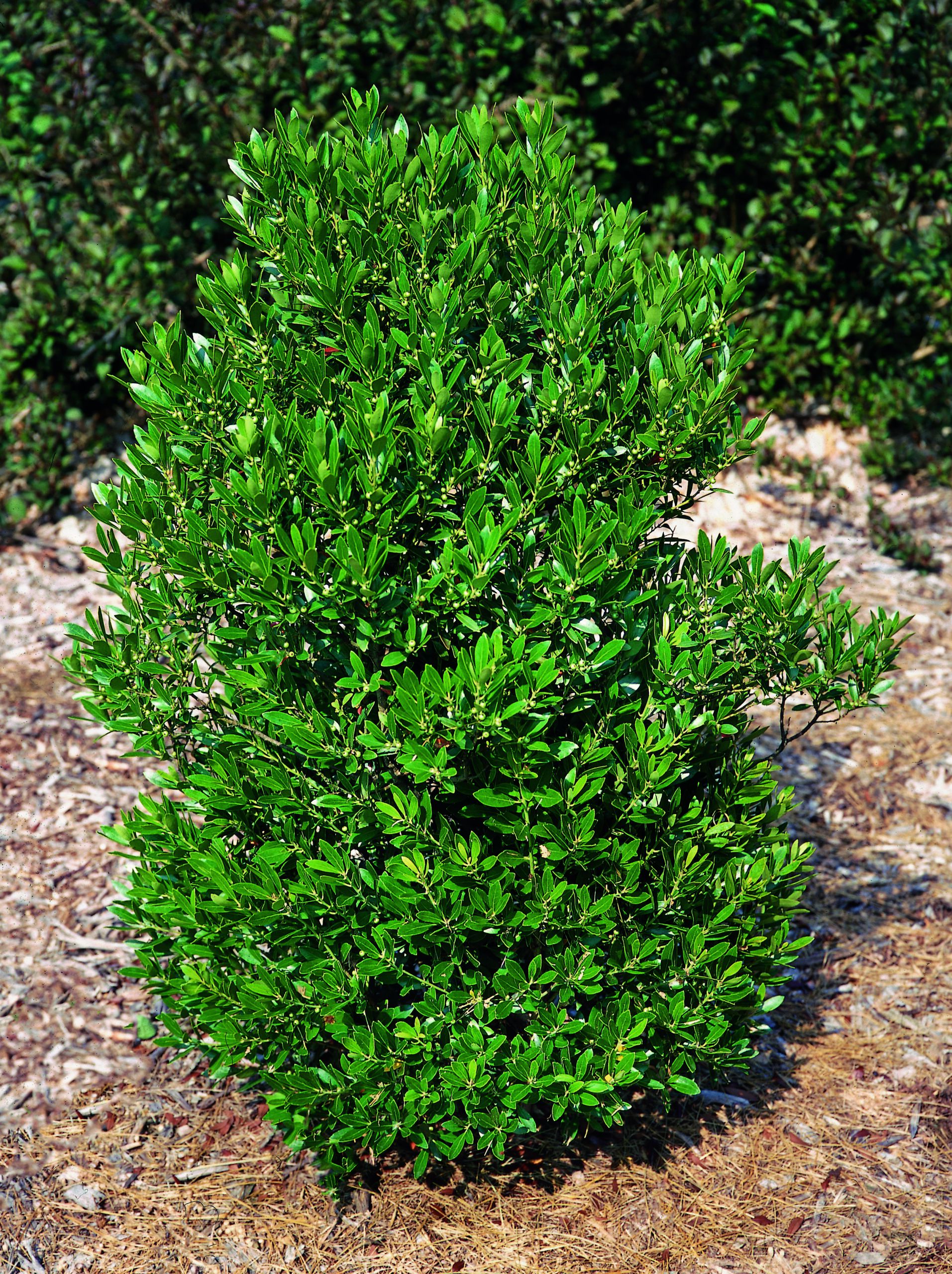 (Ilex glabra) 'Compacta'
Look for slow-growing 'Compacta,' which has dark green leaves and a rounded shape, and grows to 4 feet high and 6 feet wide; Zones 5 to 9. 'Chamzin' will reach 3 feet high and 4 feet wide in USDA Hardiness Zones 4 to 9.
Japanese Yew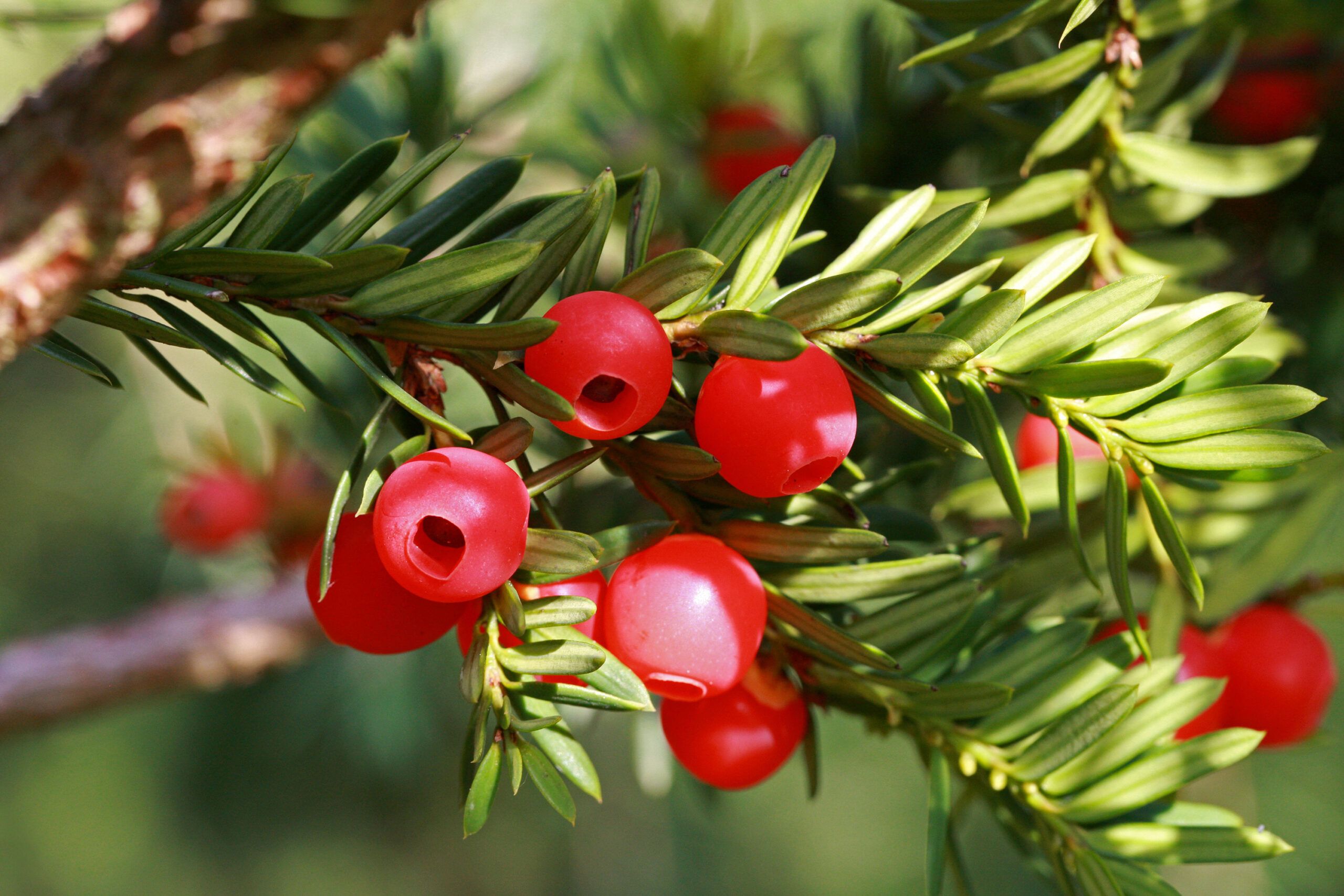 (Taxus cuspidata) 'Densa'
These are the shorter, slower-growing cultivars that are easiest to keep in check. Female 'Densa' has dark needles with red berries in winter. Can reach 4 feet high and 8 feet wide; USDA Hardiness Zones 4 to 8. Hybrid 'Wardii' is a slow grower that, in 20 years, can reach 6 feet high and 20 feet wide; Zones 4 to 7.
Deciduous Flowering Shrubs: Slender Deutzia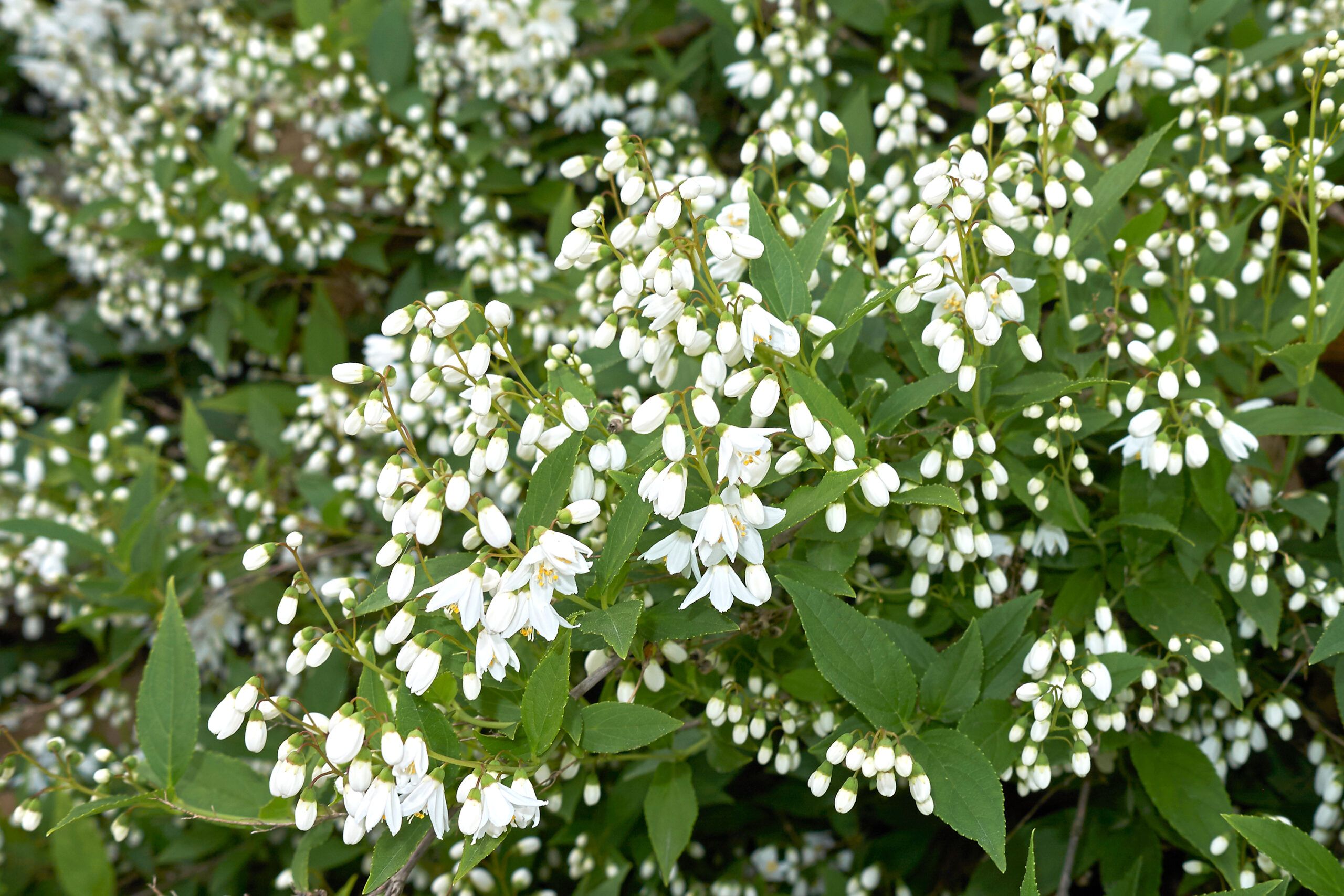 (Deutzia gracilis) 'Nikko'
Combine shrubs that bloom in early spring with those that continue to provide color into summer. Compact varieties stay neat in winter after their leaves have dropped.
Slender Deutzia is a mound of slender, flower-filled branches. 'Nikko' blooms in spring with white flowers and dark blue-green foliage. Can grow up to 2 feet high and 5 feet wide; USDA Hardiness Zones 5 to 8.
Smooth Hydrangea
(H. arborescens) Bella Anna
Place these showy, reliable bloomers under a window where you can enjoy them from inside. 'Annabelle' has white blooms in summer, while Bella Anna is covered in pink flowers until fall. Both grow up to 5 feet high and wide; USDA Hardiness Zones 4 to 9.
Japanese Spirea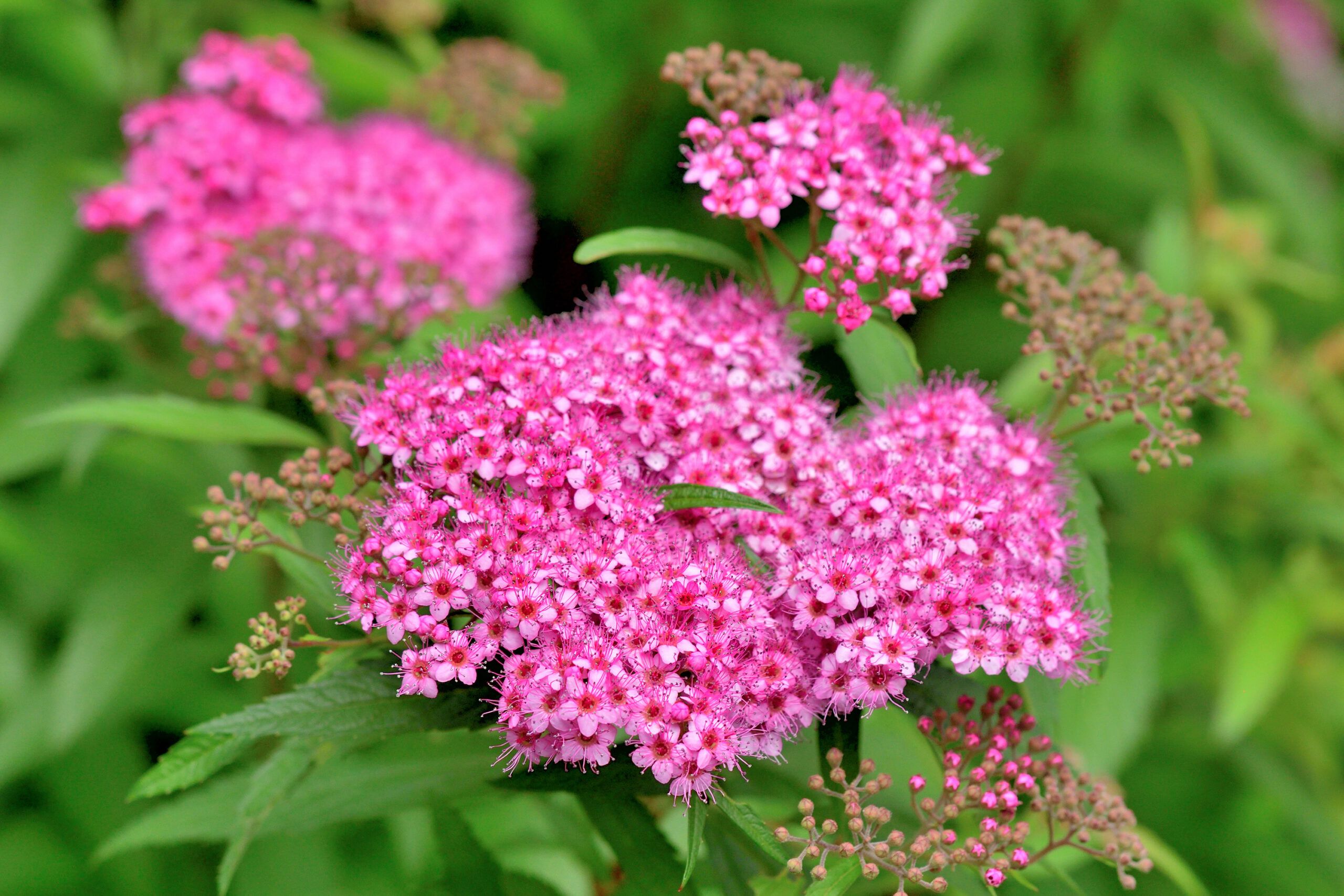 (Spiraea japonica) 'Anthony Waterer'
These long bloomers grow in upright mounds with pink or red flowers from late spring to early summer. 'Anthony Waterer' has pinkish-red blooms and can grow up to 4 feet high and 6 feet wide; USDA Hardiness Zones 4 to 8.
Virginia Sweetspire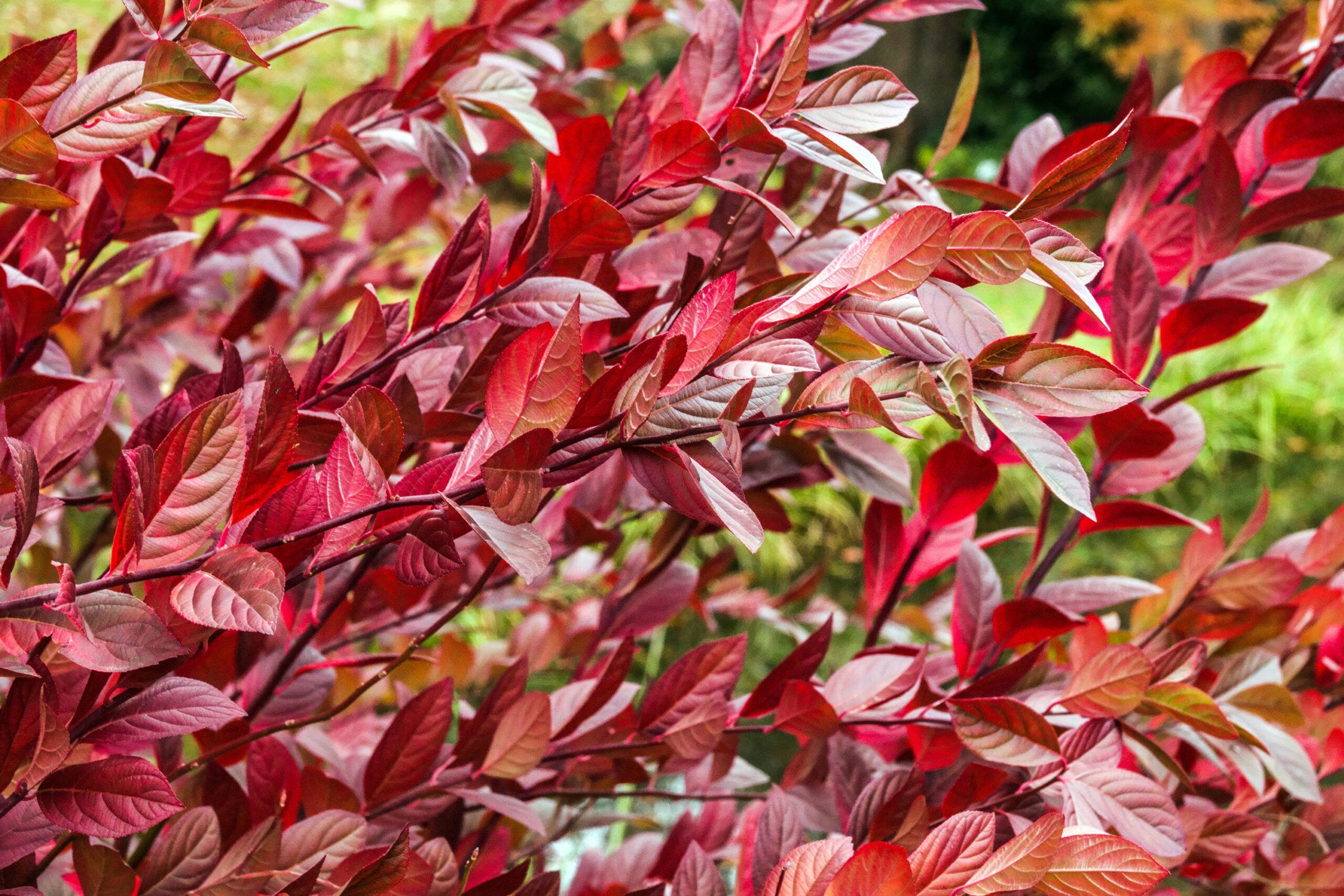 (Itea virginica)
Its dark green leaves turn yellow-orange, reddish-purple, and crimson in the fall. 'Henry's Garnet' has 6-inch-long spikes of fragrant white flowers and can grow up to 4 feet high and 6 feet wide; USDA Hardiness Zones 5 to 9.
Knockout Rose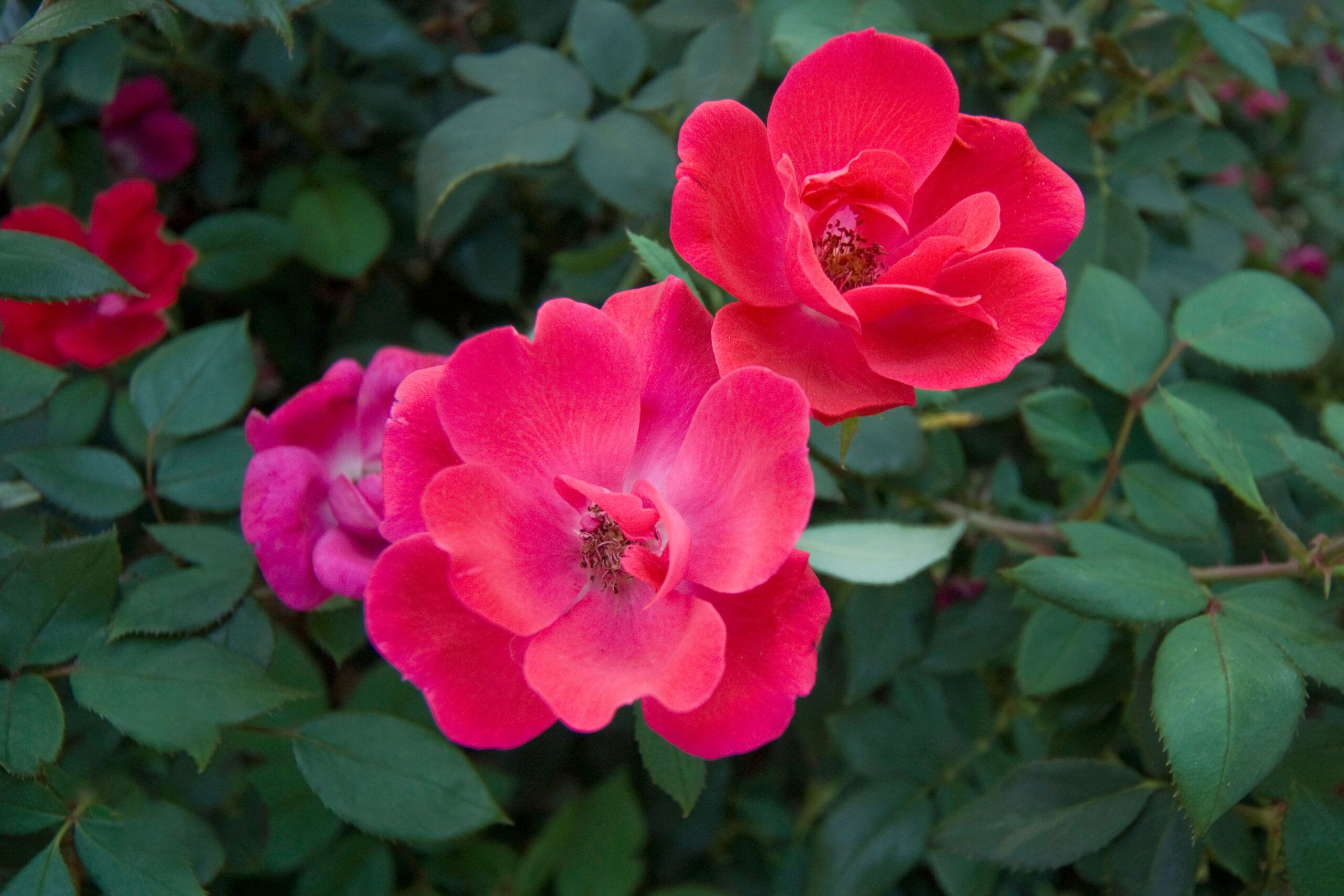 (Rosa) 'Radrazz'
A compact shrub covered with red flowers from spring until frost. Can grow up to 4 feet high and wide; USDA Hardiness Zones 5 to 11. R. 'Radtko' has double flowers.
Flowering Perennials: True Geranium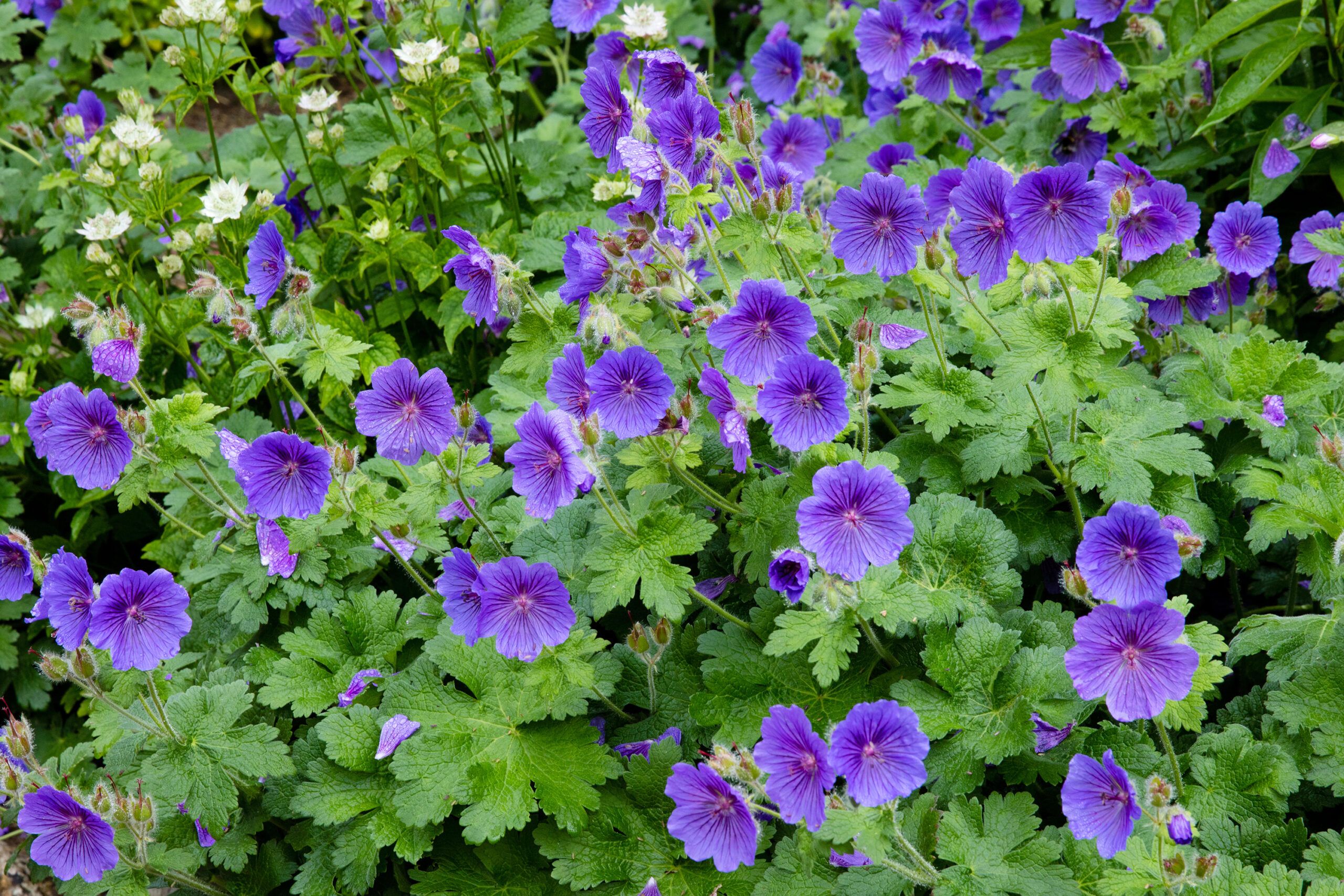 'Rozanne'
At the front of the border, these can provide spring-to-fall color, especially if you cluster varieties with an extended bloom time.
'Rozanne' is one of the longest-blooming varieties, with violet petals around a white center that continue all summer. Can grow to 18 inches high and 2 feet wide; USDA Hardiness Zones 5 to 8.
Catmint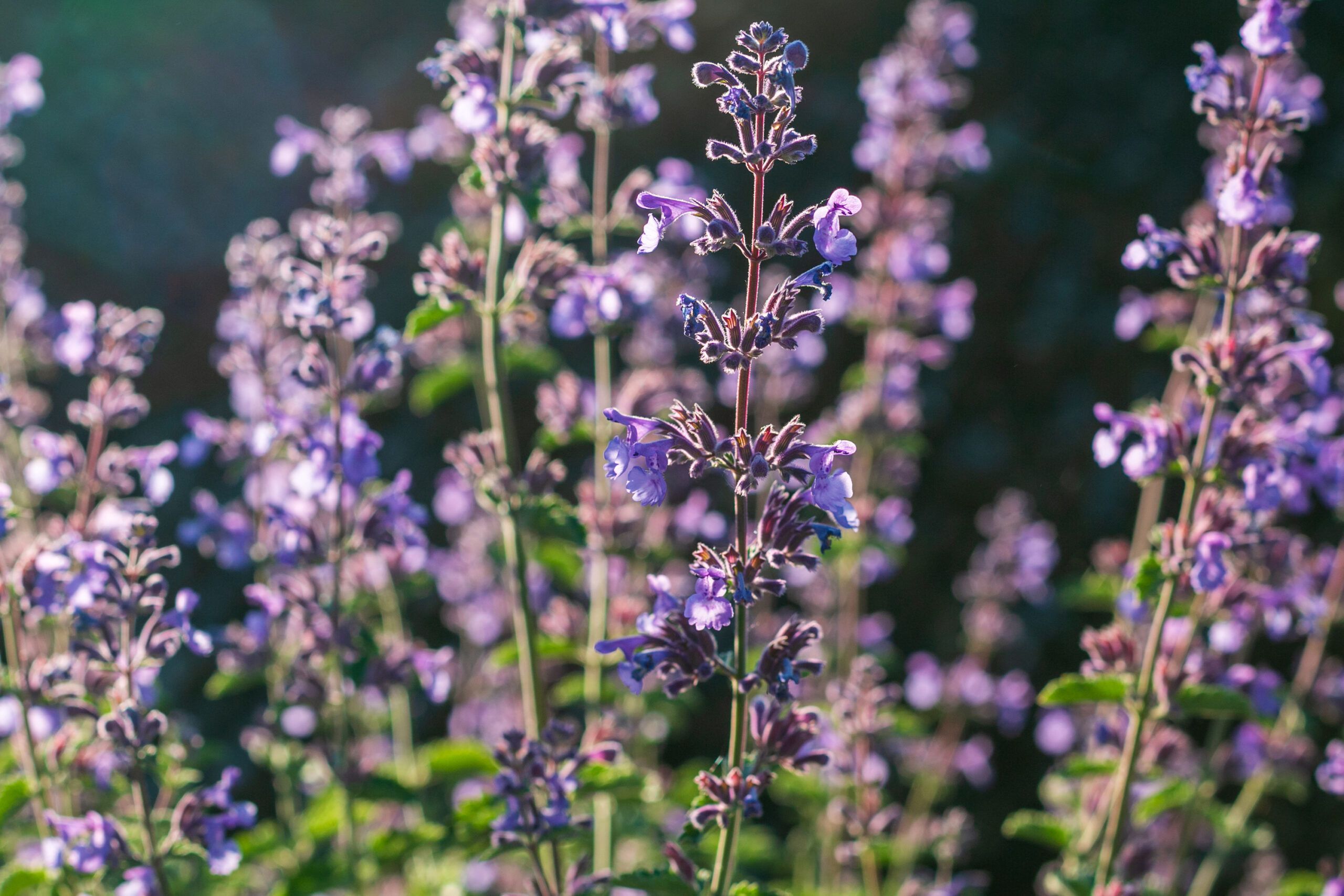 (Nepeta racemosa) 'Walker's Low'
Tall spikes of tiny blue or purple flowers that are best clumped together for a punch of color. 'Walker's Low' has fragrant lavender-blue flowers on 24-inch-tall stems that can grow to 3 feet wide; USDA Hardiness Zones 4 to 8. 'Blue Wonder' is more compact, with dark blue flowers; Zones 3 to 8.
Tickseed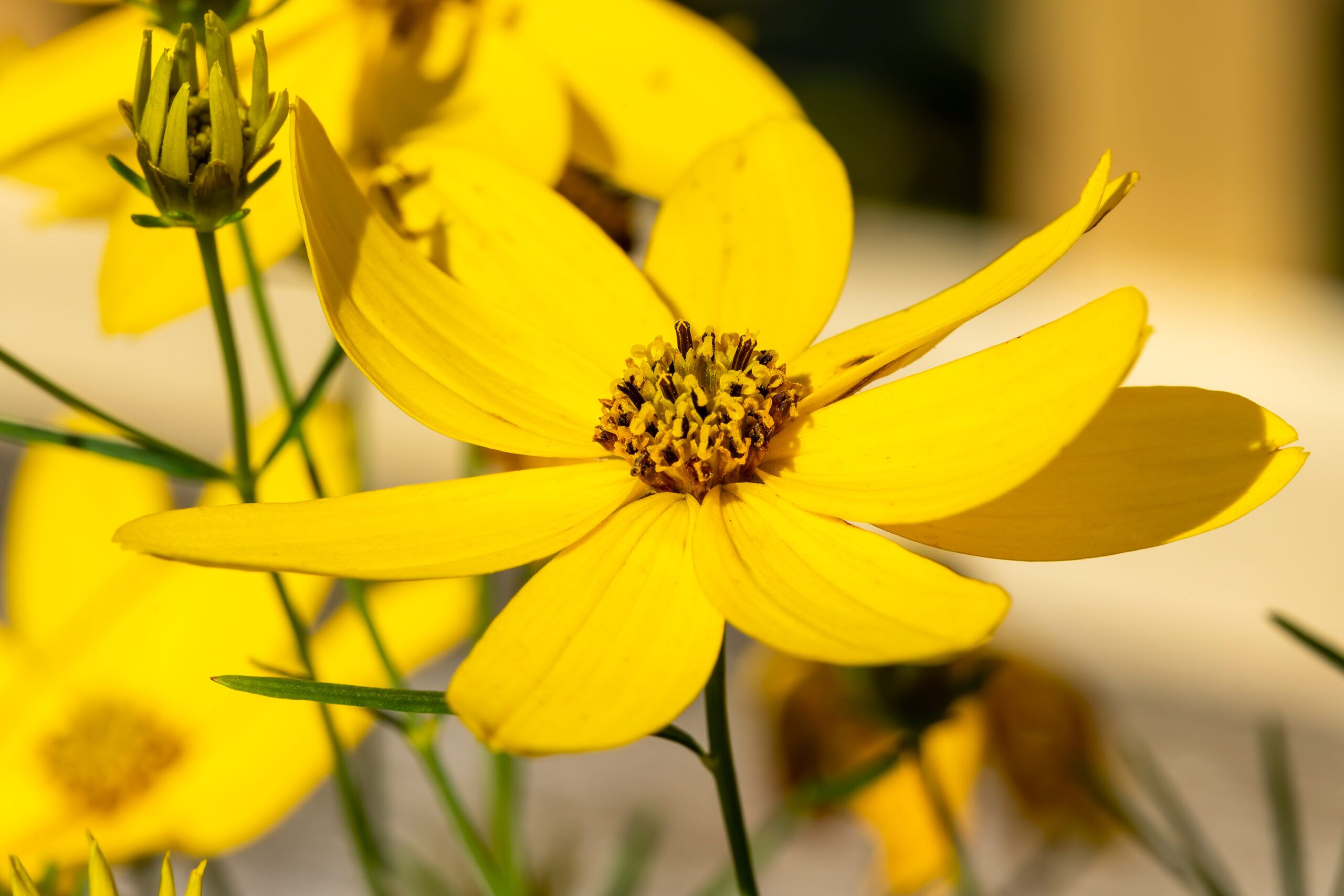 (Coreopsis) 'Zagreb'
Daisy-like yellow flowers open in early summer on tall stalks with fine, green foliage. C. verticillata 'Zagreb' has golden flower heads, while 'Grandiflora' is a darker yellow. Both can grow to 18 inches high and wide; USDA Hardiness Zones 4 to 9.
Salvia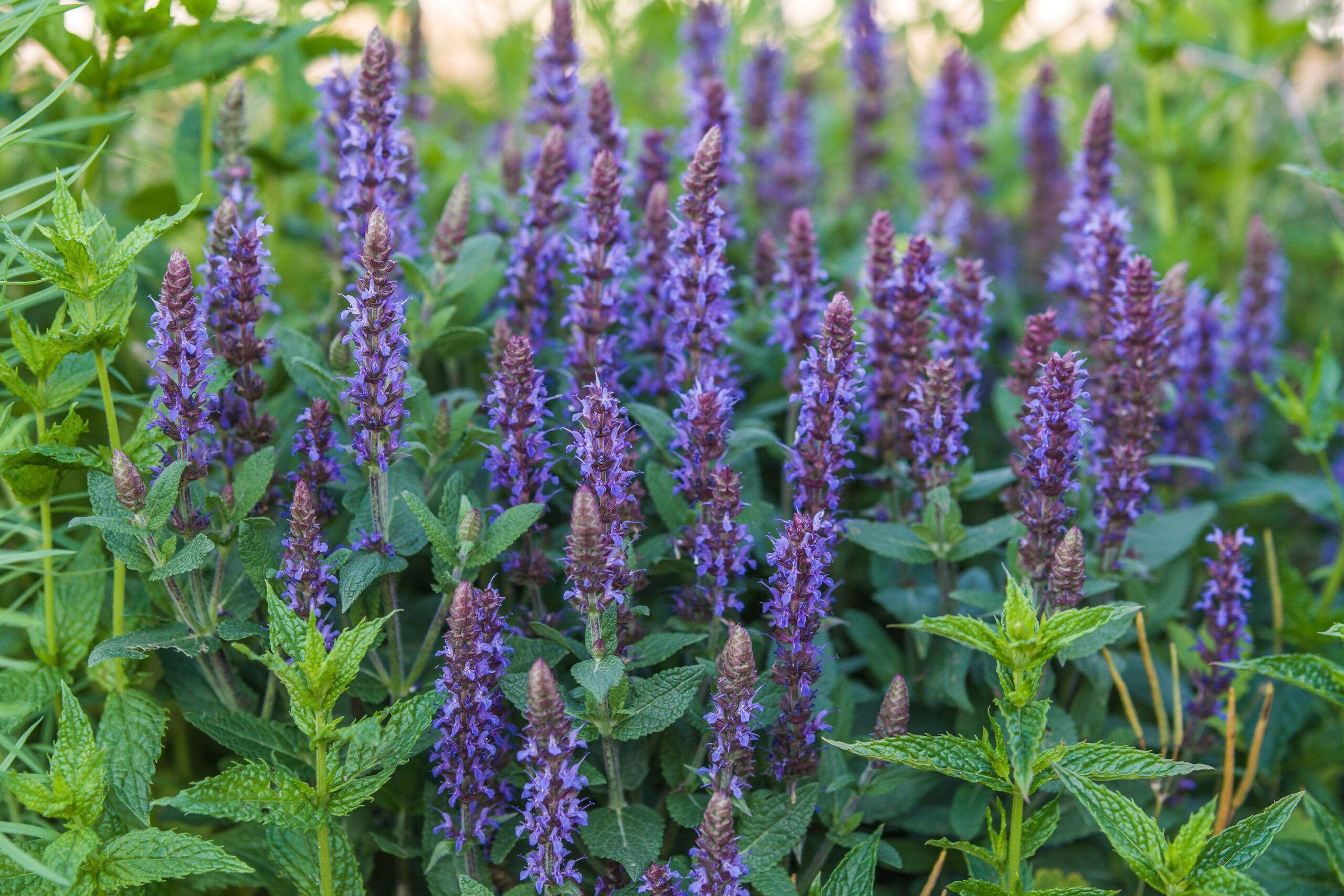 (S. nemorosa) 'Ostfriesland'
Blooms with violet, pink, or white flowers and green leaves from summer to fall. 'Ostfriesland' is a smaller purple salvia, reaching 18 inches high and wide; USDA Hardiness Zones 4 to 8.
Shasta Daisy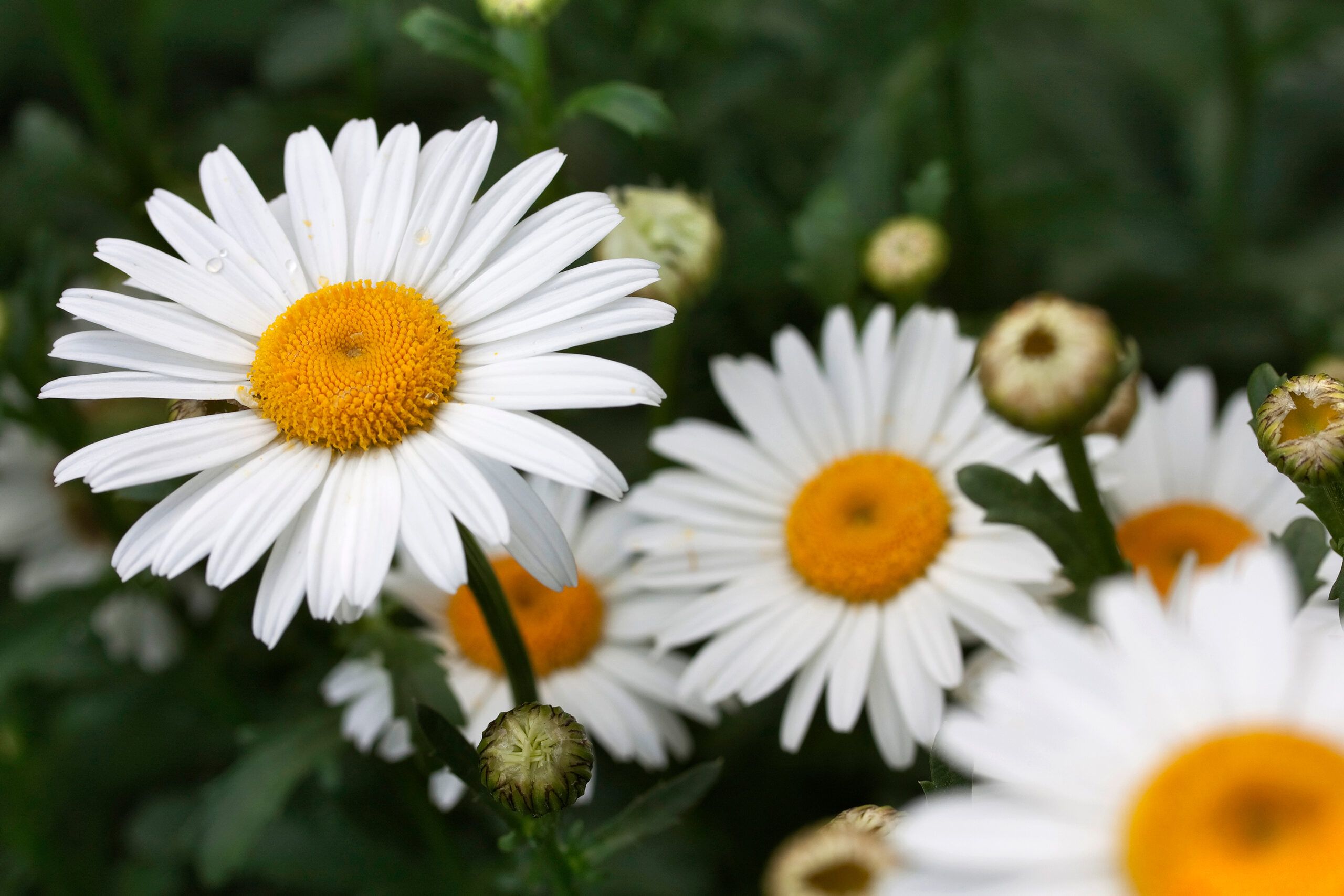 (Leucanthemum x superbum) 'Becky'
These 4-inch-wide blooms of white petals with yellow centers appear from mid summer to early fall and need no staking, thanks to ridged stems. Can grow 4 feet tall and 3 feet wide; Zones USDA Hardiness Zones. Plant with shorter 'Snow Lady,' which flowers earlier, for extended color.