Front Entry Fix-Up: Before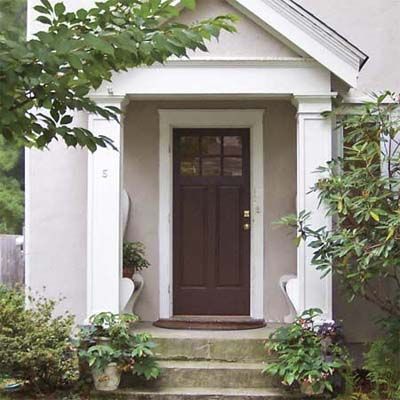 You don't need to hire a house stager or invest a ton of time and money to boost your home's curb appeal. Just upgrade the entry instead.
Front Entry Fix-Up: After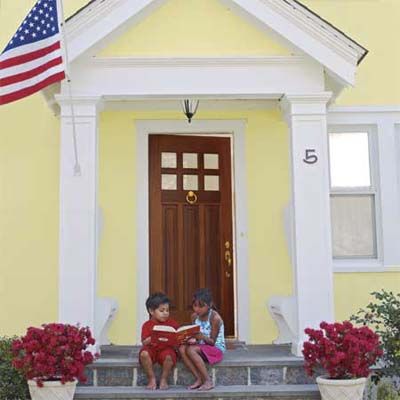 By adding a new prehung wood door from Simpson Door Co. with brass hardware from Baldwin, capping a crumbling concrete stoop with bluestone, and framing the steps with a pair of handsome containers filled with flowering shrubs, this 1925 Colonial Revival home got a fresh, more welcoming look.
Here are five elements you should keep in mind when revamping the approach to your own home…
Lighting: Brass and Opal Glass Shade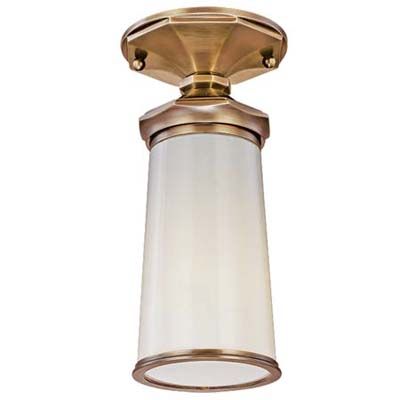 Exterior lights illuminate house numbers and focus the eye on the entry. At night, the hanging fixture shown here makes the portico glow from within. When deciding on your light, pick a style that complements your home's architecture.
This brass base and opal glass shade impart a formal look. Around $157,
See more entry lights.
Lighting: Rustic Bronze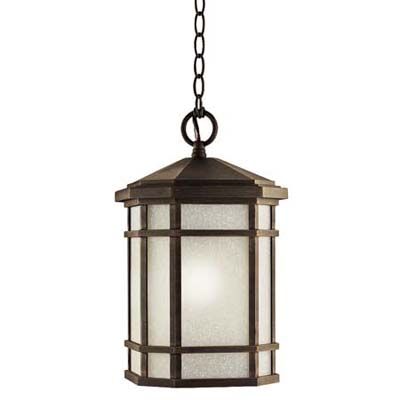 The bronze finish on this rustic lantern is fitting for a more casual entry. Around $215, Kichler Lighting
See more entry lights.
Lighting: Bronze Flush-Mount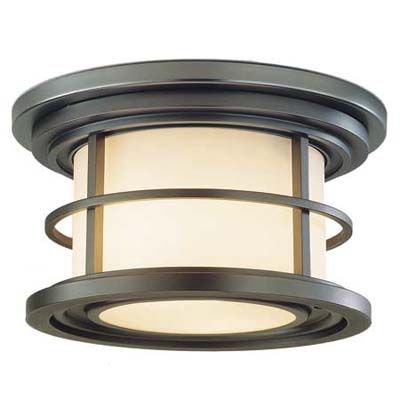 Burnished bronze banding lends a contemporary air to this flush-mount. Around $169, Murray Feiss
See more entry lights.
Door: Traditional Scroll Grill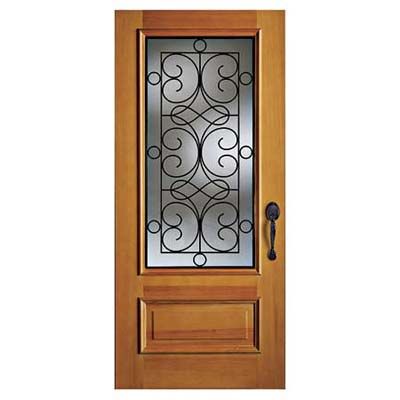 Consider the front door as an introduction to your home. Divided-light windows offer outside views and fill the foyer with sunlight. By using an install-ready prehung door, you can make this upgrade in a day. Choose from dozens of designs and three durable materials.
This fir door with a scrolling metal grill is a traditional pick but needs refinishing over time. Around $1,325, Simpson
Learn how to replace a prehung door.
Doors: Paneled Steel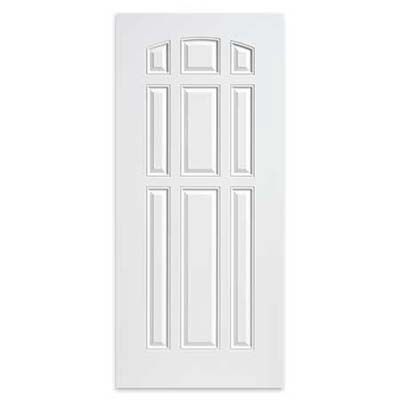 Raised paneling on this thrifty steel door adds style, but the surface gets hot in direct sun. Around $204, Masonite
Learn how to .
Doors: Leaded Glass Window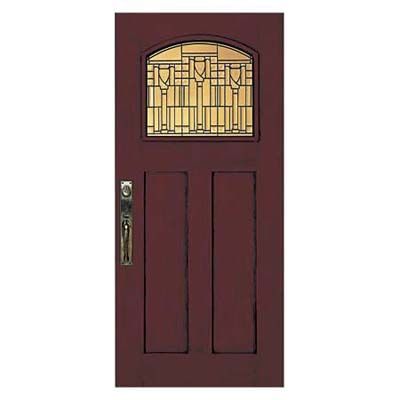 A leaded glass insert gives this fiberglass door a custom look. Long-lasting and maintenance-free, fiberglass can be pricey. Around $4,500,
Learn how to .
Paint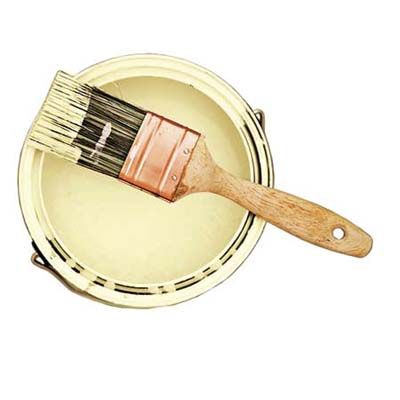 Brush on a fresh coat of paint to make your entry pop. A pale yellow accented with bright white trim can replace a drab putty-and-cream palette. Other standout schemes: green hues, which help a home blend with the landscape and perfectly complement
a lively red door. Shades of blue pair well with earth tones, such as a sandy beige and terra-cotta. Just be sure to pick saturated colors if your house gets direct sun, as pastels will look washed out.
Learn how to paint your exterior.
Steps and Walkway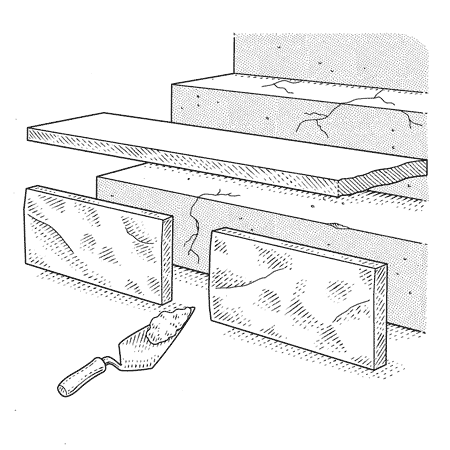 Turn a dull concrete stoop into a showpiece by capping the treads and risers with stone. For example, the same New York bluestone used for the treads can be echoed in the new mortared front walkway, creating a seamless transition between stoop and path. The risers can be clad in gray natural granite veneers. Other DIY capping options include clay Saltillo, split-brick, and limestone pavers.
See stone veneer selections.
Planters: Antique Box Replica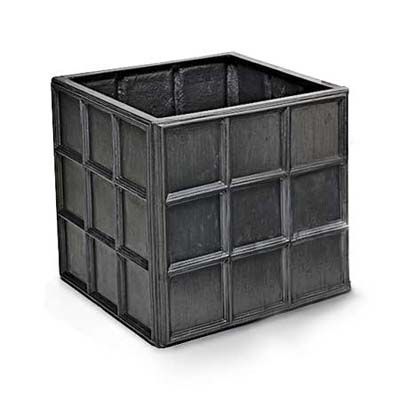 Large potted plants visually anchor an entry and provide a burst of color. Just make sure the containers you put them in are weatherproof, like the lattice-patterned concrete ones used at left.
This lightweight, molded-fiberglass box is a replica of a lead antique. Around $275, Charleston Gardens
Learn how to .
Planters: Steel and Copper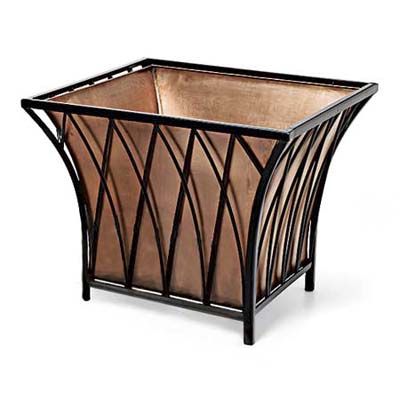 Steel arches cradle this copper vessel. Around $199, Smith and Hawken
Learn how to .
Planters: Richly Colored Ceramic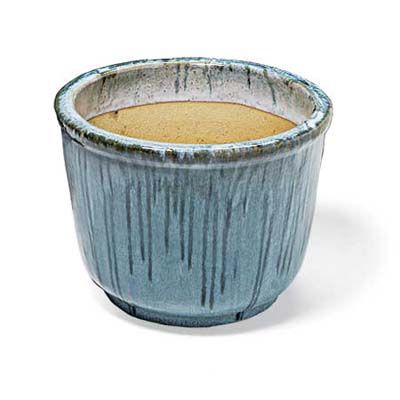 Richly colored ceramic can brighten up a home's monochromatic paint scheme. Around $38, Pier 1 imports
Learn how to plant in pots.